I've just wrapped up my third trip of the month to Beijing, and suffice to say I'm tired. In the past few weeks I've done six segments between the US and China in American first class.
As I've written about, American first class is quite an underwhelming product in terms of the seat and food. Depressingly so, almost.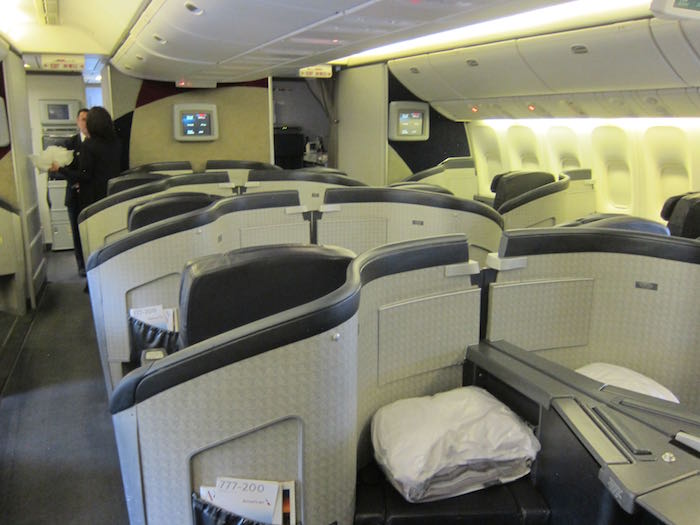 American 777 first class cabin
That being said, the highlight of the flights were the crews. On five of the six flights I had stellar crews. Gone-with-the-wind-fabulous crews, even.
I wrote about flying with purser Scott and his wife from Chicago to Beijing and Beijing to Chicago.
Then on my second trip I had a lovely (but slightly abrasive) Dallas based purser with 45 years seniority.
But I think the purser I had on Wednesday from Beijing to Dallas, Sandra, may just have been the best one yet.
She was super senior, with 46 years seniority at American. And she was an absolute treasure in every way. I don't even know where to begin. We often joke about how when you fly US carriers on longhaul flights it's like being served by grandmas. But in this case it was really more like being served by that really cool great aunt who's rocking it.
Sandra couldn't have been more friendly, accommodating, sincere, or awesome. She really had an "old school" approach to service, in a good way. I talked to her for a few minutes in the galley, and here are just a few of the things she mentioned:
She showed up at the airport in Beijing an hour before the rest of the crew, because she feels that's what she should do as purser to make sure everything goes smoothly.
She brought the whole crew egg sandwiches, "just in case."
She explained she's sad about the 777s being reconfigured without first class, because she's a "first class gal," and she likes providing first class service; she explained she recently was working with another flight attendant who said "someone just asked for all their food at once, what do I do?" Sandra apparently responded "well this is first class, honey, you do what the passenger wants."
Sandra was just so damn awesome. And as luck would have it, so were the other two first class flight attendants — Beryl and Kathy. Seriously, the crew was amazing. So much so that I drafted a compliment letter to American which I wanted to send the second I landed.
When I share my feedback with customer relations it's always nice to know that the appropriate people are being recognized. So I was quite surprised when I received a response 12 minutes after I emailed American. I figured it was just the auto-responder, saying that I'd get a response within some amount of time.
But nope, it was actually a "customized" response. Sort of. In the worst possible way:
Thank you for contacting Customer Relations. On behalf of American we welcome the opportunity to respond to your comments.

Our aim is not simply to provide transportation to your destination. We want to help our customers enjoy a pleasant journey along the way. We are glad the flight staff in business class on AA 88 from PEK to DFW was able to assist you to your satisfaction. We realize serving our customers is a priority.

Please be assured that we have followed through on your comments in an effort to share your feedback and, where possible, to improve our service. We are working hard to earn your business.
Really?
My feedback was about the first class crew, not the business class crew; now I'm worried the correct people won't be recognized.
I wrote nothing but glowing things in my letter to them, so the fact that they say the following shows they didn't bother reading the email: "Please be assured that we have followed through on your comments in an effort to share your feedback and, where possible, to improve our service."
Bottom line
C'mon American, this is crap. Sandra, Beryl, and Kathy worked hard to create a favorable impression of American. It's sad that trying to compliment them for their hard work is the most disappointing part of the American experience.
It's great that American prioritizes customer relations response time by status, but it would be nice if quality of responses were a metric, and not just speed of responses. Back in the day American had fantastically customized responses to compliments which made you feel like positive feedback actually mattered, but I don't get that feeling anymore.
Have you emailed American customer relations recently? If so, what was your experience?