I flew from Beijing to Dallas yesterday. I was looking forward to a smooth and quiet flight. Up until 24 hours before departure, my friend and I were the only ones booked in first class. Go figure the flight the day before canceled (and for that matter yesterday's Chicago to Beijing flight was again delayed by 15 hours — American's 777s really are unreliable).
The first class cabin ended up full, with eight operational upgrades and four non-revs.
Upon boarding, we had quite a contrasting first class crew. The purser was super senior — she had ~45 years seniority, and was in the top 100 or so seniority for the entire company. Meanwhile the Mandarin speaking flight attendant in first class, Aisha, was on her first trip ever.
So the purser was doing everything she could to show the new hire the ropes, and the contrast was hilarious/adorable. The senior one was sort of abrupt and more efficient than a machine, while the junior one was constantly smiling and friendly, but was struggling with the service and still learning.
If the boarding process for this flight didn't cause the new hire to quit, I don't know what will.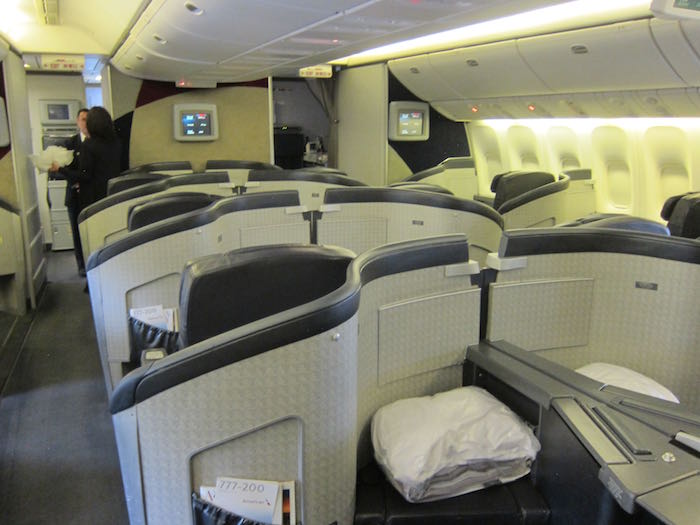 "I thought he didn't have any teeth, how is he supposed to eat the beef?"
There were four senior Chinese passengers, and they didn't speak a word of English. And even though they were non-revs, I don't think they had flown much before based on how they were acting.
They kept getting up when the seatbelt sign was on. The purser said "Aisha, tell them to sit down." They refused "Aisha, come over here. Tell them to sit down now."
They ignored her. "Aisha, tell them that if they don't sit down we will kick them off the plane." Aisha got a bit wide-eyed, since she had just finished training and was trying to be super professional, so clearly that isn't a threat she'd voluntarily make.
Poor Aisha. She was trying to be friendly to them, but it just wasn't going anywhere.
Then we started taxiing and one of the same passengers tried to get up to use the bathroom. The purser yelled "SIT! SIT! SIT!" Then she physically tried to get her to sit down. She didn't respond. "AISHA COME HERE NOW, she won't sit!" Then she was back in her seat.
A few minutes later, while we're taxiing, the husband walked through the galley to the other side to sit down on the his wife's "buddy seat." At this point the purser lost it.
Towards the end of our taxi the purser took meal orders, and she'd have Aisha take the orders for the Chinese passengers while she stood behind her waiting to write them down.
"Just ask him what he wants for his main course, we'll serve them everything else to keep it simple."
*Aisha talks to guy in Mandarin*
"He says he wants beef."
"Beef?!?! I thought he didn't have any teeth, how is he supposed to eat that?"
The above is just the tip of the iceberg, though suffice to say it made for a really exciting flight.
"I hope we don't crash"
An American guy swapped seats with one of the four Chinese passengers so that they could sit together. That was nice enough of him, but as he switched seats he told the purser "I hope we don't crash," while giggling. The purser gave him a death glare. Who the hell says that?!
Then he sat down across from me and said "you better be careful, I'm going to be watching some crazy $hit on my laptop." He rattled off the name of some "gaming" thing, and when I looked at him like he was from another planet, he said "how do you not know what ________ is?!?"
Then he looked at my friend and said "can you believe he doesn't know what________ is?!?" He got another blank stare. I simply responded with "well, I'll be watching Real Housewives, and that can get pretty graphic as well sometimes, so you've been warned." He gave me a blank stare.

Does anyone know what he's actually watching?!
Then while we taxied out he listened to some music, and was basically setting up his own drum studio, as he'd use his fingers to "fake" play the drums while bobbing his head as if he's at a rave. And then periodically he'd turn around, look at me, give me a high five, and then giggle.
During the taxi out the purser came by to take his meal order.
"What do you want to eat?"
"Huh?"
"Have you looked at the menu I gave you earlier?"
"There's a menu?"
"Yes, here it is"
She opened it to the right page, he held it for a second, and then he put it down.
"Could you look at the menu so I can take your order, please?"
"Okay."
He continued to just stare into space.
"Could you look now? So, I can, like, take your meal order… now?"
Suffice to say that was about a five minute process.
Bottom line
By the end of the flight we were best friends with the crew, simply for being amused by the entire situation. I told the new hire she did a great job and that if she made it through this flight she can make it through anything.
And while the purser was a bit abrupt, I walked away having a great respect for her. I can only imagine what she has seen in 45 years.
Fun times!