When hotel chains come up with new brands, their direct goal isn't to sell to consumers, but rather to sell to investors. After all, hotel chains just manage a vast majority of their properties, and don't actually own them. Instead they get a percent of revenue, so they obviously have an incentive to create as many brands as possible.
It's much easier to sell an investor on opening up the first property of a particular brand in a city, rather than opening a third Sheraton or fourth Hilton, for example. That also keeps existing properties they manage happier, because obviously they don't want direct competition. When the Marriott and Starwood merger is complete, the two hotels will have 30 brands. 30. That's sort of insane.


Which brings us to Tru by Hilton, which is Hilton's newly announced 13th brand. Hilton has already signed on 102 hotels to the brand, with 30 more in various stages of approval. That's pretty impressive for a brand which has just been announced to the public.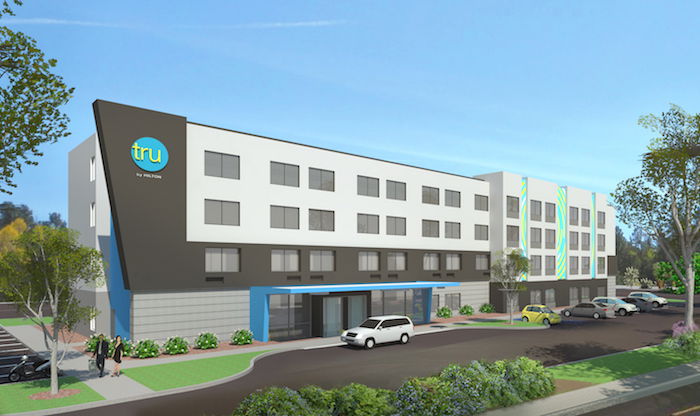 What is Tru by Hilton?
Before I share my thoughts, here's an infographic about the brand: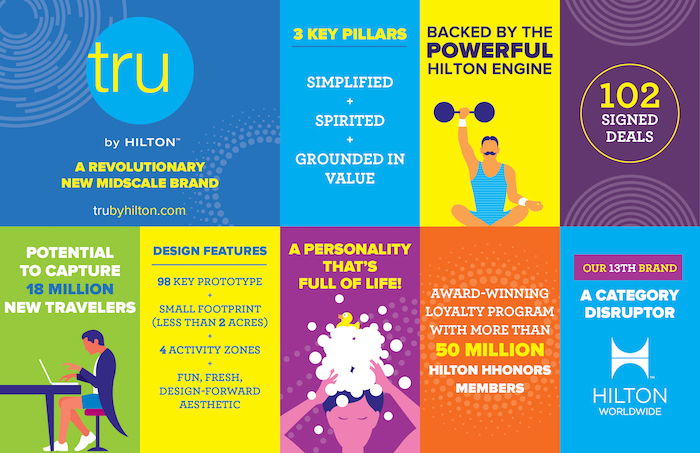 Here's the video about their "brand essence:"
Tru by Hilton is targeting those with a "millennial mindset:"
Hilton Worldwide today unveiled Tru by Hilton, a brand that is simplified, spirited and grounded in value, filling a massive void in the midscale category in the U.S. and Canada. Built from a belief that being cost conscious and having a great stay don't have to be mutually exclusive, Tru by Hilton offers an experience unlike anything in its space, consistently delivered in a surprisingly affordable way.

The brand will appeal to a broad range of travelers who span generations but think alike; they are united by a millennial mindset – a youthful energy, a zest for life and a desire for human connection. No brand is meeting their needs in their price point today.
Here's what Tru by Hilton explains as their "innovative features:"
The Hive, a first floor experience that's more than a lobby – 2,770 square-feet of open space with unique ways for guests to engage with others or spend time alone – in one of four distinct zones for lounging, working, eating or playing.
The Play Zone, filled with table games, a large-screen TV (featuring DIRECTV), and tiered, stadium-inspired seating.
A centrally located Command Center – a re-envisioned front desk – featuring a social media wall with real-time content to foster engagement among guests, and a 24/7 market offering fun snacks and refreshments, single-serve wine and beer*, healthy light meal options and sundries for purchase.
A complimentary "Build Your Own" breakfast consisting of a toppings bar with 30 sweet and savory items allowing guests to customize bagels, donuts, Greek yogurt and oatmeal to satisfy their taste buds and cravings.
Smart and efficiently designed guest rooms full of the things that matter most – all-white comfortable platform beds, 55″ TVs, eight-foot wide windows, access to power everywhere, and surprisingly spacious bathrooms.
A fitness center that defines wellness trends, rather than follows them, with a concept focused on cardio, strength and flexibility.
A technology-forward mentality featuring segment-leading complimentary Wi-Fi bandwidth allowing guests to download and stream content on their devices, plentiful power sources, and mobile check-in, room selection and Digital Key available through the Hilton HHonors mobile app.
A collaboration with DIRECTV, offering guests more than 150 channels, like they have at home.
Rooms and linens cleaned by P&G Professional's (NYSE: PG) top hospitality brands, including Tide® Professional™, Swiffer® Professional™and Febreze® Professional™ to help enhance the guest experience and drive operational efficiencies.
A brand personality that's full of life with a spirited culture grounded in a thoughtful, reliable and unflappable approach to guest service.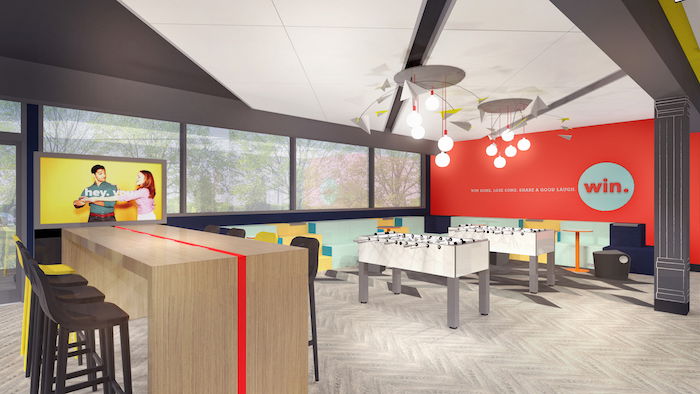 My thoughts on Tru by Hilton
Hilton claims that Tru is "changing the game with a revolutionary midscale brand." To me this seems like an Aloft Hotel with complimentary breakfast. As it stands, Hilton doesn't really have a direct competitor to Aloft, so this seems to be their answer.
I'm not meaning to bash Hilton here, because I actually like the core of what they're doing. I love the Aloft brand, because it's modern, reasonably priced, and they do a great job managing expectations. They also do a good job of incorporating the amenities I value most.
And I see much of the same with Tru by Hilton, though they have free breakfast on top of that, which is great.
But what sort of annoys me is the stereotyping and impracticality of the brand. Am I the only one who is put off by the branding? Does everything have to be three letters? Does anyone like mindless phrases littered all over the lobby?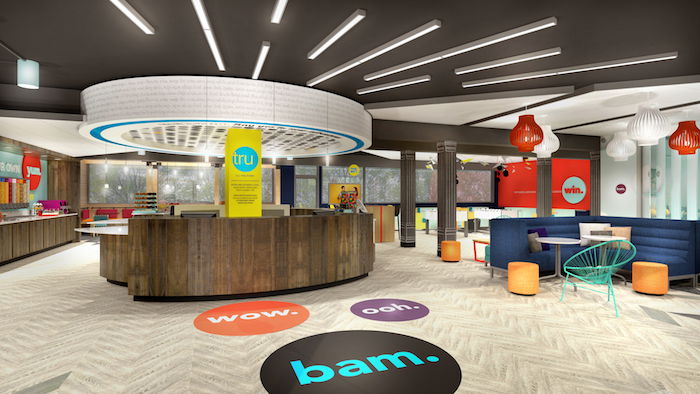 I guess what borderline offends me about it is what Hilton thinks of us as consumers that makes them think these three letter phrases resonate with us? Does anyone walk into a property like this and say "oh, look at all these three letter words… this is totally my speed." I don't know, maybe I'm in the minority, as I'm sure they've done a lot of market research.
But here's my real problem. The one thing I hate about Tru by Hilton is that their rooms won't have desks. Which is ironic, since the infographic depicts someone working at a desk. I wrote about this last month with Marriott, as they seem to be removing desks from many of their hotel rooms as well.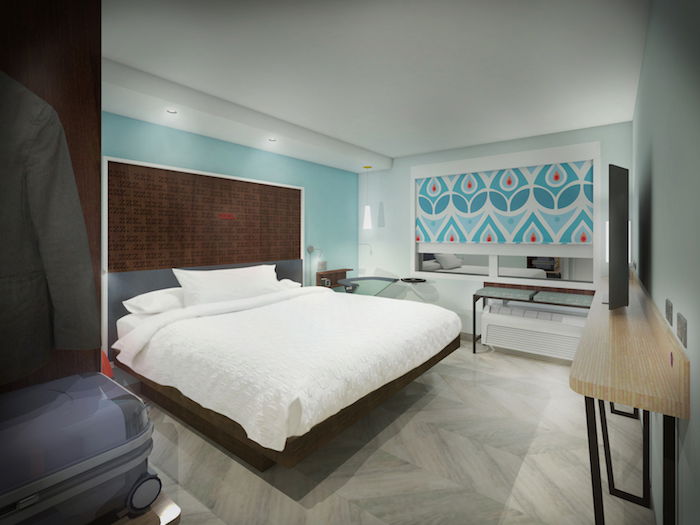 I really don't get it. Seemingly whenever hotels target millennials they remove desks from rooms. What does that say about what the major hotel brands think of millennials?
Bottom line
I think the core of this concept is a good one, as it's basically an updated version of a Hampton Inn, and a competitor to Aloft Hotels. I do wish they'd tone down the branding a bit in terms of all the quotes and three letter phrases. Less is more.
But my real gripe is that Tru by Hilton rooms won't have desks. For me that's a deal killer, and I really don't get what hotels are thinking with this trend.
What do you make of the Tru by Hilton concept?