I'm in the midst of publishing a detailed trip report about an insane trip I recently took on China Eastern, Qatar, Royal Air Maroc, Saudia, and Pakistan, with my friend Matthew from Live and Let's Fly. He's one of my best friends that I've met through the miles & points hobby, and I've known him for a very long time. However, the past few years life has gotten in the way of us hanging out much.
Traveling with Matthew was a big part of what made this trip so fun, especially when we ended up on as many amusing flights as we did. During the trip we discussed in passing that Matthew would write a guest post with his impressions of the flights.
So I was a bit surprised (and beyond humbled) when he emailed me the below draft for his guest post yesterday. On one hand I feel very awkward posting something like this (especially when Matthew is giving me way more credit than I deserve). But then again, I also realize that a lot of people don't understand how or why I travel, so the post is pretty insightful in that regard.
Anyway, thanks to Matthew for writing the below. He's certainly being way too kind and I feel uncomfortable even reading it. So here you have it, unedited.
---
Ben (I don't like to call him Lucky) and I have been friends for a decade and so I have had the pleasure of seeing a kid who was awestruck about travel grow into a man who remains awestruck about travel and has corralled that passion into a highly successful business.
I could tell you all about our trip from my perspective…the smoking on China Eastern, the sexism on Saudia, the hilarity of traveling 72 hours straight (well, I did tell you the belly dancer story from my perspective), but most of it would simply replicate what Ben has already written.
I will eventually publish a trip report on my blog covering our trip, but it will not digress much from Ben's own views – we tend to see eye to eye on things. But I bet you are curious what it is like to travel with him, so I am happy to fill you in.
Remember that recent post about trip report pictures? It's true – we lined up early each flight in order to get onboard pictures as unobstructed as possible. We always positioned ourselves to board first and I dutifully tried to slow down the people behind us while Ben sprinted forward to take pictures. It wasn't until we flew Pakistan Airlines that we were ever told to stop (and then another FA said we could go right ahead) and so imagine the two Americans (on the majority of our flights, we were the only visible westerners onboard) boarding a plane while discreetly trying to take as many pictures as possible. I think most FAs just thought we were weird.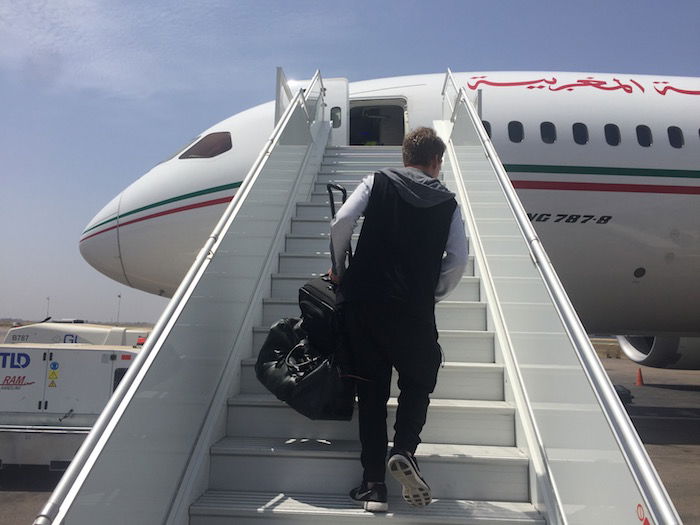 Ben has what I would diagnose as a taxi phobia, and for good reason. Wouldn't you after incidents in Brussels, London, Abu Dhabi, Dubai, Frankfurt, Las Vegas, Warsaw, and Moscow? We used a taxi in Shanghai from the Maglev station to the Grand Hyatt and the driver promptly opted to use the emergency lane to weave through busy rush hour traffic at high speeds, a kindred spirit that seems to run through taxi drivers worldwide as we experienced the same thing (plus an accident) in Casablanca.
But here's what surprised me—on every taxi trip, every Uber ride, Ben had his laptop out using an offline WordPress page to format pictures and write captions, creating a skeleton for the trip report that he has just finished. One of the reasons I am about 20 trips behind in own my trip reports is the immense time it takes to format pictures and create posts. No really, it does – you should try it if you do not believe me.
I asked Ben why he just doesn't hire an intern to do this tedious work and he pointed out the obvious – the re-sizing of pictures takes just a few seconds with iPhoto. The real time comes in choosing what pictures to use, cropping them from the eyes of the photographer, and placing them in a logical order (not always necessarily chronological order) for the trip report to flow. Only the writer can do that. He's lighting fast at what he does, but it still takes time. Meanwhile, if I try to do the same I just get carsick.
In case you were wondering, Ben writes everything himself. If it says "Lucky" on the article byline, he wrote it: there are no OMAAT ghostwriters. Just think, then, how much effort is required to churn out 50+ posts per week. It still amazes me.
Ben gets up between 4-5a PT every day, no matter where he is in the world (because breaking news tends to occur in the U.S. morning and publishing articles at that time optimizes page views). This was true, every day. We got into the Grand Hyatt Shanghai around 7pm, which was 4am PT. We had just gotten off a 14hr smoke-filled flight with limited rest, waited 30 minutes for a train (during which Ben feverishly formatted pictures on his laptop) and then fought rush hour traffic in a cab. We were both very tried and our bodies were still on west coast time.
It did not matter. It was time to work.
We had dinner in the Hyatt Grand Club and then I excused myself to go to bed…I could not keep my eyes open. Ben, on the other hand, stayed up for hours and cranked out not just a post or two, but a day's worth of quality posts.
Same story in Colombo. And Doha. And Casablanca. And Jeddah. The point is that Ben is incredibly disciplined and that helps to explain his great success in blogging. If you want to blog, as I have humbly found out over the last six years, you need to blog consistently and you need to blog often. This trip was no vacation for either of us and especially not for Ben.
In Casablanca we did spend an afternoon walking through the bazar and over to Hassan II Mosque. It was a very warm day and we returned to the Hyatt for a cappuccino and water in the lounge and discussed what to do next – I was going to head back to the market to restock on fake Ray-Bans (having just lost my 8th or 9th pair in the Uber in Colombo) and get a haircut and shave. Ben opted to work.
You may now be tempted to feel sorry for Ben, concluding perhaps that the poor guy is either money-obsessed or has OCD in order to be such a workaholic. Nope. Imagine doing something you loved, truly loved, and being able to do it from wherever you were in the world. Ben would not be so successful if his blog was anything but a labor of love. Just like you and I might find fine dinners and good movies fun (Ben does too), so Ben finds writing for his blog. That's an amazing gift.
What did we talk about? Travel of course. And also our futures, our relationships, our common friends, our work, some politics, some religion – essentially our lives, just like any two friends would talk about when together for an extended period.
Don't ever think that just because Ben has chosen to focus his blog on premium cabin commercial air travel and luxury hotels that he somehow is removed from the wider world around him. He's up on current events and can argue just as persuasively a political position as he can why you should fly Lufthansa First Class.
I know some of you like to pan Ben for rarely stepping outside the friendly confines of western hotels or airline lounges, but it is not because he does not want to – it is because he has a job to do. There will be time for more "cultured" things later, but frankly the type of discipline now employed will allow him to take in all the culture he wants in the years to come. He has struck while the iron is hot.
And you know something? Even the so-called "cultured" among us need comfort food and after two flights on China Eastern, you really cannot appreciate how much pizza hit the spot in Colombo, in an Italian restaurant that was full of locals.
Anyway…
We had a blast on this trip and I cannot wait to travel with Ben again, maybe on Biman Bangladesh Airlines? Ben is the real deal and he did not ask me to write this post: I actually surprised him with it. I do count it a privilege to call Ben my friend and I wish all of you had a chance to see that the wunderkind who established a thriving business with unyielding diligence is an amazing person in so many other ways.