Figuring out how to value frequent flyer miles is tricky business. Most people have a vague concept of what a mile is worth to them, but if you press them on it, they don't really know how they arrived at that number. Worse yet, if you start to question them about how they earn or redeem miles, their past behavior is likely to tell a very different story.
I'm not going to tell you how you should value your miles, and honestly, nobody else can tell you that either. (Though you can see how Ben values his miles here.) Last year I wrote a detailed series about how to determine the value of your miles, but there have been lots of questions lately as to how to know whether or not something is a good deal, so it seems a refresher is in order.
By examining how you earn and spend miles, we can hopefully establish some bounds around where your real valuation lies.

The idea here is to calculate the redemption value of a couple of awards and then analyze what this behavior says about how you value your miles.
Here's the formula we'll use:

In general, a higher redemption value is better than a lower one, because that means you were able to replace a lot of cash with each mile.
The CPM then is a figure of merit for just about every redemption imaginable. You can use it to calculate how much cash your award replaced on anything you redeem your miles for, be it travel or toasters.
If you redeem 25,000 miles for a $500 domestic economy ticket, you redeemed your miles at 2 cents per mile (CPM)
If you redeem 120,000 miles for a $4,800 international business class ticket, you would have gotten 4 CPM
Neither of those redemptions is right or wrong, but they do tell us something about how you value miles.
Look at it this way: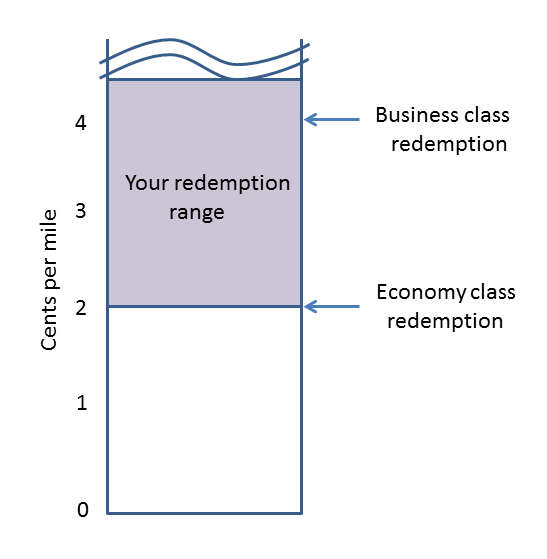 The range of redemption values is obviously huge so there's no real upper end to the redemption graph. On the top end, I've personally redeemed around the 16 CPM range for a business class award that had multiple stops. On the low end, you can certainly redeem miles for far less than 1 cent, like if you choose that toaster, for example.
So you redeemed for a business class award at 4 CPM, but you also made an economy booking at 2 CPM. Clearly you're willing to take 2 cents for each of your miles — the fact that you got 4 cents once is just a bonus.
But this just tells us what you're willing to accept from someone (the airline in this case) who wants to buy your miles from you. You accepted 2 cents, but you might have accepted less.
Would you really buy that ticket?
At this point, some of you are no doubt saying to yourself, I would never redeem for a domestic economy award, so I'm going to say that I value my miles at 4 cents each.
The problem is that you might have behaved differently if you didn't have the miles and were forced to pay cash for that business class seat. Would you really have paid $4,800 for it? If so, you can stop reading here, knowing that you do indeed value your miles at 4 cents.
For the rest of us, we might end up paying for economy instead. Or heck, some of us might not even take the trip. That means that we don't actually value our miles at 4 cents because when push comes to shove and we're asked to pony up the price in cash, we chicken out and cry Uncle.
If that's the case, then all we know is that you're willing to accept a 4 CPM redemption of your miles. You can't value them at more than that or else you wouldn't have booked the award, but you may in fact well value them quite a bit lower.
By determining if you are ready, willing, and able to book exactly the same trip using cash, you can determine the most you could value a given mile or point.
If you want more analysis on how to determine your redemption value, see this post.

It is a commonly held belief that miles and points are free to obtain.
Some people think that the airline, the credit card, or maybe even some shopping portal just gave them the miles, so therefore they don't come with a cost. Even though it may seem like it, most of these miles aren't really free. They either took some effort to obtain or there was a choice to earn cash instead, so there was a trade-off. The fact that you chose to earn miles instead of cash — or not at all — says a lot about how you value your miles.
Truth be told, this is probably what leads to sub-par award redemptions. It's like asking if money grew on trees, would you spend it differently?
Consider these five ways to earn miles:
Purchasing miles
Mileage running (very rare these days)
Credit card spending (excluding generous sign-up bonuses)
Doing "silly stuff" (portals, surveys, etc.)
Normal flying
Regardless of the method, each mile earned has an acquisition cost, be it in time, money, opportunity cost, or the actual purchase price of a mile:

Once you know your acquisition cost, you can add that data to the graph we made earlier.
Although the graph sort of doesn't have an upper bound because you can sometimes get some crazy high redemption values, the lower bound is 0 because nobody pays you to take miles. At least not normally.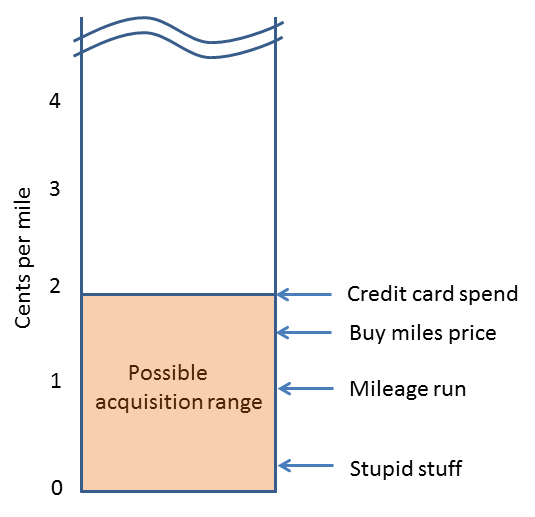 Interestingly, the most expensive miles in your frequent flyer account may have come from credit card spending — miles you probably thought were free. (Again, I'm not counting sign-up bonuses).
Thinking about how much time and money you put into earning miles can give you a lower bound on how you value them — you clearly value them at more than your paid to acquire them, or you wouldn't have acquired them in the first place.
See this post for more details on how to determine the acquisition cost of each method.

Prior to now, I've talked about redeeming and earning separately in order to develop the framework. Now let's put them together.
In other words, no matter whether you like to redeem for high CPM awards or low, aim for a gap between the rate at which you buy and sell: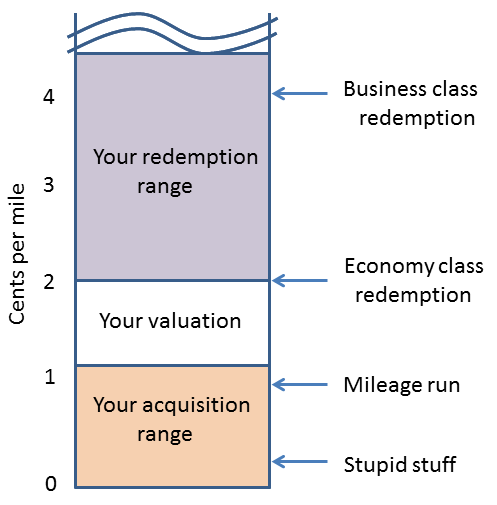 Knowing this number will guide your mileage redemptions, and help you focus on the acquisition opportunities that make sense for your travel goals. There are trade-offs to consider, and having a plan for your miles will help you to be as efficient as possible.