In April we learned that Canadian low cost carrier WestJet was planning on launching an ultra low cost carrier. Starting low cost subsidiaries is all the rage nowadays, but typically we see full service airlines forming these, rather than low cost carriers. However, with the direction that "full service" airlines have taken nowadays, I suppose it's tough to differentiate between them and low cost carriers.
Well, today WestJet has revealed the name and logo for their new ultra low cost carrier, for which they'll begin selling flights in early 2018. WestJet's new ultra low cost carrier will be called Swoop. Here's the explanation a WestJet executive has about the name:
"The name Swoop denotes exactly what we plan to do," said Bob Cummings WestJet Executive Vice-President, Strategy and the executive member responsible for the launch of Swoop. "It's a powerful verb that demonstrates we plan to swoop in to the Canadian market with a new business model that will provide lower fares and greater opportunity for more Canadians to travel."
Okay, so I'm not usually a huge fan of airlines coming up with names that they think will appeal to millennials, like Air France's Joon and IAG's LEVEL. However, I actually sort of like the name Swoop, since I think the explanation makes sense (while I don't really get what "Joon" or "LEVEL" are supposed to mean).
While I quite like the name, I find the livery to be atrocious. Like, seriously?! I'm sure some will disagree with me, and will find it to be fun, which I assume is what they're going for with an ultra low cost carrier. So perhaps I'm in the minority.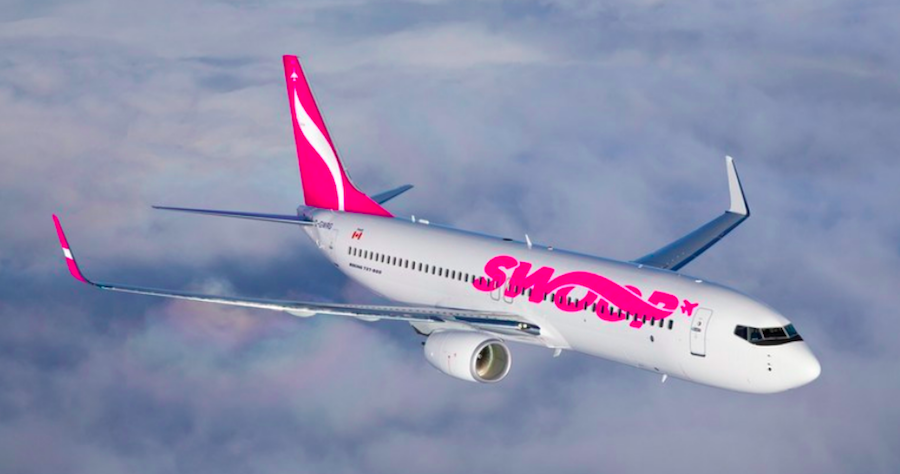 While we don't yet know what Swoop's route network will look like, they have chosen Calgary for their headquarters, which is the same place that WestJet's headquarters are.
Swoop will have a fleet of 10 Boeing 737-800 aircraft, and says that they'll provide Canadians with "a no-frills, lower-fare travel option backed by an airline with a proven track record of bringing lower fares to Canadians and an investment-grade credit rating."
Here's the video Swoop has published explaining their business model:
So you can expect that Swoop 737s will have considerably more seats than WestJet 737s, and that they'll charge for everything, from food to drinks to carry-ons to checked bags to seat assignments.
What do you make of the Swoop name and branding?