Update: See here for my full review of WestJet's 787-9 business class.
Last May, WestJet placed an order for up to 20 Boeing 787-9s (10 firm orders and 10 options), which was a huge move for the Canadian carrier. Otherwise WestJet's fleet primarily consists of 737s, as well as four 767s that they use primarily for transatlantic flights. Expanding their fleet with brand new Boeing 787s is a big next step for the carrier.
The airline is expected to get their first Boeing 787-9 in early 2019, and today has revealed the details of the interiors, including them introducing business class for the first time. Furthermore, WestJet has also announced a rebranding, including the introduction of a new livery. They cover all of this on a dedicated WestJet 787 website.
Before I share my thoughts, here's a video about the new 787:
And here's what WestJet's CEO says about the new planes:
"The introduction of Boeing's 787-9 Dreamliner, a state-of-the-art aircraft, is the dawn of a new era for WestJet and the next step in our transformation to a global network airline. The updated livery is modern and dynamic while the interior is world-class, distinctly Canadian and uniquely WestJet. Both reflect WestJet's transition from a regional airline in 1996 to a new era of connecting Canada with the world and bringing the world to Canada."
WestJet 787 interior
WestJet 787s will be in a three cabin configuration. It almost looks like an exact copy of Air Canada's 787, minus the finishes.
Business class will consist of B/E Aerospace Super Diamond reverse herringbone seats, which are exactly the same ones that Air Canada has. Business class will feature touchscreen service, on-demand dining, and turndown service.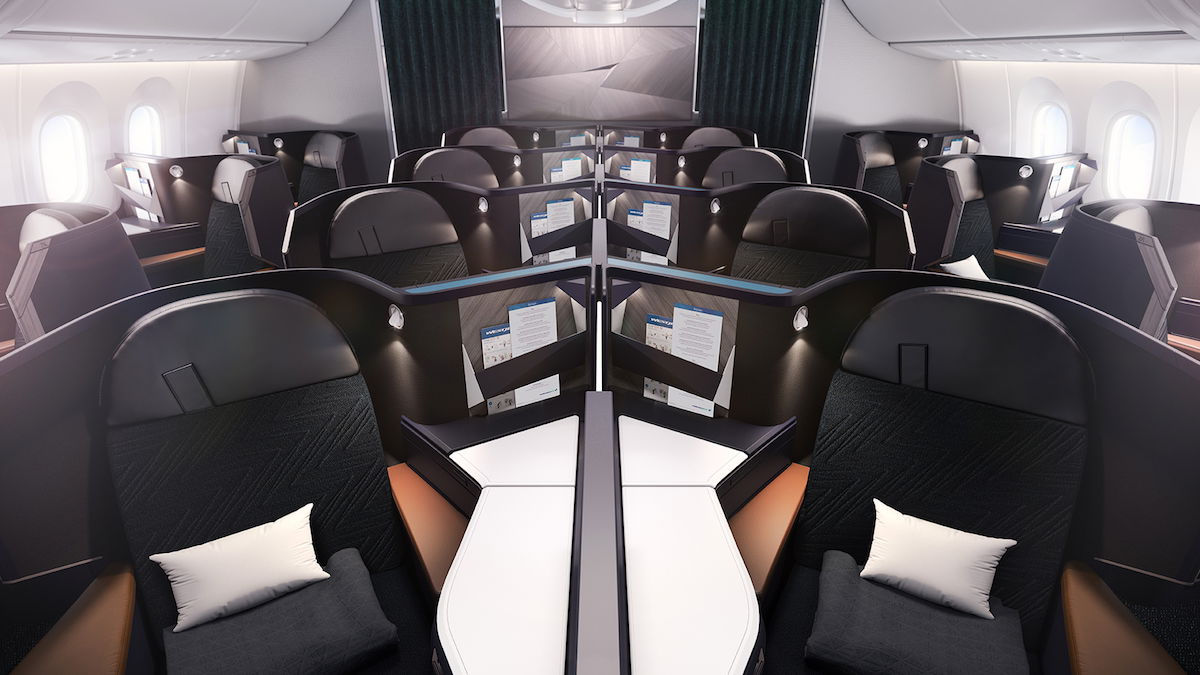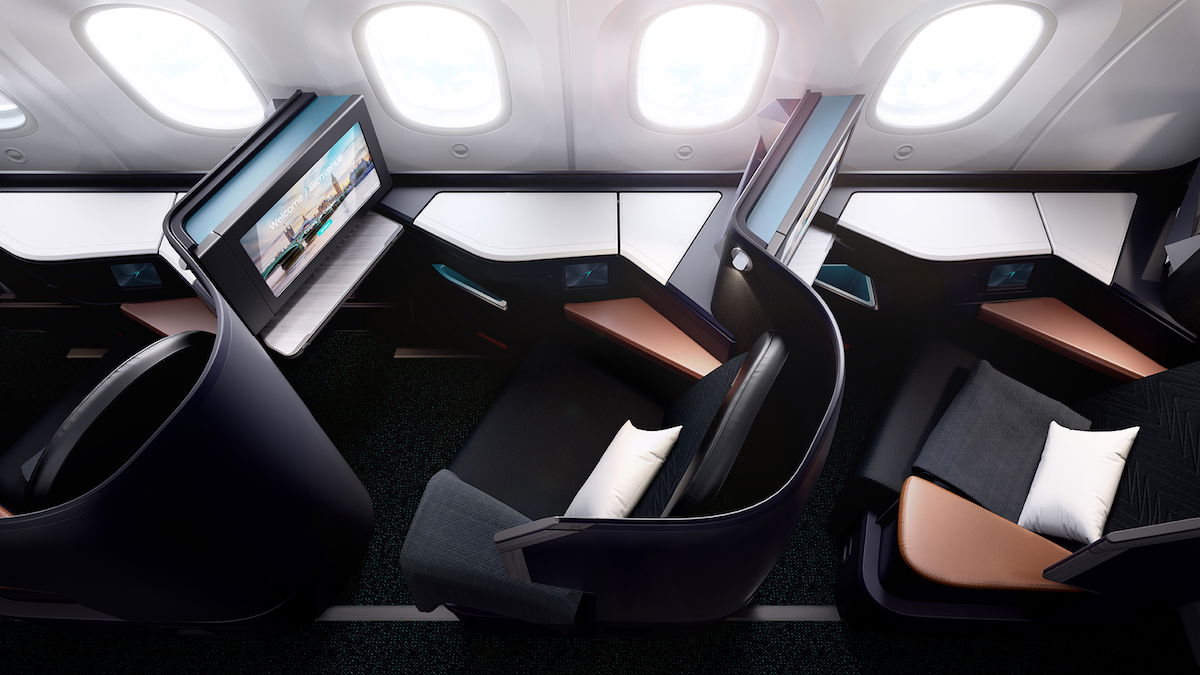 Premium economy will be in a 2-3-2 configuration, and will feature a premium menu, a self-serve social area, and more space to relax.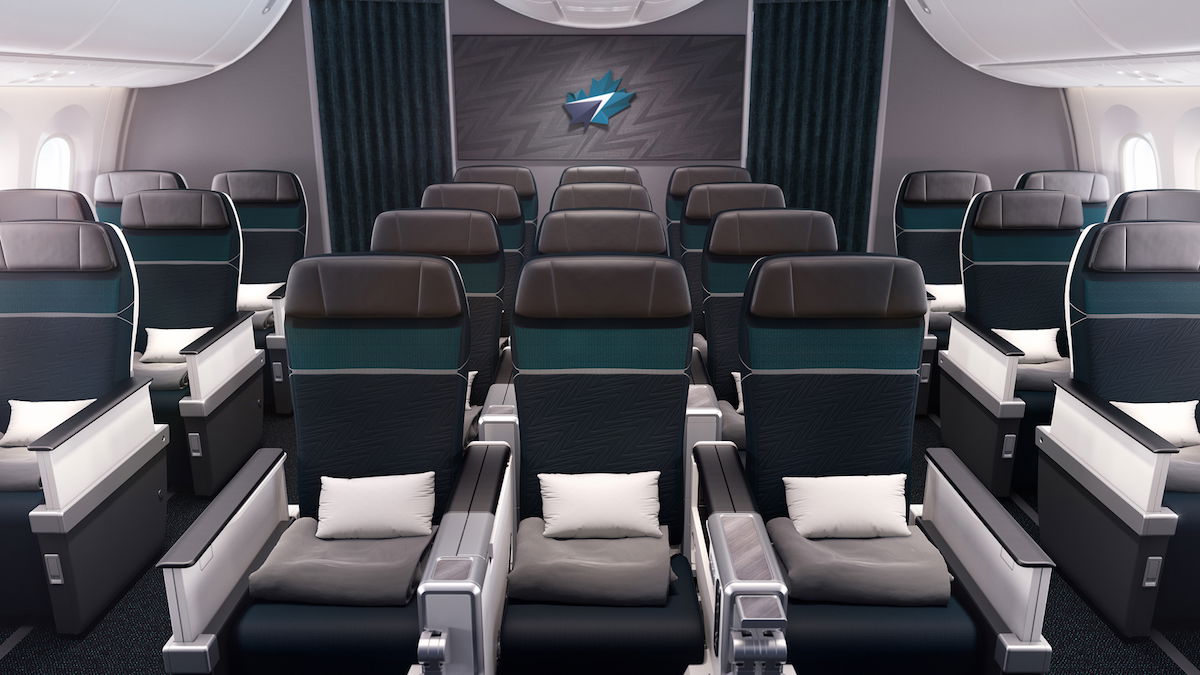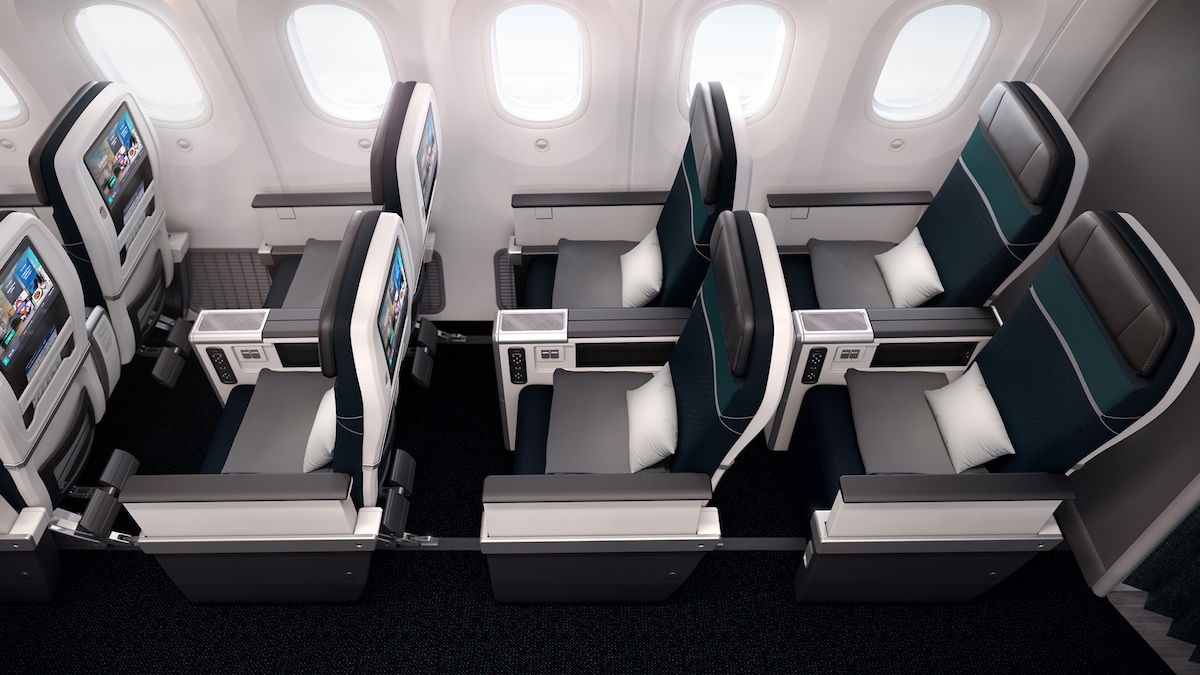 Economy will be in a 3-3-3 configuration, and will feature entertainment and power ports at every seat.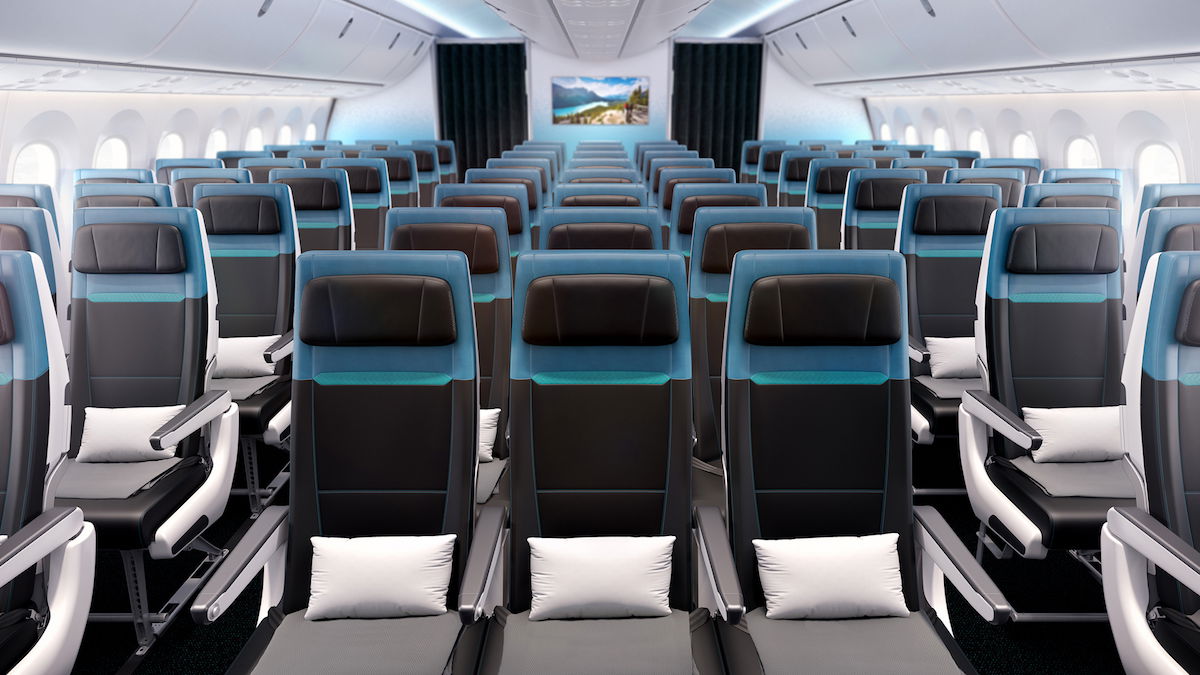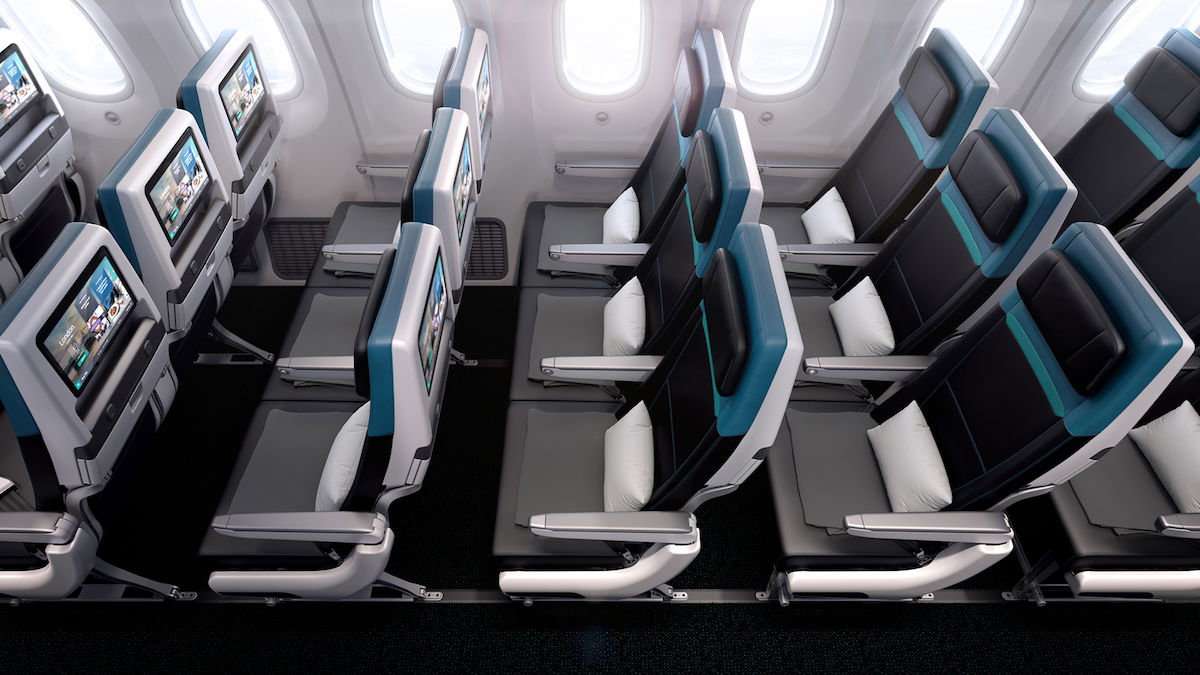 The exact seat counts haven't yet been revealed, though as a point of comparison, Air Canada's 787-9s have 298 seats, including 30 business class seats, 21 premium economy seats, and 247 economy seats.
The above images from WestJet suggest four rows of business class and four rows of premium economy. Those could easily fit between doors one and two on the 787, in which case they could have a much bigger economy section than Air Canada has. However, the above are just renderings, so it's also possible that they'll have a different configuration.
New WestJet livery
WestJet has also revealed a new livery as part of their 787 launch, which they describe as follows:
The font has been updated to Bliss, give the WestJet wordmark a more uniform and current style, while retaining the Maple Leaf symbol in a more contemporary and bold look. The logo also now uses a single color to soften the regional emphasis on "west."

In addition to the updated stylized Maple Leaf on the aircraft tail, another nod to WestJet's heritage is in the form of the Canadian flag appearing at the front of the aircraft. The new livery will also marry both of Canada's official languages with, "The Spirit of Canada" appearing on one side of the aircraft and the French translation, "L'esprit du Canada" on the other, both extending across the middle of the aircraft fuselage.
This new livery will appear on all newly delivered jets, starting with a Boeing 737 MAX-8 being delivered in June. Then over the coming years WestJet will repaint existing planes with the new livery.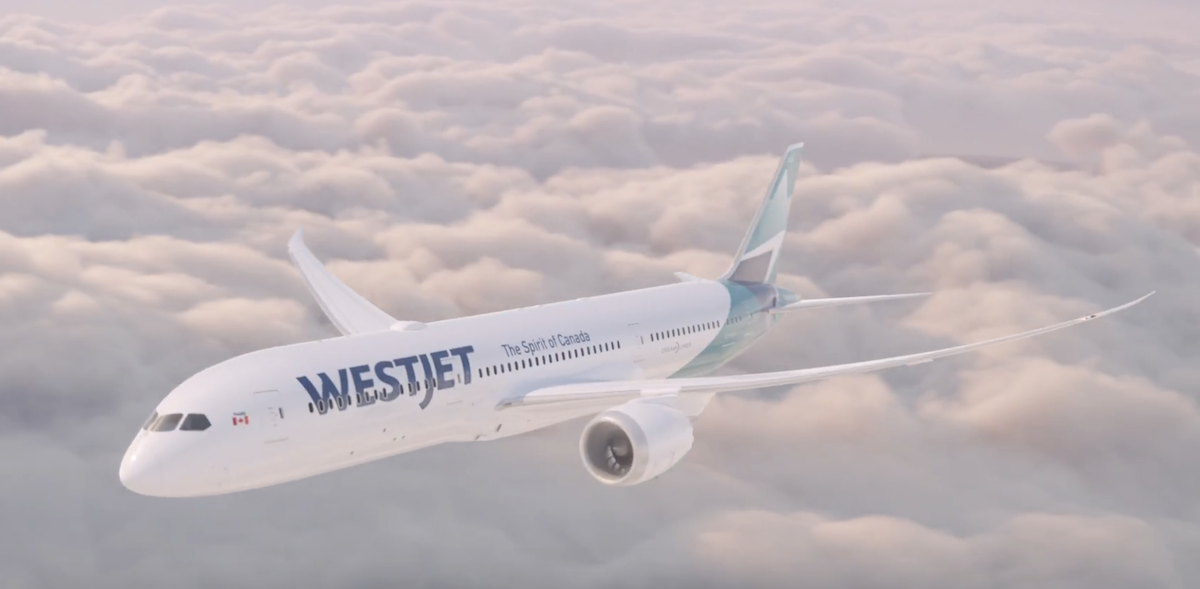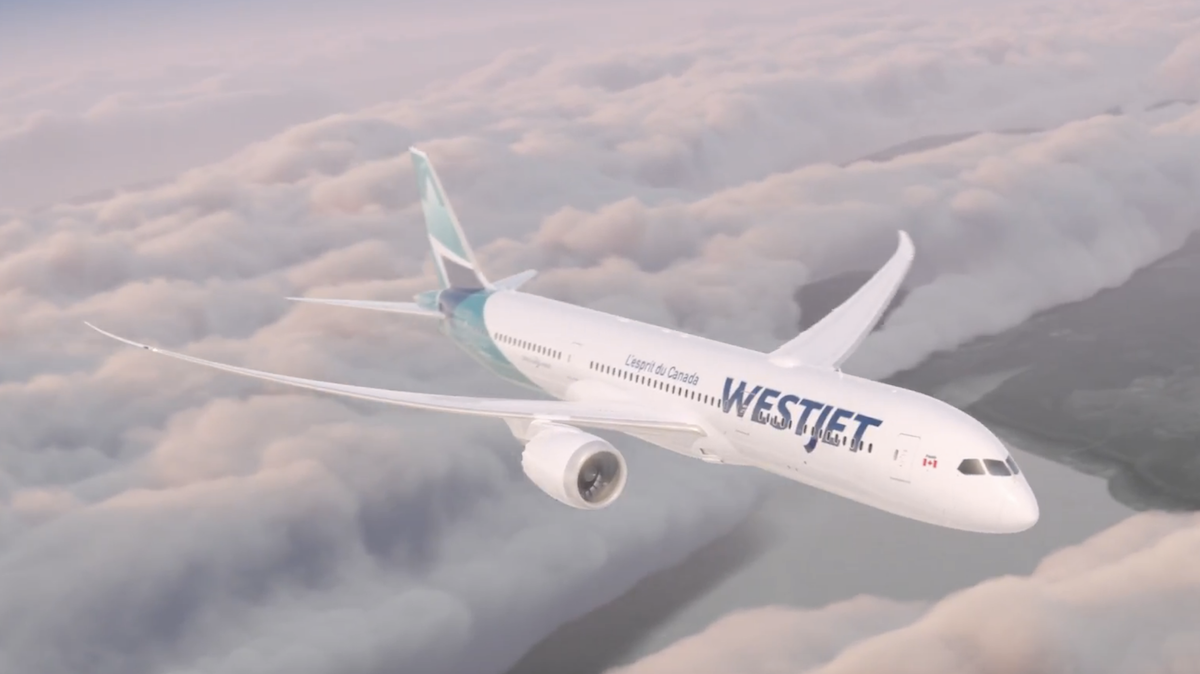 I think the new livery looks great. It's sleek and modern, and is more of a refresh than a total transformation, which I like.
Bottom line
WestJet's new 787s look great, and it's nice to see that they're going for a premium configuration, including an industry leading business class, which I look forward to trying. Their new livery looks nice as well. I can't wait to see what routes they end up using the 787s for. They've said that they'll consider service to Asia and South America.
What do you think of WestJet's new 787s?