I've long been intrigued by Arik Air, which is Nigeria's largest airline. Last year I listed them as one of the "6 totally random airlines I want to fly."
They operate a flight between New York and Lagos, which is the route on which I was hoping to fly them.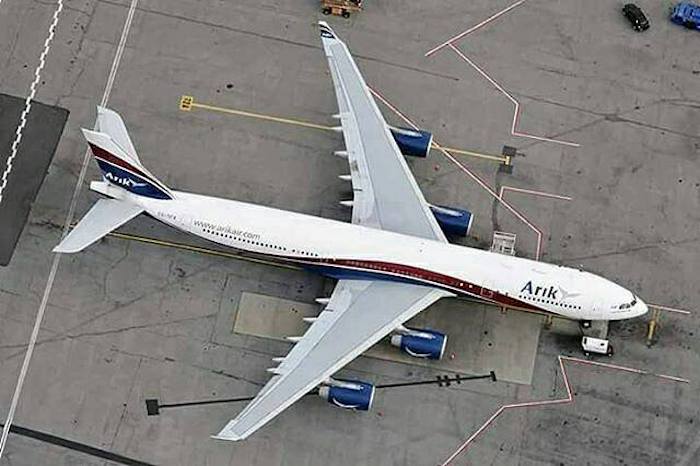 Well, it looks like the airline is having slight financial problems. By that I mean that they've just suspended their flights to London, New York, Johannesburg, etc., and apparently over two thirds of their fleet is no longer operating.
Here's how Arik Air (diplomatically) describes the situation on their Facebook page:
ARIK SUSPENDS FLIGHTS TO LONDON, JO'BURG

This is to bring to the notice of our traveling public our intention to suspend our international flight operations to enable us find permanent solution facing our passengers as it will enable us to carry out a thorough assessment of the situation.

The strategic business decision is meant to realign our operations and refocus on satisfying our domestic and West Africa and other international passengers. It will also present Arik with excellent opportunity to engage and discuss with creditors who have become restive since the intervention and have also understandably exhausted their patience due to non-payment of accumulated debt and non-performance on services and contracts.

Consequent upon this, arrangements are being made to refund all international passengers of the airline that are affected by this decision.

To our international creditors, Arik is most grateful for your patience and understanding. We reassure them that all pending issues with the airline will be duly addressed as a matter of priority as we plan to engage them in this regard.

The international route is very critical for the strategic turn around, growth strategy and stability of the airline. Therefore we intend to revisit the routes immediately we address all the problems inherited, which is affecting and creating more dissatisfied passenger base. We appeal to all passengers to kindly bear with us as the decision is to ensure that the airline adheres strictly to international aviation best practices.
Ouch! According to Daily Trust, the situation at Arik Air is so bad that they've had to ground 21 of their 30 planes:
A statement by AMCON, signed by the management of Arik Airlines, states that the situation is so bad that only nine aircraft (30 percent) out of the 30 in the fleet of the airlines is operational. Twenty-one of them have either been grounded, gone for C-check in Europe or were facing other challenges.

"As if these problems are not enough, the airline does not have money to procure aviation fuel for the nine operational aircraft because no dealer wants to sell aviation fuel to Arik if it is not on cash-and-carry basis.

"This also calls for public understanding because flight schedules may be realigned based on the nine aircraft that are available, technically sound and ready for flight operations," the statement said.
On top of that, apparently many staff salaries haven't been paid for months.
Oy, the Nigerian aviation market. On the plus side, at least I can take one airline off my list of airlines to fly, for the time being.
I hope they're able to sort out their issues, for the sake of their employees and the Nigerian aviation market on the whole. I'll be curious to see how long this "suspension" lasts.