At the beginning of this year I shared the list of 16 airlines I want to review in 2016. The list is based on reader feedback of wanting to read more business class reviews, and I've been making good progress in getting through that list.
I've even booked tickets on some airlines not originally on the list, like Royal Air Maroc and China Eastern. Most of the airlines on the list are at least somewhat mainstream, in the sense that they belong to one of the major alliances, or at least have partnerships with major airlines.
However, as I fly slightly more random airlines (at least from a US-centric perspective), I'm even more tempted to try other airlines I hadn't previously considered.
Below is a list of six airlines I'd really like to fly in business class (some of which I've mentioned before). They all offer service to the US and/or Canada. I've included ITA quotes on prices below, though I've seen lower fares in many instances as well, so they're purely for demonstrative purposes.
Tunis Air Business Class Montreal to Tunis
Tunis Air took delivery of their first A330 last year, which represents a nice upgrade to their aged fleet. They fly between Montreal and Tunis, and business class fares are quite reasonable. As luck would have it the fare seems to be cheaper if you continue to Algiers, which is convenient, given the next airline on my list.

Here's a video of Tunisair's A330 delivery flight. Based on it, it looks like Tunisair has angled seats in business class, in a 2-2-2 configuration.
Air Algerie Business Class Montreal to Algiers
Air Algerie also flies to Montreal, out of their hub in Algiers. Much like with Tunisair, the business class fares are quite reasonable.

Air Algerie also recently took delivery of their first A330, and unlike Tunisair, it actually features a great business class hard product, consisting of fully flat seats:
https://www.youtube.com/watch?v=I8OG5gXCwl8
Arik Air Business Class New York to Lagos
Okay, I can't guarantee this will actually happen anytime soon, but I've long been intrigued by Arik Air, the Nigerian airline. They fly to New York on an A330, a plane which they took over from failed Indian airline Kingfisher. The plane even has an onboard bar.

I wonder if I can get a discount given that I'm the closest heir to the Nigerian throne, according to an email I recently received? 😉
AZAL Business Class New York to Baku
I've talked about this flight before. AZAL flies between New York and Baku using a 787, and largely has very reasonable fares. I'd love to actually visit Azerbaijan, but if nothing else it would be fun to try the airline.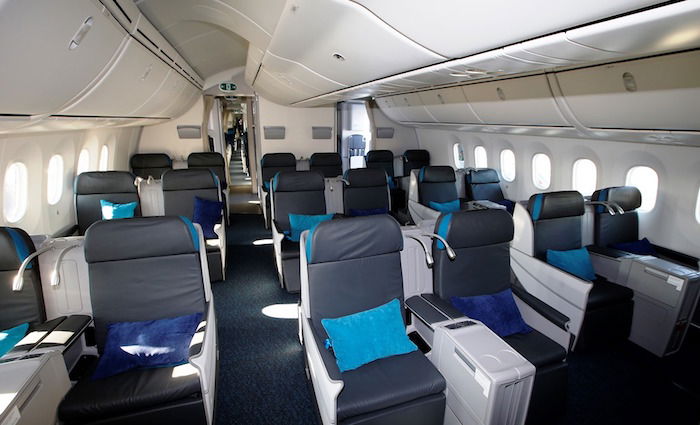 Ukraine Airlines Business Class New York to Kiev
Speaking of not-so-modern planes, Ukraine Airlines flies between New York and Kiev, and has very attractive business class fares. Unfortunately they use rather outdated 767s for the route, but that's part of the fun sometimes, right?

Meridiana Business Class New York to Palermo
Okay, admittedly this is a flight which I know wouldn't be the most enjoyable, but I'm still curious. Meridiana flies from Palermo to New York, and has decent business class fares. Qatar Airways is even considering buying Meridiana.

Which airline's business class would you most like to read about? Any other random airlines flying to North America which you'd like to read about?