Part One
Part Two
Part Three
Part Four
Eventually our rides showed up and we left to get outside. As I mentioned earlier this was my first time in HNL, and it's a very interesting airport to say the least. First you can walk outside while still being airside, immediately next to the tarmac. You could easily throw something onto the tarmac or even jump, although it would be a bit of a fall.
On the way out I felt as if I were walking through a subway station in Seoul, South Korea. There were stores everywhere, even places to eat, but at the same time not in the typical fashion, and they were all outside yet sort of inside.
After a 10 minute walk in miserable humidity we made it outside and met up with our rides. We drove to Sam Choy's, which was maybe 15 minutes away, where we had dinner. At this point I was totally drained, being up for 23 hours and counting, especially since I didn't get a lot of sleep the night before.
The restaurant was very nice, and not surprisingly, pricey. I had a chicken caesar salad which was $17+tax/trip, basically the cheapest thing on the menu. By around 10:30PM we left Sam Choy's and headed to our hotels, in my case the Doubletree Alana Hotel Waikiki. The lobby was somewhat non-existent, probably the size of two rooms. Check-in was quick and breakfast vouchers were handed over without asking. We (I was rooming with my friend Zach) headed upstairs to our room, only to find it totally trashed. There was no luggage in the room, but it wasn't made at all– the covers were undone, there were glasses all over, etc. I've walked into someone else's room before, but never into a room without anyone in it that was trashed, so it was a first for me.
We went back downstairs and the agent hardly offered so much as an apology. We got put in an "oceanview room," (after requesting it) which kind of lacked a view as you'll see in the pictures below. The room was fine considering the cost. It was somewhat tired, but the beds were comfortable, and since we would only be there for seven hours it wasn't bad at all. We set up a wakeup call for 6AM since we were going to have breakfast at 7AM, with our tour of Honolulu beginning at 8AM.
The best feeling, in my opinion, is being in a new city in a freshly made bed, tired as hell. I swear I was asleep by 11PM, a good 30 seconds after untucking the covers. I woke up with the sound of the alarm at 6AM, opened the curtains to see outside, and was happy to wake up somewhere else.
Here are some pictures of the "view" from the room: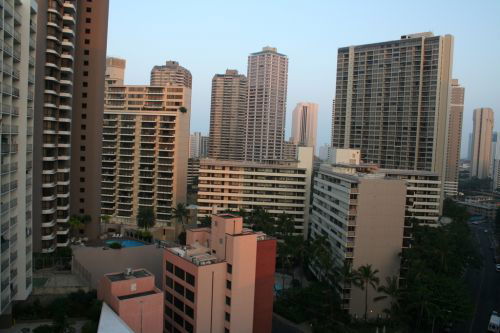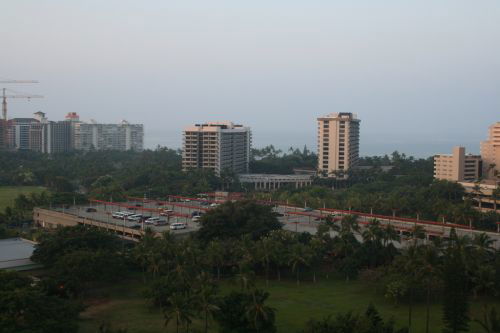 When I hopped in the shower I was surprised to see how small it was, and spent a good minute in my tired state trying to figure out where the other half was. It's not that there was no room, it's just that it was literally half the size of a normal bathtub/shower, which confused me. I guess it's a new cost saving measure?
By 7AM we were downstairs in the breakfast area and met up with a handful of other FlyerTalkers. Being Hilton Gold we got breakfast vouchers, but of course it was for the continental breakfast only. As usual you can "buy up" to the normal buffet for $5,a pretty good deal. It was funny because the "continental breakfast" was about as continental as the breakfast choices in a Red Carpet Club, but we refused to buy-up and made the best of the fresh fruit and pastries. I have to say the guava juice was very good, a nice welcome to the islands.
At around 7:45AM we headed to the room to get our stuff and check-out, and stored our bags in the hotel closet. It was a relief to be able to check bags without paying $25 for the second bag.;)
Our "tour guide," Greg, met us downstairs. One of the things I love about FlyerTalk is that there are people from all walks of life and from virtually every part of the globe, so no matter where you go there'll be a local. I've met and been led by dozens of FlyerTalkers in their hometowns, and have done the same when they visit mine. It's one of the things that makes FlyerTalk great. Rather than taking a tour which shows us all of the tourist traps and charges you $100, it allows one to get a real insider's view of the area.
Anyway, Greg was waiting for us downstairs and rushed us off to the Arizona Memorial before the lines got too bad. We got there at around 8:30AM, and after going through "security" (heh) got tickets for the 9:25AM tour. I was shocked to find out that the whole tour was free (well, if you don't count our tax dollars).
Since we had some extra time we walked around outside where they had plenty of exhibits, including lots of war gear which some FlyerTalkers found interesting.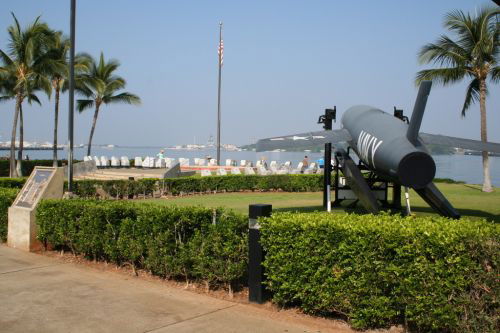 The experience started with a 20 minute movie. While I enjoy history, I usually find these "movies" at exhibits to be hideously boring, and was fully expecting this one to be as well. I was pleasantly surprised by how well done this movie was, and for once wasn't looking at my watch once. Heck, I think I almost shed a tear (hey, I said almost!). It started with a short "live" presentation by a veteran, followed by real footage of the attack along with commentary.
After that we headed to the boat, which took us over to the Arizona Memorial. I have seen the Arizona Memorial in pictures dozens of times, so it was great to finally visit it.
Here are some pictures I took: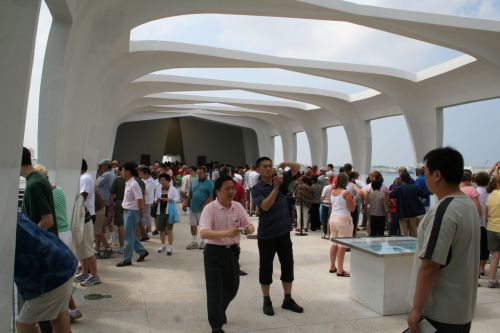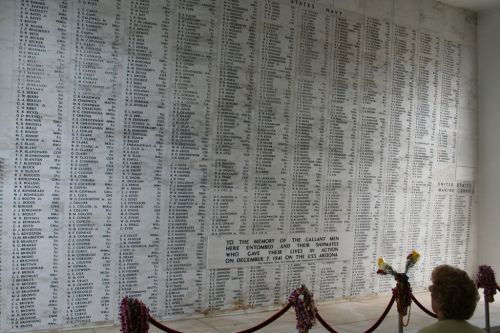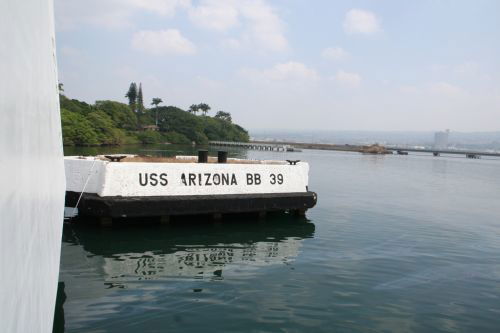 The markers you mark different parts of the ship. In the center of the memorial is a view down where you can see a part of the ship which is basically right at the surface. I was surprised to even see oil in the water, supposedly from the ship (or whatever's left of it). After about 15 minutes the boat took us back to the starting point.
The whole tour lasted 75 minutes, and was extremely well done. After that we toured the island, making many stops at scenic points along the way.
It was also around this time that all seven of us got EasyUpdates saying our flight was two hours late due to crew. Despite many of us having connections we decided not to let it spoil our good time and basically ignored it. From the way we saw it, we had two more hours in paradise!
I especially liked the lookout pictured below. It had great views, exactly how I pictured Hawaii before going there, a pleasant breeze, and even had paragliders that were buzzing us.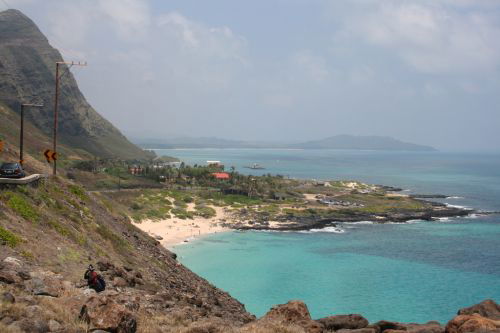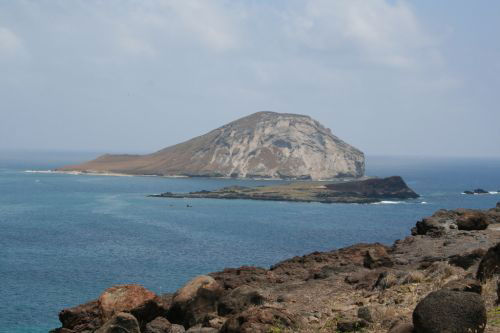 Apparently this is supposed to look like the head of a rabbit. I guess I can kind of see that…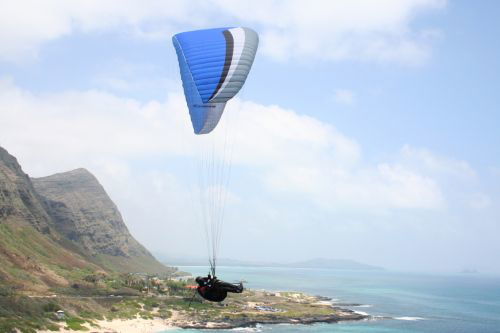 We then headed to another lookout, where the winds were very strong. Another local FlyerTalker met up with us there, and showed us where his house was from the lookout. We stopped for lunch at a local restaurant as well, which had reasonable prices and an "authentic" lunch.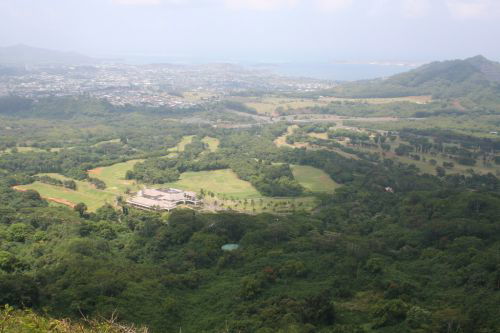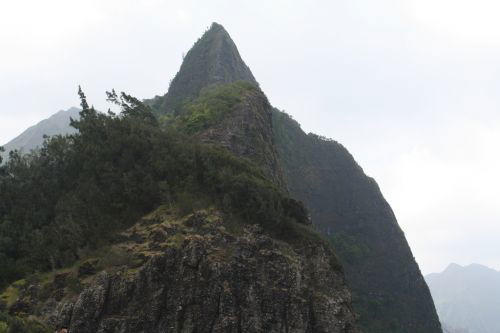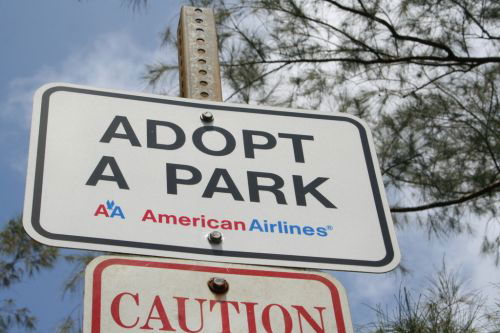 That explains why the part was so dirty…;)
We then went to a cemetery, which was huge.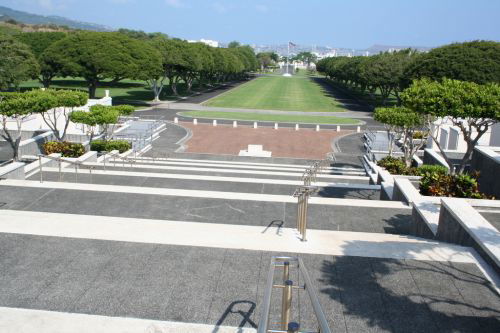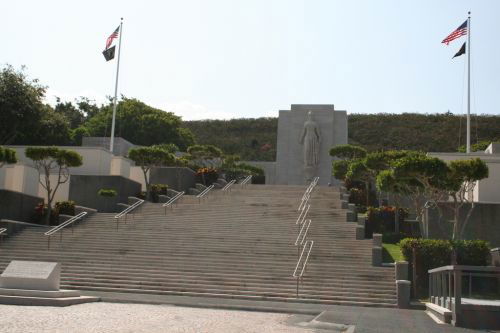 I saw a lady take a picture of a flower in the cemetery which kind of made me chuckle, since it seems like an odd place to do flower photography. Well, when she moved away from that flower I decided to try my luck, and the picture turned out pretty nice. While I'm not an instant flower enthusiast, I thought it was another part of Hawaii that had to be captured on camera, so might as well follow the flower enthusiast on that one.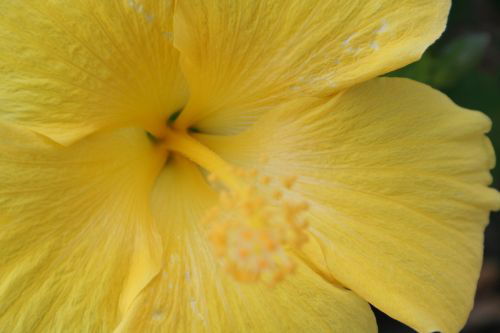 We then started driving towards Chinatown, with many interesting views along the way.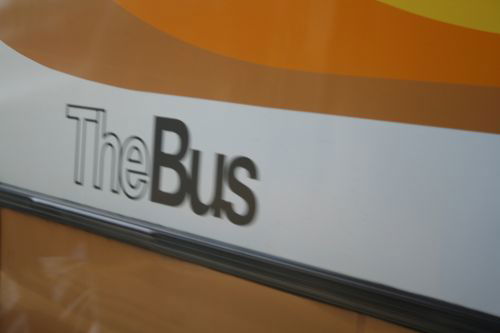 Hawaiian's are very creative people…;)
Several people that didn't make the tour decided to go to TurtleMania instead, which they said had massive turtles. I think the picture below supports that claim.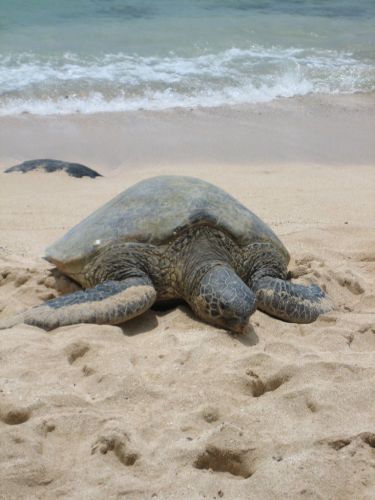 At around 4PM we headed back to the hotel to pick up our bags. Then we made it to RumFire shortly before 5PM, and were able to snag the nice outside seating area along with a great view of the ocean, as you can see below.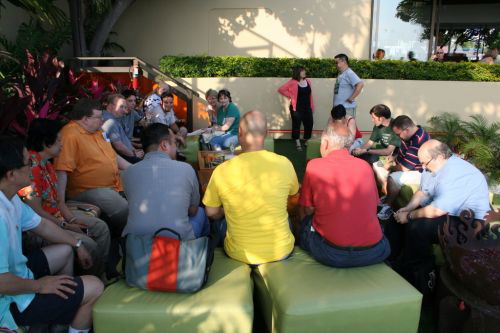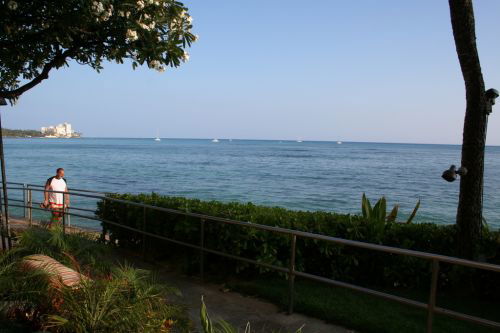 Because our flight was delayed we had more time here, and stayed till around 8PM, well after the sun set. The food and drinks were alright, but it was the view and outdoor setup that made the locale special. The service was pathetic, IMO, with the most flustered and disorganized and at times downright rude wait staff I've seen in a while. I know it's not easy dealing with 25 FlyerTalkers, but this guy was just awful. I would have left no tip, but they seemed to have added 17% automatically and other Flyertalkers are far more forgiving than I, apparently.
To be continued…