Part One
Part Two
Part Three
Part Four
We got to HNL around 8:30PM, and the airport was a zoo. Check-in areas were packed, but the F line wasn't too long. We proceeded up there and got our boarding passes. The agent was pretty busy so I decided to ask at the RCC about reroute options ex-SFO and had the agent just check me in for the HNL-SFO segment.
One interesting thing to note is that the UA agents in HNL (and I assume the rest of Hawaii) wear different uniforms consisting of shorts and gasp, Hawaiian shirts.
We headed towards the "Gold" security line, which seems to be for elites of all airlines. Getting there was an obstacle course, as all of the airline counters were packed, and no one seemed to have a clue where they were going.
The TSA agents were surprisingly friendly, so there was no need to pull out "the sticker." We were airside within a few minutes and began the long march to the RCC, which probably took so long since we walked just about every direction except the right way.
When we got to the RCC we had the same agents as the night before, so they weren't quite as shocked this time around since we had warned them we'd be back. The same agent that seemed friendly the night before tried to help me with my itinerary and finding alternate routings. I was booked HNL-SFO-ORD-IAD-TPA originally, so wanted to get something similar.
As it turns out, she was probably the most incoherent agent I've dealt with at United. Never have I seen an agent with such poor computer skills. Heck, she was doing it all on one screen instead of tabbing and opening up multiple browsers, something which seems pretty rare and old fashioned (and dumb). At one point she got snippy and said "You don't even know what you want, you're telling me different things." I don't think she understood that I wanted a combination of the best routing and upgrade availability, as opposed to just one metric. She looked at the world in black and white, when most of the world is gray.
This lady hadn't even heard of Ted, when I was trying to explain that DEN-TPA didn't interest me!!! I could go on all day about this clueless agent, but I'll spare you. In the end I got confirmed on SFO-ORD with a good chance at an upgrade to F, according to her, plus ORD-TPA on Ted. I would just request the original routing credit.
We hung out in the RCC, freshened up a bit, and once again set up crew gift bags. We also got the "safety demo" gear, which included styrofoam cups and stirrers.
We headed to the gate right as the RCC closed at 10:30PM, five minutes before boarding. One FlyerTalker was on the upgrade list and thought she had no chance in heck of clearing, but at the last minute she got it, so we all cheered as she approached the podium, waking up the 300 other tired vacationers. Once again we got the weirdest looks from our fellow passengers, which I came to actually find entertaining.
UA0078, HNL-SFO, 05/17, 2325-0719
We were among the first to board, and unlike the playful, joking crew on the outbound, this crew seemed far more serious, although nice.
The first thing many of us noticed was the purser– WOW! This guy seriously must have been pushing 90, and for a second I thought he was the successor to Iris Peterson.
A few of us approached the purser in the front galley, who was talking to the captain, and gave them our gift bags. We explained what we were doing, why we had gifts, etc., and he was very thankful. We then gave the captain gift bags for him and the first officer. He also seemed very nice, and we talked for a few minutes. He found the idea of us traveling to Hawaii for a day interesting to say the least, and eventually we bid farewell to him since he had work to do.
I had forgotten to ask about Channel 9, so went back up to ask him as he was back in the galley. I explained how many of us are aviation enthusiasts and really enjoy listening Channel 9, and nicely asked if it would be on. He responded, "Sorry, I can't turn it on," and then there was a long pause. I thanked him anyway for the safe ride and walked away, and right as I was leaving the galley he said "wait," almost like a soap opera where someone dumps someone and then regrets it (in this case us Channel 9'ers).
I walked back to him and he sticks out his hand and says "By the way, my name is Charlie." I introduced myself as well, and he said "Ben, the reason I can't turn on Channel 9 is because there are too many knuckleheads out there that either post it on YouTube or cause problems with communications they misinterpret. I know my wife and son love listening to it as well when they fly, but it's just not an option I have anymore." He went on to explain his reasoning for several minutes, and I thanked him for the explanation. I respect that he at least tried to offer an explanation rather than saying "it's captain's authority," so I guess it's fair enough, although I find any reason for not turning on Channel 9 to be utter BS.
When I got back to the cabin I suggested we call the safety demo off, since I didn't think the purser could handle it either without a heart attack from laughing or without kicking us off the flight, since he was more serious.
Pre-departure beverages were served, and I took some guava juice, which was awesome. The safety demo was played and we pushed back. I was seriously in disbelief about how the purser, named Boise, could possibly be able to assist in the case of an emergency, especially based his announcements. Seriously, never have I heard announcements as slow as this guy's, or with as little pep. Little did I know how good he was at his job.
We taxied out to the far runway (I believe referred to as the "reef runways") and rocketed off in a matter of minutes. The seatbelt sign came off soon enough, and in-flight service began. This crew was absolutely phenomenal.
Boise, the purser, came around offering drinks. He had memorized the name of every passenger in the F cabin, and that's over 30 people! As he took drink orders he individually thanked everyone, and said something like "I see you're at our 1K level, and I'd really like to say that we appreciate all those miles you fly with us every year and all the business you give us." He did this more than once during the flight, and it was extremely impressive.
His attention to detail was amazing. He had an exact way he would lay down the napkins under drinks, and when there wasn't a napkin under a drink he would say "Hold on, let me just put a coaster under there, we can't have drinks without coasters."
This man was damn impressive, an example of someone that really enjoys their job, and despite age, does an amazing job at it. The service began with nuts and was followed by a snack, with the choice being between a Thai chicken dish with sauce and some sort of pasta and a cheese plate. I wasn't too hungry so chose the cheese plate.
The rest of the crew was also excellent, and I'm pretty sure every crewmember came by to say thanks for the gifts, also inquiring about what the heck FlyerTalk.com is. Most of us slept through most of the flight, and before we knew it we were on approach into SFO for runway 28L, on a parallel approach with a 737.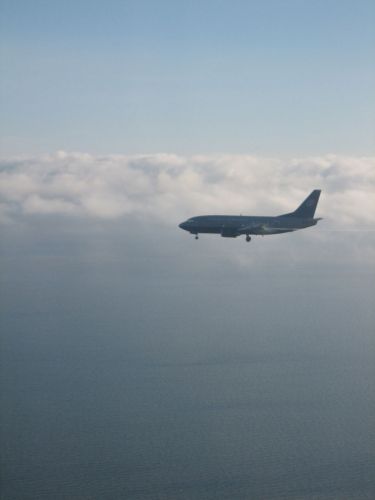 Here's a video of the landing, including the announcements by Boise. I swear he sounded more energetic at the end of the flight.
On the way out Boise thanked almost everyone by name, which was once again extremely impressive.
Despite it still being pretty early on a Sunday morning, SFO was a ZOO. I could tell I'd have a hell of a time getting a better option for heading back East. Most of us headed to the RCC for a bit, but after half an hour or so most of us parted ways to get back to where we came from. I still had another couple of hours until my connection, so walked around the terminal a bit and eventually made it back to the RCC.
I wanted to see my upgrade status so decided to ask the agent in the RCC. As many of you may know, one of the benefits of an RCC membership is supposed to be enhanced customer service thanks to the dedicated agents. There was one agent working in the RCC during this very busy weekend, and here's what the line looked like: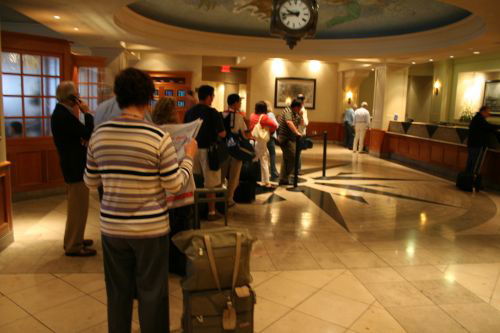 Now in all fairness the line outside was much worse, but come on, they need to do better than this. I complained to the lady at the front in a nice way and she called another agent to come to the club. I should have pushed it to a supervisor, but decided against it in the end since I knew everyone was having a crazy weekend. The agent was bitching about the TSA so I showed her "the sticker," and she said it made her day.
At around 10AM I headed to the gate, fully expecting to get the upgrade since there were four seats left and I was number one on the list according to the RCC agent.
As usual, it was a different story when I got to the gate, since the first announcement I heard was "First Class has checked in full." Well, at least I was able to get an aisle seat in Economy Plus instead of the middle I was originally put into by the agent in HNL.
UA0906, SFO-ORD, 05/18, 1044-1655
This was an interesting crew, to say the least. I had been spoiled with the excellent service of the HNL based crews, so to get back to a sub-par crew was tough. There were either five or six FA's on the flight, not the four that we're supposed to have on midcons nowadays.
The purser seemed fine (although from my coach seat I wouldn't know too much, other than that his announcements were fine), and the other F FA seemed good too. It was pretty funny, the other F FA must have been the youngest looking FA I've ever seen. I wouldn't put him a day over 20, which I believe is the minimum age. He looked like some celebrity, and towards the end of the flight I realized he resembled Zac Efron to a large extent. He really seemed to do a good job, at least based on his facial expressions as he served the passengers and the frequency with which he walked through the cabin. From my view it sure seemed like quite a few of the older guys in F were either hitting on him or schmoozing with him to an extreme, since I saw quite a bit of arm grabbing. I guess that's acceptable on a flight from SF?
Sadly the crew in coach wasn't nearly as interesting. The FA's were, erm, efficient. Everything was done quickly so they could go back into the galley without any wasted time. When I went to the rear galley to use the restroom I noticed that the galley seemed to be a film studio, with one of the male FA's imitating the Viagra commercial, or maybe it was Cialis, I don't know. I heard phrases such as "Bob has a big new swing of confidence" and "for men with ED…" You would think they'd stop for a second when a passenger is back there, but nope, they kept on yapping. Extremely unprofessional, but I was hardly surprised.
Fortunately the flight was over before I knew it, and I even managed to get some work done!
Upon arrival at ORD I headed straight to the B concourse RCC, which was a total zoo, much like SFO. The RCC agents didn't so much as say hi to me, as they were too busy talking about who they have crushes on (or in the case of one of them, who has a crush on her). Compared to the excellent RCC agents I've become used to, it was quite disappointing.
I asked the agent at the service desk when the new "incomparable" RCC opens, and he said around June 10, so I'm hoping it's true. They're really holding out till the end of Spring, the announced opening season.
A few minutes before boarding I proceeded to my gate, which was B21, right in the heart of Ted territory. Boarding began just a few minutes late, at which point they boarded seating area one. There was what appeared to be a high school soccer team aboard that was clogging up the gate area, so it was hard to make it to the front of the line.
UA1448, ORD-TPA, 05/18, 2140-2318
After about ten passengers boarded the GA announced that the captain has suspended boarding and that we were to wait until further notice. After about five minutes boarding resumed. I took my seat, 10D, and took a mini-nap. Eventually my seat opponent, in this case a lady that really needed two seats, took the middle. She was very nice (and talkative, as you'll find out), but took up at least 1/4 of my seat as well. Her arm was in my stomach for most of the flight.
As soon as she sat down she started talking… and talking… and talking… and talking. You get the point. Usually I'm happy to "entertain" seat mates that want to tell me about Uncle BobbyLee in Tennessee, but I was tired after taking a redeye, getting little sleep the night before, and already being late into this day. Most of my reaction to her talking was just "Ah, ok" or "Gacha," but she didn't get the point, I guess.
After just a few minutes of being aboard the captain announced we had a mechanical problem and that it might take a few minutes to fix.
Another ten minutes later (aka 10 more minutes of listening to this lady), the captain announced we'd have to get on a different plane, saying that we shouldn't have boarded to begin with. Loud moans filled the cabin, and we all trekked over to the mid-B gates. For a split second I was hoping there were no Ted planes left and we'd get mainline, but no such luck.
Another 20 minutes later, now a little over an hour late, we re-boarded. As I got aboard the purser said "Ah, I see you're part of the vocal minority," based on my wristband which I was sporing. After having noticed during the first boarding process that his name is Glen (as opposed to Glenn, the first name of United's CEO), I responded "Ah, I see you're missing the $40 million 'n'." He chuckled, and for once I felt like I had a good comeback.;)
As we reboarded I was still stuck (quite literally) next to the same lady, and she continued telling me the same stories about her family, from her straight "A" daughter, to her troubled adopted Russian children, to her other daughter who's not so smart. Some of the stuff people tell complete strangers after just a few minutes amazes me. The funniest thing (and I really had a hard time not laughing out loud when she said this) was "Yeah, my 16 year old daughter's grades have been going down for the past two years and it's because of her stupid boyfriend. All he wants to do is have sex with her and she keeps pushing him away because she's a good Christian and wouldn't do that." I'm usually pretty good at responding to random information that's of no consequence to me, but I was at a loss of words on that one,
Eventually we took off and as we reached cruising altitude the captain made an announcement saying the mechanical was due to a light going off in the cockpit during landing on the last flight, and also that Channel 9 was available. Drink service began shortly thereafter. Glen took my drink order, and since I was in a really strange mood (tired but at the same time wanting to joke around), I pulled my Ted bear (yes, Ted bear, not teddy bear) out of my bag and had him order the drink for me. In true Ted fashion I put him in front of my mouth and said "Ted wants you to give me two cups of water." The guy laughed his rear off, and promptly delivered.
After drink service I went up to use the restroom, and on the way out stopped by for a second to chat with Glen. This guy was hilarious, and we talked for nearly an hour. Let's just say there was a passenger that was sitting behind me that was causing some trouble, and they were reporting him. Apparently he was very aggressive regarding the soccer players and delays, and just by looking at him I could see what an unhappy person he was.
Glen was on the "phone" with the pilots while I was up there, and I interrupted him to say "Please sincerely thank the pilots for turning on Channel 9." He said to the Captain "You know that kid 1K I was telling you about earlier? Well, he wants to thank you for turning on Channel 9," all of which he said with a smirk. Before landing I got a full set of trading cards from the Captain, all of which I already had, thanks to Captain Flanagan, but Glen didn't need to know that.
This guy was awesome, and for once my Ted flight was over too soon. I hope I'll run into Glen again sometime soon, cause he rocks, has a great sense of humor, and does a great job.
I got home at around 2AM, and slept only minutes later.
Conclusion:
I had an amazing trip, not much left to be said. 90% of the UA employees I dealt with were exceptional, and there are no better travel buddies than FlyerTalkers. Flying and seeing a destination can't be beat, even if for only a day.
You can bet we'll be doing another one of these group trips sometime soon.
That's all I got, thanks for reading!