Want to receive extra benefits for your stay at the W Hotel Aspen, including complimentary breakfast, a space available room upgrade, a property credit, and more? Contact

[email protected]

for more details. He may even be able to help if you already have a stay booked.
The W Aspen opened in late August 2019, and is the first new hotel in Aspen in about 25 years. That's exciting, since this presents an opportunity to redeem points in one of the most popular (and expensive) ski destinations in the US. I'd note that the W Aspen is only a few blocks from the St. Regis Aspen, which I've reviewed before.
The W Aspen has a total of 99 accommodations — this includes 88 guest rooms and 11 residences.
The W Verbier is one of my favorite Marriott properties, and it's my understanding that this hotel was modeled after that one, which I'd consider to be great news.
Booking The W Hotel Aspen
We were visiting Aspen for a fall getaway. It was Ford's birthday, and we were also traveling with a friend who was celebrating his birthday. The W Aspen has Sky Residences, which are fully integrated into the resort.
Looking at rates, a standard room cost about $300 per night, though they were also selling incredible-looking two bedroom residences for just under $1,000 per night. These residences looked huge and beautiful, so we decided to book one of these, since it seemed fun to be able to share such a big space.
As you'd expect, the price of these residences (and all rooms, for that matter), is highly seasonal. For example, the rates for the two bedroom residence seem to range from about $929 per night to $3,000+ per night, depending on the time of year.
If redeeming points, the W Aspen is a Category 8 property. That means a free night ranges in cost from 70,000 to 100,000 points per night, depending on whether it's off-peak, standard, or peak. You can't redeem points directly at the Sky Residences, though.
On top of all rates the hotel has a resort fee of $50 per night.
W Hotel Aspen Review
Now let's get into the review. First I'll talk about how we got to the hotel, then we'll look at the public spaces (including pool, bar, and restaurant), then we'll look at a standard guest room in the hotel, and then we'll talk about the service a bit. Boy do I have a lot of things to say about this hotel…
W Hotel Aspen Arrival
We decided to fly into Denver and drive from there, rather than flying straight into Aspen. Flights were way cheaper, and we've had so many bad experiences with flight cancelations into & out of Aspen that we just preferred a nonstop flight there.
Ford suggested this would be a "fall" getaway (which to me means a light sweater and a pumpkin spice latte), though as it turned out we got the first day of snowfall of the season. So it was super beautiful, though I wasn't mentally prepared for the single digit (Fahrenheit) temperatures.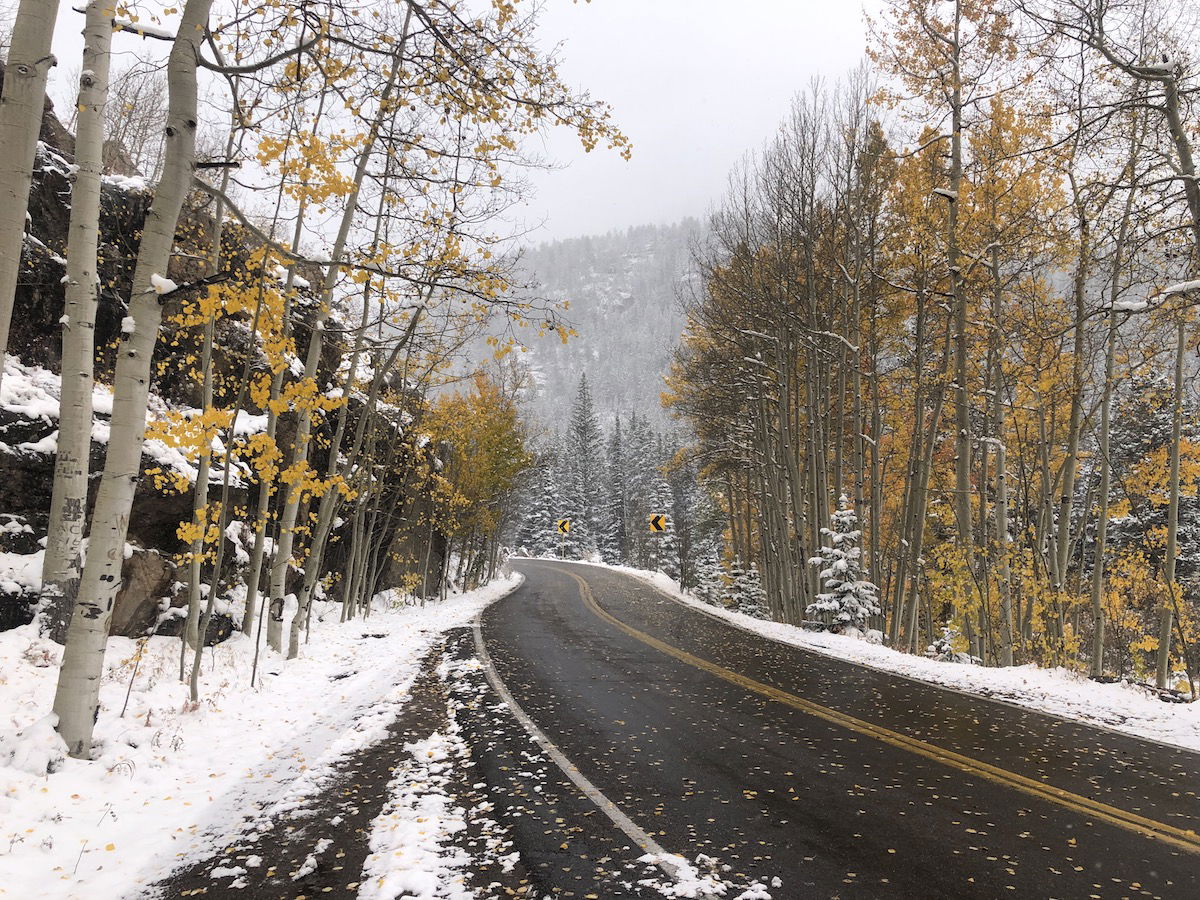 Driving to Aspen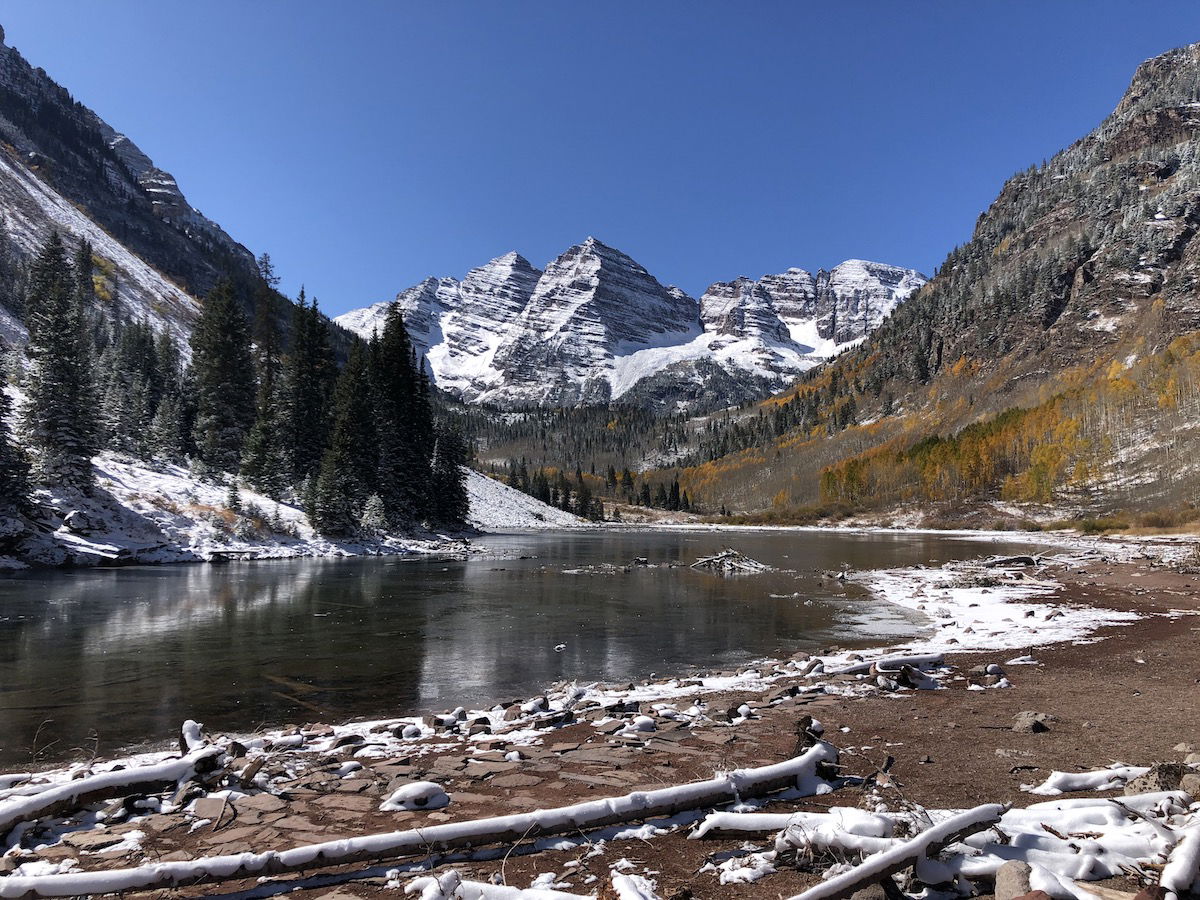 Maroon Bells
The drive from Denver to Aspen took about four hours, so while it takes a while, it was such a pretty drive, and I'd do it again in a heartbeat.
If you do fly into Aspen, the W offers a shuttle service, which is included with the resort fee.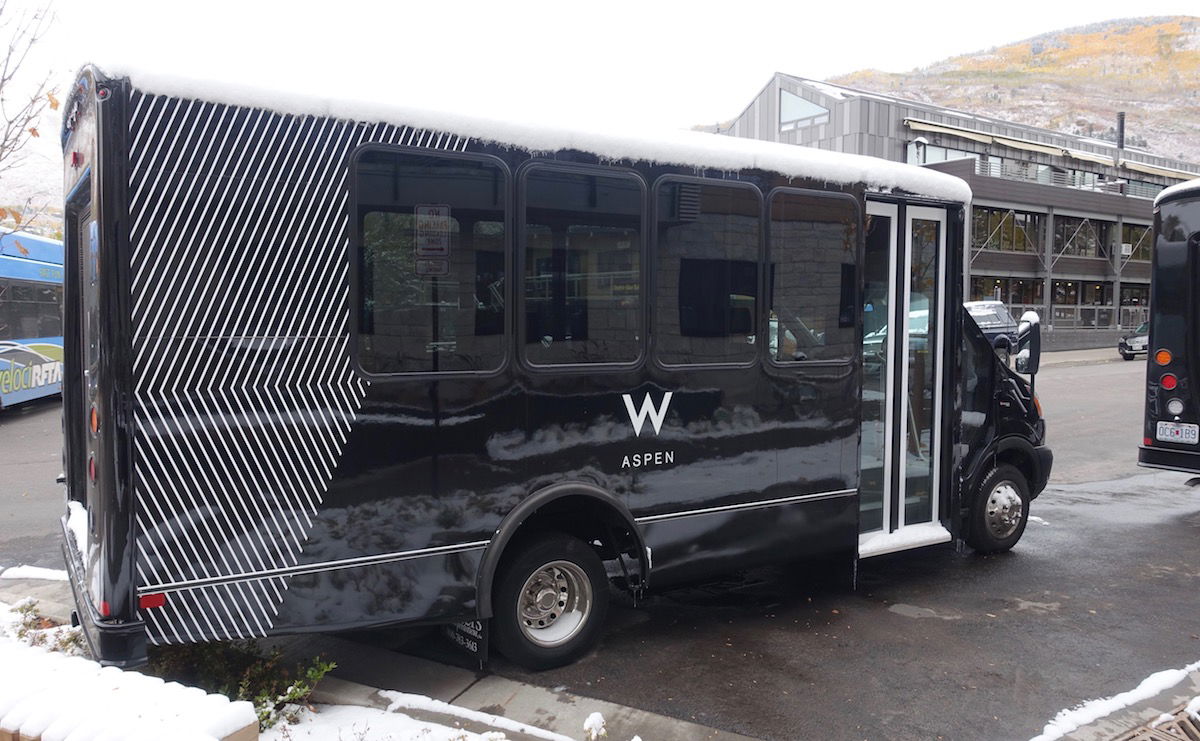 W Hotel Aspen shuttle
The W Aspen has a gorgeous modern chalet-style exterior.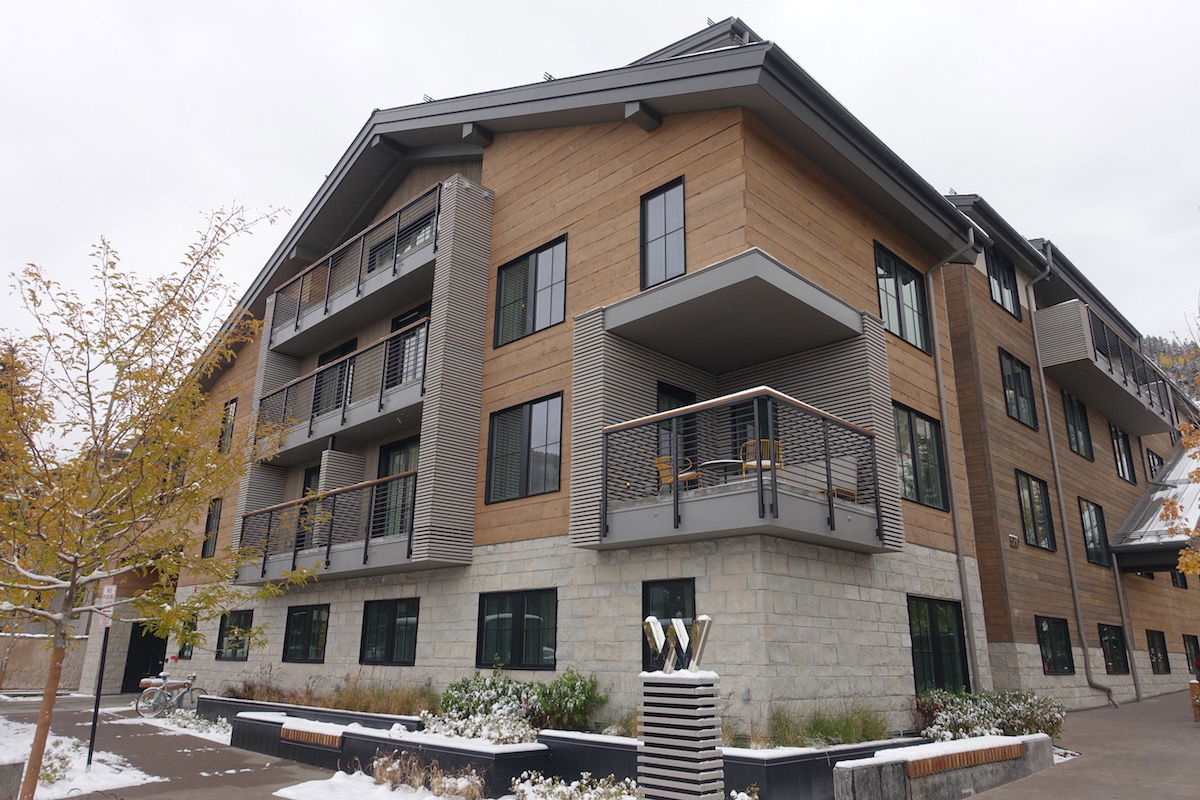 W Hotel Aspen exterior
The bellmen were friendly and offered to help with our bags and also parked our car. Valet cost $52 per night, which is pricey, but not unexpected.
I was immediately reminded of the W Verbier inside the lobby, since the entryway is very similar, with stairs and seating that's cool-looking but not necessarily that practical.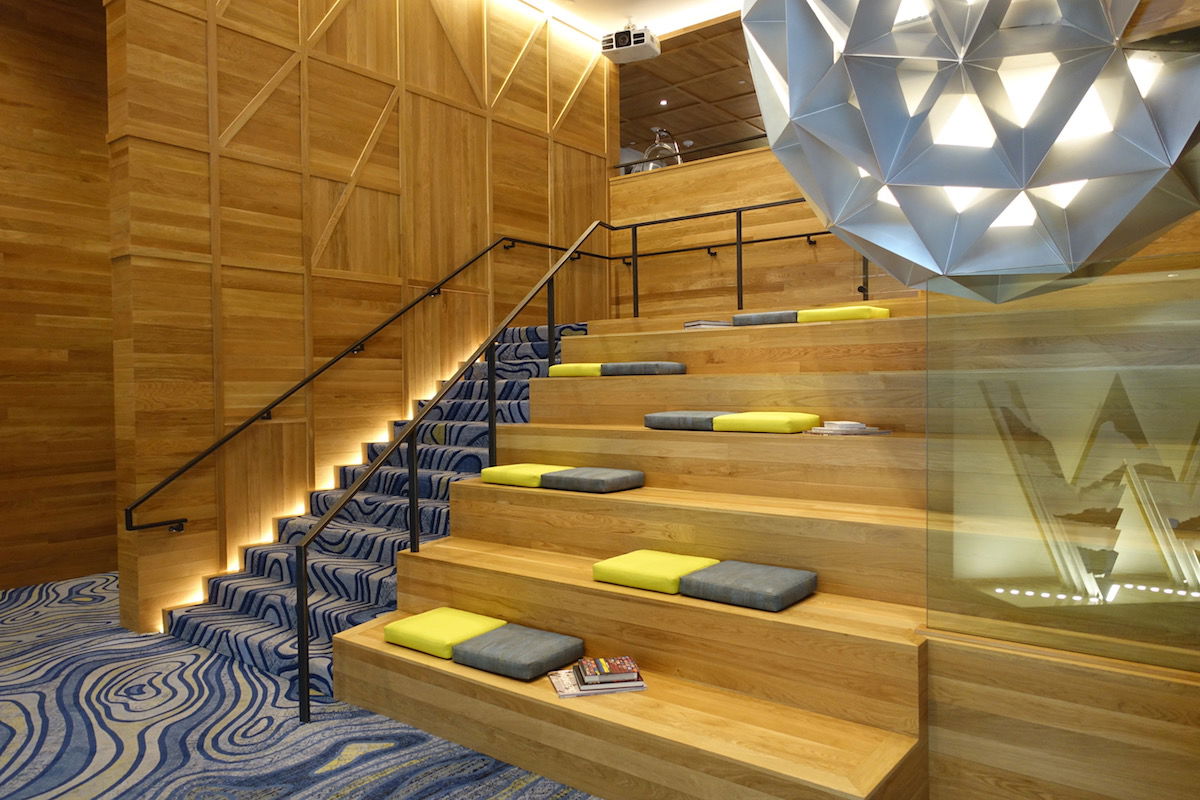 W Aspen lobby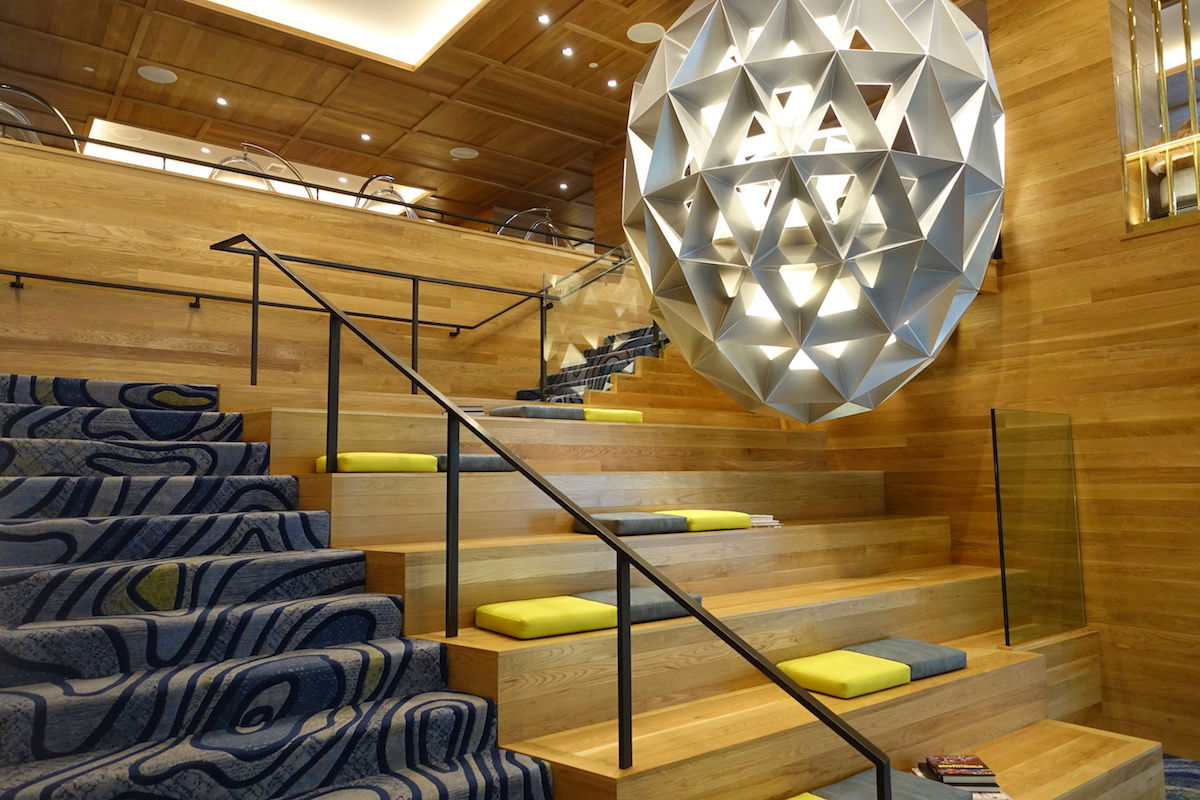 W Aspen lobby
Inside the entrance and to the right was reception, which was a colorful space, with some cool wall art.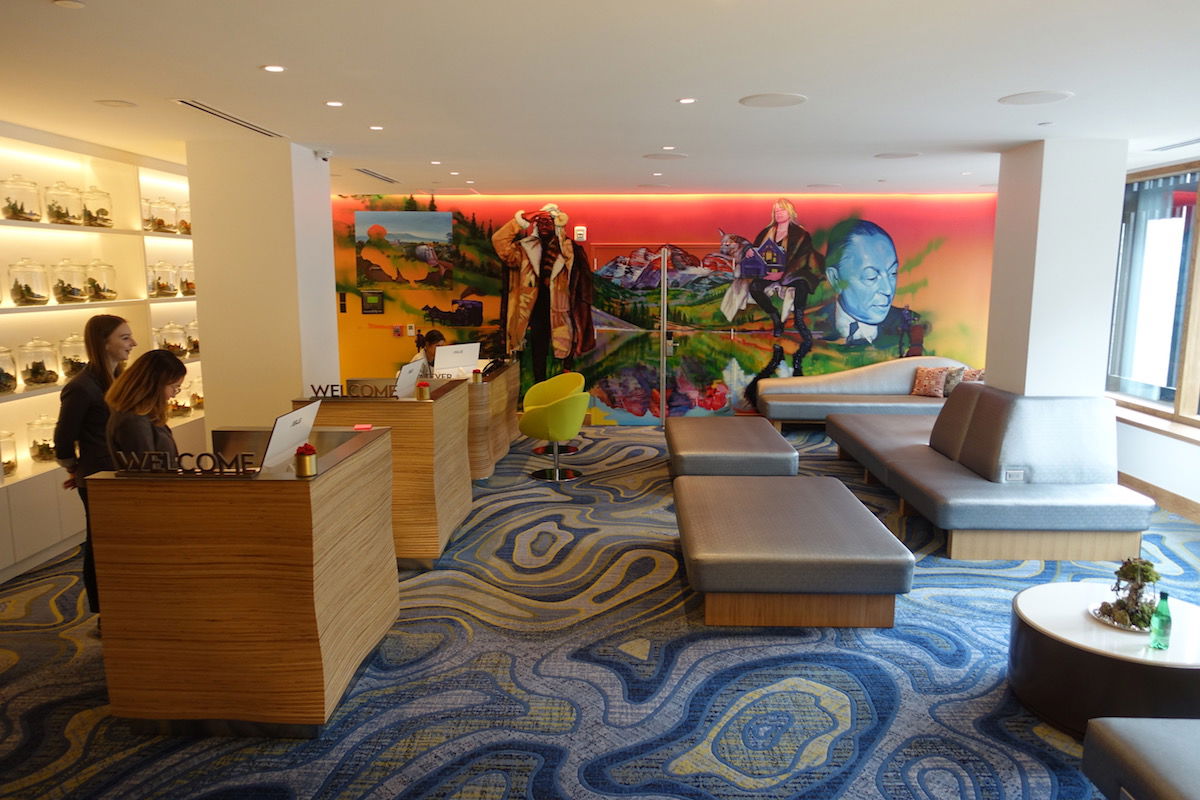 W Aspen reception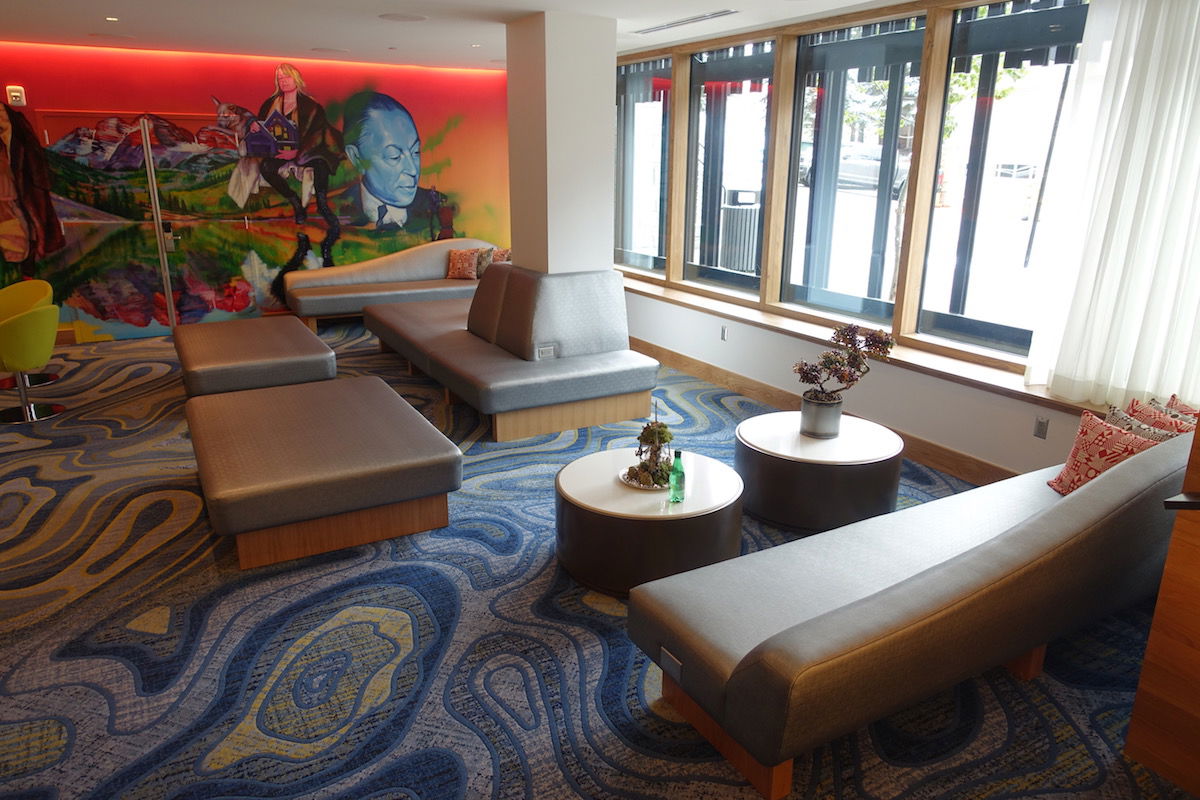 W Aspen reception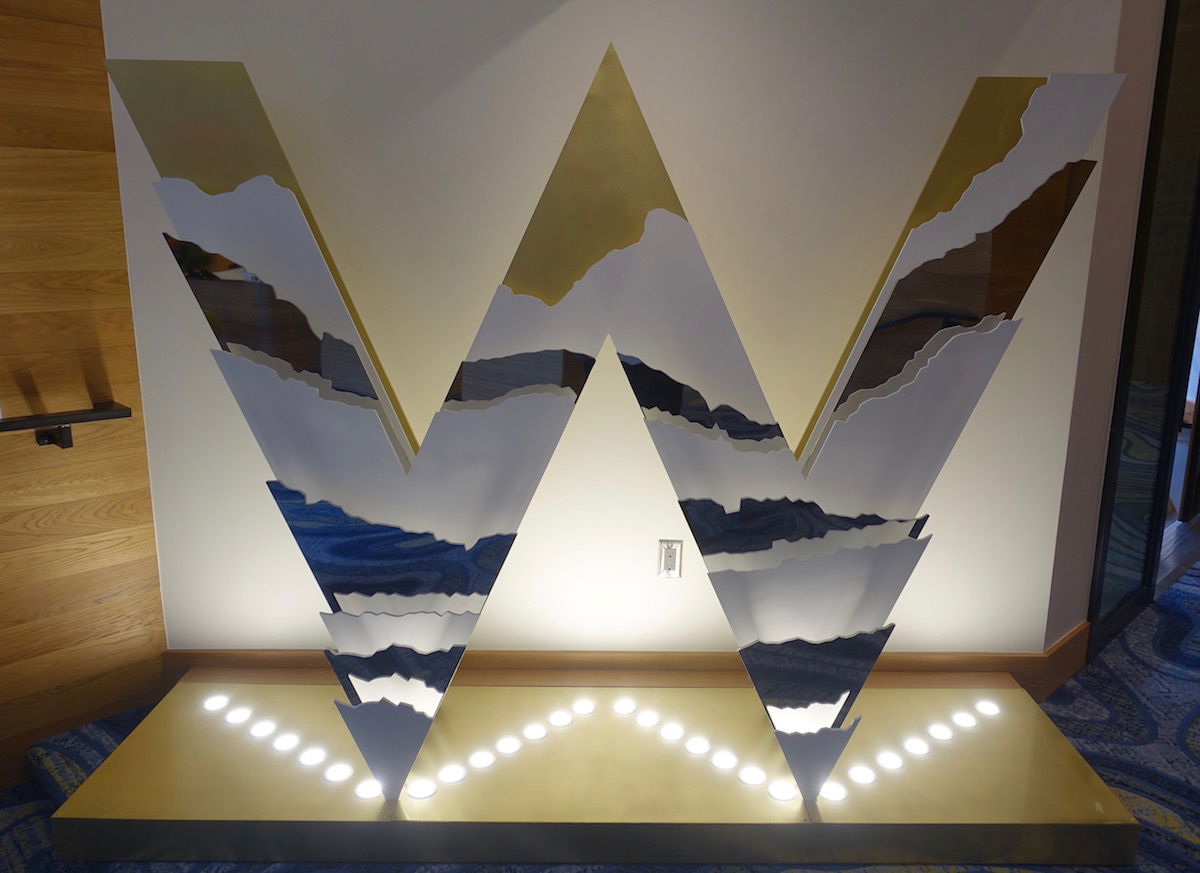 W Aspen reception
The check-in process was a bit odd:
First they couldn't seem to find our reservation
Then I clarified we were staying in a residence, so they said they'd get a residence host to check us in
After going to the back for a minute, they returned and said no residence host was available, so they could check us in
Then we were informed that our room wasn't quite ready, because they were "putting the finishing touches on the room to make sure it's perfect"
I was a bit surprised our room wasn't ready since the hotel seemed to be nearly empty, but fair enough. Check-in time was only technically at 4PM, and that's when our room was ready.
W Hotel Aspen Marvelous Residence 2 Bedroom Suite
The W Aspen residences are fully integrated into the hotel, which is to say that they're in the same hallways as the rest of the hotel. We were assigned residence 391, located on the third floor (the hotel has a total of four floors, plus the rooftop). Speaking of which, I'd understand if they were called ski residences, but where does the sky residences name come from? I wouldn't exactly call a third floor room as being in the "sky."
The wallpaper is allegedly supposed to make the hotel look like a mine, so I appreciate how different it is, if nothing else. Our room was almost to the end of the hallway and to the left.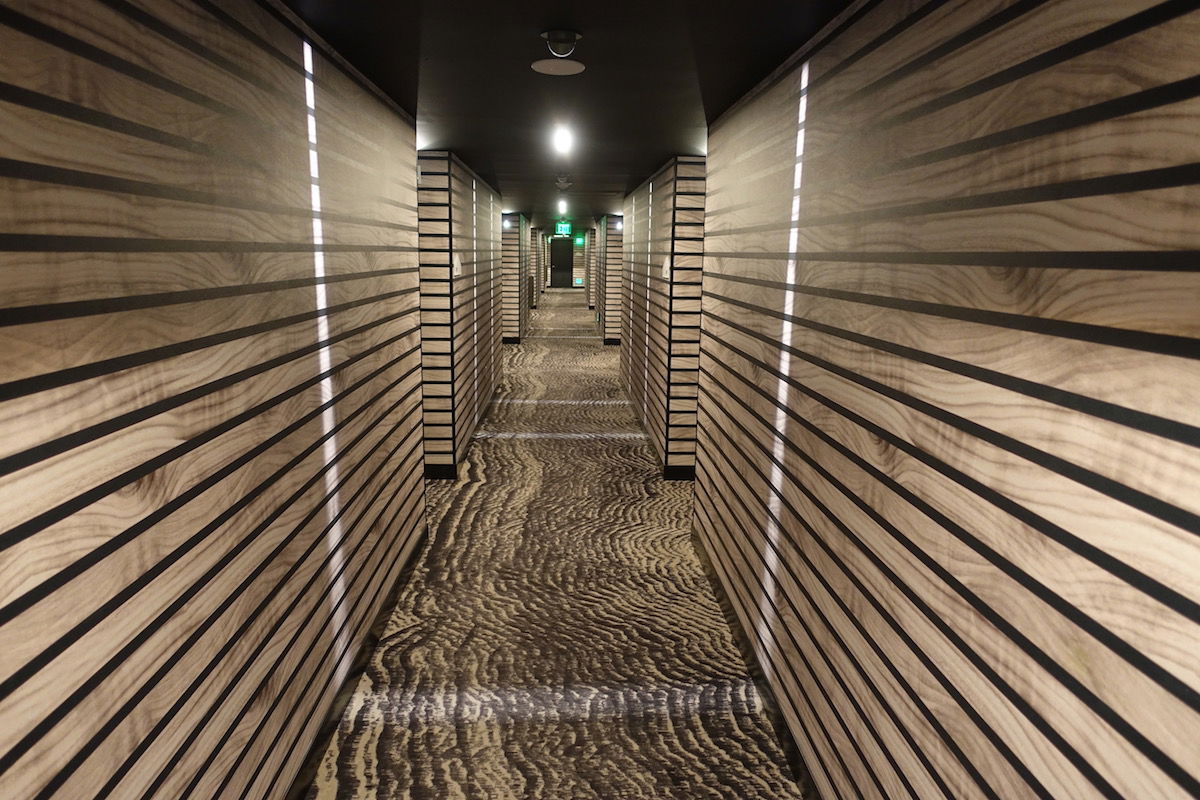 W Aspen hallway
Oh my gosh this room was beautiful! The W Aspen Residences are really, really nice. The room had a massive living room.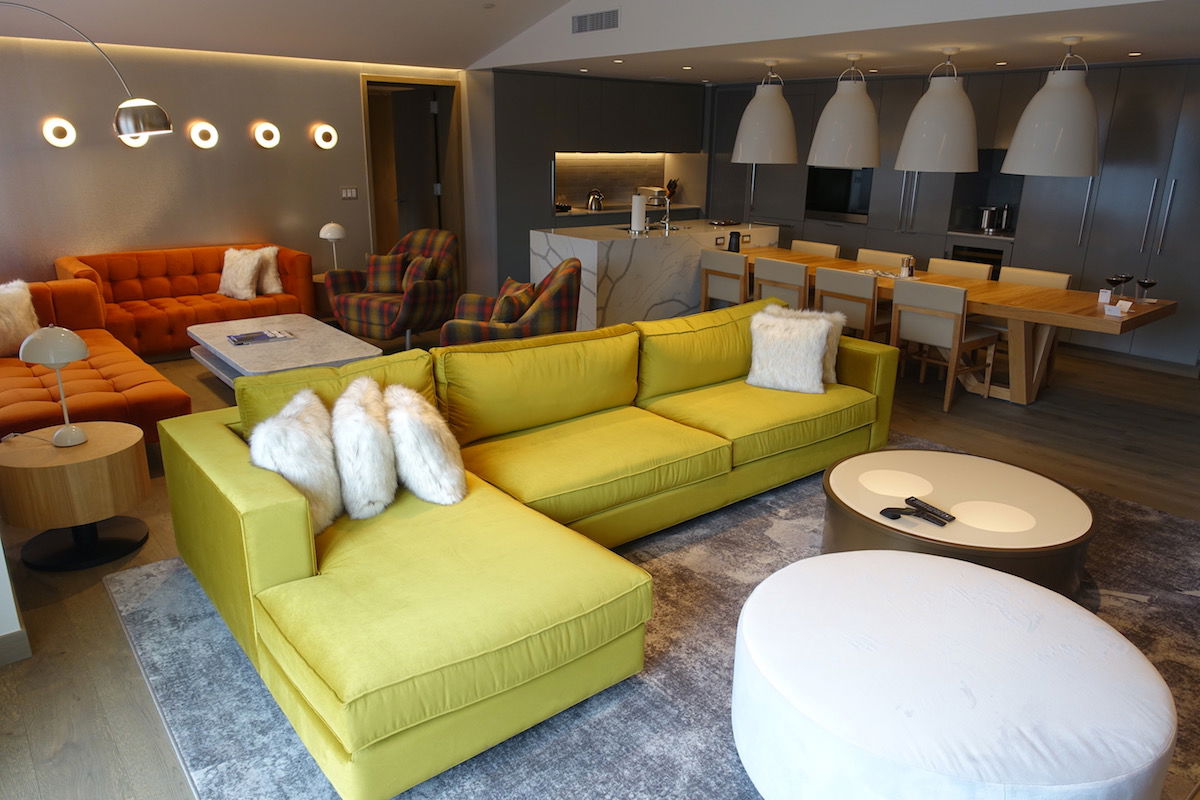 W Aspen Sky Residences Marvelous Residence living room
In the far corner was more of a formal living area with two couches and two chairs around a coffee table.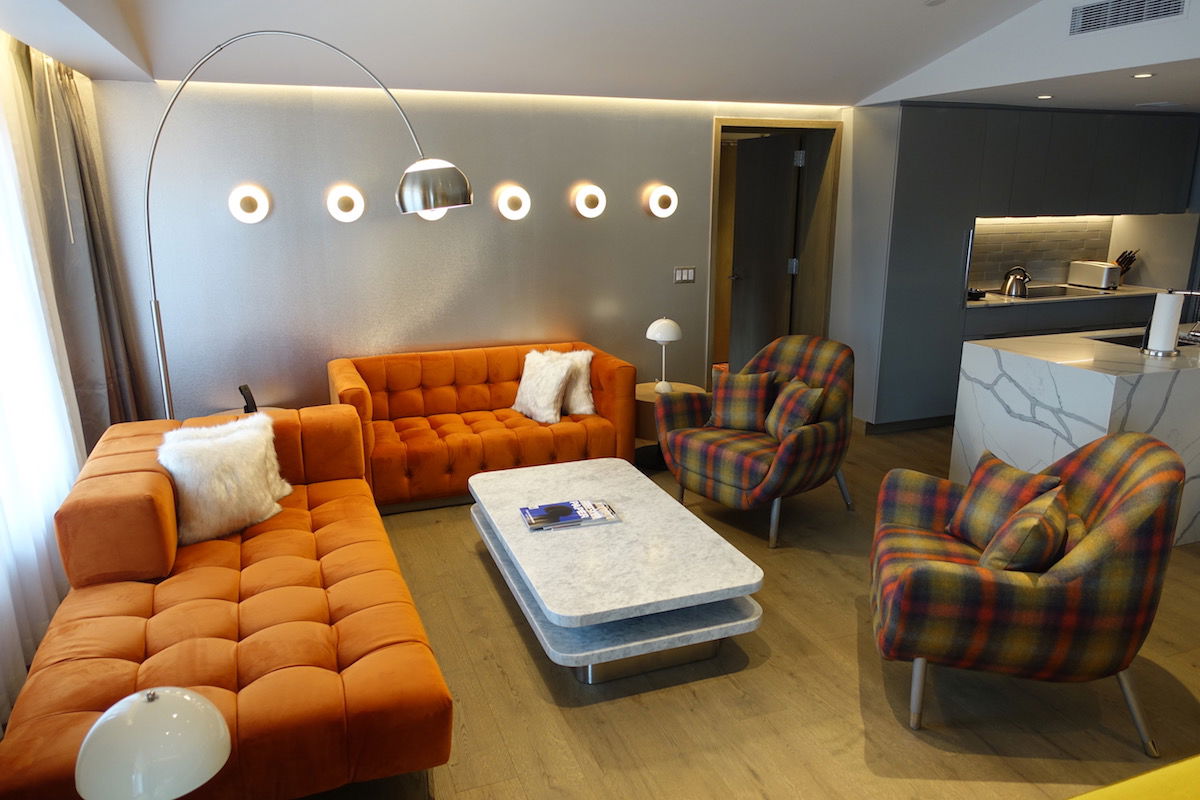 W Aspen Sky Residences Marvelous Residence living room
Then there was another couch overlooking the TV and fireplace.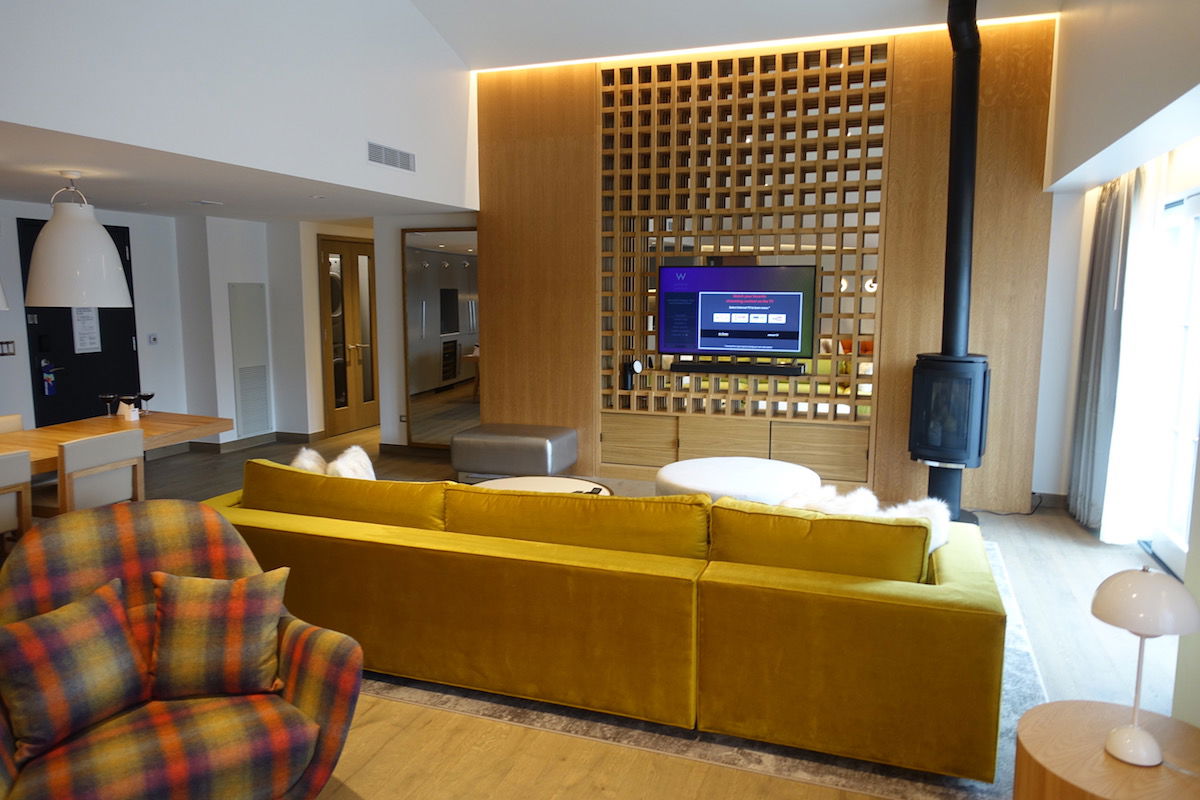 W Aspen Sky Residences Marvelous Residence living room
Then to the side of that was a dining table with eight chairs, plus a huge kitchen.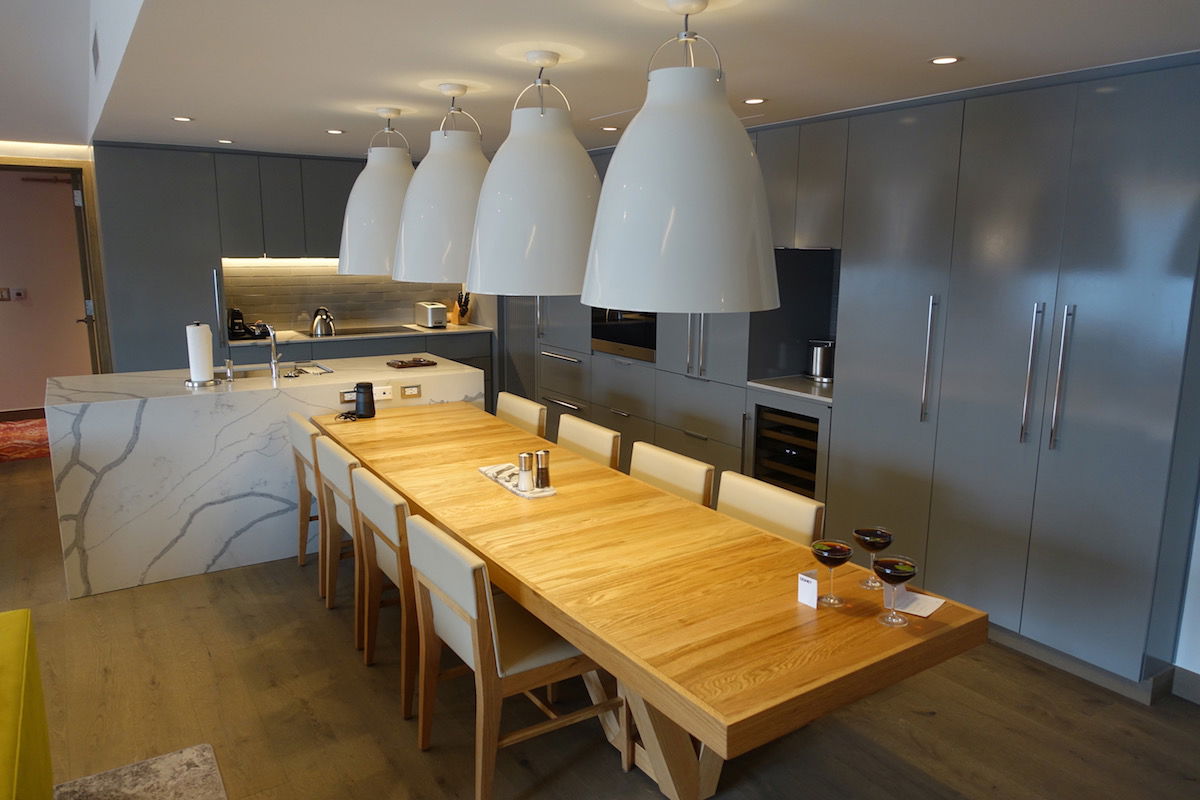 W Aspen Sky Residences Marvelous Residence kitchen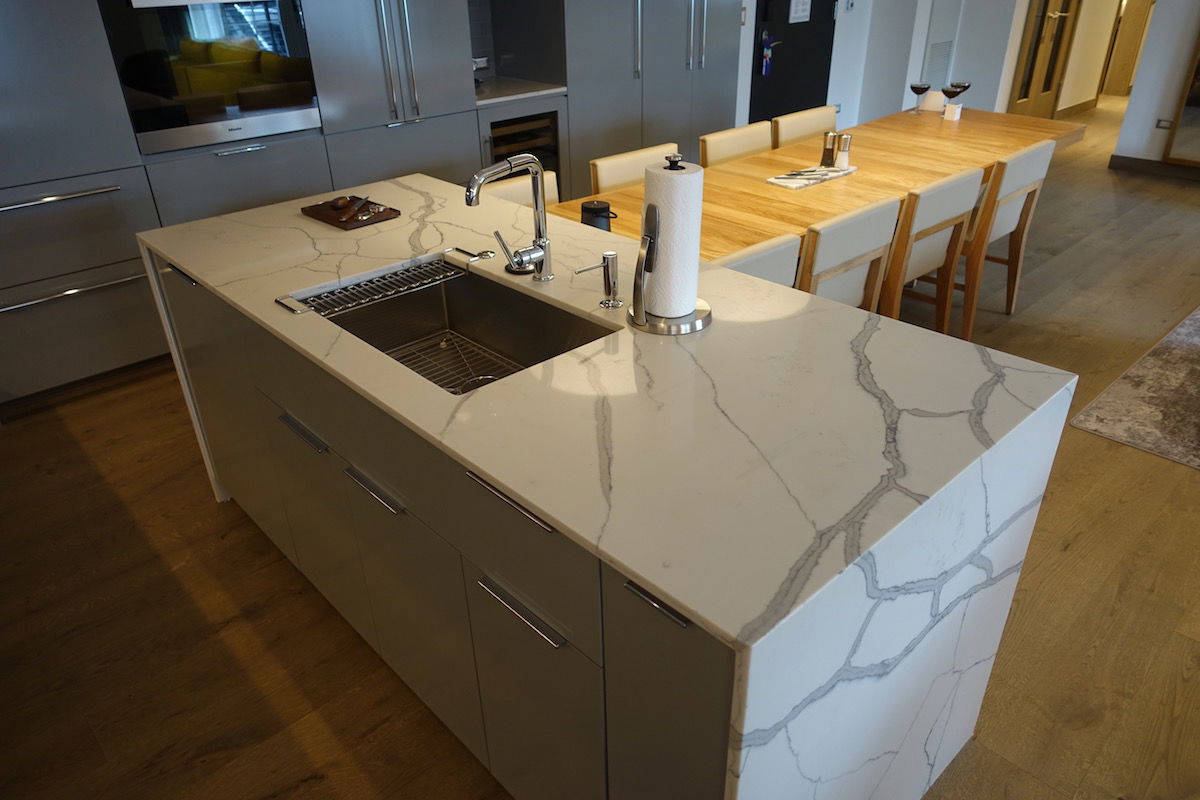 W Aspen Sky Residences Marvelous Residence kitchen
There was also a Nespresso coffee machine.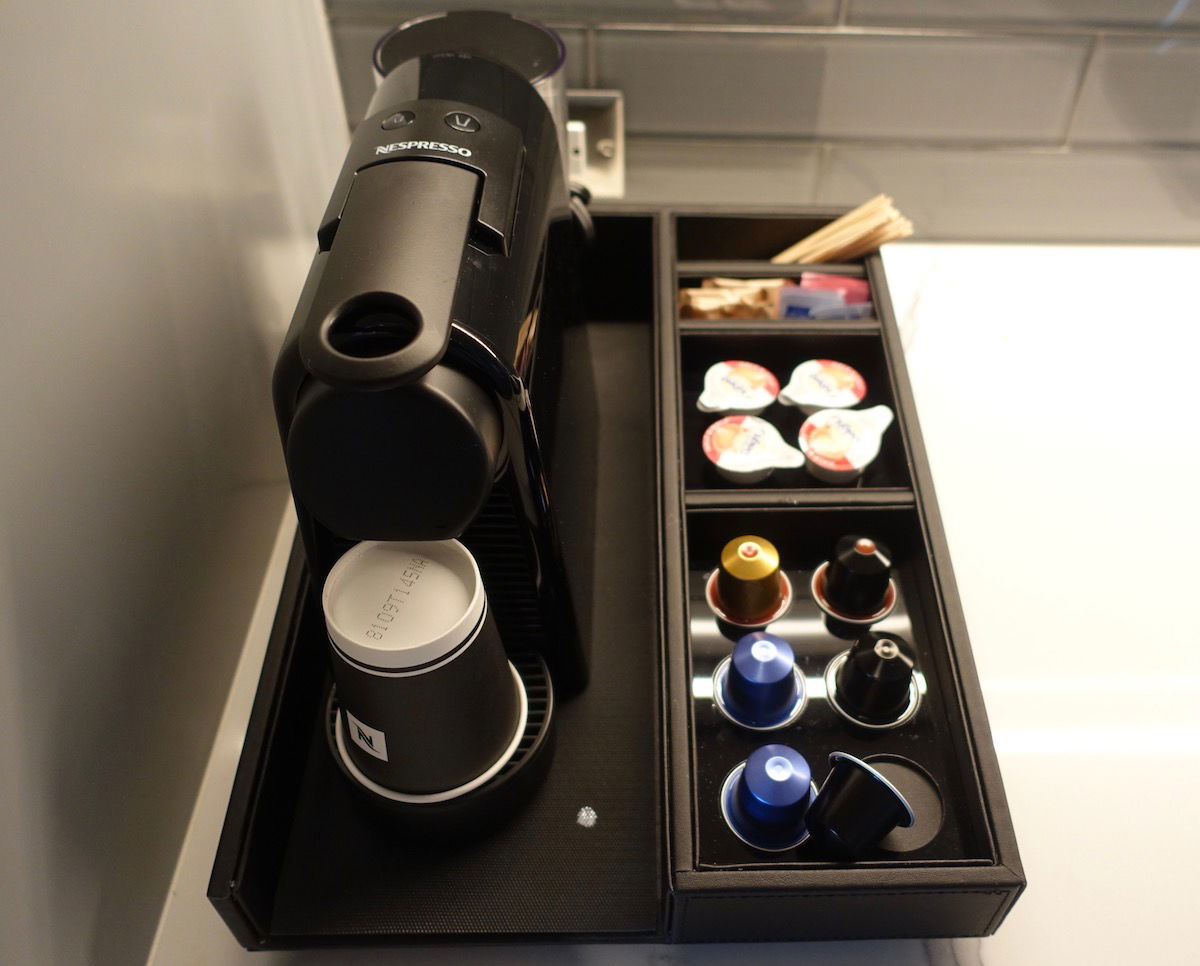 W Aspen Sky Residences Marvelous Residence coffee machine
Waiting on the dining table was a welcome amenity of three espresso martinis, apparently to celebrate the first snow day of the season. I love espresso martinis, so was happy to see that.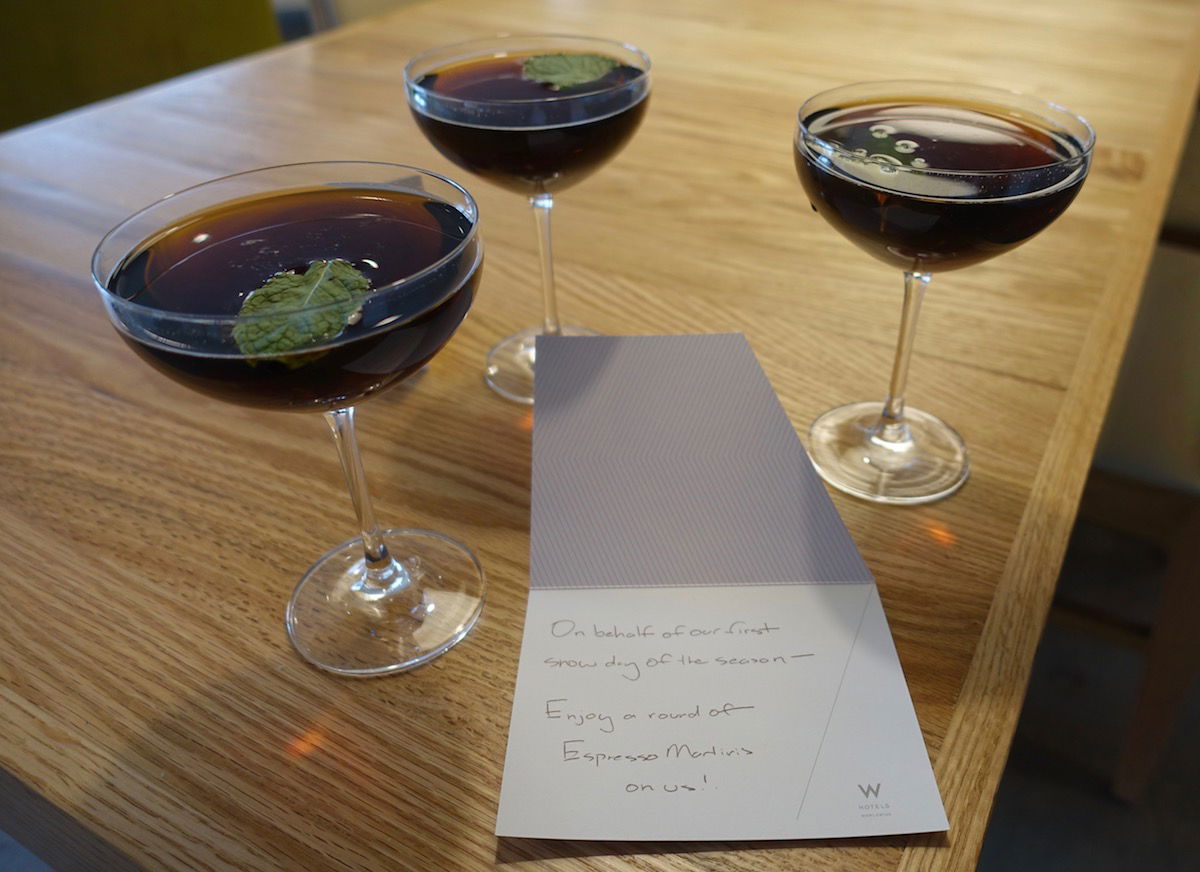 W Aspen welcome drink
Outside the living room was a large balcony. The residences face the interior of the town rather than the mountains, which is fair enough, since I'm sure they'd be double the price if they had a direct view of the mountain.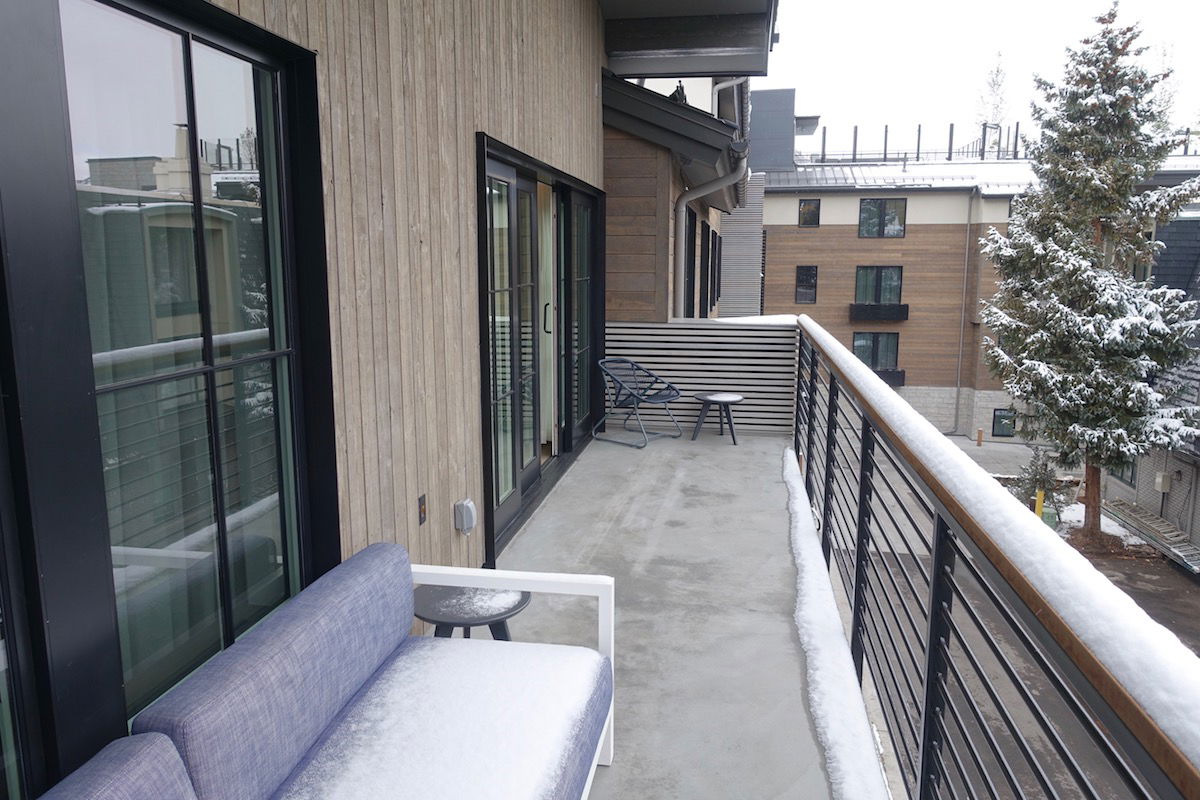 W Aspen Sky Residences Marvelous Residence patio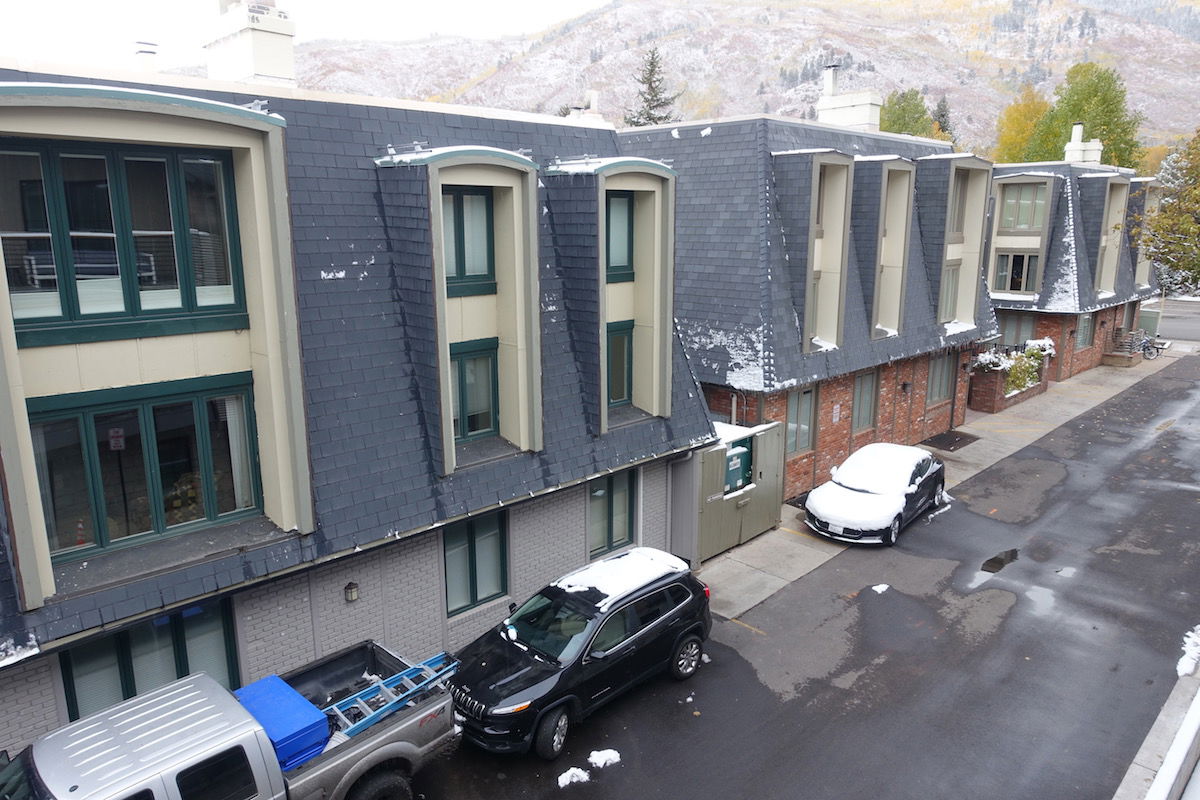 W Aspen Sky Residences Marvelous Residence patio view
One bedroom featured a king size bed and daybed to the side, and it faced a wall-mounted TV.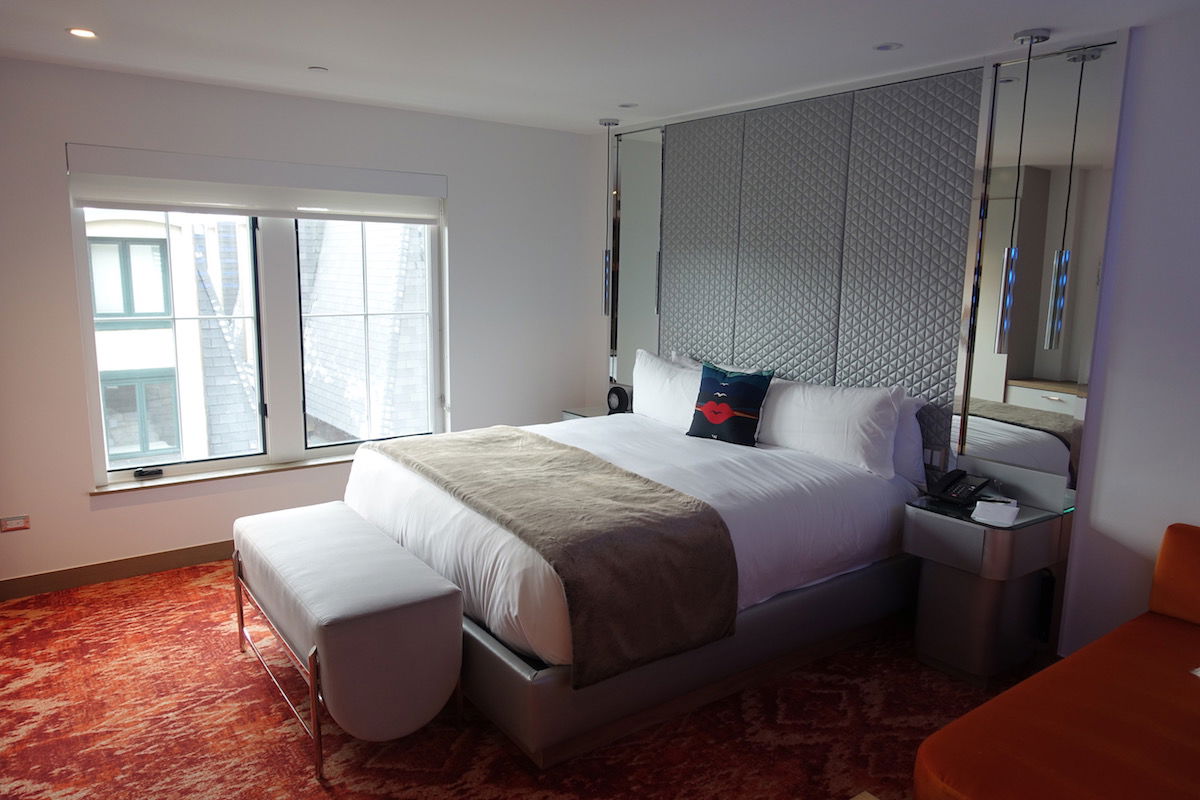 W Aspen Residences bedroom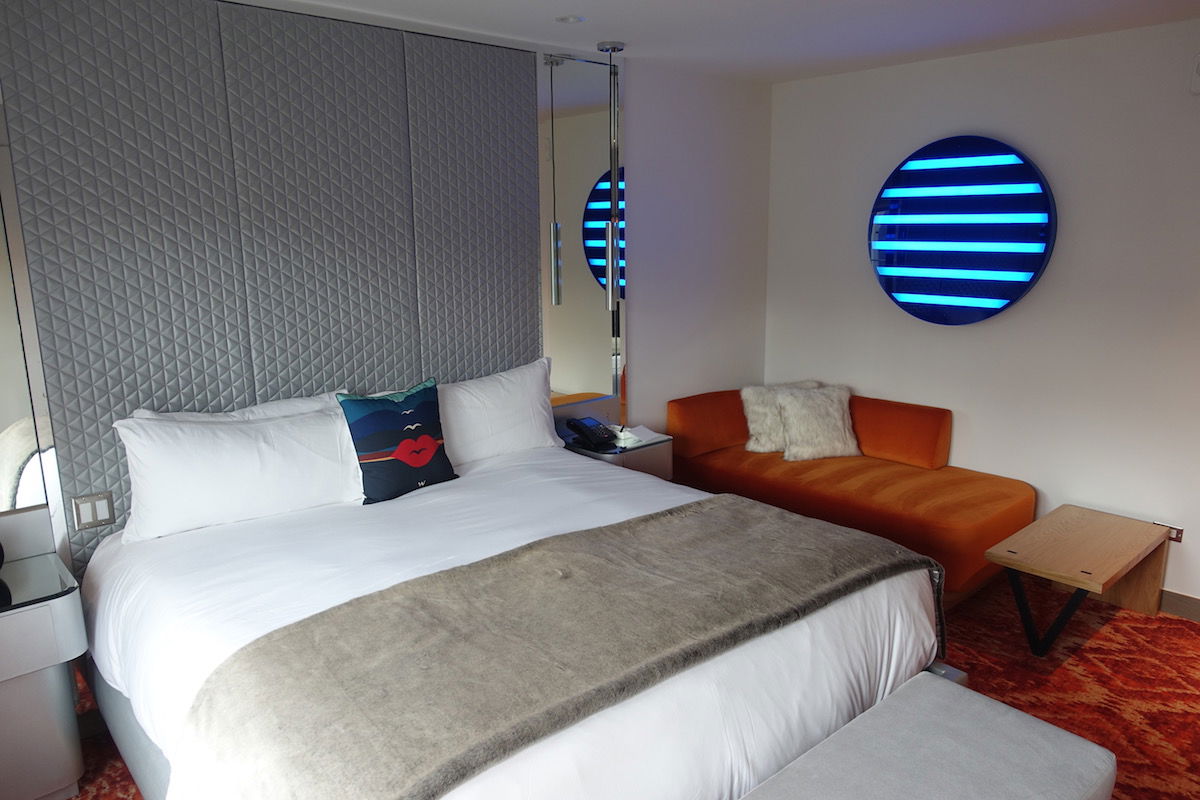 W Aspen Residences bedroom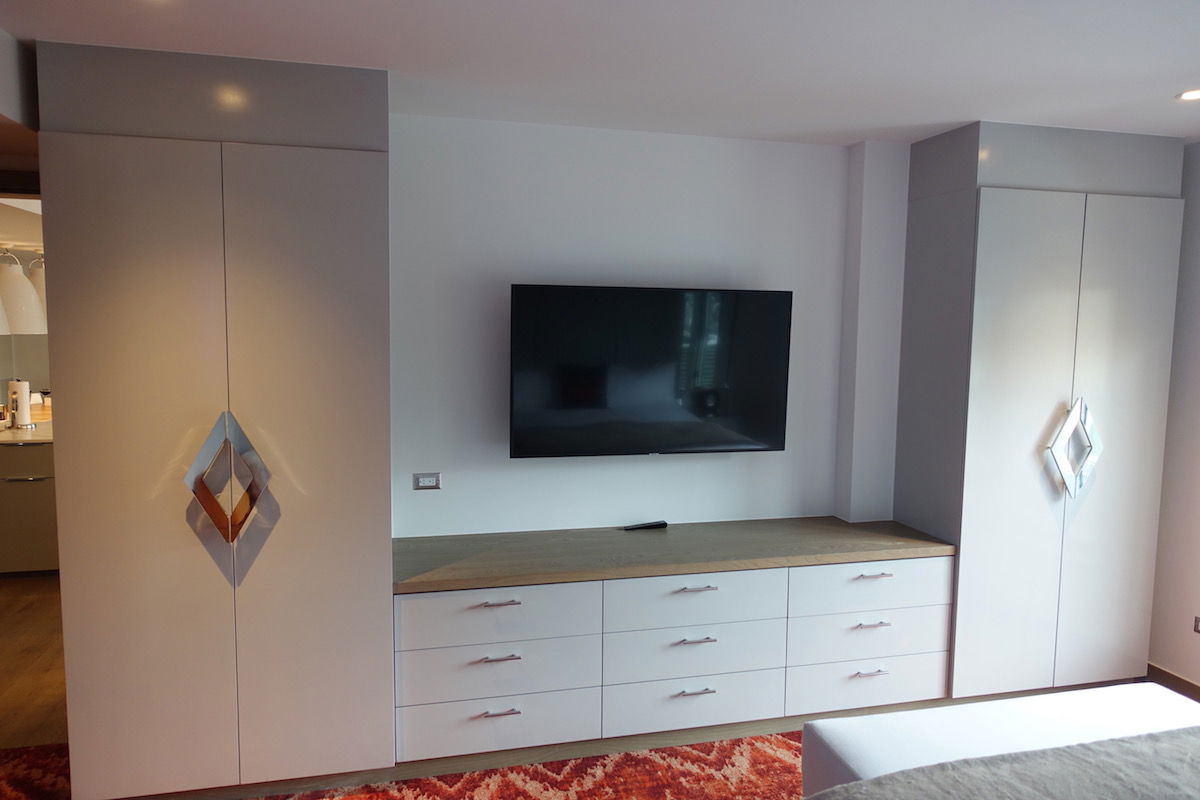 W Aspen Residences bedroom
The bathroom next to this was large, with double sinks, a tub, a steam shower, and a toilet.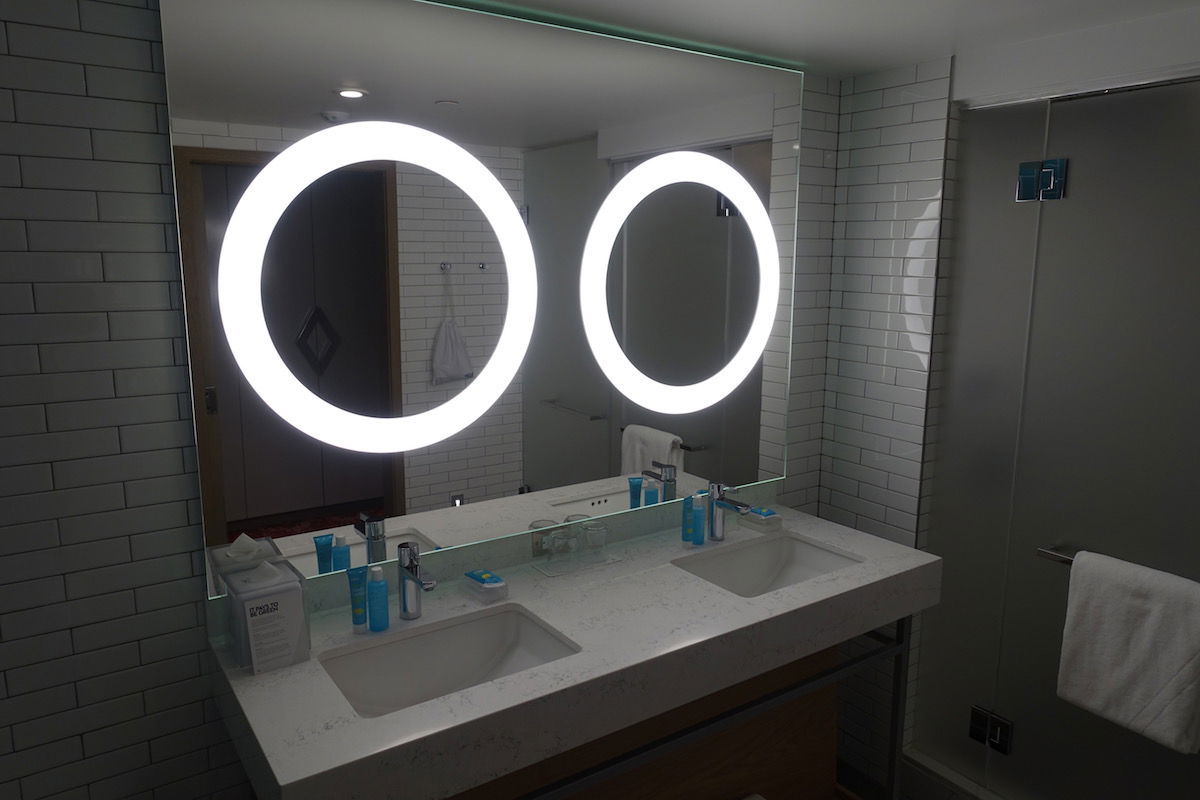 W Aspen Residences bathroom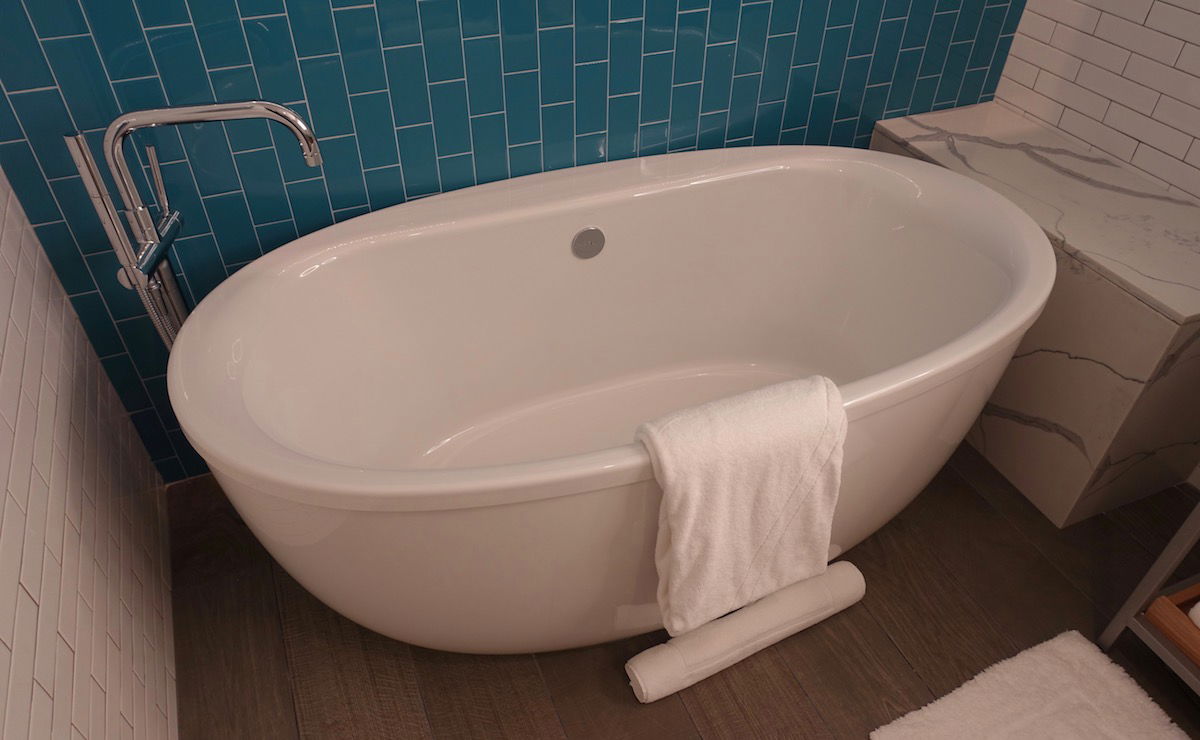 W Aspen Residences bathtub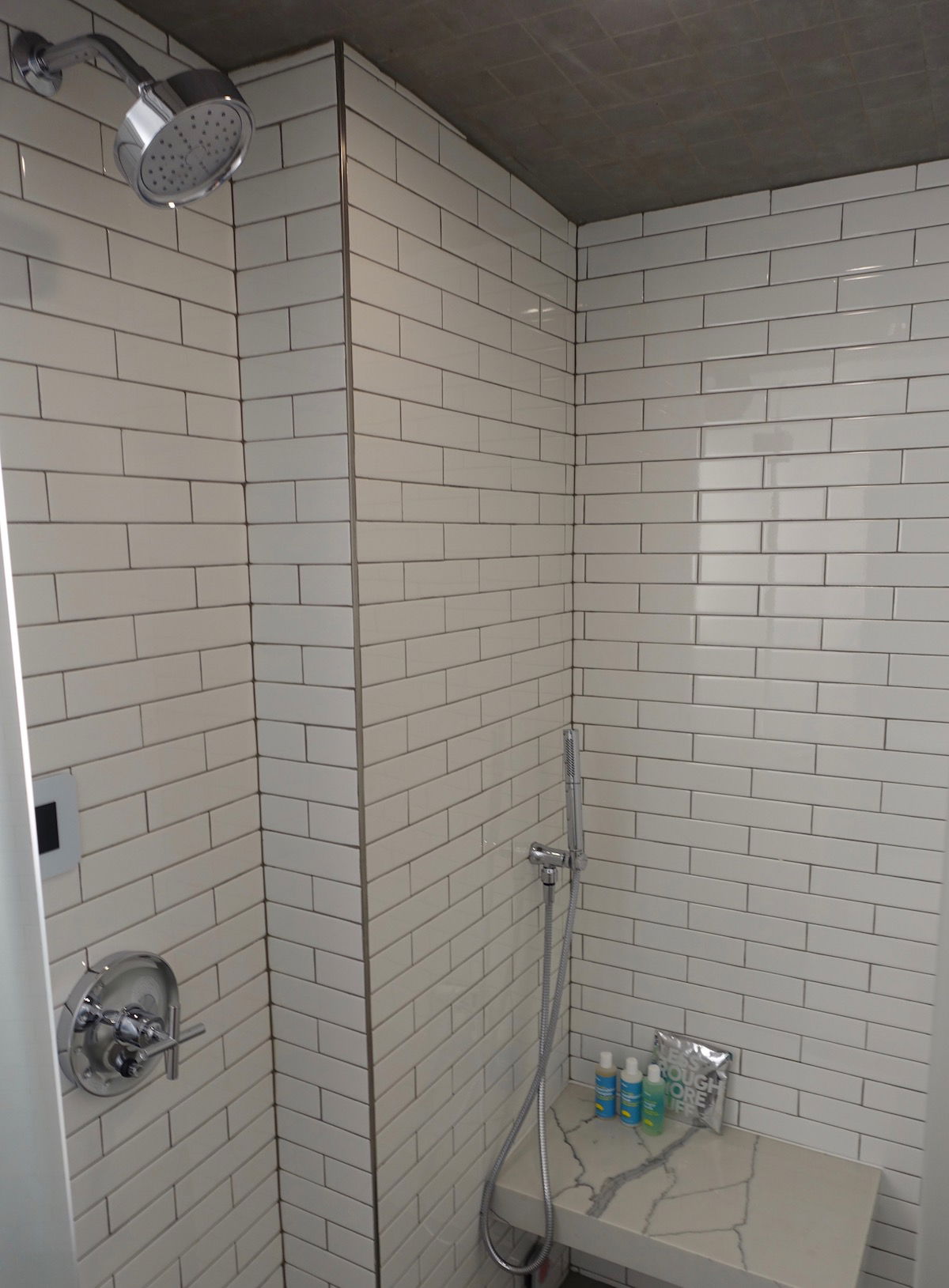 W Aspen Residences shower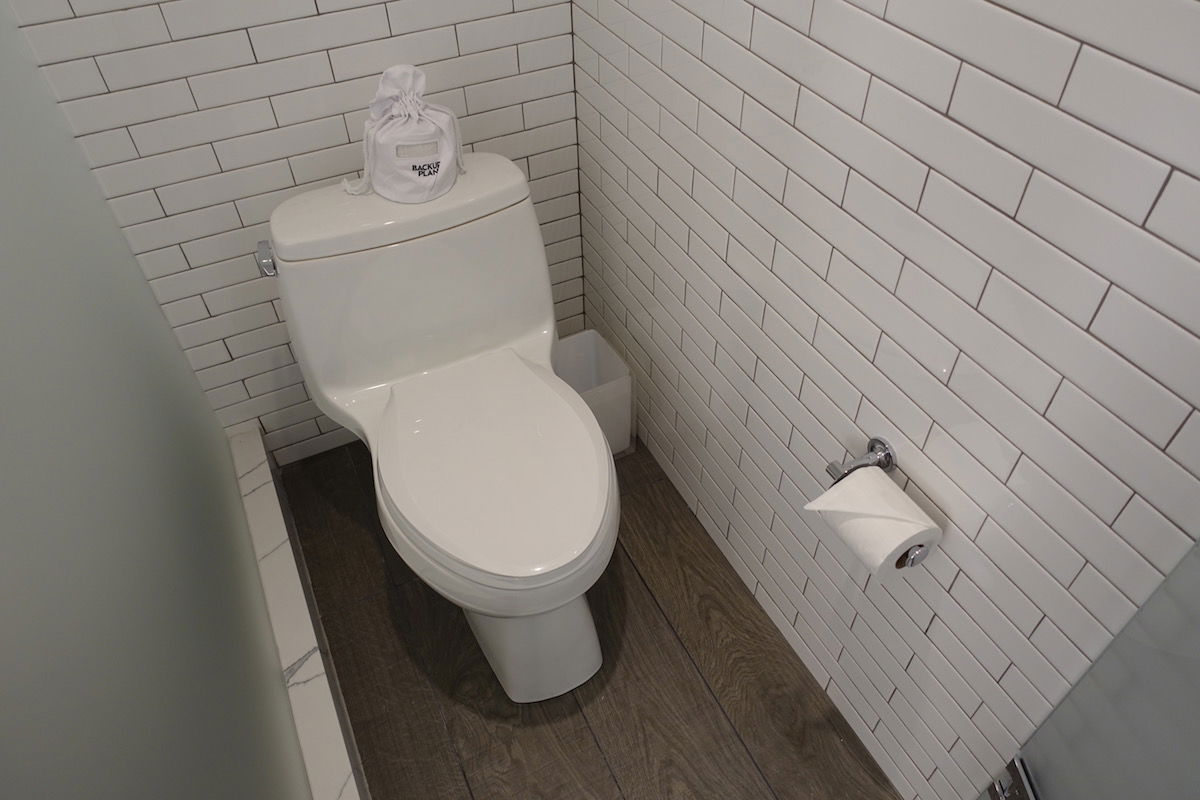 W Aspen Residences toilet
There were large Bliss toiletry bottles in the shower.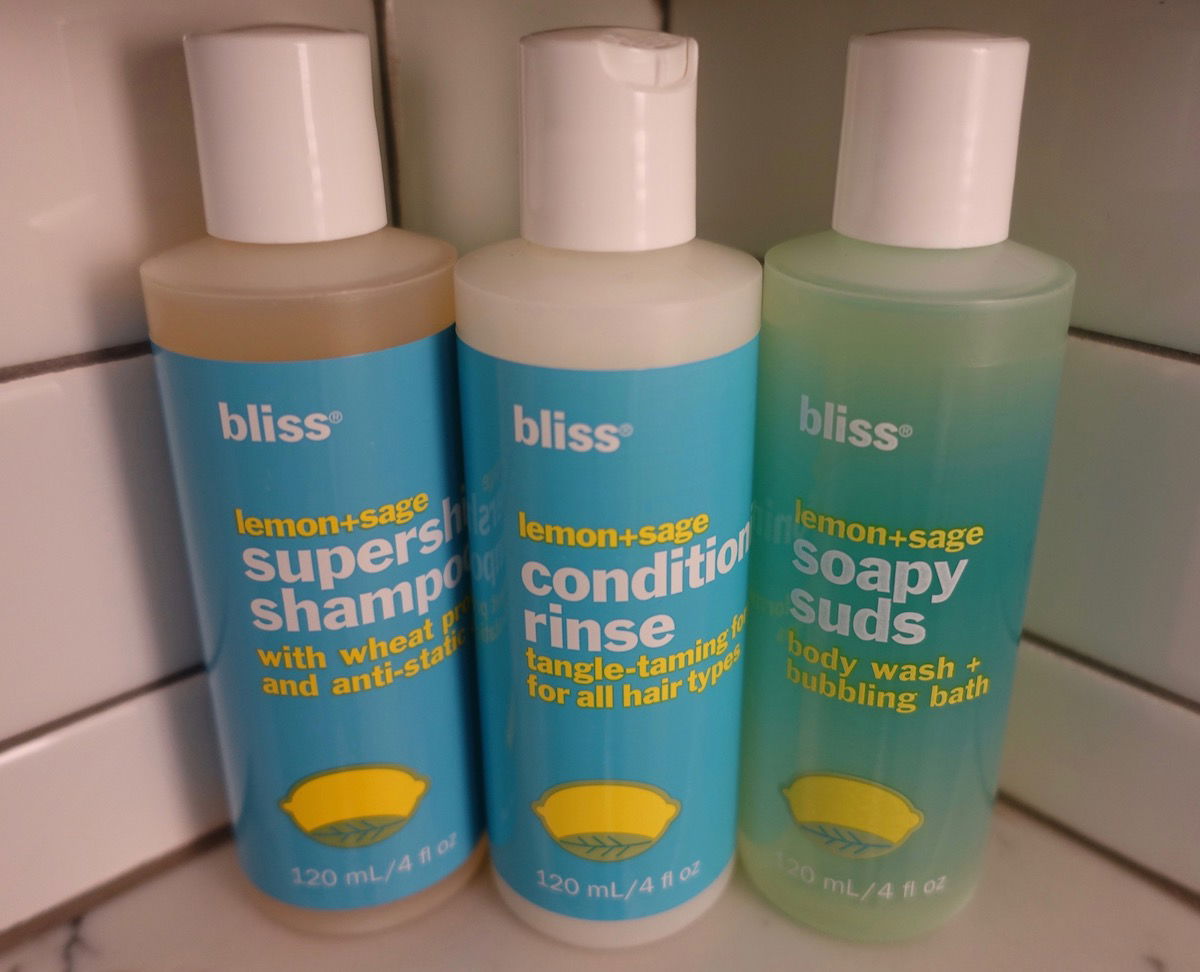 W Aspen Residences toiletries
The second bedroom was on the other side of the suite. This is definitely designed more for families than anything, because the second room has two twin beds.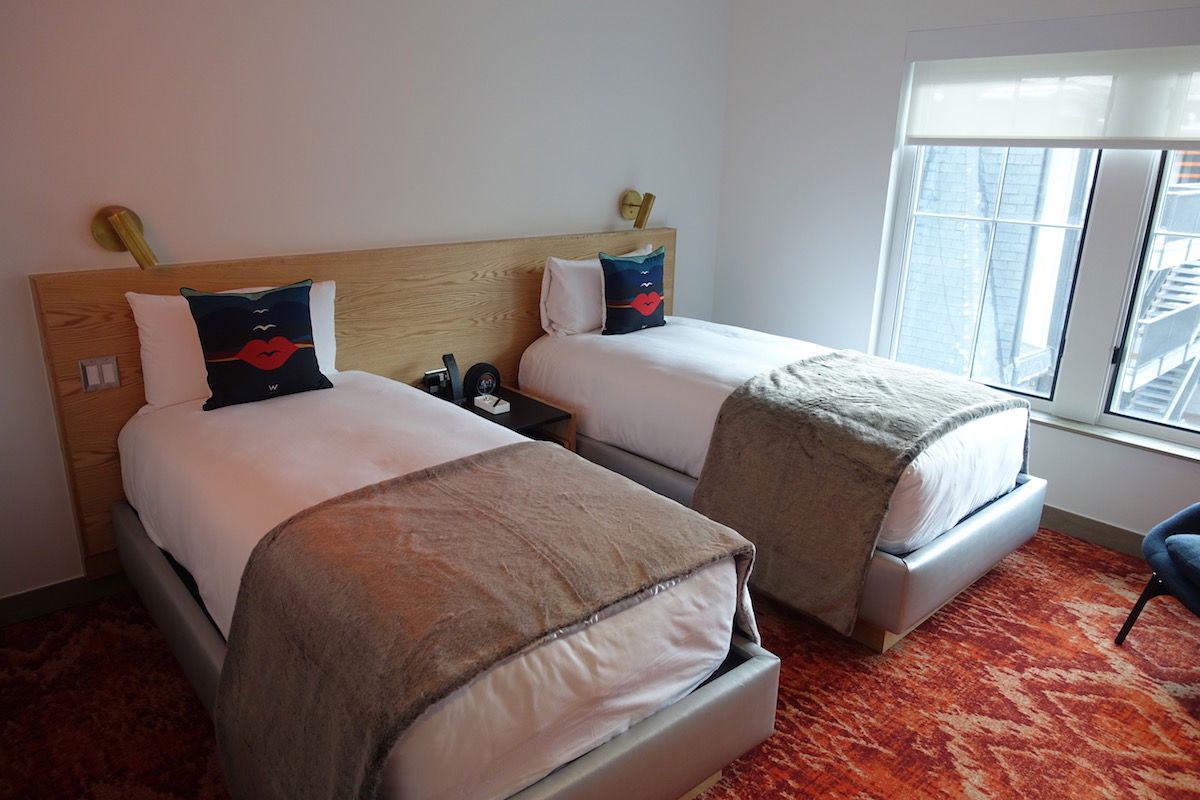 W Aspen Residences bedroom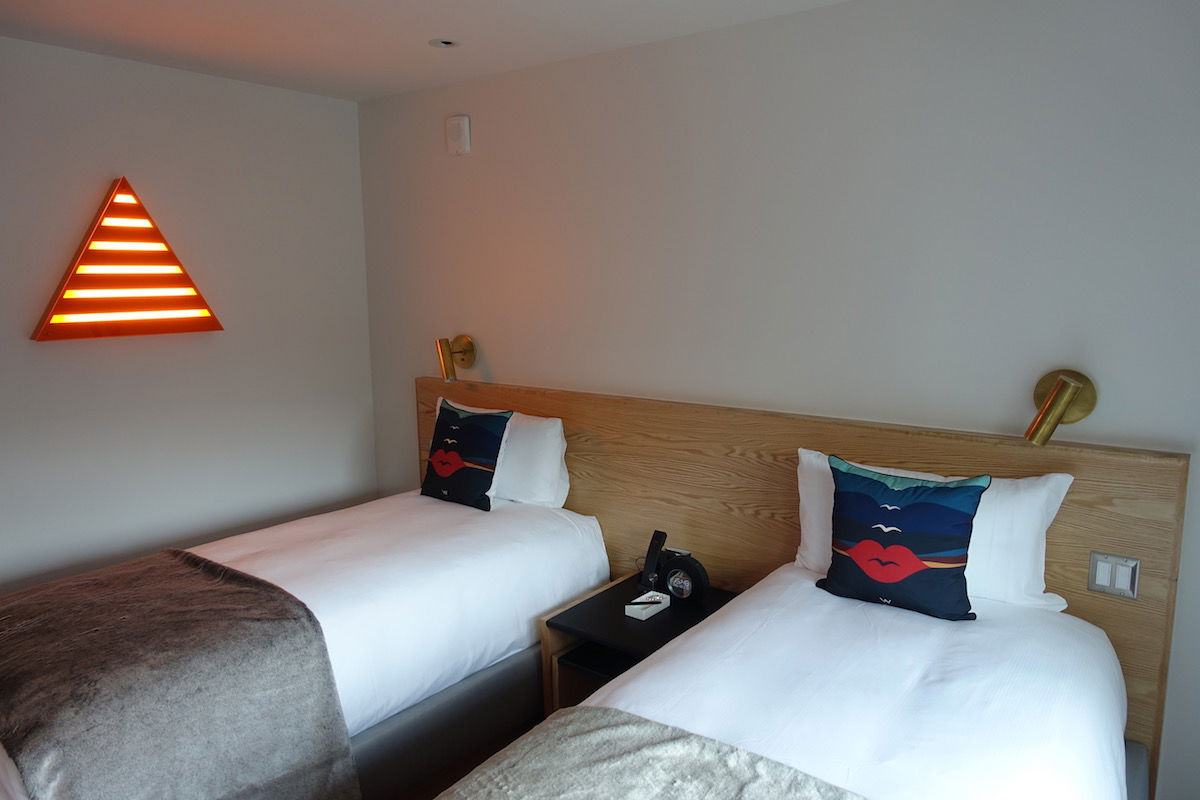 W Aspen Residences bedroom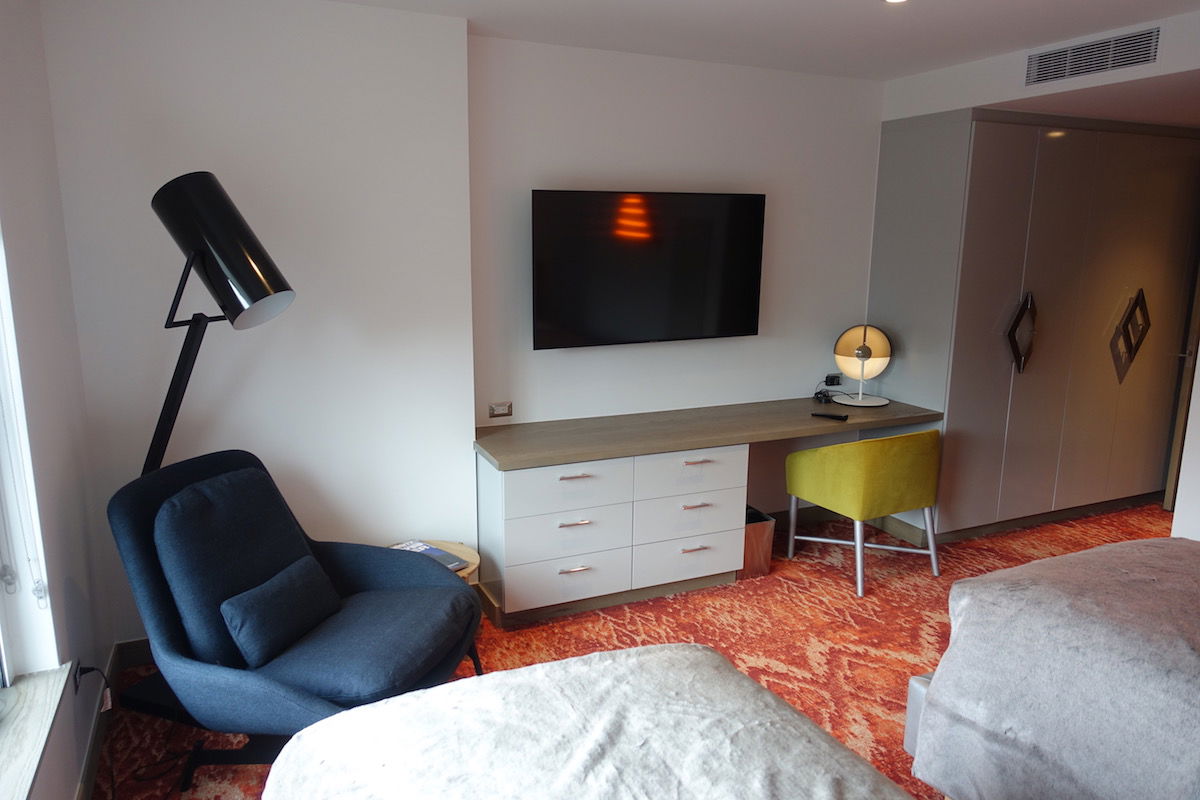 W Aspen Residences bedroom
This room also has a private bathroom.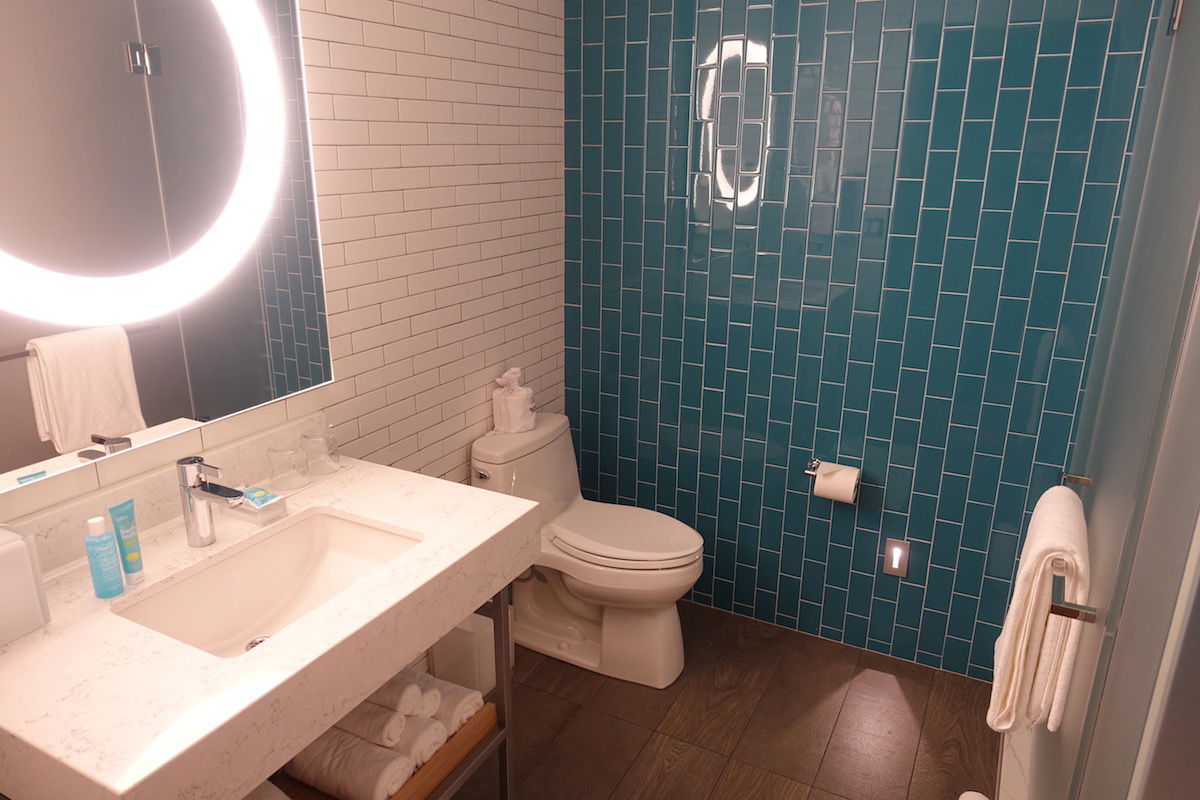 W Aspen Residences bathroom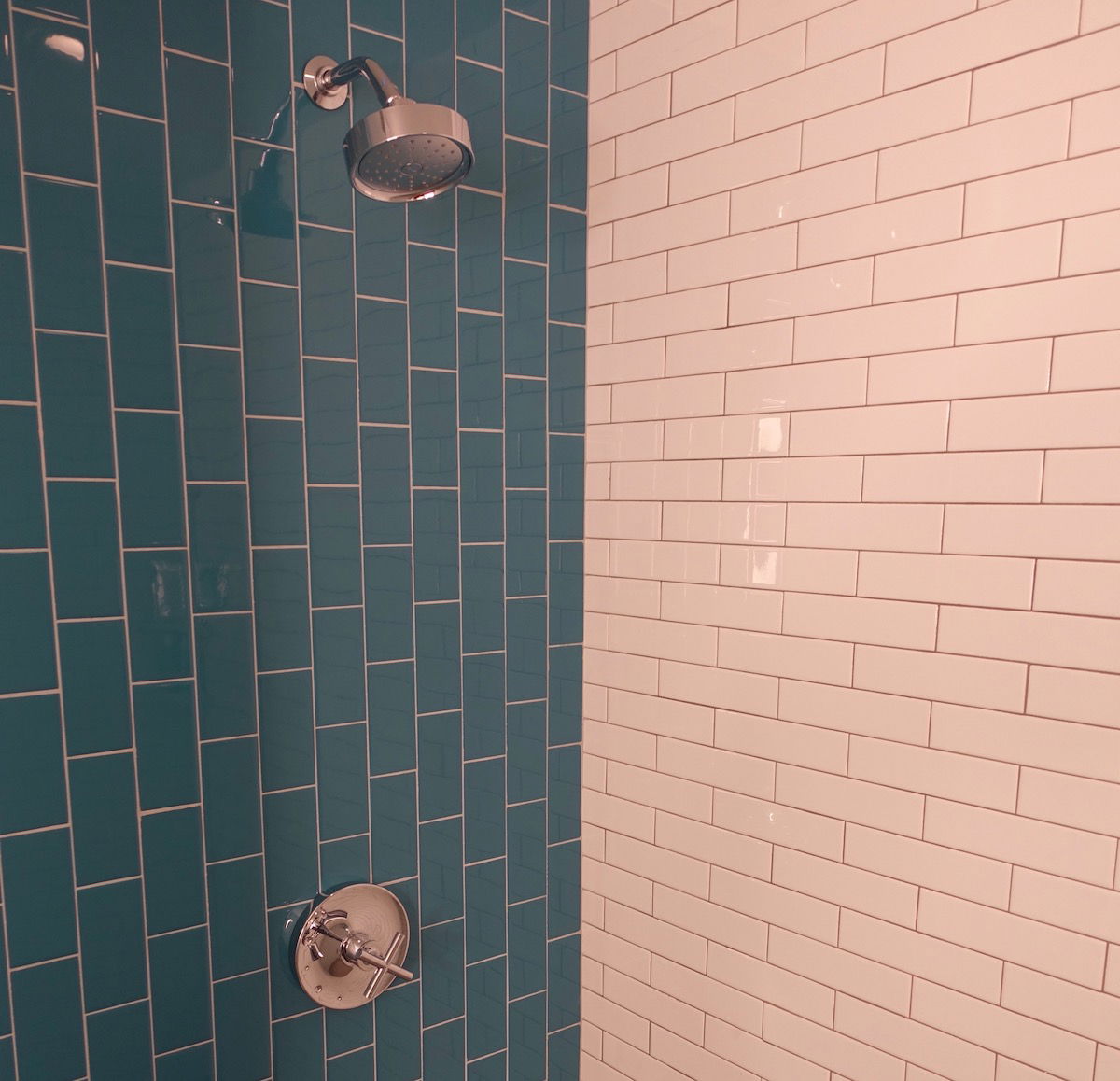 W Aspen Residences shower
There was a second guest bathroom near the living room.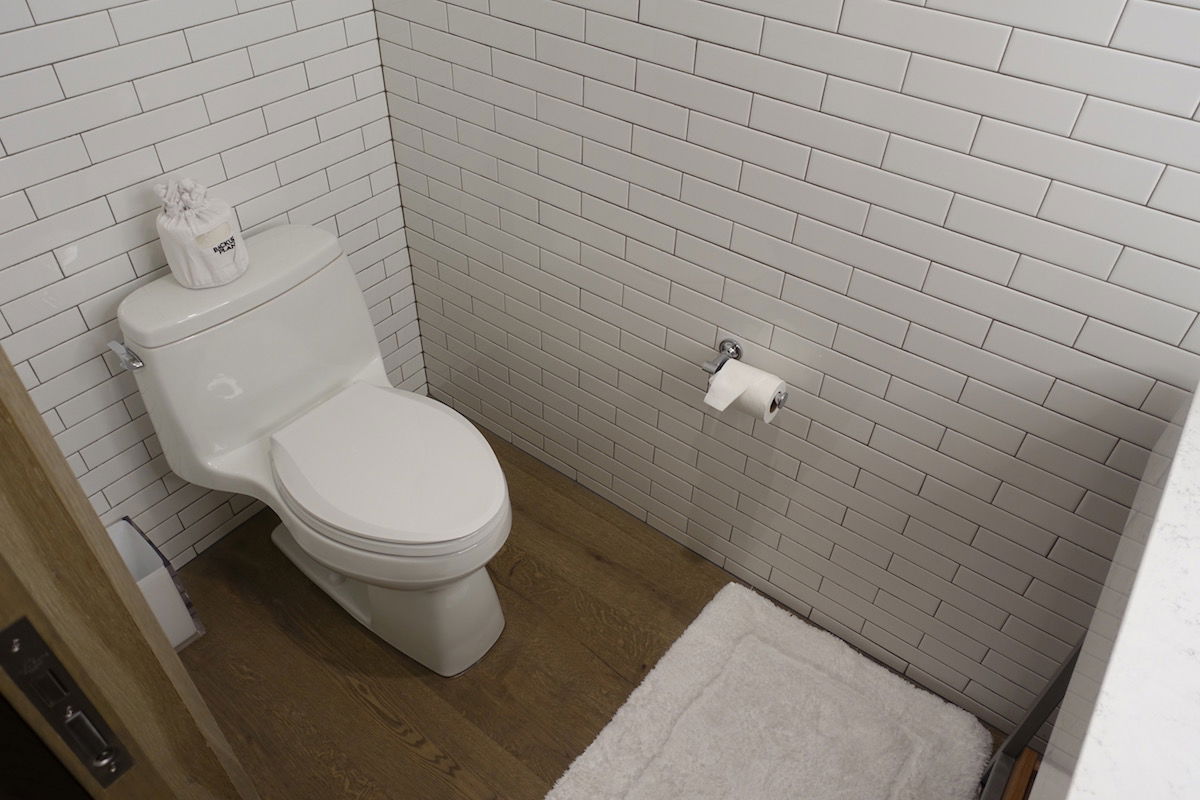 W Aspen Residences toilet
The residence also has a washer & dryer, which sure is a nice feature if you're on a longer trip.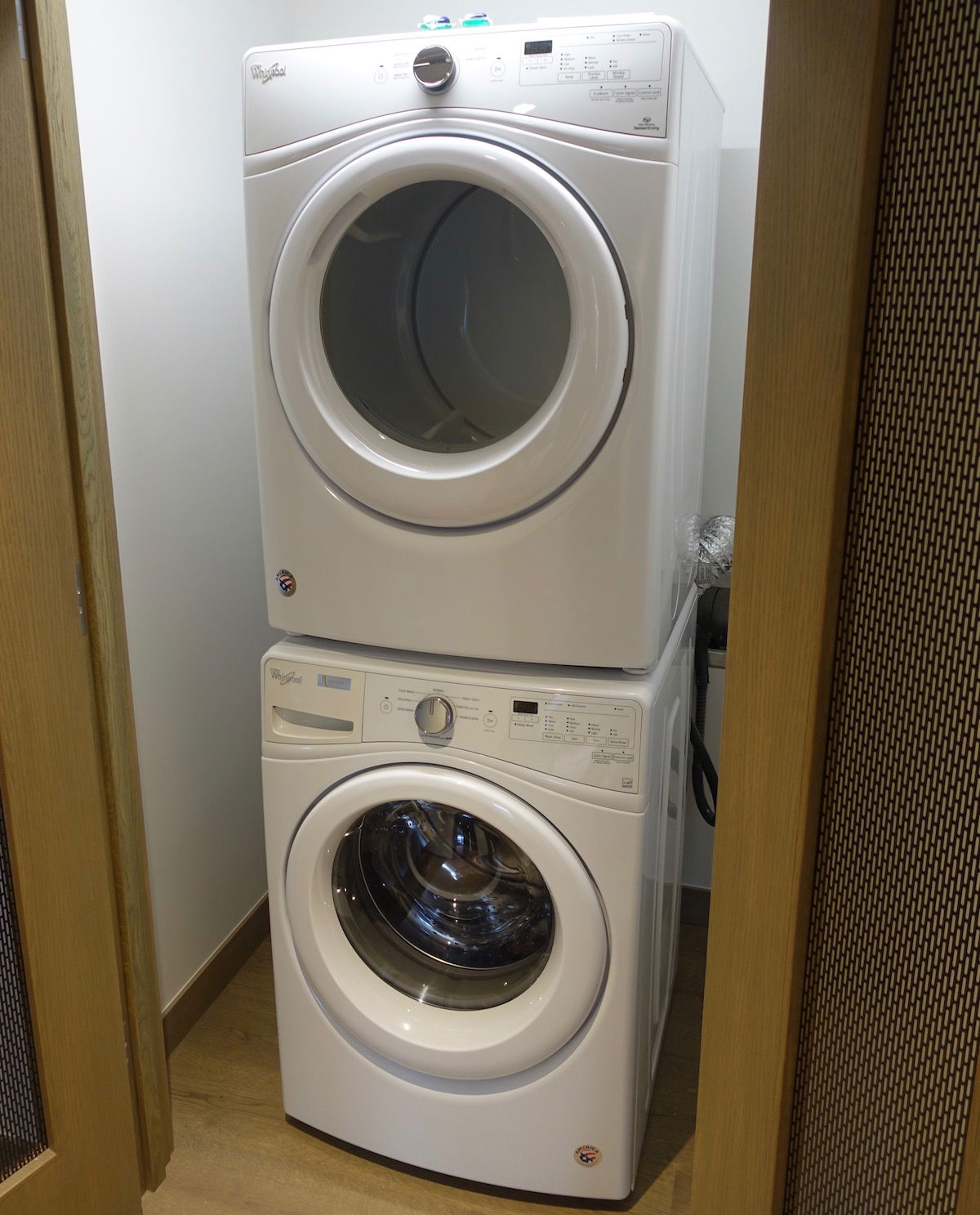 W Aspen Residences washing machine
So all around I thought the room was incredible, and it greatly exceeded my expectations in terms of decor and size. At first I wondered if it was worth the premium to book a two bedroom residence over booking two separate rooms, and it most definitely was. It's so much fun to have such a large living space.
W Hotel Aspen Rooftop & Pool
What makes the W Hotel Aspen so special is the rooftop. The hotel has the ideal location right on Aspen Mountain, and it has a rooftop unlike any other hotel in town, in my opinion. This is an incredible space.
The rooftop has a pool and hot tub.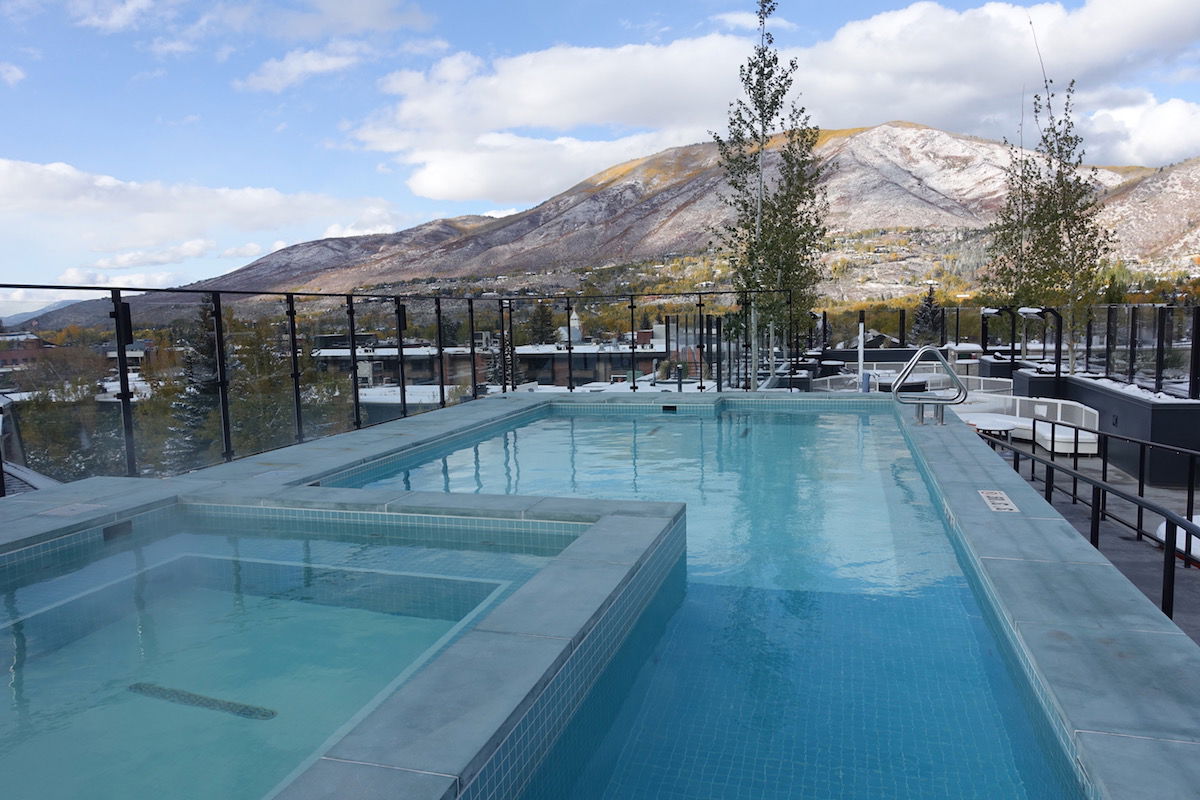 W Hotel Aspen pool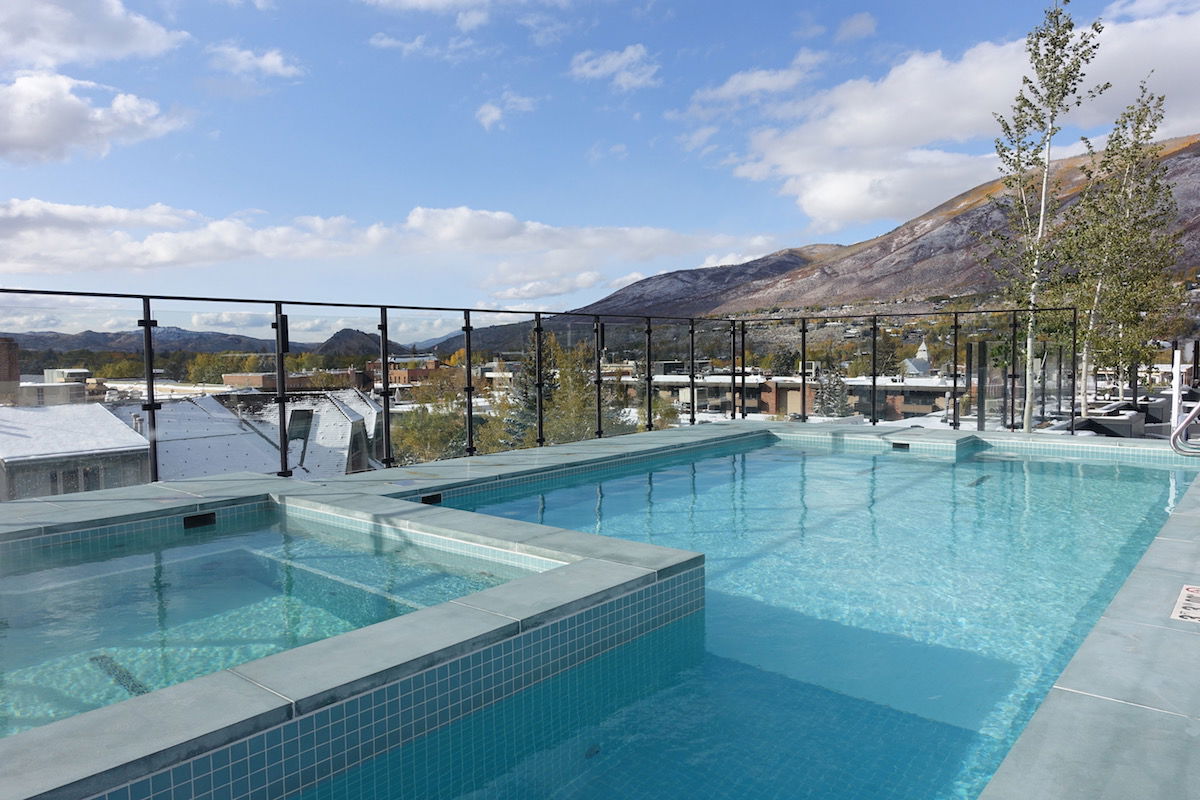 W Hotel Aspen pool
There's also a huge deck with lots of seating.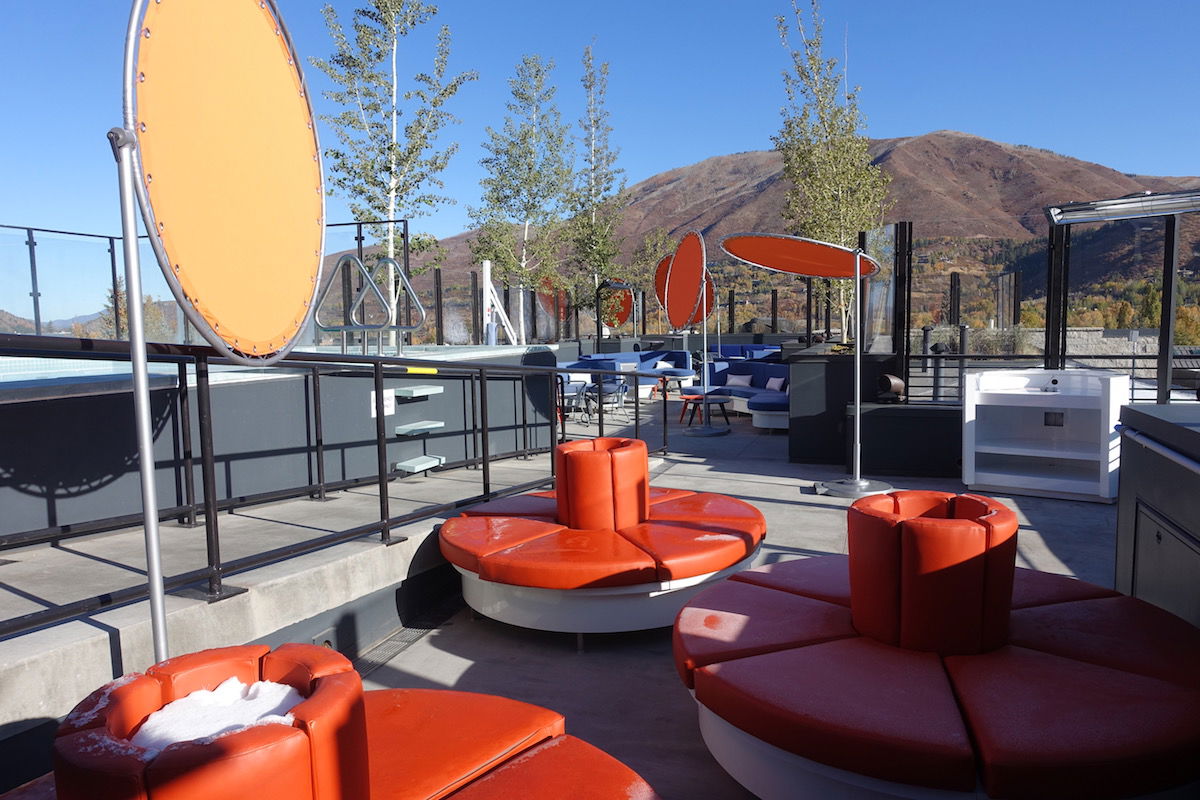 W Hotel Aspen rooftop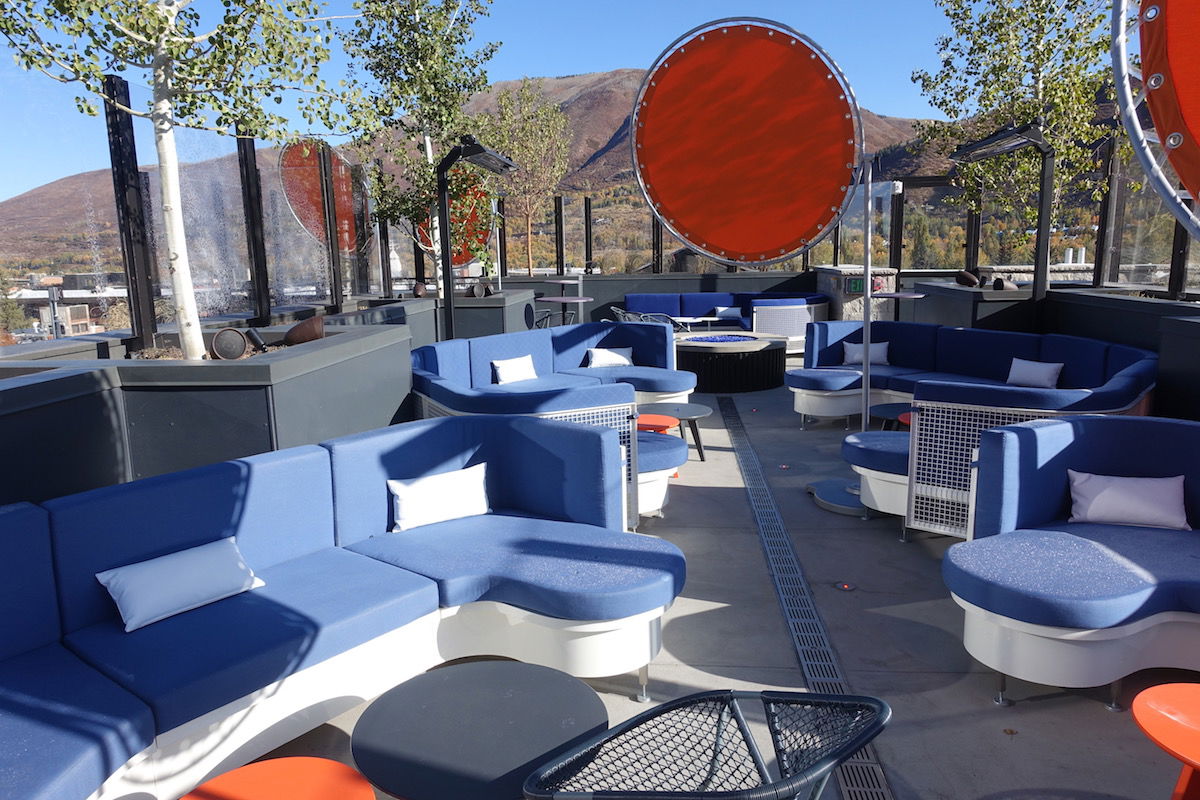 W Hotel Aspen rooftop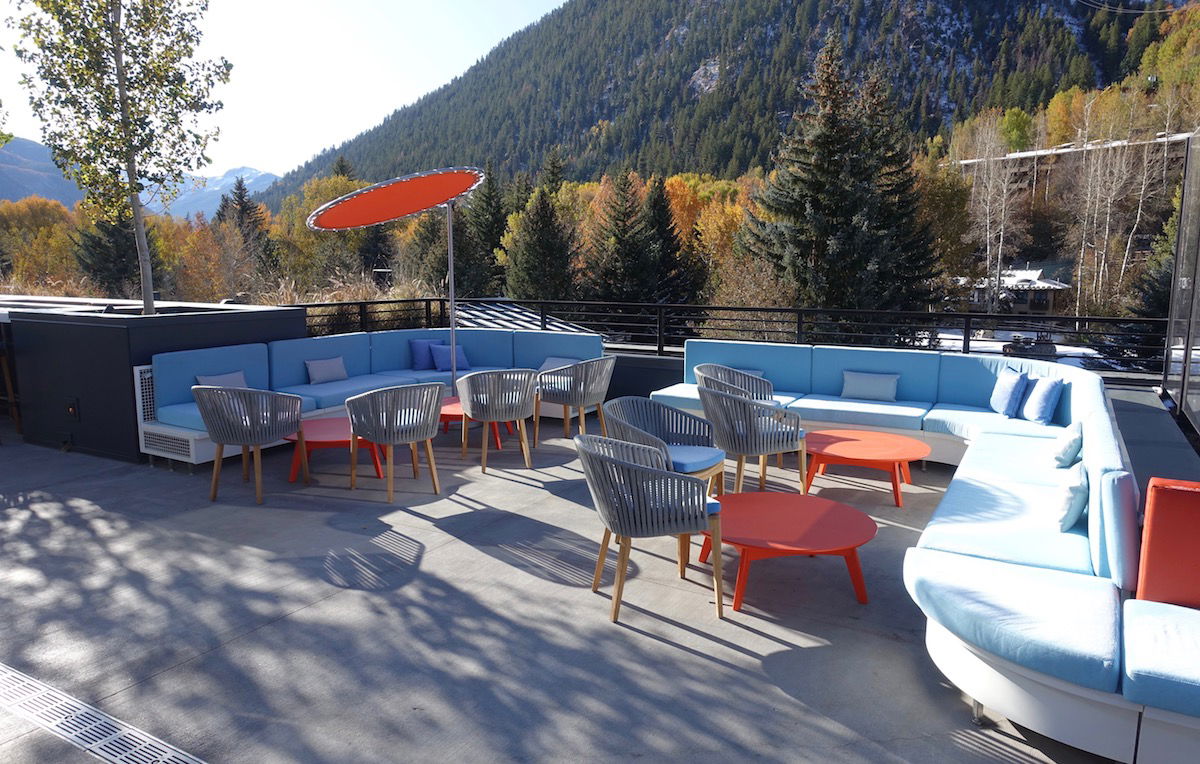 W Hotel Aspen rooftop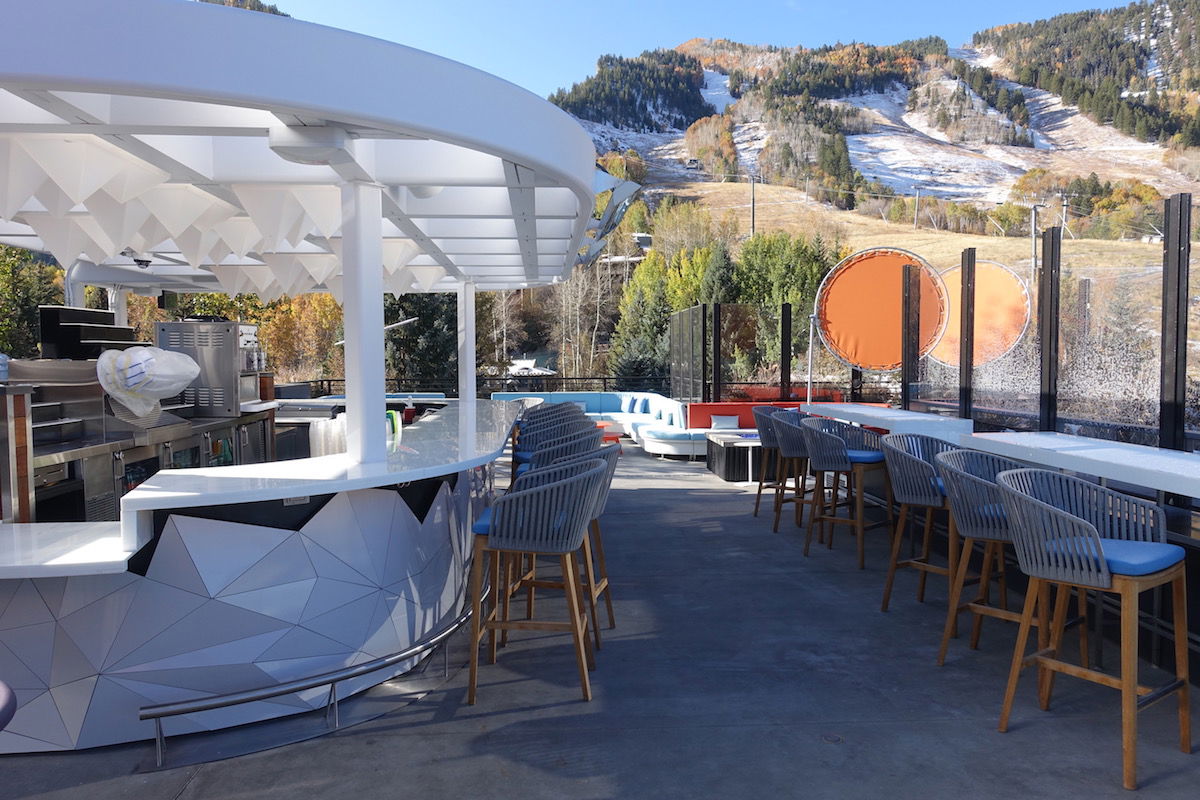 W Hotel Aspen rooftop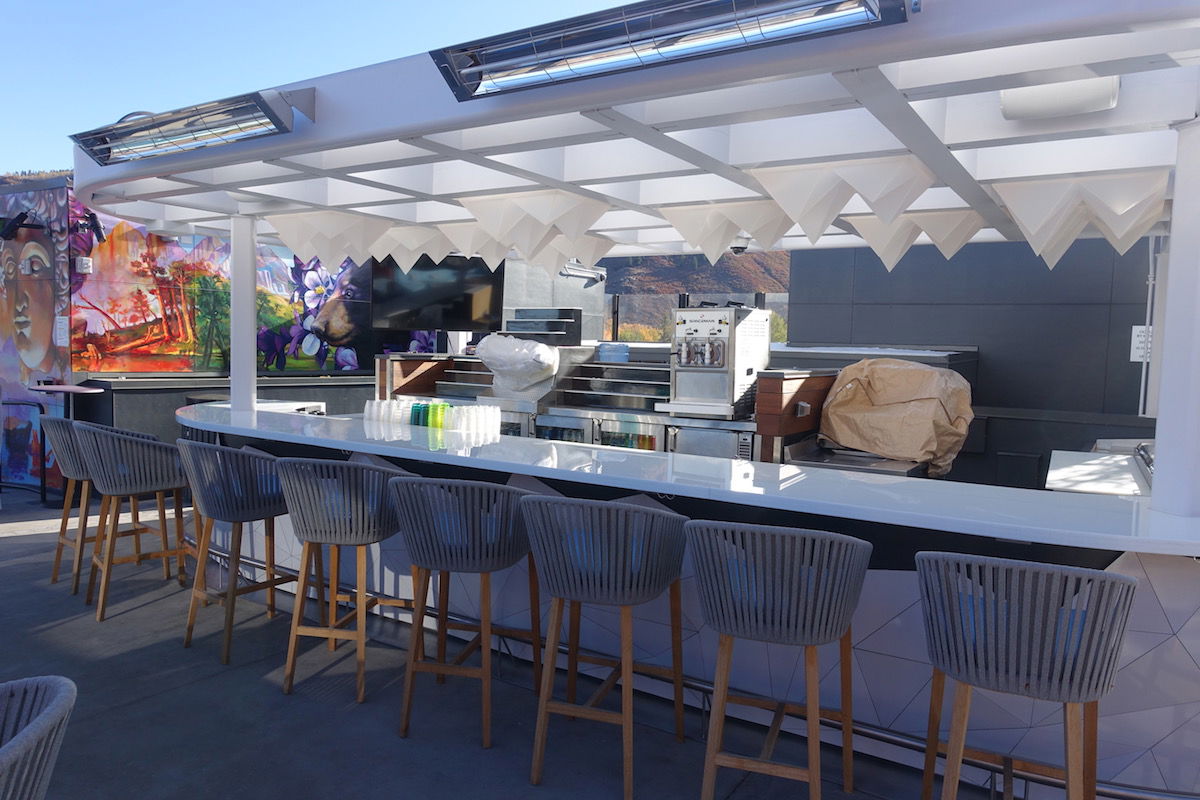 W Hotel Aspen WET Deck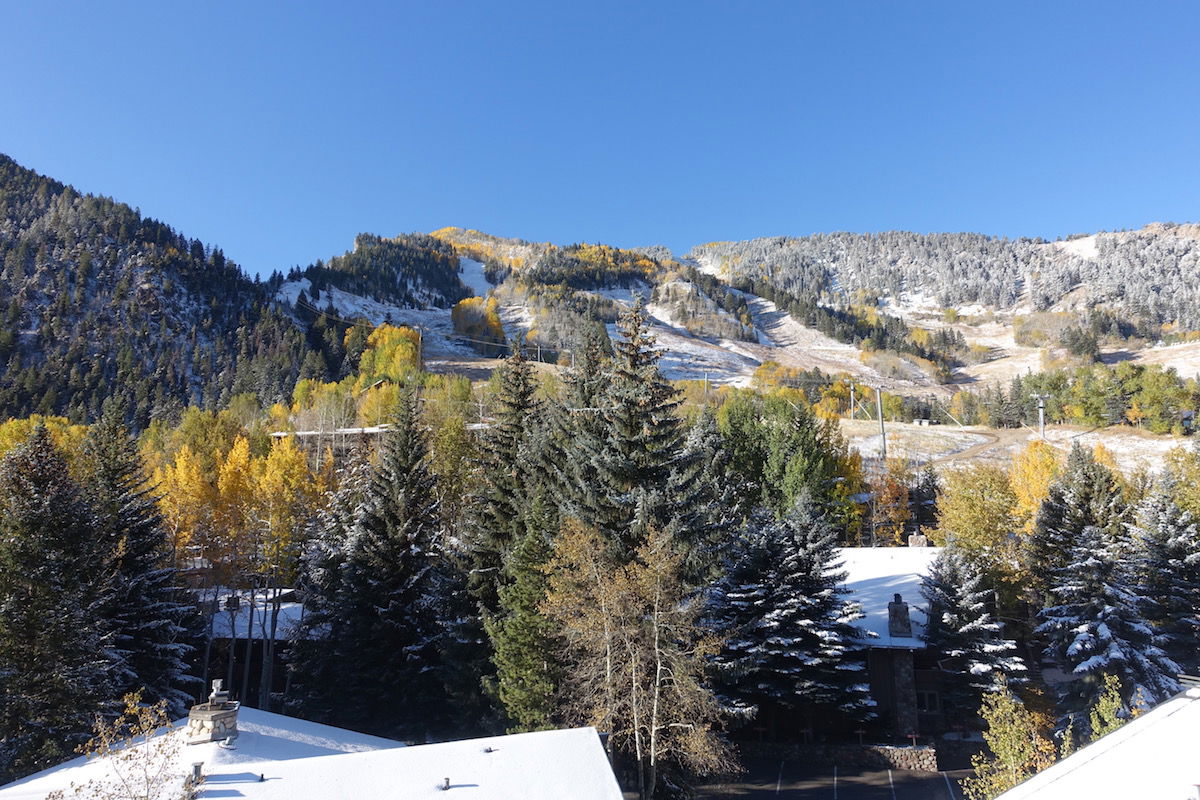 W Hotel Aspen rooftop view
We were in Aspen during what was probably one of the quietest weekends of the year, but in the afternoon the deck already got pretty full, so I can't even imagine how full it's going to be in winter.
This is such a unique aspect of this hotel, because the St. Regis doesn't have a space like this.
For what it's worth, the drink list read as follows: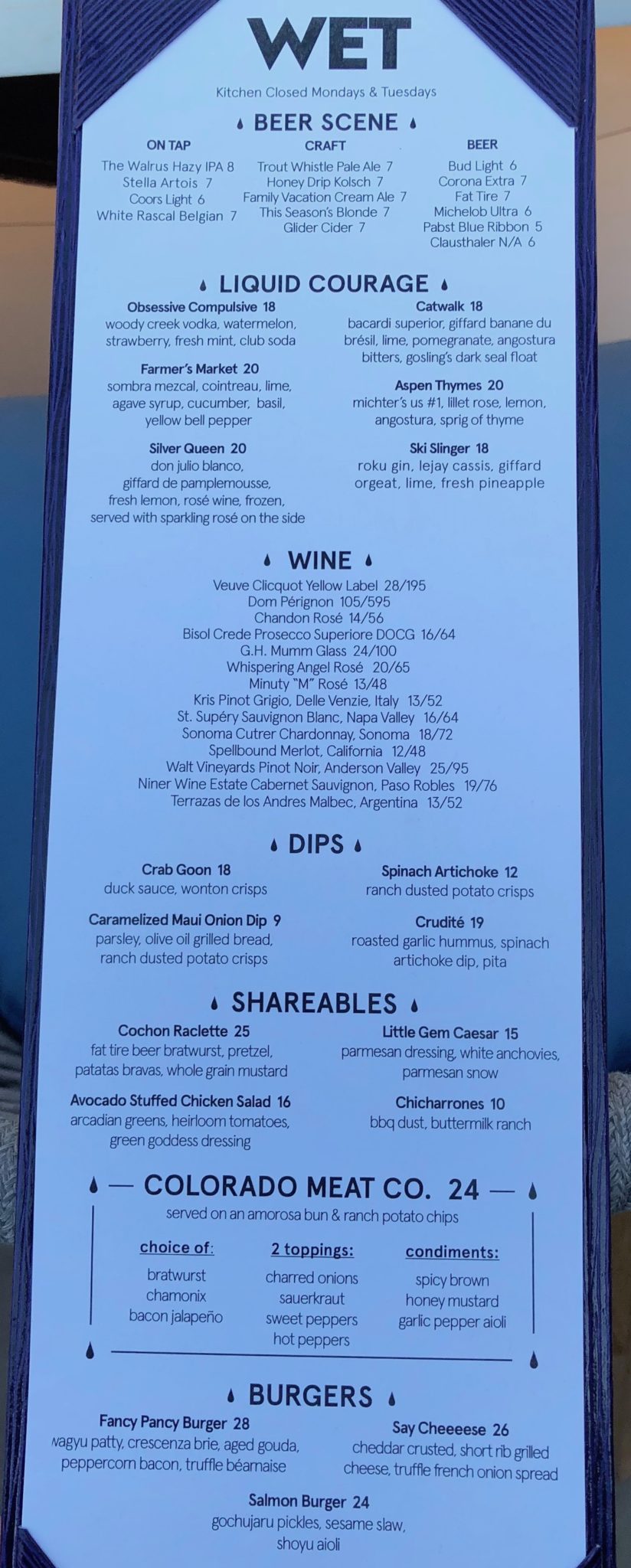 A couple of interesting notes. First of all, apparently the pool and deck are open to the public, as that's a concession they had to make in order to get permits (or something). So in the hot tub we did get to hear from several Aspen locals about how "yeah bro, this is the new spot, this is really tight, we dig it, bro."
Also, we essentially got heckled by a drunk bachelorette party for making the bold fashion decision of coming to the rooftop in slippers and bathrobes.
So the crowd up there is… interesting.
W Aspen Residence Deck
I'm still not sure exactly what purpose it serves, but the hotel has a deck for the residences that's just a level below the standard rooftop deck. Since we were there in quiet season both decks were mostly empty, though I guess this is a nice space for those staying in residences when it does get busier.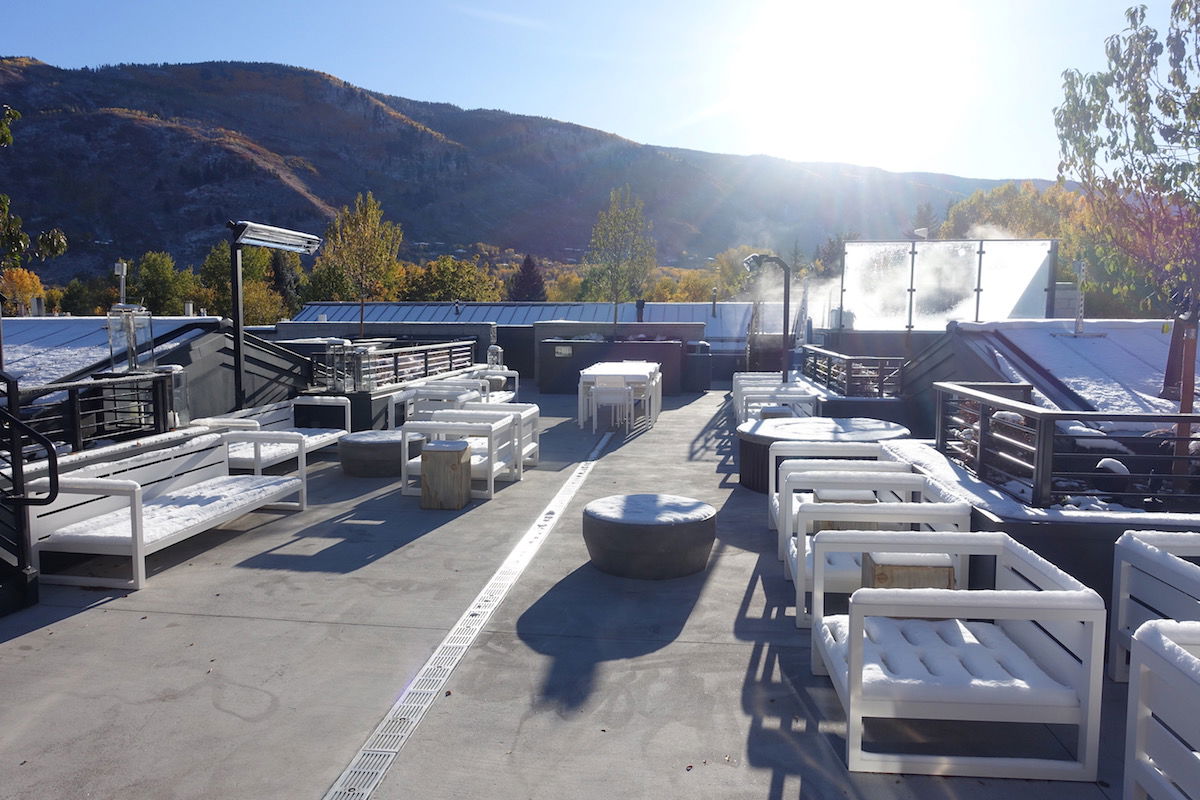 W Aspen Residences deck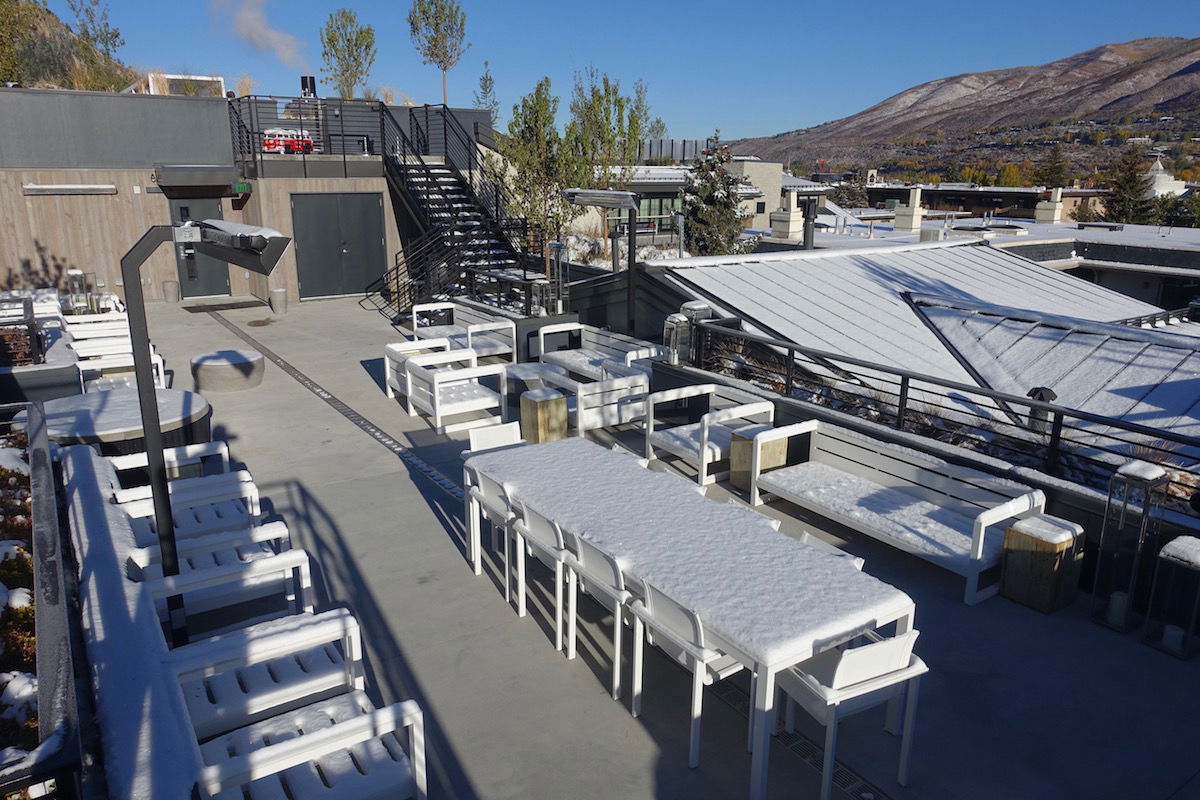 W Aspen Residences deck
While the deck didn't have a pool, it did have a hot tub.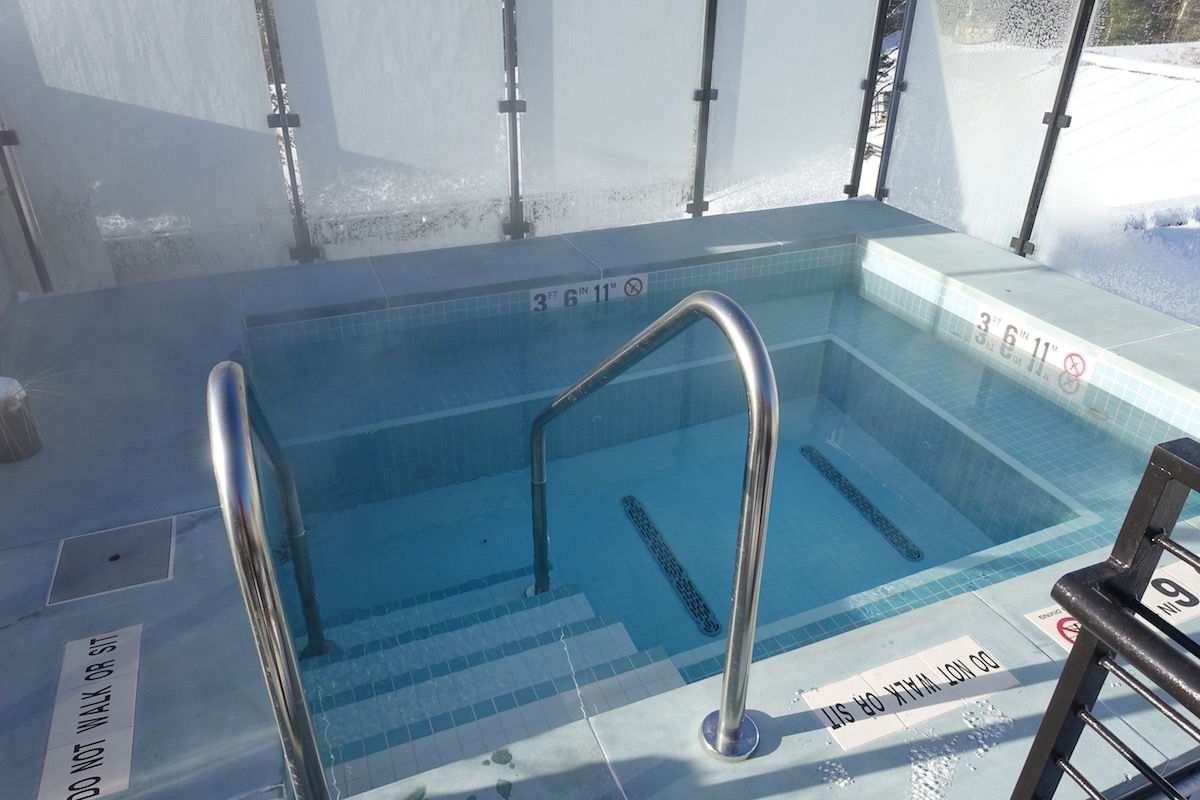 W Aspen Residences deck
W Hotel Aspen Gym & (No) Spa
The W Aspen has a gym located on the basement level, which is open 24/7. The gym doesn't have any natural light, though it's still pretty well equipped.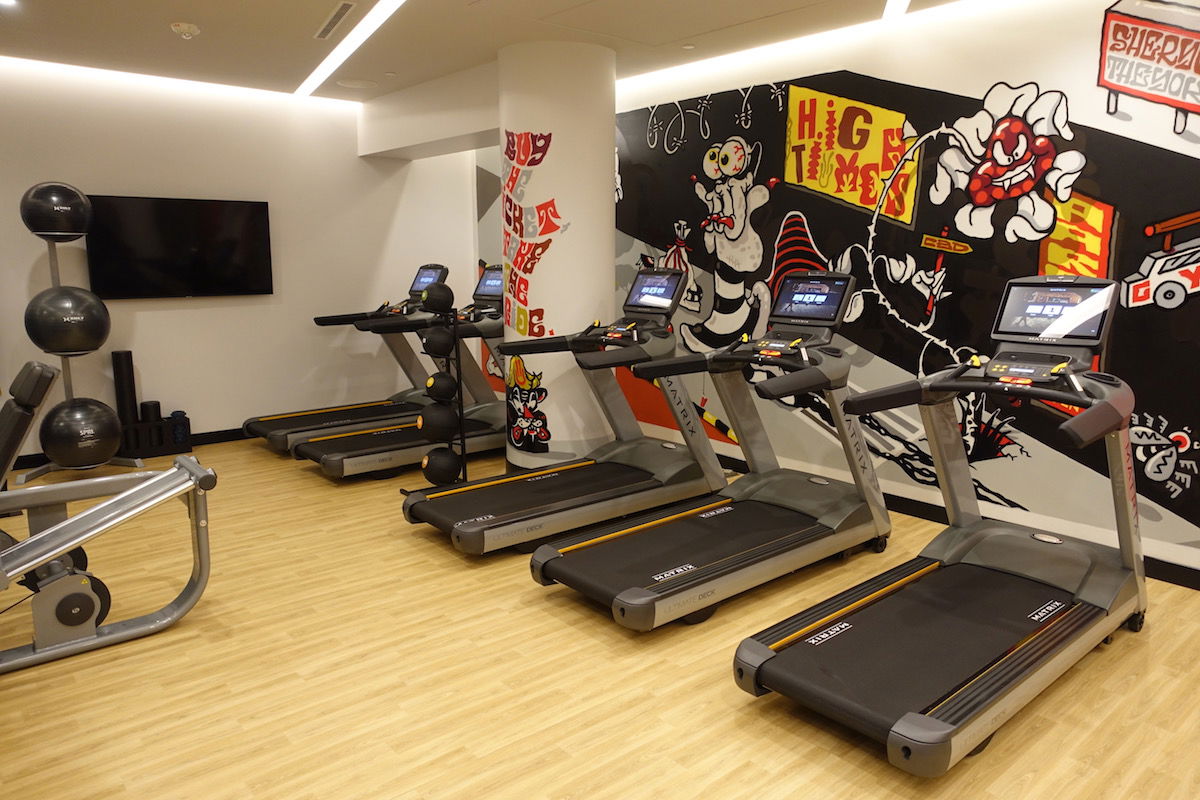 W Aspen gym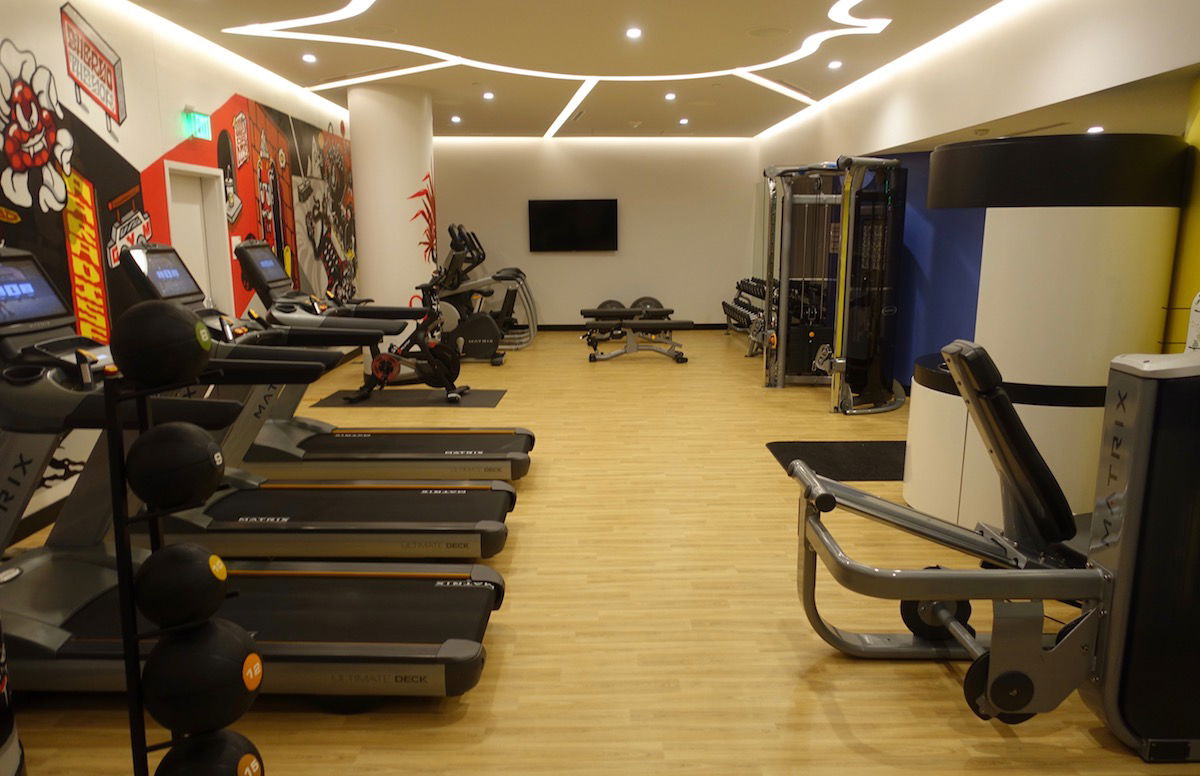 W Aspen gym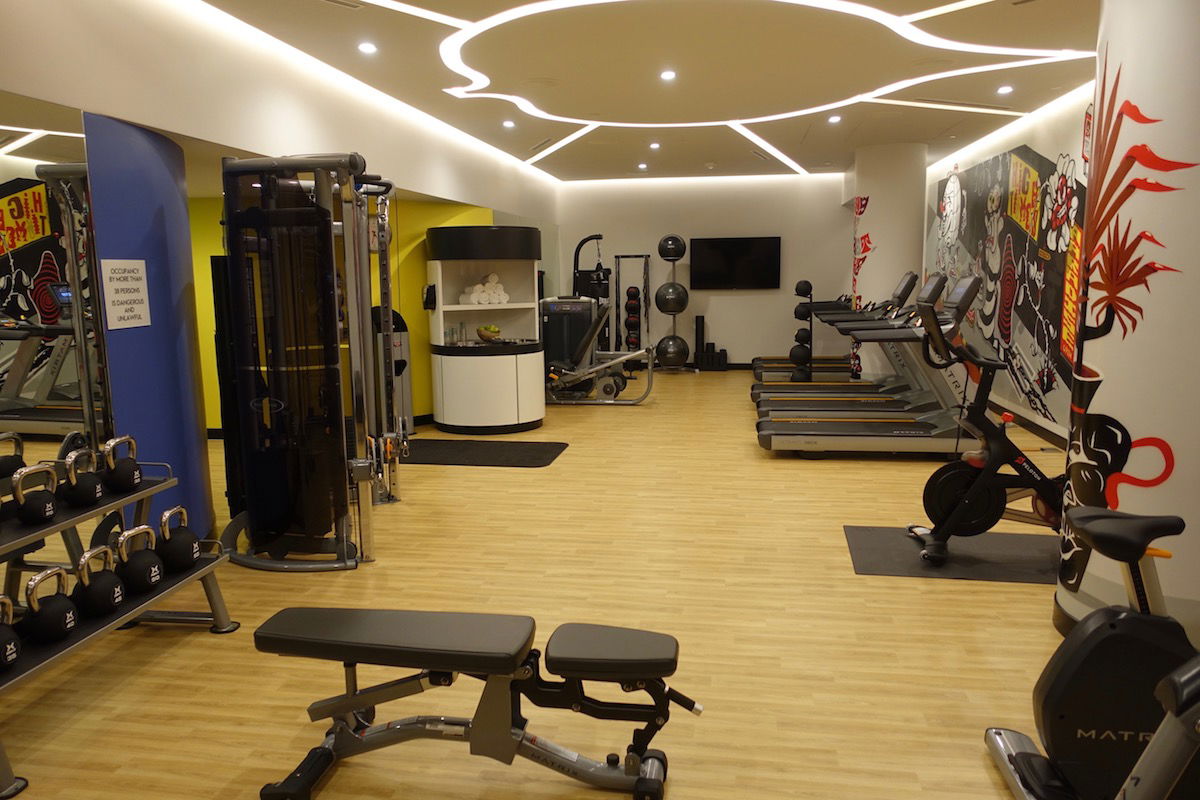 W Aspen gym
Much to my surprise, the W Aspen doesn't have a spa, and also doesn't plan on having one. Personally that's not much of a loss to me since I suspect a massage would be $250+ per hour, but it's still kind of surprising to me.
I was told they have a "partnership" for using the St. Regis Aspen spa, which I suspect just means that they'll book you there?
Are hotel spas in places like Aspen like room service, where they're surprisingly a cost center rather than a money maker?
W Hotel Aspen Living Room
The W Aspen's main restaurant is the Living Room, and it's located on the second floor.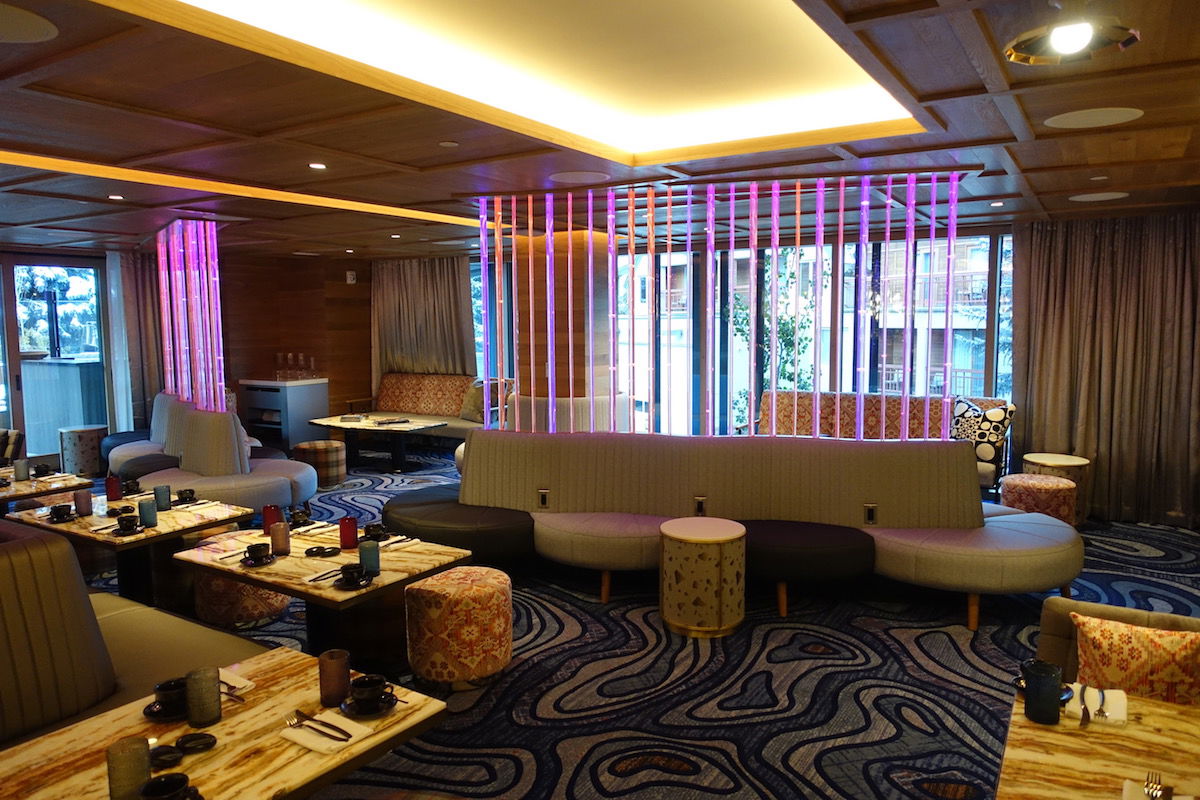 W Aspen Living Room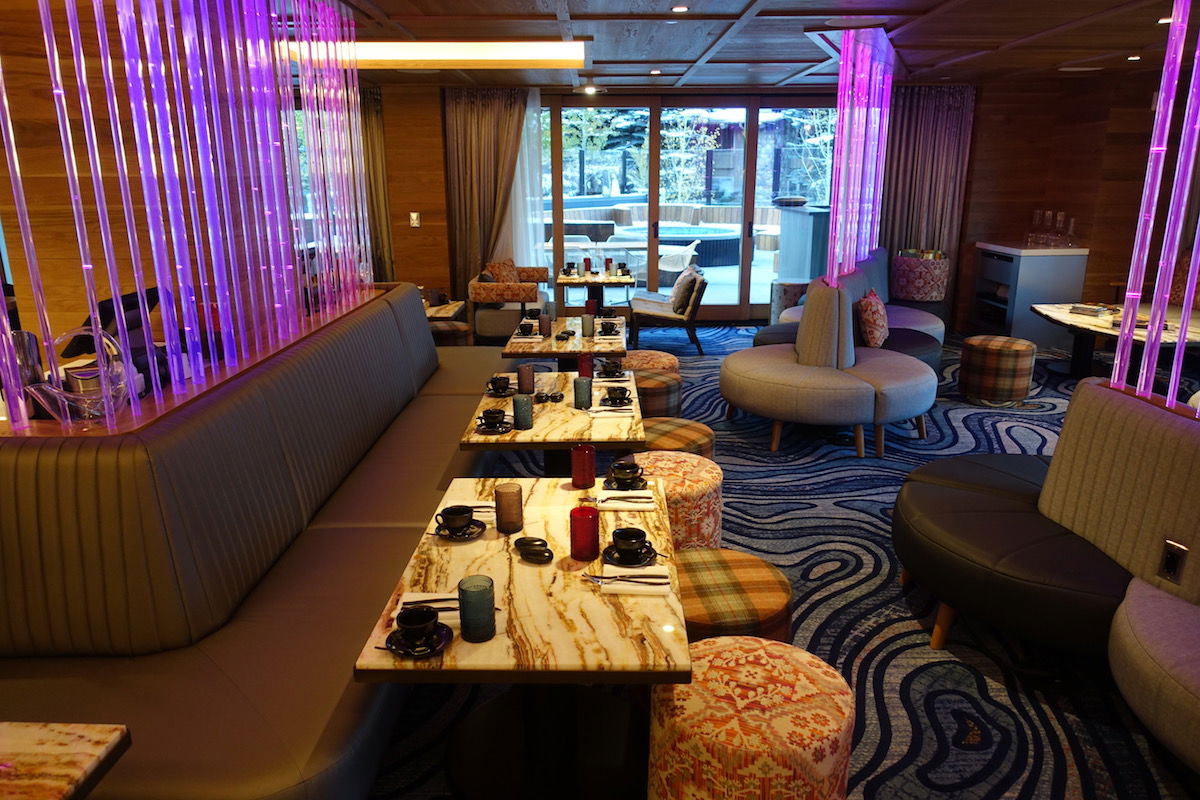 W Aspen Living Room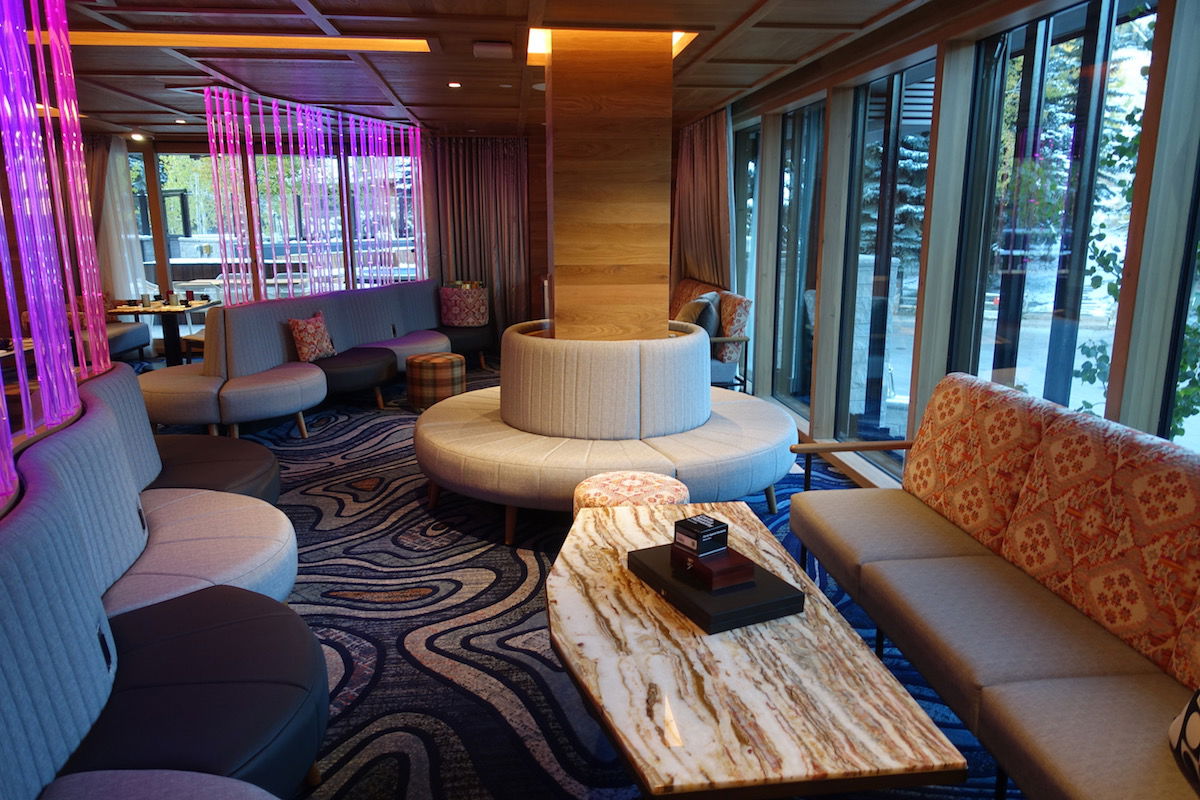 W Aspen Living Room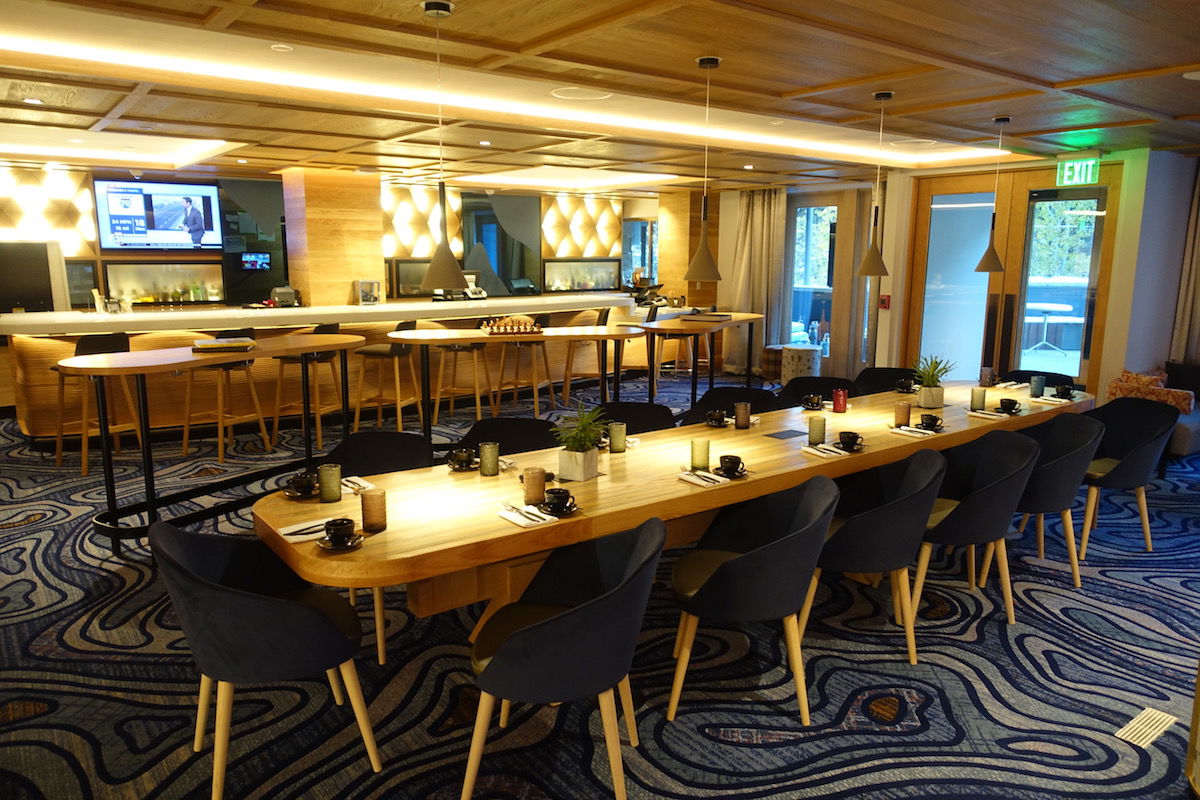 W Aspen Living Room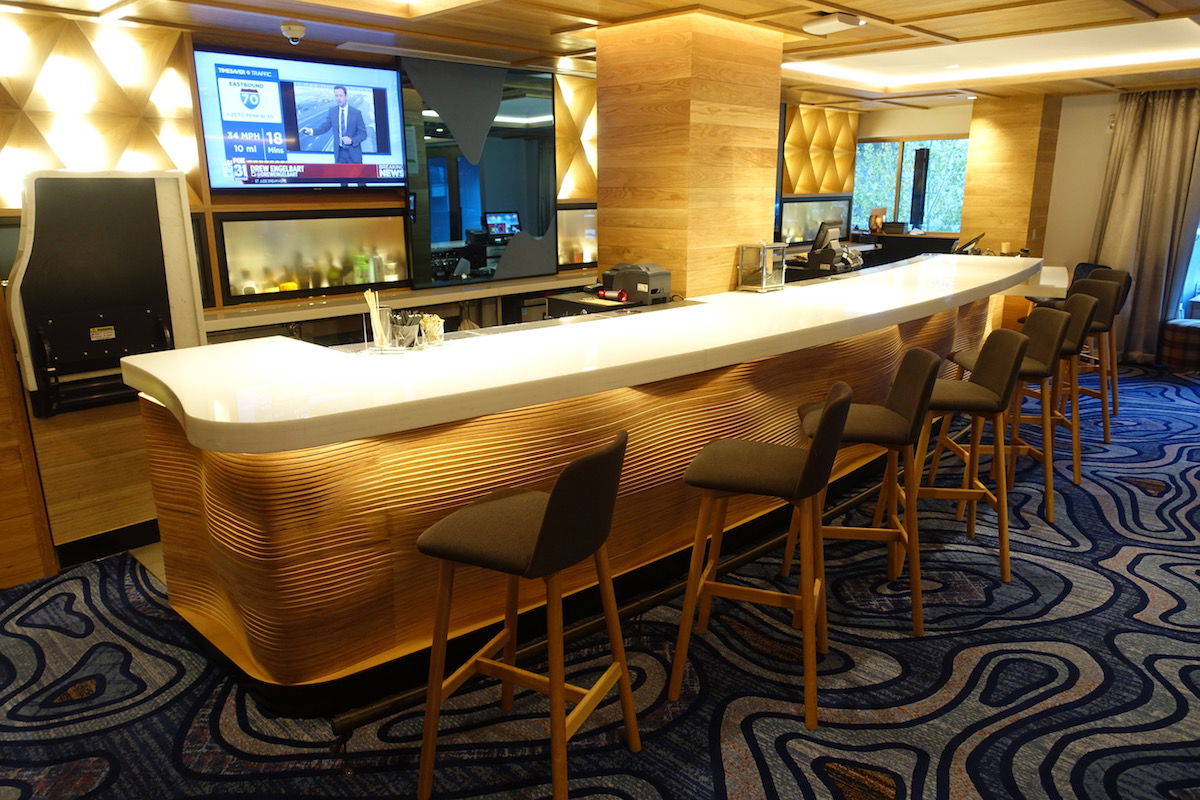 W Aspen Living Room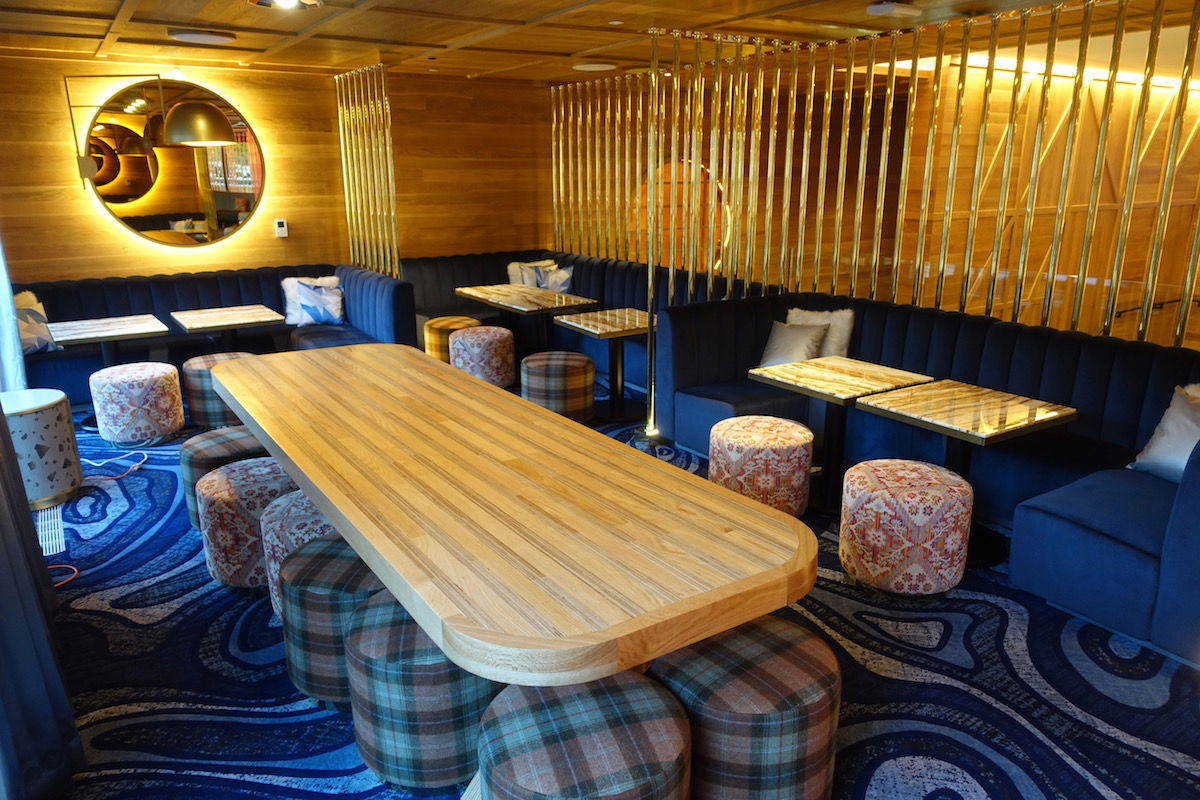 W Aspen Living Room
There's even a shuffleboard table, which we enjoyed.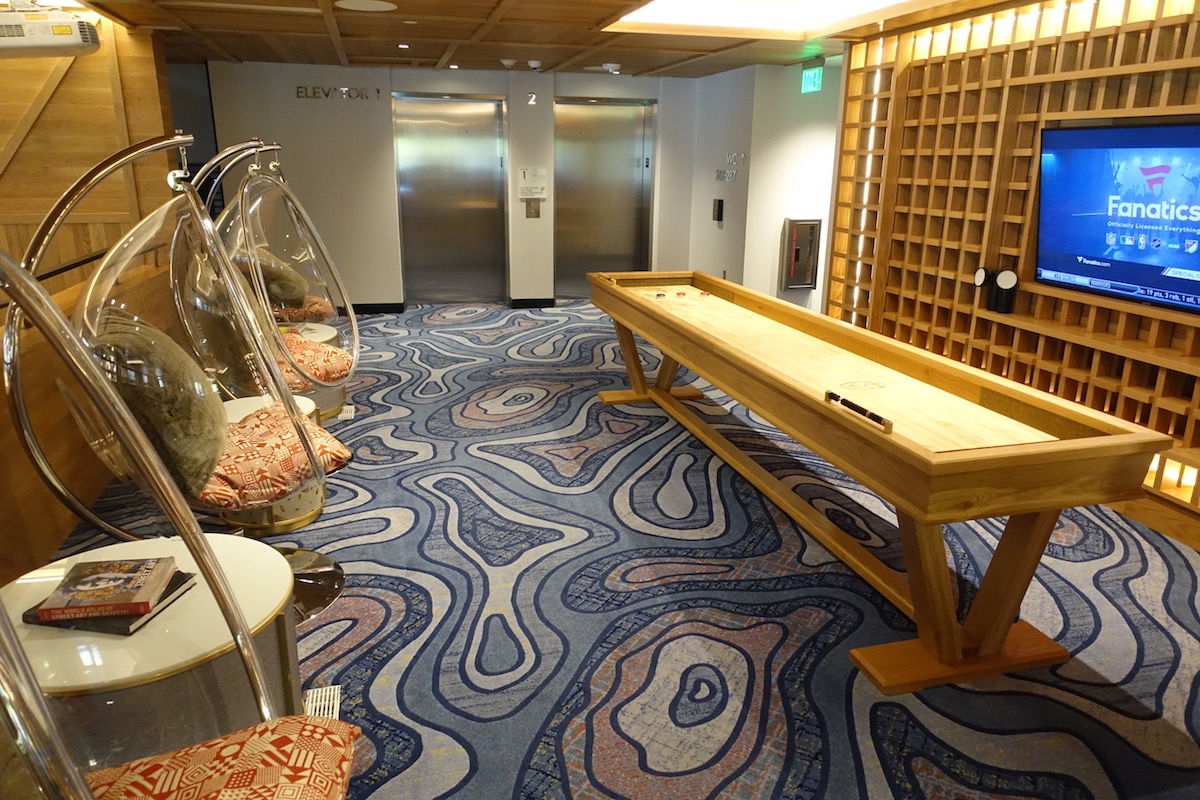 W Aspen Living Room
The Living Room also has a great outdoor space.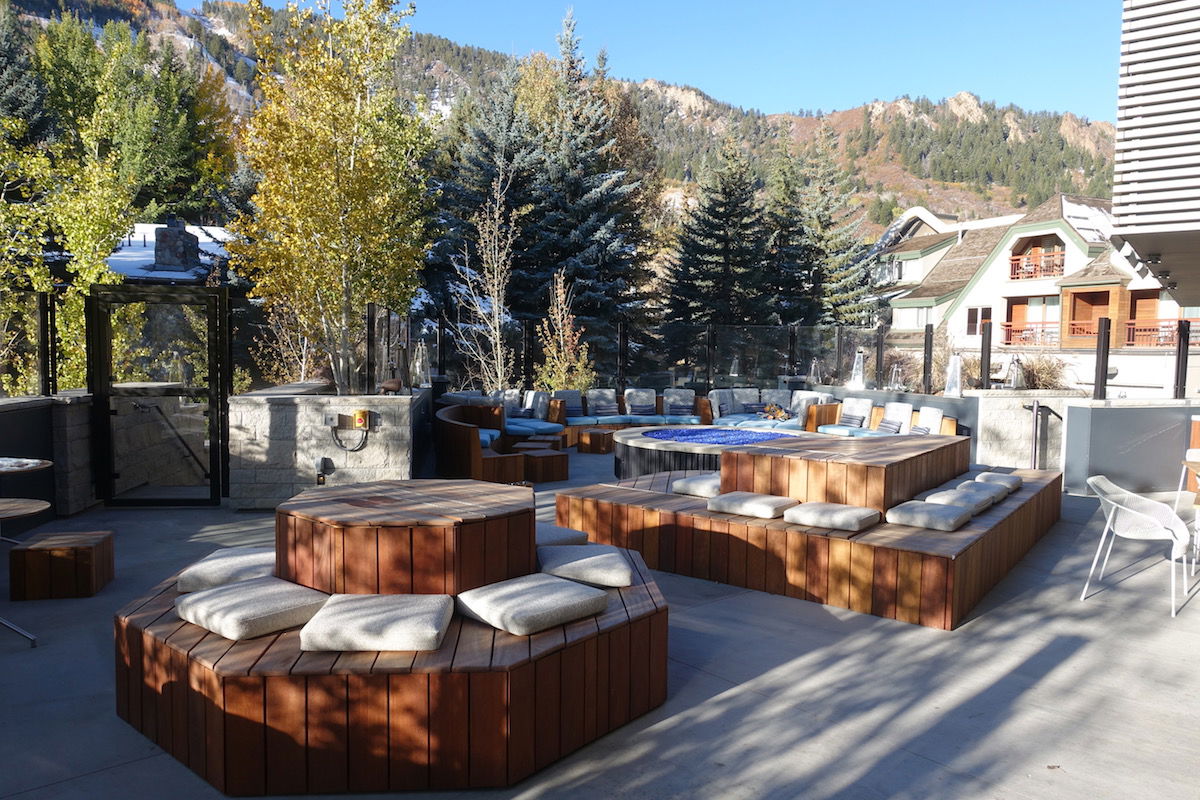 W Aspen Living Room outdoor space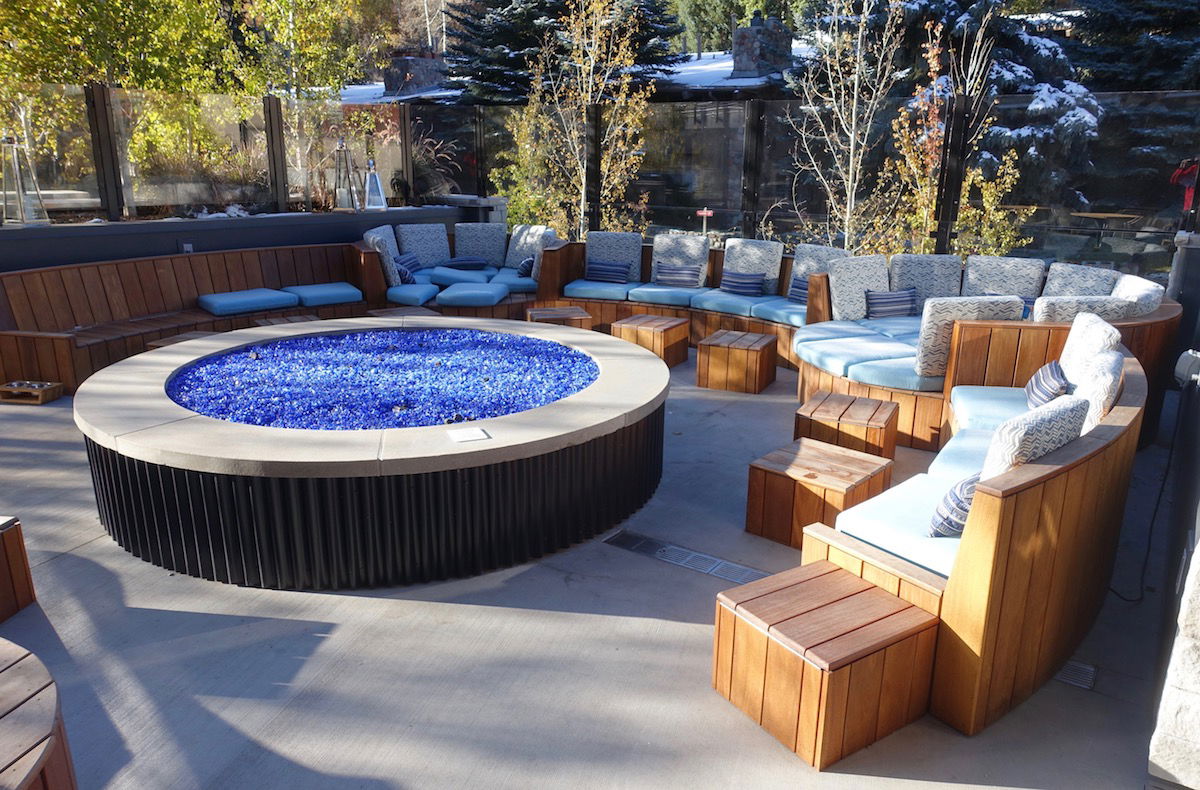 W Aspen Living Room outdoor space
Breakfast is served in the Living Room, and Marriott Bonvoy Platinum members and above can get a $52 credit per room towards breakfast. That's quite generous, given that technically they only have to provide "continental" breakfast, so some hotels will offer you a coffee and croissant and call it a day.
The breakfast menu read as follows: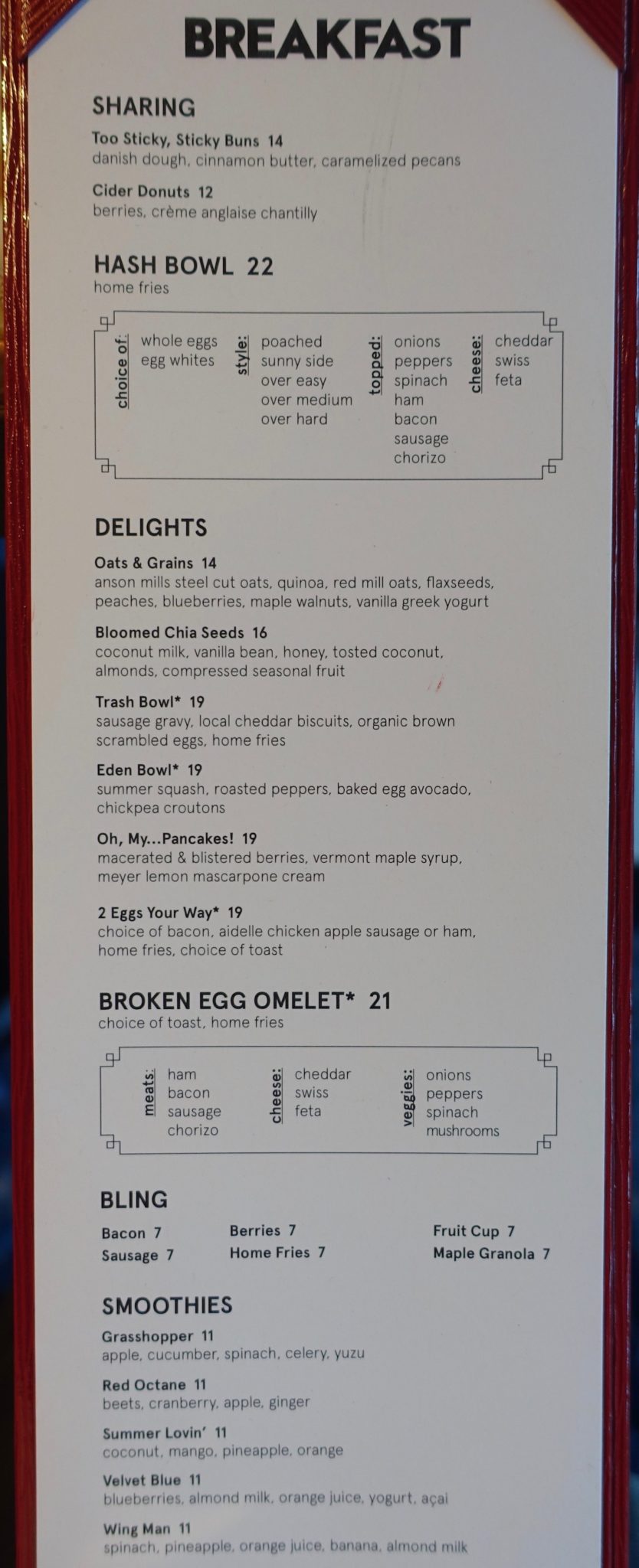 Food here was a real highlight of the hotel, which I don't often say about Ws.
I loved the eden bowl…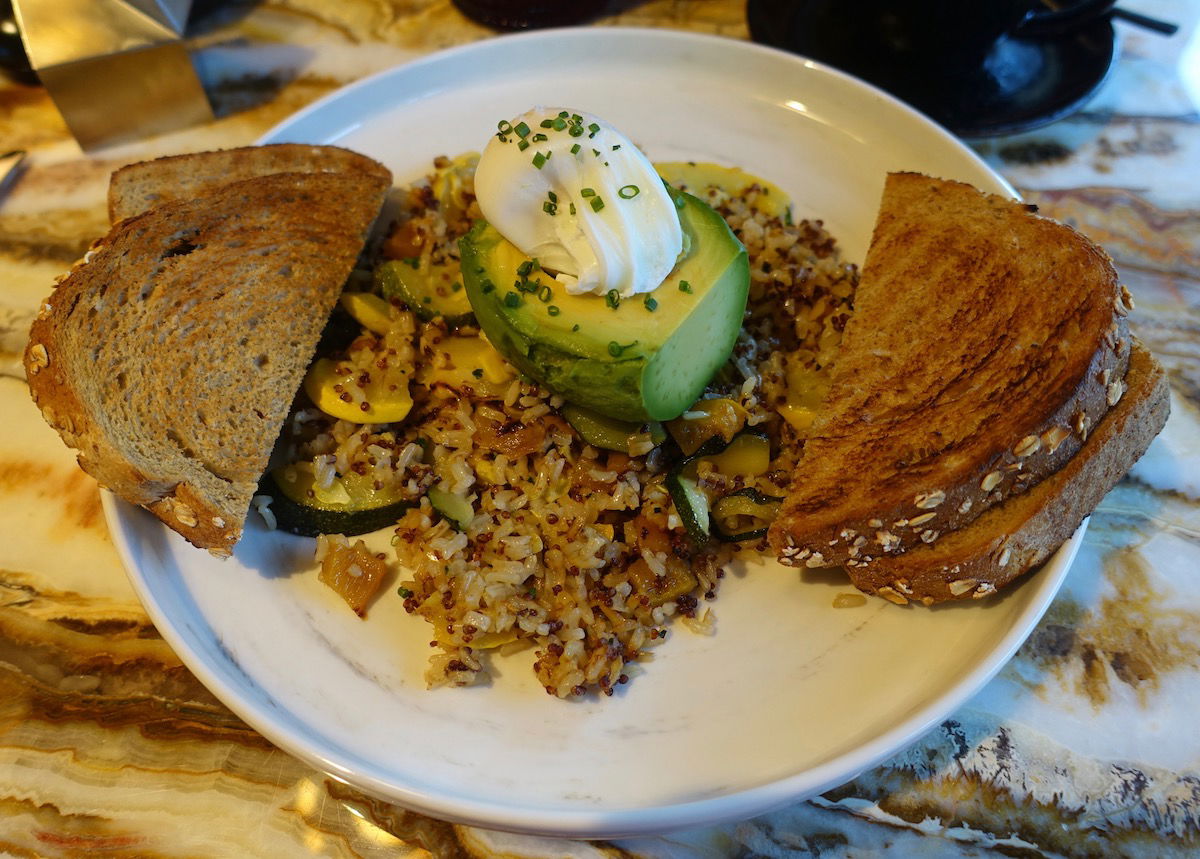 W Aspen breakfast
The omelets were also really good.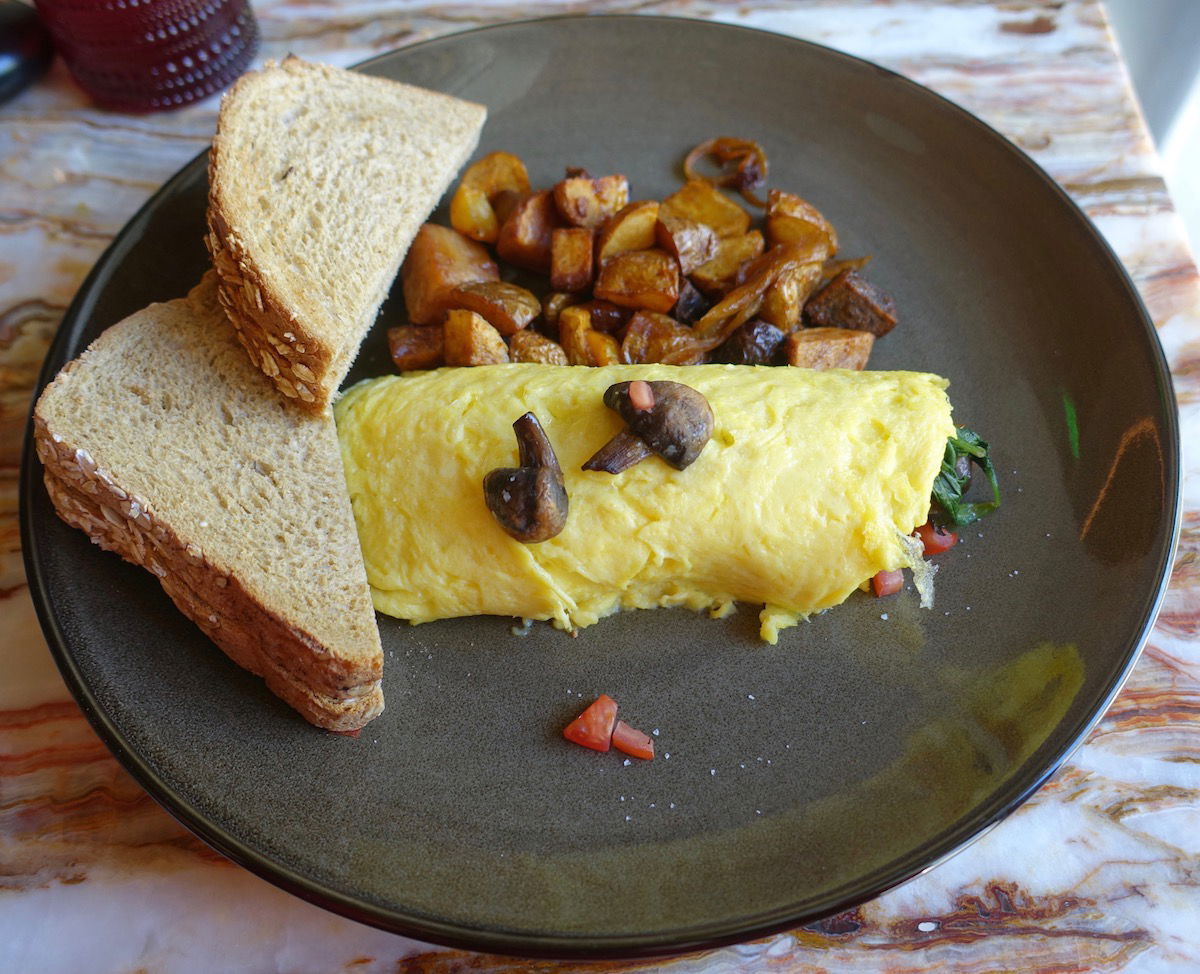 W Aspen breakfast
As was the bloomed chia seeds dish…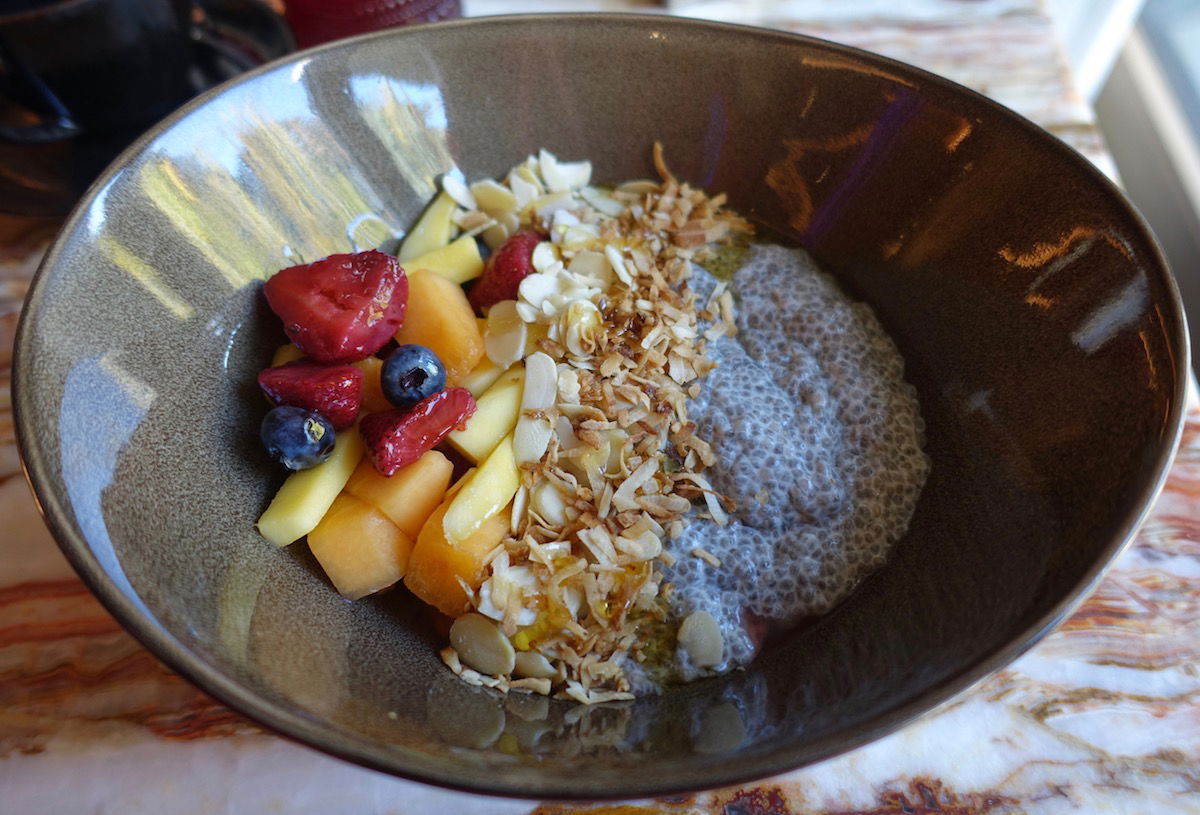 W Aspen breakfast
The hash bowl was also popular.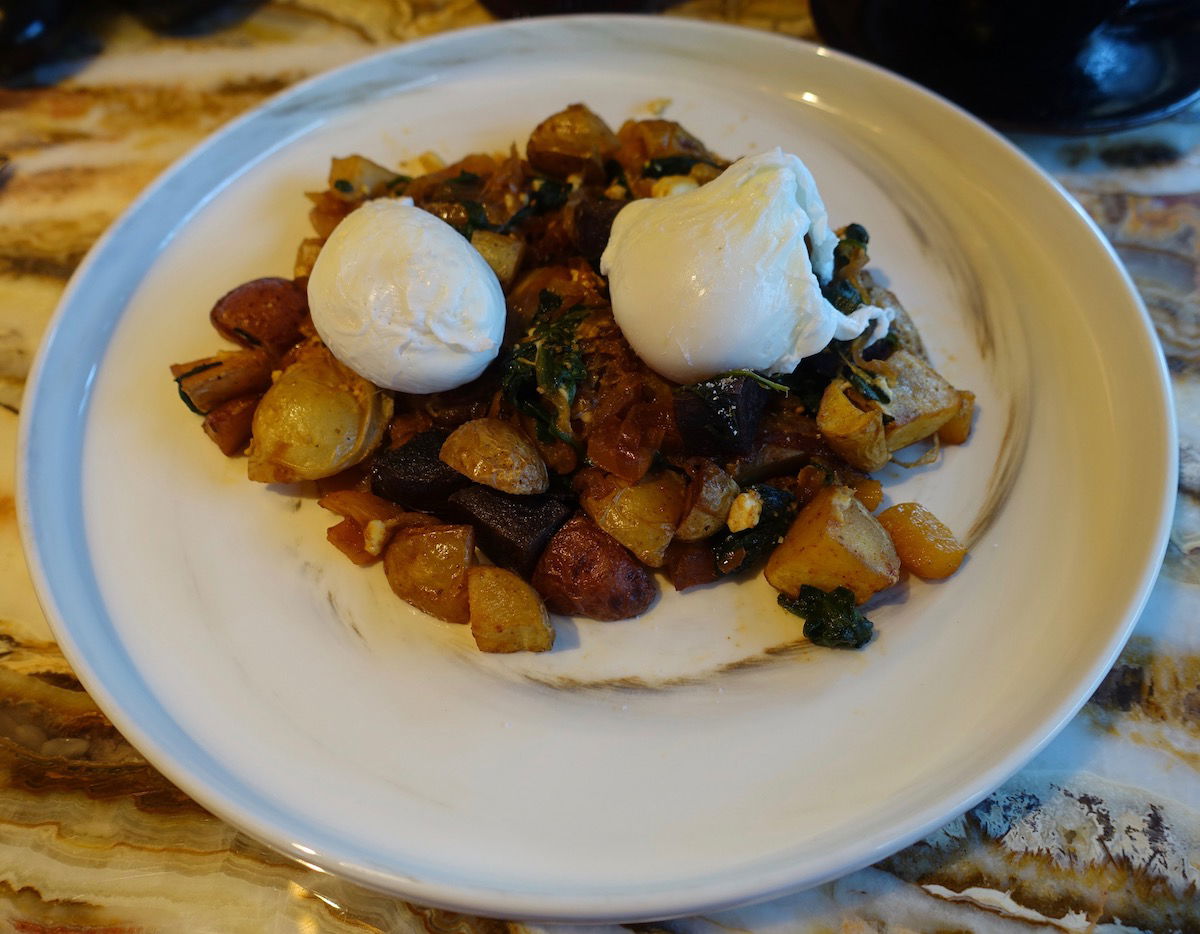 W Aspen breakfast
On our last morning they also brought out the cider donuts, which were great, but oh-so-unnecessary.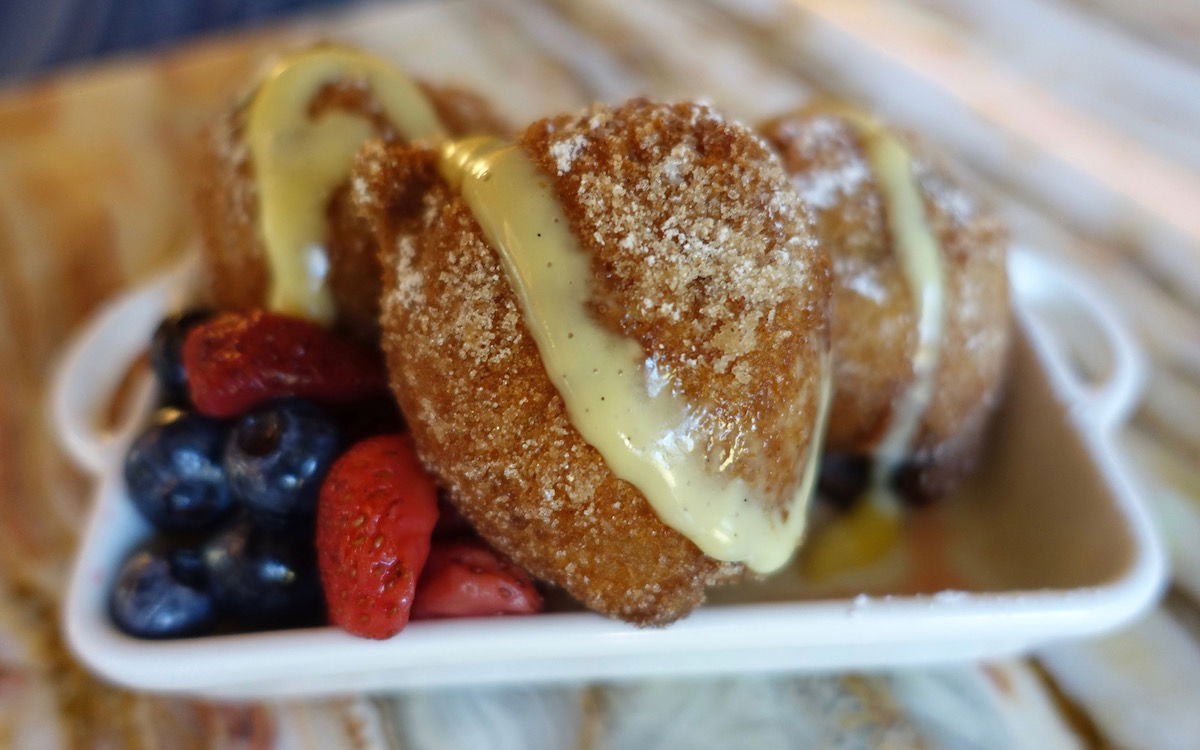 W Aspen breakfast
Also, as someone who loves hot sauce, I have to give the W Aspen credit for their selection. Any dining establishment that has more than just Tabasco instantly scores points in my book.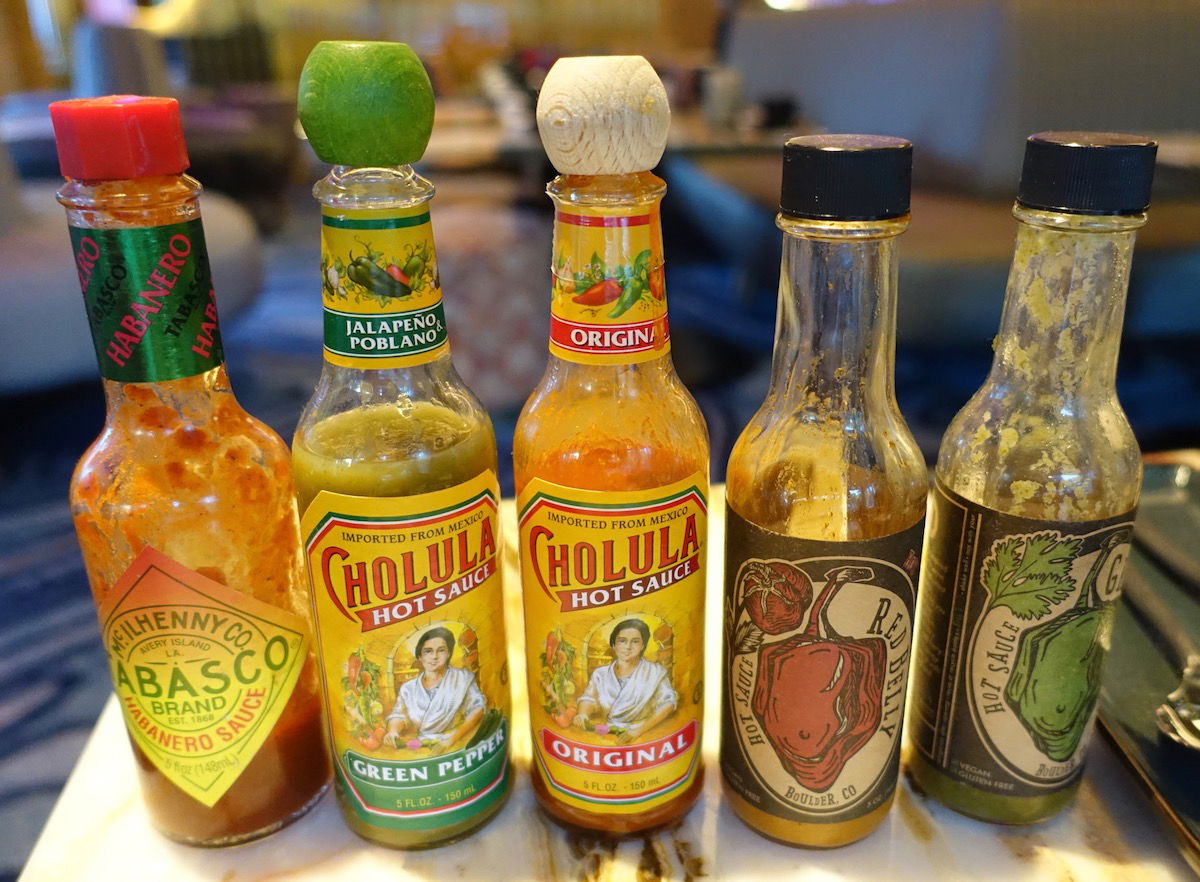 W Aspen breakfast hot sauce
W Hotel Aspen 39 Degrees
The W has a nightclub of sorts that's called 39 Degrees. It's open from 8PM until 2AM, and is on the ground floor.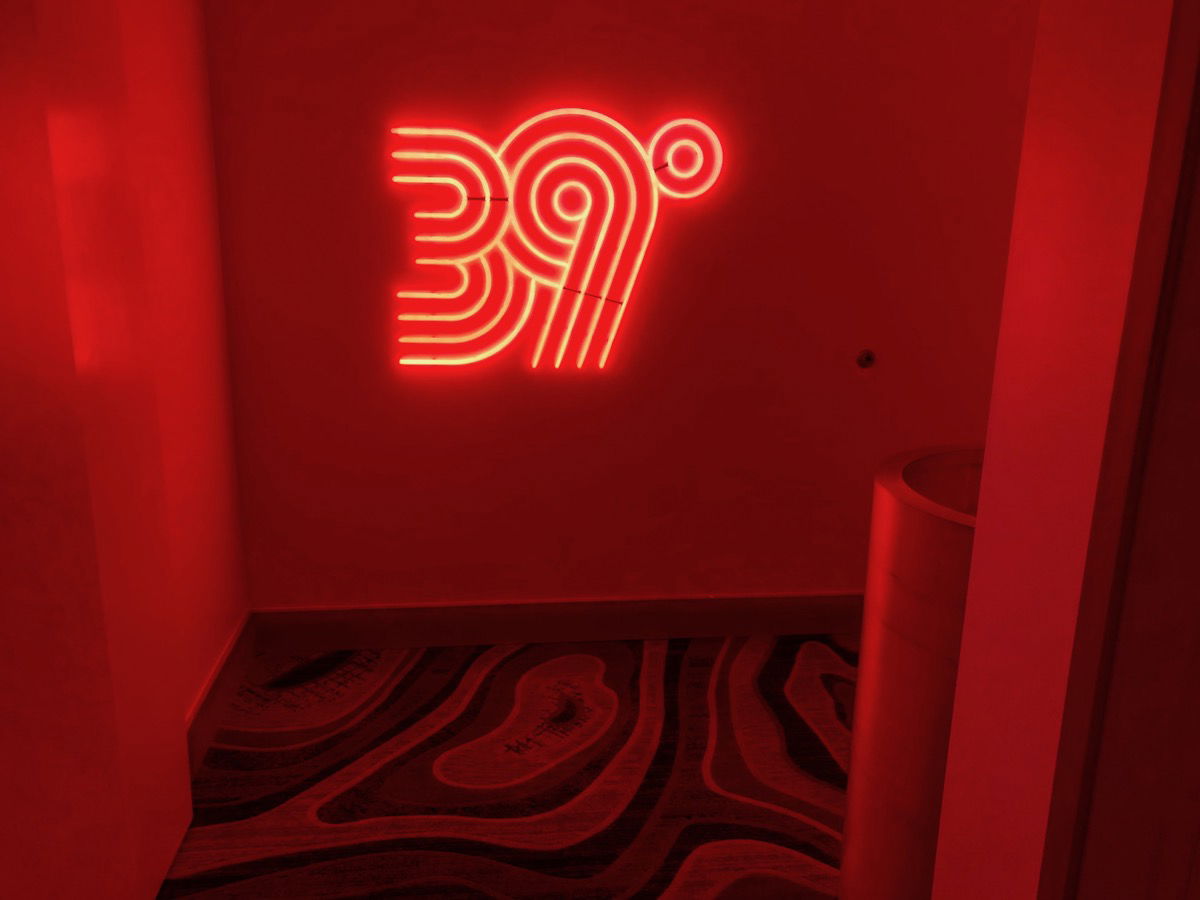 W Aspen 39 Degrees
On our first night we checked it out after dinner, and the door was nearly closed, as there wasn't a single soul in there, except the person working there. We went back the next night, and at that point there were maybe five people in there, so we left once again.
The space sure has unique decor. I'm not sure if this will be popular in winter, or…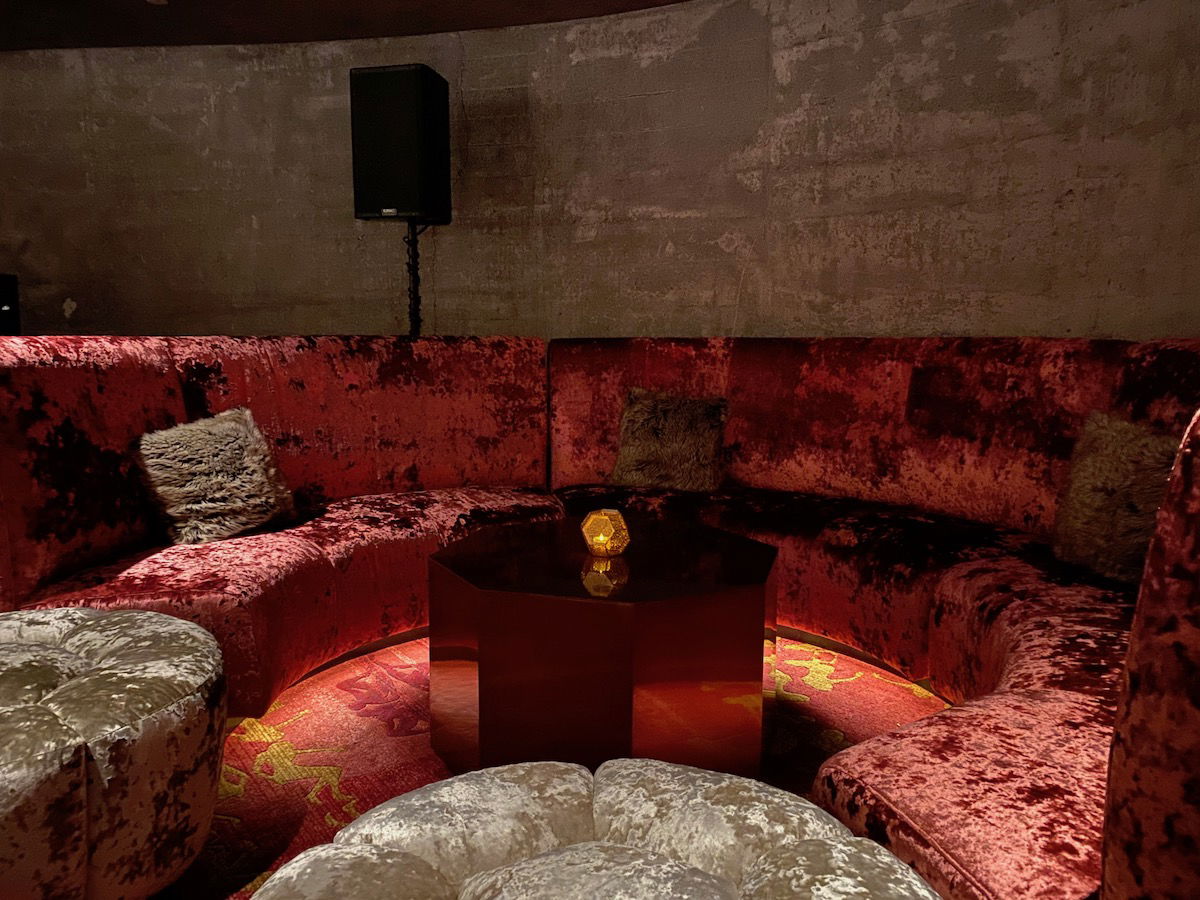 W Aspen 39 Degrees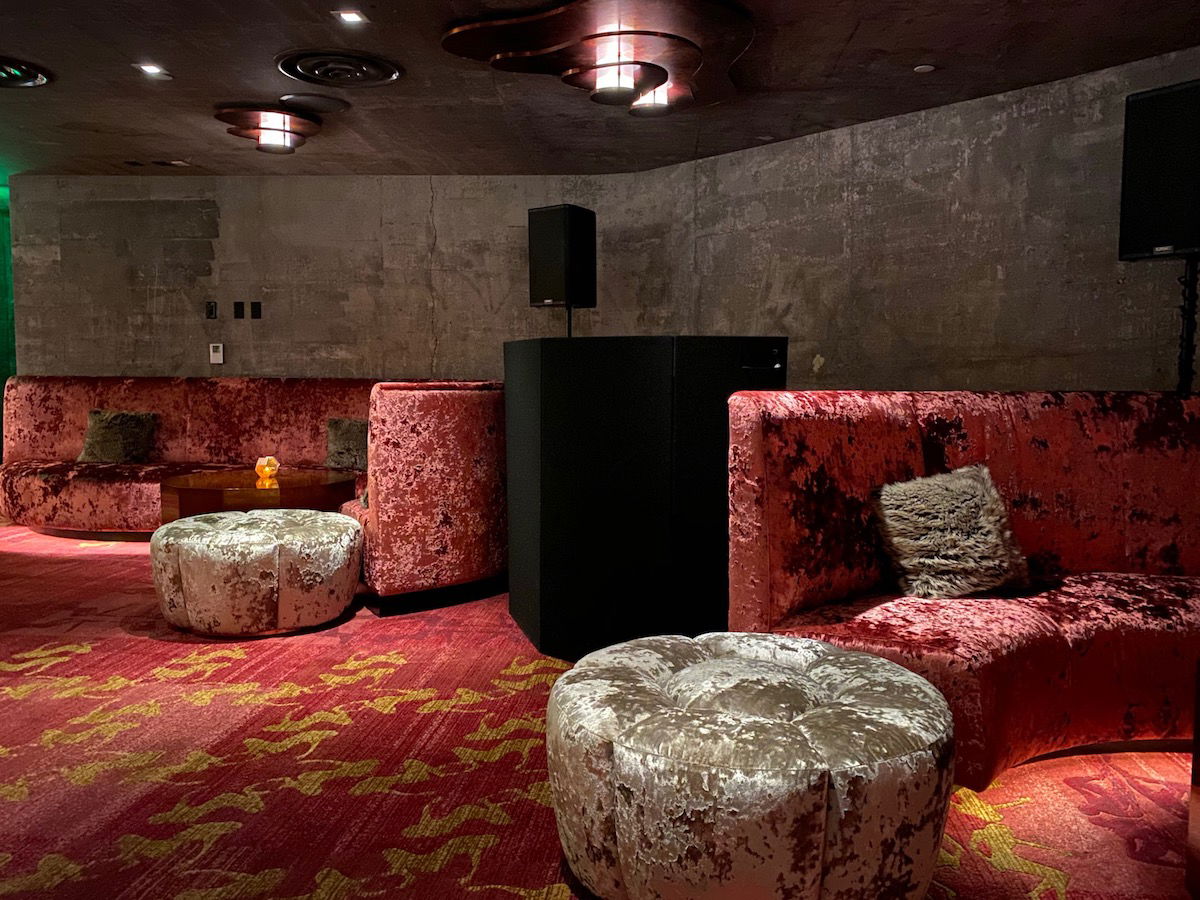 W Aspen 39 Degrees
W Hotel Aspen Room Service
The W has 24/7 room service, and that menu can exclusively be accessed on the TV. We did order once (when we wanted an afternoon snack prior to a late dinner and may have also had a few drinks).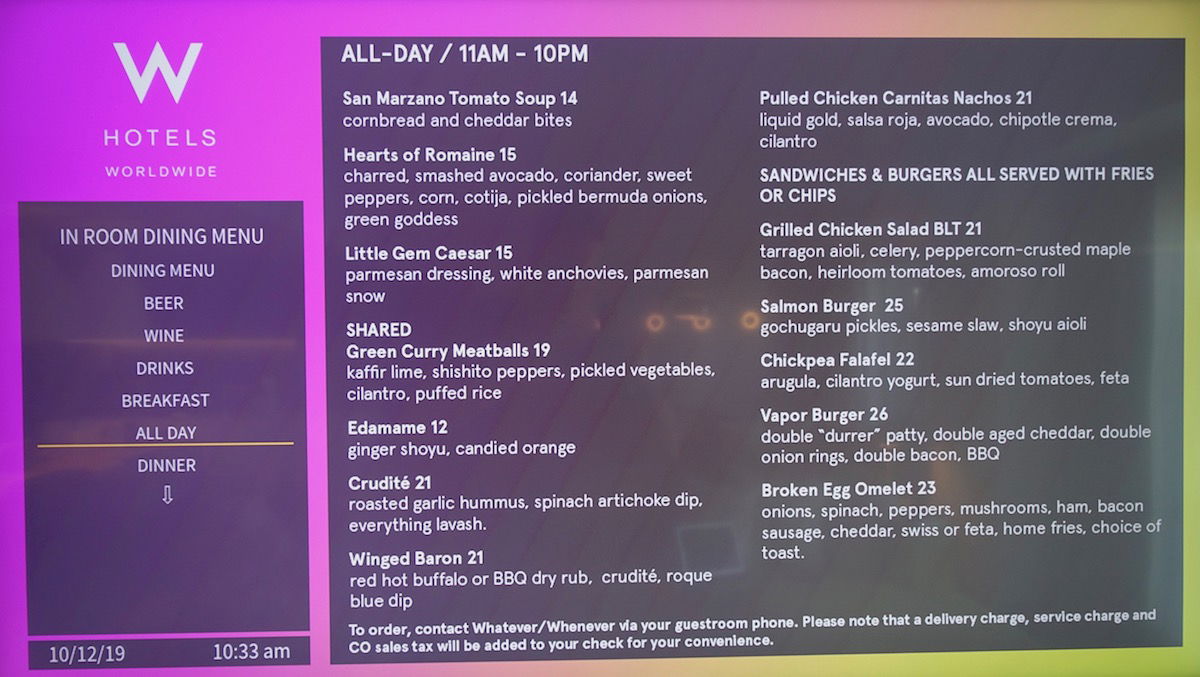 W Aspen room service menu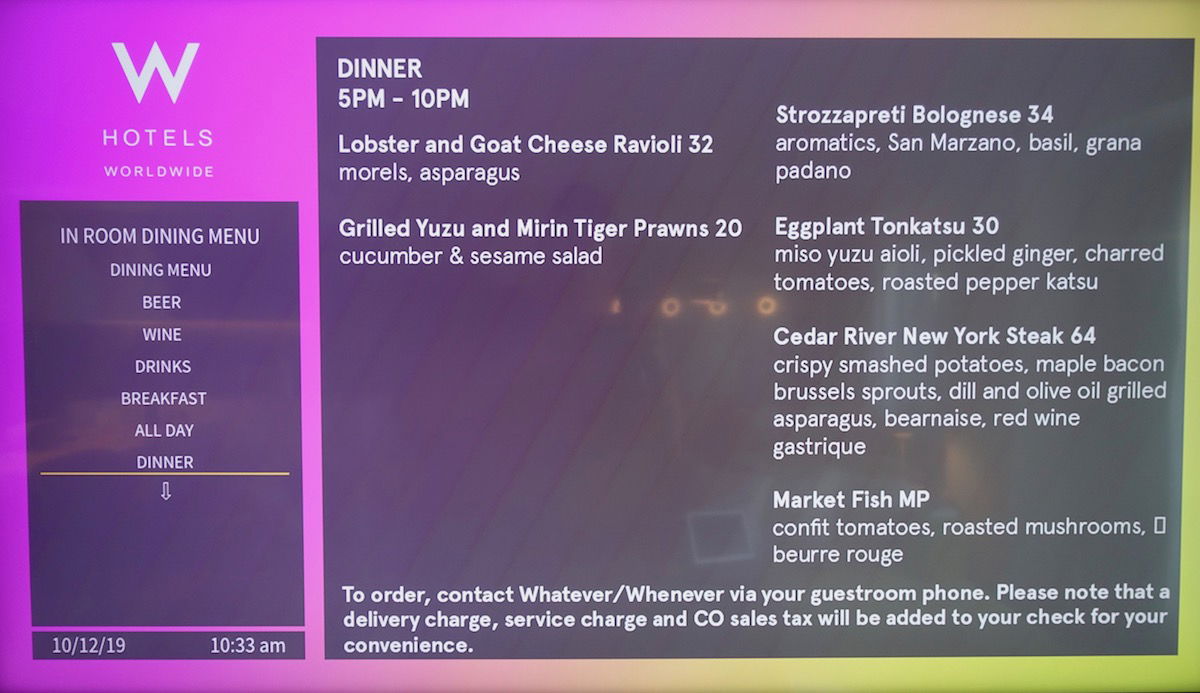 W Aspen room service menu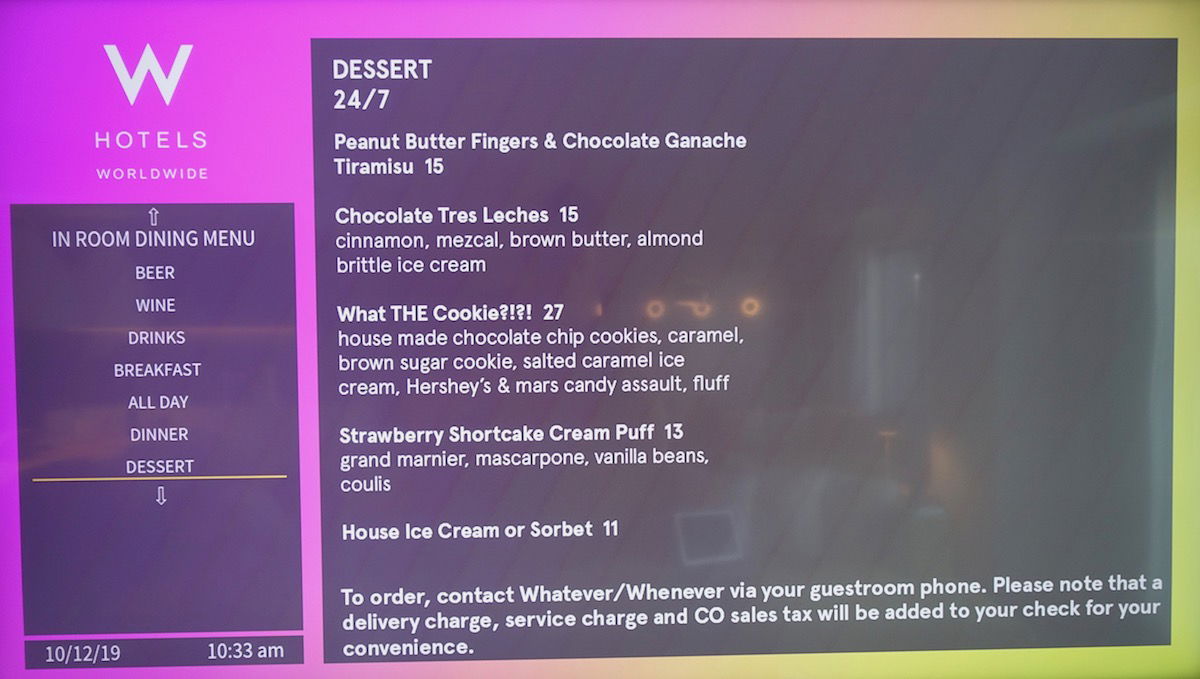 W Aspen room service menu
While we ordered total junk, it was delicious.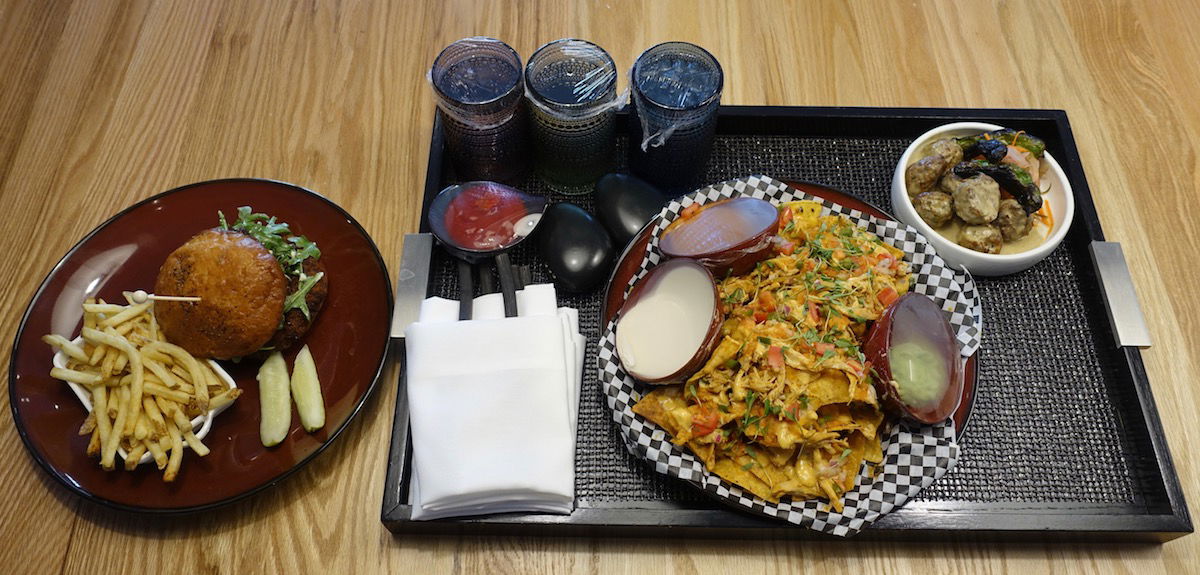 W Aspen room service
W Hotel Aspen House Car
The W Aspen has a hotel car that can drive you anywhere in town. They use a BMW X7, and this is a super nice feature, especially when it's cold outside and you're feeling lazy. Given the lack of Ubers available in Aspen, this is a feature that most good hotels seem to have.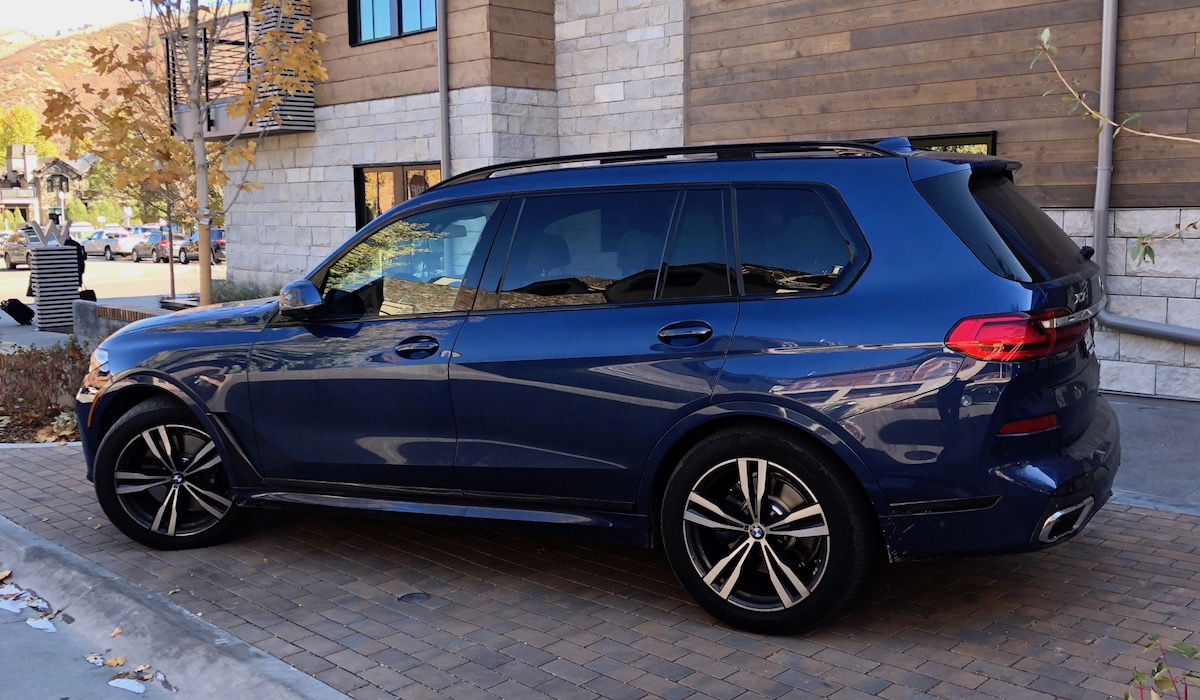 W Aspen hotel car
W Hotel Aspen Service
Oh, the service…
Everyone working at the W was pretty well intentioned. But I can't help but feel like something can't be a W Hotel if it's actually well run. While W calls their service "Whatever, Whenever," I tend to think a more accurate description is "Whatever, Whenever, Never."
To start, we had quite a few issues with our room. All were minor, but they added up. The irony is that when we were in the elevator the first day, we heard a hotel manager bringing a guest to his room that the hotel had some opening kinks, but they've worked them out. I beg to differ.
First of all, none of the phones in our room worked. We would call down, and then a few minutes later someone would come knocking on our door to see what we wanted. They said this was a known issue, and they were working on it.
Someone had come to our room twice that day already, and then at 11PM we tried to make a call again, and it still didn't work. So in addition to sending someone up to see what we wanted, they also sent up two (super friendly) maintenance people at 11PM. "We're here to fix your phones, we just want to be proactive and make sure you have a great stay." I'm not exactly sure I'd call that proactive, but…
Then we tried to stream something from our device to the TV (who doesn't want to watch (90 Day Fiancé after a few drinks?!). As it turns out, this service completely doesn't work — the Wi-Fi network that's written there doesn't even exist, and when you enter the code you get an error message. So they sent up maintenance, and they couldn't figure it out either.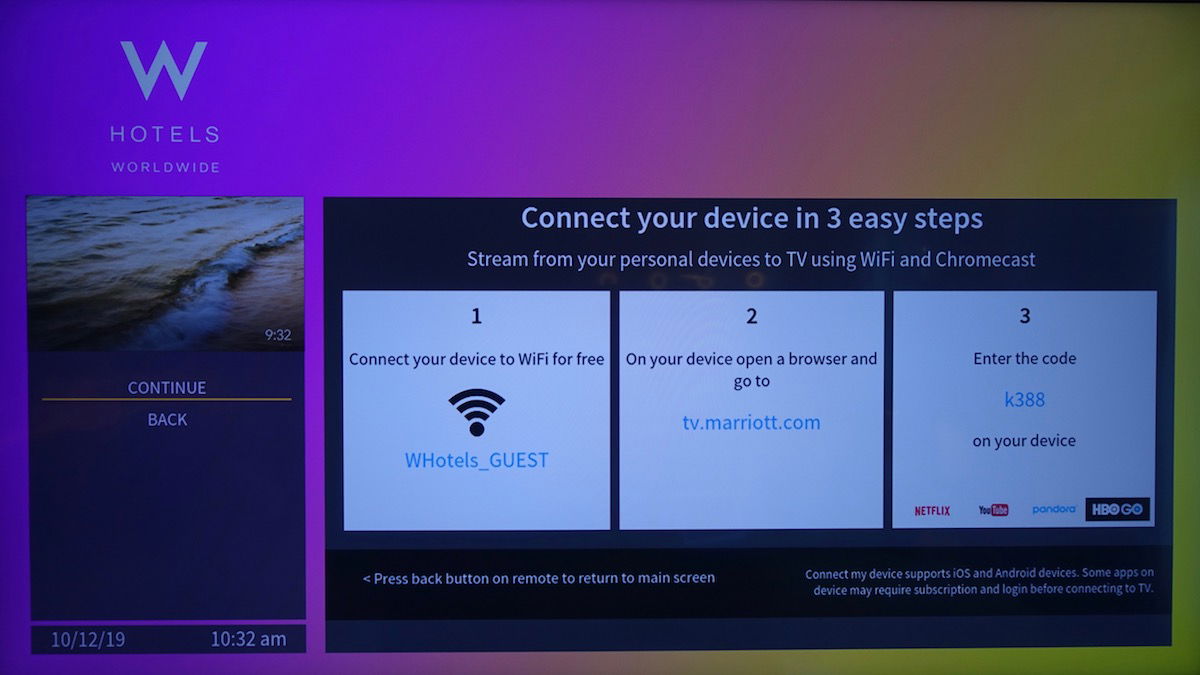 W Aspen technology issues
Then for logging onto the internet, we couldn't actually get the regular Wi-Fi (where you log in with your room number and name) to work. They repeatedly tried to troubleshoot it, but it still wouldn't work. So they gave us an access code, rather than letting us connect with our name and room number. That wasn't a huge issue, but it also meant we didn't get the high speed Wi-Fi.
Then we tried to use the hotel's texting service, and there was consistently a 15-60 minute delay in responding. To me that's pretty useless, and very much goes against the "Whatever, Whenever" concept that W promises.
While we mentioned each of these things individually, I decided to also bring this to the attention of the front office manager. I just figured they had to know how many technology failures they had. I phrased it in a nice way — I explained I didn't want anything, and that I just wanted them to be aware of these things so they can work out these kinks before the busy season).
Along those lines, I feel like W service is so insincere. The same person I mentioned at least two of those issues to during the stay asked at check-out "was everything with your stay perfect?"
So all around I think service was well intentioned. The restaurant and bar staff were excellent. But there was a lot of attention to detail missing with the front office staff.
Lastly, I should mention that on the day of departure we asked for late check-out as a Marriott Ambassador. At resorts late check-out is subject to availability for Platinum members and above, but that should actually mean that it's subject to availability, and not subject to whether or not the hotel feels like it.
The hotel was totally dead when we were staying there, and for the day of our departure they were selling the maximum number of two bedroom residences that show online. Check-out time is 11AM, and before even looking at anything, the front office associate said "usually we do 12PM as the late check-out." After pushing she agreed to 1PM.
As usual, I feel like taking advantage of Marriott elite perks is like pulling teeth. I'd totally get this in peak season, but that wasn't the case here.
Oh, and our room had a major leak in the wall that caused the carpet by the king bed to be soaking wet.
W Hotel Aspen Guest Room
We loved our residence, but right before we checked out we asked if we could see a standard room, as I was curious how those rooms compared. Overall I was feeling mostly great about the property based on the residence we had.
Well, unfortunately the hotel rooms are a different story. While we weren't able to view one, the first thing worth noting is that the W Aspen has some really unusual guest rooms.
The W Aspen has rooms with queen bunk beds…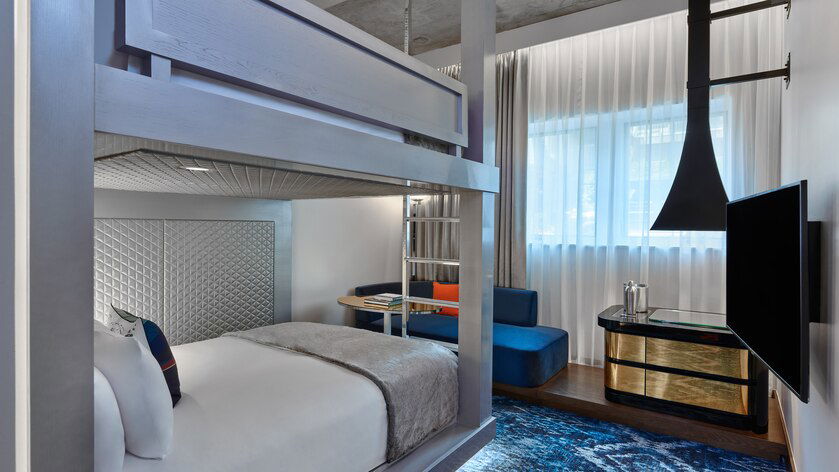 And they also have rooms with beds right behind one another…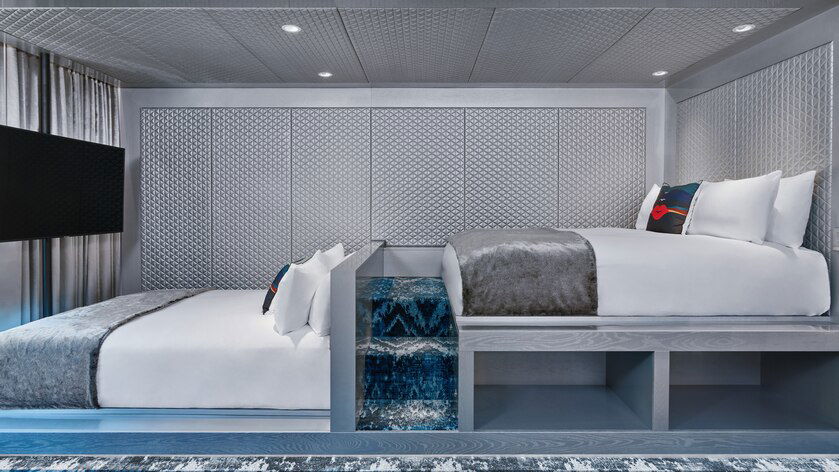 I feel like there's a novelty and shock factor to that, but this is virtually unheard of for a luxury hotel.
Anyway, the model room they showed up was a Fabulous King Mountain View with Balcony.
As it turned out, this was far from a standard room in terms of pricing. For the entire year this room retails for $400 more than a standard room (so for example, for tonight a standard room is $279, while this room is $679, while in high season a standard room might be $899, while this room is $1,299).
The room was compact, and felt typical for a W. There was a king size bed, a single seat in the corner, and a bar. There was no desk or surface otherwise.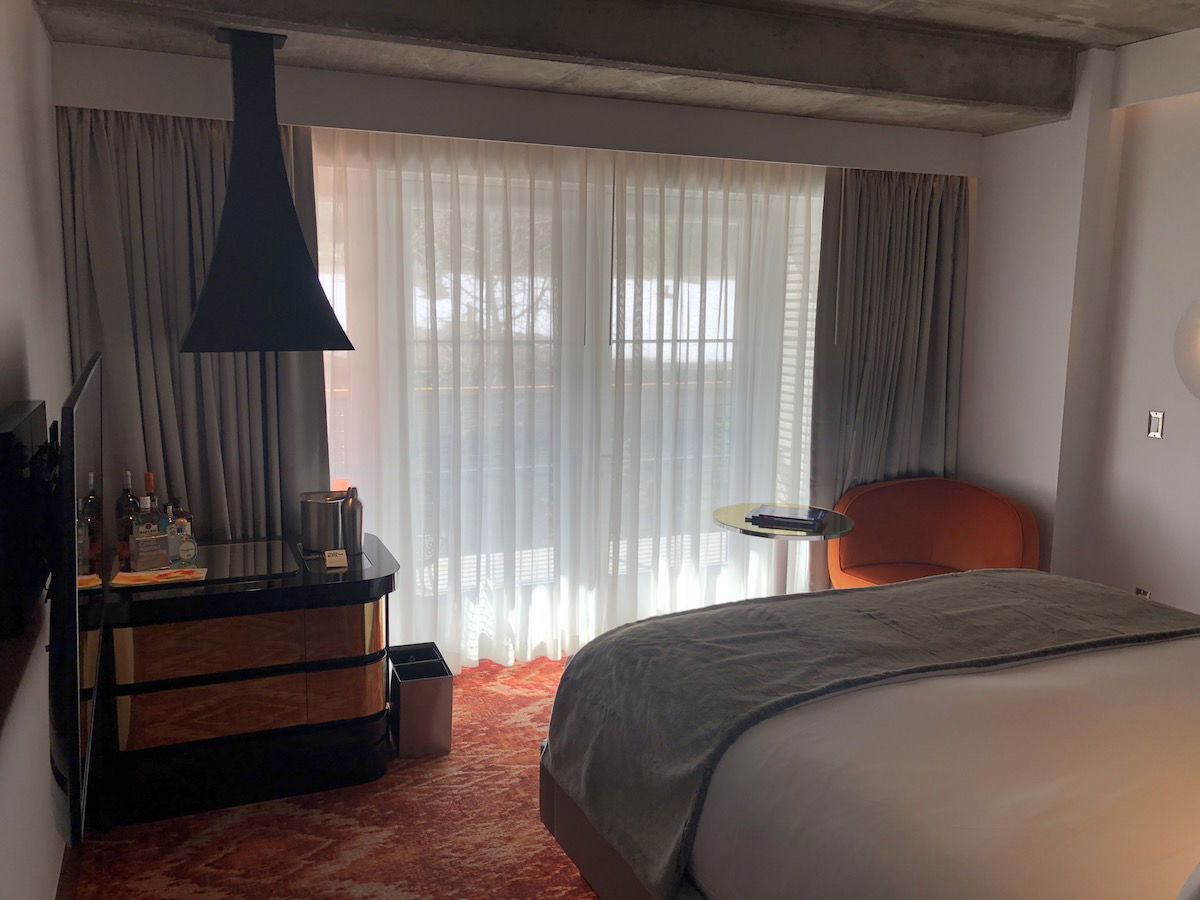 W Aspen Fabulous King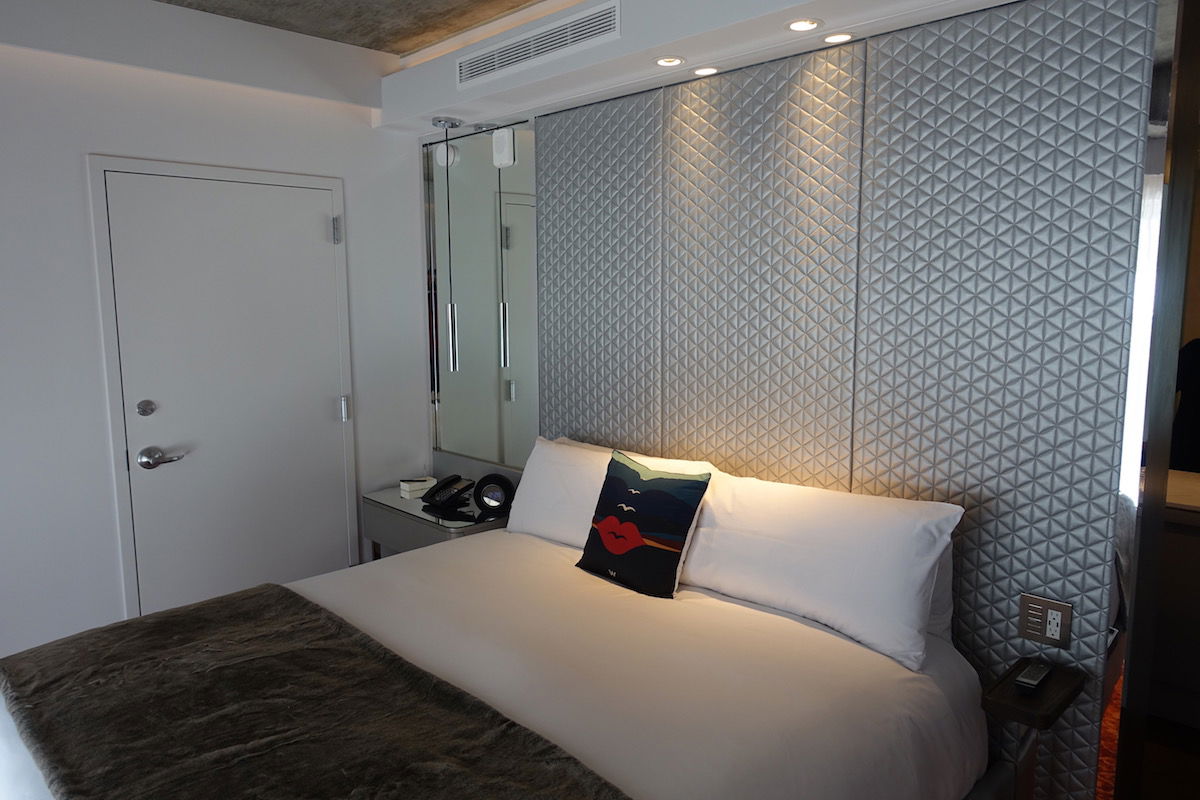 W Aspen Fabulous King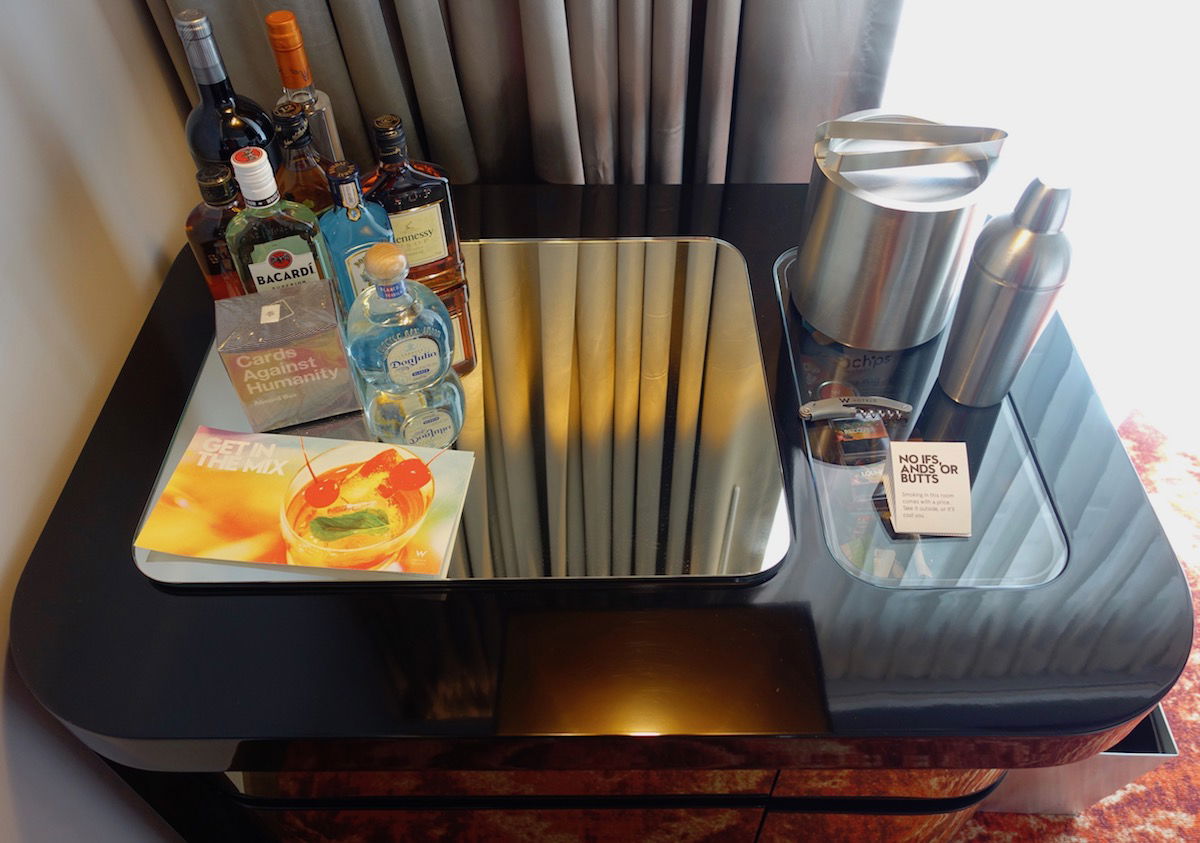 W Aspen Fabulous King
The room did have a nice balcony, which most rooms here don't have.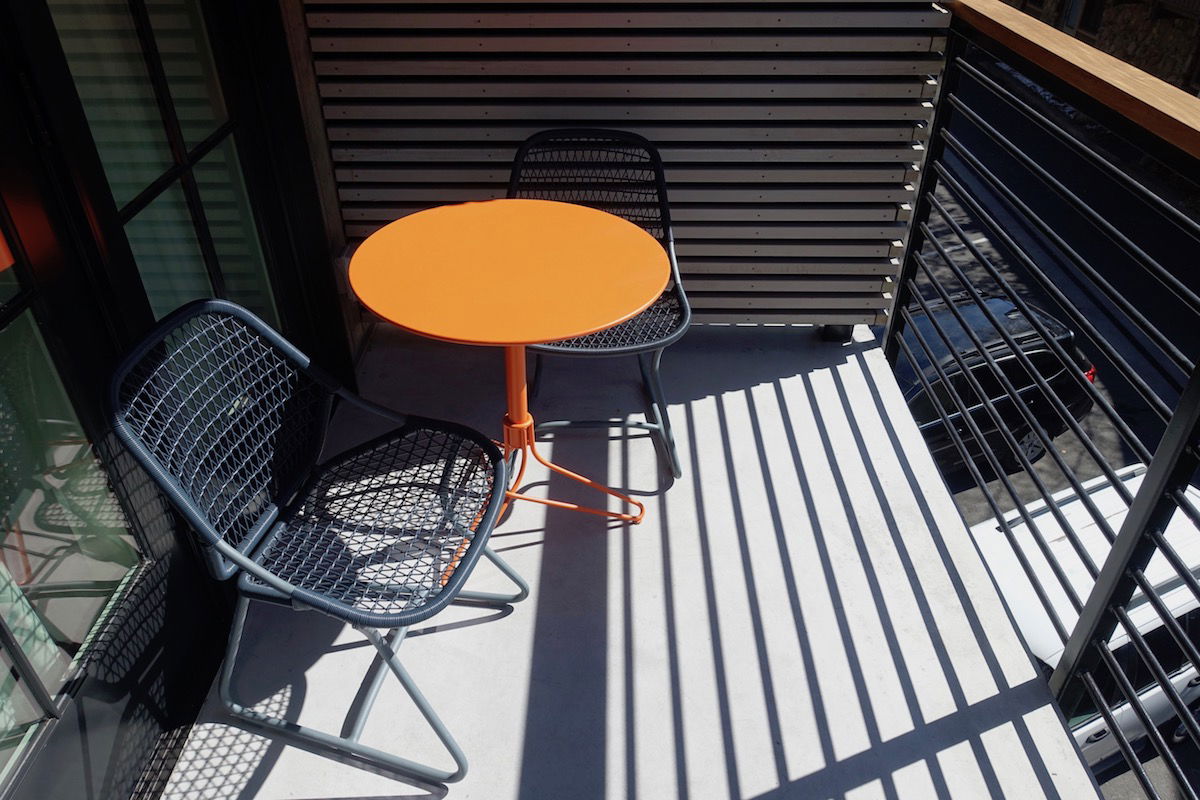 W Aspen Fabulous King
Back by the entrance was an exposed dresser, as well as a totally open bathroom with a partitioned off shower and toilet.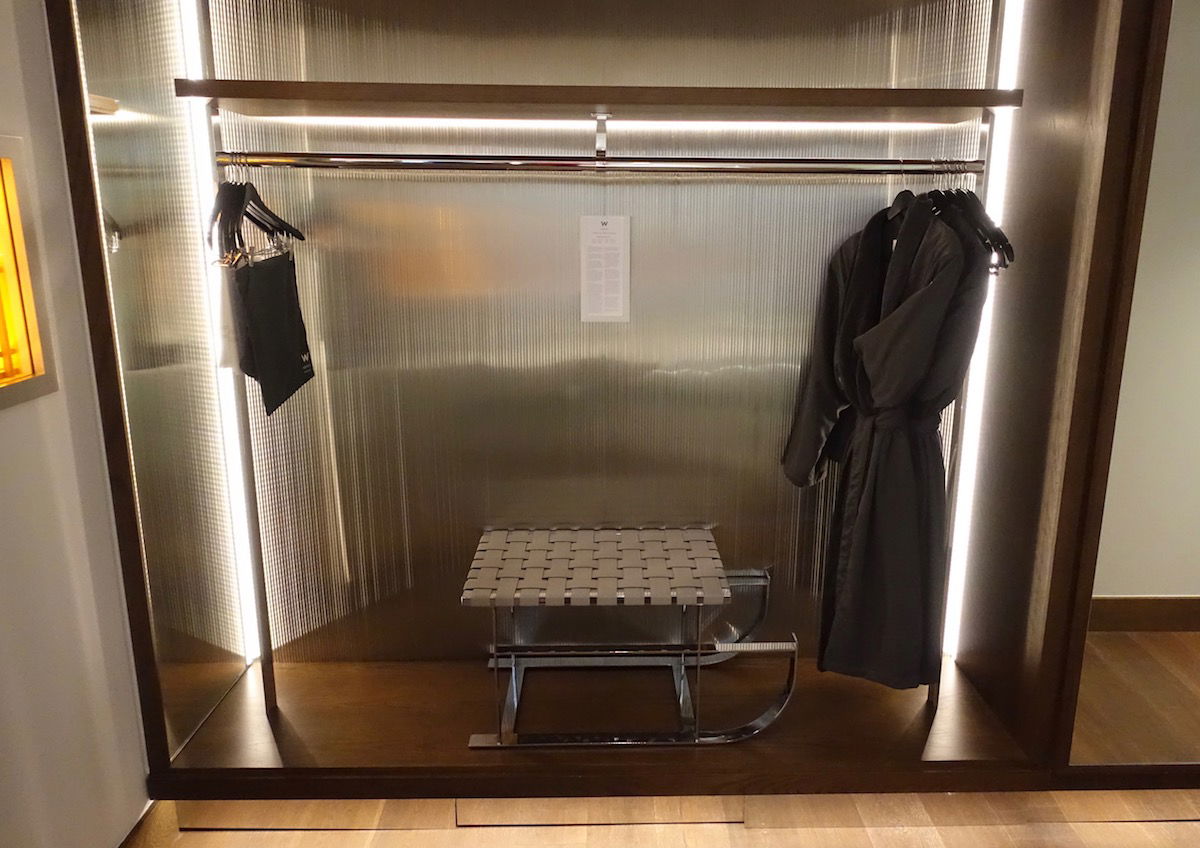 W Aspen Fabulous King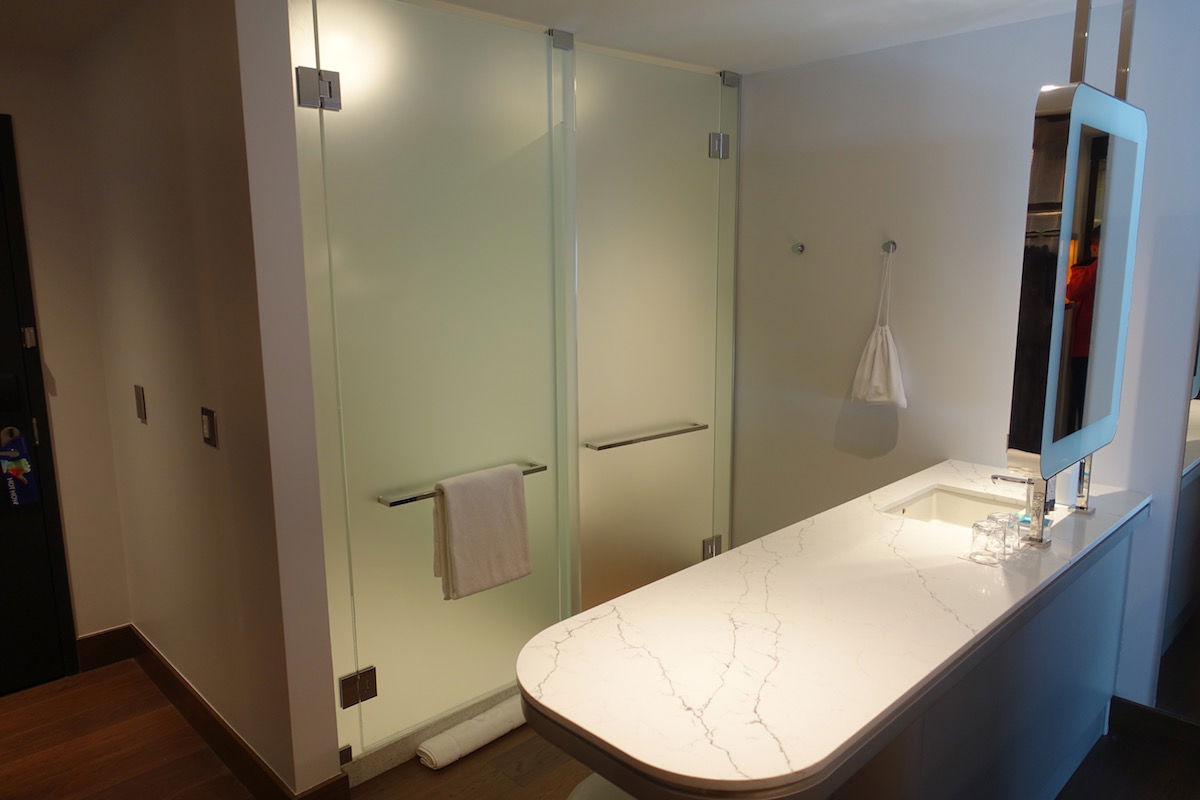 W Aspen Fabulous King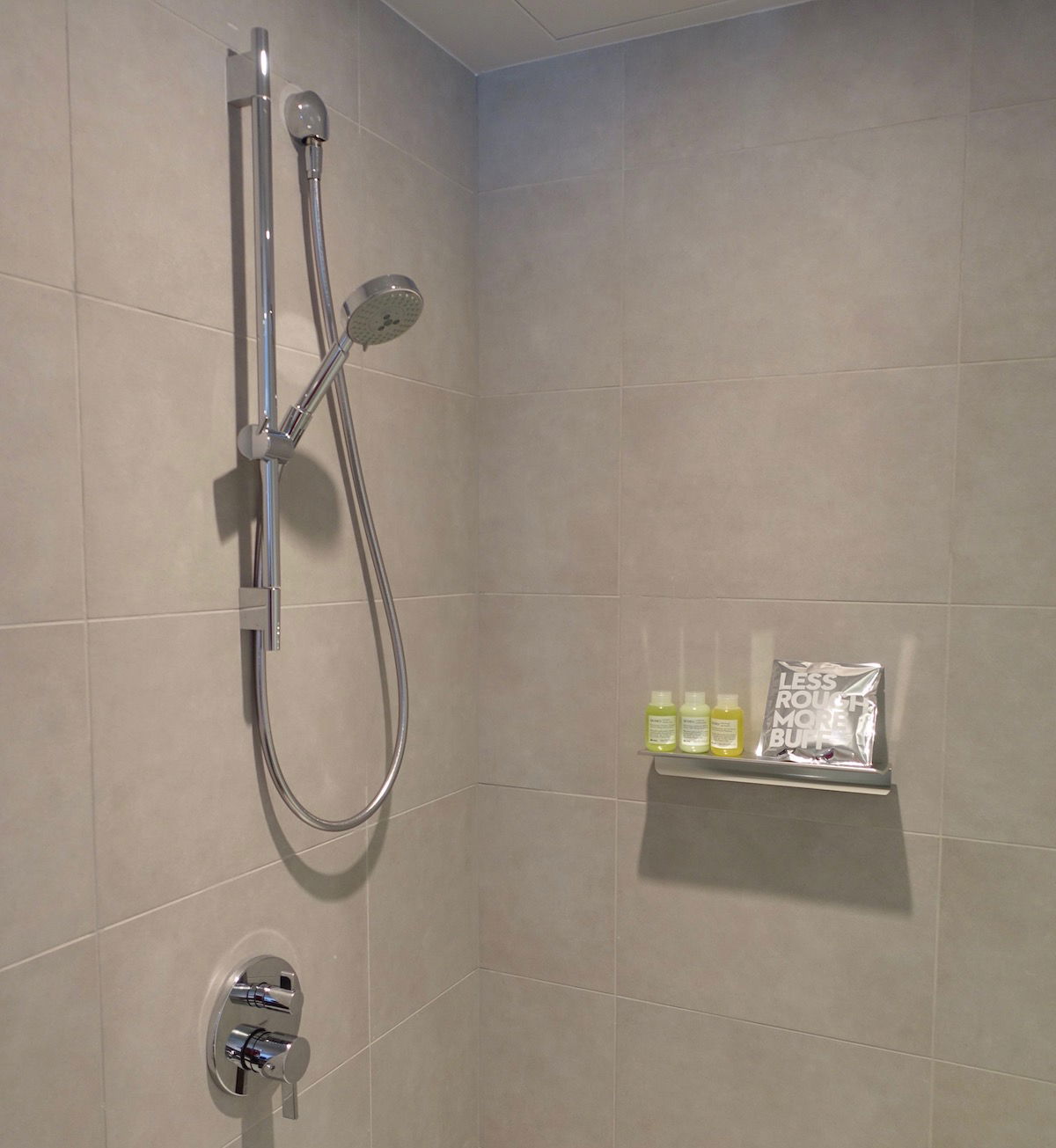 W Aspen Fabulous King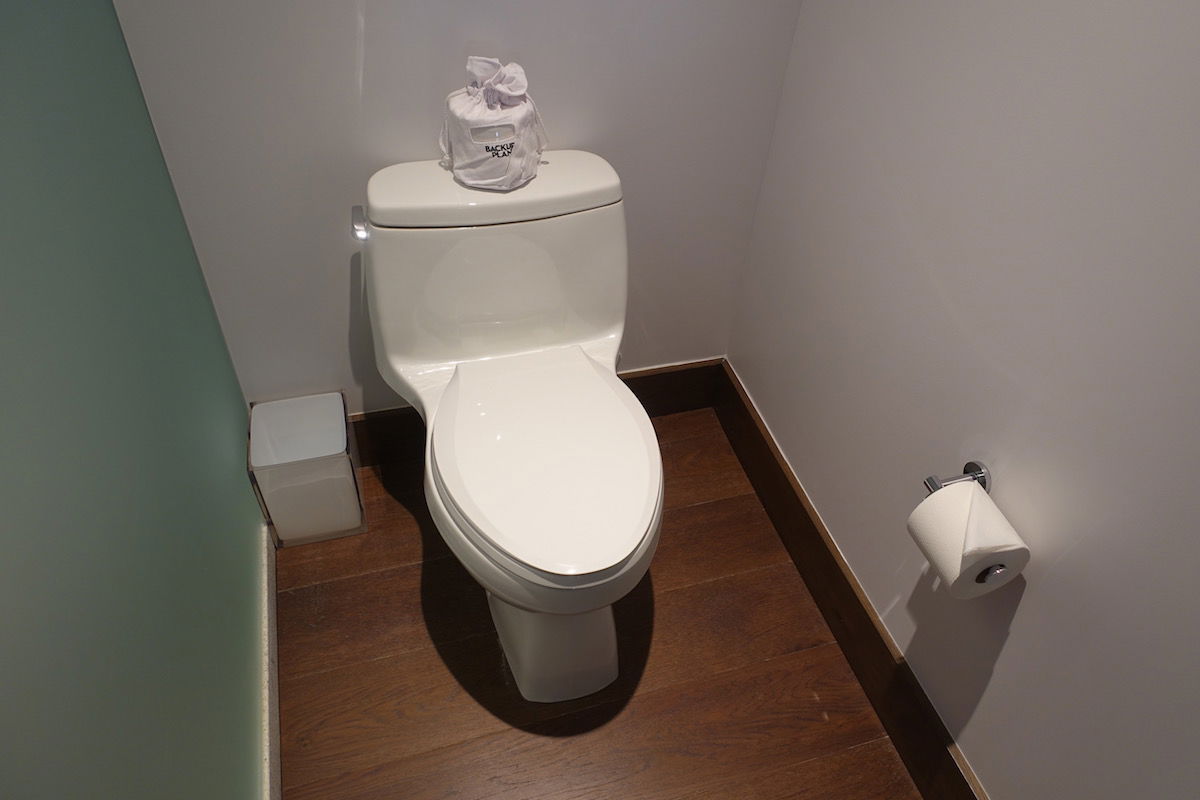 W Aspen Fabulous King
I was surprised to see that they didn't have Bliss toiletries. I was told W is transitioning away from Bliss, which came as news to me. This room had "Momo" toiletries.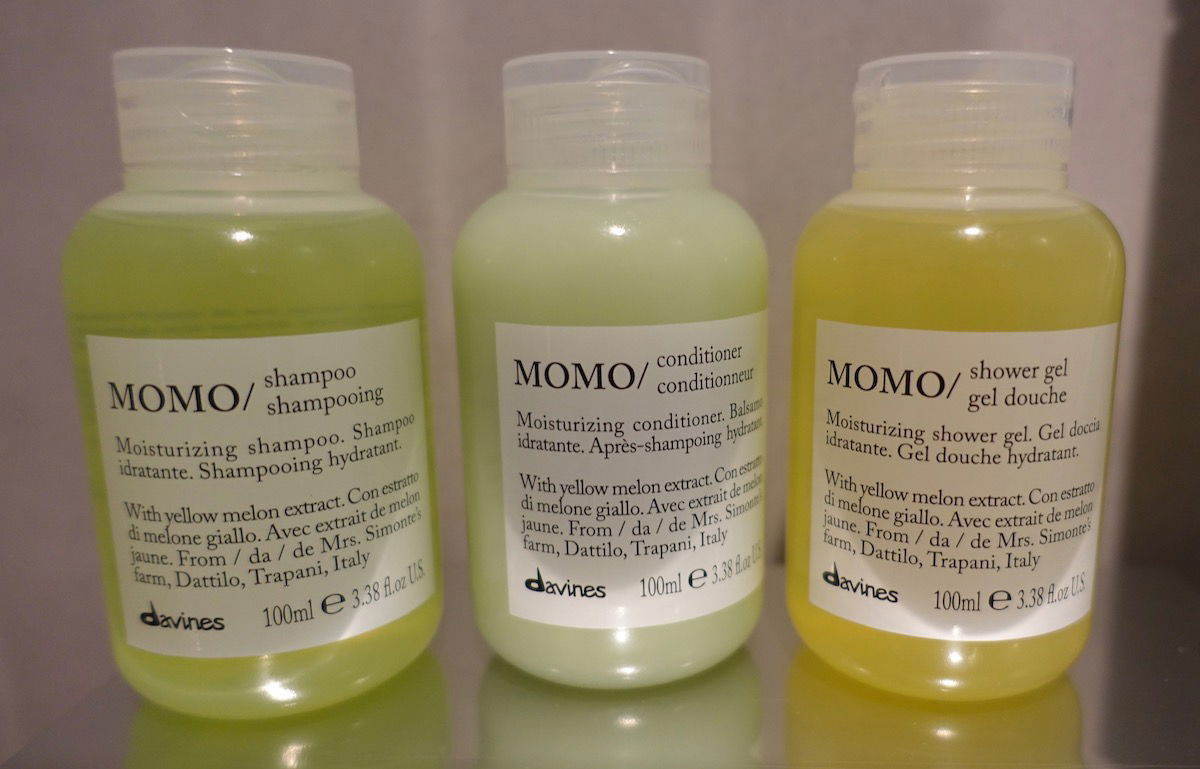 W Aspen Fabulous King
W Hotel Aspen Bottom Line
I'm really conflicted about the W Aspen. It's so awesome to see a new hotel in Aspen, and in particular for it to be a points hotel. The property is modeled after the W Verbier, and overall I think the design is beautiful of the residences and public spaces.
The rooftop with pool and hot tub are incredible, the location of the hotel can't be beat, the restaurant was good, and I found the staff to be well intentioned. I also thought our residence was awesome, and I was shocked by how big it was. If you are traveling as a group I think it's such a fun place to stay, since you actually have some shared space.
I'll also give the hotel the benefit of the doubt on the service issues and we'll call them growing pains, even though I also question the ability of W to execute on things.
But my real disappointment came with seeing the standard guest rooms. A room that retails for over $400 above the base room doesn't have a bathtub, has a single seat, has a totally exposed bathroom, etc.
By comparison, the St. Regis Aspen feels so much more luxurious.
So I guess to sum it up, this is a cool addition with a great location and rooftop. If a residence were priced reasonably I'd return in a heartbeat. But I just don't like the "regular" rooms here, and would definitely choose the St. Regis in a standard room, all else being equal (the St. Regis usually has higher cash rates, though when redeeming points it's the same price).
Would you consider staying at the W Aspen?