This post is a continuation of my earlier post, about how my mom was robbed at the W Barcelona. So if you haven't yet read that post, I'd suggest reading it first.
When we woke up this morning we thoroughly searched every inch of the room to be sure the purse wasn't anywhere to be seen. I had my mom talk me through the entire evening, and I even went a bit "Inspector Gadget" on her. I searched the guest bathroom carefully to see if there were any hints as to the guy's motives for coming to the room.
Below is a summary of what followed. And the more I write this out, the more I realize this almost certainly wasn't a random pick pocketing, but rather something that was at a minimum premeditated, and at worst, much more than that…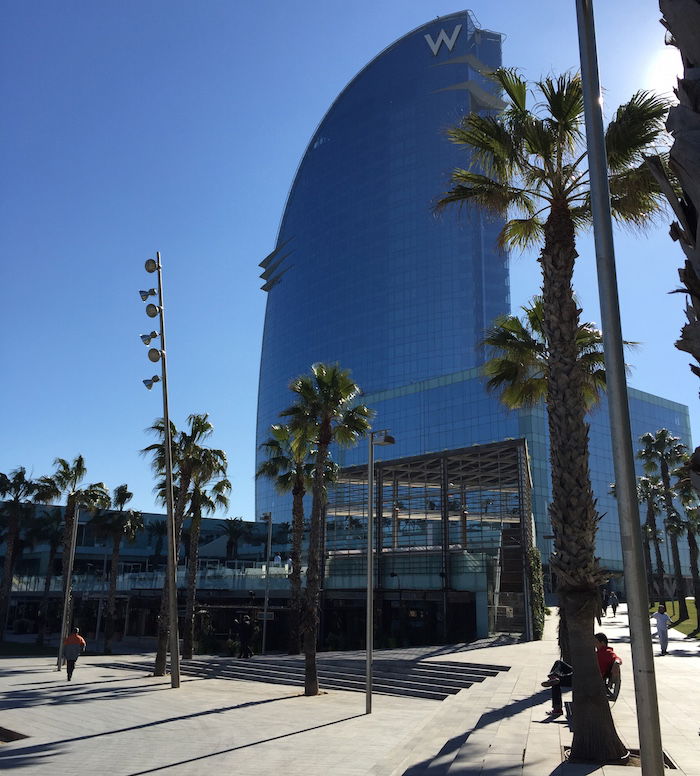 Reporting the theft to the hotel
After being 100% certain that my mom's purse was stolen, we headed down to the front desk, where we were helped by the duty manager. We explained the situation in great detail, and he jotted down maybe a dozen words on a Post-It note. He promised they would look into it and be in touch with us shortly.
In particular what I wanted the hotel's help with was figuring out the following:
How did the guy know which room we were in, given that my mom never gave him our room number? Was it an inside job of some sort? After all, he claimed to work for Starwood (it probably wasn't true, but at a minimum I think the hotel has an obligation to do some internal investigating).
Since my mom got repeated phone calls (presumably from this guy), could they figure out where the calls were coming from?
Could they retrieve camera footage of him in the hallways, at the bar, in the lobby, etc.?
The duty manager promised he'd immediately launch an investigation and be in touch with us shortly, knowing that we were scheduled to check out that afternoon. He suggested maybe waiting to file a police report until they were able to pull up the footage.
Radio silence…
Between when we reported the incident and when we checked out (shortly after 3PM) we passed the front desk several times, and each time stopped to see the duty manager. He kept saying they were still "working on it."
I was expecting security or management would be in touch to get more information on the incident, etc. But they didn't.
Another shock at check-out
This is where it gets really interesting/creepy. When we went to check-out we were presented with the bill, which included 84EUR in bar charges.
I explained that we had only made one bar purchase for about half of that, and asked them to pull up the receipts.
He presented me with receipts, and much to my shock two of them had my name on them with no signature (I didn't write the name or room number either). Amazingly enough they were signed for roughly the same time we were at the bar – my mom and I were there from about 6PM to 7:15PM, and during that time two purchases had been fraudulently signed for. This guy has horse sized balls if he's at the bar actively charging things to my room while we're also at the bar.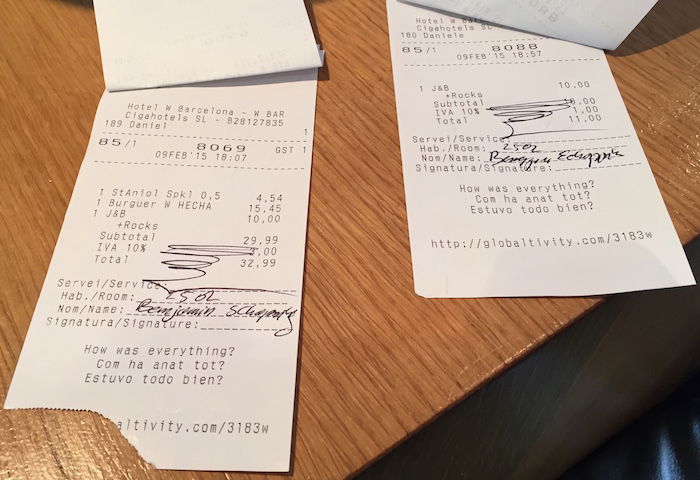 At this point this got a whole lot more serious for me. Not only was my mom robbed, but stuff was fraudulently being charged to our room.
Trying to escalate
At this point the duty manager left for about five minutes. When he returned I requested to speak to the general manger. He walked away for another five minutes, at which point I asked one of his colleagues to please page him, since we had a flight to catch and couldn't wait around all day. The duty manager returned and then disappeared again for several minutes.
I emphasized again that I'd like to speak to the general manager. This was a serious situation, and the complete lack of transparency wasn't going to cut it, especially since we had a flight.
After about five minutes the head of security showed up, and not the general manager.
The guy was nice enough, but this made the situation even worse. He had apparently only been informed of the situation after noon, several hours after we reported it. And he apparently wasn't even informed that anything was stolen, which was the whole problem to begin with!
As far as he was concerned, there was just a creepy person and that was it. He recovered the footage of the guy in the hallway, though didn't at all look into the phone records for the calls to the room, which I specifically requested from the duty manager earlier (and which he said would be easy to do).
The amount of misinformation was disappointing, and showed that the hotel really didn't give a crap.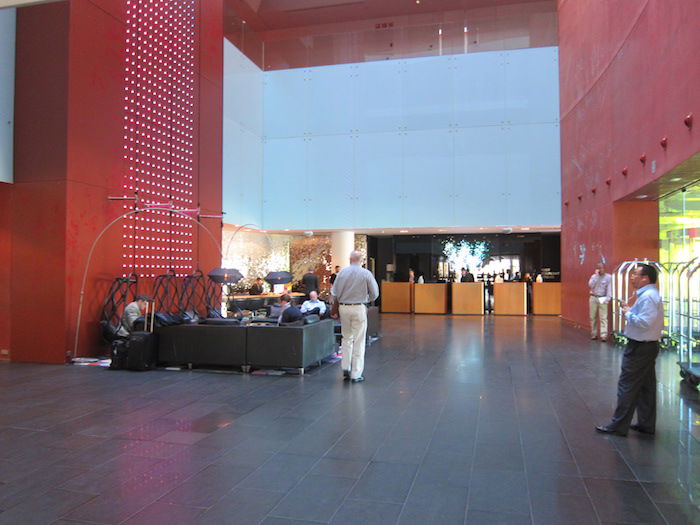 "Excuse me, who are you?"
At this point a lady came out and addressed us by name and suggested we sit down to talk. She didn't actually introduce who she was, so I awkwardly had to ask "excuse me, who are you?" Maybe it's just me, but I feel like if you're introducing yourself in a situation where a guest has been robbed at your hotel, it's appropriate to introduce yourself by your name and job role. She was the director of rooms, as it turned out.
We sat down at the bar with her and the head of security, and I tried to explain to her my frustration, and what I wanted the hotel's help with:
How could the guy have charged something to my room when my mom never gave him my name or room number? The craziest part is that two charges were made the same time we made one "legitimate" charge at the bar. If they had launched a "serious" investigation of some sort, you'd think they would have immediately picked up on that.
Along similar lines to the above, how did he access the elevators (which require key access) and then show up at the door to my mom's hotel? I wasn't saying it was an inside job, but rather was explaining that we didn't give him the information, but he did get the information somehow, so at least the hotel has the duty to investigate.
Why wasn't the hotel taking the situation seriously? Why did it take hours to let the head of security know? And why was the situation communicated incorrectly, despite the fact we were explicit in the situation about something being stolen?
At this point I figured I'd get an "I'm sorry, this has been less than ideal, I promise we'll do better with the investigation." Instead I perceived that she was getting defensive and confrontational, along the lines of:
"I can promise you we did everything we can."
"Sorry, but I don't really get that sense. We clearly communicated the situation to the duty manager, and it seems the details were lost. And maybe that's because he didn't actually take notes or follow up with us."
"Well that's what he said, we can call him over here now so he can tell you what he heard."
"That's not the point, it's not about who heard what. He promised to touch base with us soon, and that didn't happen. How could he have accurate notes about the situation anyway when he simply wrote about a dozen words on a Post-It note about the situation?"
"Well I promise we were taking it seriously."
"If you had a serious safety situation in your hotel, wouldn't you follow up with your guest to get a more detailed report of what happened so that you can do a more thorough investigation? How can you launch an investigation with such little information? We told him we were leaving this afternoon."
I explained to her I felt like this was quickly becoming an "us" vs. "them" thing, and that's not what I wanted. I didn't want anything from the hotel, other than having them figure out what happened. And I explained that regardless of whether they were taking the investigation "seriously" or not, I hoped she understood why I didn't perceive that they cared.
She proceeded to basically justify the situation. "Well we didn't know he stole anything and for all we know he could have been a friend." Well, ummm, he wasn't, and we made that clear when we approached the duty manager.
"As far as the elevator goes, maybe he was in it with you?" The elevators in the hotel are tiny, and my mom would have totally seen that. "Well, the elevators are dark," she said, to support her statement.
And she questioned us beyond that – "well why didn't you file a report right away?" Fair enough, though at first my mom assumed the guy was just flirting with her, and later on she was so scared that she wanted to stay locked up in her room and wait for me.
Bottom line
I was just blown away by the fact that the entire front office at a global hotel chain was being so apathetic, accusatory, and unapologetic about the situation. I wasn't expecting them to say "sorry, it's our fault you got robbed." Because it wasn't. But I feel the hotel has some duty of care when a non-guest shows up at the door of key-protected floor of someone that never gave them their room number, calls repeatedly, charges things to their room, etc.
What was I expecting? I was hoping they would at least say "sorry for your disappointment," or "sorry we've let you down with our research so far, we promise to do better."
But instead I walked away feeling like I just finished with the DMV as opposed to a hospitality chain that I spend nearly half my life with…
Was this all premeditated?
The more thought I put into this, the more creeped out I am about the situation. At first I assumed it was just a random pick pocketing, but now I'm fairly certain it was premeditated. The guy was clearly smart and knew a lot more than he was letting off:
He knew my name and room number
The fact that he specifically mentioned he was in 2A on our Emirates flight is creepy (we were assigned seats 2E & 2F, so that would have been the seat across from us)
He claimed to have been a Singapore pilot — it could be a coincidence, but given my obsession with planes and Singapore Airlines…
For me the question remaining is whether this was premeditated in the sense that he simply did some research in order to figure out how best to rob my mom, or if it was more that he was trying to figure out a way to attack me (whether it's me directly or through my mom).
I still can't figure out his motive, though. If he stole the purse over drinks, what was his motive to come to our hotel room? And when my mom made it clear she was uncomfortable having him in the room, why did he keep calling? What was he hoping for that he didn't have already?
Would love to hear what you guys think about the situation!