I've written recently about how I believe Norwegian is the best low cost carrier in Europe, and how even Ryanair is tolerable. Most airlines I fly in Europe on one or two hour hops, whether they are full service, or low cost, are fine, but forgettable.
Except one.
Vueling is a low cost subsidiary of Iberia, with its main hubs at Barcelona and Rome Airports. I've flown them twice in the past and have another flight coming up in a few months time with them.
And I seem to have terrible luck with them, or perhaps they are just a terrible airline?
You decide…
Flight 1 – Go hungry or go home
My very first flight on Vueling was from Athens to Barcelona. This flight was about three hours in length. This was before I had a Priority Pass membership, and I had a tight connection in Athens, so planned to buy something on board.
We were seated about half-way down the plane. We watched as the cabin crew brought a buy on board cart up to the top of the cabin and then spent forever slowly going through the cabin selling food and drinks.
We had perused the menu and decided what we wanted to purchase and waited patiently.
About an hour into the flight they finally got to the row before us, served us and then promptly wheeled the trolley away and disappeared for the rest of the flight. Everyone seated around and behind us looked at each other, confused.
Call bells went unanswered and there was no service, food and drinks for the rest of the flight.
There was no turbulence, seat-belt sign or instructions from the pilot for crew to take their seats.
We were starving by the time we arrived in Barcelona.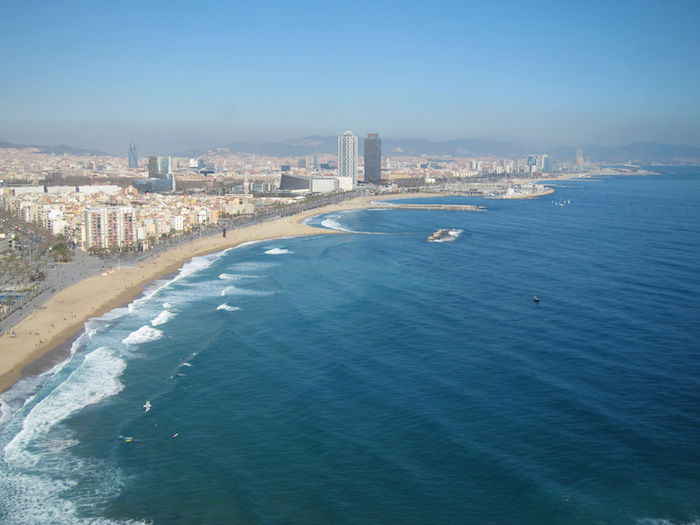 Flight 2 – Hostile check in
For my next Vueling flight, I flew from Barcelona to Ibiza. For some reason I had booked a 3:30pm flight and had to check out of my hotel at 10am. Having been in Barcelona for a week I had nothing else to do but go to the airport.
I arrived at Vueling check-in around 11am (I had to check a bag), and saw on the flight screens that there were several earlier flights to Barcelona, including one leaving in about one hour.
As I checked in my bag, I explained I was extremely early for the flight and asked if I could move to an earlier flight. Recognising that this was a low cost carrier I also said I was happy to pay a reasonable change fee. Without even checking any other flights and without giving a reason the check in agent simply replied
No.
As I was checking in my bag other Vueling check in agents at adjacent desks were instructing passengers to fit their hand luggage into the metal measuring stand. One older lady was trying to do so but was having difficulty squeezing her bag into the space, despite trying her hardest.
The check-in agents were openly laughing loudly at her attempts, and alerted my check-in agent (who was checking my bag) and she joined in at laughing at the passenger and mocking her in Spanish.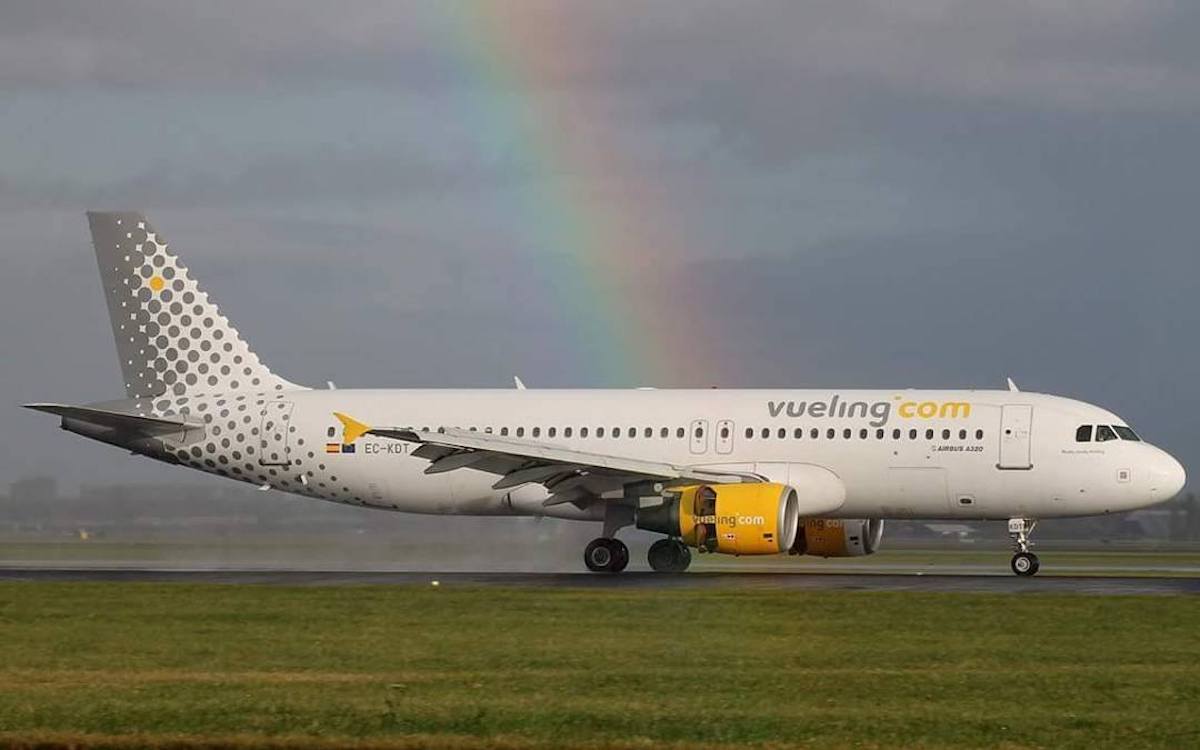 Flight 3 – Your booking has changed
In September I'm heading to Sardinia, Italy for five days. I needed to work a normal day on the Friday and then be in Olbia as early as possible Saturday morning. While there are direct, convenient flights to just about everywhere in Europe from London, Sardinia is actually one of the more difficult places to get to.
By far the most affordable option when I booked the flight a month ago was Vueling from London Luton to Olbia, via Barcelona. This involved overnighting in Barcelona for a less than ideal 7.5 hours, but even factoring in the cost of an airport hotel, it was still by far the cheapest and best option.
Yes it won't be a full nights sleep, and Luton is my least favourite London airport to fly out of, but I'll live.
So, despite both of my previous Vueling flights being terrible experiences, I went ahead and booked it.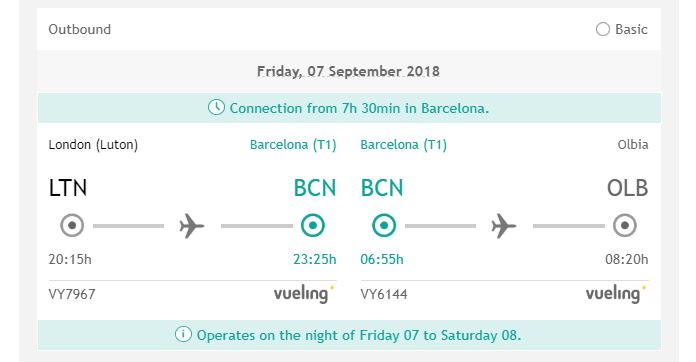 Within just two weeks of booking I receive an email from Vueling with the title:
IMPORTANT: Your booking has changed
Oh well, I thought.
These things happen.
Perhaps the flight is leaving London slightly earlier, or departing Barcelona the next morning slightly later, which would actually be a positive, because it would allow me a bit more sleep.
Would I be that lucky with Vueling?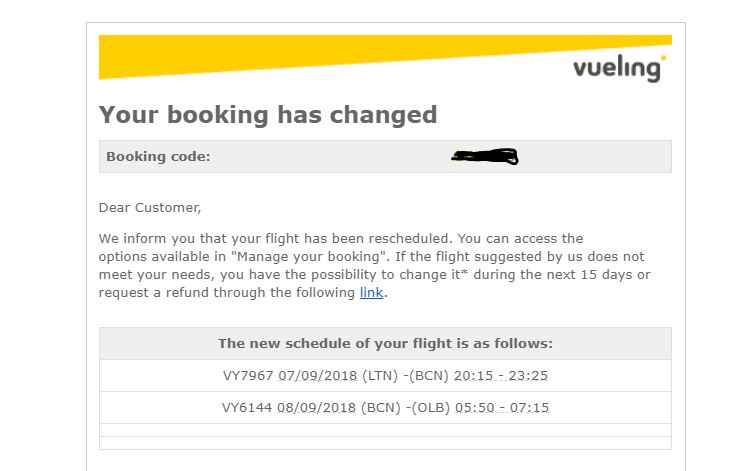 By the time I 'enter' the country, get to an airport hotel, check in and get to bed, and then wake up and be at the gate by, say 5am that will give me a grand total of about 3 hours sleep max. I'm not sure if it is even worth getting a hotel for that short space of time.
But it gets even better.
One week later, another email from Vueling:
IMPORTANT: Your flight is not going to operate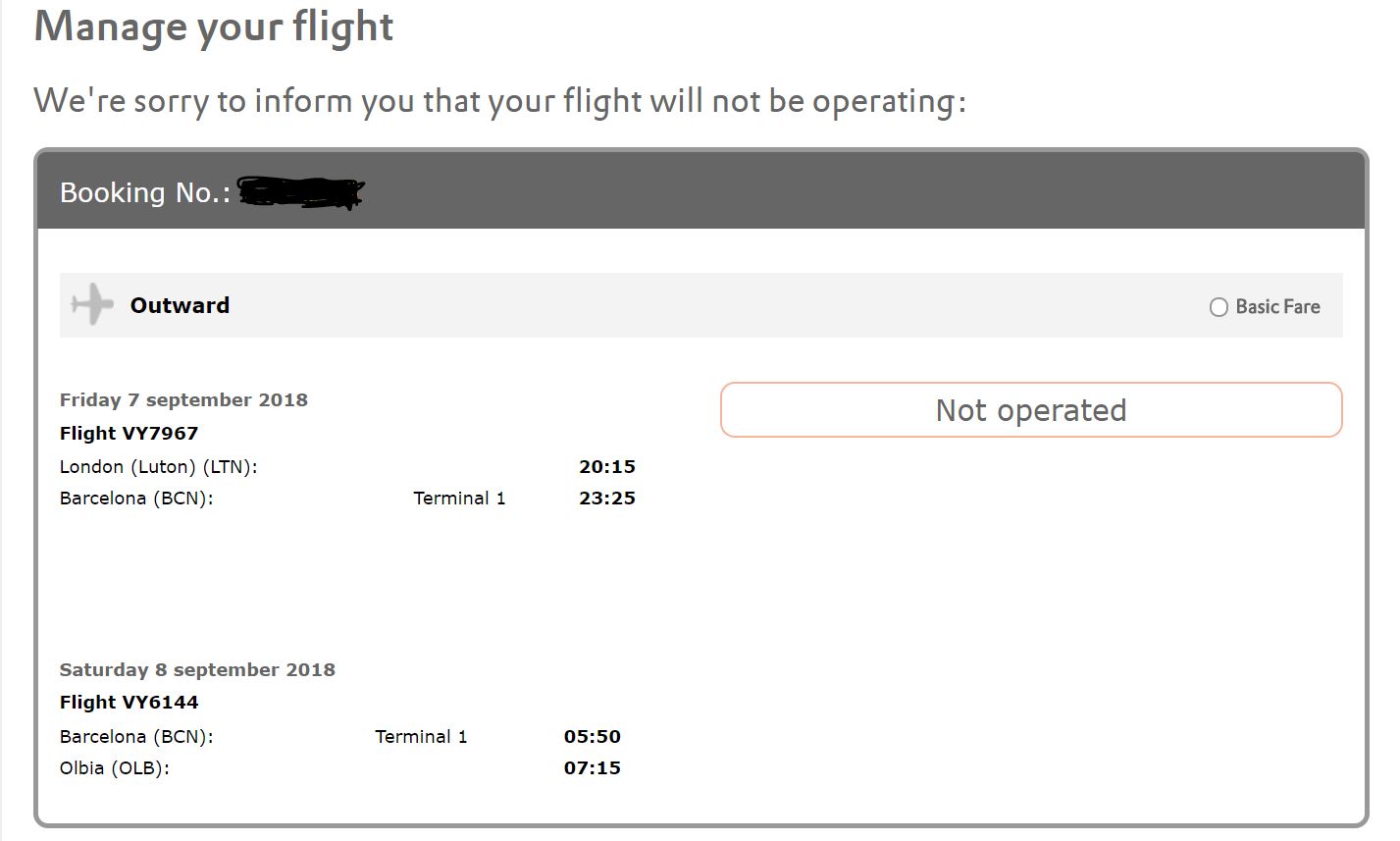 Wonderful.
Vueling is offering me a full refund but has not proposed any alternative flights.
Looking myself at the alternatives (I still need to get to Olbia that day), the cheapest options (although more expensive than my original booking), are on… Vueling again!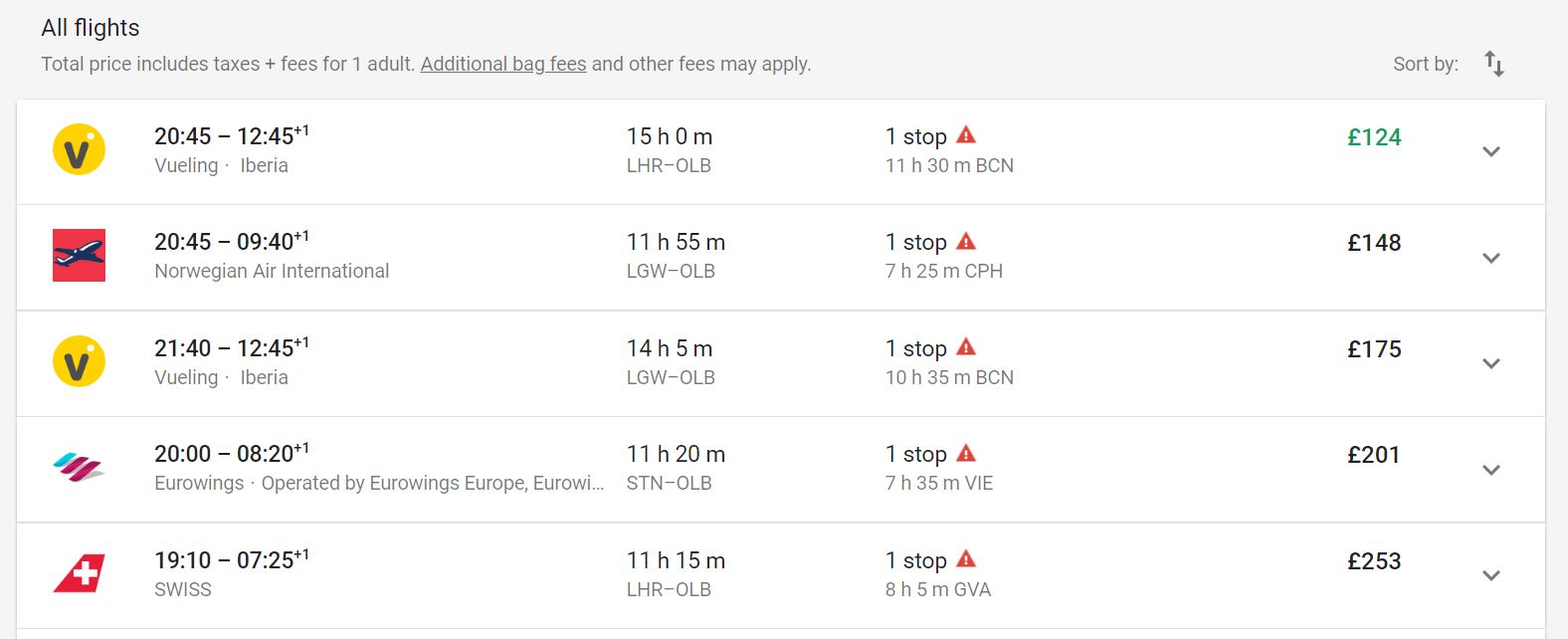 It appears they have cancelled their Friday night Luton flight but retained their Friday night flights from Heathrow and Gatwick. I wonder why they didn't offer to move me to one of those flights instead?
Overnighting in Copenhagen will be very expensive, so I want to avoid that if possible.
Bottom line
I get it, no airline is perfect.
Flight cancellations, rude check-in agents, and rescheduling happens. But I'm currently 3/3 for bad experiences with Vueling.
I think this is the first time I've ever had a cancelled flight in Europe, and I fly every few weeks. I've taken probably 20 flights with Ryanair and the worst thing that has happened is an hour delay.
What should I do about the Olbia flight? There is a cheap direct flight on Air Italy the next day, but it arrives mid afternoon meaning I lose half a day of a five day trip.
Have you flown Vueling? Are they a bad airline, or do I have bad luck?