Flight diversions are rather common, so in and of themselves aren't really noteworthy. If anything, a lot of the attention from diversions seems to come from airlines handling them poorly, as Travis recently wrote about with United's diversions to Goose Bay and Belfast.
But Cathay Pacific had a diversion yesterday on CX884, which is one of their frequencies between Hong Kong and Los Angeles. It's interesting for a few reasons, including the fact that it happened over the middle of the Pacific Ocean, there was video of the incident, and Cathay Pacific handled the situation in an exemplary way.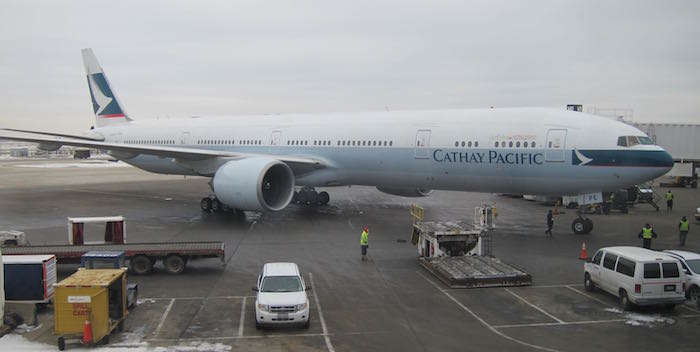 Specifically, the flight was almost halfway through its journey when smoke was discovered in the cockpit. This is something which always terrifies me when flying over water, given the lack of diversion points.
The crew made the decision to divert the Boeing 777-300ER to Eareckson Air Station, which is a US Air Force Military Airport on the island of Shemya, part of the Alaskan Aleutian Islands. Just to put into perspective how secluded this is, there's the airport: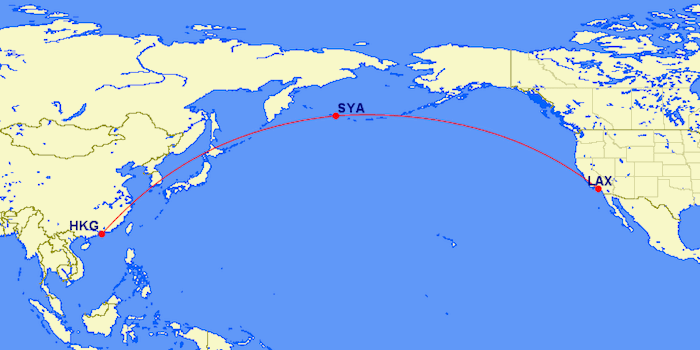 Equally interesting is that some passengers took video of the incident. Here's one of the clips:
I totally got goosebumps watching that. The crew seemed to do a fantastic job, though as you can see in the video, they were preparing for a water ditching. I can't even begin to imagine what it was like to be a passenger and be looking at the airshow and seeing that you need to get on the ground ASAP out over the open ocean.
And you can see the sense of relief when the pilot announced that they'd be landing at an airport.
Some may say I'm exaggerating by calling this "terrifying," but I really think it is.
Of course this is a crappy situation, though Cathay Pacific really did seem to do a great job handling it, in terms of the crew, the social media response, the press releases, and the speed with which they got people out of there. Here's their last press release on the situation:
Cathay Pacific Airways confirms that passengers who were onboard Flight CX884 from Hong Kong to Los Angeles on 29 July, which made a precautionary diversion to Shemya military airport in the Aleutians Island near Alaska, are now on their way to their intended destination.

The aircraft operating CX884, a Boeing 777-300ER, was declared serviceable after the technical issue that resulted in smoke being detected in the cockpit area of the aircraft was addressed. The flight departed from Shemya with all 276 passengers and 18 crew, arriving in Anchorage at 06:11 Hong Kong time (14:11 local time) today.

Meanwhile, the airline operated a special flight, CX884D, to Anchorage from Hong Kong. Passengers of CX884 were transferred onto this relief flight and departed for Los Angeles at 14:48 Hong Kong time (22:48 local time). They are expected to arrive at Los Angeles International Airport at 19:28 Hong Kong time (04:28 local time)

Cathay Pacific flew a team of ground staff from Vancouver to Anchorage to attend to passengers, while a team will greet them on arrival in Los Angeles to offer any necessary assistance.

Cathay Pacific Director Service Delivery James Ginns said: "Once again, we send our sincere apologies to the passengers of Flight CX884. We thank them for their patience and understanding during our efforts to fly them to their intended destination. Safety will always remain our top priority and we will conduct a thorough investigation into the cause of this incident."
So once the plane was declared serviceable they were flown to Anchorage to transfer to a "new" Cathay Pacific plane (flown in from Hong Kong), which would take them to Los Angeles. Furthermore, they flew in ground staff to Anchorage to offer support.
What a story, and thank goodness it ended well! While I'm sure it was a pain for everyone involved, kudos to Cathay Pacific for how they handled the situation.