I posted yesterday about how United had stranded hundreds of passengers in remote Goose Bay, Canada, after United 958 bound for London from Chicago suffered a broken rudder just after it had started to cross the Atlantic Ocean. It turned around and diverted to Happy Valley – Goose Bay, which is definitely in the province of Newfoundland and Labrador. The pilots were able to land the plane and all the passengers and crew are safe and sound.
United's treatment of the passengers was pretty much a debacle, however. Apparently the hotels were full, so they put the passengers up in barracks that are operated by the Canadian Forces Base. (Though there was room in the inn for the pilots and crew.) At least some of the barracks were unheated, so it wasn't the most pleasant stay though obviously could have been much worse. The real issue was the poor performance of United's response team which couldn't get the passengers out of Canada for over 20 hours.
Jay, a One Mile at a Time reader, happened to be on the flight and left some detailed comments about the experience on the original post. I used that information as well as other reports to piece together the following timeline of events regarding the diversion to Goose Bay, the subsequent replacement flight which encountered its own issues, and the impact on other United flights that day — mostly because it's fascinating to me to see the chain of events. All of the italicized text below are excerpts from Jay's comments. (lightly edited for clarity)
Friday, June 12, 4:24 p.m.
UA 958 departs Chicago for London (34 minutes late), expected arrival is 5:55 am Saturday morning. The Boeing 767-300 has 176 passengers and 11 crew onboard.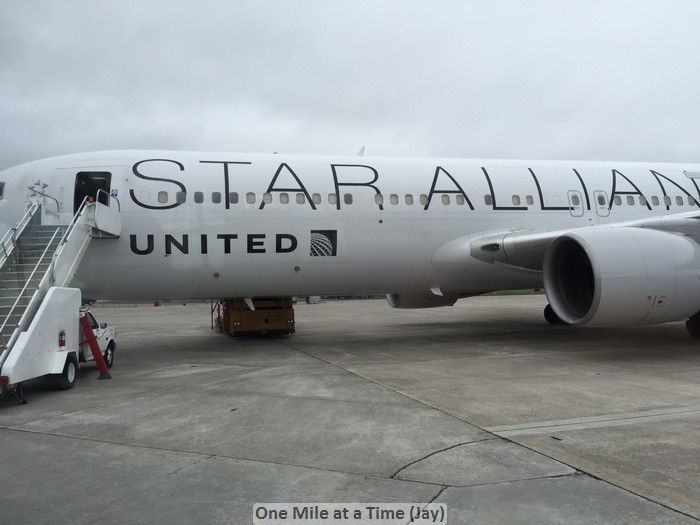 Friday, June 12, 11:46 p.m.
UA 958 lands at Goose Bay on a diversion due to a broken rudder.
First, the pilot did an amazing job here. I talked with some FAs, who were literally in tears thinking the plane was going down (yes, it was a jammed rutter). Think about some of the worst turbulence you've ever experienced; it was like that but we had clear skies.

United 898 on June 12, 2015 diverted to Goose Bay, Canada.
Saturday, June 13, sometime after midnight
We were cleared for entry to Canada via two customs agents who were extremely nice after undoubtedly being awaken to clear a 767 at midnight.

The issue was that we never touched the civilian terminal. Old school buses picked us straight up from the aircraft, took us straight to customs, and then back on the same bus to the barracks. Originally, we were told a replacement 767 would arrive Saturday morning for a straight continuation to London Heathrow. Given that, none of us could find better options. Of course, the story changed when the original replacement was grounded for maintenance as well.

Transportation to the barracks. (courtesy of Jay.)

The people of Goose Bay were amazing and totally empathetic. That said, accommodations were a disaster. First and Business were on the first bus to the barracks. We had no heat, a single sheet (most didn't have blankets), had to make the beds ourselves (no big deal given the situation), and had to share a bathroom with a stranger. In my room, it was 57° F (14° C). May not seem cold, but with only a sheet and no fresh clothes, I can assure it was unpleasant. Some of the other barracks did have heat, so I believe it was isolated to barracks 306 (mine) and 305. The rest were toasty. We all understood the immediacy and lack of time to prep, so really this wasn't a big deal.

United, on the other hand, was silent. We were told we'd leave the barracks at 1 p.m. for a continuation to London. When it became clear through several calls to the United MileagePlus line that our replacement plane wasn't going to make it, nobody said a word. We all built a network and shared info, no thanks to proactive outreach by United.

Life in goose bay army base, living the dream thanks united airlines @unitedairlines #epic fail #unitedsuck pic.twitter.com/qw4HTyMpdO

— Erica Keogan (@EricaKeogan) June 13, 2015
Saturday, June 13, 1:45 p.m.
UA 2176 departs Newark for Goose Bay to rescue the stranded passengers. It departs nearly five hours late due to its own "aircraft maintenance" issue. Had it left as scheduled, it would in fact, have arrived around 1 p.m.
Saturday, June 13, 4:30 p.m.
Finally, 4:30 p.m. on Saturday afternoon rolls around and we take buses back to the airfield. Still no plane.

Goose Bay airport
Saturday, June 13, 5:26 p.m.
UA 2176, the replacement plane dispatched to rescue the stranded passengers from UA 958, lands at Goose Bay.
New plane comes, we board. Then time starts ticking, presumably due to congestion at EWR. Yes, we had to fly back to EWR to continue on the same plane to LHR. No news as to why.
Saturday, June 13, 6:25 p.m.
UA 925 diverts to Goose Bay while on its way from London to Washington Dulles for its own mechanical issue.
Incidentally, another UA plane made an emergency landing at Goose Bay while we were waiting on our replacement. [For those keeping score, United now has three wide-bodies on the ground in Goose Bay, an airport that is not part of the United route network. There are no United ground staff.]
Saturday, June 13, 8:21 p.m.
UA 925, which had diverted to Goose Bay from London, departs on a continuation to Dulles after spending 2 hours on the ground.

Saturday, June 13 9:17 p.m.
UA 2065 finally departs Goose Bay for Newark with the passengers of UA 958.
Saturday, June 13, 9:55 p.m.
UA 940, originally scheduled to fly from Newark to London on Saturday night, is cancelled due to "operational difficulties", freeing up a landing slot at Heathrow for UA 2063, the special segment flight that will eventually transport the passengers from UA 958. It's unclear how many of those passengers had to be rebooked for the next day.
Saturday, June 13 11:17 p.m.
UA 2065 arrives in Newark with the passengers of UA 958.
Get to EWR at midnight and United really bit it operationally. Bag re-check and ticketing queue took 2 hours for some. Seats were a mess, to the point where the agents gave up and said "just keep your original seats."

Of course, many angry passengers on United 940 were rebooked onto United 2063. That became a complete disaster with duplicate seats, as all of us on United 958 were told to keep our original seats, thus leaving the system confused.

United 2065 arrives in Newark.
Sunday, June 14, 2:18 a.m.
UA 2063 departs for London carrying the passengers of UA 958 (and some of the UA 940 passengers who moved over to that flight.)
All that sorted, we finally took off …
Sunday, June 14, 2:28 p.m.
UA 2063 arrives in London, over 32 hours late.
…and landed in London.

The passengers of United 958 finally arrive in London, 32 hours late.
Compensation
United had offered to refund the leg plus 25,000 United miles or a $500 ecert.
Bottom Line
The experience sucked but we all made the most of it (and enjoyed some fine Canadian beer during the wait). We are safe, and recognize that inconvenience is a small price to pay for that hero of a pilot landing a broken plane in Goose Bay.
---
Thanks Jay for providing the detailed comments about the ordeal.