We all take different approaches to how we acquire currency when abroad. My first choice is always to pay by credit card in order to earn points, but that's not a practical option in many countries.
When it comes to getting cash, I almost always employ the same approach — I go to an ATM when I land in a country and take out money that way. This has lower fees than going to a currency exchange place on arrival, and I prefer it to getting money converted before departure, since there's an added risk to traveling with cash (there's a greater chance of the money getting lost, stolen, etc.), not to mention the hassle of doing so.
This strategy almost always works perfectly for me. At a minimum it does the trick.
The catch is that there are some countries with a currency black market, where you can get significantly more of the local currency by instead having a certain foreign currency. For example, while I haven't been to Argentina recently, in the past there was a significant difference between the official exchange rate and the black market exchange rate between USD and ARS.
The catch — again, at least when I was there — is that the whole black market currency exchange thing is pretty shady, involves going to questionable shops, etc.
There are some other unstable countries where there's a similar black market for currency exchange.
However, we're in Uzbekistan at the moment, which I didn't realize until we arrived apparently has the craziest currency exchange black market out there. Not only is the difference between the official and unofficial exchange rate huge, but the process is also straightforward.
For one, you can pay for virtually anything in USD or the local currency, UZS. Fair enough, as there are many countries where that's the case.
The part that's especially interesting is how the exchange rates differ. Officially one USD gets you ~4,120 UZS (Uzbekistan Som). Meanwhile on the black market one USD gets you 7,000+ Som. That's a massive spread.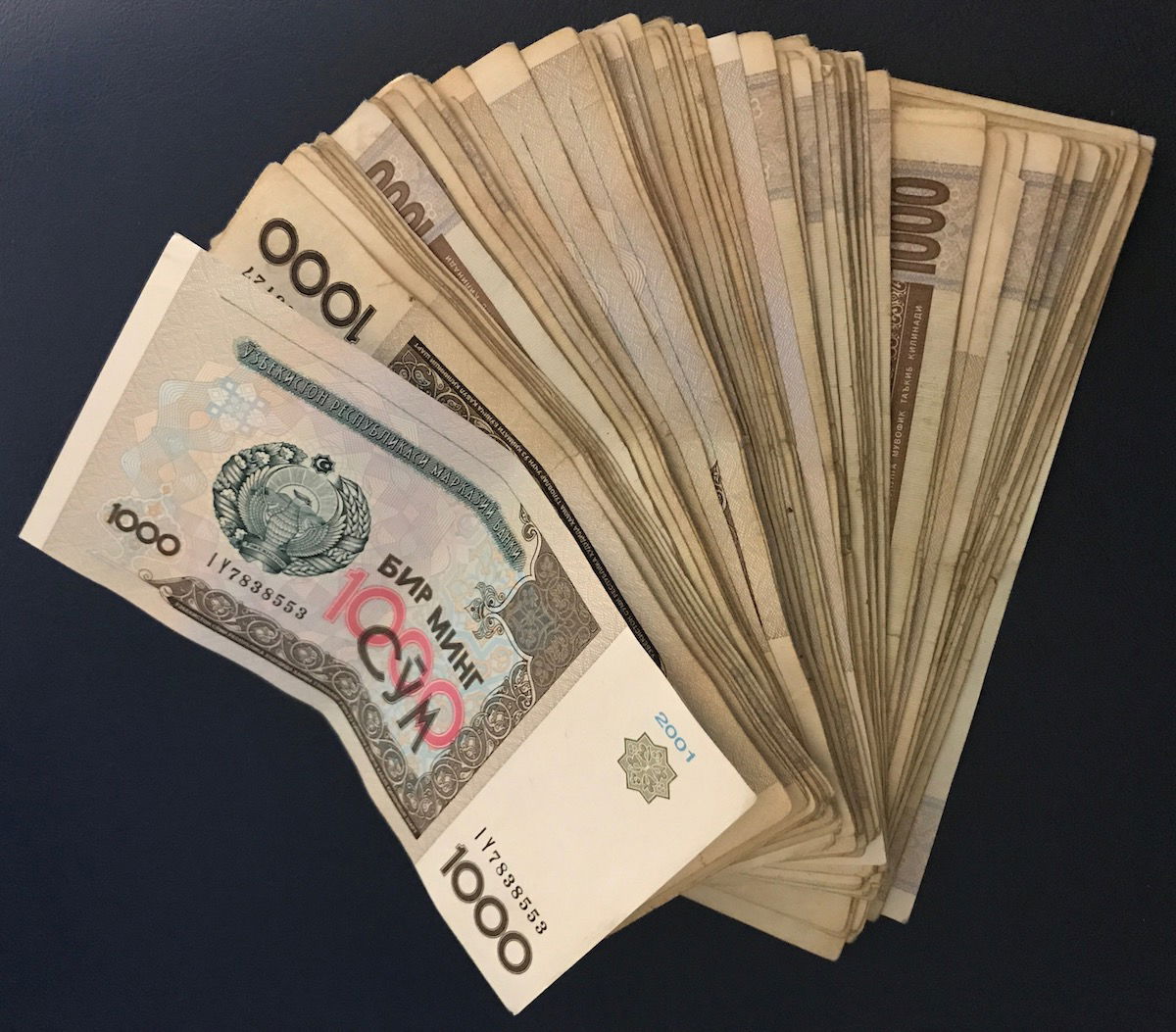 What 10USD will get you in UZS
What makes this black market so unique otherwise is how straightforward it is. You don't have to go to some shady black market currency exchange place to get this rate. Instead you're always within 100 feet of someone willing to trade you money. It's simply a question of whether they have enough local currency to trade you.
So of course I regret the fact that I didn't bring more USD. As a result I'm paying 75% more than I'd otherwise have to for most things (which isn't a lot — taxi rides seem to average 1-2USD, so it's not a huge deal). Still, to think I could have paid my hotel in local currency at the black market rate rather than the official exchange rate.
So, what's causing this huge disparity? Here's how E21 describes it:
Why the divergence? While the Uzbek government fixes the exchange rate to other currencies, its central bank also cannot seem to keep its hands off the printing presses. The excess of som results in high inflation rates. Inflation was 8.7 percent in 2015, which is actually an improvement over the double-digit rates of years past and the quadruple-digit ones of the early 1990s. Since 2000, prices in Uzbekistan have risen 18-fold.
Does anyone know of another country with such a lucrative and straightforward black market exchange rate? Not only can you get 75% more for your USD, but the process of exchanging money is also very easy.