Not to offend anyone, but I have a new favorite blog reader, and his name is Mac. He was the genius that pointed out the possibility of redeeming British Airways Avios points for travel on Aer Lingus in order to avoid fuel surcharges. Mysteriously Aer Lingus opened up business class award space on just about every flight the following day, and I'm still not sure whether that was a glitch or not.
Well, today Mac brings us another excellent observation on the "Ask Lucky" page of the blog, which I'll break down here. Though in the meantime I think I owe Mac a steak dinner, and should really rename the "Ask Lucky" page to "Words of Wisdom from Mac" page.
Anyway, today's discovery by Mac involves Delta SkyMiles. If you're at all familiar with the program you've probably heard them referred to as SkyPesos before, and that's for good reason — their redemption rates are ridiculous. That's at least true if you're trying to actually redeem miles for Delta flights. If you redeem on their partner airlines it's not all bad news.
They partner with Air France to Europe, and they release a good amount of business class award space, which can easily be searched online. To Asia they partner with Korean Air, which also releases a good amount of award space. The challenge with Korean Air is that they don't display business class award space online and they have a ton of blackout dates. For a while they displayed business class award space on ExpertFlyer, but unfortunately they stopped doing that. After all, knowledge is power, and the last thing Delta wants is for their consumers to have the power to redeem miles for flights at a reasonable level. Now the only way to book Korean Air awards is by calling up Delta SkyMiles, which is more or less a lost cause ("Korean Air, I ain't never heard of them before!").
But the one destination that has been a complete lost cause is South America. Delta doesn't have any major partner airlines flying between the US and South America, and it's very rare to find "low" level award space on Delta to South America, meaning you're usually paying a minimum of 200,000 SkyMiles for roundtrip business class.
But there's another option that's actually very attractive, that can almost always get you saver business class award space to South America. Aeromexico partners with Delta, and they have a pretty good route network to South America. Before we get into the details of the strategy, let's discuss the basics.
Aeromexico South America destinations and frequencies
Aermemexico operates the following nonstop flights out of their Mexico City hub to South America:
Bogota daily on a 737
Buenos Aires daily on a 767
Lima daily on a 737
Santiago 6x weekly on a 767
Sao Paulo daily on a 777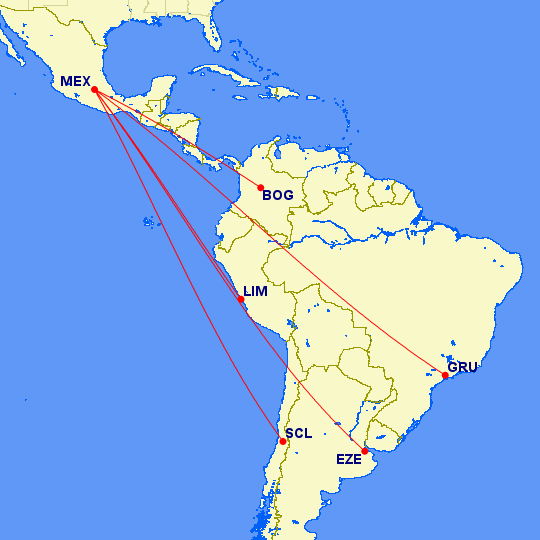 Aeromexico's business class product
On their longhaul flights (those destinations served be 767s and 777s) Aeromexico seems to have a pretty competitive business class product. You can read more about it here. While it's not fully flat it does appear to be pretty comfortable, so I wouldn't hesitate to fly it.
Finding award availability on Aeromexico
While you can book Aeromexico awards on delta.com (which is a fairly new feature) the best place to search for availability is on Air France's website. You'll need to be a member of their Flying Blue program first. Once you're logged into your account you can click on the "Award Tickets" tab on the main page.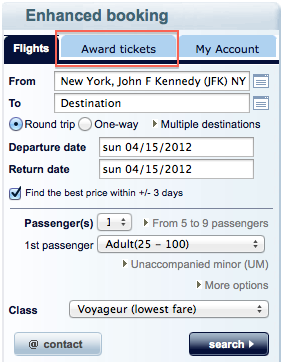 Once you click on that you'll be redirected to the award search page. The key to finding Aeromexico availability is to search segment-by-segment. I'll show you how to search for availability from the US to Mexico City later, though for now we're just focusing on finding the longhaul award space.
Let's assume you want to fly from Mexico City to Buenos Aires. Just enter the origin, destination, and class of service, and click on "Search."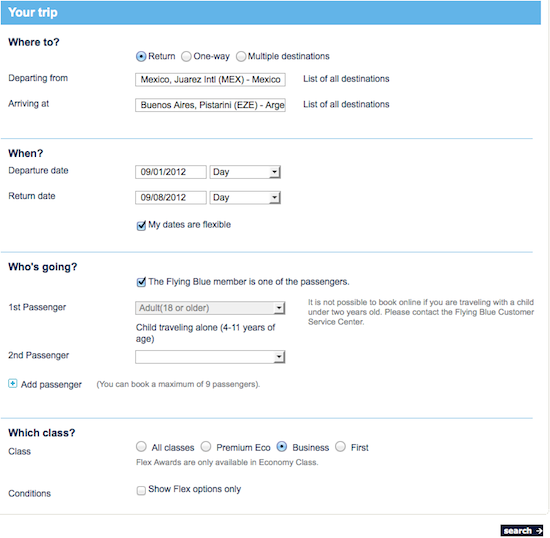 The results page will bring you a calendar view of the award space at the saver level. As you'll see, award space is spectacular. I chose random dates in September, figuring it's neither low season nor high season in South America, and got the following results:
As you can see, on the outbound from Mexico City to Buenos Aires, 19 of the 35 days on the calendar have business class award availability: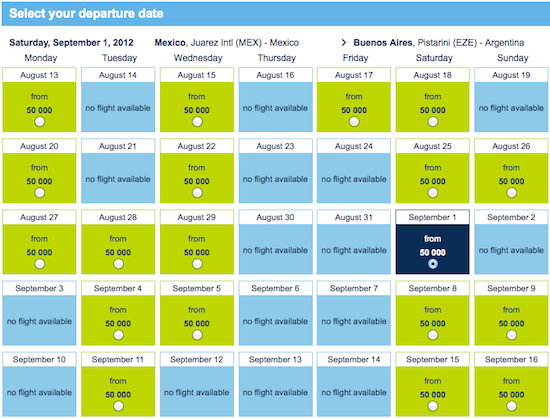 And on the return, 34 of the 35 days on the calendar have business class award availability: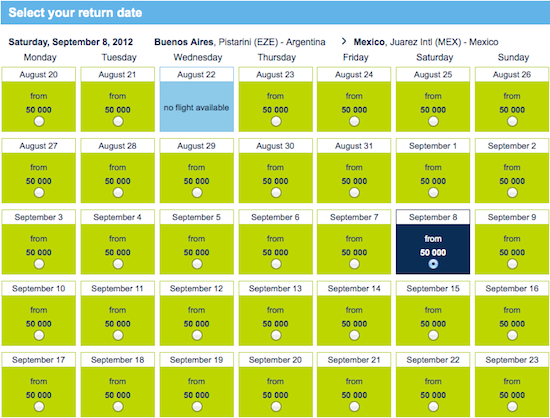 And for a slight reality check of just how great that is, let's check in with Delta for the same time period between Atlanta and Buenos Aires: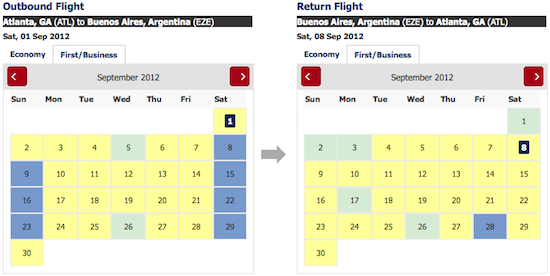 The "low" level awards are shaded green. As you can see, they only have two dates for the same time period on the outbound, and five dates on the return (and frankly, that availability is shockingly good for Delta).
Anyway, back to the Air France search tool. Once you've selected your preferred dates just click "Next, select flight," and you'll be brought to the results page. I selected September 8-15.
Not surprisingly the results page shows us the nonstop Aeromexico flights in business class: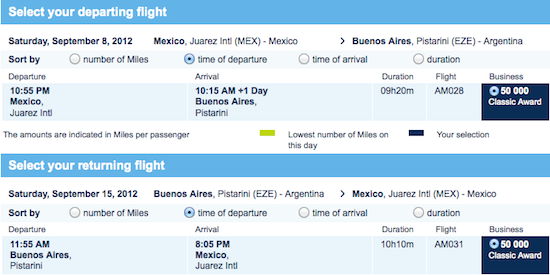 So now you're done with the Air France website. You can apply the same strategy to searching for any of Aeromexico's other destinations in South America. Now it's time to get to Mexico City.
Getting to Mexico City
There are a couple of ways to get to Mexico City. One way is on Delta, where you're faced with the same issues you always are with Delta — they just don't release a whole lot of award space at the "low" level. But Delta also partners with Alaska Airlines, so you can instead fly them from Los Angeles to Mexico City, and they release a ton of first class award space.
Alaska Airlines has twice daily nonstop service out of Los Angeles to Mexico City, and has connections from many other cities to LA. The easiest way to search Alaska Airlines award space is either on alaskaairlines.com or ExpertFlyer. Since alaskaairlines.com is the free option that doesn't require membership, let's use that.
To search award availability just go to their award search page.
Just enter the origin, destination, dates, and be sure the boxes for "Award Reservations" and "Award Calendar" are checked.

The next page will bring you a calendar display. If you see a cost of 32,500 miles each way for first class, that's the saver level, which should be bookable through Delta as well.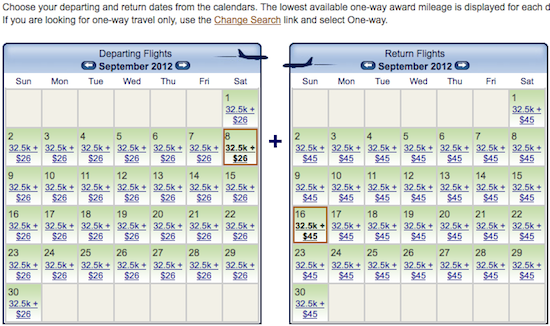 After you have your dates selected you can click "Continue," which will show you the flights with availability.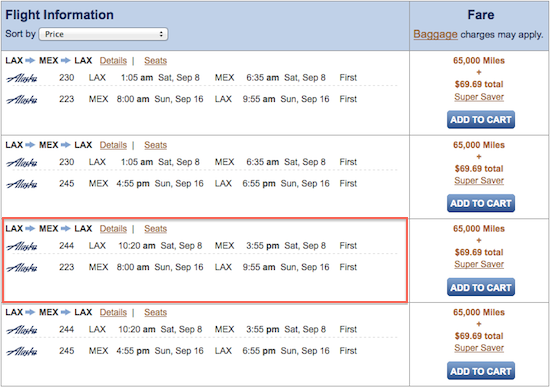 Based on the flights I'm trying to connect to, the third option would work best for me, and now I know it's available at the saver level.
One other option — flying Aeromexico to Mexico City

It's also worth noting that Aeromexico serves many destinations in the US, including Houston, Las Vegas, Los Angeles, Miami, New York, and more. They also release a decent amount of award space on their flights, so using the same method outlined above, you can search for their award space from the US using the Air France website as well. You can either search segment-by-segment to get the most accurate results (in other words, search availability from your US gateway separately from availability between Mexico City and South America), or you can search them all at once if you want to get the quickest results.
So you could instead search New York to Buenos Aires all at once, as follows: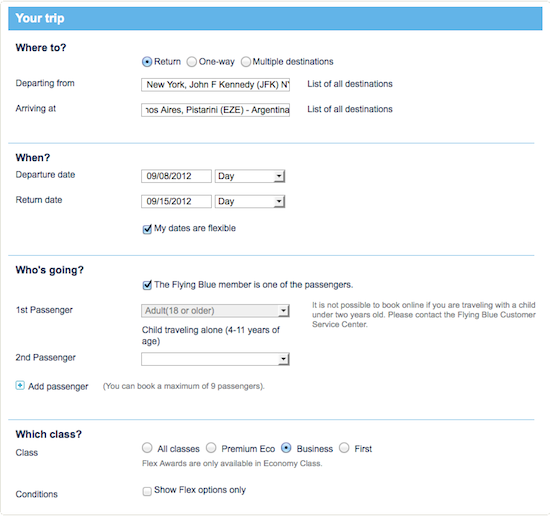 As you can see it won't return as many results. For the same outbound you only see three dates available: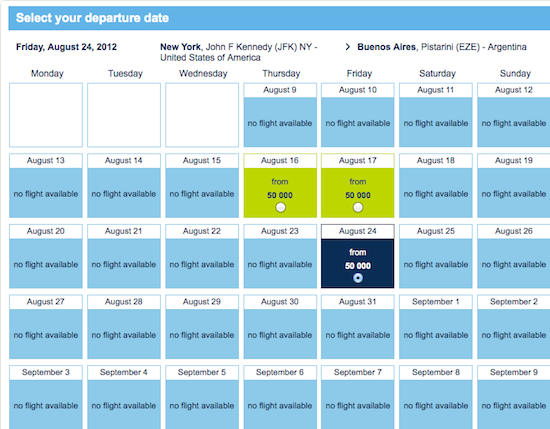 While for the return you see 15 dates available: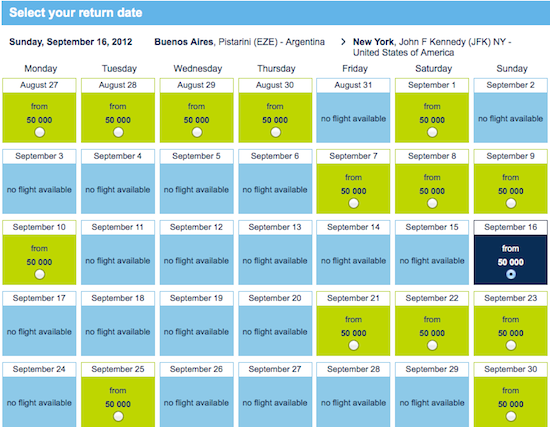 If you select dates you'll notice that the connections work out quite nicely: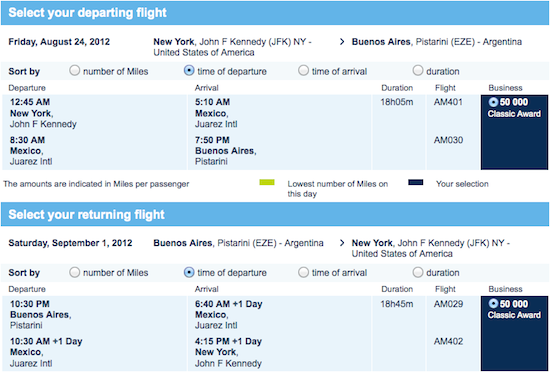 Hey, options are always a good thing…
Putting it all together
Let's recap, We know the Aeromexico flights are available at the saver level, and we also know the Alaska Airlines flights are available at the saver level. We used the individual airlines' websites to search for the space even though delta.com will display their award space as well. The difference is that the above sites allow you to search for award availability off of a calendar, which opens up lots of options. But now that we know which flights we want, we'll go to delta.com to actually make the booking. Let's say we prefer the Alaska Airlines flights out of LAX over the Aeromexico flights out of New York.
Once on delta.com click on "SkyMiles" and then "Use Miles." Then click on the first tab for "Award Ticket Reservations."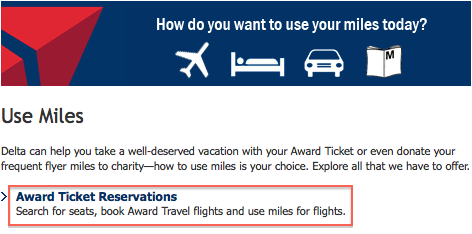 Once you're on the next page you're going to want to click on the "Multi-city" tab. Why? Because if you just search flights between Los Angeles and Buenos Aires, delta.com will only present you with options that are more direct on Delta, which will likely cost double the cost (or more). By searching segment-by-segment we'll be forcing them to give us the options we want.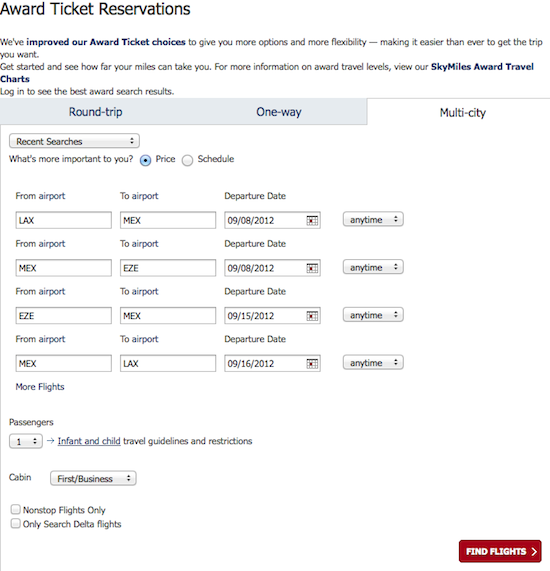 Once you click "FIND FLIGHTS" you'll be given options for each individual segment, so just pick the flights we chose above.
First from Los Angeles to Mexico City: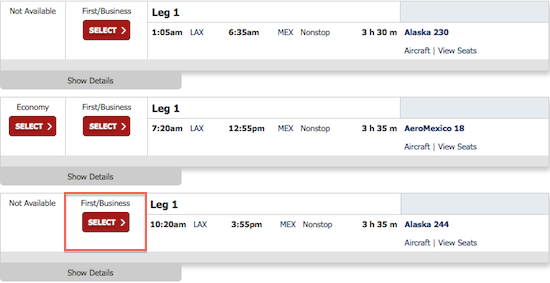 Then from Mexico City to Buenos Aires:

Then from Buenos Aires to Mexico City:

And then from Mexico City to Los Angeles:

Once you've selected each individual flight you'll be brought to the results page, where you'll see the low level cost of 100,000 Delta SkyMiles plus $66.95 in taxes.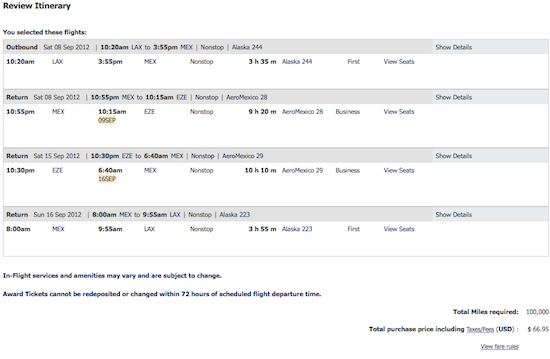 And just to prove it actually works, here's the above routing out of New York on Aeromexico the whole way priced out as well: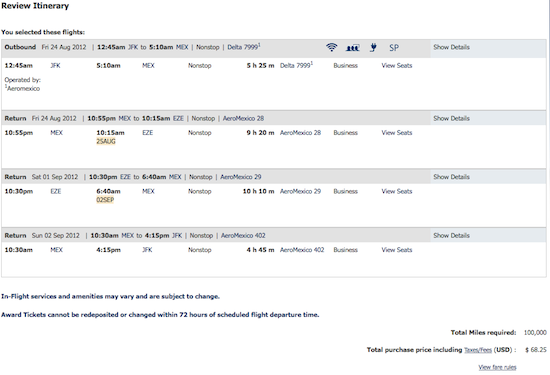 As a reminder, Delta allows one stopover and one open jaw on an award ticket. So if you want to stopover in Buenos Aires and/or fly out of one city in the US and return to another, you can do that on a SkyMiles award.
Anyway, hopefully some of you guys find this helpful. If you have any questions, please let me know! And a big thanks to Mac for bringing this to my attention!