No, before you get too excited, US Airways isn't allowing one way awards for half the cost of a roundtrip. Let me explain, though.
As it stands, US Airways charges the same number of miles for a one-way award as they do for a roundtrip. So booking just New York to Hong Kong one-way in Cathay Pacific first class costs 120,000 miles, while booking the roundtrip costs the same number of miles.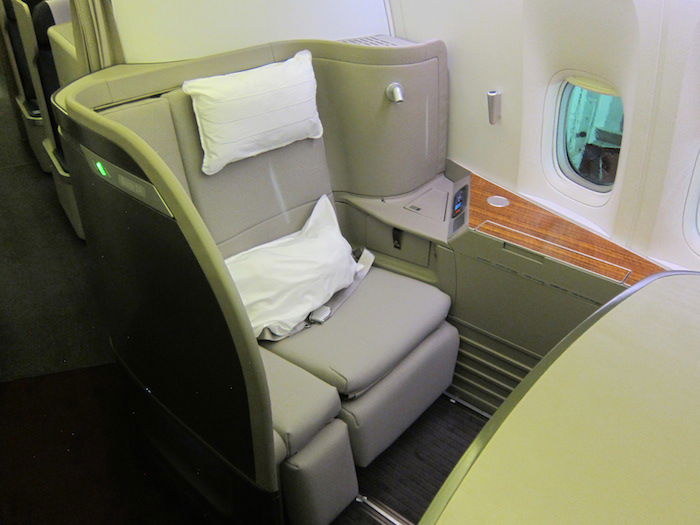 Redeem US Airways miles for Cathay Pacific first class
Furthermore, historically US Airways has charged you the roundtrip cost for the highest class of service you fly. For example, say you fly New York to Hong Kong in economy and Hong Kong to New York in first class, you'd be charged the roundtrip first class award cost.
It looks like that has changed. For a roundtrip award ticket, US Airways is now charging the average of the one-way mileage costs. For example, I just held a Cathay Pacific award with the outbound in business class and return in first class, and was quoted 115,000 miles (ordinarily first class would cost 120,000 miles, while business class would cost 110,000 miles, so they simply averaged the two).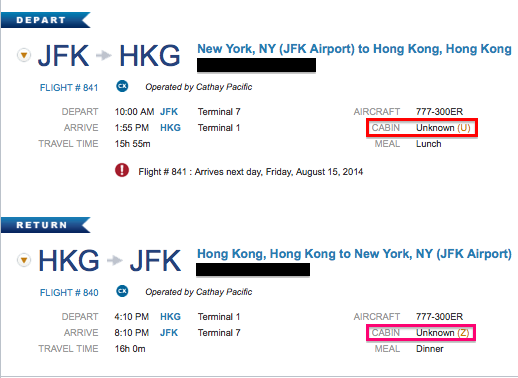 There are a couple of things worth noting about this:
This is a new policy, so not all agents are familiar with it yet
I called three times to put three different tickets on hold, each with travel in different classes of service in both directions. I didn't prompt the agents as to the mileage cost. Two quoted me the new "average" cost, while one didn't. Since this is a new policy, I would expect for it to be a while before this is consistently enforced without prompting.
Is this totally good news?
For the most part this is great news, and I guess it's the first step towards allowing one-way awards.
That being said, here's the potential downside. Let's use the above example, flying Cathay Pacific business class to Hong Kong, and returning in first class. Previously you would have paid 120,000 miles, and if close to departure Cathay Pacific opened up first class award space on the outbound, you could pay $150 and then upgrade to first class, since you already "paid" the first class mileage.
However, now that you're literally booking a different award type, you'd have to completely redeposit your award and start over if you wanted to change the award type in either direction. That means the space you had confirmed in one direction might not go back into inventory, so does add a considerable amount of risk.
Bottom line on US Airways pricing awards as one-ways
All things considered this is good news. I wouldn't expect for this to be applied across the board immediately since it's a new policy, and we know how slowly news spreads at US Airways sometimes.
This is actually very similar to the current Delta SkyMiles policy (which is changing in January). They don't allow one-way tickets for half the cost of a roundtrip, though do "average out" the award rates for each direction of travel on a roundtrip.
What do you think of this new policy which charges you based on the cabin flown in each direction of travel?
(Tip of the hat to Adrien)