Last week Delta made the big announcement that they'll begin award SkyMiles based on revenue as opposed to miles flown. This is a massive change to the way legacy carriers have historically issued mileage. This came only a year after Delta announced a revenue requirement for earning status, which United quickly matched.
When Delta announced these changes to the SkyMiles program there was a lot of concern over what the award redemption chart would look like. I wasn't exactly sure why that was a big concern, because I wasn't expecting huge changes on the award redemption front.
Rather I simply saw this move as a way for Delta to issue fewer miles for actual travel, while not actually altering the way miles are redeemed. After all, Delta is making a lot of money off their SkyMiles program for those earning miles through means other than flying, so Delta has no reason to severely alter the redemption side of their frequent flyer program.
Now of course I didn't buy into Delta's marketing hype either about how it will be easier to redeem miles because they've listened to our feedback:
We've listened to your feedback – you want it to be easier to redeem miles you've worked hard to earn, so we're making Award Travel more flexible and giving you more redemption options.
But I also didn't think they would make redemption costs much worse.
Anyway, Delta has just released their 2015 SkyMiles award chart, and it looks pretty good.
New Delta Economy Award Chart: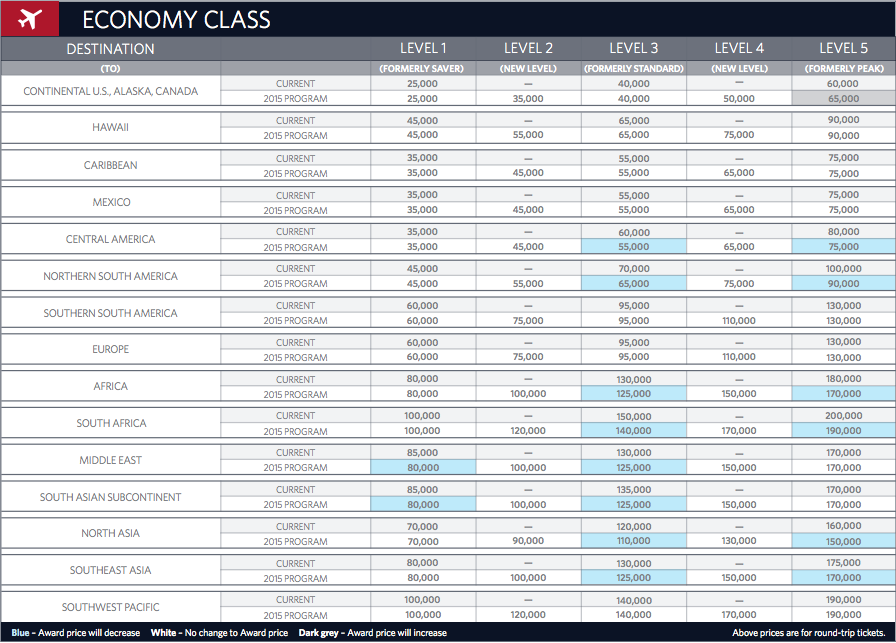 New Delta Business/First Award Chart: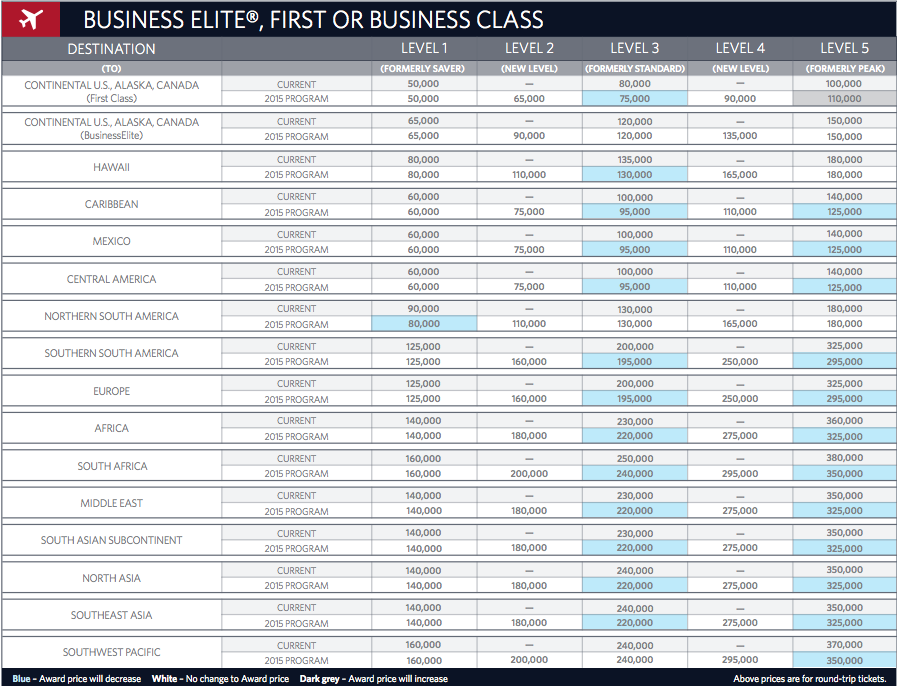 A few key takeaways:
Delta will begin allowing one-way SkyMiles redemptions for half the miles of a roundtrip
The new SkyMiles award chart applies for bookings made on or after January 1, 2015 (regardless of travel date)
Previously there were three award categories (saver, standard, and peak), while there will now be five award tiers
Of the 44 award level pricing changes, more than 95% are decreases (supposedly)
Anyway, the new SkyMiles chart isn't much different than what I expected:
Saver level redemptions remain exactly the same cost except in three regions, and in those regions the prices are going down by 5,000-10,000 miles.
The cost of peak level redemptions is going down in nearly 20 markets, while it's going up in only one market
The new Level 2 and Level 4 redemption rates are basically in-between the previous redemption rates
Bottom line
Last year Delta announced a pretty substantial SkyMiles award chart devaluation, so I wasn't expecting the SkyMiles award chart changes to be dramatically negative. That being said, I'm actually pleasantly surprised by the fact that the changes are positive overall, so kudos to Delta on that.
Now, Delta is announcing these changes nine months in advance. Given that Delta has a history of devaluing the SkyMiles program without notice, can they really be trusted to not make further changes to their award chart? Last year Delta not only adjusted the SkyMiles award chart, they announced an interim award chart devaluation, so I don't really think Delta can be trusted on that front.
Furthermore, the pricing of the award tiers is only half the story. Without knowing what percentage of award inventory will be allocated to each level it's hard to know the true impact of Delta's award chart changes. All we have is Delta's word that "more award seats will be available for fewer miles," whatever that means.
As I wrote about this morning, I don't think the legacy airlines want to radically alter their frequent flyer programs on the redemption side.
Frequent flyer programs are thriving businesses on their own, and airlines such as Delta simply want to make them less rewarding for travel, given that planes are filling themselves nowadays.
We'll continue to see the shift towards airlines issuing more and more miles for non-flying activity, as they continue to transform from frequent flyer programs to frequent buyer programs.