Airlines are constantly trying to increase their ancillary revenue, and that's particularly true in the US. While we've long seen ultra low cost carriers in the US, we've also seen traditional network carriers adopt those methods in the form of basic economy.
Along those lines, it looks like United will starting charging to assign some regular economy seats starting in the fourth quarter of 2018. At least this is hinted at on the United Corporate Preferred website, which outlines some of the corporate plans available with United.
Specifically, it says the following:
Customers will enjoy access to preferred seats in Q4 2018. These standard-legroom seats will typically closer to the front of the aircraft behind United Premium Plus and Economy Plus.
This is an interesting move for United to make. Currently United charges extra for Economy Plus seats, but all "regular" economy seats are considered equal for the purposes of being able to assign them in advance.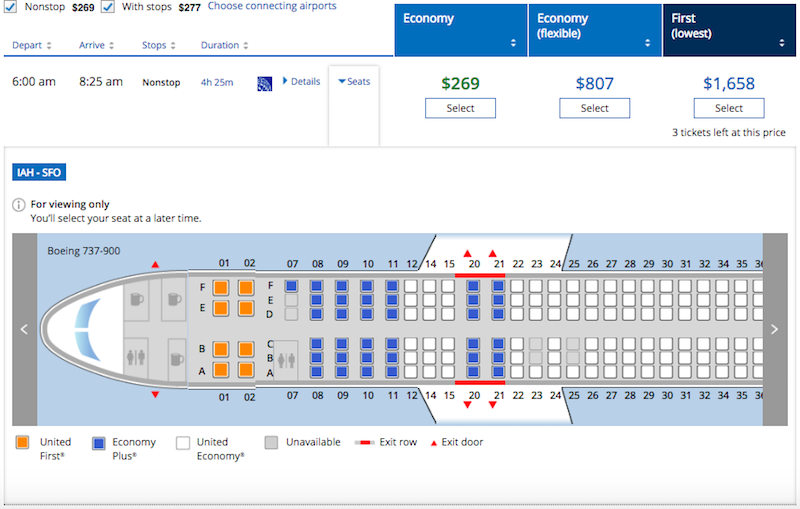 So it seems like United will be adopting American's model of also charging extra to assign some regular economy seats towards the front of the economy section. For example, take the below seatmap for a flight between Miami and San Francisco, where American is charging $16-19 for assigning an economy seat towards the front of the cabin, behind Main Cabin Extra.
I think we can safely assume that Scott Kirby is the mastermind behind this, given that he used to be president of American and is now president of United.
Sure, they view this as an easy revenue opportunity, though none of this really makes sense to me in the context of basic economy. One of the reasons to avoid basic economy is so you can assign a seat in advance, but if the airline is going to charge you to assign a regular economy seat anyway, then that takes away a large part of the benefit.
As an update, a United spokesperson has issued the following statement regarding this:
Beginning later this year, at time of booking, select standard Economy seats typically closer to the front of the aircraft behind Economy Plus will be available for Corporate Preferred Elite Customers and United MileagePlus Premier customers, free of charge. If these seats are not filled, they will be opened for all customers to select at check-in, free of charge.

These preferred seats will be available for purchase for all other customers at time of booking.
(Tip of the hat to Wandering Aramean)