As I've mentioned a few times now, I spent the weekend in Maui. I flew United both ways on a great fare ex-Seattle, thanks to Alaska Airlines' crazy Hawaii expansion, which is driving prices down. And I figured I'd share a few observations regarding the flights.
First of all, the upgrades were insanely easy. I mean insanely easy. I flew out on a Friday evening through San Francisco and returned on a Sunday night redeye through Los Angeles, which seem like peak times. But in both cases I cleared at the 1K upgrade window. Not only that, but all passengers requesting an upgrade cleared on both flights (including all elites requesting complimentary unlimited domestic upgrades). There were even non-revs in first class on both flights, and beyond that, empty seats in first class on the return. For what it's worth, it was a 757 in both directions.
Second of all, the crowd in first class largely wasn't your usual first class transcon crowd. At least half the passengers were under 15 or over 70 and seemed to fly once or twice a year at most. This made me appreciate just how easy frequent flyers are to deal with, which I don't often appreciate. In this case, it took the better part of 10 minutes for the passengers in first class to situate their bags as they tried to find their seats. There were two families of four in first class, and otherwise just about everyone else was traveling with a companion.
Now on to the meal service. The meal service was basically standard transcon food, though there were a few nice touches. There were hot nuts to start, followed by a small salad. I guess to give the appearance of greater service, the (excellent) crew served the tiny bowl of salad first, with a whole wheat bread roll, and later brought out the entrees.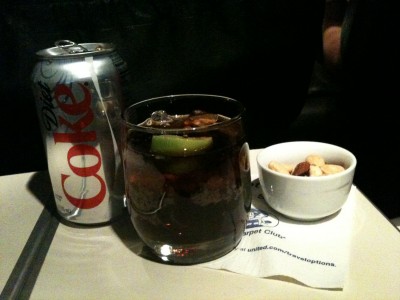 Diet Coke with lime and hot nuts

Salad and bread roll
The options were either Trader Vic's chicken or salmon. I went with the chicken, which was served with broccoli and mashed potatoes, and was quite tasty.

Trader Vic's chicken
For dessert was a chocolate chip cookie with milk.

Chocolate chip cookie
Prior to arrival was the "refreshment" basket, consisting of Ghirardelli chocolate, Biscoffs, chips, and bananas.
One of the fun things about flights to Hawaii is the "Halfway to Hawaii" game they have. The premise is that you have to guess at what time the plane is geographically halfway to Hawaii. The captain gives some basic info, like takeoff time, headwinds for the first half of the flight, etc.
At the suggestion of someone on Twitter, I guessed the halfway point timewise plus 10 minutes, to account for the fact that the second half of the flight should be a bit longer, right? The first half of the flight should be slower because you're still burning off fuel, and typically you're flying faster on the descent than ascent. But the flight time was 4hr56min, and the correct answer was 2hr21min (seven minutes before the halfway point timewise). Oh well, better luck next time!

Halfway to Hawaii
I always hear people bitch about United's meal service to Hawaii. On one hand I can appreciate that people would like the service to be "special" given the destination, but I can also understand why United doesn't have a "special" meal service like they used to. Simply put, why bother? All the elites cleared their upgrades, probably most on unlimited domestic upgrades, and there were even non-revs in first class. The first class cabin isn't even nearly as profitable on these flights as a transcon, so if anything, they should improve meal service there.
Though I understand it's quite frustrating since United charges a huge co-pay (up to $300) for upgrades on Hawaii flights, while they don't for their other US flights. That's a total ripoff. But still, overall the service is pretty darn good, and the crew did their best to be festive.
Of course don't get me started on the "panini" served on the return…