After rumors of them working on this for years, it looks like Uber is finally going to introduce a full fledged loyalty program, called Uber Rewards.
Where Uber Rewards is available
The new program will initially be available in nine markets, including Atlanta, Denver, Miami, New York, Tampa, Philadelphia, San Diego, Washington DC, and all of New Jersey. If you're in one of those markets you may see a pop-up inviting you to join.
Then over the coming months the program will be rolled out nationwide. You can add yourself to the waitlist for the program here, by sharing your city and email address.
Earning points with Uber Rewards
The number of points you earn per dollar spent depends on the type of rental you make:
Earn 3x points per eligible dollar spent on Uber Black and Uber Black SUV trips
Earn 2x points per eligible dollar spent on UberX, UberXL, or Uber Select
Earn 1x points per eligible dollar spent on Uber Eats and Uber Pool trips
Redeeming points with Uber Rewards
With Uber Rewards, 500 points can be redeemed for $5 in Uber credit, meaning that each Uber point is worth a penny. In other words:
You get a $5 credit for every ~$167 spent on Black and Black SUV (~3% return)
You get a $5 credit for every $250 spent on X, XL, and Select (~2% return)
You get a $5 credit for every $500 spent on Eats and Pool (~1% return)
These rewards will be added to your overall Uber Cash balance, so you'll be able to redeem multiple credits towards a single ride.
Earning status with Uber Rewards
Uber Rewards has four status tiers — Blue, Gold, Platinum, and Diamond. The requirements to earn status are as follows:
Blue status requires 0 points, so everyone gets that
Gold status requires 500 points, so requires ~$167-500 of spend
Platinum status requires 2,500 points, so requires ~$833-2,500 of spend
Diamond status requires 7,500 points, so requires $2,500-7,500 of spend
Here's a full listing of the perks offered at each tier: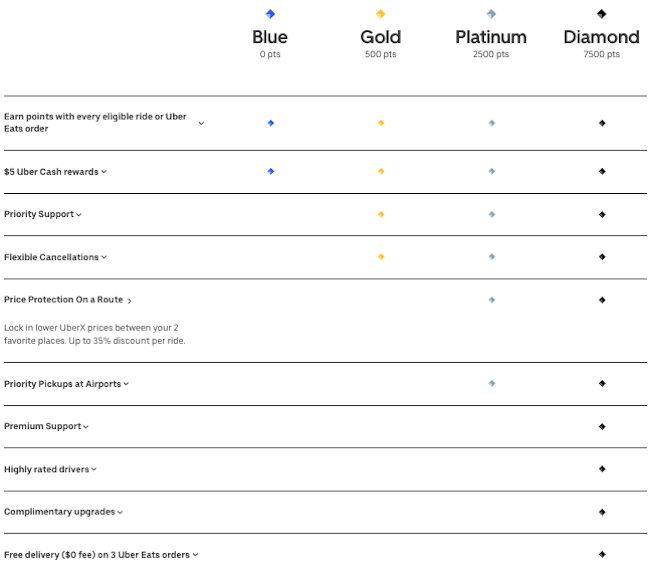 To sum it up:
Uber Blue status allows you to earn rewards
Uber Gold status gets you priority support and the ability to get flexible cancelation
Uber Platinum status gets you price protection on a route and priority pick ups at airports
Uber Diamond status gets you premium support, highly rated drivers, complimentary upgrades, and complimentary delivery of three Uber Eats orders
Defining Uber Rewards benefits
All those things sound nice, though let's take a closer look at some of the terms. Rather than trying to rewrite the terms, it seems more practical to be thorough and just share the key ones, so I don't miss anything.
How does flexible cancelation work? (Gold benefit)
If you cancel a ride, you'll get an in-app message letting you know if the ride qualifies for a refund of the usual cancellation fee. You'll only get this refund if you rebook the ride within 15 minutes and complete the trip. Flexible cancellations are only available to Gold, Platinum and Diamond members. Pool and Express Pool trips are not eligible. This benefit can be used once per hour at most, up to three total uses per month. This benefit is only available in the US and may not be available in all locations, such as certain airports and venues/stadiums.
How does price protection work? (Platinum benefit)
When you unlock the Platinum level, you'll be prompted to set your two favorite locations. Once you've set these, any ride taken between those two points will enjoy a lower price that won't be as affected by traffic or dynamic pricing. The price protection benefit has a 35% maximum discount per ride. You may be charged the amount of the price that exceeds 35% off the real-time (non-protected) price. Your chosen route can be changed once every 30 days by contacting support. This benefit may not be available in all cities, or for all possible routes. Only UberX trips receive price protection. Price protection does not apply on scheduled rides.
How does priority picks up at airports work? (Platinum benefit)
Based on driver availability, Platinum and Diamond members may receive faster pickups. This benefit is only available at some airports due to local regulations and rideshare agreements. Shorter wait times are not guaranteed for any given airport pickup.
How does complimentary upgrades work? (Diamond benefit)
Complimentary upgrades are sometimes given on select UberX rides. These upgrades are only available to Diamond members. This benefit is not available in all locations, and excludes certain airports and venues/stadiums.
How does free Uber Eats delivery work? (Diamond benefit)
Once Diamond level is unlocked, you'll receive three free Eats deliveries. These free deliveries will be added to your account automatically and will apply to your next three Uber Eats orders. You'll need to have an Eats account. Free delivery means no booking fee and no busy area fee. Taxes and tips are not included. Free deliveries must be used before your Diamond level expires.
My thoughts on Uber Rewards
First of all I think it's important to have context when it comes to Uber's business model. I know I'm stating the obvious here, but Uber takes a cut on the rides their drivers provide, somewhere around 25%. So when they're introducing a rewards program that offers the equivalent of 1-3% back, that's potentially taking a big chunk out of their margins.
Of course the good news is that these rewards can once again only be redeemed for Uber rides, and also the goal is that this increases their business and market share. Will some people find themselves doing end of the year Uber status runs? 😉
In all honesty, I think this program is really well thought out and fairly rewarding, given the interests of various parties here. Earning the equivalent of a 1-3% return, plus potentially getting some benefits through status really does add up. I wouldn't put too much hope in the upgrade benefit for Diamond members, which sounds a whole lot like the suite upgrade benefit for Hilton Honors Diamond members. 😉
I do question how much people will shift their business around because of this, but I'm fairly impressed here.
What do you make of the new Uber Rewards program?