If you're a business traveler who values quality luggage, there's a decent chance you have a Tumi carry-on. My primary bag is a Tumi Alpha International. While it's not the most bedazzled bag out there, it's well designed, durable, and compact.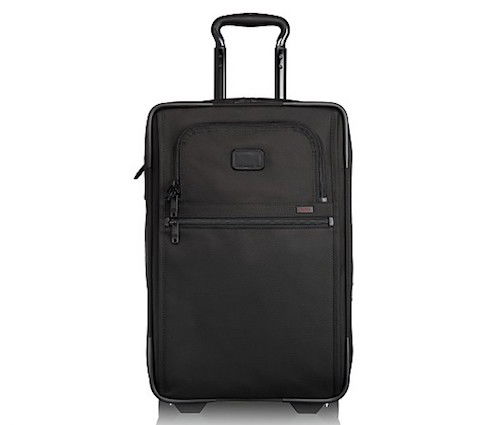 Back in the day I found Tumi had amazing service, where they'd fix just about anything. Over the years I've found the service has deteriorated a bit, or perhaps they've just become more "by the book." My decision making process in buying a Tumi nowadays has very little to do with service after the sale.
We've seen a lot of consolidation in the airline and hotel industry lately, and now we're seeing it in the luggage industry as well. It was announced today that Samsonite will buy Tumi in a $1.8 billion deal. The plan is to still keep around both brands (after all, it would be silly to kill a brand which is perceived to be high end), and to also allow Samsonite to finally have a decent presence in the high end luggage business, which they previously never did well in.
The Washington Post has a good rundown of the logic behind the deal:
"We always wanted to have a play in this segment, but we have never been able to do it in a very credible way," said Ramesh Tainwala, Samsonite's chief executive, on a conference call with investors.

Still, Samsonite seems committed to maintaining Tumi's premium positioning in the marketplace, saying that the acquisition made sense in large part because Tumi brought something different to Samsonite's portfolio: In addition to its flagship brand, Samsonite also includes Hartmann, American Tourister, High Sierra and other travel bags that aren't at Tumi's upscale price point and aren't as focused on the needs of business travelers.

Samsonite said it intends to expand Tumi's reach in international markets. Currently the brand gets 68 percent of its sales in North America, with just 17 percent coming from Asia and 14 percent from its Europe, Middle East and Africa division. Tainwala also said it thinks Tumi could do a stronger business in hardside luggage, which today makes up a relatively small share of the brand's sales.
As consumers I doubt we'll see very many changes as a result of this takeover. Samsonite already owns several other luggage brands, none of which were especially luxurious. Presumably Tumi luggage will begin to be sold at Samsonite stores, and it'll also be interesting to see what impact this has on brick and mortar Tumi stores (I've always wondered if those stores are actually profitable, or if Tumi simply felt they needed them as a way to showcase their brand).
Bottom line
It's an interesting takeover for Samsonite, as it's their first real entry into the high end luggage sector. There's a chance this could impact some of Tumi's brick and mortar stores, and also perhaps the service. But overall I'd say there aren't too many other implications for consumers as of now, perhaps other than more widespread availability of Tumi bags, both in further locations internationally, as well as in Samonsite stores.
What do you make of Samsonite's takeover of Tumi?