After 9/11 we saw huge changes to airport security. Or perhaps most accurately, we saw a lot more theater around airport security, since virtually any test has shown how poorly the TSA performs with identifying prohibited items
Over the past several years we've seen some changes that have made the experience better. For example, for passengers there's the TSA PreCheck program, while for airline employees there's the Known Crewmember program.
What Is Known Crewmember?
Known Crewmember allows select airline crews to enter the sterile area of the airport without undergoing a security screening. You might see a Known Crewmember checkpoint near the exit to the TSA checkpoint, as those who are registered just have to present their airline ID and government issued ID, and then can walk right into the terminal through the exit.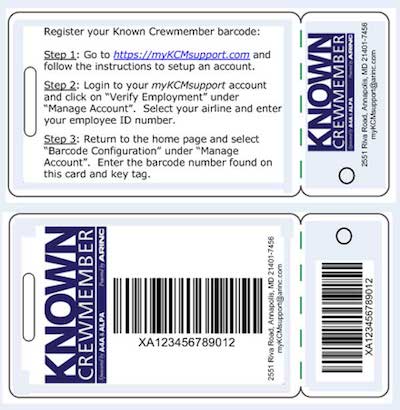 This makes some people uncomfortable, while others see the logic:
Some people feel more comfortable if everyone has to go through security
At the same time, if we trust these people to fly the planes we're on, should we really be concerned about what they're bringing onboard?
TSA Makes Sudden Known Crewmember Changes
Obviously this doesn't impact the flying public, but rather just airline employees. Nonetheless it's an interesting development, depending on how much you want to read into this.
This Saturday the TSA announced two new major restrictions for Known Crewmember access, both with just a few days notice.
New Uniform Policy
As of August 28, 2019, airline staff using the Known Crewmember checkpoints will need to be wearing their uniform to use the checkpoint.
Airline employees are allowed to use the checkpoint even when they're not working, so airline employees view this policy change as a huge nuisance. If they want to use the checkpoint they'll now have to change into their uniform, and then can change out of it right afterwards. One has to wonder how that makes us safer.
Frankly this just seems silly. It's not like the TSA has a booklet that shows exactly how every uniform is supposed to look. So will they actually have any way of "verifying" if someone is wearing a real airline uniform, or…?
Furthermore, keep in mind some airline employees have had allergic reactions to uniforms, so they wear modified versions, including what's sometimes just "business" clothes.
New Unpredictable Screening Procedures
One aspect of Known Crewmember is that you can be randomly searched. This makes perfect sense, since you want to add some element of unpredictability in case someone does actually have bad intentions. That brings us to the second policy change.
As of August 27, 2019, an automated change is being made to the Unpredictable Screening Procedures (USP). With this change, if someone is selected for a screening, then the system will maintain that, and they'll be subjected to that screening for some amount of time.
In other words, if they're selected for screening and then choose not to go through security, they can't just go through another security checkpoint to avoid it.
This seems like a pretty common sense change, in my opinion.
What Is Prompting This Change?
The fact that this change was issued with so little notice, with no input from ALPA or A4A, and over a weekend, is making a lot of people wonder if there's a specific threat that's causing this policy change.
It's the TSA, so I wouldn't put it past them that this is just a policy change that they decided on randomly. But the timing and short notice does suggest there may be more to this.
While I'm by no means a security expert, one thing I've always found odd is how Known Crewmember access works. You just have to present your airline and government ID, and are then let through.
What I can't wrap my head around is why they don't instead require biometric data, which seems so much more secure. Why is the primary focus on how someone looks and what they're wearing (especially when being screened by TSA agents, who aren't always the sharpest), rather than based on fool-proof biometric data?
I'll be curious to see if anything else emerges here regarding the logic of this change…