When traveling, I take a very different approach towards photography than most people. I meticulously photograph every aspect of my flights and hotels, and then when I actually sightsee I leave my Sony RX100 camera behind.
Of course that's simply because I primarily write trip reports about airlines and hotels, so documenting those experiences is my priority. I'll often take 300-400 pictures per flight, and then narrow it down to ~20% of those to include in trip reports.
When I am actually sightseeing, I quite value not constantly taking pictures, but rather just being able to take things in. For me that's relaxing, and makes me feel like I'm not "working" (not that I mind my "work" one bit, but everyone needs to unwind once in a while).
So I'll almost never walk around with my camera while sightseeing, for a variety of reasons:
iPhones take great pictures nowadays, so I don't see much marginal value to lugging around camera equipment (all the pictures I posted of St. Petersburg have been taken with my iPhone)
I tend to think cameras put a bit of a target on your back when traveling; if you are just using your phone, it's a bit easier to blend in
Having a camera with me makes me feel like I have to photograph everything as a means of justifying taking with me
Of course I expect others will feel differently about this, but that's just my perspective.
We took a touristy river cruise in St. Petersburg this morning (more for the views, rather than the narration), and I was fascinated by the different photography techniques people used. You had people using point-and-shoot cameras, professional cameras, and phone cameras.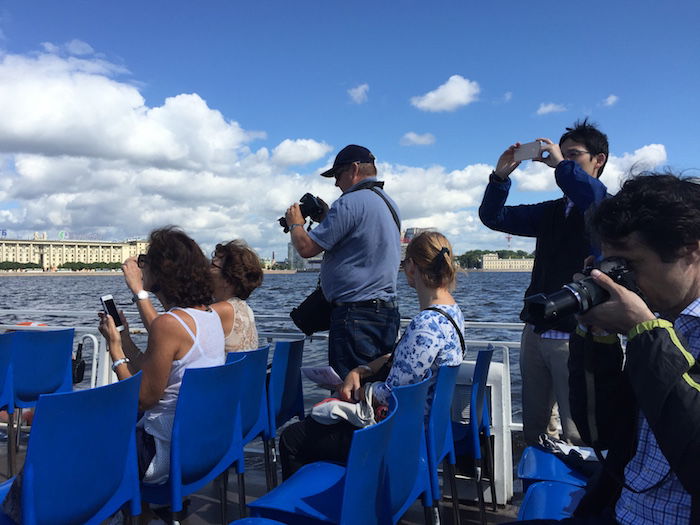 What blew my mind is how many hundreds (if not thousands) of pictures some people were taking. Yes, St. Petersburg is a stunning city, but I also figure someone with a fancy camera likely has at least somewhat of an "eye" for photography, and knows when they're seeing something picture worthy. Some people seemed to be snapping so many pictures that I wondered if they even saw what was going on, or if they were just planning on going back and looking at it later.
I get some people are either amateur or professional photographers, so totally get why they may have been taking so many pictures. But for the average person…
I'm by no means claiming that my strategy is right, but personally I use my iPhone and maybe take an average of 15-20 pictures per day if sightseeing. I don't stop every six seconds to take picture, but rather only take them if there's something truly amazing.
What's your approach to travel photography? Do you use a phone, professional camera, or point-and-shoot camera? How many pictures do you usually take per day?