As part of my four month trip, I've just finished up a long weekend in Munich, Germany, where I attended Oktoberfest, which is the largest beer festival in the world.
I'm not German (my German vocabulary is also limited to a few useful words), but love a good weißbier (wheat beer) and a pretzel, so this is simply a guide for those non-German tourists who may not be familiar with the city or the event, but are interested in attending.
It was a great event, but did require some planning, and there are a few things I wish I'd known before I went, so here are some tips for next year and beyond.
Oktoberfest, the basics
Oktoberfest is technically a 'Volksfest' which is a 'German traveling beer and funfair festival.' It runs around 16-18 days each late September into early October (which was a bit confusing to me as it has the word 'October' in the title!) in a single site at Theresienwiese, in central Munich, Germany. It is world famous for the sheer scale of the event — over the course of the festival almost eight million people attend, which for a city of 1.4 million people means Munich swells enormously.
I couldn't find an exact figure on the capacity of the site at any one time (which makes sense as they don't seem to count people in and out), but would estimate the site can easily hold more than 200,000 people at once.
So prepare yourself for the sheer scale of the event.
While there's plenty of history and culture involved, a large number of attendees go to drink copious amounts of beer, eat German food, and sing along to both traditional German music, European/Eurovision style 'Schlager' pop music, and English songs performed by bands.
There are around twenty major 'beer halls' which are massive tents run by different German breweries. Some of these tents can hold up to 10,000 people at once, which should give you a sense of the scale of the event.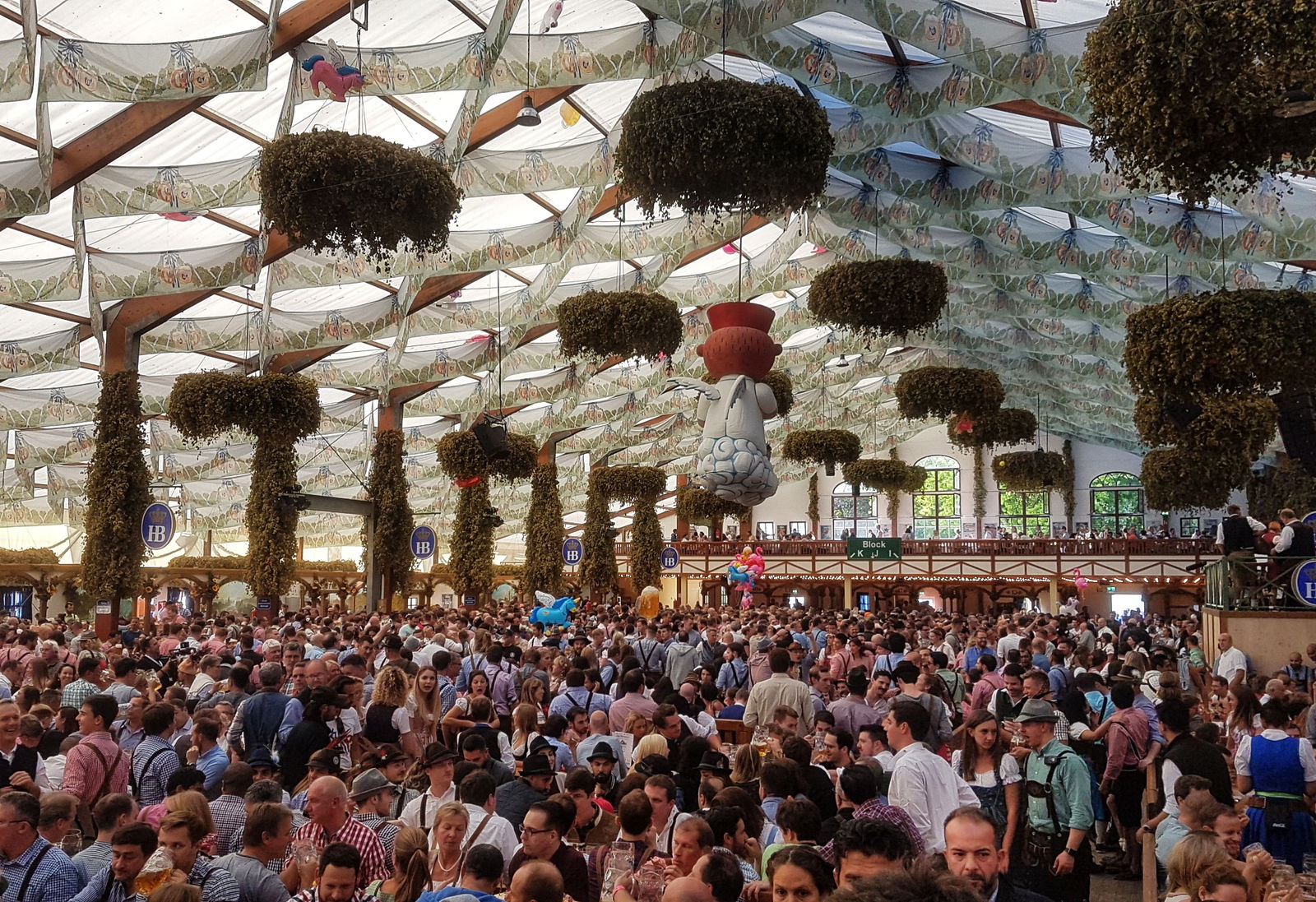 It's more fun if you dress up
Most people I saw attending this week dressed up in the traditional lederhosen (for males) and dirndls (for females). These can be either bought or hired from numerous locations around the city. These items are not cheap to buy or rent, and you can pay many hundred Euros for a very good quality outfit.
Even for a cheap outfit, you will be looking at EUR33 to rent per day, or at least EUR80 to purchase.
There were some people at Oktoberfest who did not dress up, but I'm glad we all did because it helped us get into the spirit. The lederhosen were actually surprisingly comfortable.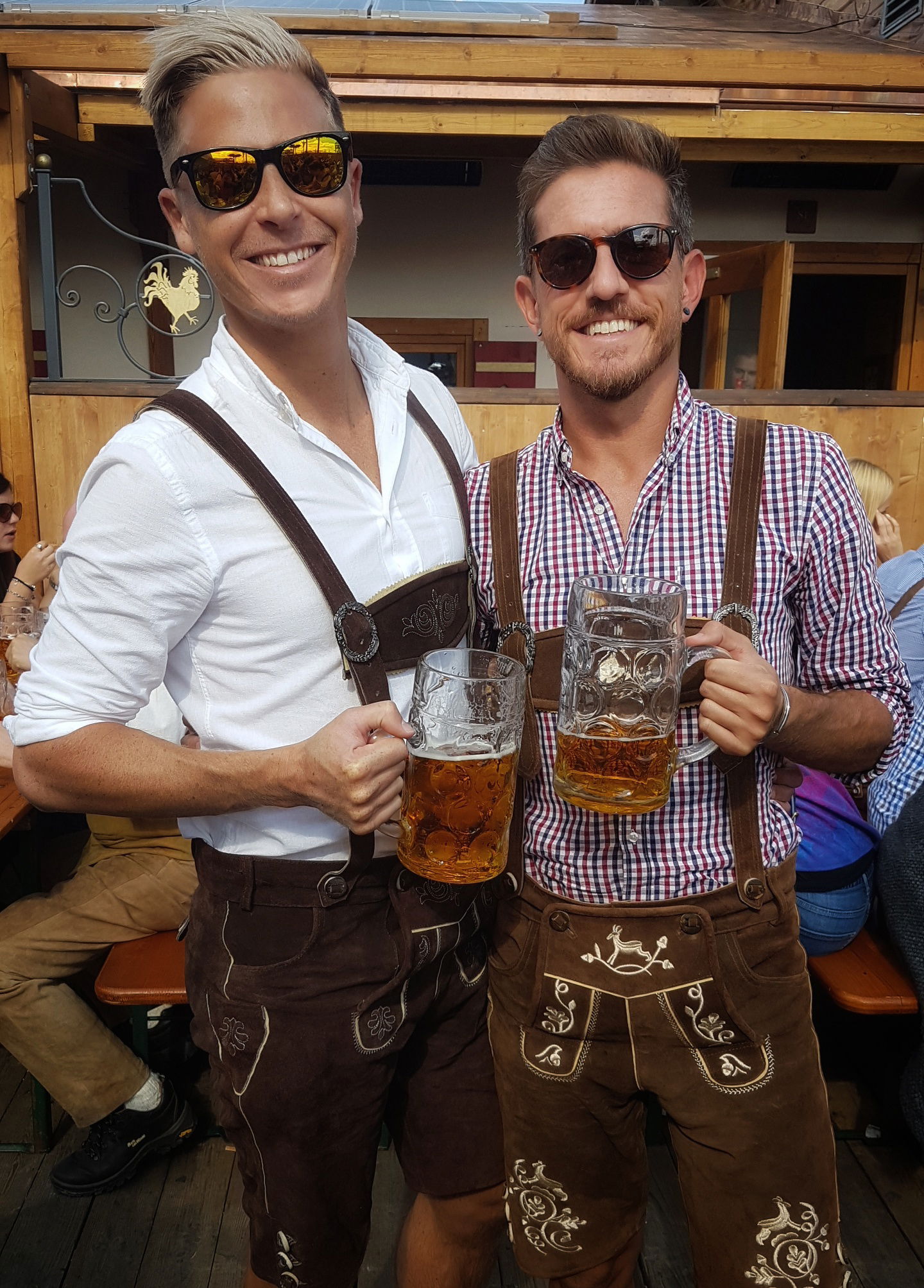 It's an expensive experience
There's no other way to say it — Oktoberfest is expensive. Munich is already a fairly expensive European city, and don't expect to save money on anything by attending during the busiest time of the year.
We found hotel prices to be higher than usual (for Munich), and everything about the festival is expensive. I appreciate entry to the festival (and each tent) was free, but beer is sold by the litre, and it's around EUR11.50 per litre, compared with around EUR7 per litre at beer halls in the city (i.e. outside of the festival).
Hiring an outfit can be EUR35+ per 24 hour period. I saw some high end lederhosen for sale for EUR850.
Flights to Munich are often expensive, and even if you book six months in advance you may struggle to find affordable flights. Consider flying into nearby Salzburg (and then getting the train to Munich), as it may be much cheaper.
If you do want to attend, it's best not to think about the cost of every single thing, and just enjoy the experience. Munich is a wealthy city and this is their biggest event of the year.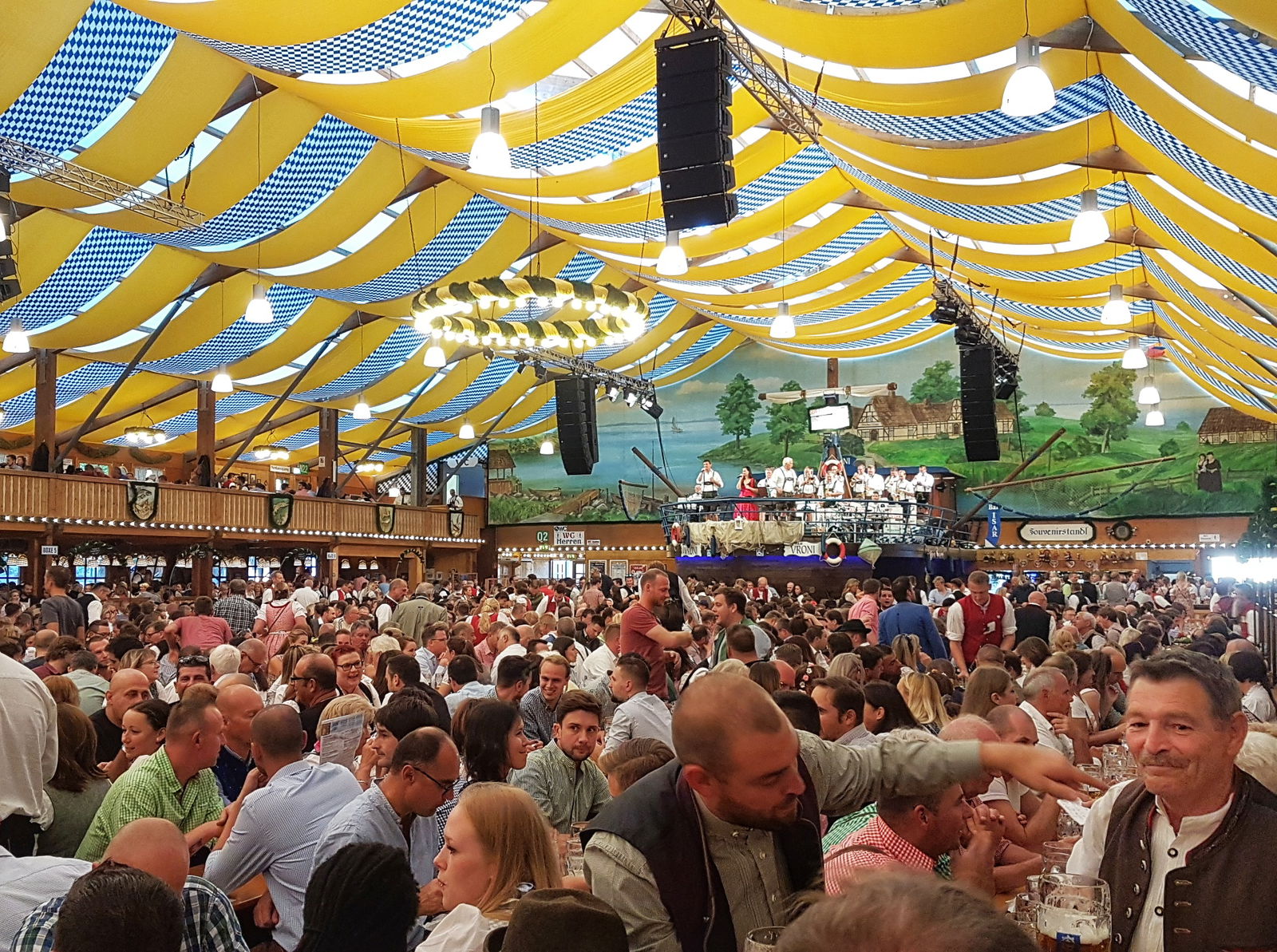 Try and attend on a weekday, not a weekend
The crowds are much bigger on weekends than weekdays as locals who don't have to work join visiting tourists, particularly on the opening weekend, when people arrive at 6am and then have to wait at least four hours before they are even served a drink.
This has no appeal for me at all and I'm very glad we didn't attend on a weekend.
Weekdays were certainly busy, but we managed to find tables for our group at many parts of the afternoon and other than restricting access to tents from about 7pm onwards, there were no real queues on the weekdays we went.
Even with so many people on the site at once, it feels organized and safe.
It's best to have a game plan, but don't plan everything
This is the tip I wish I'd known most before attending. Even on the quieter weekdays, all of the tables will be taken inside the main tents by around 11:30am, and entry will be restricted to the tents completely by around 6 – 7pm.
So, ideally if you are with a group you can either book a table in one of the tents (well in advance), or else try to get there before 11am to get a table inside the tent of your choice.
What messed us up a bit was that even though the weather forecast was for cold weather all week, we arrived to spectacularly sunny skies each morning.
Being a group of Australians and New Zealanders, we love the sun so wanted to sit outside (the beer halls also have large outdoor areas) and enjoy it. By the time the sun went behind the clouds all of the good tables inside were taken so we didn't actually experience much of the classic Oktoberfest atmosphere of standing on chairs singing along.
The music started from around 1pm from memory but was very intermittent — there seemed to be more breaks from the band than actual music played. I've read there are strict rules on exactly what hours music can be played and at what decibels, and to be honest I was disappointed with the lack of entertainment in the beer halls.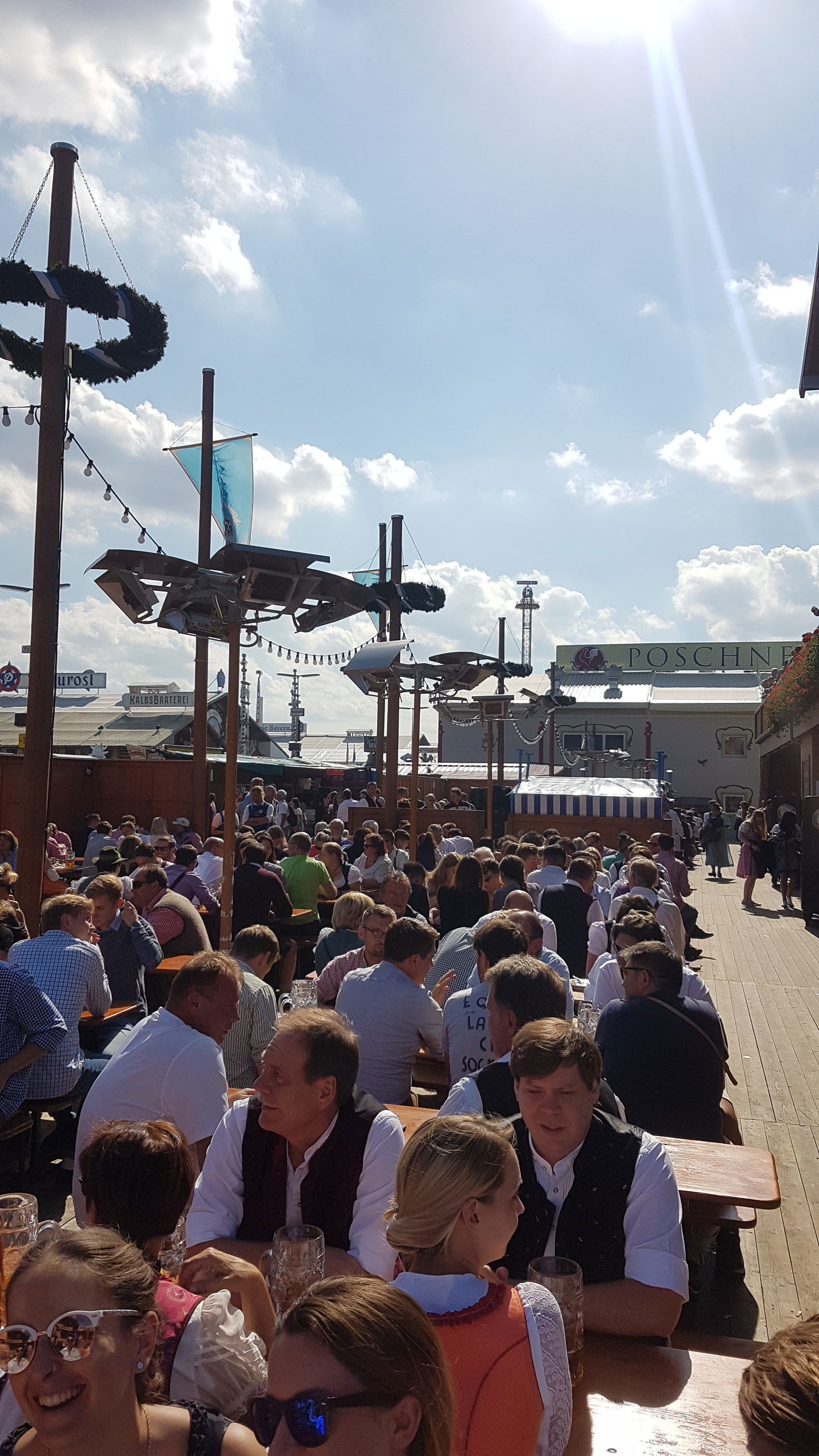 If you don't drink beer, you'll be thirsty
It's a beer drinking festival. They serve around seven million litres of beer each year at Oktoberfest.
Each beer house/tent serves a specific festival beer, by the litre. You can also buy water but other than that, it's beer, beer and more beer. So, if you don't drink beer you'll be bored. And thirsty.
The servers will come to your table regularly, so if you want a beer you just hail them over and they will serve you. No need to get up. The same goes for food, which is traditional German fare.
I may have eaten three pretzels in one day.
I understand there is one (small) tent that serves wine and spirits, but people go there to drink loads and loads of beer so that's the main focus of the day.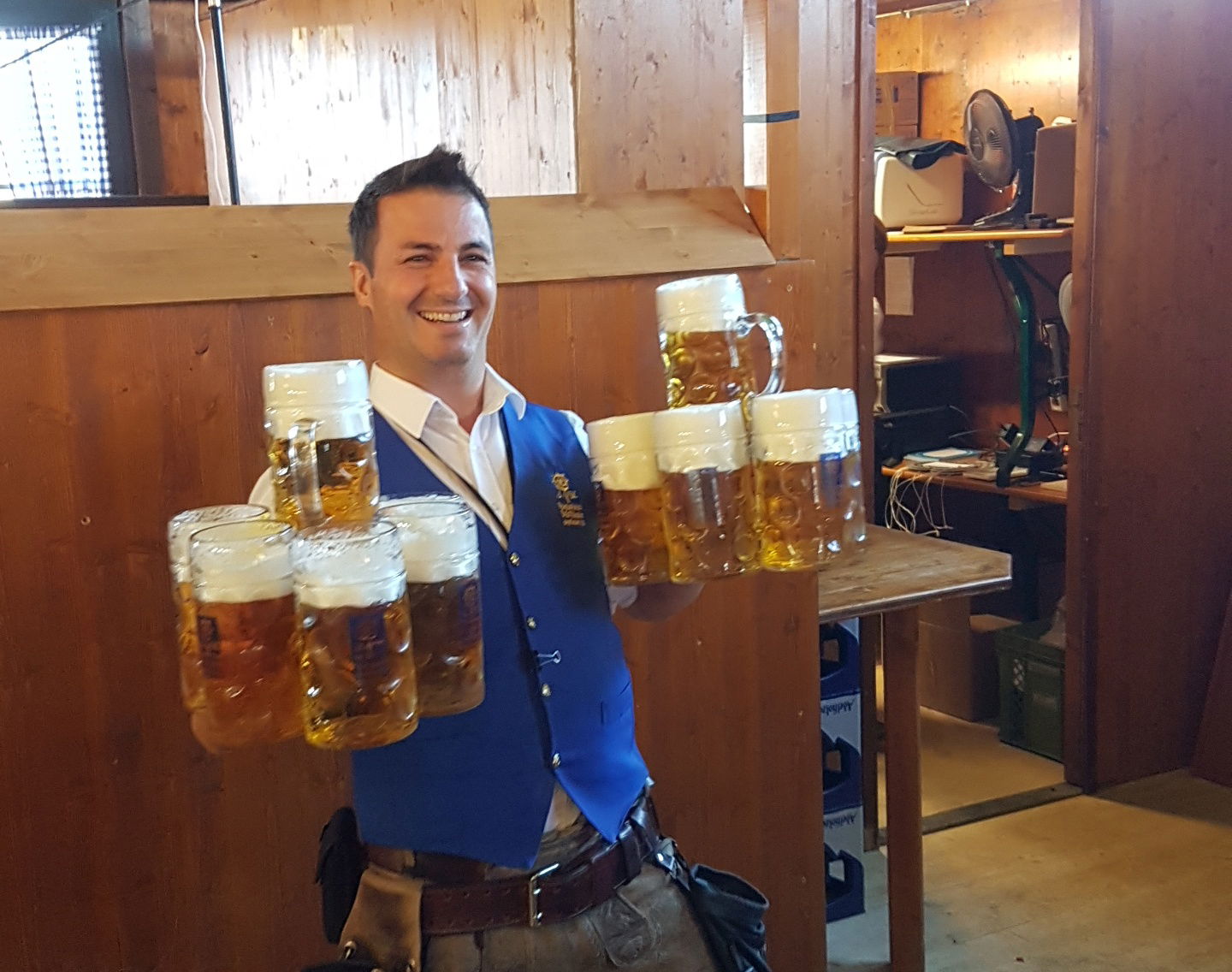 Germans love rules
It's a well run festival and I didn't see any violence or danger considering how much people were drinking, but this is in part due to the number of rules there are at each beer tent. Just some of the rules I observed:
You can stand on a chair but not a table
You can take a drink inside but not outside
You can't sit at a new table with a half finished drink
You can't sit at a table without ordering a drink
You can't get a drink without sitting at a table
I'd recommend realising the rules may be frustrating, but the event has been running longer than I've been alive and runs extremely smoothly, so each rule is there for a reason.
It's part of what makes the event so uniquely German.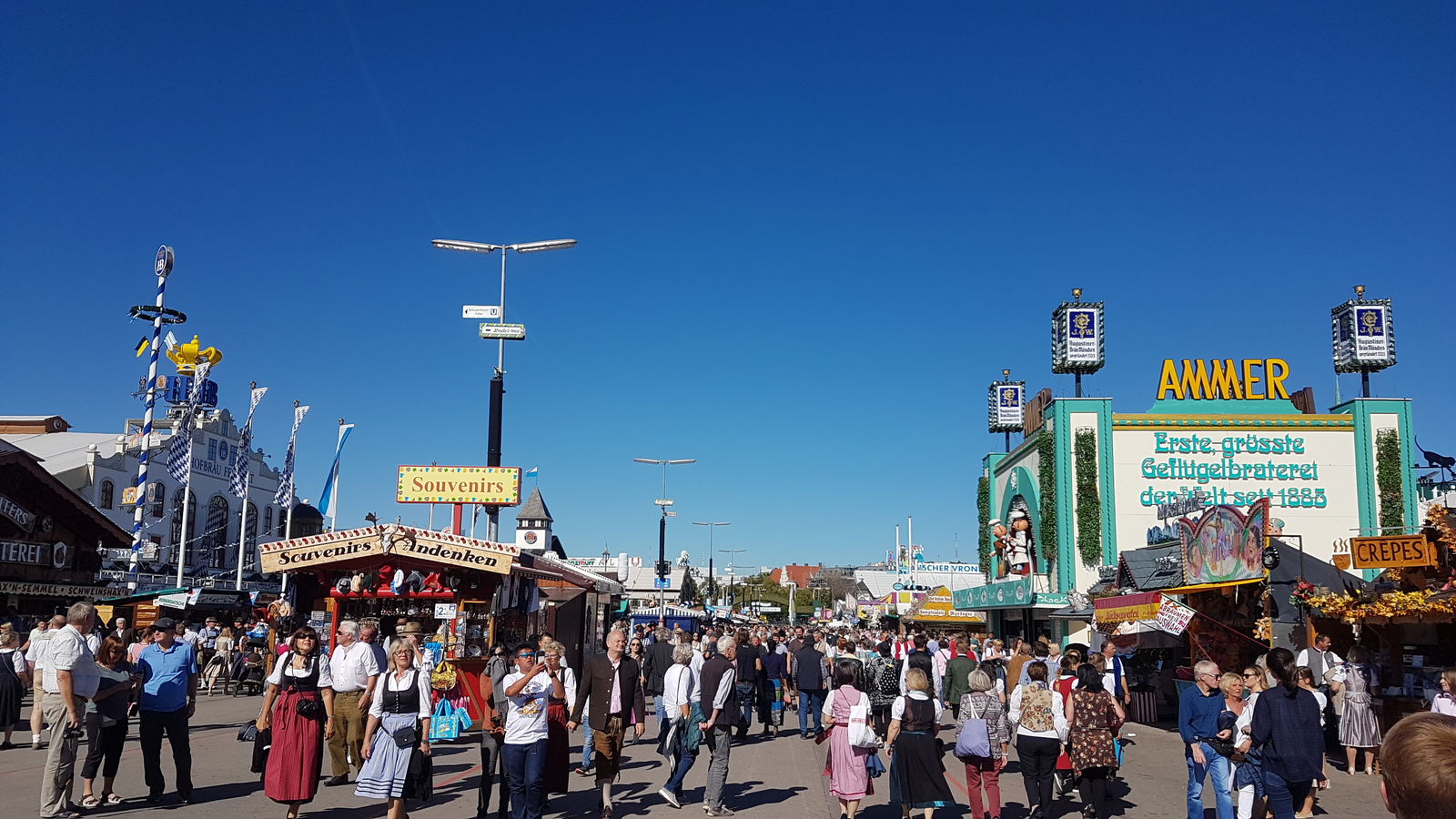 There's a mini Oktoberfest in May which is much more manageable
I also visited Munich in May this year, and stumbled across 'Spring Festival,' which is like a much smaller version of Oktoberfest. There were no queues, even on a weekend at 5pm we could easily get a table inside, and while it wasn't as impressive due to the sheer scale of the event, it was really easy and enjoyable.
If you can't visit Munich in September or October and still want to experience the atmosphere of the festival, consider attending Spring Festival.
To be completely honest if I had to attend either event again in future I would choose Spring Festival because it was so much more manageable and still very fun.
Bottom line
As I said, I'm not German, and may not appreciate the full history and cultural significance of the event.
I attended because it is a world famous tourist attraction (it's extremely popular with Australians and there were plenty there), and really enjoyed getting into the spirit, though I certainly wouldn't go every year mainly because it's a very expensive exercise.
If you are German I'd love to hear what Oktoberfest means to you (good or bad!) below.
Munich remains a fantastic city to visit at any time of the year and is my second favourite place in Germany behind Berlin.
Have you ever experienced Oktoberfest?