Well, it's official. As I wrote about last week, I'm now "homeless." Yesterday I officially vacated from my apartment, and as of today I'm living in hotels full time. I have a lot of thoughts to share, though let me start by sharing my experience on what was my biggest moving "obstacle" as of last week:
Still not sure what I'm doing with my furniture

Yeah, I have to move out in the next week so it's probably something I should have put some thought into, but I'm still going back and forth. Ultimately I work best under pressure, so I'm sure I'll get it figured out. But I still can't decide between selling everything on Craigslist, getting a storage unit, and shipping it to Florida.

And it's really tough for me to make an educated decision, since I have no clue where I'll move in a year.

Obviously if a year from now I decide I want to stay in the Seattle area I'd be best off getting a storage unit here. If I decide to move back to Florida in a year I'd be best off shipping my stuff. If I decide to live in hotels long term, I'd be best off selling it.

So based on that I'm really not sure what I'm best off doing…
So while it's not directly travel related, you guys were so helpful with this move that I figured I'd share my experience.
I decided to sell (almost) everything on Craigslist
I crunched the numbers best I could, and ultimately decided in favor of trying to sell everything on Craigslist.
I could have rented a storage unit. They're kind of expensive in the Bellevue area, and I'm not sure how long I'll live in hotels and where I'll move after that. So it would be silly to rent a storage unit and then two years later still move it cross country.
I could have just moved my belongings cross country and stored them in Florida, but by the time I factored in the cost of moving them and the fact that I'm not sure where (or when) I'll settle down somewhere, that doesn't make sense either.
So I figured I'd do my best selling things on Craigslist. It would be a learning experience, if nothing else.
I decided to sell everything in a period of 72 hours
I work best with tight deadlines. A friend was kind enough to fly in Friday to help, and by Monday we had completely moved out. That turned into 72 mostly hellish hours, since we weren't just selling furniture, but I was going through my wardrobe and sending stuff to Goodwill, cleaning, etc.
And while it was crazy hectic, I'm happy we did it that way. I wouldn't want to draw out the process longer and basically start getting rid of furniture further in advance. And if anything I found having a sense of urgency made people more quick to respond. That being said, a bit of prior organization wouldn't have hurt.
Now, on to the actual process of selling stuff on Craigslist…
For the most part there's a "culture" to Cragislist
Other than browsing the "Missed Connections" section of Craigslist for entertainment, this was my first time actually using it. And I was pleasantly surprised on the whole. People were sane, and most people seemed to be "down with the program," even if I had no clue what I was doing. They showed up when they said they would, didn't try to bargain too much (for the most part), and were generally decent people…
Some people suck

LO… NO!
Some people suck even more
I should have known before she even arrived. She called to ask for directions, which is fine. What wasn't fine is that in addition to getting directions we had a conversation about her cats, her husband, and other stuff I can't quite remember.
She was interested in an IKEA table with six chairs, which I was selling at a huge discount. It was in good condition, and for that matter I've rarely used the table. Apparently prior to driving to pick up the furniture she drove all the way to IKEA (which is about 30 minutes away) to test out the chairs and see if they were comfortable. Seemed a bit odd, but okay.
She sits in the chairs again at my apartment and thinks they're comfortable. But then she decides she doesn't like how the light reflects on the surface of the table. So she asks me if I can use Pledge on it. So I do.
Then she decides that she doesn't like the "streaks" that the Pledge left, and I explained that maybe Pledge wasn't the right thing to clean it with.
So she asks if I have a rag to clean it with. I don't, but I have an undershirt, and bring that out to clean the surface. Which I do. But she still somehow doesn't like how it looks, and so she asks if she can just stand there for a bit and look at the table, and tells us we can go do something else.
Except she's standing in my living room just looking at a table. After what felt like an eternity she decided to take it…
Some things are lost in translation
Most "transactions" were pretty straightforward. We agreed on a price via email, they came to look at it, and if everything "checked out" they paid and took it.
Then there was this one lady, whose first language wasn't English (nothing wrong with that of course, but just pointing out the source of the potential context/language barrier). I thought we had agreed on a price, and I was really counting on her, because she was going to buy three different things (my desk, couch, and dining room table — this is before the other crazy lady).
She didn't really speak much English, but was very polite. She walked into my apartment, bowed, looked at everything, and then said "okay." I said "so would you like it?" "Okay."
She then said "thank you" and walked out, and that's the last I heard from her.
It's surprising what's in high demand
I guess ultimately it makes sense, but I was kind of surprised by what was in high demand and what wasn't. A $50 coffee table? You'd think we were running a Black Friday sale. A really nice 49″ TV? We basically had to pay someone to take it (in the end it worked, out, but I was surprised). I guess it makes sense that if you're going to buy something from a stranger on the internet you'd rather it be something you can easily assess the condition of, vs. something that could have problems.
Took me a while to process that, though.
I'm not traveling quite as light as I had hoped…
I envisioned living out of a carry-on. Yeah, that's still a work in progress…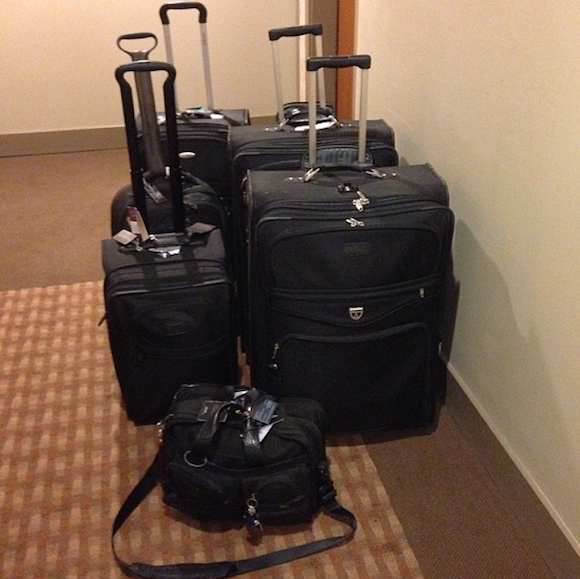 Have you sold stuff on Craigslist? If so, what has been your experience?