Checking into Starwood hotels seems to be an adventure almost every time, hence this new series of blog posts. Every time I check into a Starwood hotel I'll post my experience of the upgrade "process," be it good, bad, simple, or complicated.
For those of you that have no clue what the hell I'm talking about, this is because I recently became a Starwood Platinum member, and one of the benefits of being a Starwood Platinum member is the best available room upon check-in, up to a standard suite. In practice that often means one has to fight tooth and nail for those benefits, though it's all in good fun for me.
At the Schloss Fuschl in Salzburg I was told that because I was on an award stay the hotel had the discretion of how far they wanted to upgrade me. I would have taken "our suites are full" as an answer and dropped it, though the fact that they discriminated against me as an award customer, which violates their terms and conditions, irked me. One tweet and 15 minutes later I received the upgrade I had hoped for.
This installment of the Starwood Platinum Chronicles takes us to the Sheraton Arabellapark in Munich, Germany.
The agent at check-in couldn't have been nicer and advised me I had been upgraded to a studio room with club access. I hadn't recalled seeing a "studio" room listed on the hotel's booking page, so was curious if that translated to a junior suite or just a standard room. I asked the agent whether they had any suite upgrades available, to which she advised me that my room had been especially allocated for me and she didn't think any suites were available. Okay, I'll give her the benefit of the doubt.
Sure enough it was quite literally a standard room. Once in the room I opened up my laptop, went online, and made a "dummy" booking on spg.com for the  nights I was staying. Sure enough they had both junior suites and executive suites available. Not only that, but they were selling at least nine more of each room type!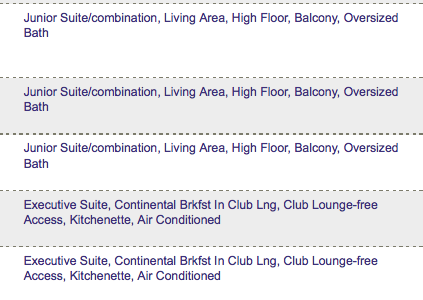 I went down to the front desk with my laptop and nicely mentioned to the agent in German that I saw they were still selling several suites for the night, and mentioned that I thought that was a Platinum benefit.
Unlike at the Schloss Fuschl the agent was incredibly apologetic, and after glaring at her computer for about a minute called over the front desk manager. The front desk manager advised her to assign me an executive suite, and within a few minutes I was given a nice suite.
So in the end I had "argue" for my suite at both the Schloss Fuschl and the Sheraton. The difference was the attitude of the front desk agents — they were genuinely apologetic at the Sheraton and more than happy to oblige.
I've said it before and I'll say it again — it's so awkward to ask for an upgrade and I wish it were automatic, but I guess given the circumstances it's actually fun practice of my negotiating skills for when I go to markets in China/Thailand to buy cheap stuff ("special deal just for you, my friend…").
On a completely, entirely unrelated note, I nominate this hotel for having the strangest club lounge ever. Anyone want to guess what time of day they served this in the club lounge?