They say variety is the spice of life. I'm afraid Thai Airways probably took that a bit too literally, as I'm convinced they have more aircraft configurations than actual aircraft in their fleet.
Back in July I wrote about Thai's schedule change on their Los Angeles to Bangkok route (via Seoul), whereby they finally put a 747 on the route as of March 31, 2013. This was pretty exciting news since it meant Thai would finally be offering first class service to the US. They have a good first class onboard product though a phenomenal first class ground experience, including a 60-minute massage in their Bangkok spa for first class passenger.
Well, it appears as if they've changed their minds. Instead the schedule continues to show a 777-300ER operating the flight as far as the schedule goes. However, as of October 28 it'll be a new business class configuration, which looks like this: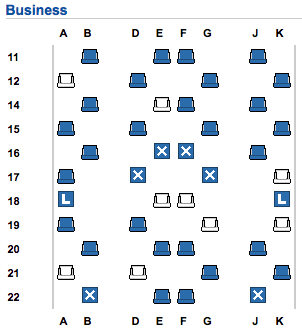 The funny thing is that this isn't a configuration currently in Thai's fleet, so apparently this is a newly reconfigured plane. This won't be the product they currently use on the route, which is an angled flat business class seat. And it won't be their leased 777 featuring first class suites and herringbone business class seats either. Instead business class on this plane will apparently be the same as what Thai has on the Airbus 380, which is a fully flat, staggered product.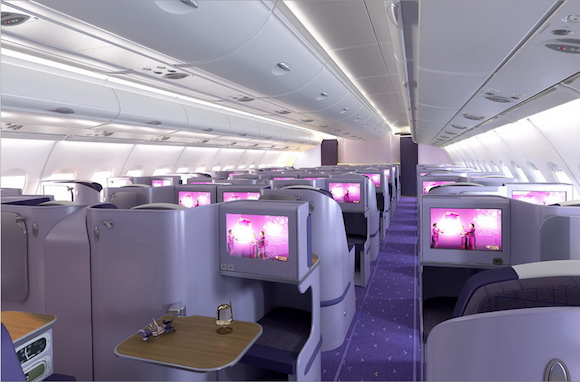 So on one hand this is good news since it means Thai will finally have a good business class product to the US. On the other hand it's bad news since they won't have first class, as was scheduled as of early next year. Furthermore, while they released plenty of first class award space when the 747 was in the schedule, I see virtually no business class award space on the route, even months in advance. Let's hope that changes, since this new configuration has 10 more business class seats than the old one.
However, as is the case with all things Thai Airways, this is definitely subject to change. If Thai Airways actually consistently operated this new configuration on the LAX route it would be the first time they've ever done anything consistently. So I wouldn't count on it…