WestJet is known for their viral marketing videos, which just about any traveler can appreciate, whether you've flown with them or not. For the past several years the airline has published April Fools' videos.
Their most popular one was back in 2012, when they claimed that they'd be introducing Kargo Kids, allowing adults to travel on child-free flights:
In 2014 they claimed that they'd be converting to metric time for their flights:
Last year their concept was that they were rebranding as Canada Air, presumably to troll their biggest competitor:
This year WestJet has done something different. As usual, they have their own video, though I actually think it's sort of lame:
What's hilarious is the (lower budget) video that they've made for their subsidiary. This year WestJet is introducing Swoop, their new ultra low cost carrier. It's interesting to see a low cost carrier introduce an ultra low cost carrier, though I'm guessing that this is largely motivated by hoping to hire employees under a lower pay scale, which seems to be one of the main motivators of many of the airline subsidiaries we see nowadays.
So they've brought the April Fools' concept over to Swoop, presumably to build awareness around the brand. The concept is "Duty Not Free." At first I thought to myself, "oh, they're going to have duty free on Swoop? I thought they're just flying domestic?"
Then I realized they were talking about a different kind of "duty." Here's how they describe this initiative:
Our newest in-flight feature that gives you even more freedom and lower prices, we are introducing Duty Not Free™. For travellers who just want a seat and nothing butt, you now have the freedom to pinch more than pennies. No more paying for the bathroom break you don't take. While other airlines build average bathroom time into your base fare, it's time you only pay for the potty time you need, and we can pass even more savings onto you. Hurry though, once inside every minute is another dollar down the drain.

When nature calls, our on-board lavatories offer limitless options, all with the tap of your credit card. You will also be introduced to our patent pending toilet paper dispenser for only 25¢ per square, or BYOTP to save even more. Terms and conditions below.
Here are the terms:
Porta Loos, travel toilets and other personal purging devices are not permitted on board. Maximum toilet time of 30 minutes per session. The following services and upgrades are available for an additional charge. Upgrade to Swooperply toilet paper made especially for tender tushies. Prevent embarrassing odours with our selection of Swoop Poop sprays for $1 per spritz. A pay bidet may be available on certain flights. Penalties for not washing your hands always apply.
Here's the video:
To hopefully drum up some business from this, Swoop is offering 10% off base fares booked by April 3, using promotion code BYOTP. Generously, they're even comping the first visit to the loo. 😉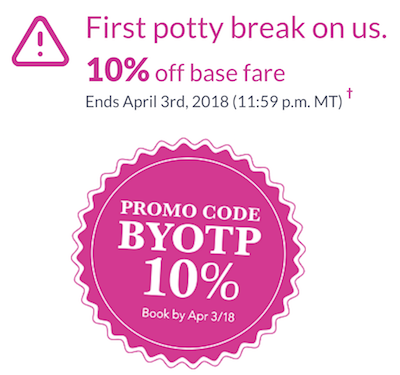 Well played, Swoop and WestJet!