After I posted about my disappointing experience in the Concorde Room I got up to leave, only to realize that seated right next to me all along was Susan Boyle. Susan "I dreamed a dream" Boyle. I nearly fainted, so sat right back down even though I was running late for my flight. She was wearing pearls the size of tennis balls, and made Flavor Flav look like he was modest. She did seem very nice, though…
Below is the best picture I could snap (partly because I was shaking like a dog when they know they're going to the vet).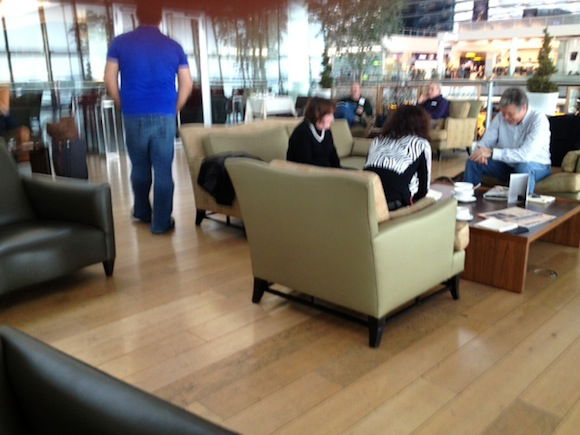 I'd be curious to hear what you guys think. If you see someone famous in the lounge, do you just let them have their privacy, or do you think it's appropriate to tell them they're awesome and/or ask for a picture with them?
After catching my breath for a moment, I headed to the "B" satellite, where my flight was departing from. I went to the "Fast Track" lane, where the agent scanned my boarding pass and gasped, followed by a loud sigh. "Tssssssh, I'm sorry, I'm afraid there's a slight flood in the first class cabin so I'm going to have to ask you to have a seat over there and I'll call you as soon as I have the authority to do so."
Flooding in the cabin? What the…?
Mind you, the area they had me sit was also where they did the "secondary" screening, which roughly translated to every minority passenger being pulled over for a "random" additional screening.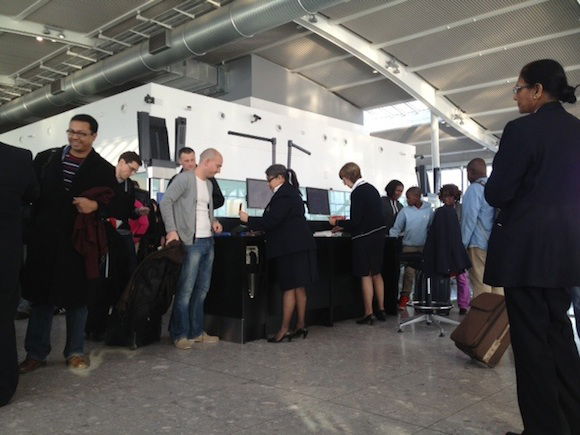 After about 15 minutes the agent was apparently given the "authority" to continue boarding, so on we went. I was picturing some water-sucking vacuum to be at work in the first class cabin, though it was completely dry, as apparently there was just a small problem with the lav.
The crew was spectacular and I'll have lots more details on that with the trip report.
There are just two other things to note for now. First, when the Customer Service Director (CSD) came by my seat to welcome me aboard he looked at his iPad and said "thanks so much for your constant business to British Airways, your retention is very good." My retention…?
Second, and more exciting, was that we had a go around in Seattle. The cloud ceiling was extremely low, and below is a picture from when we were maybe 1,000 feet above the ground.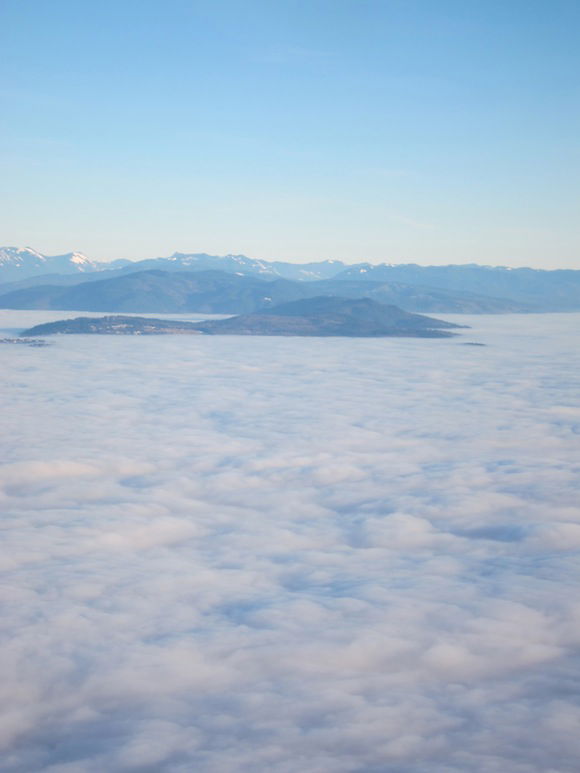 They couldn't see the runway, apparently, so they executed a go around and we continued a fairly long pattern back to Seattle.
Visibility was much of the same the second time around, though they managed to break out of the clouds just in time I guess.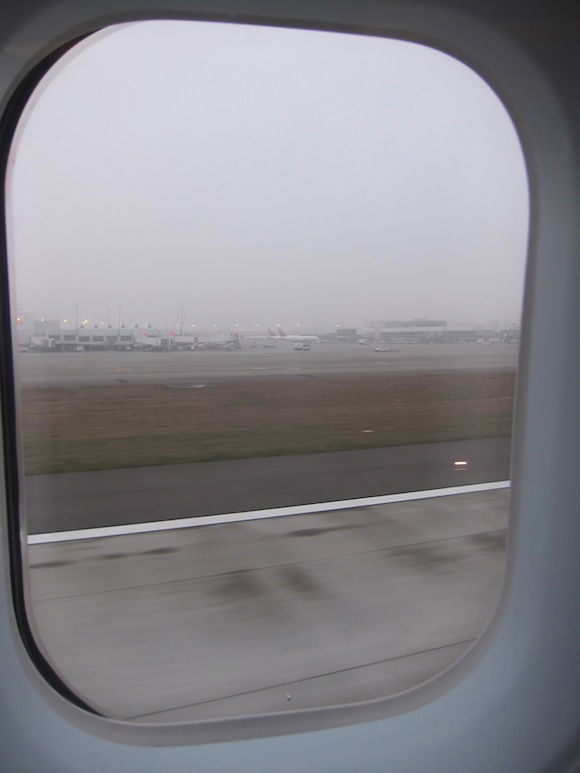 Secretly I was quite hoping for a diversion!
Anyway, on the whole a nice flight, though I'll stick to my belief that British Airways first class is the world's best business class product.