There's no denying that I'm getting old. I may only be in my mid-20s, but the number of "butt-in-seat" miles I've flown suggests otherwise. I've flown well over four million miles, and there are some things I just won't do to myself anymore, which I would have done without thinking about twice a decade ago.
For example I don't take domestic redeyes anymore, and I don't do super-long layovers between longhaul flights without getting a day room.
As I've mentioned a countless number of times before, I'm soon headed to the Maldives, and decided to fly back on Cathay Pacific via Hong Kong in business class.
It's tough to beat the $1,460 business class fare on Cathay Pacific via Hong Kong.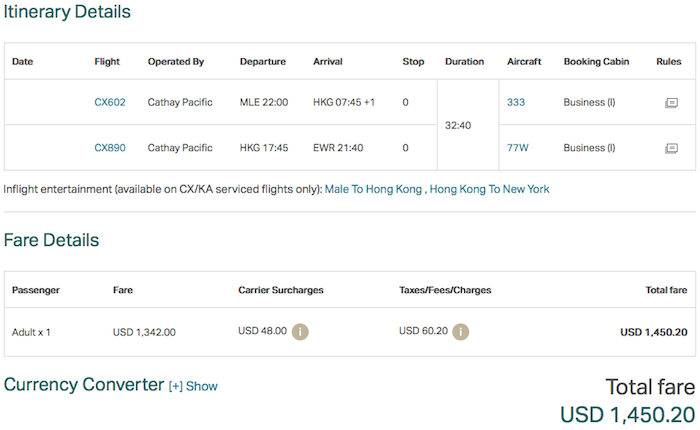 But as you can see, it does involve a 10 hour layover in Hong Kong. Back when I was a young whipper-snapper I would have just visited every lounge during that time and had Diet Coke with lime and food all day, though nowadays I can't do that quite as easily.
Also, after being on vacation for a week I'm not really interested in sightseeing for the day in Hong Kong, since I'll have work to catch up on and will likely be tired… not to mention I'm very familiar with Hong Kong already.
So I instead looked at options for transit hotels. The Regal Airport Hotel Hong Kong is connected to the terminal and sells day rooms. When it comes to day rooms with short layovers, I far prefer a hotel that's connected to the airport and doesn't require a shuttle bus.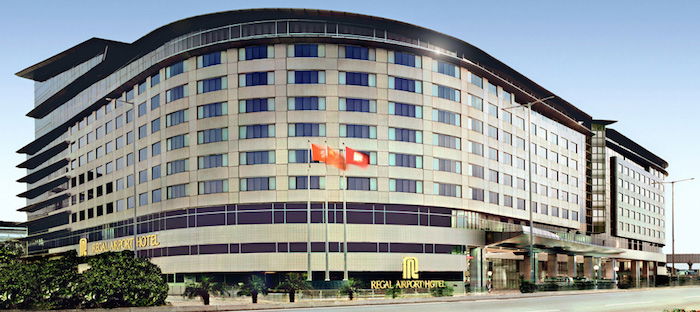 Rates are ~1,150HKD (~$150) for a 10 hour block during the day. While that's not a bargain, it's what I would expect to pay in a city like Hong Kong.
But then I looked at the rate description, which indicated that the day room included a complimentary 55 minute body massage in their spa.

The day room rate seems to be the same for most days I checked, and it always seems to include that 55 minute massage. That's a pretty cool hidden "perk," since it's not something they're actively promoting on their website.
Realistically with a 10 hour layover I'll be spending seven hours at the hotel at most. Being able to go to the gym, get a massage, nap for a few hours, and get some work done in a non-airport environment is something I value at a lot more than the room cost.
Bottom line
Given that the ~55 minute massage goes for close to $100 at retail, that's quite a value. In the future I might even consider booking a day room on even shorter layovers, factoring in the value of the massage.
I love finding hidden "values" like this.
What's your threshold for getting a day room during a long layover?