Several months ago, Minneapolis-based Sun Country Airlines announced that they'd transform into an ultra low cost carrier. For years the airline has been surprisingly full service, offering free carry-ons, a competitively priced first class, and more. However, clearly they haven't been able to command much of a revenue premium for their superior onboard product.
The airline hired a former Allegiant Air executive as their CEO, and it's clear they're now trying to align themselves more with Allegiant, Frontier, Spirit, etc. With their new business plan, Sun Country will:
Adjust their route network so that they're no longer just operating flights to & from Minneapolis, but rather are operating more point-to-point flights
Retire their 737-700s, and instead focus on only having 737-800s in their fleet
Maintain first class, but make the cabin smaller, and reduce the services offered, to make it similar to Spirit's Big Front Seat
Reconfigure 737-800s with 180 seats, rather than the current 162 seats
It looks like the airline is now cutting their services in another way. Up until now, the airline offered an elite program. Specifically, the status was called Ufly Rewards Elite, and could be earned by accruing 50,000 points in a calendar year. Members earn 10 points per dollar spent, so really that's the equivalent of spending $5,000 per year with Sun Country, which isn't insignificant. With this status you received the following:
Priority check-in at ticket counter
Priority screening, where available
Priority boarding
Waived fees on the first two bags
Seat selection without a fee
Complimentary First Class upgrades (space available; granted at airport gate only)
Waived change fees
Complimentary in-flight digEplayer in Coach Class (on select flights)
Complimentary beverage and snack item in Coach Class
Dedicated toll-free ELITE member support line
I guess this shouldn't come as much of a surprise, but as of March 1, 2018, Sun Country is discontinuing their Ufly Rewards Elite status. The airline will continue to award passengers points, though there won't be any corresponding elite recognition for frequent flyers.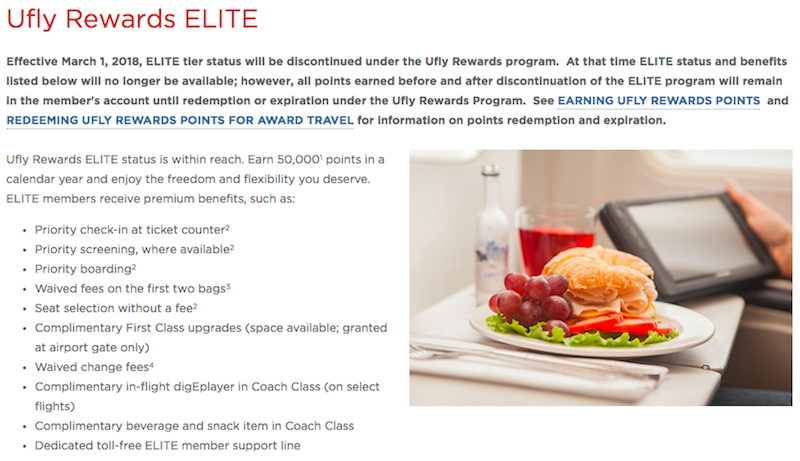 Why would Sun Country eliminate their elite program? Because as they transform into an ultra low cost carrier it's not feasable to offer these things. In other words, you can't have people booking $30 fares and then getting two free checked bags, priority boarding, free snacks and drinks, seat selection without a fee, seat upgrades, etc. That's just not how the unbundled ultra low cost carrier business model works.
Furthermore, as they make this transformation, chances are that they won't offer many of these services. For example, I doubt they'll maintain priority check-in, priority boarding, priority screening, digEplayers, etc.
Reader Zach reports that Sun Country is matching the points earned in 2017 as a parting gift for the program being discontinued, which is at least something…