There's no doubt that a lot has changed in the airline industry over the past several years, especially as it pertains to award availability. With airlines actually making money flying full planes with good yields, we've continually seen less and less award space.
This is especially evident with American Airlines. Going back a few years, they were by far the best airline when it comes to releasing award space on their own flights. Whether you were looking for economy, business, or first class, they released space to most of their destinations, including Europe, Latin America, and Asia.
As I wrote about last October, AAdvantage award space has taken a sharp turn for the worse, especially for travel to Europe. At the time, there was a single date in all of 2014 with first or business class award availability at the saver level. I get that airlines are less incentivized than ever before to release award space, but that's kind of extreme. At the same time, I can't totally blame them for not releasing much award space in advance, given that those seats could otherwise be sold.
Here's what I'm less forgiving of, however. I was trying to get from London to New York today, and didn't find much award space across the board.
Then I looked at the actual flight loads on American:
AA105 was "F7," meaning at least seven first class seats were still for sale (that's the most number of seats they'll display)
AA107 was "F7," meaning at least seven first class seats were still for sale (that's the most number of seats they'll display)

This route is operated by 777-300ERs with just eight first class seats.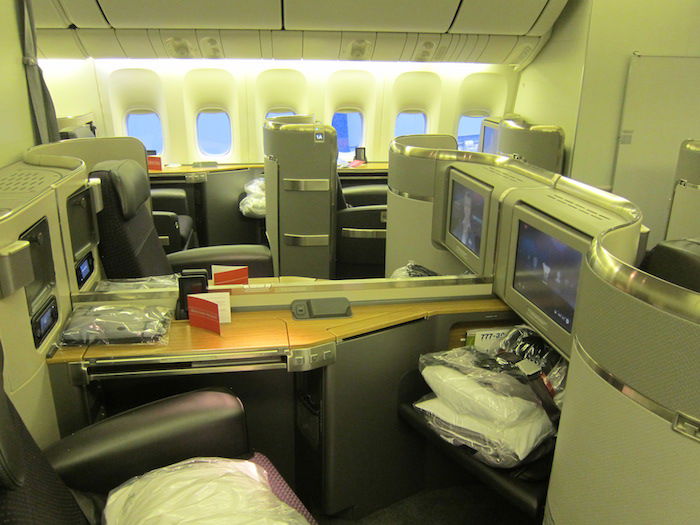 American 777-300ER first class cabin
Then I had a look at the seatmaps for both flights, and not a single first class seat was taken on either flight: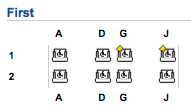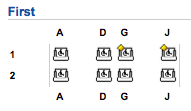 Despite that, there wasn't a single saver level first class award seat on either flight. They would sell you a seat for 175,000 miles one-way, though.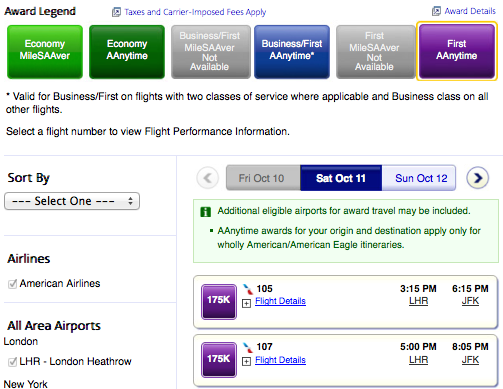 To me, this scenario is what I really take issue with. Unlike others, I'm fine with airlines not releasing award space in advance. I mean, of course I'd like them to, but I get from their perspective there's a massive opportunity cost to making seats available when they could otherwise be sold.
But what I find unjustifiable is not making award seats available 12 hours before departure when the cabin is otherwise completely empty. That's the biggest slap in the face to frequent flyers, in my opinion.
What has been your experience with American's award space for travel on their own flights lately?