It sure has been an exciting week for Starwood. Last Monday we learned about an interesting development regarding the Marriott and Starwood merger, where a Chinese investor group submitted an offer to acquire all outstanding shares of Starwood common stock for $76 per share.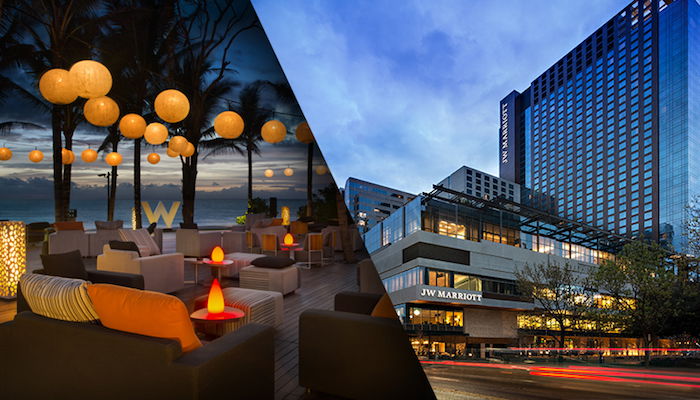 This represented a better value than Marriott's offer, consisting of a combination of cash and stock. Under that deal, Starwood shareholders would receive 0.92 Marriott shares plus $2 cash for each Starwood share.
Then this past Friday we learned that Starwood reached a deal to be acquired by Chinese investor group Anbang, for $78 per share in cash. That was a huge offer, and about 20% better than what Marriott was offering.
Marriott had several days to respond with an offer, and said from the beginning they were planning on making a counter-bid. That being said, I had a hard time imagining they'd be able to top Anbang's bid. Marriott is publicly traded and has shareholders, while it seemed like the Chinese investor group was more willing to overpay, as a means of diversifying their assets.
Well, the Starwood and Marriott merger is back on, as Marriott has just increased their offer to an estimated $13.6 billion.
Under the new offer, Starwood shareholders will receive $21 in cash plus 0.8 shares of Marriott stock for each Starwood share. Per MarketWatch, this deal values Starwood shares at $79.54, according to Friday's closing prices. Under the deal, Starwood shareholders would own about 34% of Marriott.
But still, that share price seems rather optimistic, since Friday's closing prices are also the highest Marriott's stock has been in a month.
Even using that high closing price, Marriott's $73.16 stock price would yield $78.53 per Starwood share. To me it seems like $78 all cash would be a better offer, but then again, I'm sure the board has their reasons. 😉
In theory it's possible that Marriott's stock will continue to rise before the deal closes, though more realistically it seems like the stock price will go down, given that Marriott is clearly overpaying for Starwood here. I'd be very surprised if Starwood shareholders walk away with more than $78 per share when this deal closes.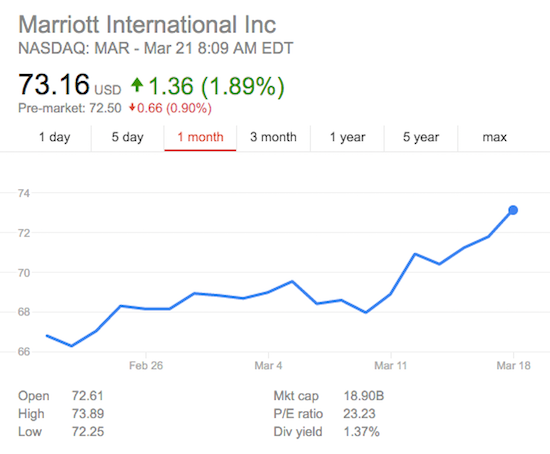 I assume Anbang can still counter and come up with a better offer, and if they can, I wouldn't be surprised if they do. Their goal seems to be to diversify assets, even if they can't as such do much to improve Starwood's profitability.
Are you surprised to see Marriott come back with such a strong offer?