There are few things in the frequent flyer world as controversial as luggage. Everyone has a preferred brand and style, so whenever I'm asked for a recommendation I'm always a bit reticent.
Especially because I am basically a suitcase pariah — I use a spinner suitcase, which, depending on who you ask, is an even worse crime than checking luggage on domestic flights or using a Capital One card.
But I do fly a couple hundred thousand miles a year with my spinner suitcase, and it works very well for me.
And depending on your circumstances, a spinner might work well for you too.
Why I use a spinner suitcase
I had originally been drawn to spinner luggage due to a rotator cuff injury that left me unable to pull anything with my dominant arm. Pulling a two-wheeled suitcase with my weak arm was a disaster, so I needed something I could push or walk alongside.
Being able to push the bag and use natural momentum has been great for long-term ergonomics as well, but it's definitely an adjustment. You can't use a spinner like a two-wheeled suitcase and expect it to end well.
Spinners are also much more maneuverable in general.
I like to take public transit whenever possible, and being able to flick my wrist and slide a bag through a ticket barrier or along a narrow aisle is fantastic. Pushing the toe of my boot under the bag keeps it from rolling all over the place on a crowded train, and I can easily slide it into corners as needed.
And if you've ever tried to manage a two-wheeled suitcase in a crowded ladies' room, you'll instantly appreciate the flexibility the 360-degree swivel of a good spinner brings.
Spinner suitcases have some (major) negatives
Ben uses a Tumi Alpha International 20″ as his carry on, and is on record as hating spinner suitcases in general. He flies at least 40% more than everyone I do, and I'm not going to argue with his expertise — a two-wheeled suitcase is generally stronger and more durable, and has slightly more capacity for the size than a spinner.
I'm not evangelical when it comes to luggage, other than feeling everyone should find a solution that works well for them, and there are definitely some reasons why a spinner might not work for you.
Spinners suck at carpet
I was reminded of this as I was schlepping up a carpeted ramp at Phoenix Sky Harbor yesterday. A good spinner has less-obtrusive (and thus smaller) wheels, and they are such a drag on carpet.
So if you spend a lot of time transiting Singapore Changi, or in large conference hotels, a spinner will slow you down.
You can't go as fast in general with a spinner
A spinner works best when you're going at your natural walking pace, with the bag alongside you. You'll never be able to go as fast as you would pulling a two-wheeled bag at an angle, particularly on bumpy surfaces.
But, it's also easier on your back, so there are tradeoffs.
Other people will complain about your bag
This might just be my life, so YMMV.
My husband and Ben both grumble endlessly whenever they interact with my suitcase (which, the entire reason I have a spinner is so I can deal with my own luggage, so it's not like I'm asking them for help — they're just gentlemen, except for the complaining), and take every opportunity to remind me that spinners are the worst thing ever.
But that evens out when I'm able to twist my bag through an escalator or moving sidewalk barrier and they have to stop and adjust. Again, suitcases are a personal choice, and I don't mind that they don't like mine.
My spinner suitcase is awesome
The main perk of a spinner versus a two-wheeled suitcase is maneuverability, so if you're considering a spinner, get the lightest bag possible.
Especially for a carry-on.
Any extra weight means your suitcase is more likely to take itself for a walk and be generally cumbersome. I love Briggs & Riley luggage for checked baggage, but would never consider their spinner carry-on because the darn thing weighs over 11 pounds empty. You're going to be sore schlepping that thing around.
Personally, I have a Travelpro Maxlite Expandable Spinner. It's a great bag, especially for the price, and weighs in at under six pounds. I bought a Maxlite 2 in 2011, have flown about 1.5 million miles since, and the bag is still in great shape (granted, I think it's only been checked three times).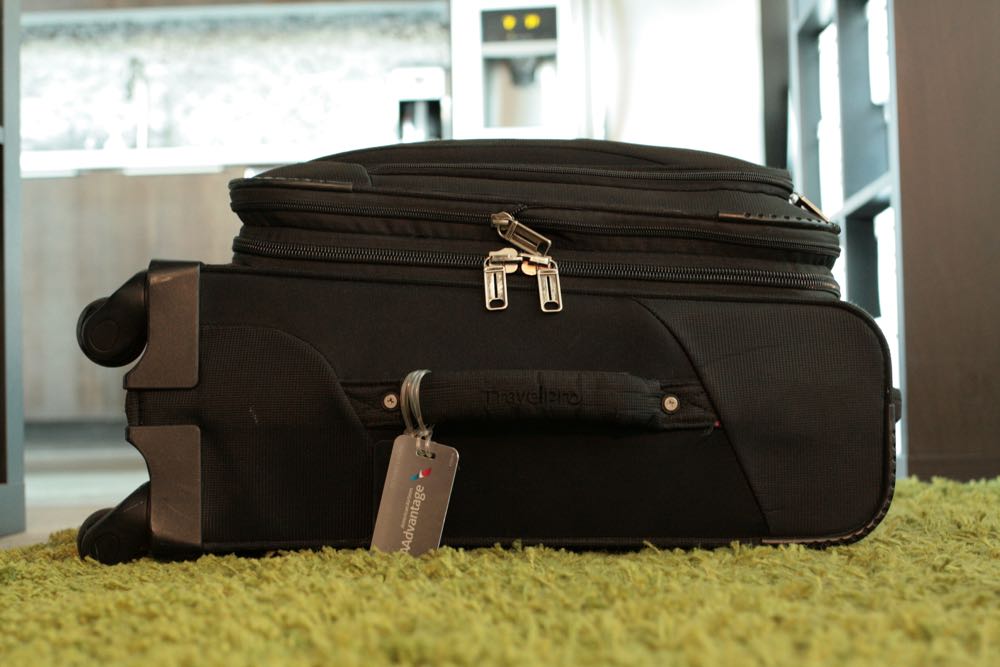 Zippers, stitching, framework — all great despite the heavy use
Because the Maxlite is smaller (at 21″ x 14″x 9″ it's within the allowed size for the major U.S. carriers, even factoring in the wheels), I've never had an issue with sizers or overhead bins.
When expanded, my Travelpro doesn't quite fit in the luggage storage drawers of the Etihad Apartments, but that's a very specific use-case, and it's not like they made me check my bag — the drawer just didn't close.
In addition to being lightweight, the Travelpro Maxlite has multiple stop-positions for the handle. This means I can set the handle at the natural height for my hand, and can walk my suitcase with my arm at my side.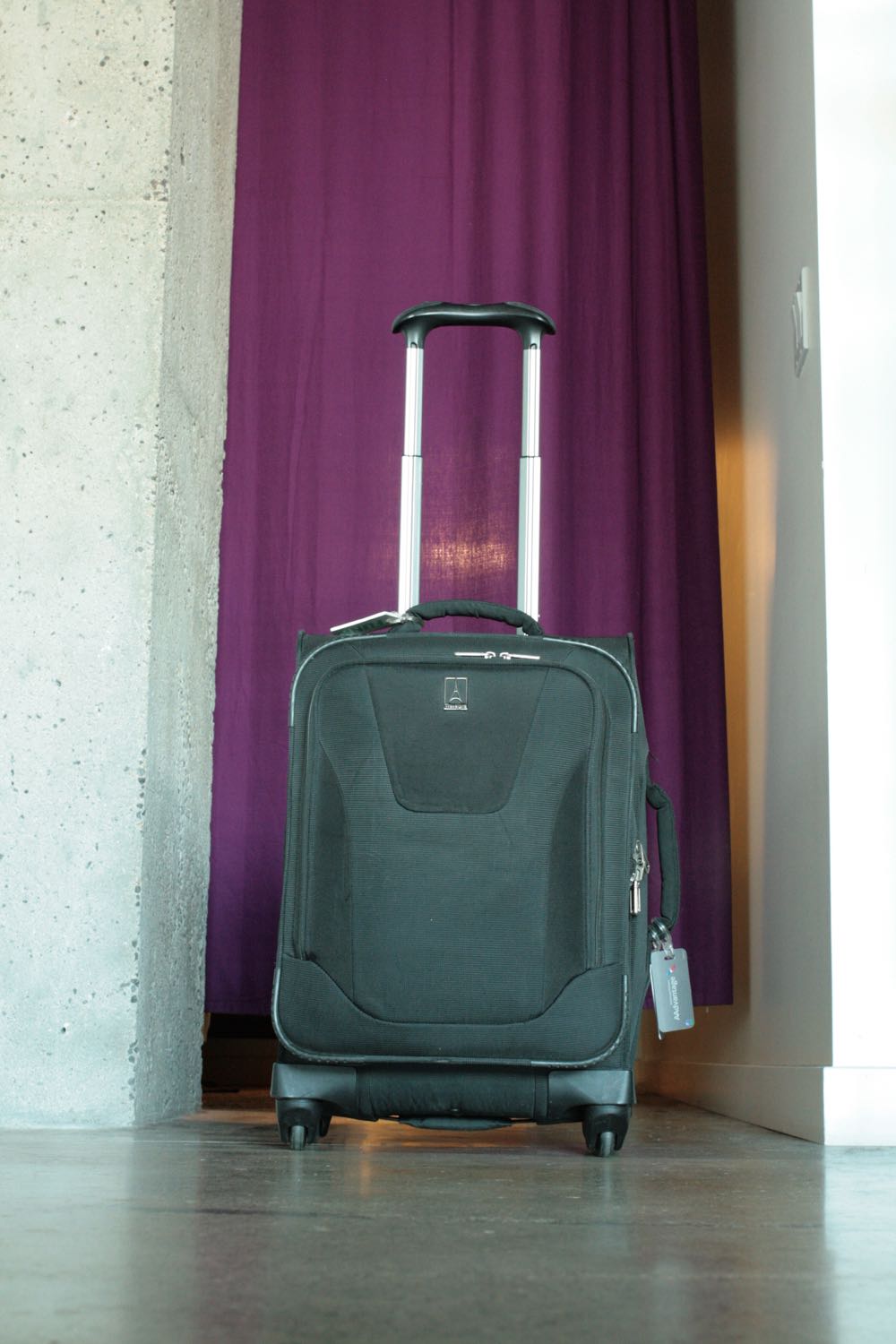 If your spinner is the wrong height for you, it's harder to control
The biggest concern with any spinner is the wheels — you have double the chances of things going wrong with four wheels, and many manufacturers mount the wheels almost as an afterthought.
With the Travelpro Maxlite, the wheels are inset a bit, and well-protected.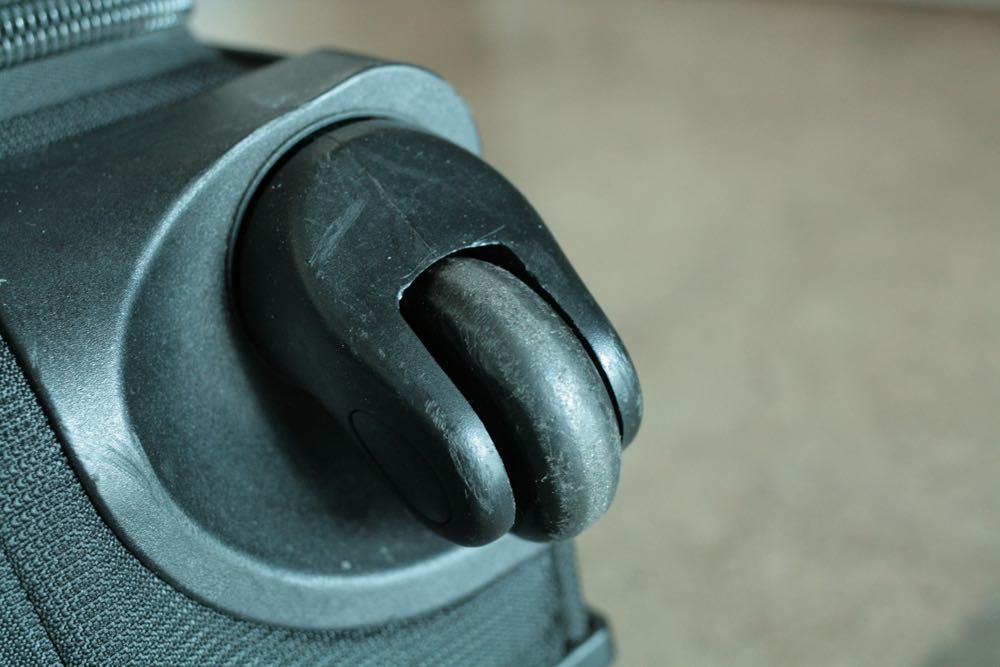 These wheels have seen more than their fair share of cobblestone alleys
I've put the wheels in some pretty demanding situations over the years, and while they're getting a little beaten-up, I haven't had any problems with the wheels in general.
Bottom line
I'm not going to advocate that everyone switch to a spinner bag for their carry-on. In fact, most road warriors are going to be better off with a traditional two-wheeled bag.
But for some people, and some situations, spinner luggage can be the way to go. Especially if you find the right suitcase.
Where do you fall in the spinner vs. two-wheeled debate? Any bag recommendations?