Like all aspects of the travel industry, ski resorts were impacted by COVID-19 in an unprecedented way. Ski resorts across North America were shuttered mid-March, causing an abrupt end to the popular spring season. A mass exodus of seasonal employees quickly followed, leaving a skeleton staff to process hotel, equipment, and lesson refunds.
And some of us are still (patiently) waiting for those refunds to process.
But the big question that has loomed over the industry has been around season pass refunds, leaving PR and marketing executives to make a decision that I don't envy. On the one hand, the season was, by some metrics, almost over. On the other hand, large multi-resort season passes have made it financially viable for people to purchase a season pass dedicated largely to one or two trips.
With March being such a popular time to ski, there were likely plenty of pass holders who did not get their money's worth due to the early closures.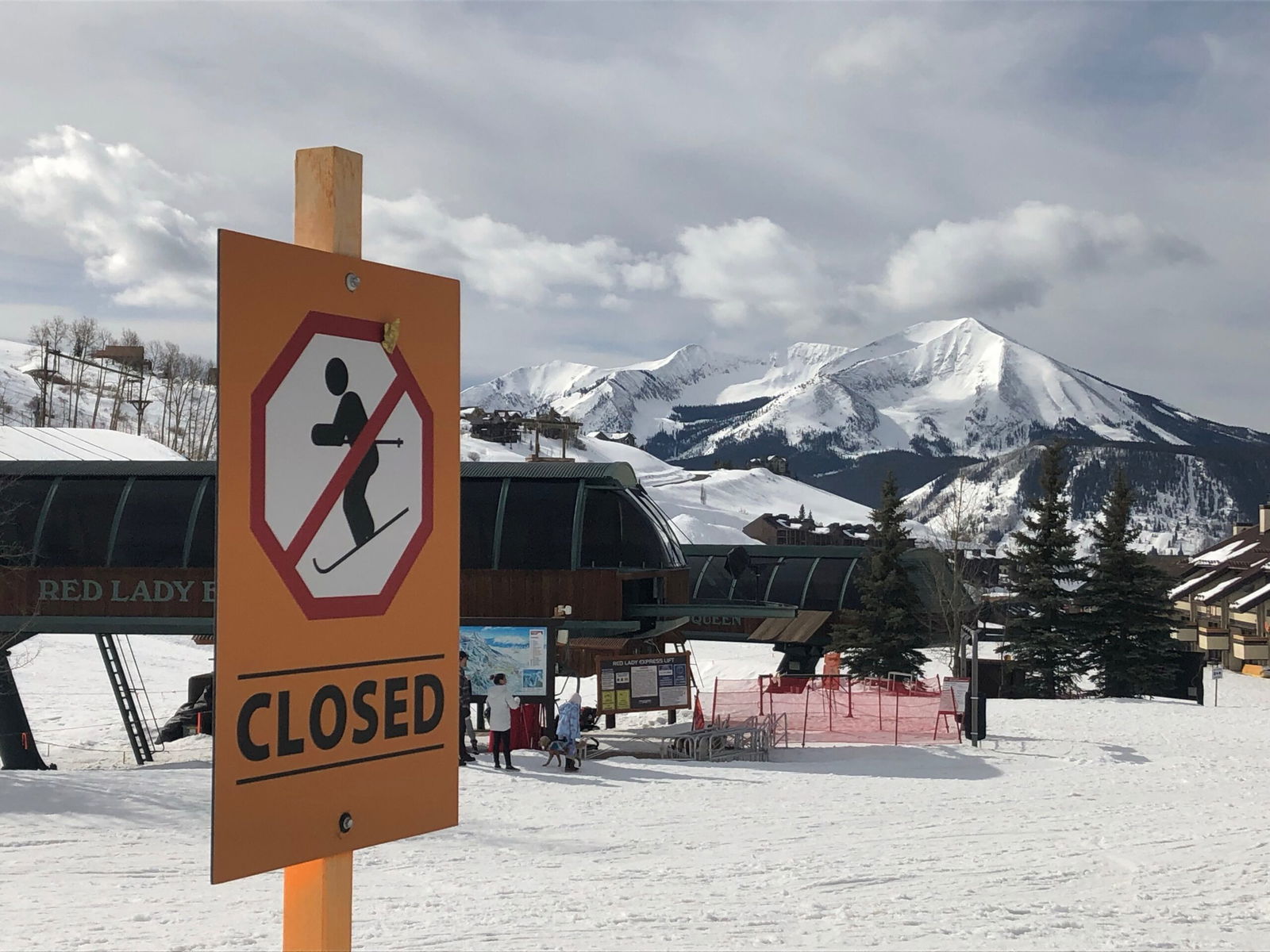 And with consumers uncertain about purchasing anything travel-related – much less a ski pass that can't be used until November at the earliest – now is not the time to make a PR gaffe.
Well, after weeks of waiting, Ikon Pass announced their season pass refund policies on April 14th (which is really more of an extended discount). Vail waited another ten days, finally announcing their 2019/2020 season pass policy on April 27th.
So, what do the changes look like?
Ikon Pass 2019/2020 Season Pass Policy
On April 14th, Ikon pass announced that they would address the 2019/2020 season by doubling the renewal discount for existing pass holders as a way "to provide some value back to you for the shortened 19/20 winter season." They also extended the auto-renewal deadline to May 27th.
They added to this policy on April 17th, by adding something called "Adventure Assurance," which essentially gives the pass holder the option to defer their 2020/2021 season pass to the 2021/2022 season for any reason whatsoever. The decision needs to be made between September 10th and December 10th, and the policy reads as follows:
Regardless of when you purchase your 20/21 Ikon Pass, you can choose to defer the value of your 20/21 Ikon Pass as a credit for any single 21/22 Ikon Pass for any reason.

There is no fee to defer your pass to winter 21/22
Contact us between September 10 and December 10, 2020 to defer your pass
More information on how to defer your pass will be available in the coming months
Epic Pass 2019-2020 Season Pass Policy
Epic Pass, the season pass for Vail Resorts, announced their much-awaited 2019-2020 season pass policy on April 27th. The long and short of it is this: all 2019-2020 season pass holders will receive a credit of anywhere between 20% and 80% of their current pass value, to use toward next season's pass.
The credit is based on how many days you skied this season, and all pass holders will receive a personalized email on May 13th detailing exactly how to use the pass credit. If you're curious about the math, they've also provided this handy image: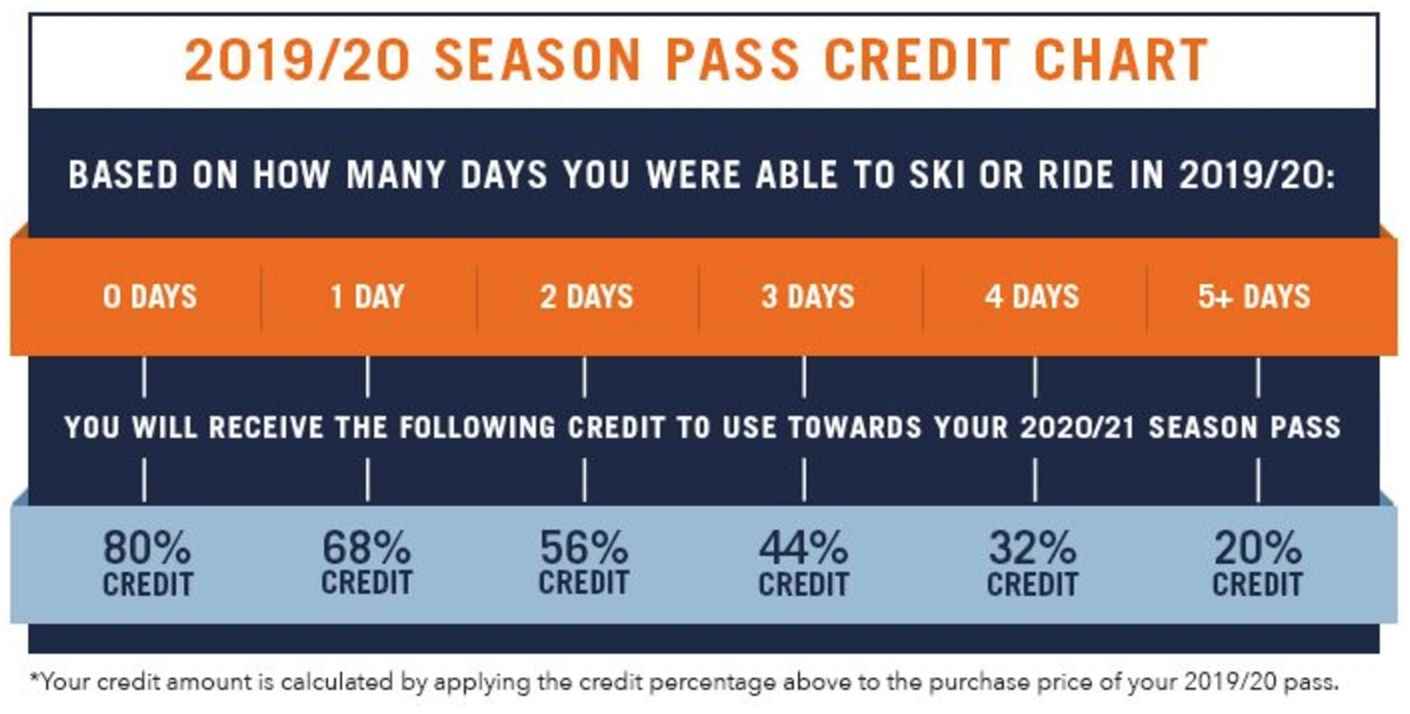 For those who purchased any kind of multi-pack pass that includes a specific number of days, they will receive a credit as well, worth up to 80% of the purchase price and based on the number of days used.
Credits can be used up until Labor Day to purchase 2020-2021 season passes.
Additionally, Epic Pass is including their pass insurance, known as Epic Coverage, for free with all 2020-2021 season passes. Refunds (full or prorated) will be offered for everything from job loss to injury to pandemics to natural disasters. The coverage, of course, is designed to address peoples' concerns around making the purchase during a time of uncertainty.
What to make of it all
If you purchased an Ikon Pass with a spring break trip in mind, I'm sorry. While a number of pass holders who got their days in January and February are likely happy with the additional discount and extended renewal date, the policy hardly even addresses the previous season's early closure.
The bigger issue here, I think, is communication. On close examination, the policies for skiers who skied five days or more are almost identical. The full Epic Pass cost $939 last year, and they normally don't offer renewal discounts at all. Assuming you skied 5+ days on Epic, that 20% discount amounts to $187.80. Compared to the $200 renewal discount for Ikon Pass – up $100 from other years, the difference is little more than negligible.
But the difference is for that percentage of customers who planned to use their season passes for spring break trips. While it's not perfect, an 80% credit on a pass that may have cost over $900 is a far cry from a $100 discount. I don't have enough data about their customer base to know what percentage of people that applies to, but I have to imagine that most people who choose to purchase a season pass have skied five days by mid-March.
Clearly the numbers checked out, or Vail wouldn't have implemented that policy – and it's a stark difference from what Ikon chose to do. The 2020-2021 insurance policy, and the auto-renewal extension to Labor Day Weekend are the icing on the cake. Even the language of calling something a credit versus a discount makes a big difference in customer perception.
Ultimately, I'm not surprised. Vail has chosen to be thorough rather than quick in their communications regarding the COVID-19 closures. They've addressed specific issues, provided comprehensive policy updates and set up dedicated refund portals, all the while reassuring their customers that everyone would be taken care of.
Meanwhile, Ikon has released short, sweeping statements, largely deferring to their individual resorts and offering little other information. Heck, they don't even have a link to a dedicated COVID-19 page on the Ikon Pass home page.
No policy is perfect, and yes, there are fringe groups who have already dedicated Facebook pages to class-action suits against Epic Pass. But for the grand majority of consumers, the Epic Pass policy is the clear winner here.
Bottom line
While multi-resort discounted season passes have largely proved to be customer-friendly, this process has exposed the challenges with the large corporate structure. Smaller, independent resorts have been able to make decisions quicker and earlier, without the multitude of concerns that publicly-traded companies have had to face.
Personally, I'm surprised that Vail extended their credits as far as they did, and was expecting something more akin to what Ikon Pass offered. No one can control the pandemic, and everyone is doing the best they can to mitigate their losses while trying to remain customer friendly. It absolutely impacts my decision for next season, although I recognize that everyone's situation is different.
Ultimately though, there's zero reason to renew a season pass before the deadline – May 27th for Ikon Pass, and Labor Day for Epic Pass/Vail. While we likely won't know yet what next season holds, we'll have far more information then than we do now.
And hopefully I'll have my hotel refund by then.
What do you make of the 2019-2020 season pass policies?