As we've known since early September, today Singapore Airlines had a media launch event for their new A380. As part of this, Singapore Airlines is unveiling new Suites, business, premium economy, and economy products. While there have been leaks over the past few days about Singapore's new A380 Suites, we haven't seen anything about their new business class.
Earlier I shared my thoughts about the new Suites product, and in this post I wanted to share my thoughts on the new business class product. As a reminder, here's the configuration for Singapore's new A380s:
And here's a short teaser video Singapore Airlines put out about their new Suites and business class:
First let's look at what Singapore Airlines says about the new business class, and then I'll share my thoughts at the end:
Singapore's new A380 Business Class details
There's no reason to skimp on the details here, given how long we've been waiting for this. Here's how Singapore Airlines describes their new business class:
Designed by JPA Design of the UK and manufactured for Singapore Airlines by JAMCO Corporation of Japan, the interior of the Business Class cabin showcases a modern yet organic colour scheme featuring a selection of soothing and classy leather and fabrics, in addition to lightweight carbon composite materials.

Measuring 25 inches in width, the Business Class seat, which has two side wings for better back support, reclines directly into a comfortable full-flat bed (78 inches). Customers may also stretch out fully in a 'sun-deck' position to watch movies on the 18-inch high definition touch-screen monitor. The Business Class seat is upholstered by Poltrona Frau as well.

A larger back shell on every seat creates a cocoon-like feel for more privacy while the centre divider can be fully lowered to form double beds, making the two centre seats an ideal choice for customers such as families travelling together.

A unique feature of the new Business Class seat is that it has a carbon fibre composite shell structure, as compared to conventional aircraft seats which use metal as the primary support structure. This thinner base structure allows for better optimisation of the seat and creates more under-seat stowage space to accommodate a full-sized cabin bag and laptop bag or handbag.

Seats in the Business Class cabin are arranged in a forward-facing, four-abreast (1-2-1) configuration that offers all customers direct access to the aisle.

Other features include a business panel equipped with USB ports and in-seat power, reading lights with adjustable brightness level, mood lighting, enlarged dining table designed for flexibility in dining positions, as well as stowage space for personal amenities with a thoughtful design that puts everything within easy reach.
Singapore's new A380 Business Class soft product
Beyond the seat itself, here's what you can expect in terms of the A380 business class soft product:
The relaxed and contemporary setting in Business Class is enhanced by a stylish combination of padded bed sheets, blankets as well as a larger pillow. These soft furnishings provide a relaxed atmosphere on board, bringing greater comfort for customers as they work or unwind during the flight.

Business Class customers can look forward to a pampering treat, with a range of Penhaligon's washroom amenities available on board such as hand lotion, facial mist and fragrance.

In the Business Class cabin, customers can look forward to an even more refined service and dining experience with all meals served on Narumi-designed chinaware. Coupled with Singapore Airlines' world-class service, customers will enjoy a truly delightful experience as they wine and dine on board.
Singapore's new A380 Business Class pictures
Here are some pictures of Singapore's new A380 business class, including the single seats by the window, as well as the double seats in the center, which can be converted into a double bed: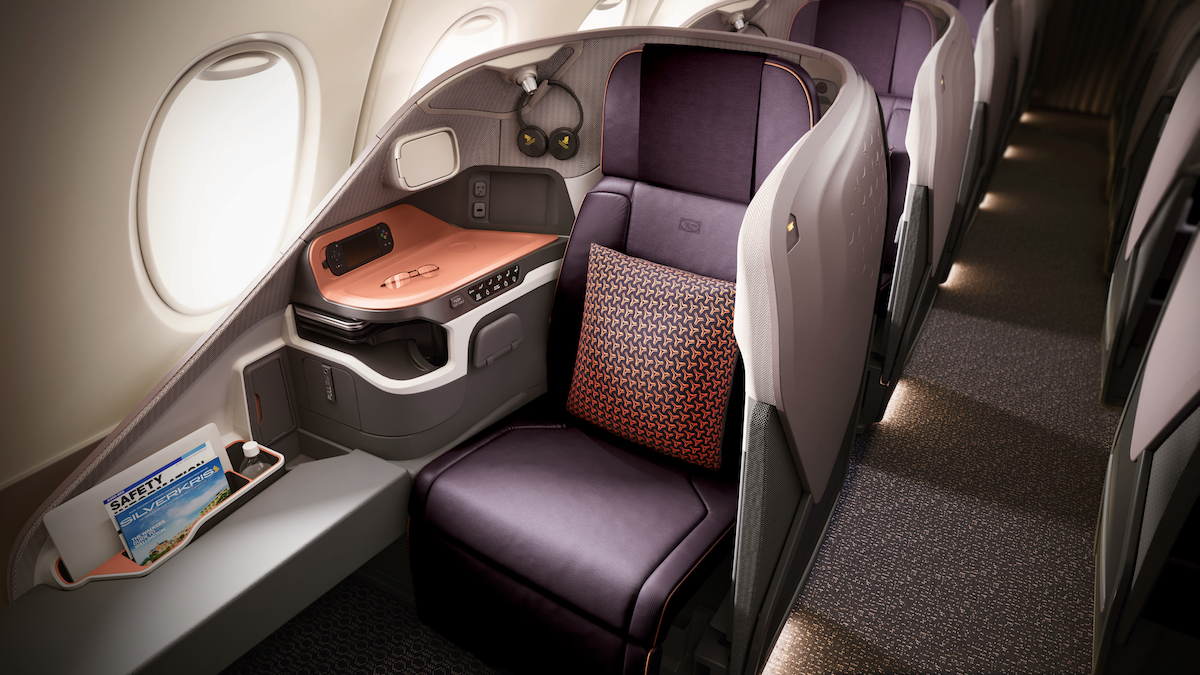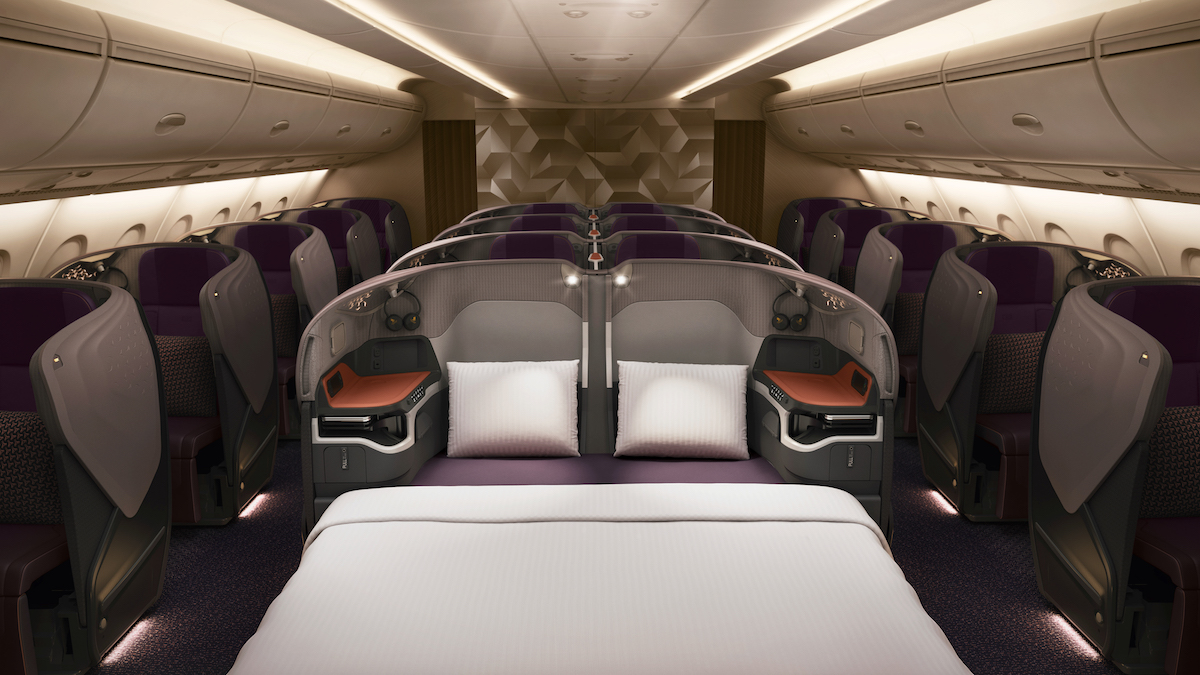 Which routes will have Singapore's new A380 Business class?
The first planes to get these new business class seats will be the five A380s that Singapore Airlines is taking delivery of over the next couple of years. The first route to get the Suites will be Singapore to Sydney on SQ221/232 as of December 18, 2017, and we have reason to believe that London Heathrow will be the next destination to get them.
On top of that, Singapore is reconfiguring their existing 14 A380s with this product, between late 2018 and 2020.
What do I make of the new Singapore Business Class?
While Singapore's new Suites will make just about anyone say "wow," their new business class is a different story. While I'll have to try these seats myself, I'm not terribly impressed on the surface.
We've seen Qatar Airways introduce Qsuites and Delta introduce their Delta One Suites, both of which feature doors, so I was fully expecting Singapore Airlines to introduce something that offers similar privacy.
Let me also note that I don't love Singapore Airlines' current business class seat. It looks impressive, but lacks in the comfort department:
You have to get up to turn the seat into a bed, as the back of the seat has to be flipped over
The bed is extremely hard
The area for your feet is at the side of the seat, meaning you have to sleep in a weird position to get comfortable
I'm a bit surprised that Singapore's new business class seems like more of an evolution of their current seat rather than a revolution. It's interesting to note that their new seat is significantly more dense than their old one — they're fitting 78 business class seats in the same space that was previously occupied by 66 seats. Apparently this is possible without compromising personal space due to the use of new carbon fiber materials.
The seat looks reasonably private, and at first glance I'm impressed by the placement of buttons, storage compartments, etc. The other awesome feature is that the two center seats can be turned into double beds.
However, what I find annoying is that the area for your feet is still only a small "hole" at the side of your seat, so you'll continue to have to sleep at a strange angle. I find this to be such a silly design, and I'm sad to see they're continuing with it. It's especially odd in the context of a double bed — you can sleep next to one another, but your bodies will have to be positioned in such a way that you can't really sleep together.
So this is sure to be an all around solid product. Singapore has incredible inflight service and catering, and flying them is always a treat. These seats look private, and the double bed concept is cool.
Maybe it's just that the competition has caught up, but it used to be that Singapore Airlines was the #1 innovator in the industry, and given that they've supposedly been working on this product for years, I was hoping they'd blow us away. To me this looks good, but not amazing.
What do you make of Singapore's new A380 business class?