Hello from Newark! I just flew Singapore Airlines' A350-900ULR service nonstop from Singapore, which had a flight time of 17hr15min. It's the longest flight in the world, and it launched just a couple of weeks ago.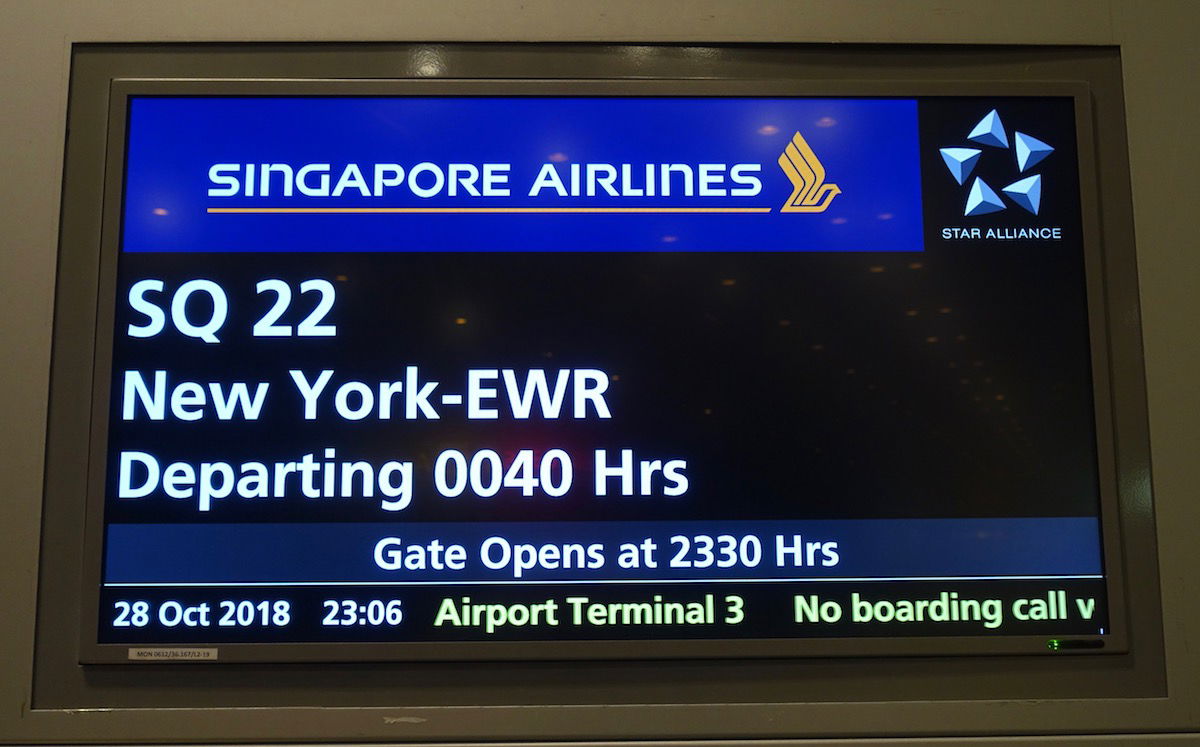 I have a lot of thoughts about this flight, and I'll be sharing them in a few different posts. In this post I wanted to address one specific issue — how tough it is to come up with a business class service procedure that makes sense. Let me explain.
Why it's tough to tailor service on Singapore to Newark
This flight departs Singapore at around 1AM local time, and lands in New York at around 6:30AM local time.
Put another way, Newark time the flight takes off at 1PM and lands at 6:30AM, and Singapore time the flight takes off at 1AM and lands at 6:30PM. So in general people have three ways they approach sleep on this flight:
Some people try to immediately adjust to US time, and that means staying up for the first half of the flight and sleeping for the second half of the flight
Some people succumb to exhaustion, and sleep for the first half of the flight, and then are awake for the second half of the flight
Some people find a happy medium and nap for a few hours after takeoff, and then nap for a few hours before landing
I decided to do some research while onboard. The plane has 67 business class seats. Four hours into the flight all but 10 people were asleep, while four hours before landing about half of the people were awake. So it's safe to say that most people weren't prioritizing adjusting to US time, or more accurately, couldn't overcome the hurdle of staying up through the night in a dark cabin.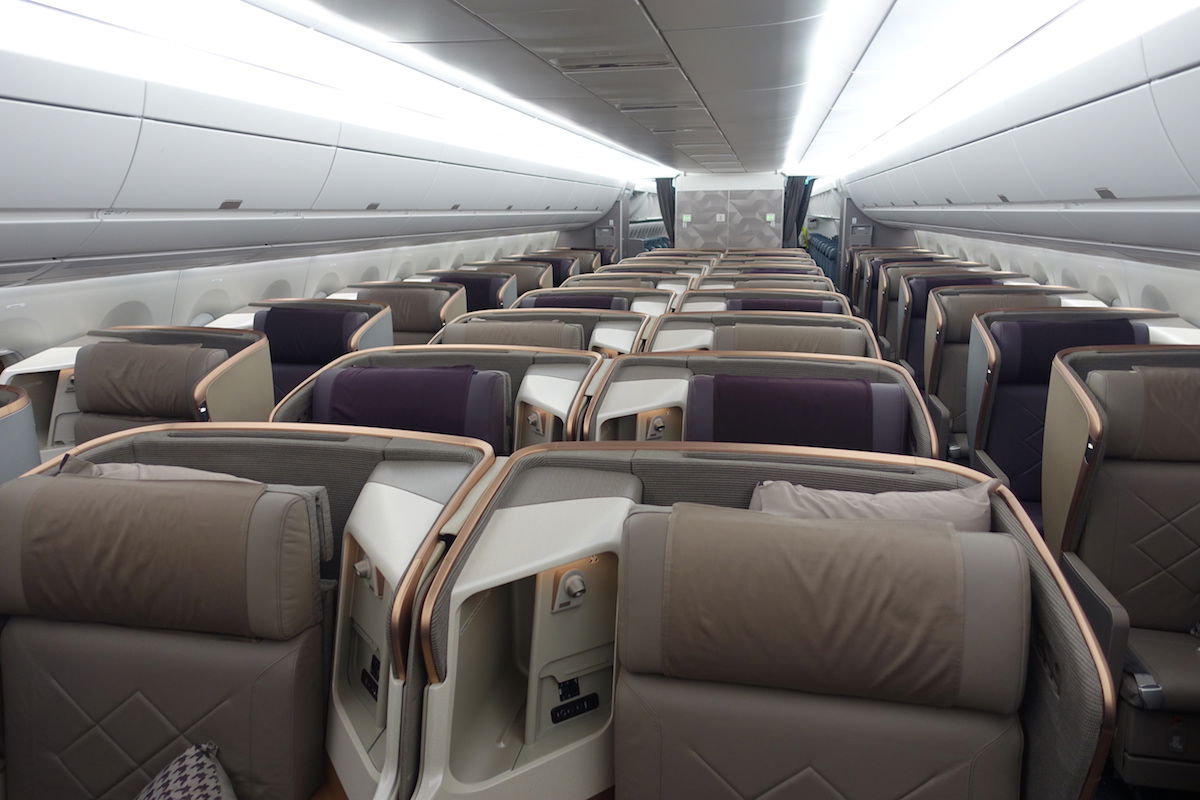 How do you develop a meal plan around that?
If you're not going to offer a complete dine on demand schedule, in general it would make sense to offer one meal at the beginning of the flight, one meal around the middle of the flight, and one meal at the end of the flight.
It makes sense that they service a supper-style meal after takeoff, but what about later in the flight? Do you serve breakfast on Singapore time (mid-flight) or New York time (before landing)? There's no right answer.
To me this means the only logical service protocol is to offer a full dine on demand service. On a flight this long, people should be able to eat what they want when they want.
The downside to dine on demand
This might come as a surprise, but I don't actually think a dine on demand system is necessarily best. It of course sounds great, but the problem with dine on demand is that it means that people are basically eating every minute of the flight.
That might not be a huge issue to some, but if you're a fairly light sleeper, it can make a huge difference. It greatly increases the noise and light in the cabin, and means the cabin always has a different odor. Personally I have a much easier time sleeping when the cabin is dark and most other people are sleeping. But of course that's not always realistic — I can't control when other people are hungry and tired.
Singapore Airlines' business class menu on this flight
Here's the menu for the flight, and I'll let you guys try to make sense of it: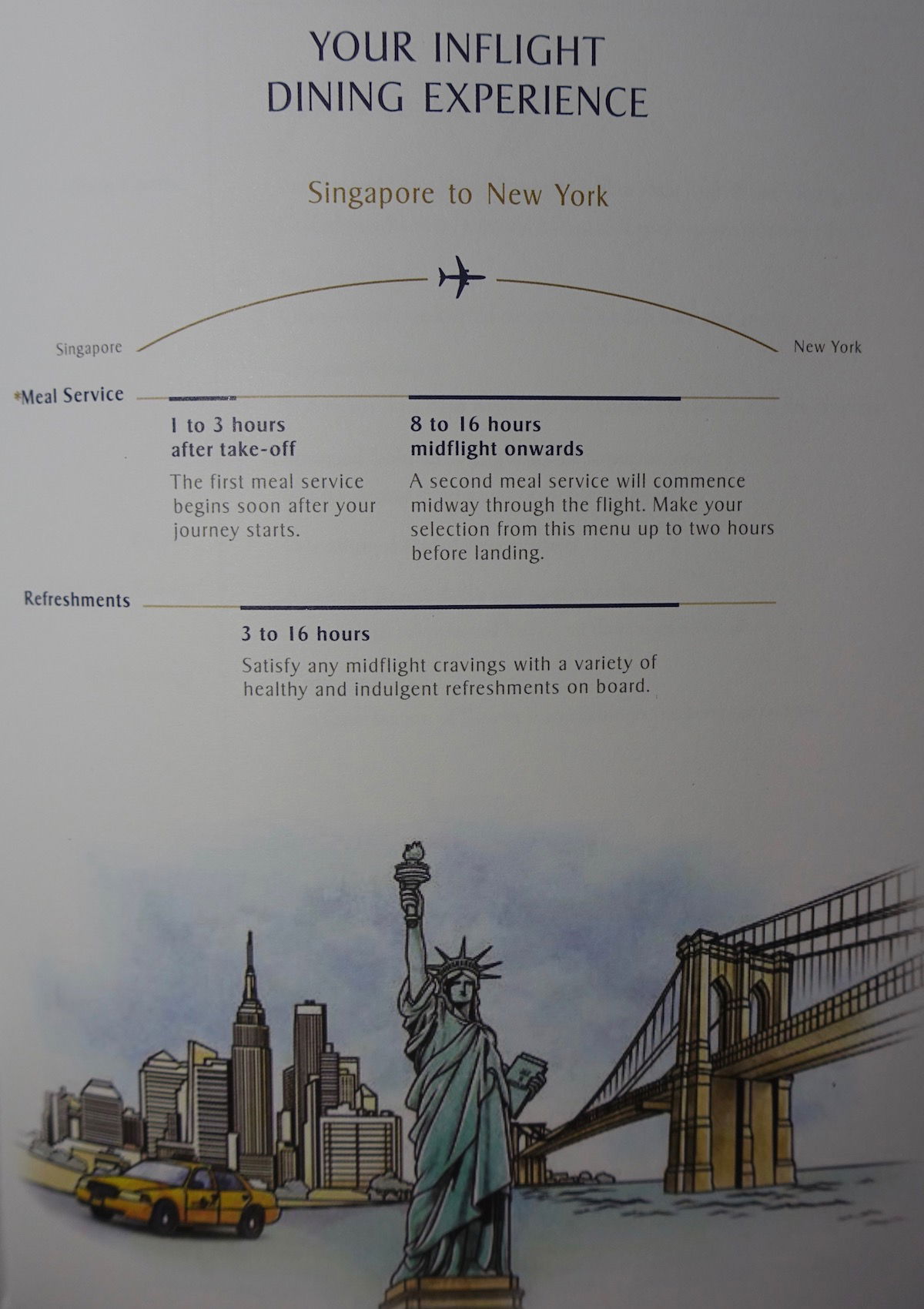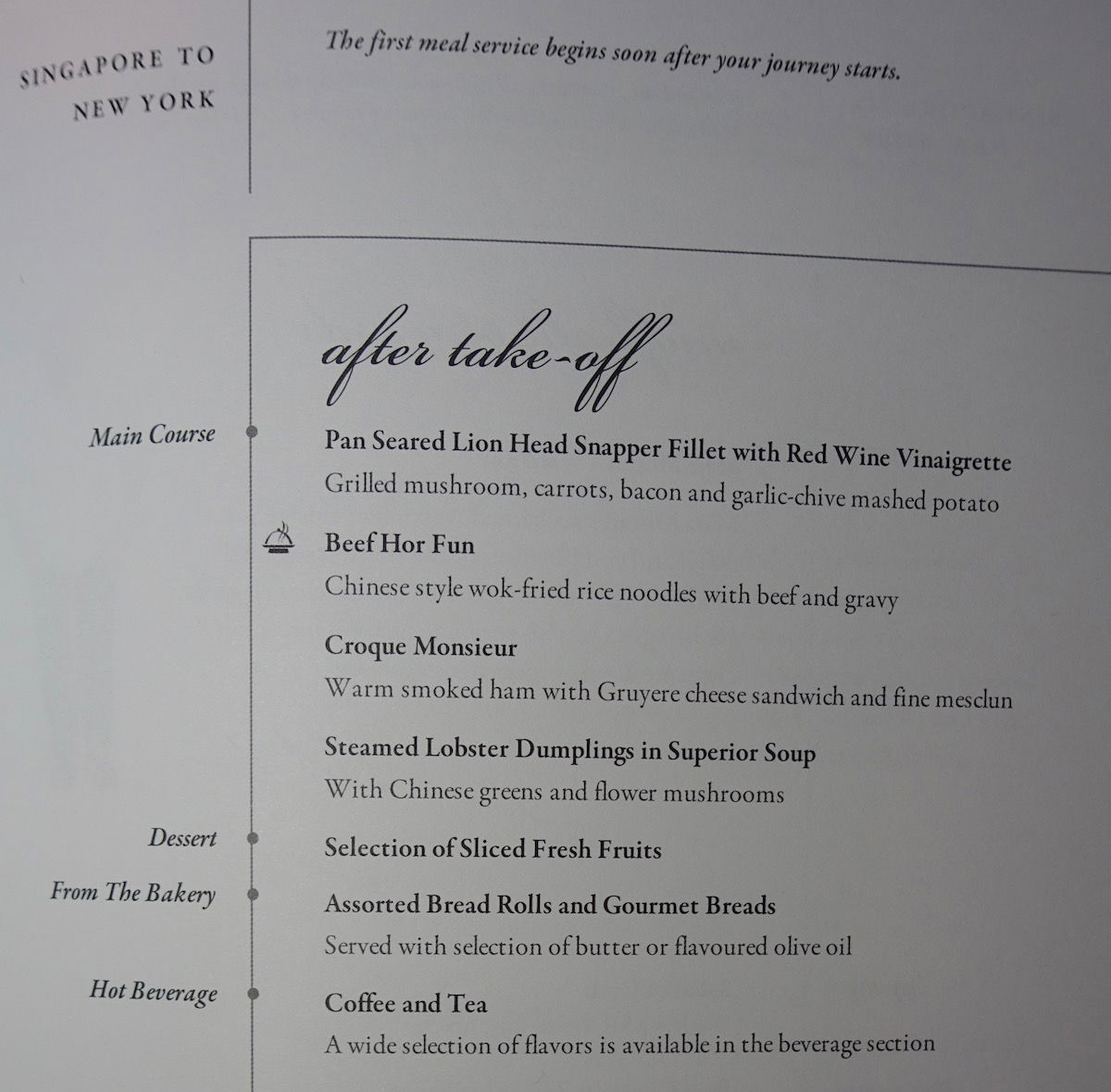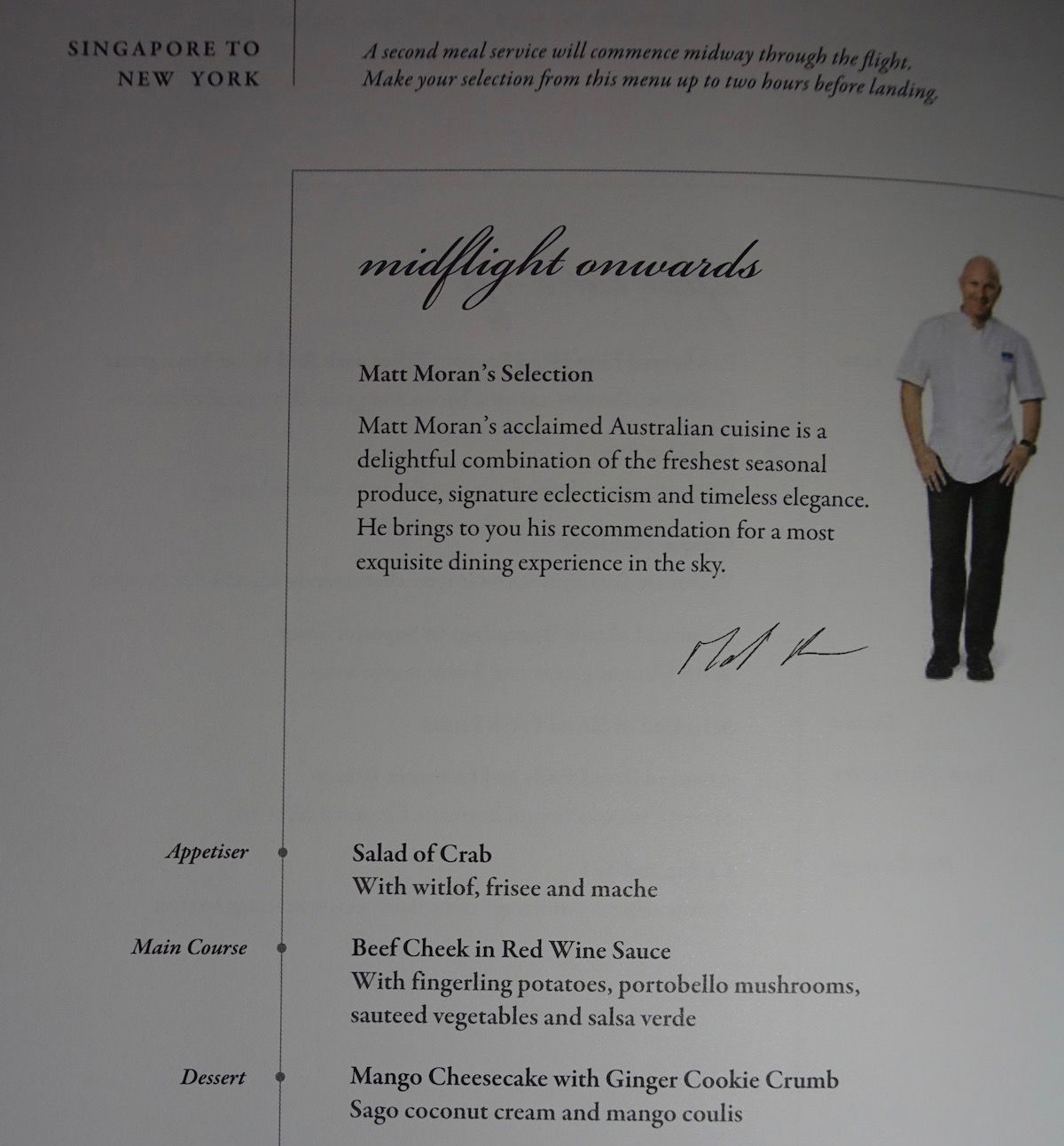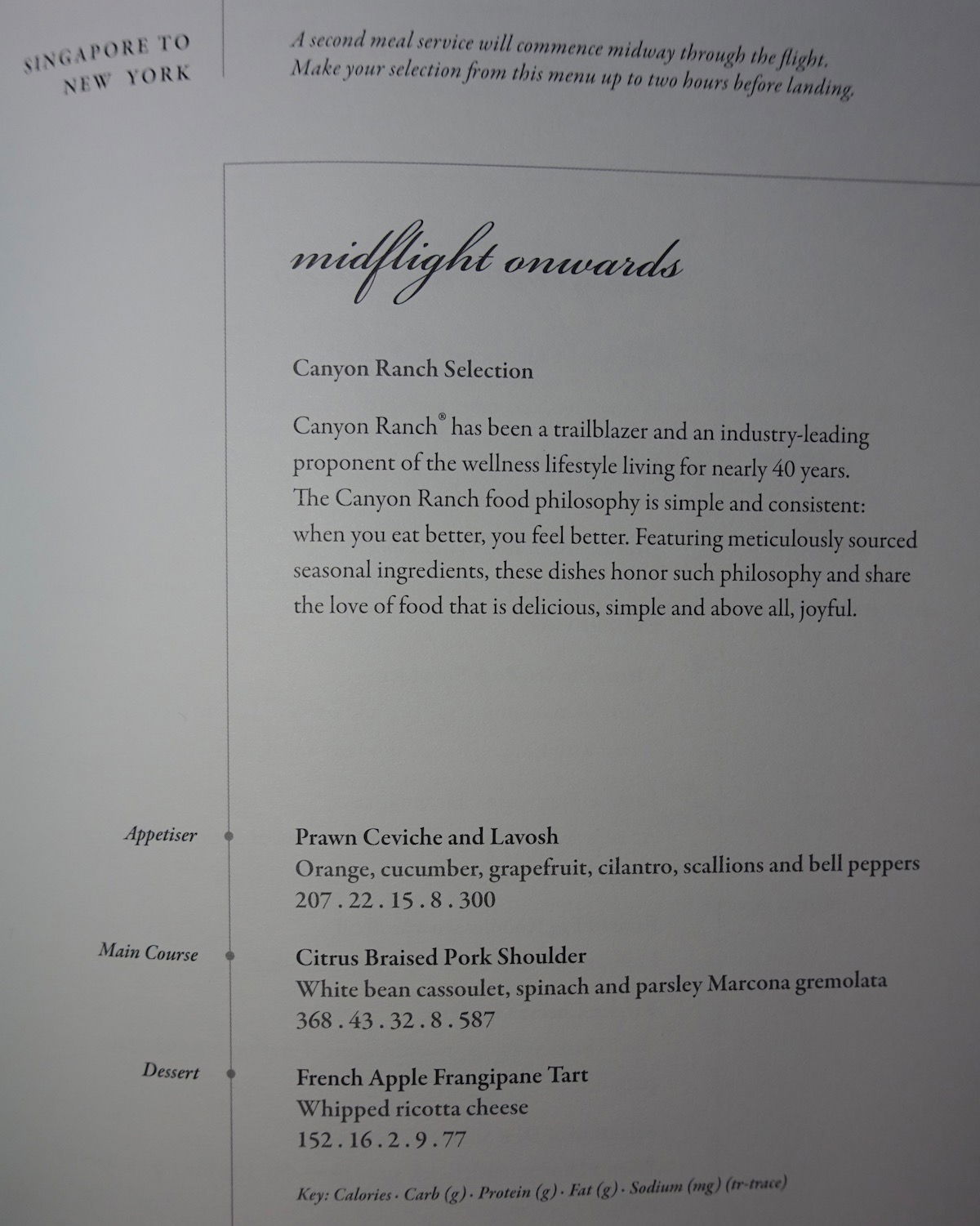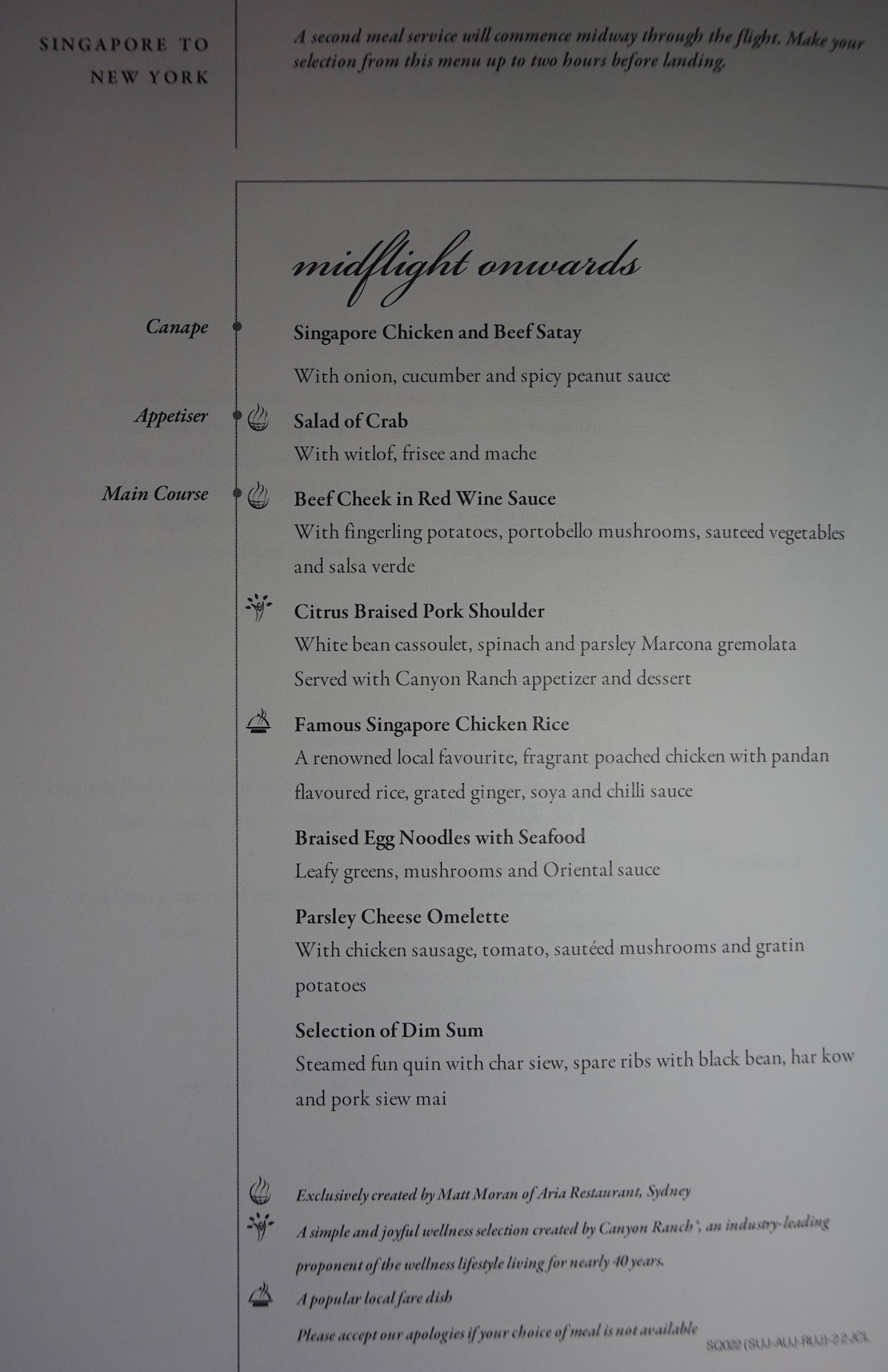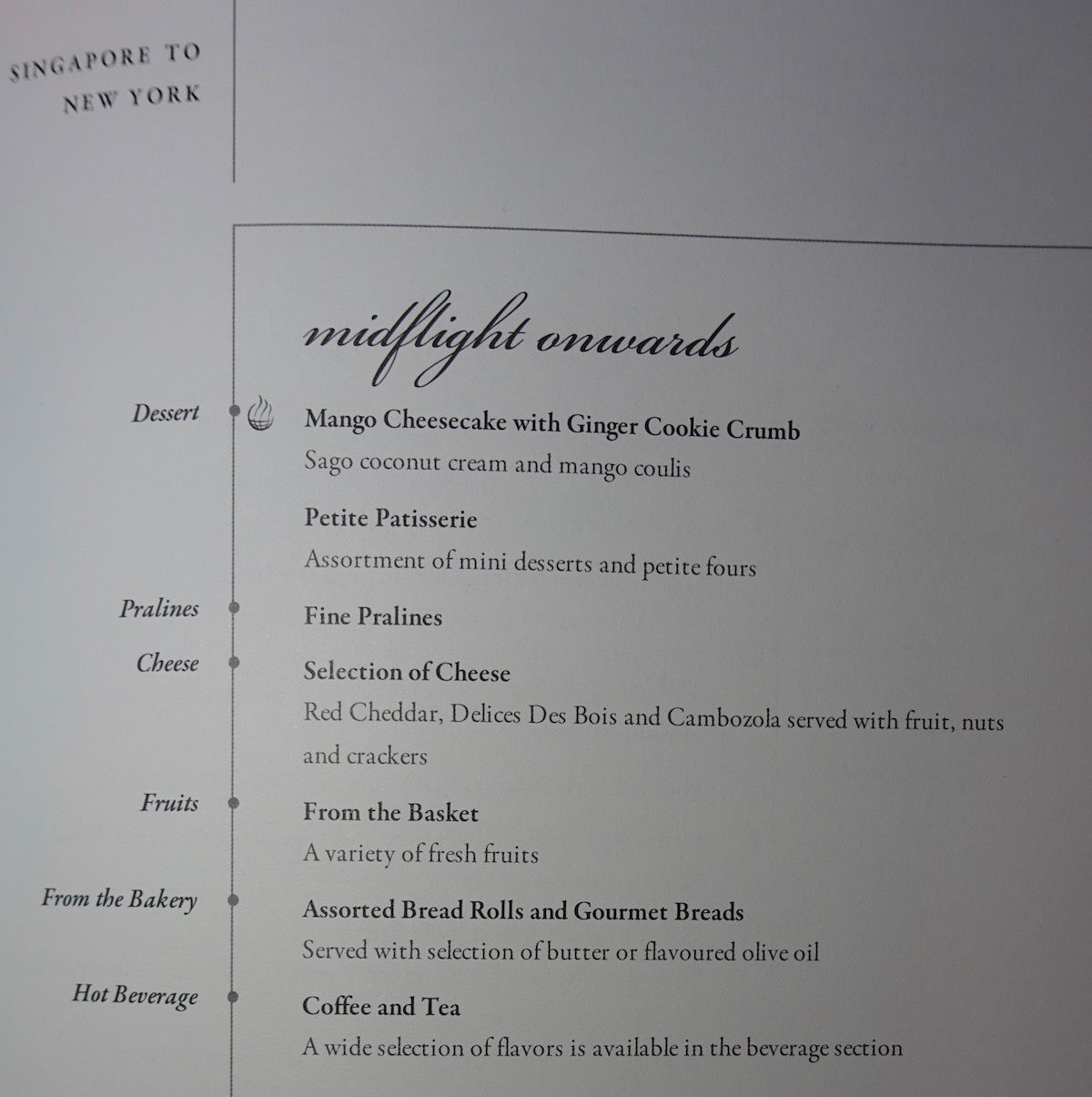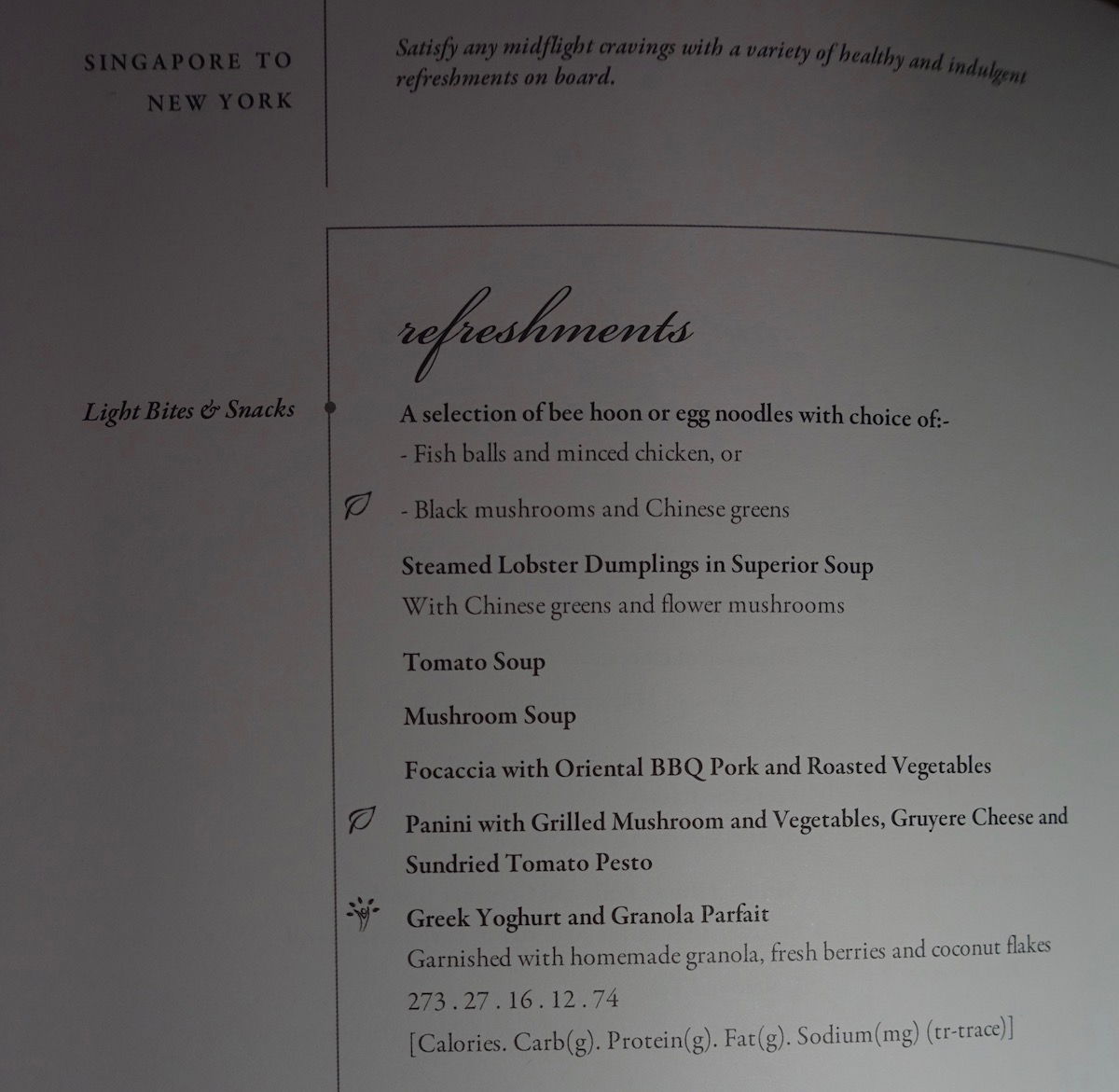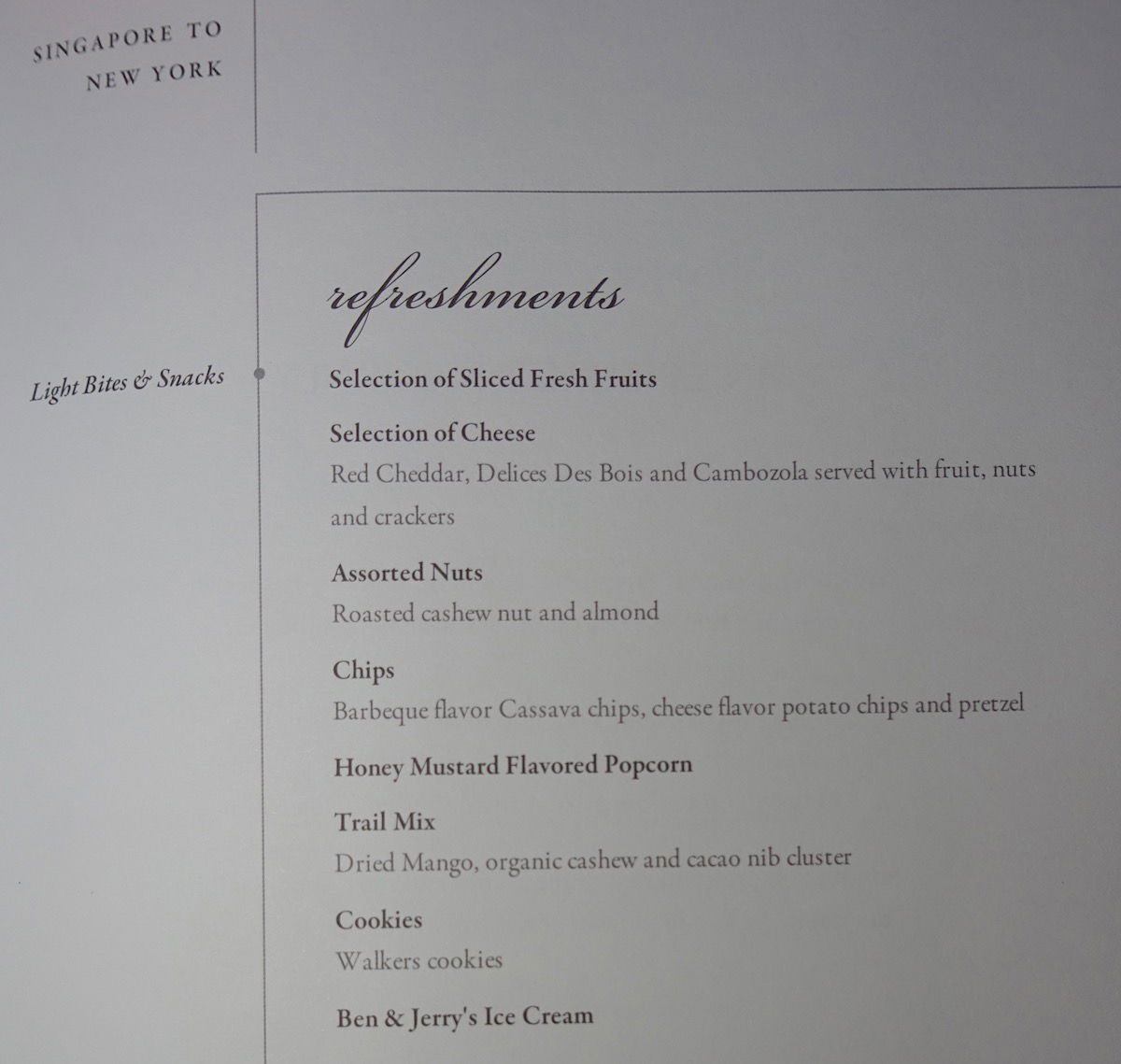 As you can see, there's a lot of repetition in the menu between meals, and the third and fourth menu pages are recommended mid-flight meal plans.
Why this menu makes little sense
So after takeoff the airline serves a meal. This is actually more of a snack, and based on the menu itself, you don't have the option of making this a bigger meal. It's just one main and some fruit.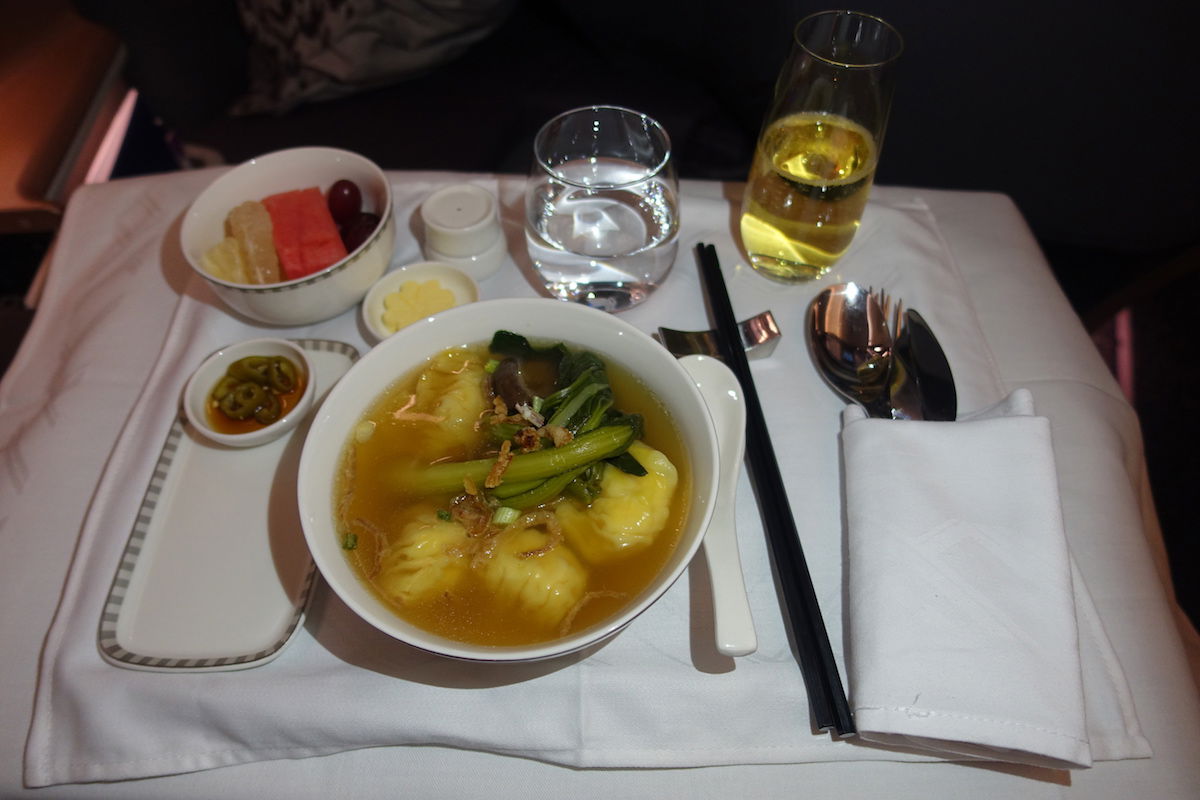 Then you have dine on demand for hours 8-16. But that's not really how it works. Instead at the midway point of the flight they turn on all the cabin lights, they roll a satay cart through the cabin, etc. Most people were asleep when this service started, but by the end of it just about everyone was awake.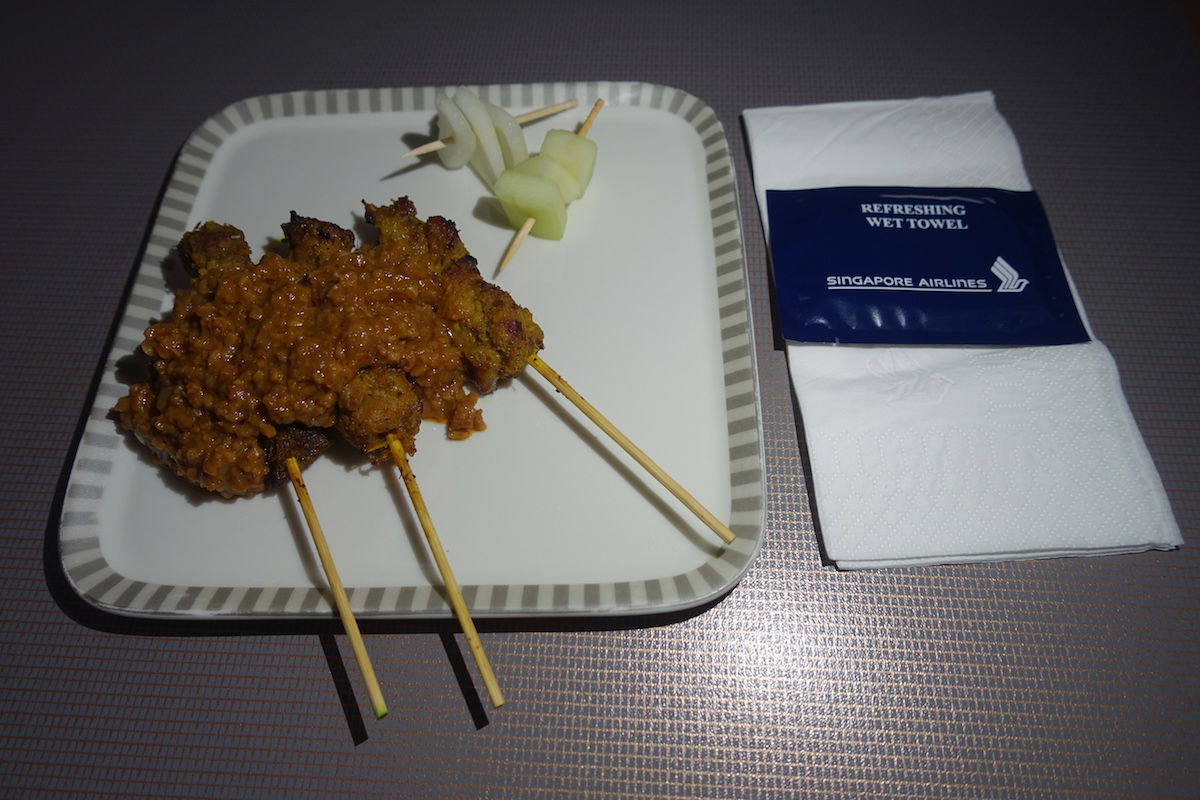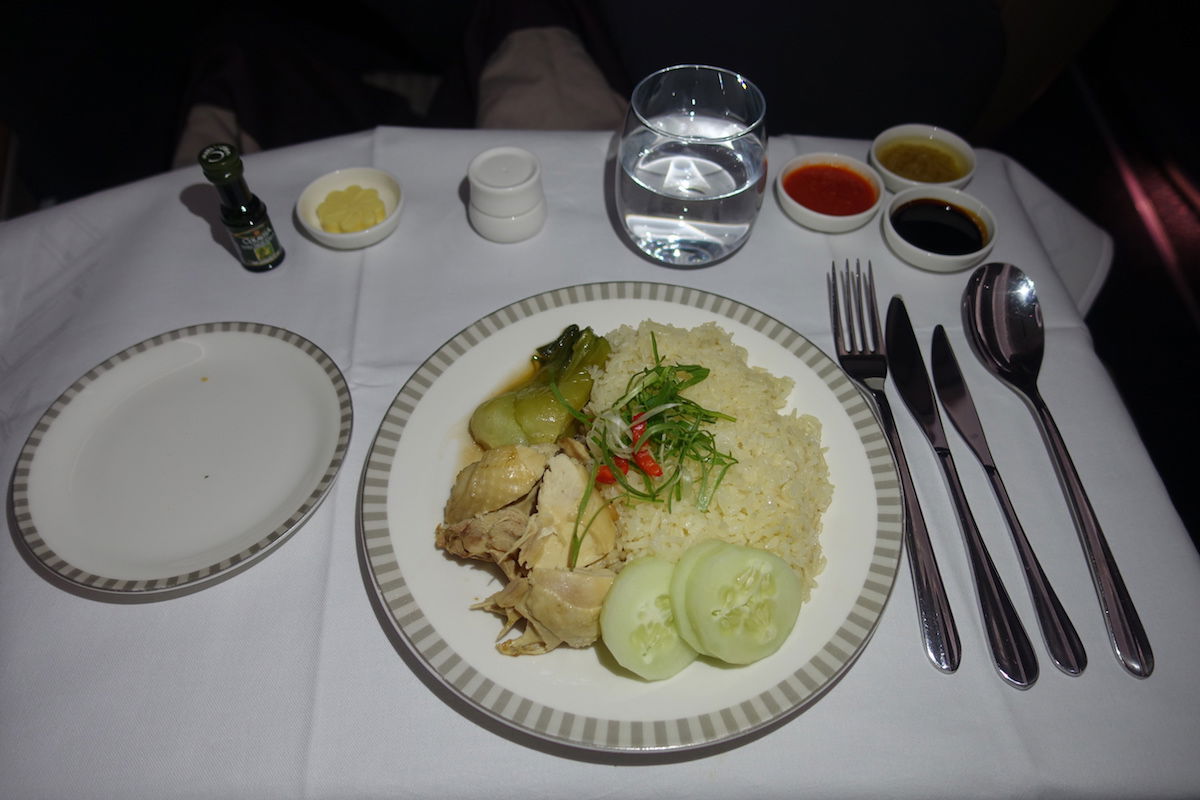 Then you can just sort of order more snacks or food as you'd like before landing.
On top of that, you're having three meals, but the menu has such limited breakfast options. Out of the three meals that most people eat onboard, there are only two options — a cheese omelet and a yogurt parfait (and I guess dim sum, which can really be any meal of the day). That's it.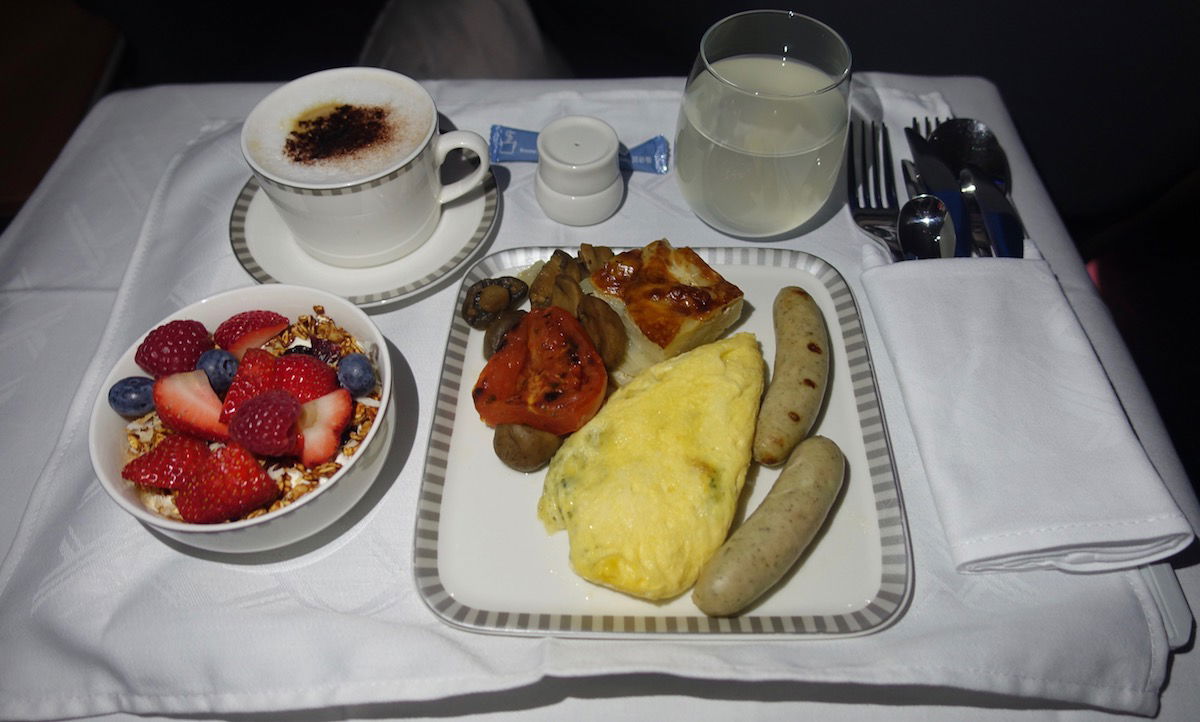 This just seems poorly thought out, in my opinion. What would I do differently, assuming the airline isn't going to go offer "dine on demand?"
I'd provide the option to have a bigger meal after takeoff, since some people may want to enjoy a full meal before getting a full night of sleep, given many people are connecting from elsewhere
I'd provide a full meal before landing, with the choice of having either a full breakfast or full dinner option (which gets at how everyone will be on a different schedule at this point in the flight); it's logical that the main meals should be at the very beginning of end of the flights, since that's when people are most consistently awake
I'd have a light dine on demand menu available throughout the middle of the night; in other words, what's currently served pre-landing should be served mid-flight, and vice versa
But to serve the main meal at the halfway point of a 17+ hour flight so that the cabin lights aren't dimmed for more than six consecutive hours seems like an odd choice.
Lastly, let me just note that the crew was exemplary. None of the fault for this lies on them, as they delivered on the published service correctly, and couldn't have been kinder and harder working.
I'm curious what you guys make of this — how do you think dining on a 17+ hour flight like this should be structured? Does Singapore's service flow make sense to you?