Hilton has just announced the details of their latest hotel brand, called Signia Hilton. This is the second brand they've launched in the past few months, as in October 2018 Hilton announced the details of Motto by Hilton, which they described as an affordable urban lifestyle brand.
Why hotel groups create new hotel brands
Before we talk specifically about Signia Hilton, I think it makes sense to talk about why hotel groups start new hotel brands. It's not necessarily to be able to sell to consumers, but rather to be able to sell to investment companies.
For the most part, the global hotel chains don't own most of their hotels, but rather they just have management or franchise contracts for them. So the reason they create so many new brands is so they have something to pitch to investors.
They try to make each brand seem super-unique, in hopes of luring a company to build a city's first Aloft rather than a third Sheraton, for example.
That's why there's also such little innovation when it comes to new hotel brands. Instead I feel like we just see each of the major hotel brands introduce similar concepts over and over.
The basics of Signia Hilton
Signia Hilton is Hilton's "dynamic, new meetings-and-events focused brand." Alrighty, as an individual consumer that doesn't sound terribly appealing to me on the surface.
As Hilton goes on to explain, "the portfolio of hotels is setting out to transform the industry for meeting professionals and sophisticated business travelers by infusing state-of-the-art technology and design into every aspect of the guest experience."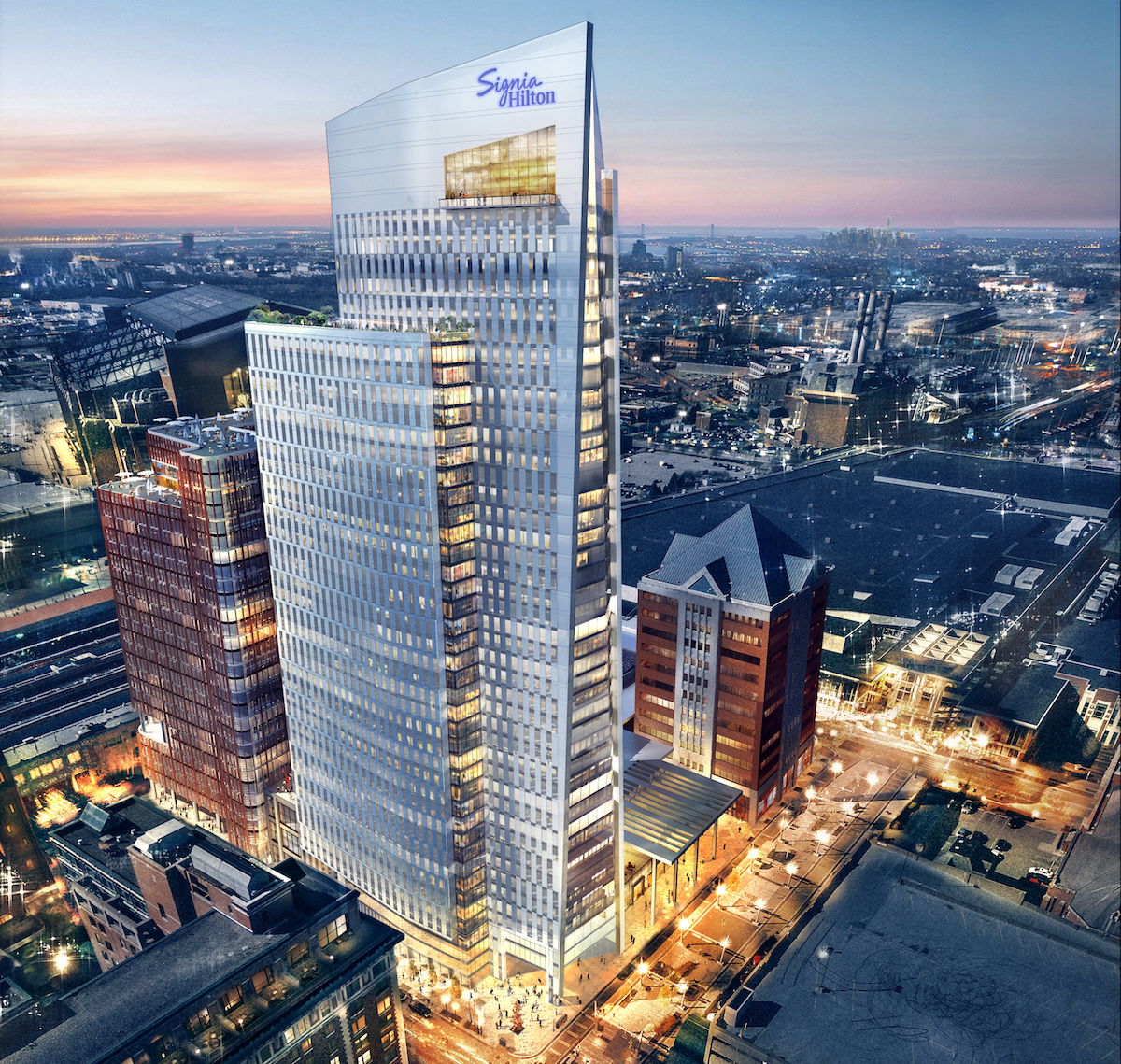 Each Signia Hilton property will have at least 500 rooms, and at least 75 square feet of meeting space per guest room.
Here's a short video from Hilton about the new brand:
While the meetings-and-events focus doesn't resonate with me, I have to say that their renderings look absolutely gorgeous.
Here's what HIlton says sets Signia apart:
Impressive arrivals: Signia Hilton will offer a true sense of arrival with modern architecture, manicured landscaping and welcoming team members who will invite travelers to enjoy the grandeur and energy of the hotel.
Unmatched lobby experiences: Thoughtful design connected to the local culture will foster an impressive and comfortable space that doubles as a lobby and social destination for guests throughout their stay.
Modern guest rooms: From the premium design and quality finishes that take inspiration from each hotel's unique destination, to the innovative technology that matters most to guests, like Digital Key, the rooms will serve as a haven for comfort and convenience.
A destination bar: Each hotel will feature a bar that ties back to the exciting city or resort destination where it resides. With its premier location in the hotel, the bar will serve as the heart of the hotel, emanating a dynamic energy throughout the entire space.
A signature restaurant: The signature restaurants at each Signia Hilton will be based on a chef-driven concept, designed to offer both locals and guests elevated presentations and experiences that they will want to share with friends and business partners.
Premium wellness experiences: From infinity pools to state-of-the art spas, fitness classes and facilities, each Signia Hilton will offer an upgraded experience, all in a space designed to make guests feel their best.
The Signia meeting experience: The meetings and events spaces will be the signature showpiece of each Signia Hilton. Large ballrooms and pre-function areas will feature smart design paired with the newest technologies to elevate today's meetings. As the modern meeting attendee is looking for spaces that inspire innovative thinking, the small to mid-size meeting rooms will feature unique design and technology that spark new ideas and optimize work and collaboration.
So far Signia locations in Orlando Bonnet Creek, Atlanta, and Indianapolis have been announced, with many more to come.
My take on Signia Hilton
As someone who goes out of my way to avoid conferences, I'm probably not their target audience. Not only do I avoid conferences, but I also avoid hotels that are hosting big conferences whenever possible, since it usually means the hotels are terribly crowded. People attending conferences spend almost all of their time in the hotel (given how busy they are), and that means at times there's a long wait for just about anything.
That being said, visually I find the Signia Hilton renderings to be beautiful.
The guest rooms look luxurious…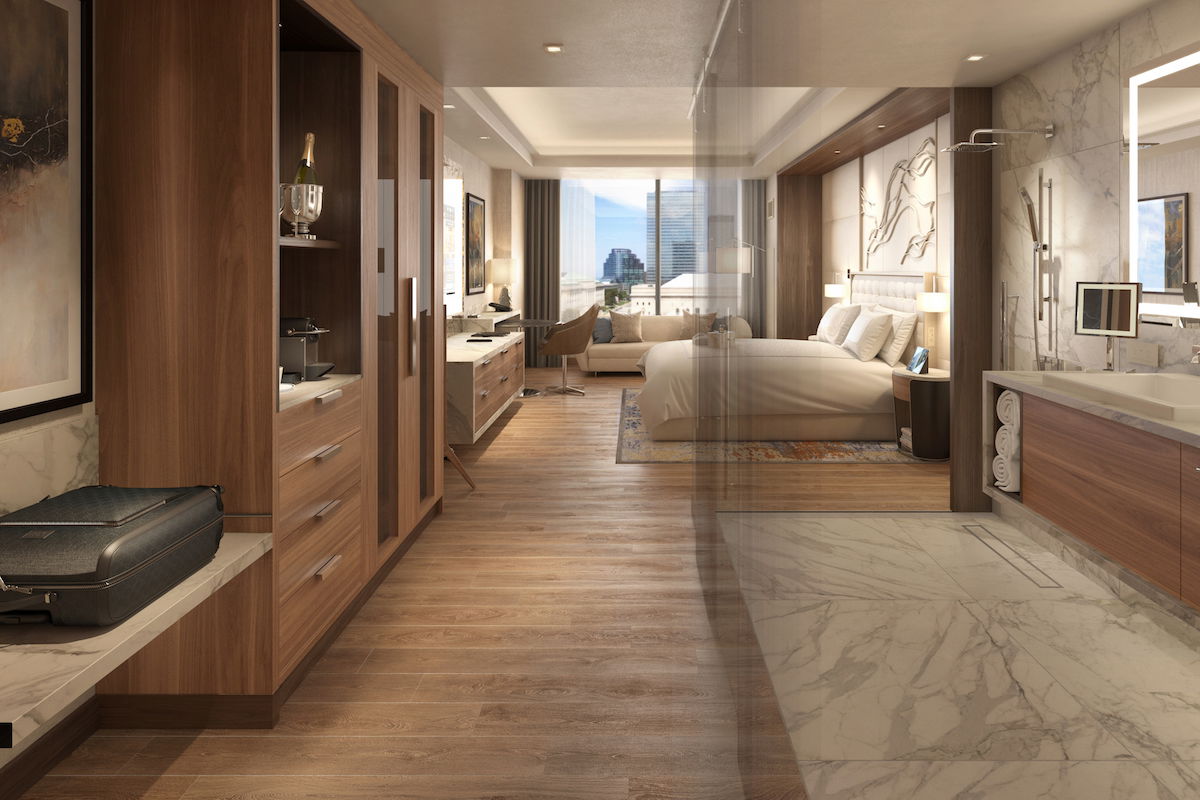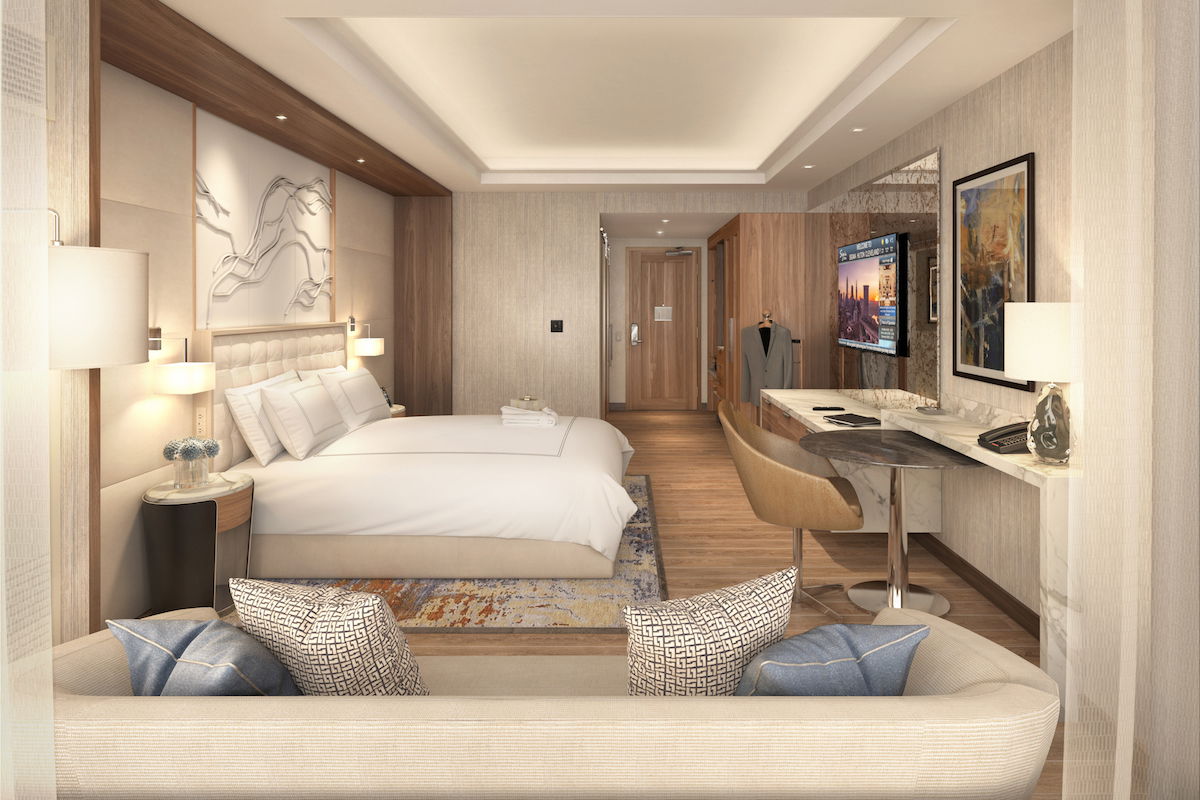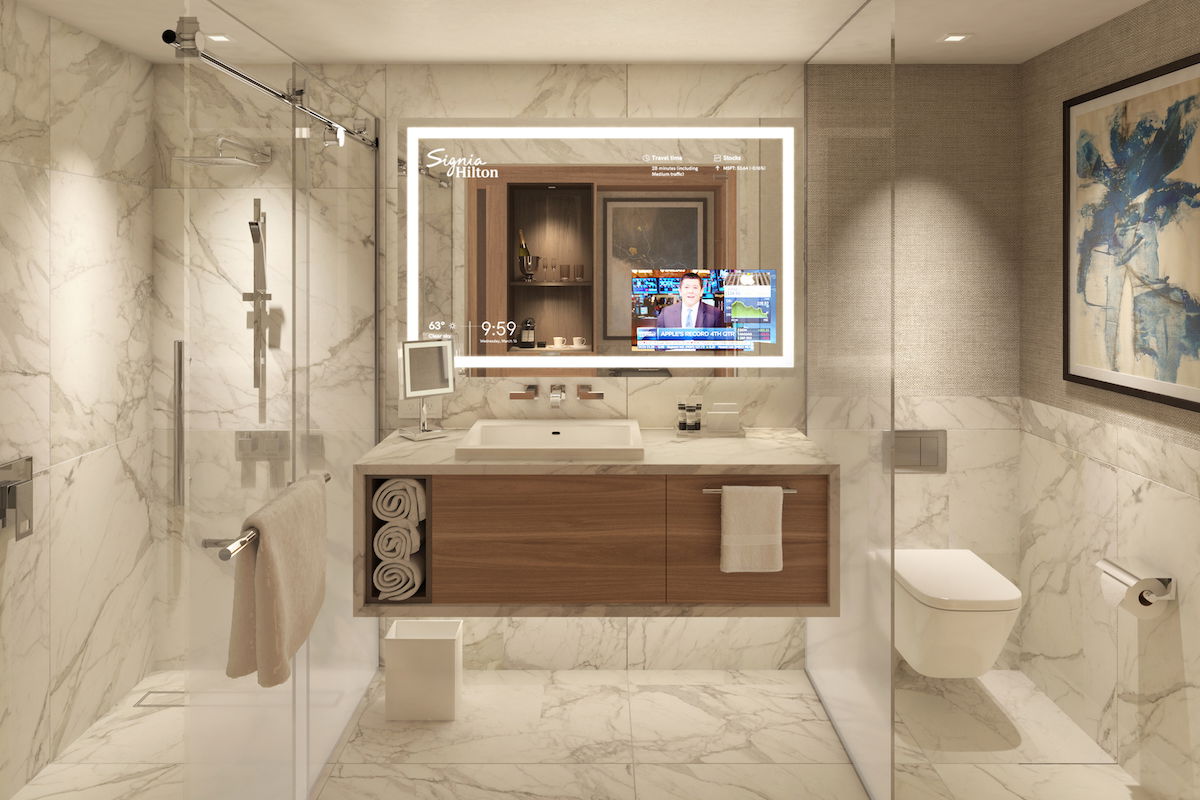 The public areas and restaurants look chic…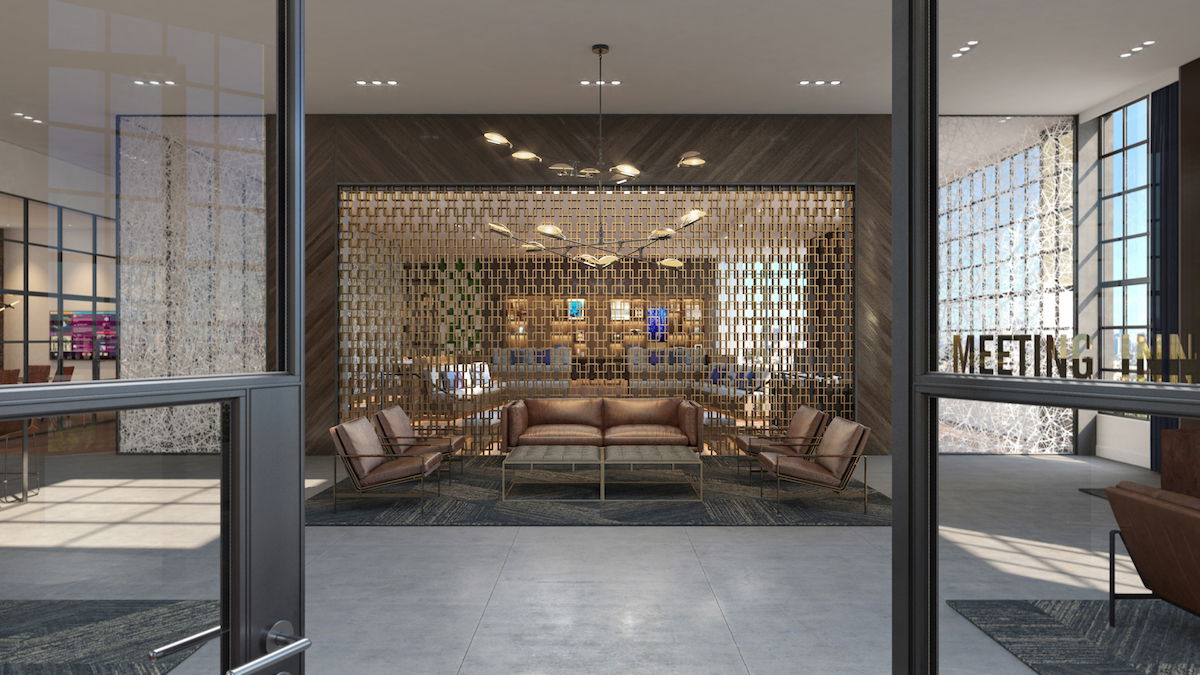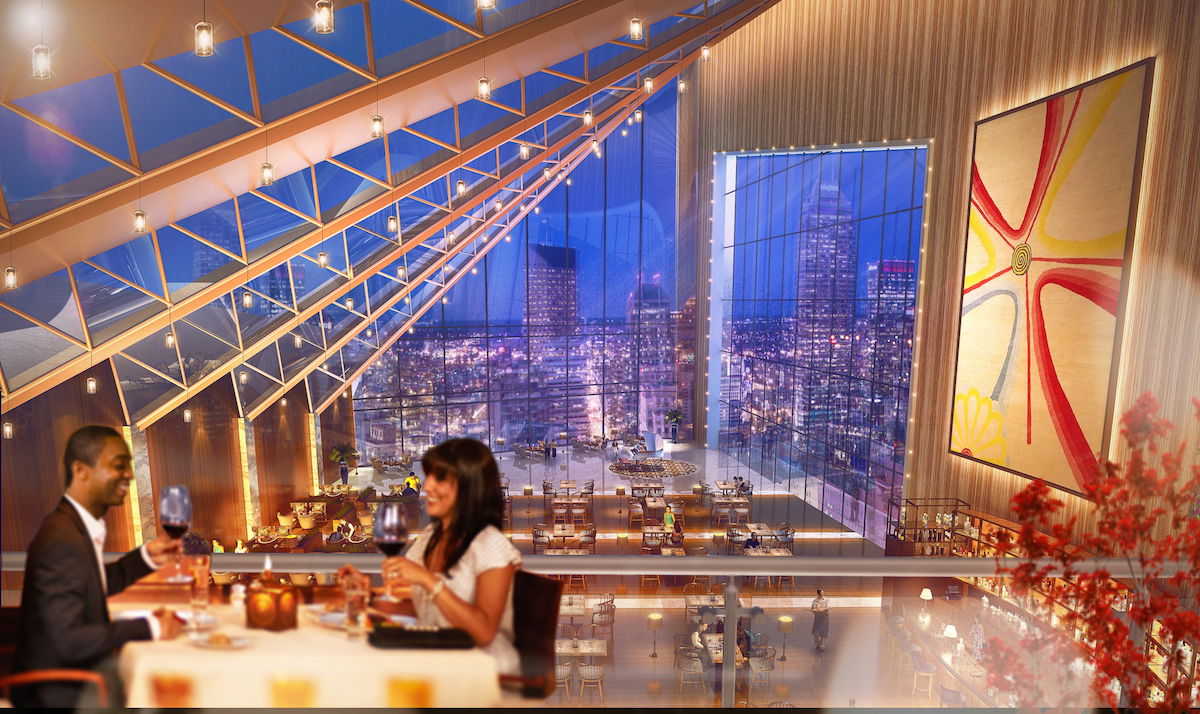 Even the meeting space looks impressive…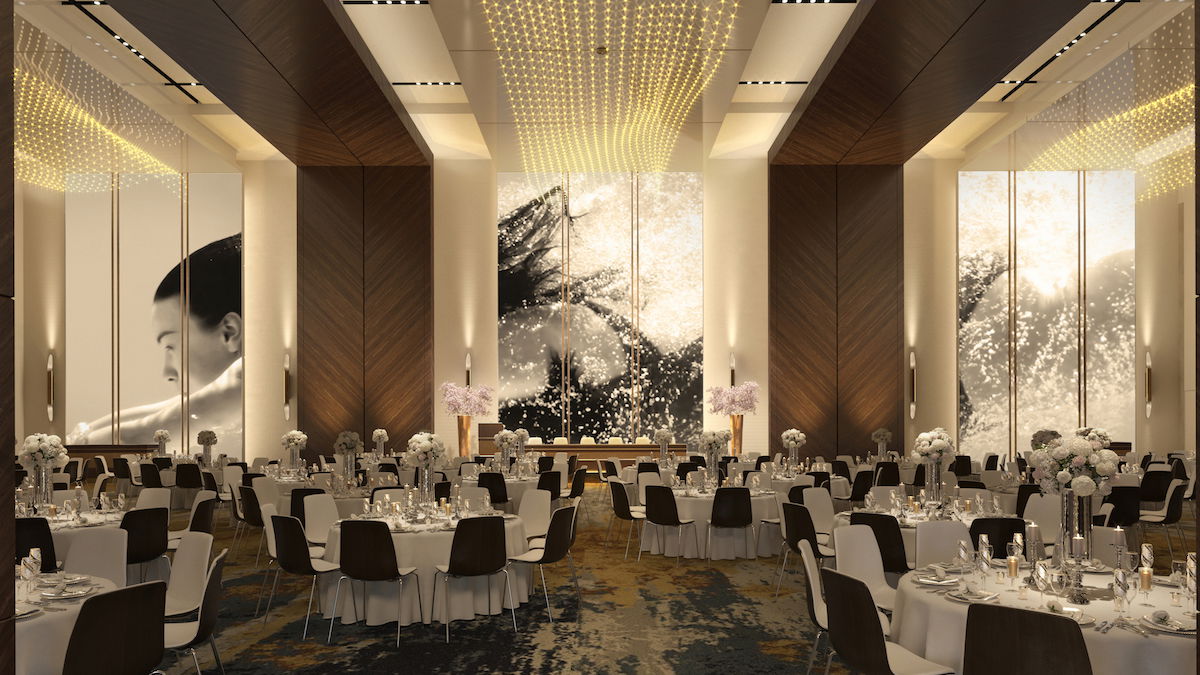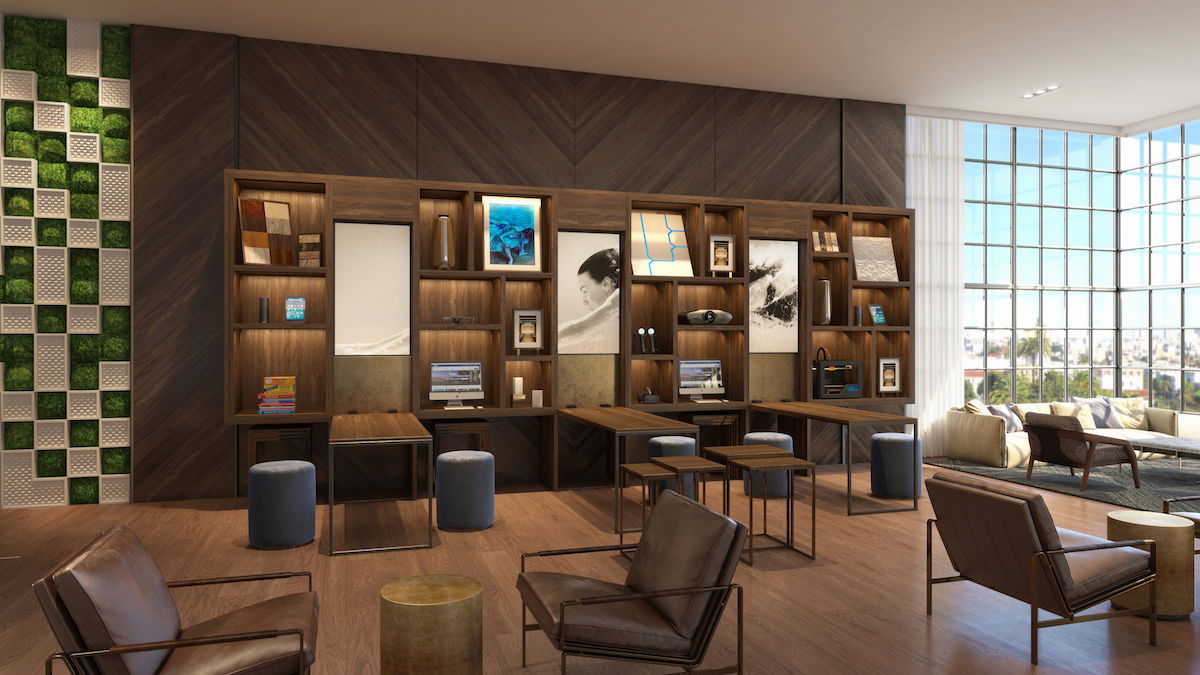 Of course these are all renderings, though we'll have to see what the hotels look like when they're actually built.
Like most new brands, though, I'm not sure I actually get what's unique here. It seems the only actual commitment is to having huge hotels with a lot of meeting space. But everything else that's described seems identical to the direction that virtually all major, cookie cutter hotel chains are going for. Sure, the rendering of the restaurant looks nice, but I'm sure there are also some beautiful restaurants at some mainstream Hiltons.
Just about every hotel would like to think they have modern guest rooms, a destination bar, and a signature restaurant. So I guess we'll have to wait and see.
What do you make of the Signia Hilton concept? Would you consider staying at one of these hotels if not at a conference?