Hilton has just announced the details of their latest hotel brand, called Motto by Hilton.
Why hotel groups create new hotel brands
Before we talk specifically about Motto by Hilton, I think it generally makes sense to talk about why hotel groups start new hotel brands. It's not necessarily to be able to sell to consumers, but rather to be able to sell to investment companies.
For the most part, the global hotel chains don't actually own most of their hotels, but rather they just have management or franchise contracts for them. So the reason they create so many new brands is so they have something to pitch to investors.
They try to make each brand seem super-unique, in hopes of luring a company to build a city's first Aloft rather than a third Sheraton, for example.
That's why there's also such little innovation when it comes to new hotel brands. Instead I feel like we just see each of the major hotel brands introduce similar concepts over and over.
The basics of Motto by Hilton
This brings us to Motto by Hilton, which is Hilton's newest hotel brand. The way Hilton describes it, Motto is a new affordable urban lifestyle brand, but then again, that's how companies love to describe everything nowadays.
What's interesting about Motto is that Hilton says that they looked at the emerging lifestyle hostel model globally to understand the opportunity to enhance the shared room concept.
Hilton decided that travelers who stay in hostels don't actually like rooming with strangers. They want more from their hostel experience but are limited by current options in the market.
So here's how Hilton describes the primary motivation behind the features of these hotels:
Prime Locations: It's about giving travelers access to the best location – being in the heart of the city and in the most popular neighborhoods. Right neighborhoods make a difference.
Authenticity: What does it mean to be "here"? Locality breeds identity, community, and ultimately, a sense of place.
Affordability: Competitive rates that open the doors to cities and locations that travelers didn't think they could afford.
Flexibility: One size doesn't fit all — choice is paramount. Multi-purpose spaces are growing in popularity because of the flexibility they afford.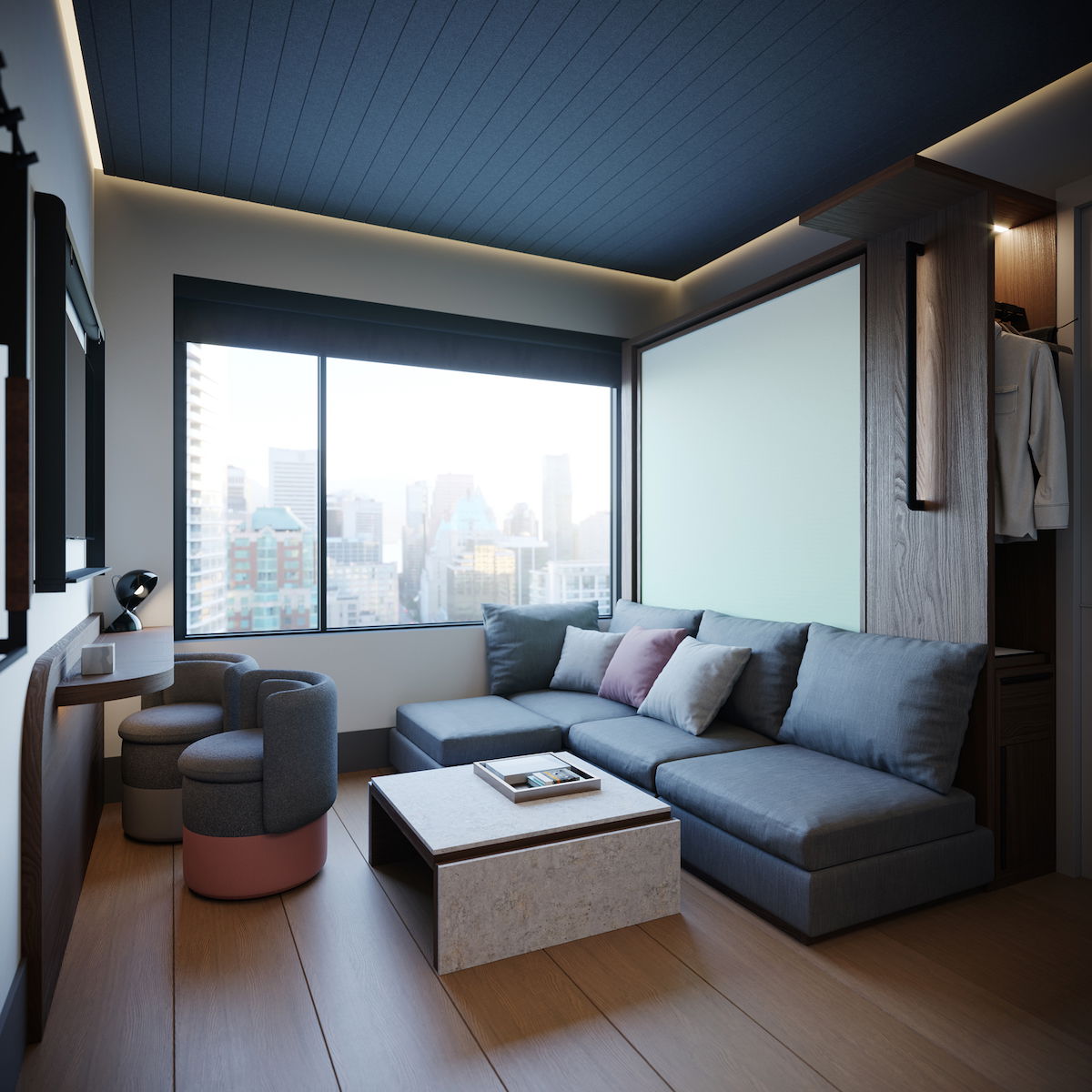 More specifically, here are the features we can expect from Motto:
Guest Rooms: With an average footprint of 163 square feet or 14 square meters, the highly efficient rooms will include space-saving features such as wall-beds, lofted beds, segmented shower and toilet stalls, and multi-functional furniture that can be discreetly stowed when not in use.
Linking Rooms: Eliminating the hassle of coordinating travel for larger groups, Motto by Hilton hotels will have the option for guests to book multiple connecting rooms in advance.
Split-payments: Motto by Hilton hotels will allow guests to split payments between more than one person at the time of booking, avoiding the sometimes-complicated math exercise during checkout.
Connected Room: All Motto by Hilton rooms will be outfitted with Hilton's Connected Room technology – the first mobile-centric hotel offering that allows guests to control features in their room (i.e., temperature, lighting, TV, window coverings, etc.) from their Hilton Honors mobile app.
Curated Sleep Experience: Motto by Hilton hotels will put an emphasis on a premium sleep experience. Whether it is a premium mattress; a Sleep Kit with eye masks, essential oils or vitamin bars; a white noise app; blackout window shades; or sound absorbing materials throughout the room, Motto by Hilton is sleep-obsessed and prioritizes quality sleep for every traveler.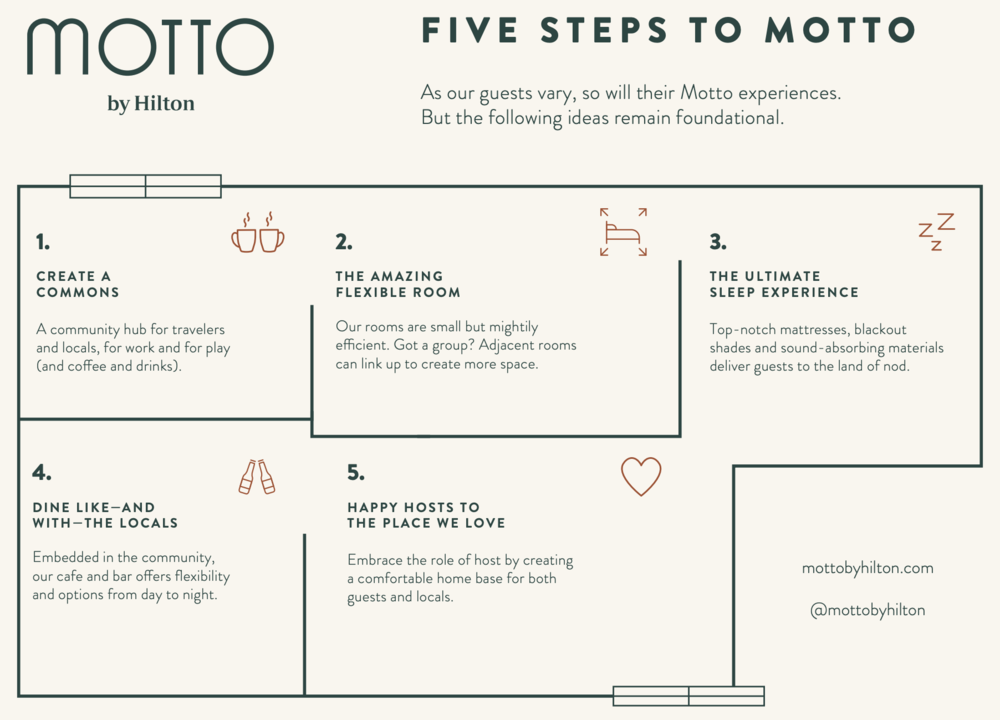 So, what kind of pricing should we expect from Motto? Hilton claims that rates will vary by market, but that each property will offer competitive rates that will make it a viable option for travelers who would otherwise typically stay with friends or family or seek out temporary housing options.
The first Motto will be located in Marylebone, London. Construction will start in January 2019, with a 2020 opening date targeted.
Hilton says that they have deals in various stages for markets like Lima, Dublin, Savannah, San Diego, Boston, and Washington DC.
So it's possible we'll see a property open before then, but that's the first official property under construction.
My take on Motto by Hilton
Generally speaking I feel like the major hotel groups are super uncreative with the new hotel concepts they come up with. For example, Hilton's last major brand launch was Tru by Hilton, which was just an annoying copy-cat of Aloft, Moxy, etc.
By comparison I actually think this brand is pretty creative. I think the features like being able to split payments and confirm connecting rooms/spaces in advance is a useful concept. Not that these are things that can't be overcome otherwise, but it shows they're paying attention.
What I'm still skeptical of is their pricing. Will they really be able to compete with hostel pricing in major cities? They say that's their market and where they're getting inspiration from, but I guess how the math will work out there.

Also, while I'm no expert on hostels, isn't one of the major reasons people stay at hostels because they have some sort of cooking or food prep space, so people can save vs. the cost of eating out?
Nothing in this brand launch suggests this brand will offer that, in which case I think they're missing out on something major. People staying in hostels aren't just saving money compared to hotels based on getting cheaper accommodation rates, but they can also save on food and drinks.