I'm a sucker for airline startups, whether legitimate, or just someone spending a few hours (or several years) to create a website for a business model that makes no sense. I'll let you guys guess which category this fits into…
Sentra Airways to fly from Manchester to Accra
Sentra Airways claims to be launching nonstop flights between Manchester and Accra as of September 9, 2021. The airline plans to operate the route 6x weekly, with the exception of Fridays. Up until a few days ago the airline was supposed to launch on May 1, 2021, but that has been postponed due to coronavirus.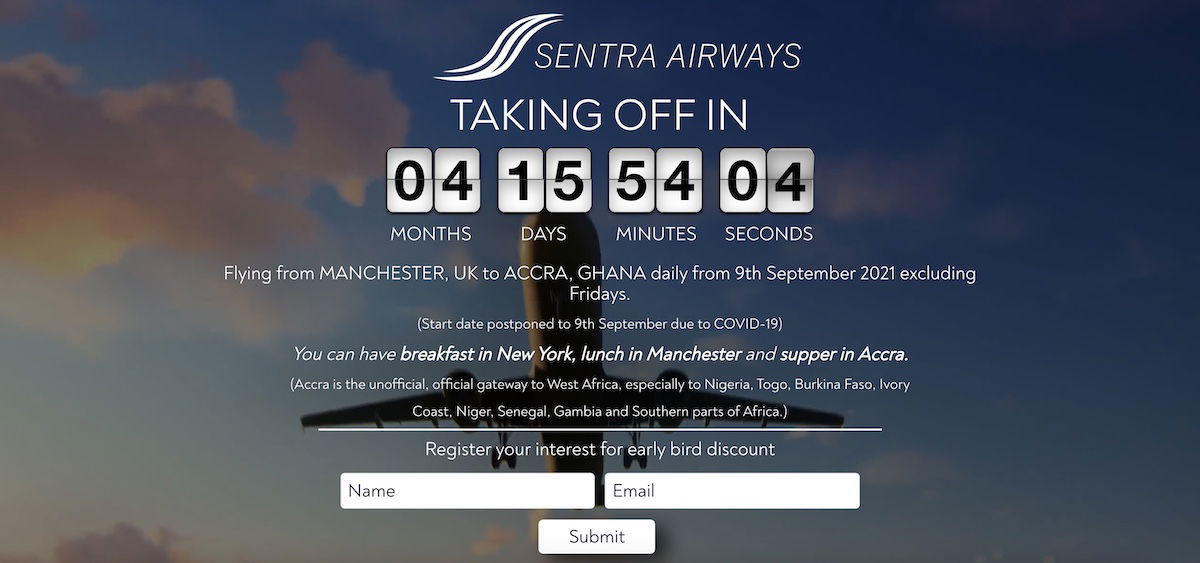 No details have been announced about what plane the airline will use and what the business model will be, and for that matter there have been no filings with aviation authorities in the UK or Ghana.
Sentra Airways' single page website promotes how you can "have breakfast in New York, lunch in Manchester and supper in Accra." I have questions:
Breakfast in New York and lunch in Manchester? With a five hour time change and seven hour flight, are we having a really early breakfast and a really late lunch, or..?
There are no daytime flights between New York and Manchester
Why though?
As it's explained, Accra is the "unofficial, official gateway to West Africa, especially to Nigeria, Togo, Burkina Faso, Ivory Coast, Niger, Senegal, Gambia and Southern parts of Africa."
You can register your email address with the "airline" and then you'll be sent a discount code for 10% off your first flight.
The company's social media presence is also interesting, promoting on Instagram how you can see "see Ghana in vivid detail with Sentra Airways," while showing a picture of Mount Fuji.
So yeah, now you know everything I know.
There's only one slight problem…
Okay, actually there's more than one problem, like the airline not actually existing. But let's for a second pretend this was serious. The reality is that Manchester to Accra isn't a big market at all:
Manchester has a rather small Ghanian population (in 2012 there were estimated to be 1,400 Ghanians in the city)
Pre-coronavirus there were just over a dozen people per day flying between the two city pairs, so that's not sufficient demand to justify a flight
It's one thing if the "airline" were promising a regional network within Africa, but the "airline" doesn't have any partnerships, so that's not happening either
All of this points at the person behind this airline primarily having ties to the Manchester area. And indeed that seems to be the case, since the company was registered in Bradford in 2019.
If you're going to make up a random airline, can't you at least make it an interesting or sexy concept? Like, how about 787s in an all first class configuration with a swimming pool flying between London and Accra (sexy), or service exclusively between Manchester and Dublin on A380s (interesting), maybe calling it Mandub Airways, taking inspiration from Baltia?
Why do so many "airlines" want to fly to Ghana?
This is the third "airline" in a short period planning on launching flights to Ghana.
There was Global Ghana Airlines, which was supposed to fly nonstop between Chicago and Accra…
Then there's Goldstar Air, which is continuing to promise an unrivaled global route network…
Who wouldn't want to fly from Abidjan, Brazil, to Dakar, South Carolina?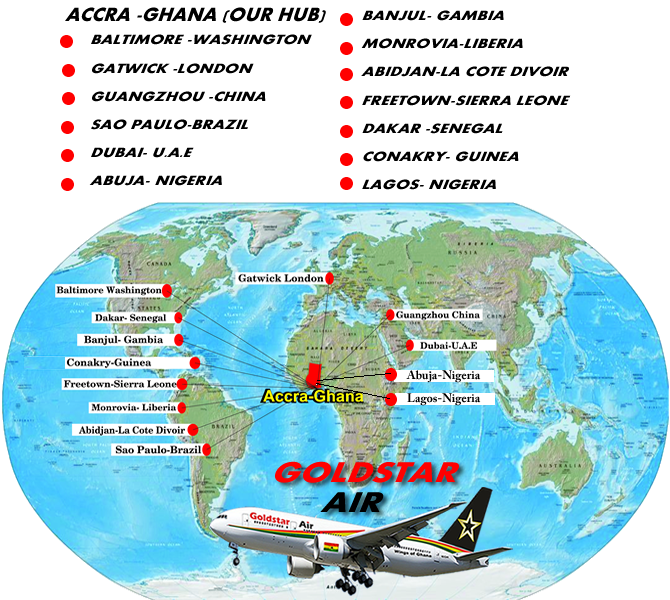 What's most interesting is that the people behind these airlines are largely not actually in Ghana. The person behind Global Ghana Airlines lived in the US, while the person behind Sentra Airways lives in the UK. Yet both airlines wanted to launch a single long haul route, to Accra.
Bottom line
Sentra Airways claims that it will start flying between Manchester and Accra as of September 2021. There's no further info about the airline, like what plane will be used, or how any of this makes sense.
If you're going to come up with an airline that operates just one route, maybe make pick a market that actually has demand?
(Tip of the hat to @KobiAnnan87)