I'm writing this live from my Saudia flight between Colombo and Jeddah, which has been beyond fascinating. This flight has been so bad that it makes the China Eastern flight I had the other day look like the Etihad Residence by comparison. I have never experienced service like this.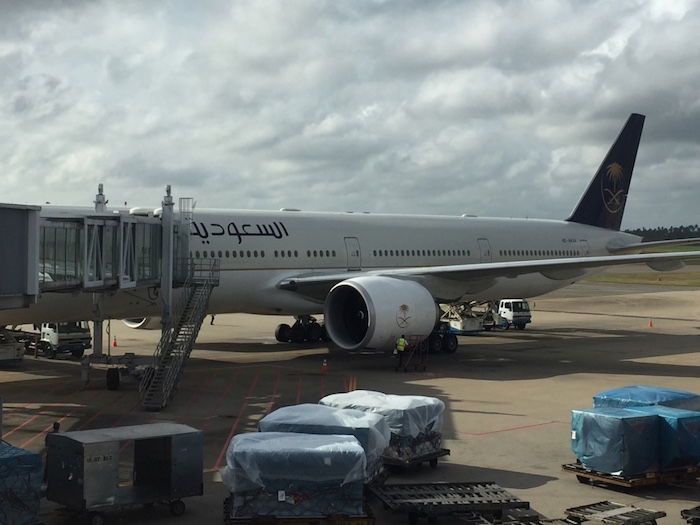 I have this impression in spite of the fact that we had a last minute equipment swap, from a 777-200 with angled business class seats, to a 777-300 with fully flat business class seats.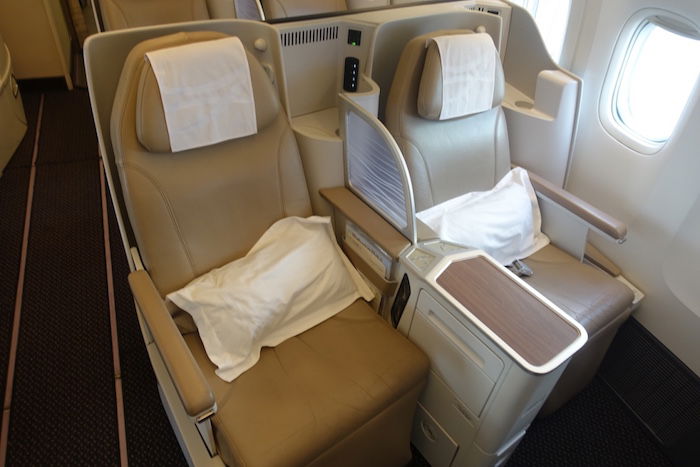 Shortly I'll have a post with more about the inflight experience so far, but first I have to share something that's sort of unrelated to the service as such, but rather involves security.
At Colombo Airport there's a security checkpoint as you enter the airport (before you get to check-in), and then a "sterile" security checkpoint at each individual gate, before you enter the "holding pen" for a flight. That's where you wait until the flight is ready for boarding.
This is the same setup as at Singapore Changi Airport, for example.
Sometimes on US-bound flights there will be another superficial security check on the jet bridge, where airport security personnel check your bags for liquids, etc.
However, my experience on Saudia was unlike anything I've witnessed before.
Once boarding commenced we walked down the jet bridge to the door of the plane. Rather than being greeted by the flight attendants with a "welcome aboard" or "let me show you to your seat," we were greeted with a security screening on the plane… by the flight attendants!
We were instructed to place our bags on a trolley they had set up near the galley, where they were pretty thoroughly searched.
After that I got a full body pat down from another flight attendant, and after that my passport and boarding pass were checked by yet another flight attendant.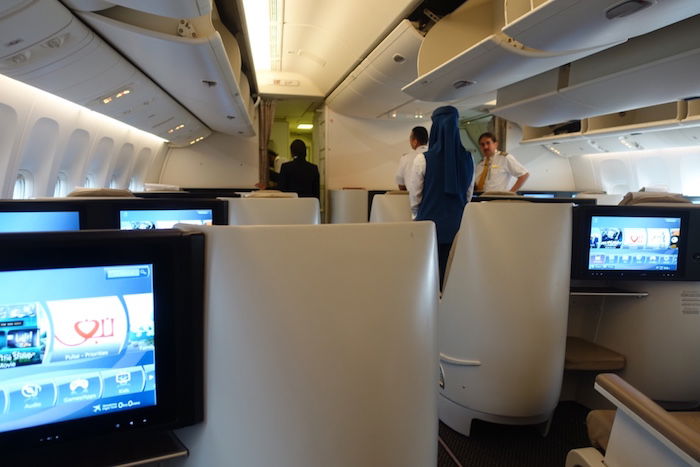 This was done for all passengers. When we asked the flight attendants about this, they said it's standard procedure out of Colombo (I'm not sure if they meant it's standard procedure just on Saudia flights out of Colombo, or were suggesting it's standard procedure on all ex-CMB flights).
The worst part? The bag search and pat down were the best service we've received so far on the flight. Come to think of it, it's the only work the male flight attendants have done so far.
Stay tuned for the follow up post about the inflight service. You won't believe what the service has been like on Saudia (at least I still can't believe what I've witnessed over the past couple of hours).
Has anyone experienced anything like this before? Is this the standard procedure on Saudia, or…?