I'm off to Jordan later this year, and while I was looking at Amman's Queen Alia Airport Wikipedia page to determine how to get out of there, I came across something interesting that I was unaware of.
While it is already flying a sole route from nearby Paphos, Cyprus, on October 29, 2018, Ryanair will commence flights from a further nine European airports to Amman, Jordan.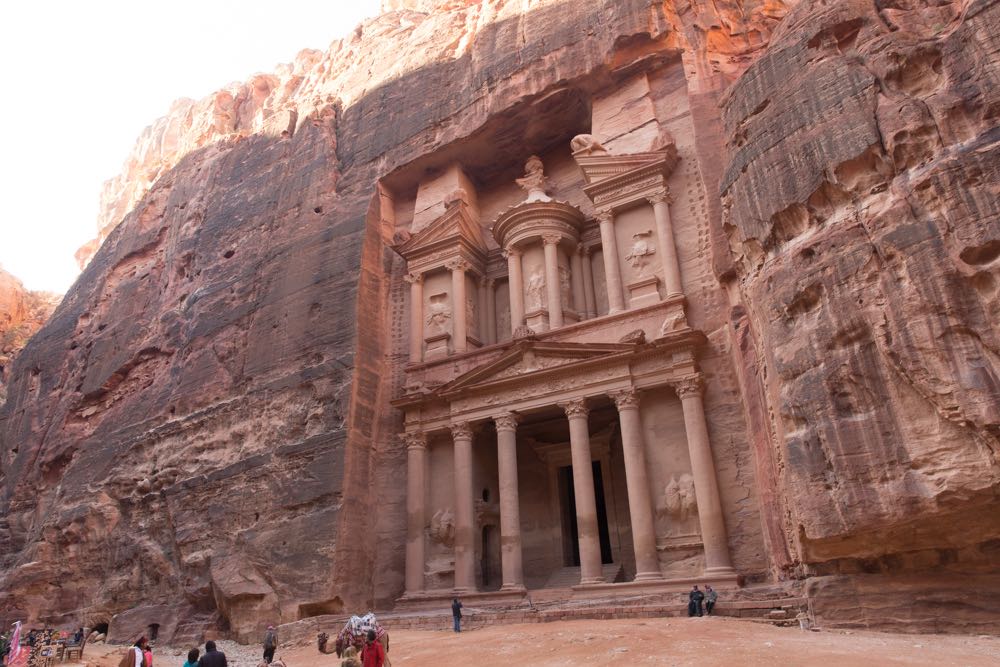 The European destinations include:
Bergamo
Brussels
Bologna
Bucharest
Budapest
Kraków
Paphos
Prague
Vilnius
Warsaw–Modlin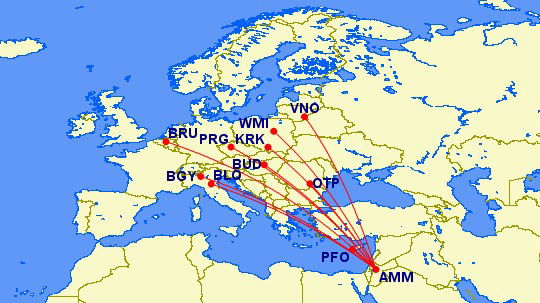 It will also be launching flights from four European airports — Athens, Cologne/Bonn, Rome Campiano and Sofia — to the Jordanian city of Aqaba.
I note that Ryanair does already fly to Israel, but I believe that is their only other destination in the Middle East.
As you might imagine, Ryanair's entry dramatically lowers prices.

There are several things I find really interesting about this:
Ryanair has chosen 10 destinations that flag carrier Royal Jordanian does not operate to, so there is definitely a market for passengers who want a direct flight for a good price but are willing to sacrifice comfort to get there.
They are not testing the market by launching one route at a time like many airlines would do with a new destination. They are launching nine new routes in two days (albeit with infrequent schedules).
Ryanair will flood the market with cheap seats, which will be fantastic for Jordanian tourism, but I can't imagine Royal Jordanian is very happy about this ultra low-cost competition. Italy welcomed Ryanair with open arms, and look what that has done for Alitalia.
From my own planning, I know that Jordan is a fairly affordable travel destination (when compared with places like Israel or Dubai), so this seems like a good fit for a Ryanair destination in the Middle East.
Ryanair is ruthless in negotiating ridiculously low landing and airport fees, which is why they choose seemingly random airports to operate to, so I imagine both Amman Airport and the Jordanian Government would be giving significant incentives to Ryanair for this expansion. The Jordanian Government owns 36% of Royal Jordanian so it would be fascinating to understand how they believe the two airlines can co-exist. Perhaps Ryanair has agreed not to operate any of the same routes as Royal Jordanian?
Ryanair and other European carriers have made their fortunes transporting passengers on short flights around Europe. Brussels to Amman is a 4.5 hours flight. I understand the economics of Ryanair's business model reduces the longer the flights are (which is why it doesn't operate many flights this long). I expect they are loss-leading as they launch, which is not uncommon for airlines to do as they build a new route, but I can't imagine there is any profit in a 4.5 hour flight for €44.
If this experiment works, I imagine Ryanair has a list of Middle East destinations it would consider next. Muscat, Oman?
Bottom line
Perhaps the Jordanian Government believes there is so much potential for tourism in Jordan to grow that they believe both carriers can co-exist. I'll be watching with interest to see what happens when and if they compete on the same routes, especially from London, which is Ryanair's biggest hub.
Yes, both airlines have different products and business models and (currently) target different customers. And I don't tend to actively seek out Ryanair flights over three hours because they're not exactly comfortable. But Ryanair can offer such absurdly cheap prices that they will have no trouble taking passengers from Royal Jordanian.
Would you fly Ryanair to Jordan if the price was right?