Ryanair has some unique conditions for their cabin crew. I understand one of them is that they never overnight at any destination (i.e. they always return to their home base each day they fly), because it is cheaper for the airline to avoid paying for any hotels.
If this is true, then where delays or cancellations force crew to have to spend the night at a hotel somewhere, understandably Ryanair is not well equipped to organize such hotels.
The BBC is reporting that Ryanair crew who were based in Porto, Portugal were due to operate a flight from Malaga, Spain, back to Porto one recent evening. Tropical Storm Leslie was hitting Portugal that evening and the flight was cancelled.
Understandably, hotels were difficult to come by in the area given so many passengers were stranded by the flights and it was a national holiday in Spain that day.
Here's where the story becomes a bit confusing, based on who's telling it. Ryanair said that there were no hotels available, while the crew are saying that Ryanair did not try very hard to find them a hotel (even outside of town), so they were forced to spend the evening at the airport.
Ryanair's Portuguese crew union has said officially:
The 24 crew members were there since (1:30 a.m.) until 06:00 (local time) without access to food, drinks and even a place to sit down, as there were only 8 seats available for the 24 crew.
Here is a photo of the crew at Malaga Airport:
Ryanair Chief Operating Officer Peter Bellew (who you might remember used to lead Malaysia Airlines), confirmed the crew were forced to spend the evening at the airport but said this was only because there were no hotel rooms available, and that they were moved to the 'VIP Lounge' where there was food, drinks and more comfortable seating/couches for them to rest.
Ryanair has also said the above photo is staged, and the crew paxed home the next morning (not operating the flights).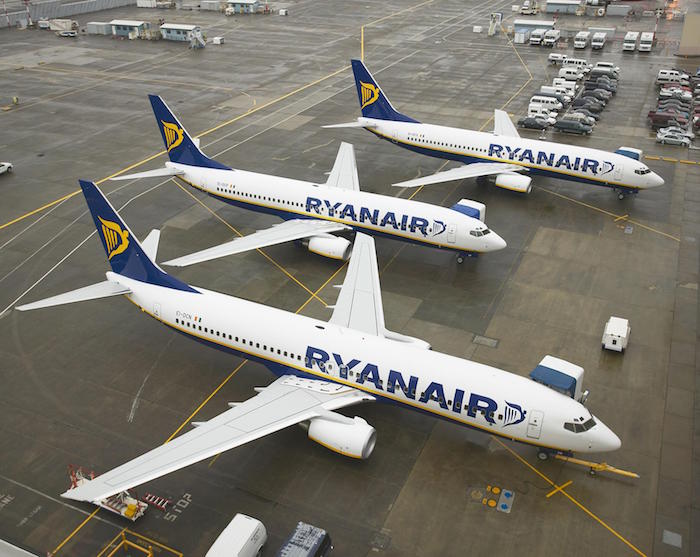 Bottom line
I find it interesting the massive difference in how cabin crew around the world are treated, and this largely depends on how big and powerful their unions are. I cannot imagine mainline cabin crew for US or Australian airlines ever even sleeping in an airport lounge overnight, let alone being pictured sleeping on the floor.
I tend to think the above photo is staged — if I was ever forced to sleep on the ground with my coworkers, there is no way I would lie that close to them. You can see from the photo that there is space around them, so I'm not sure why they are almost touching each other.
It would undoubtedly be awful to have to sleep in the airport, especially for crew who have been working all day. I do feel for these cabin crew in these situations, and could understand if they made the photo look a bit worse than it actually was to try and initiate better working conditions. Ryanair should be more proactive in managing these situations when they arise and looking after their own staff.
Do you think Ryanair crew actually slept on the floor like the picture suggests?