I love when airlines get creative with the names of their loyalty programs. I think my favorite loyalty program name belongs to Cayman Airways, which has the Sir Turtle Club. Sir Turtle Club members can earn Silver, Gold, or Platinum status.
I'm sort of sad I don't have status with them, because I think being a "Sir Turtle Platinum" member is the coolest-sounding elite status one could have.
Royal Jordanian has just recently introduced a new loyalty program. They're replacing their Royal Plus program with a new program called Royal Club. That's not all that creative as such, but what I love are the new names of the tiers in the program. With the new program you can be a:
Bronze Sunbird
Silver Jay
Gold Sparrow
Platinum Hawk
Seriously, how cool are those names?! Royal Jordanian changed the names of the tiers to give them more of a Jordanian identity, which I quite like. The new membership cards even have pictures of feathers on them.

But more importantly, what's the new loyalty program actually like? The changes aren't that drastic, though they have adjusted mileage earning rates, and have slightly adjusted elite benefits. Here are the requirements for earning their various elite tiers:

Then here are the elite benefits for the new program, by tier: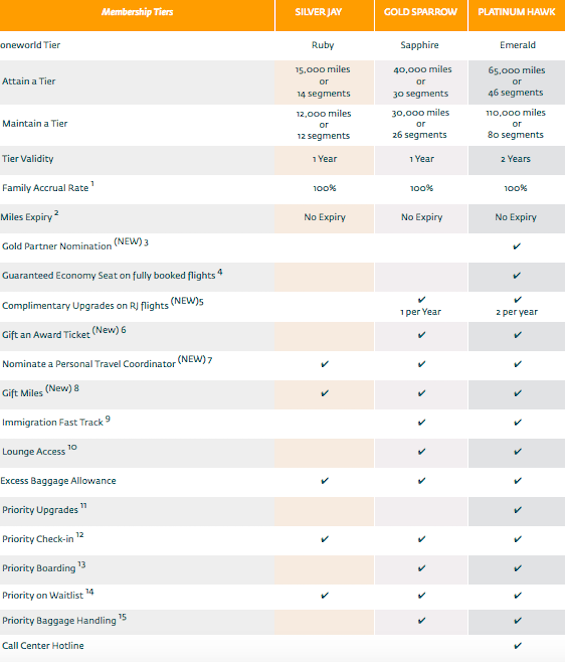 You can find all the details of the new program here. While their 65,000 mile requirement is pretty low for oneworld Emerald, I generally tend to think there are better programs out there for crediting miles. Last year they did offer an interesting status match opportunity, though it's my understanding that they tried to backtrack on it at least slightly
What's your favorite loyalty program name, or favorite membership tier names?
(Tip of the hat to Travel Update)