My TravelPro rollaboard is nearly a decade old now, and while it has held up spectacularly well given what I put it through, it is coming to the end of its functional life, and is definitely in need of replacement. The personal item situation isn't as quite as grim, but (as I'm sure many of you can relate to), it also isn't ideal.
So I'm always casually on the lookout for something a bit…more.
When Ben wrote about his urgent need for a luggage makeover in late 2019, y'all had several great suggestions. One that came up repeatedly was the Nomad Lane Bento Bag, though it was unfortunately sold out at the time.
While he ultimately settled on a Briggs & Riley pair, the idea of a more structured bag and organizational system was something that many of you expressed interest in.
As luck would have it, the co-owner of Nomad Lane is also a long-time OMAAT reader. And as people are beginning to travel more again (and perhaps in a different fashion than they have in the past), there seems to be a lot of luggage shopping happening. So when Nomad Lane offered to send a bag for me to check out in-person, I agreed.
I'll share my thoughts below, and then this particular bag will be up for grabs (along with some other swag). Or if you decide you'd like own of your own, Nomad Lane is offering a $30 discount using this link or the code "OMAAT".
For avoidance of doubt, this post is neither sponsored nor commissioned — just hopefully helpful.
My current carryon "wardrobe"
Ben gets by with just one personal item, but I have found over the years that an assortment suits me better.
I have my go-to small weekender, but there's also the "day of meetings in LA" tote, the "will probably want to have a backpack in this destination" bag, and the borderline-ridiculous "flying Emirates First and those amenity kits and pajamas aren't going to get themselves home" duffel.
You know how it is.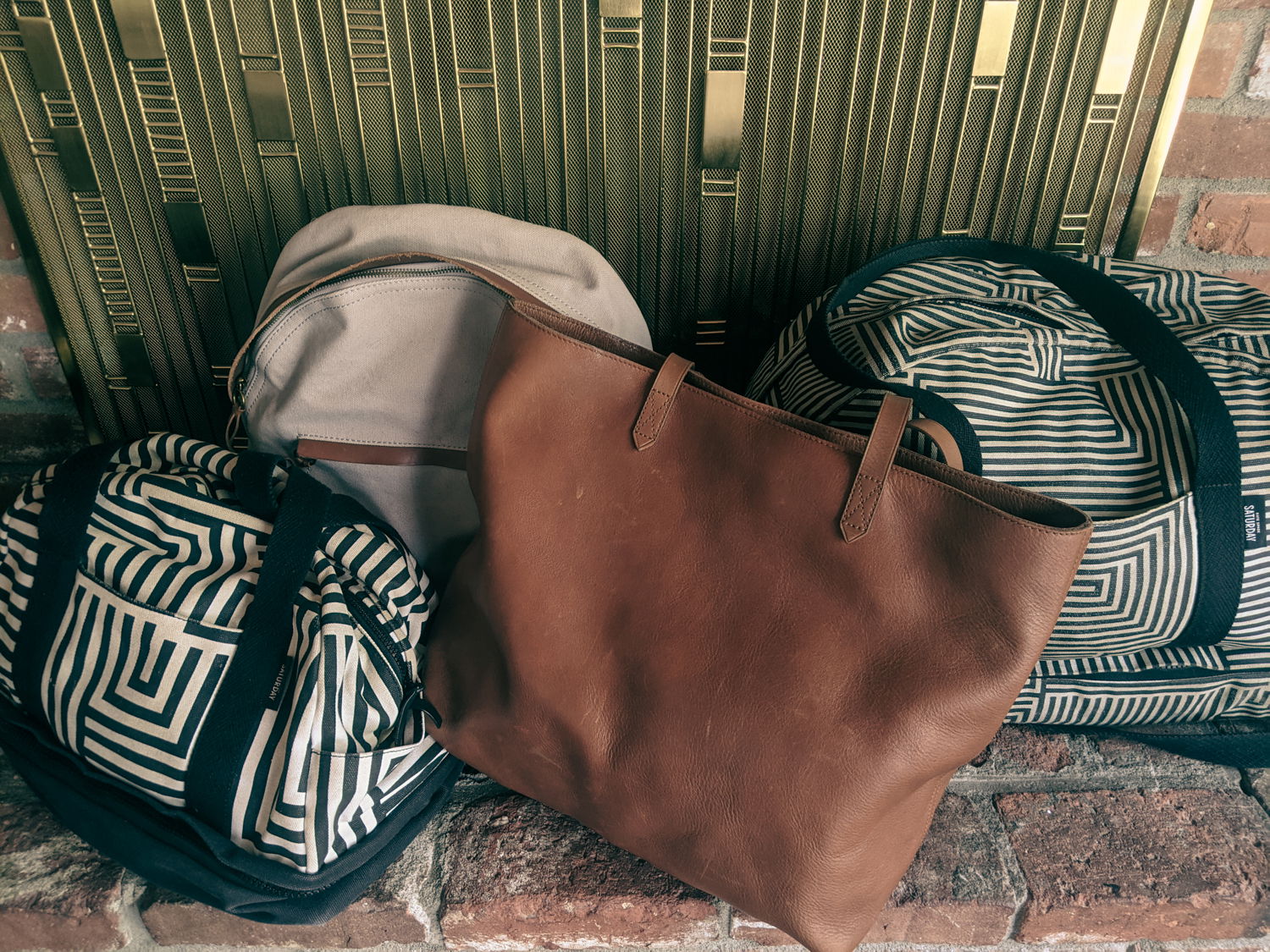 I love all these bags for different reasons, but one thing they all have in common is a large, almost cavernous main area. That generally works well for me and my dialed-in packing list, though it can be annoying to get at things that sink to the bottom of the bag.
Having a bag with a more directive approach is a big departure for me, but one I'm intrigued by. You might be too.
The Nomad Lane "Bento" Bag
First of all, this bag is nicely packaged — from the printed and perfectly-sized shipping box to the custom dust cover. And while that really doesn't matter, it is a nicer beginning to the experience than opening up a poorly-sealed plastic bag that's been rattling around inside a lump of cardboard.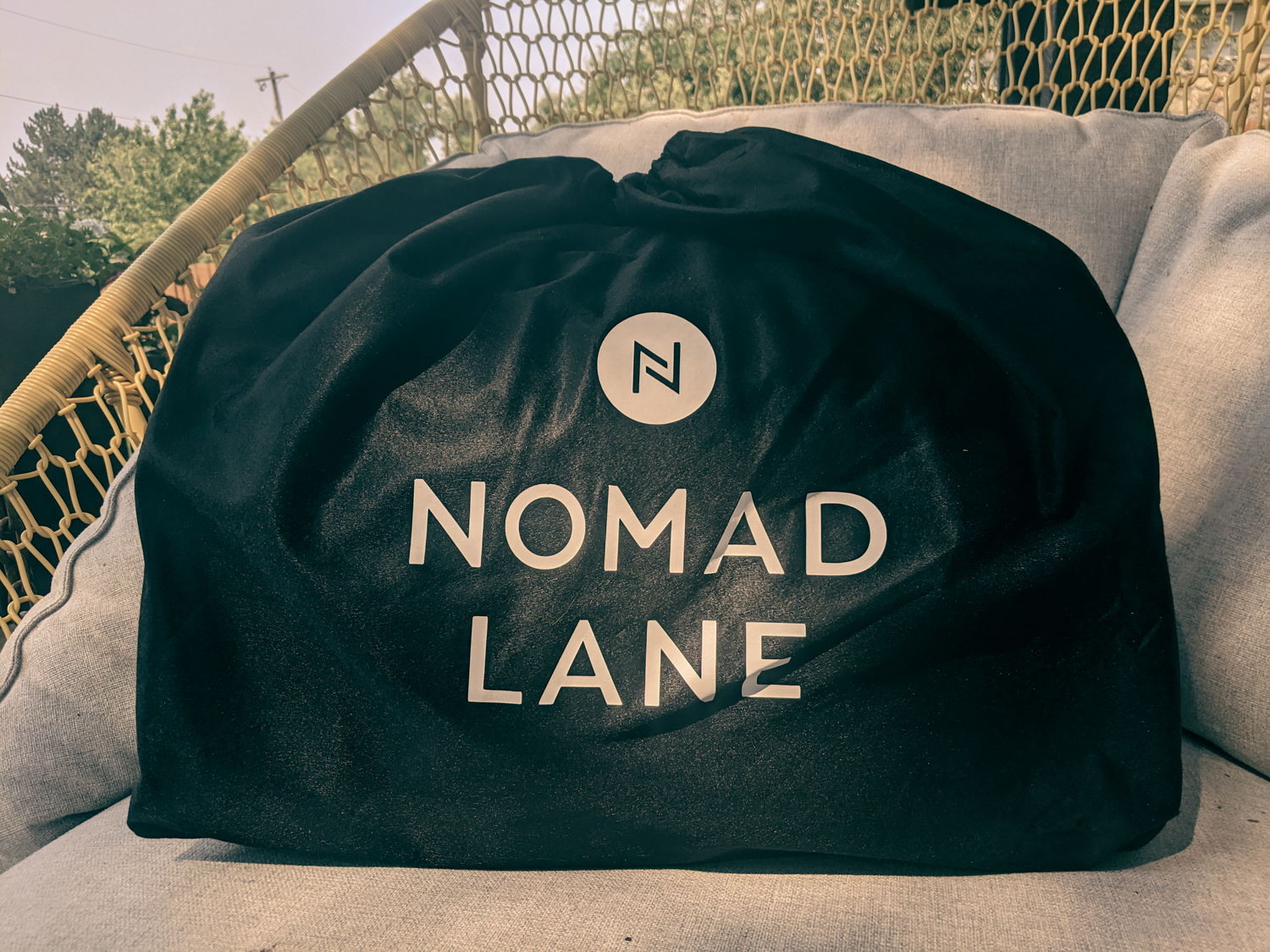 The bag is designed to fit under the seat in front of you, and in context with my other bags I think it would be comfortable fit on most every aircraft — even my extra-large duffel can fit if packed with soft items.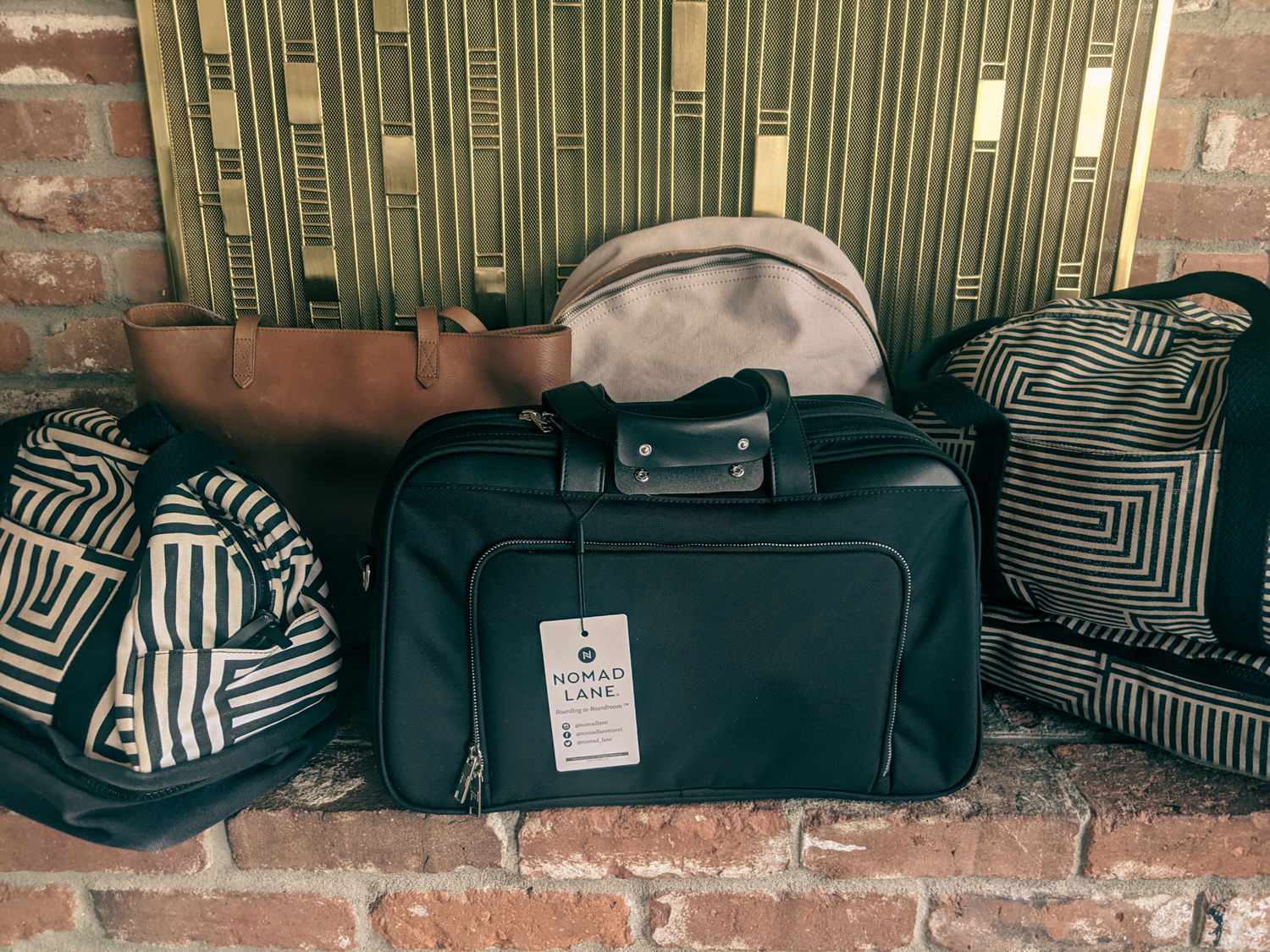 This is the "Bento Bag® v 3.0 – [LIMITED] Sport Black / Silver", and the fit and finish is more or less what I expected. Solid and durable-feeling hardware, some "vegan leather" accents, and a body fabric that seems like it will hold up to heavy use.
What makes this bag more unique is just how many dang pockets and folders and zippered sections there are — "bento" is a perfect name. And you can tell that the bag was designed by people who travel a lot — one of my big frustrations when shopping for bags and totes is that so few of them seem to have gone through a design review with anyone who has ever been on an airplane, much less with frequency.
The main zipper opens as a clamshell, which I expected to be annoying (I share Ben's disdain for many hard-sided bags for this reason), but the execution here worked well. The fact that there are alternate ways to access many of the pockets helps, and the layout is fairly well considered.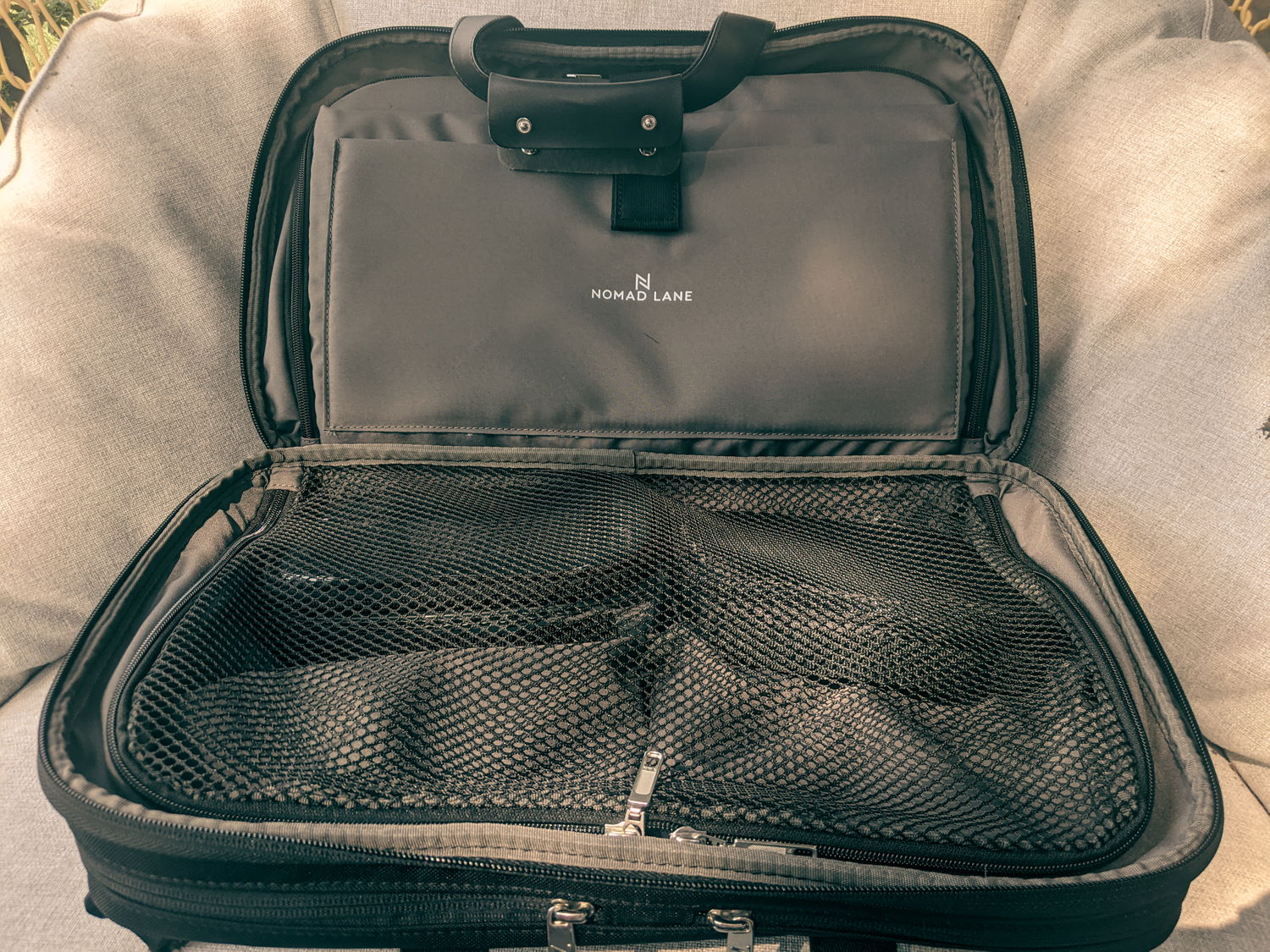 Test packing the Bento Bag
Like any other bento box, the thought of choosing and packing one's own can feel a bit intimidating. I was definitely a little overwhelmed by all the possibility and compartments at first, as there is potentially a ton that can be done here.
So I ultimately just pulled things into a pile and started packing.
Hers
While I am sure there are more efficient (or at least more attractive) ways to pack this bag, I just took all the things I would normally put in my personal item, added some things I'd like to have with me in an ideal situation, and tried to see what/how stuff would fit.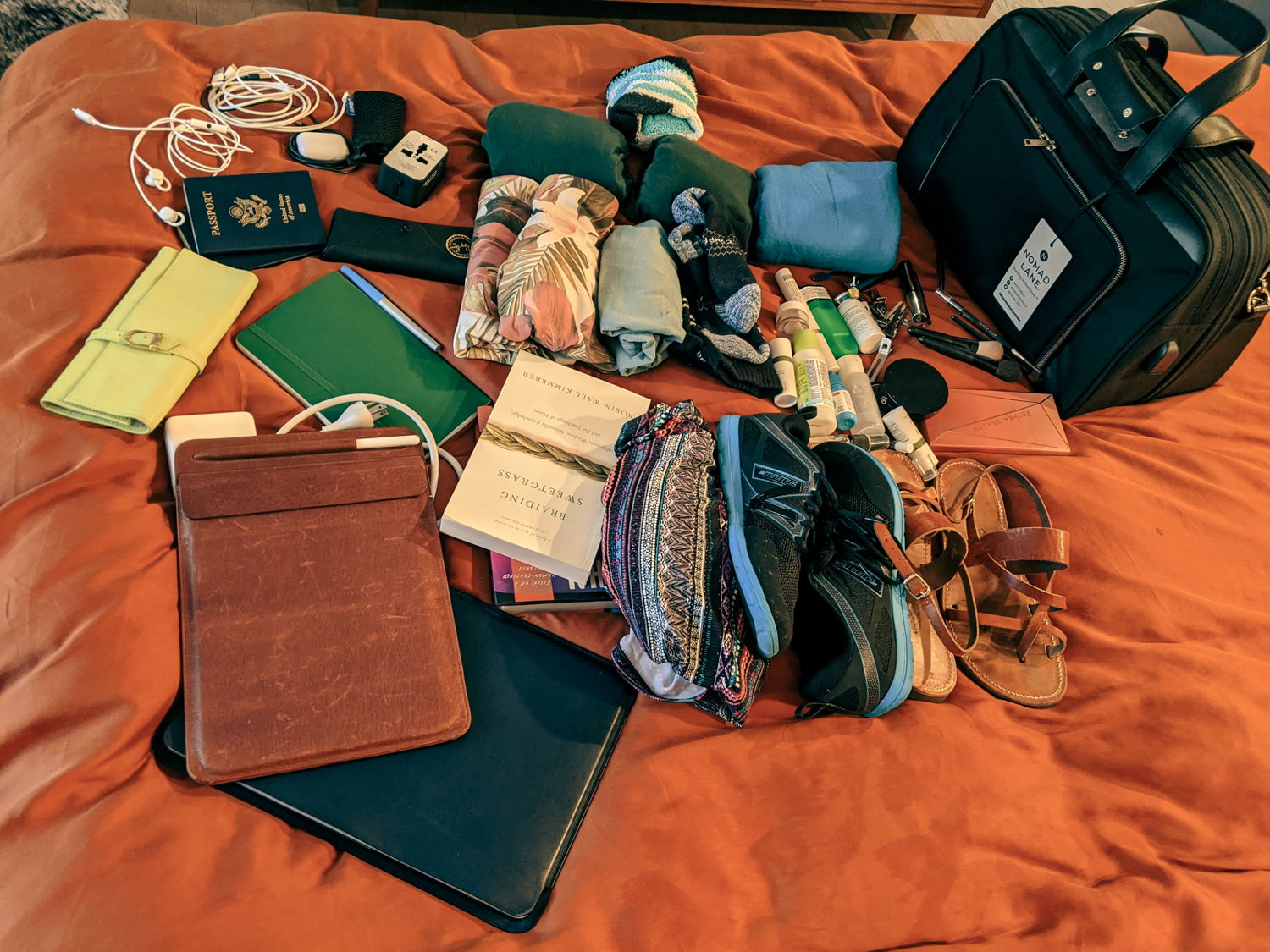 I typically keep all my tech stuff (13″ MacbookPro, iPad, phone, associated charging apparatus) in whatever personal item, along with toiletries, a pashmina, my jewelry roll, a spare pair of socks, and backup shoes. Loungewear and another set of socks are the next things to go in when there's space, and then I love to fit in gym clothes/shoes and a swimsuit whenever possible.
It's just nice to have those things handy on a longer layover, or if my rollaboard has to be checked.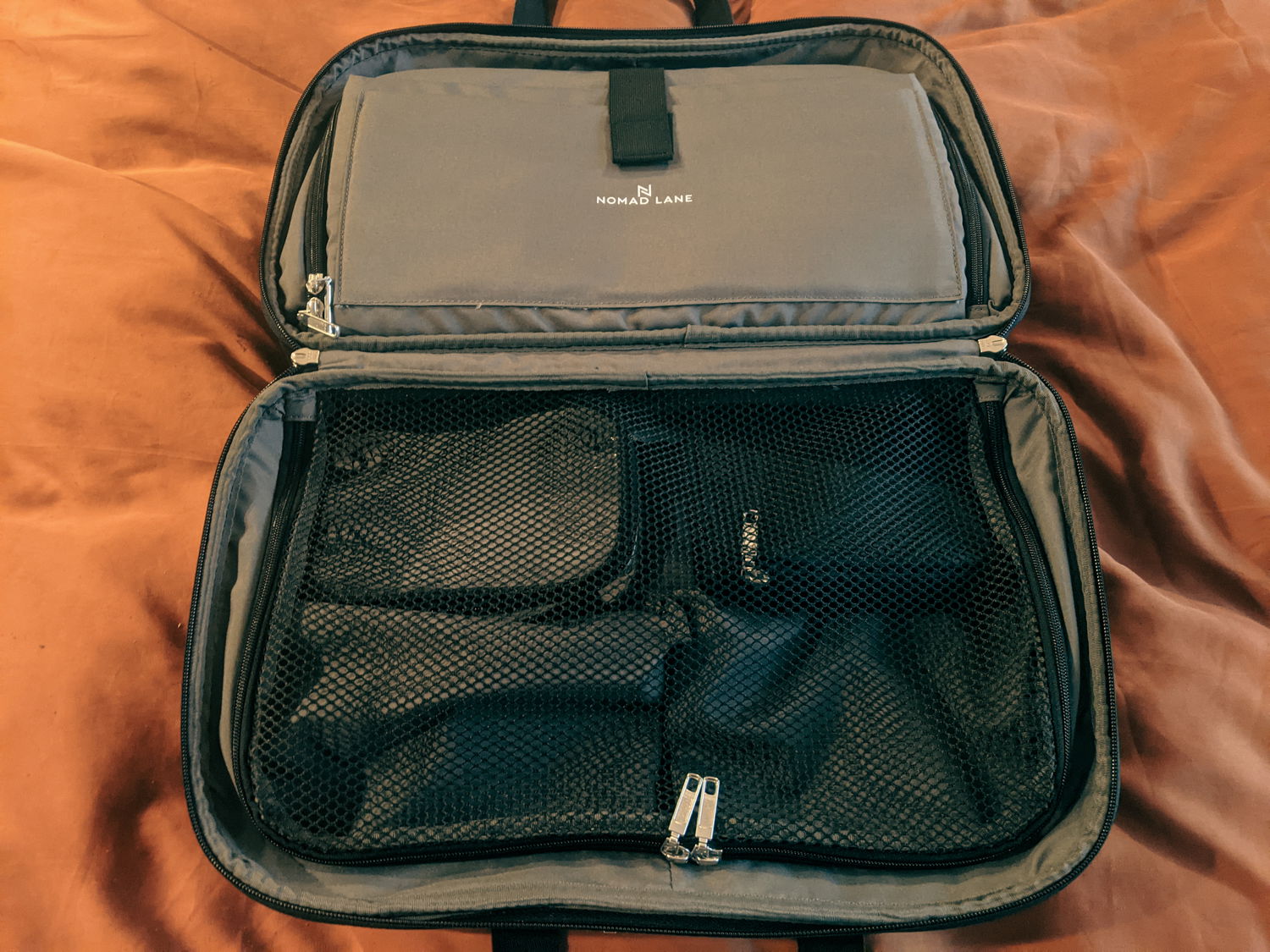 The "bottom" compartment has a decent amount of space, and includes two pouches (one clear) that fit nicely next to a pair of pockets (which are accessed from the outside of the bag).
I'll be honest — I don't love the included pouches. The 3-1-1 bag is a little bigger than I need it to be, which led to some sloshing around. But I also have my Freedom Baggie composition pretty dialed-in, and others may enjoy the extra space and lateral opening. The other pouch is perhaps meant to be for tech? I put my (admittedly minimal) travel makeup items in there, and still had tons of space.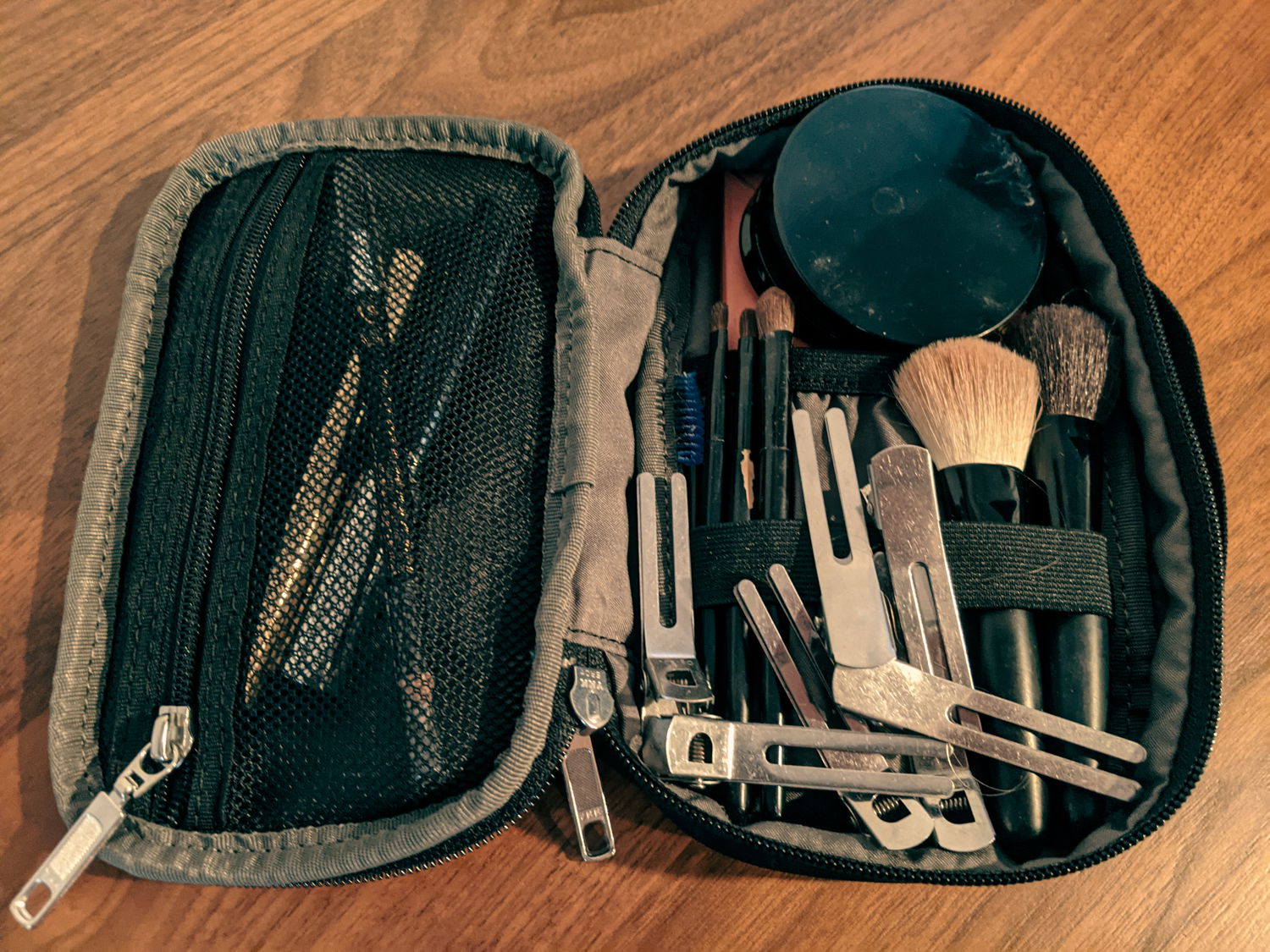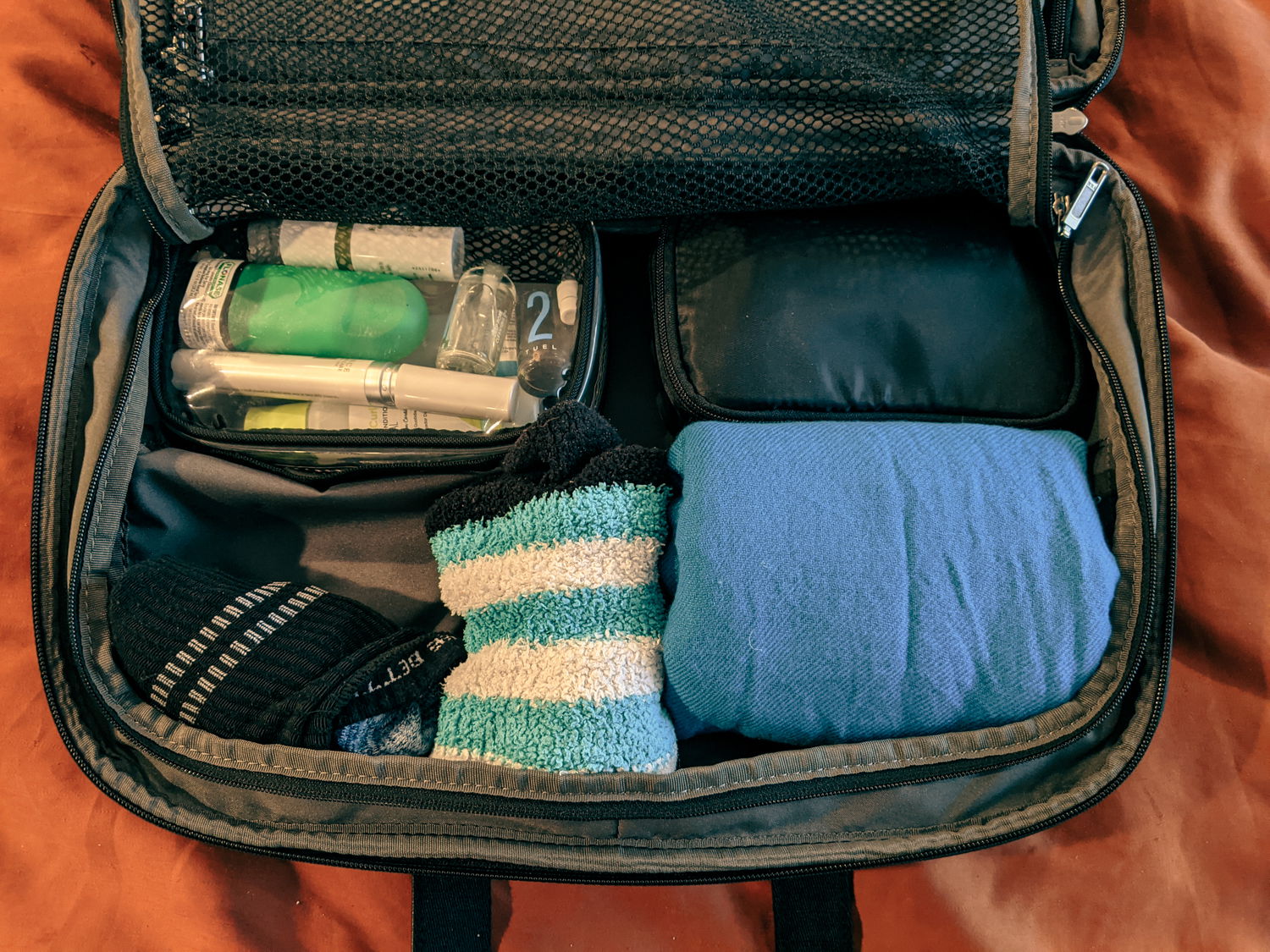 I also found I had plenty of extra space between the pouches (this is potentially just my being new to packing using this method), which is either a waste of real estate or an opportunity to cram more things into the crannies, depending on your perspective.
I opted to fill in the space: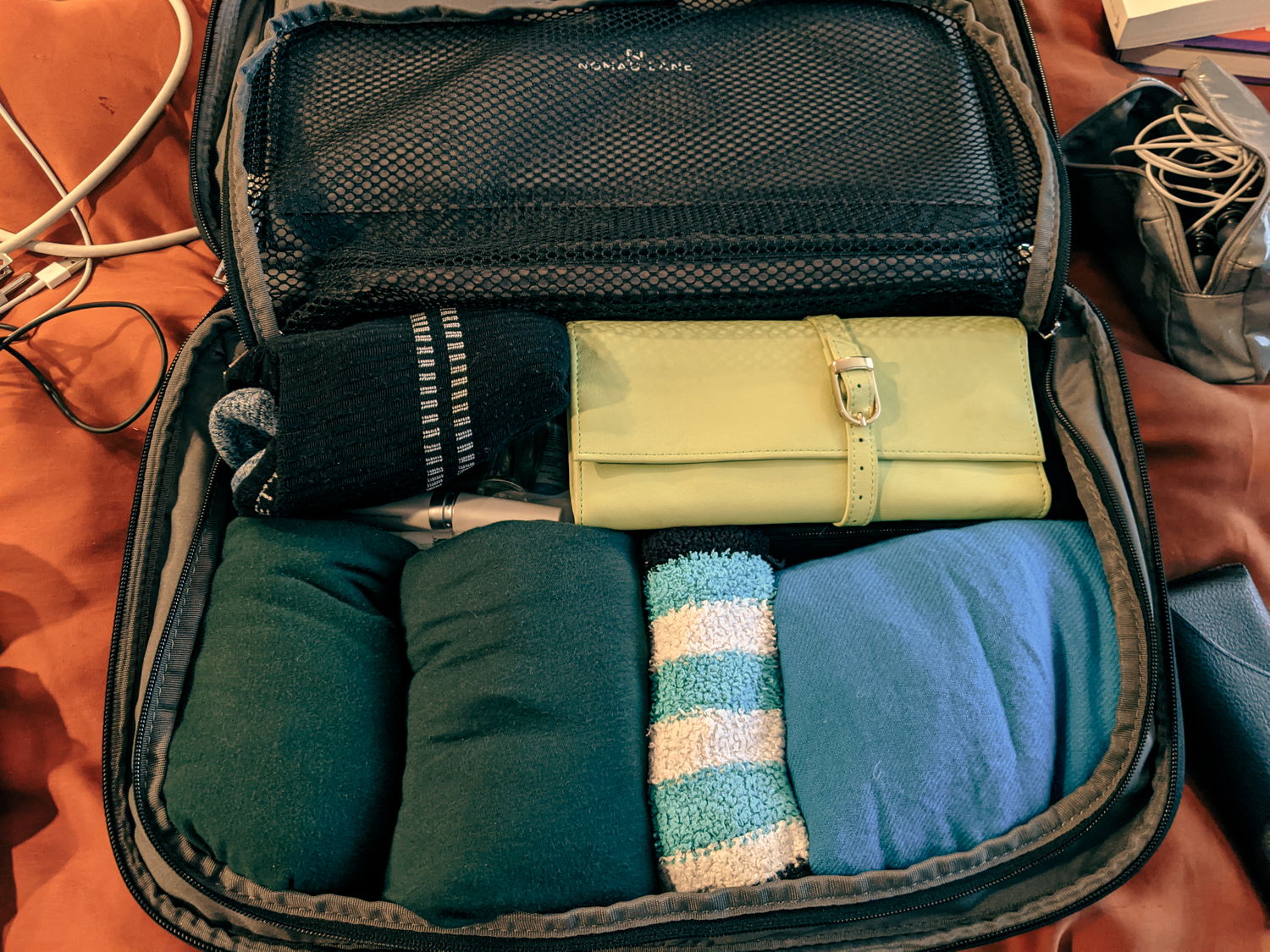 With all those items inside, and the divider zipped, I then had space on top of that half the bag for my laptop charger and two books (though the hardcover felt perhaps slightly ambitious when it came time to zip up). The padded pockets easily fit both my laptop and my iPad — in their cases no less!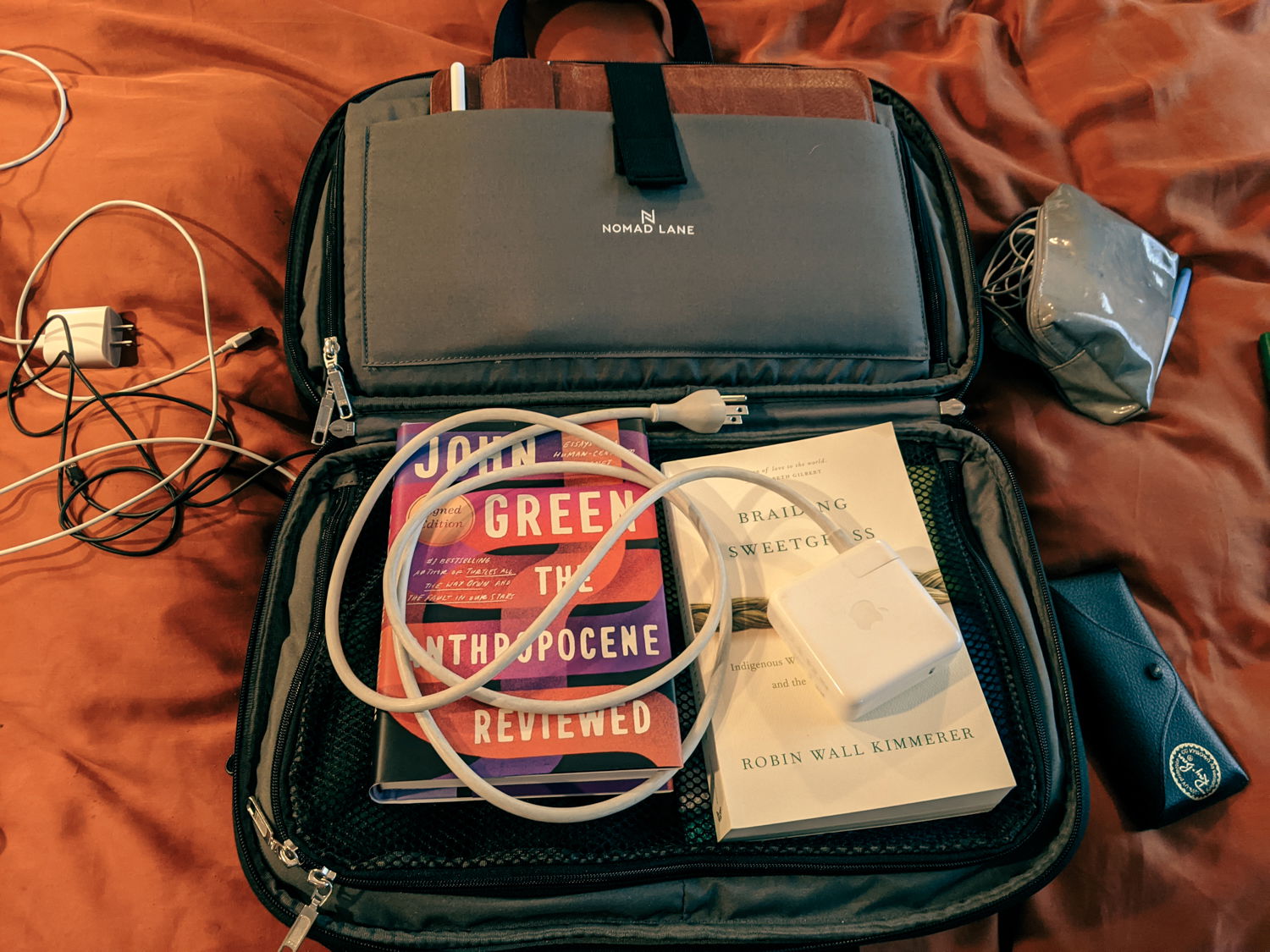 The laptop/iPad section flips down to reveal a larger compartment. This would likely be your main packing area if you were using this as a weekend bag.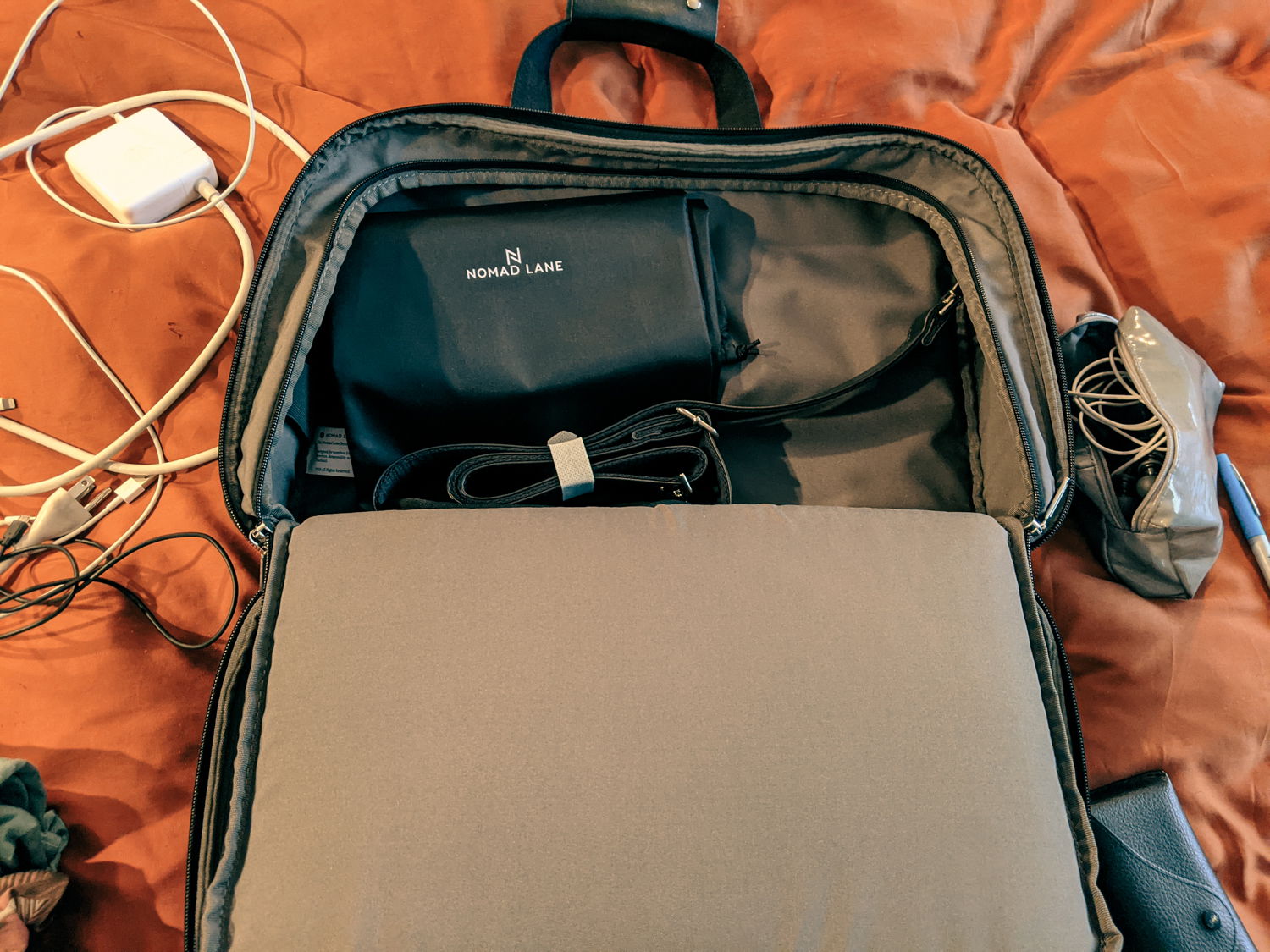 For me, with a Women's ~9.5 shoe, I was easily able to fit both a flat pair of sandals and a pair of minimalist sneakers, along with gym clothes and a swimsuit. If you have longer (or even just bulkier) shoes, I'd only expect to fit a single pair.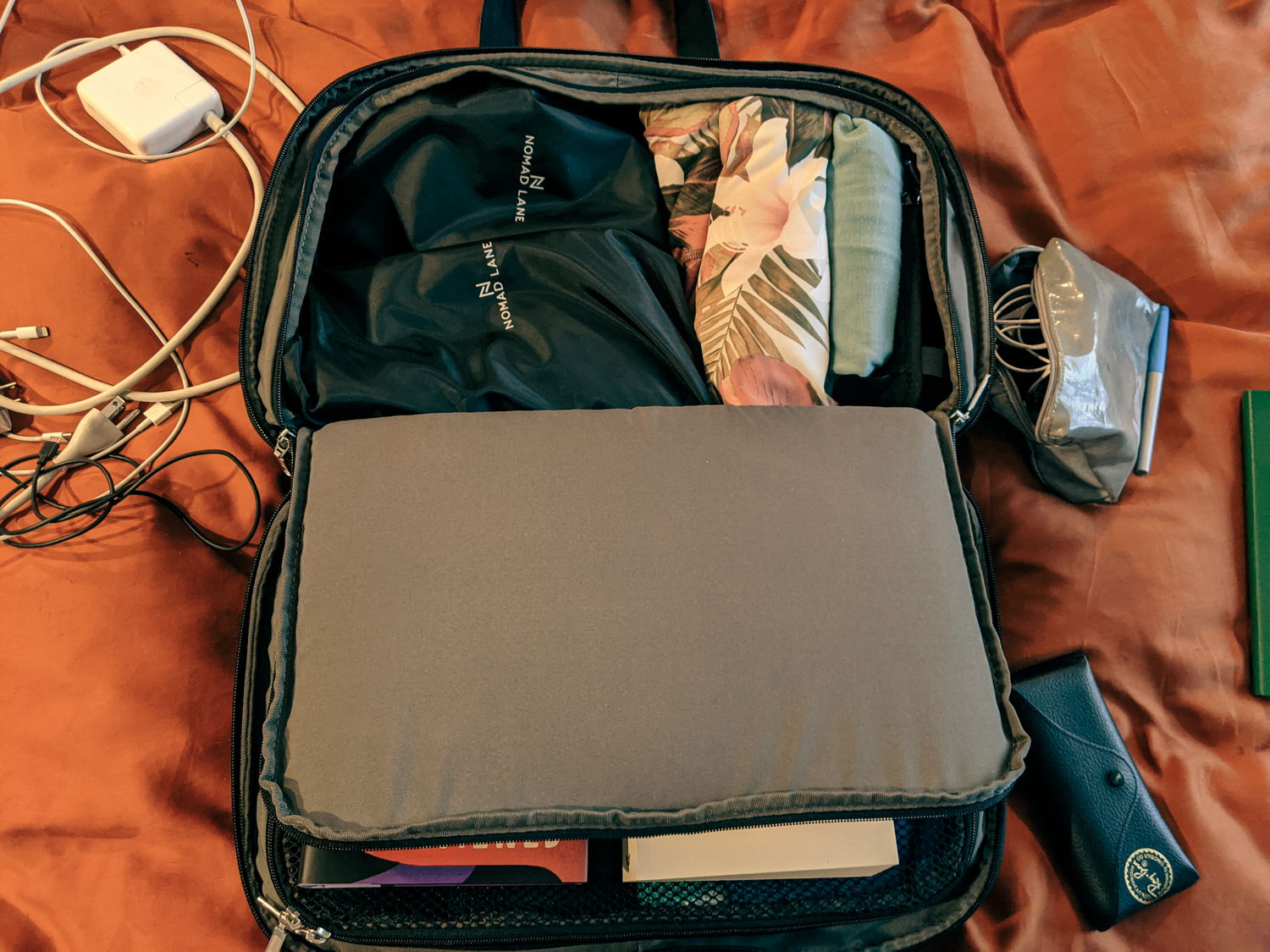 The outer pocket has an area to connect a power bank, and a host of other sleeves and pockets. I think I'd need to spend more time with this bag to really understand the best ways to organize things in this section, but it generally worked okay. I did find myself wishing for credit card pockets so I could skip bringing my travel wallet though.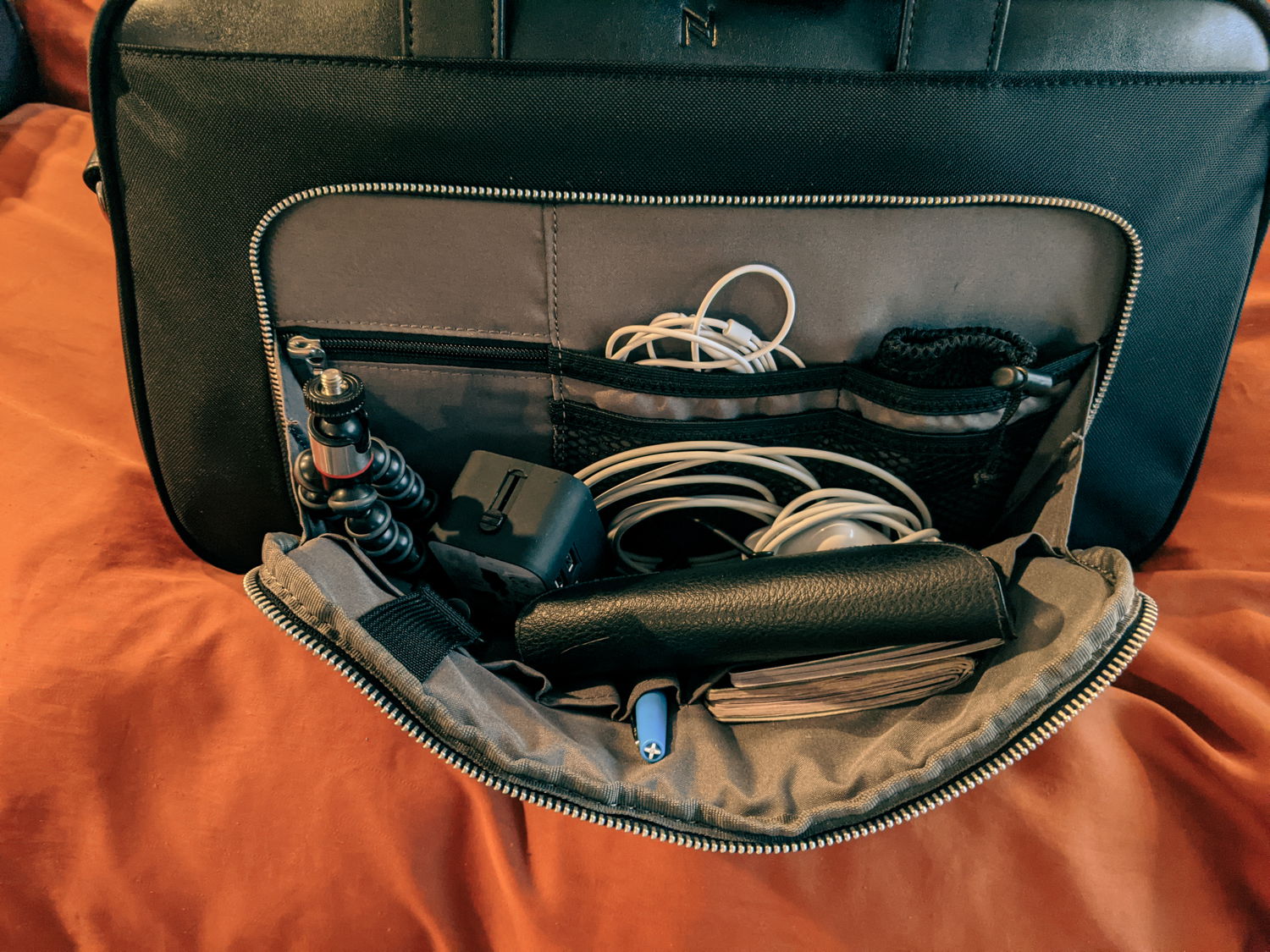 And then my planner went on the opposite side, near a sleeve that can slide over the handle of a larger suitcase.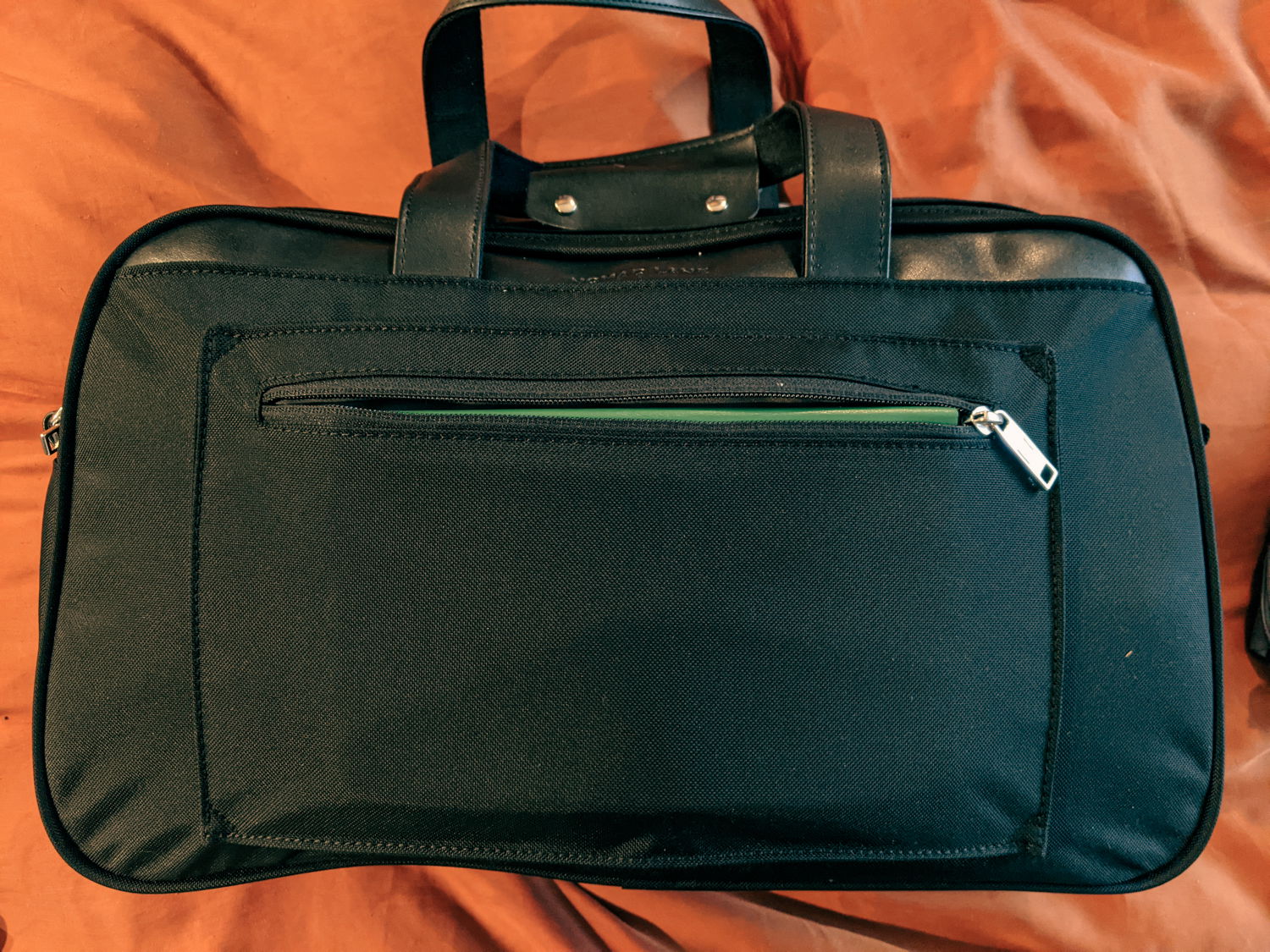 With everything together, the bag was definitely very full, and very heavy. Which has pros and cons — like having so many things close at hand is super convenient, but then you also have to carry it. 😉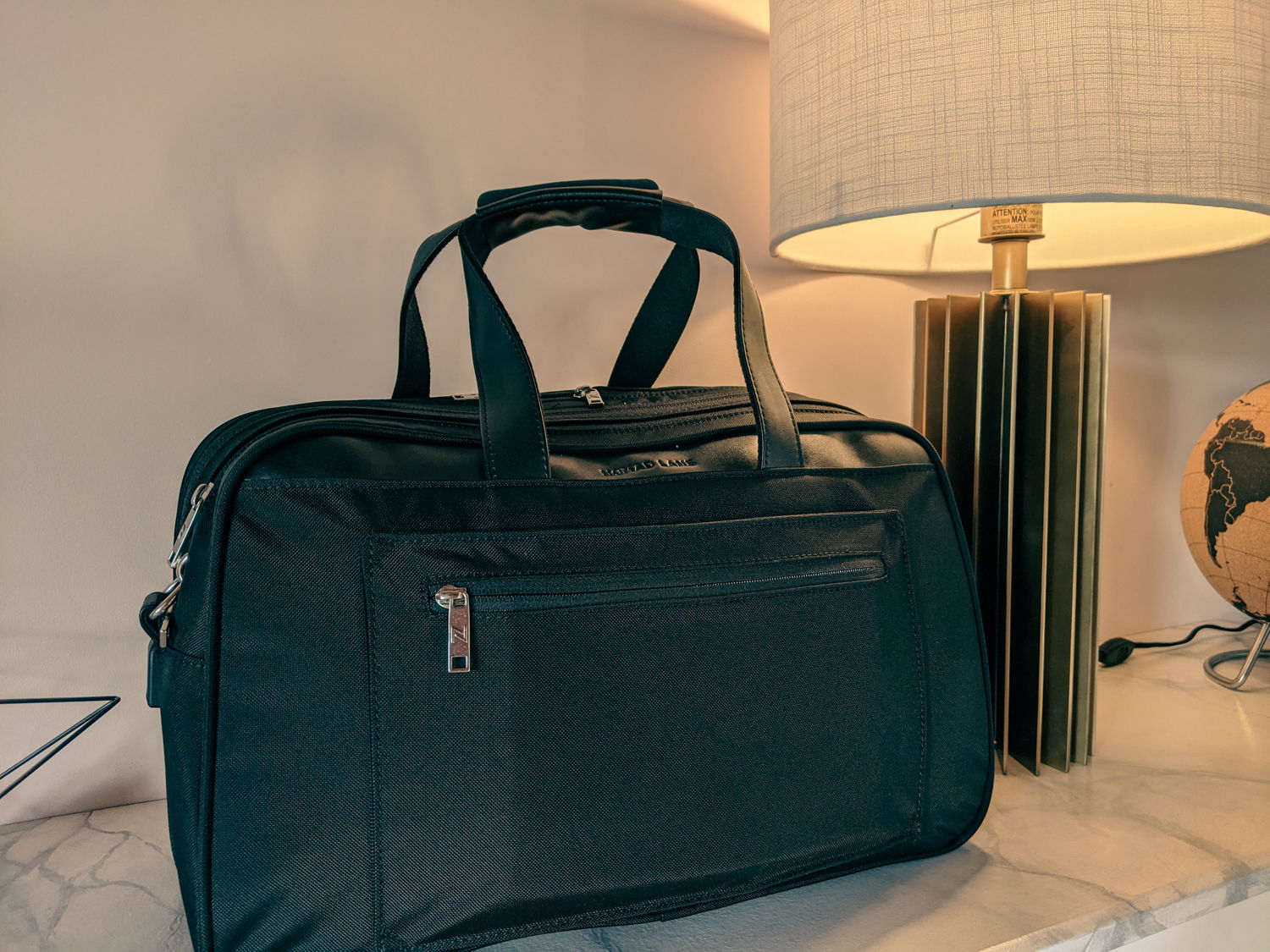 But on balance I think it's likely better to have more space than is strictly necessary, and practice curation, then to not be able to fit key items. Overall, I'm quite impressed with the capacity and structure of the Bento bag.
I'd obviously have to make significant adjustments if I was hoping to bring this-bag-and-this-bag-only on a trip, but as a supplement to a rollaboard — which is how I travel 99.99% of the time anyway — it seems like it would work well for me.
His
In what apparently passes for a fun evening activity these days, my husband did a test pack too. His current go-to bag is a Timbuk2 messenger bag I gifted him on our second or third Christmas together, which means it is nearly old enough to drive, and could probably stand to be replaced.
Though it does, technically, fit everything he'd want for a weekend trip.
Just, well…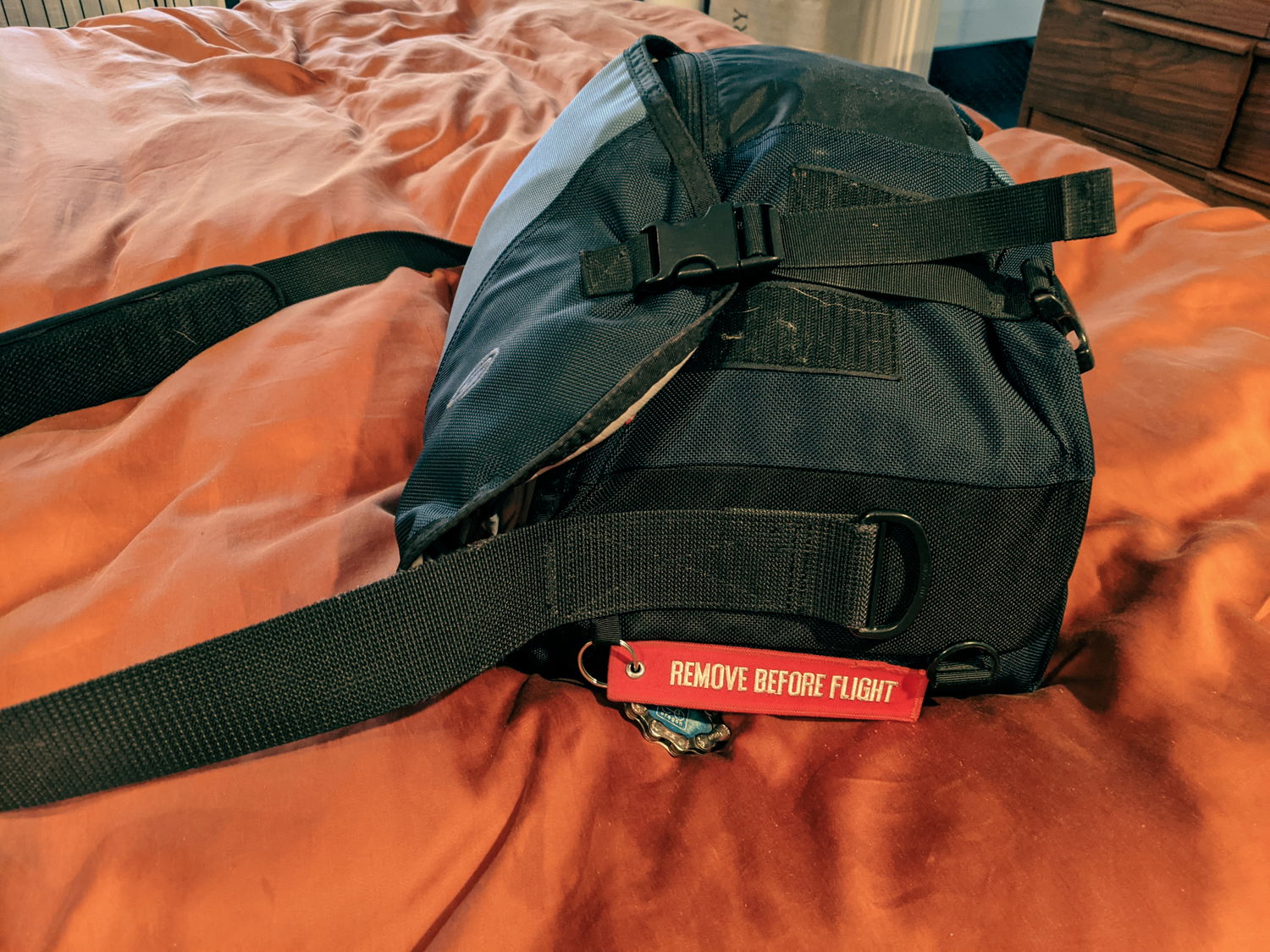 The main challenge with using a messenger bag as a solo bag for him is that while he can get it closed, in order to access anything he has to unpack everything, which is super cumbersome.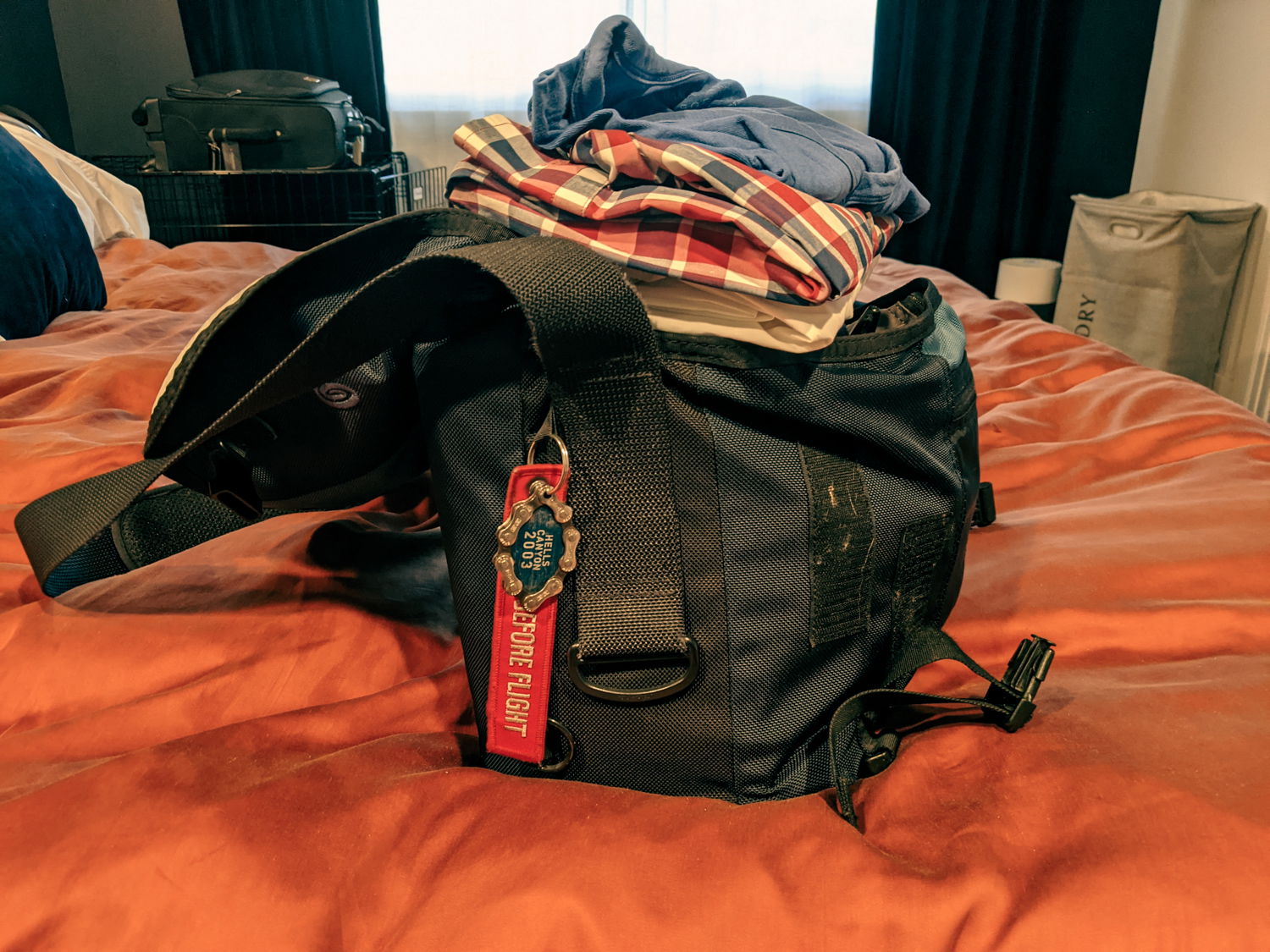 Here's what he packed, which was assuming a 3-night casual working trip with no rollaboard (Men's size 12 shoes, for reference):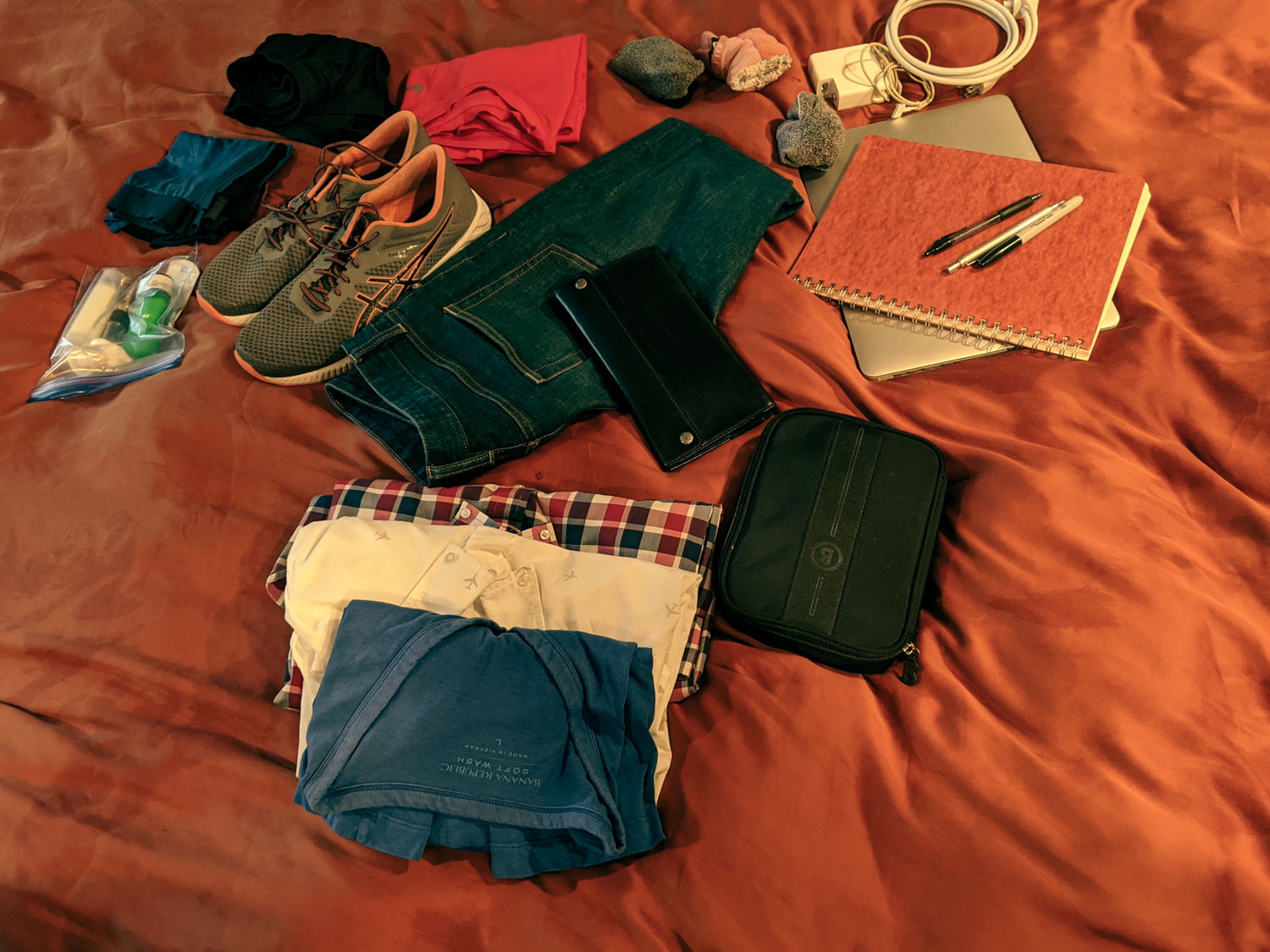 In packing the Bento bag, he ditched one of their pouches for his standard shaving kit (courtesy of LH F), but everything else seemed to fit quite well — including his 15″ laptop.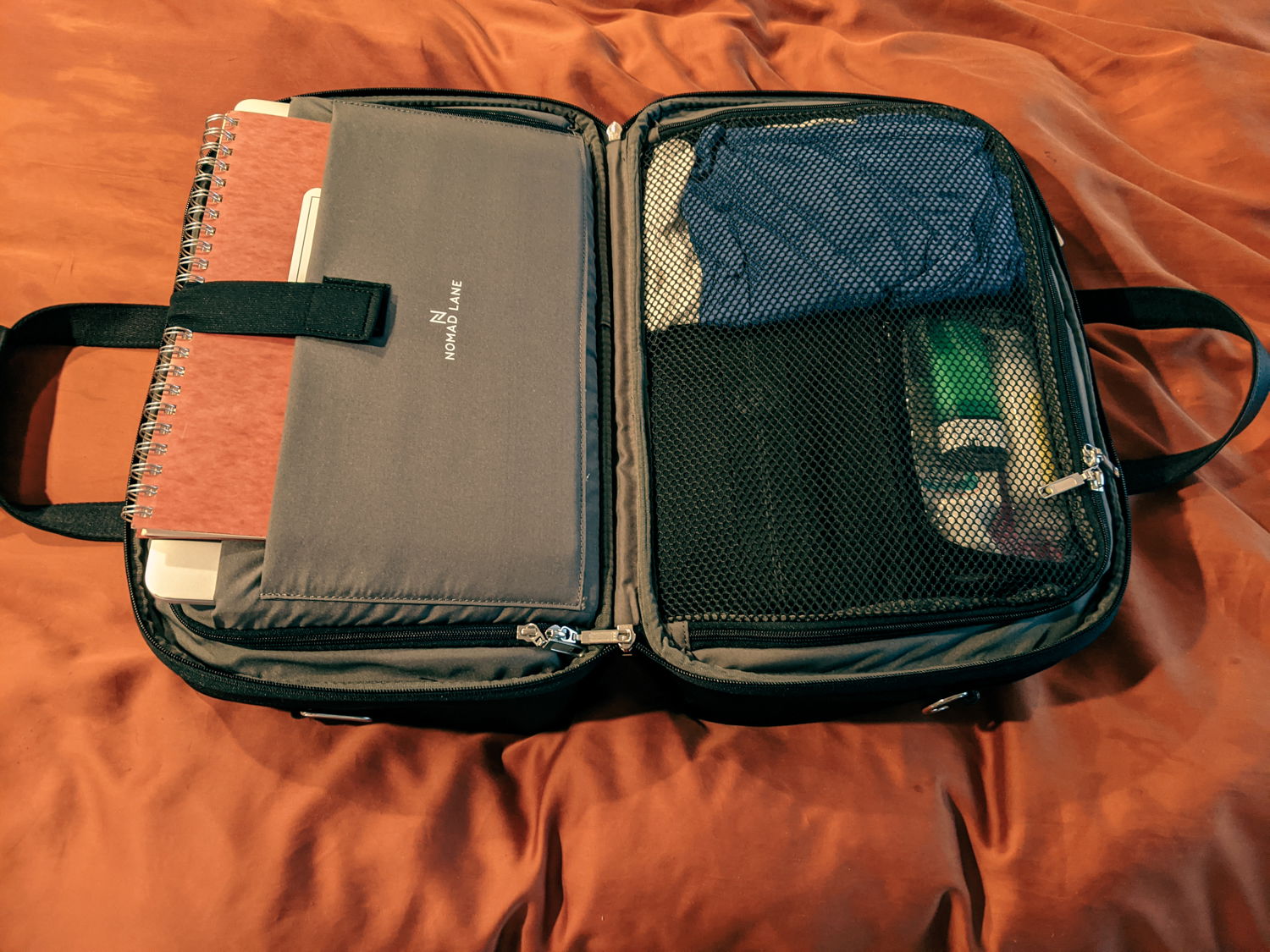 However, while it looked like everything fit, it was a struggle to zip the bag up fully.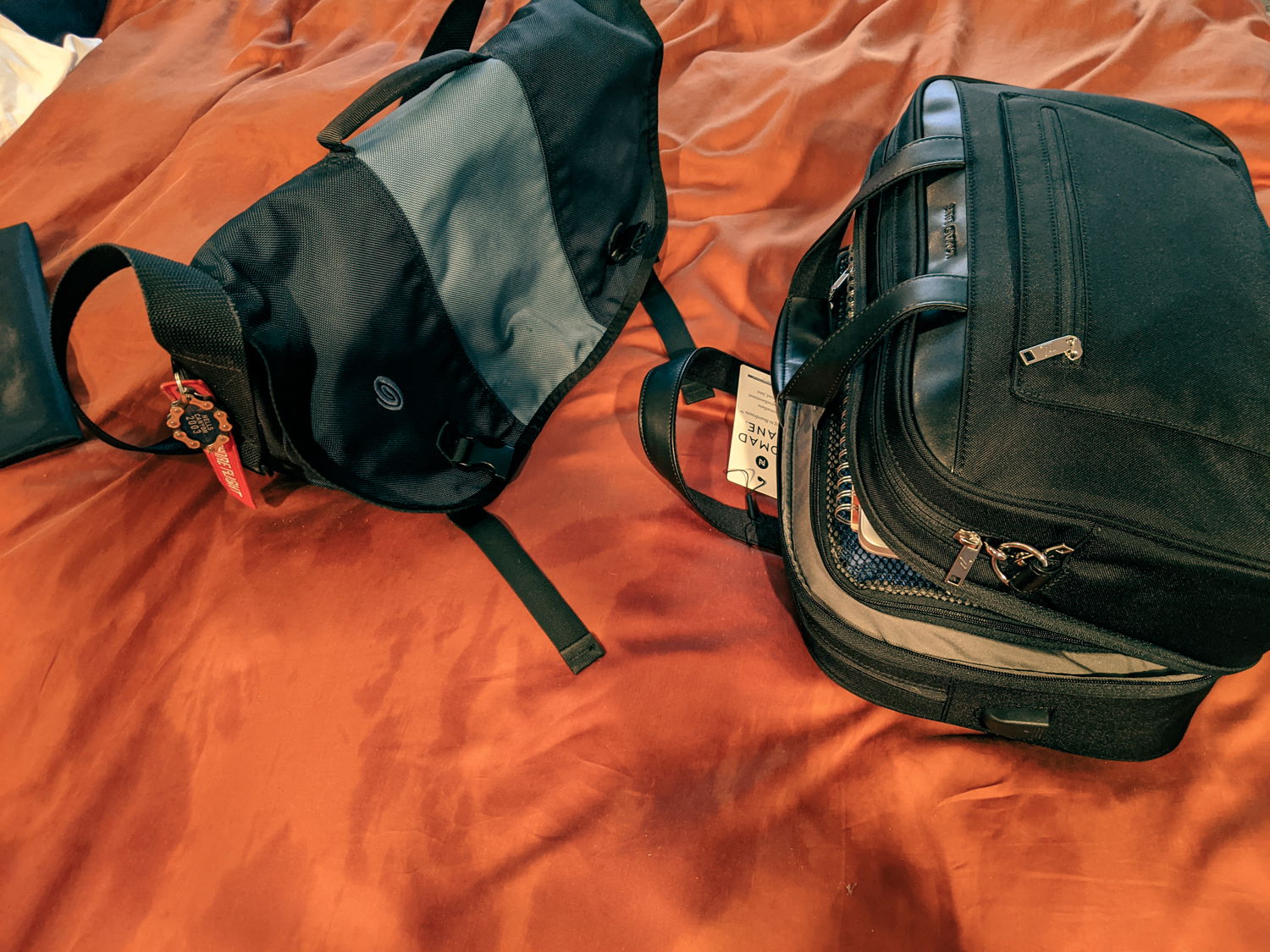 Like, this probably could have been forced shut, but not only did that seem impolite for a loaner bag, it's just not really something you want to have to struggle with. Moving things around might have helped, or even just a bit of curation.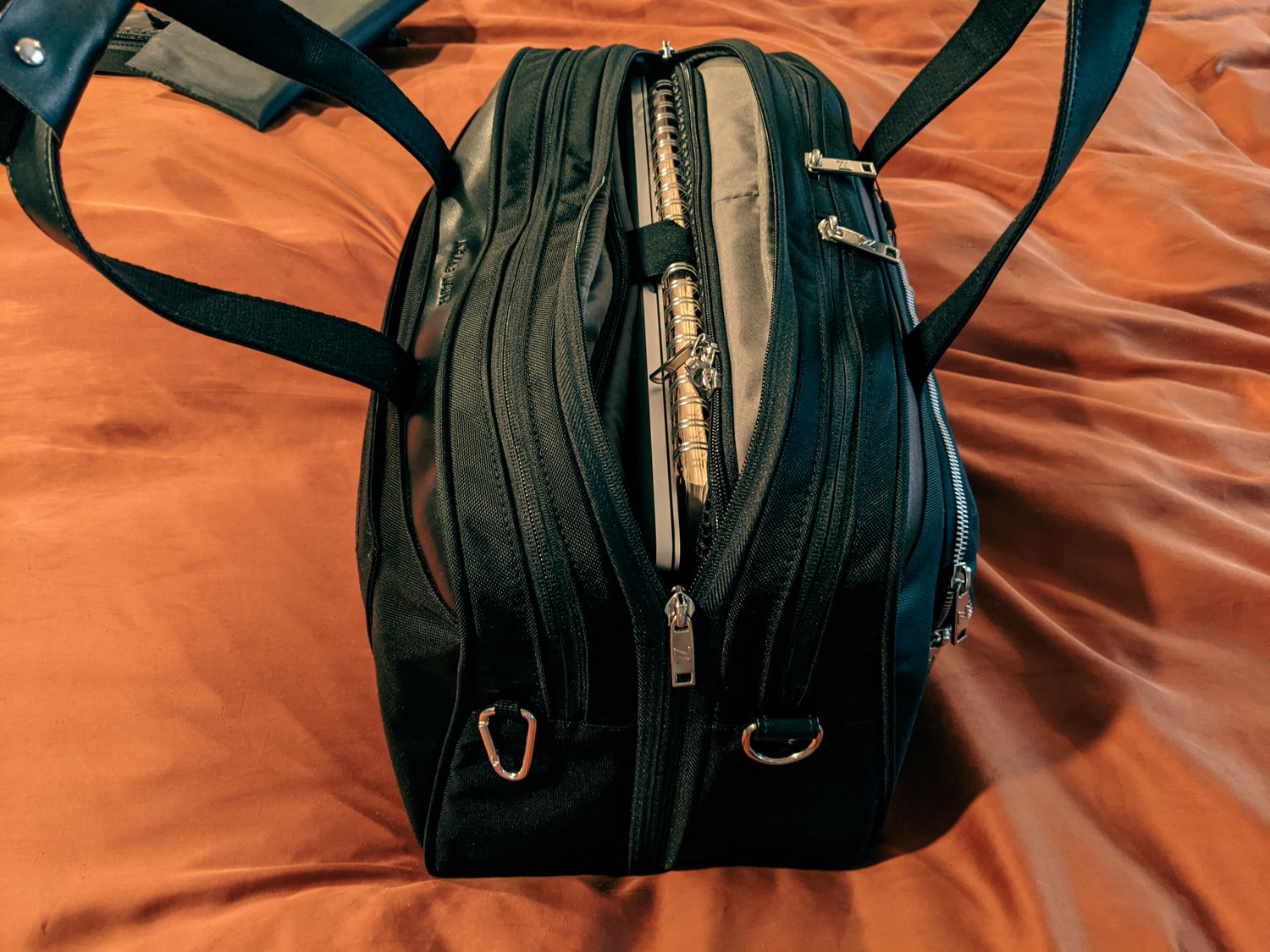 "Or I could just acknowledge that I have never successfully used a hotel gym, and am unlikely to start on this imaginary trip."
But I don't really think the shoes as such were the issue here — again, this is a very different style of packing than he is used to. Different folds on the jeans could make all the difference, and a smaller notebook wouldn't hurt.
Not packing it perfectly the first time is a minor enough concern that he is still interested in grabbing a Bento Bag or something similar for himself. He also thought the power connector for your own charger bank was a nice touch (I'm ambivalent).
Mostly he really liked how easy it was to both find and retrieve individual items from the bag quickly, and in a way that didn't require risking socks tumbling down the aisle.
Bottom line
I like this bag, and if you are already an adherent of the "highly sectioned and divided" method of packing, you might love this bag.
While all functional luggage is obviously designed to be "stylish at best" versus necessarily "fashionable", I felt like the Bento Bag looks less utilitarian than it ultimately is. Which I consider to be a good thing. I also think the $228 price point (or $198 with code "OMAAT") is appropriate for the quality and detail work.
I'll likely buy one for myself (though not in black, as it's a bit too stark for my personal preference, so I have my eye on the navy/gold combo), but I also suspect this won't quite be able to become an "every trip" bag for me. Though that is realistically probably more of a commentary on my packing habits than on the bag itself.
I can definitely see how it would be useful to have items more compartmentalized, and it was easy to just open the bag and grab something quickly. Far less rummaging than I'm accustomed to, and would absolutely be easier to keep up with on a longer trip.
And now, a giveaway!
As I mentioned above, this bag was provided by Nomad Lane, and so I won't be keeping it myself. But I will be sending it (along with some other goodies!) to one of you!
Or if you'd like to order a bag directly, Nomad Lane is offering a $30 discount using this link or the code "OMAAT".
Update: The giveaway has ended, with the randomly selected winner being comment #41, which read:
"I definitely look for a bag that has structured and organized, smaller compartments to complement a larger compartment so that, as you said, I don't need to "go fishing" in the cavernous main compartment for smaller items that I can anticipate needing to access during travel."

– Chris P
Thanks to everyone for their comments — the discount code will continue to be valid.