I recently spent a night at the 254-room Hyatt Regency Coral Gables, located near Miami (long story short, we're still not living in Miami full time just yet, hence the need for a hotel). While I only spent a night there and it's perhaps not the most aspirational points property in the world, I had a good stay, and this also highlights the huge value that can be had with World of Hyatt.
Booking the Hyatt Regency Coral Gables
The Hyatt Regency Coral Gables is only a Category 3 World of Hyatt property, meaning that a standard room free night redemption costs 9,000-15,000 points. For the night I was staying, the hotel was at the standard award pricing, so my stay cost 12,000 points. For what it's worth, I value World of Hyatt points at 1.5 cents each.
As a World of Globalist member I not only receive perks like room upgrades and breakfast, but also receive free parking on award stays, which really adds up. When I checked out of this hotel I had nothing to pay in cash, which is a nice feeling.
As a point of comparison, for the night I was staying the cash rate was ~$300. The hotel was nearly sold out for that night, and can sometimes start as low as ~$200 per night, depending on the day of the week and time of year.
Hyatt Regency Coral Gables location & parking
As the name suggests, the Hyatt Regency Coral Gables is located in Coral Gables, near Miami. Coral Gables is to Miami as Glendale is to Los Angeles, for example. Coral Gables has tons of restaurants and shops, and the hotel is located within walking distance of all of those. Most importantly, it's walking distance to Hillstone Coral Gables. 😉
Let me be clear, you shouldn't stay here if you're looking to visit South Beach or want to be in Brickell. Rather you should stay here if you want to be in the Coral Gables area.
This was my first time staying at a hotel in this area, and I immediately noticed one huge benefit over other Miami hotels — the crowd was much better behaved than at other Miami-area hotels. Guests seemed to either be traveling for business meetings, at conferences, or at weddings. Compared to what I've witnessed at other hotels in Miami, that's something I really appreciated.
It's funny, because I had driven down this street many times over the years, but never realized this huge building was the Hyatt Regency — now I know!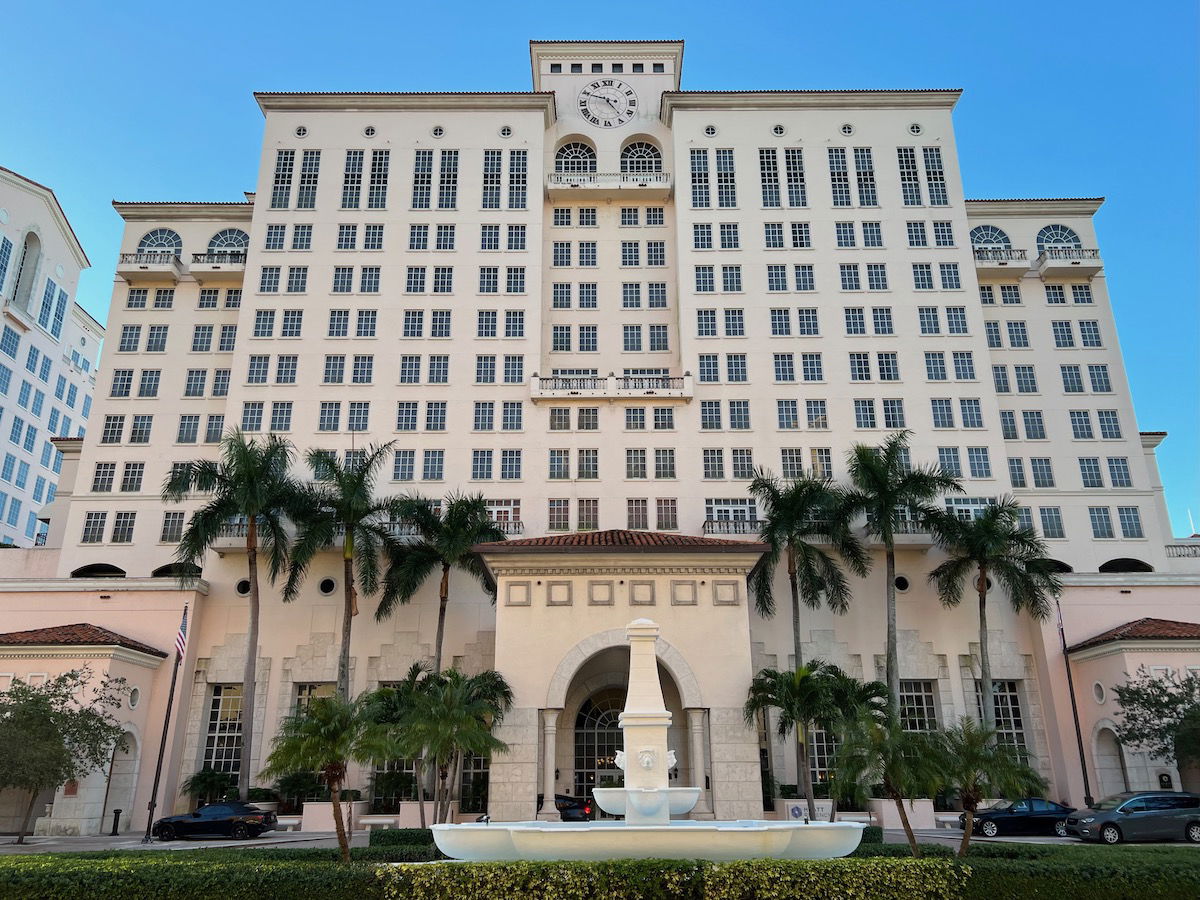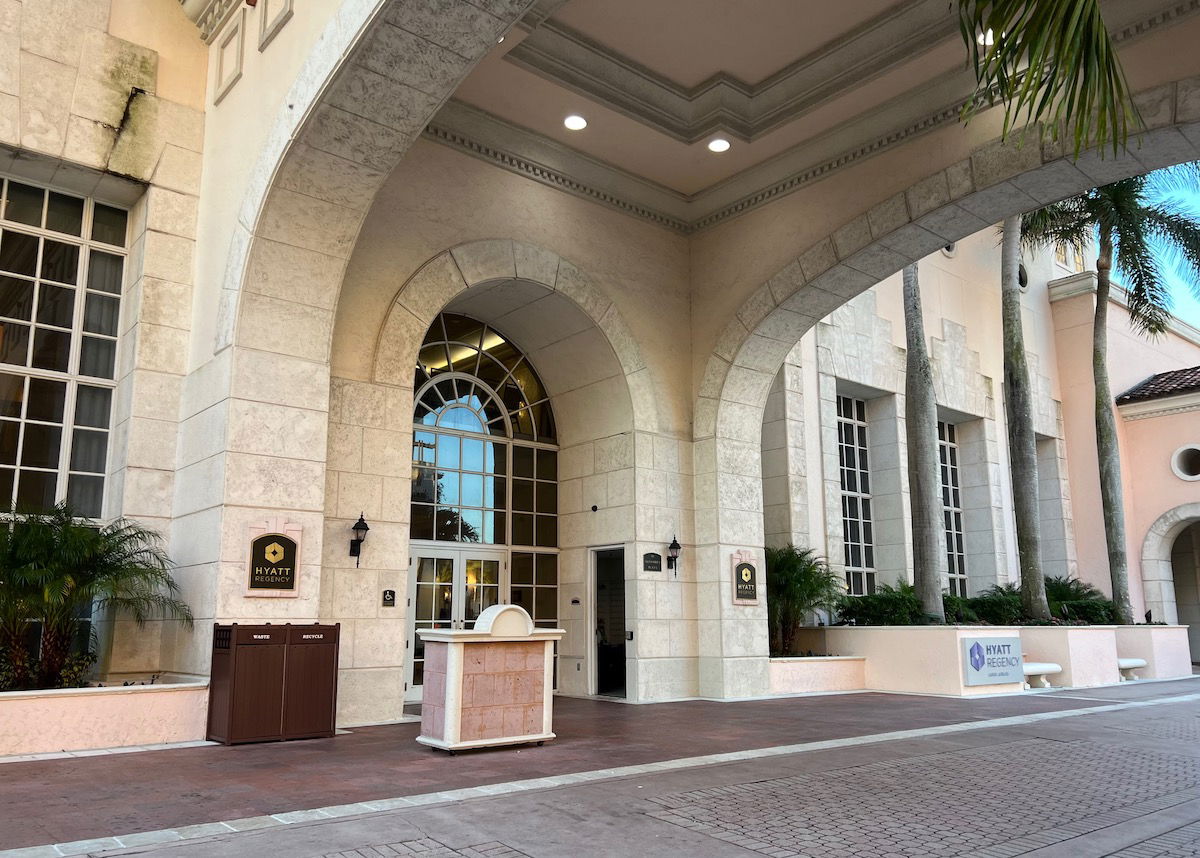 The Hyatt Regency charges $30 for self-parking or $35 for valet, and the entrance to the parking garage is on the opposite side of the building of the valet driveway. Note that the Hyatt Regency's website indicates that parking isn't available to cars over six feet.
I mention this because when you're actually in the garage, the signs say that the clearance is 6'7″, but I swear that's not the case in areas. In some cases there were pipes just a few inches over my head, and I'm not 6'4″. So that's something to be aware of if you have a big car.
Hyatt Regency Coral Gables lobby & check-in
The Hyatt Regency Coral Gables has a bit more personality than your typical Hyatt Regency property. While the hotel first opened in 1987, it underwent a full renovation in 2019, so it feels pretty fresh. The hotel has a decent size lobby, with plenty of areas for hanging out, including couches and high-top seating.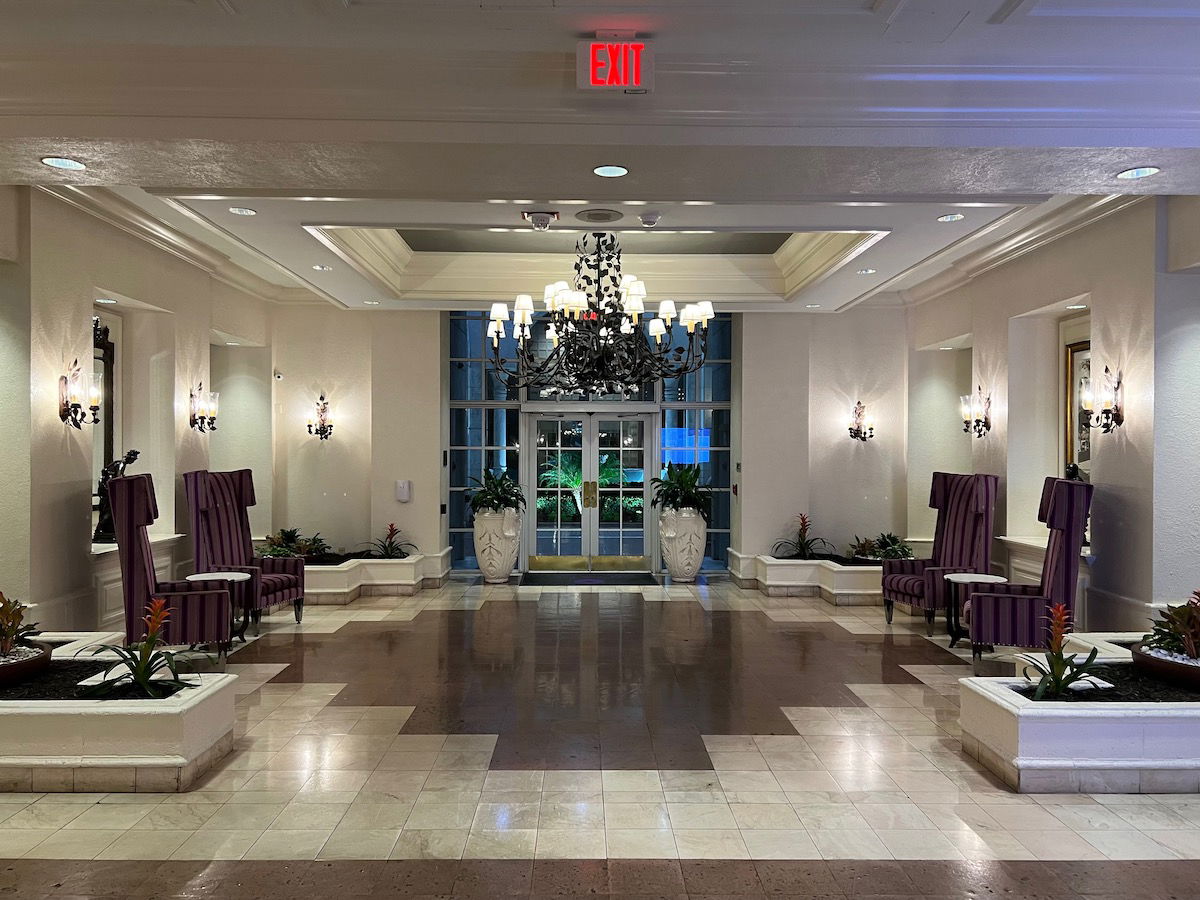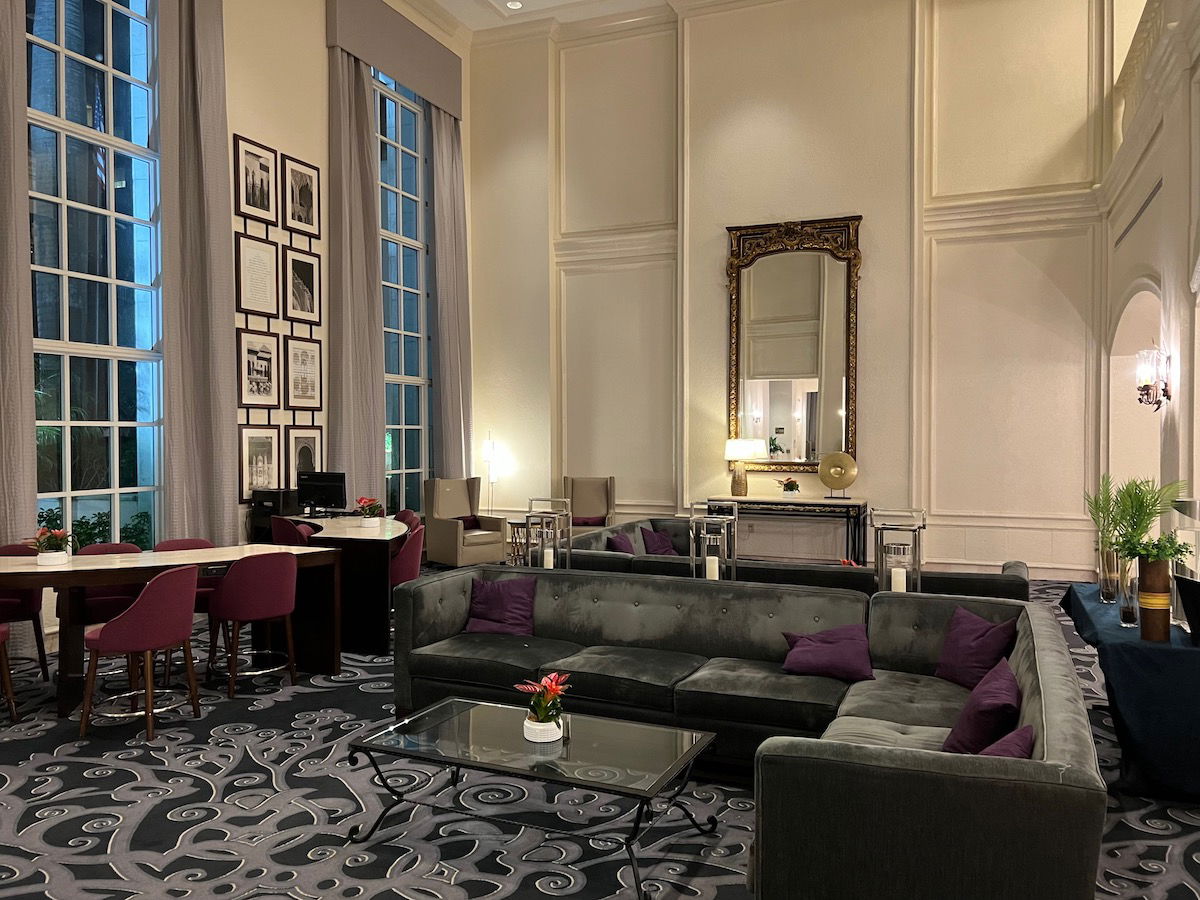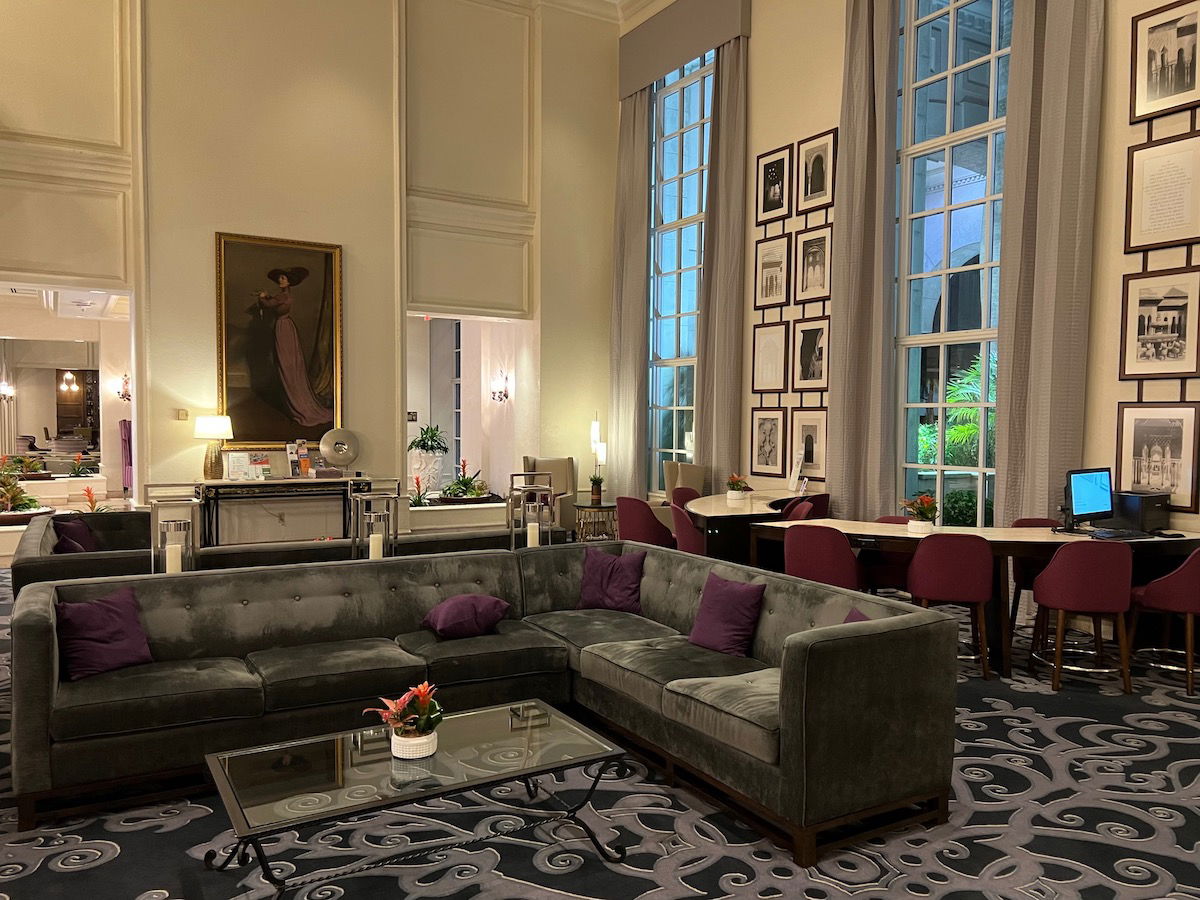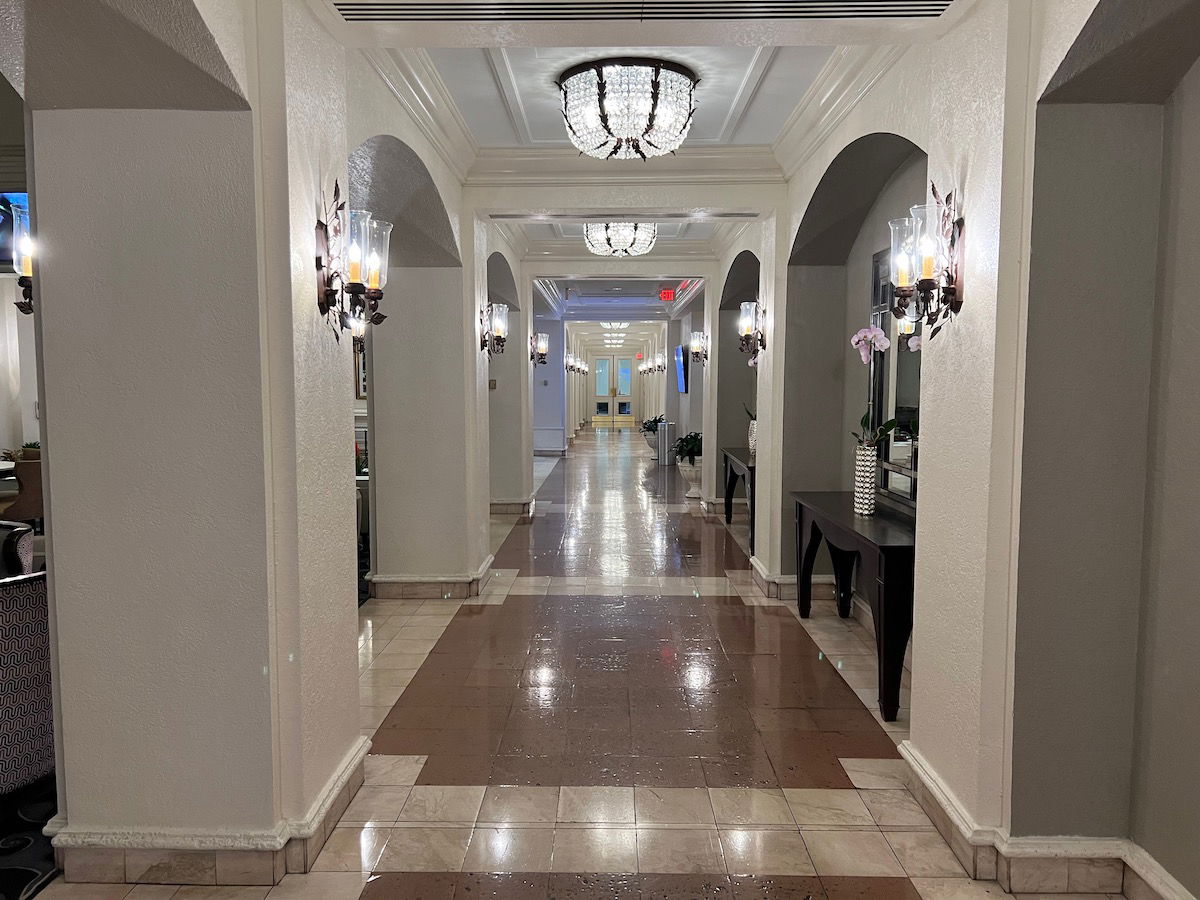 The check-in experience was great, and took all of two minutes. The employee shared all the basics I needed to know, without oversharing. I was also informed that I had been proactively upgraded to a premium suite (which, ironically, is the "standard" suite at this hotel, for the purpose of upgrades).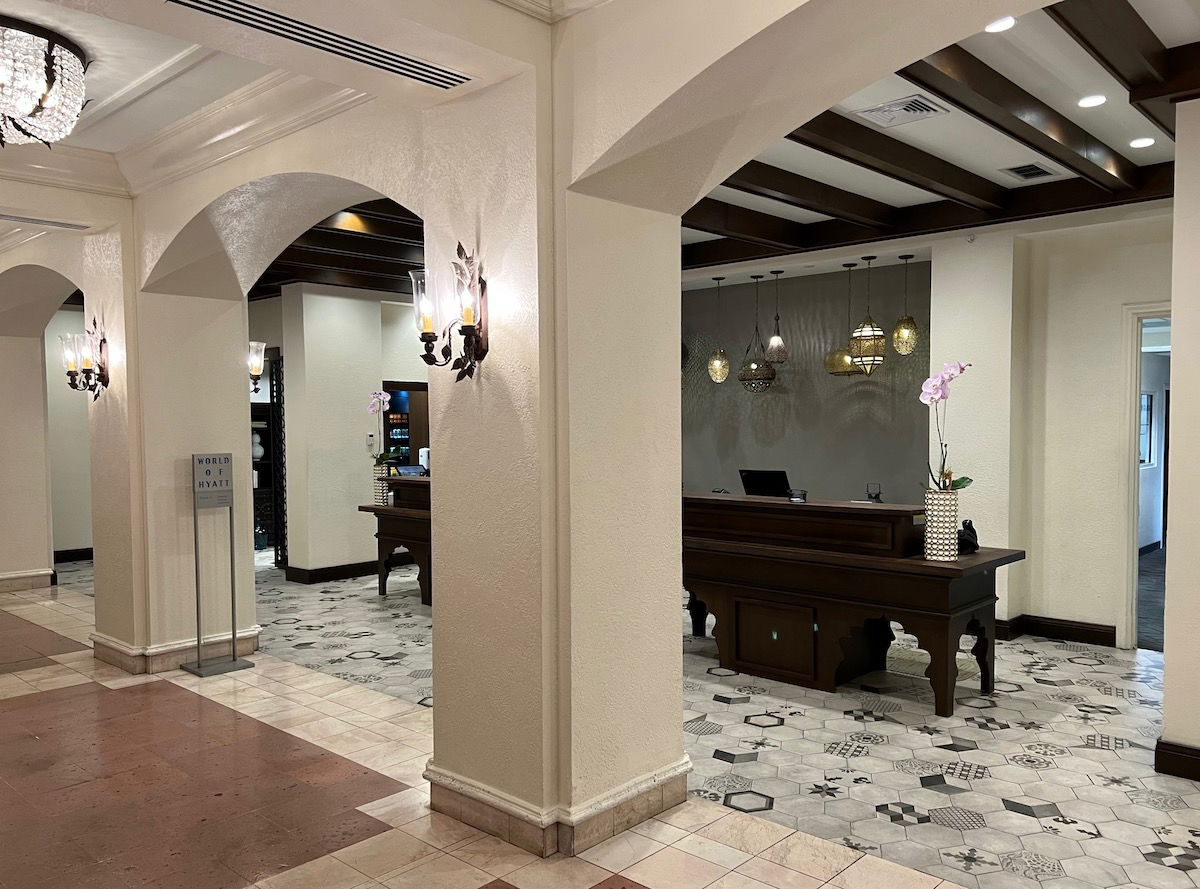 I was also given a pamphlet with the details, hours, and QR codes, for the various on-property amenities.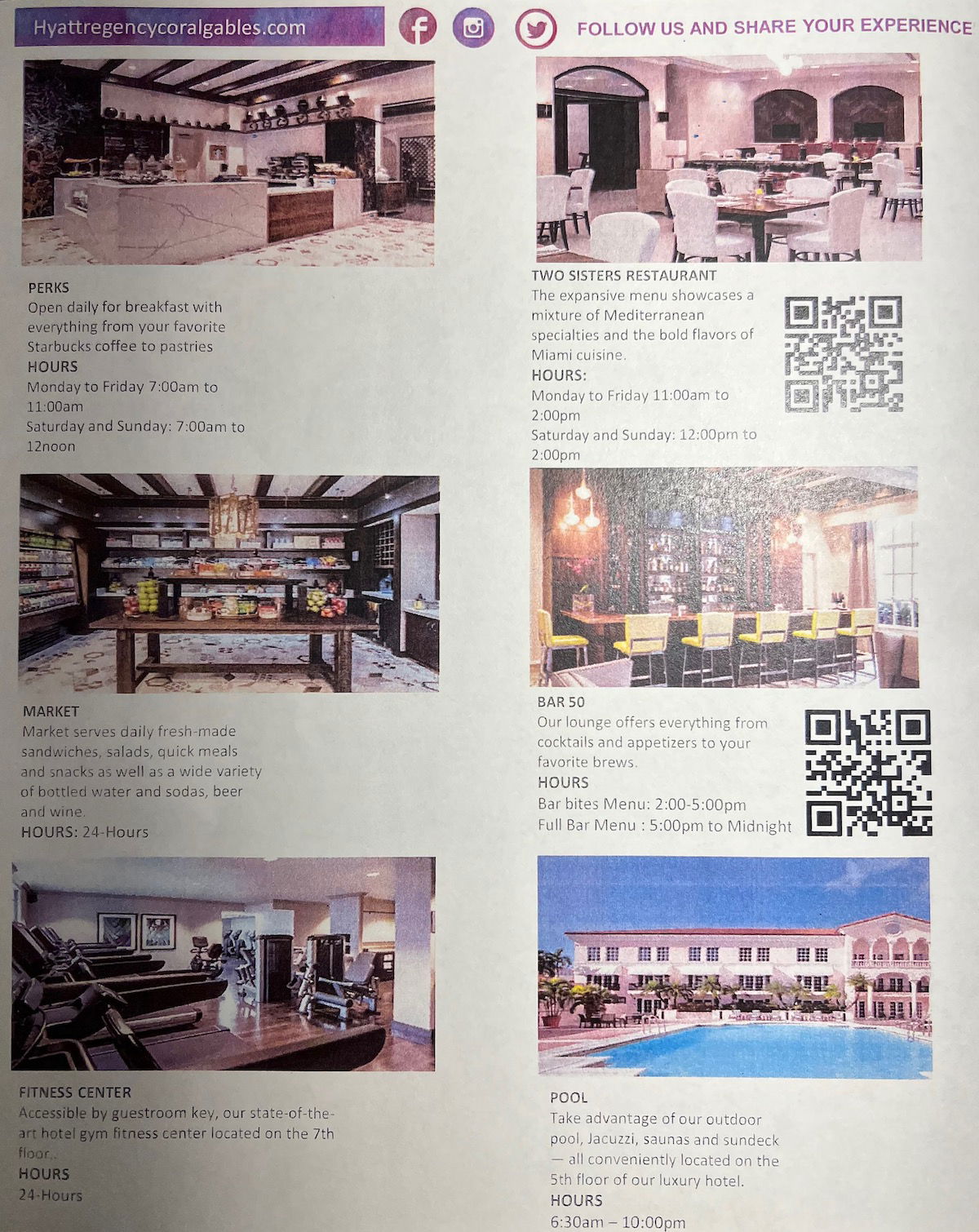 Soon enough I was in an elevator heading up to my room on the sixth floor (the hotel has 14 floors).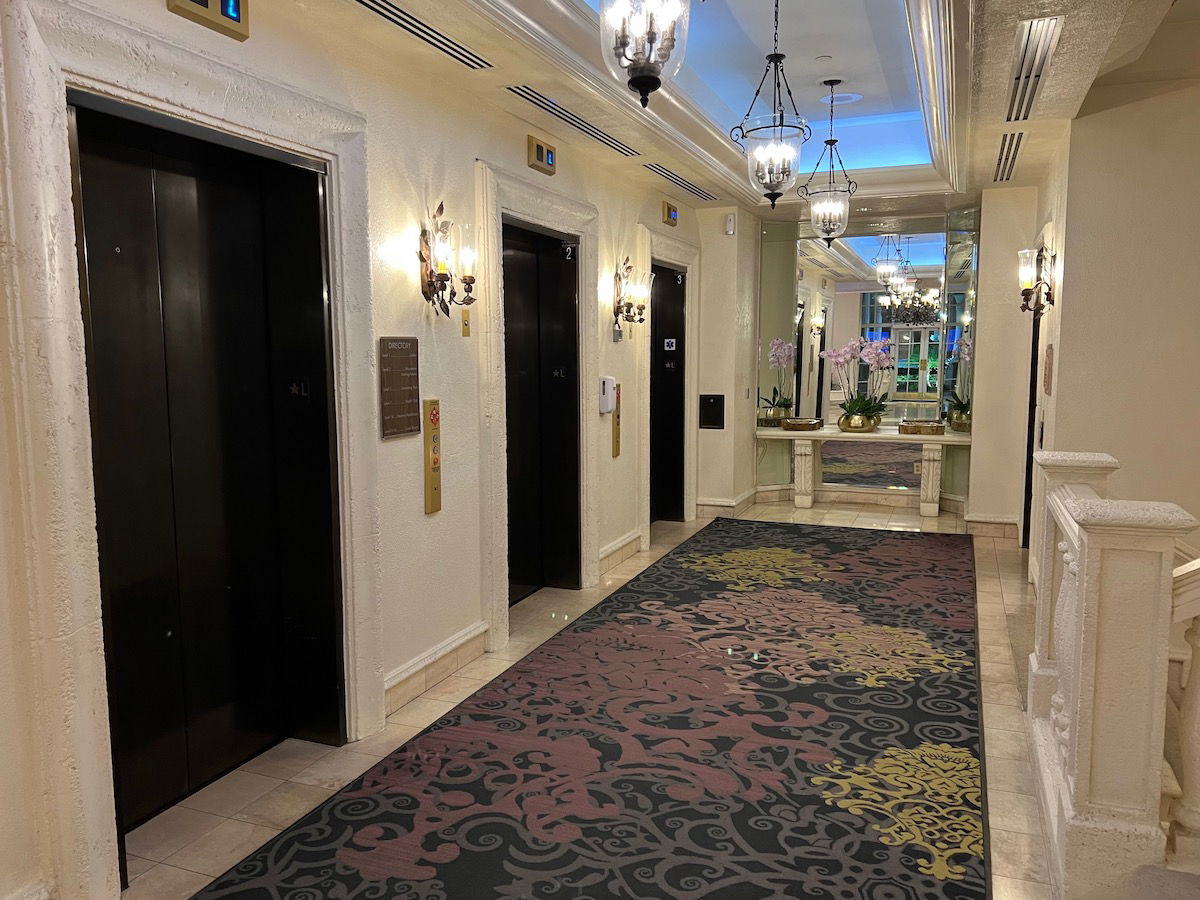 Hyatt Regency Coral Gables premium suite
I was assigned room 661, a premium suite located at the very end of the hall on the sixth floor.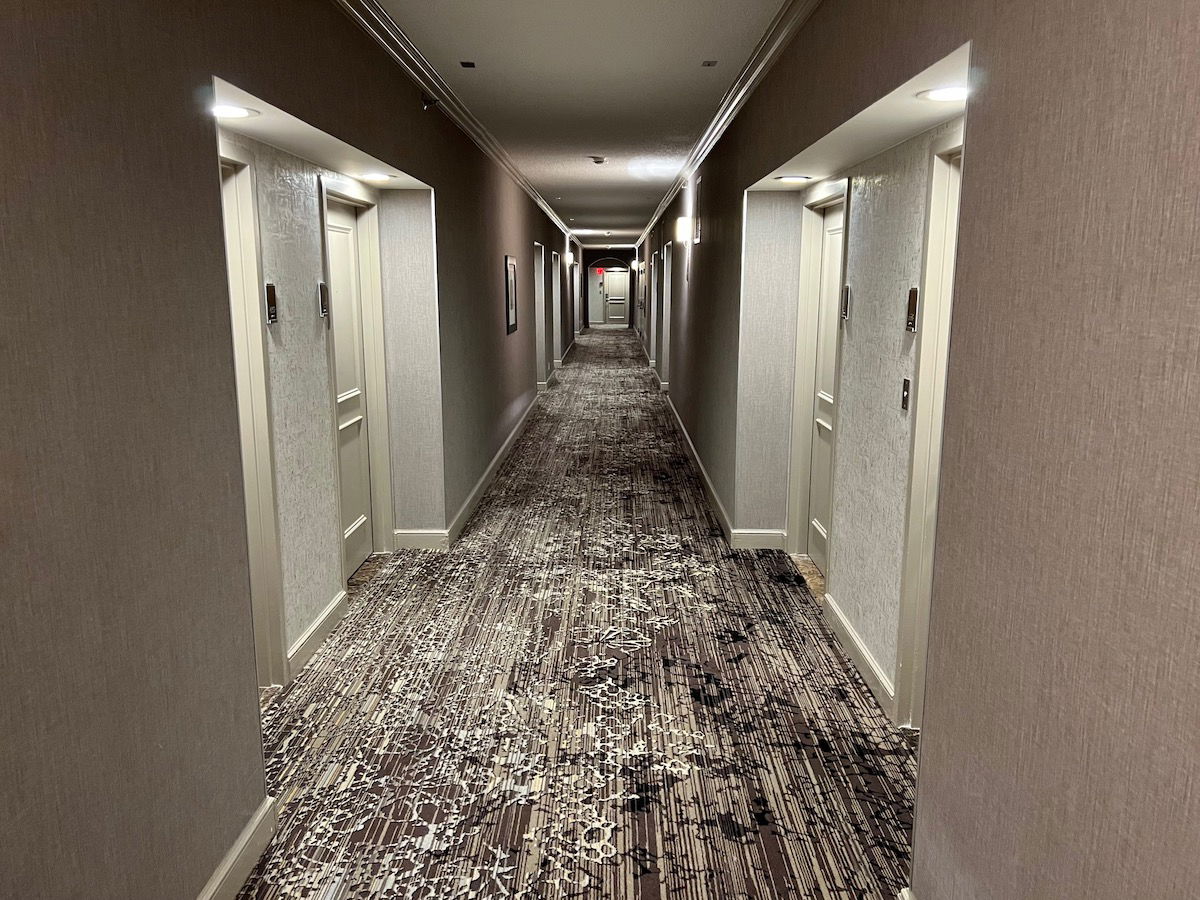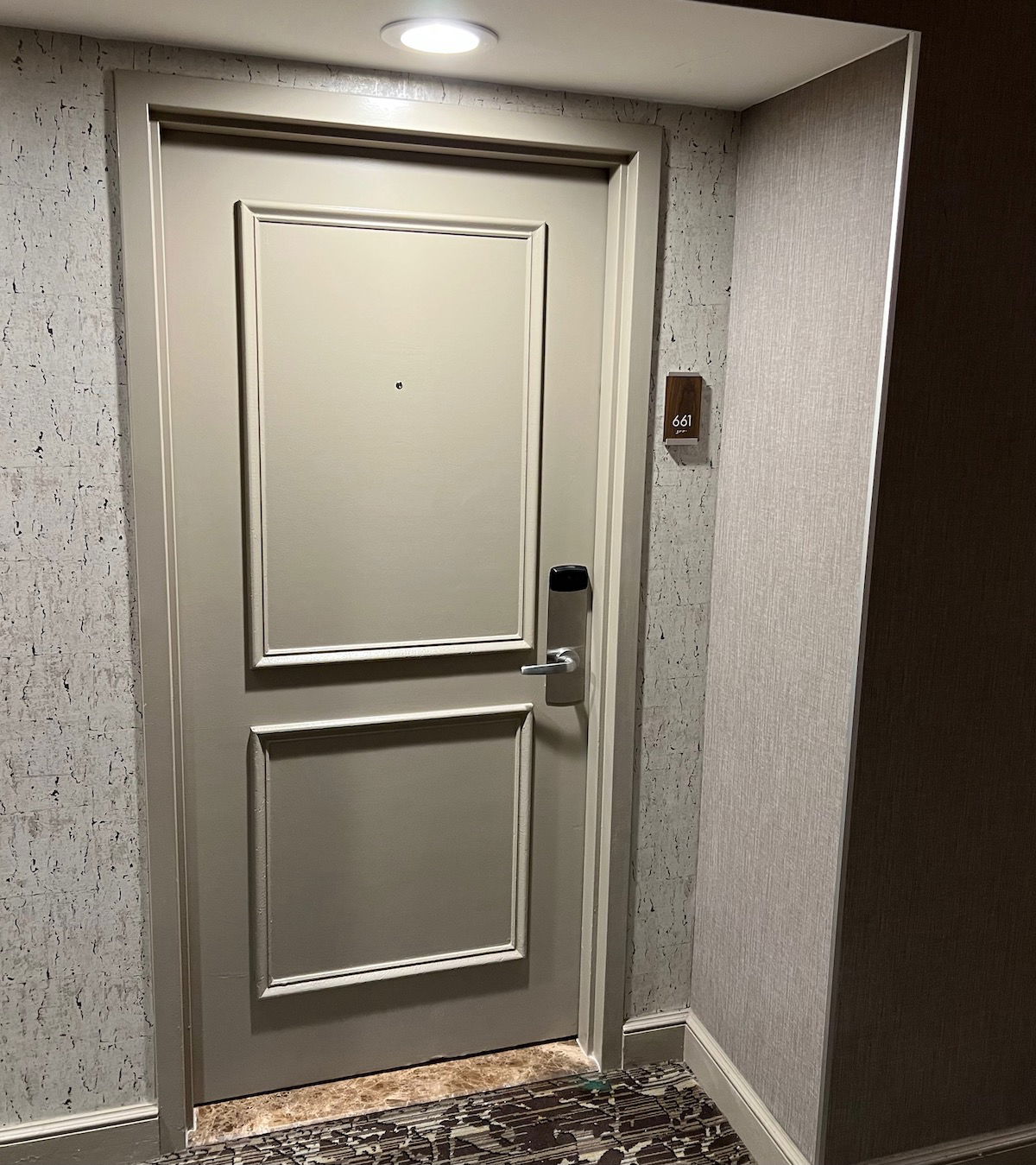 Premium suites are marketed as being 600 square feet, and presumably come in different layouts, because the one I was assigned looked nothing like the one on Hyatt's website. The room had an entryway with the bathroom to the right.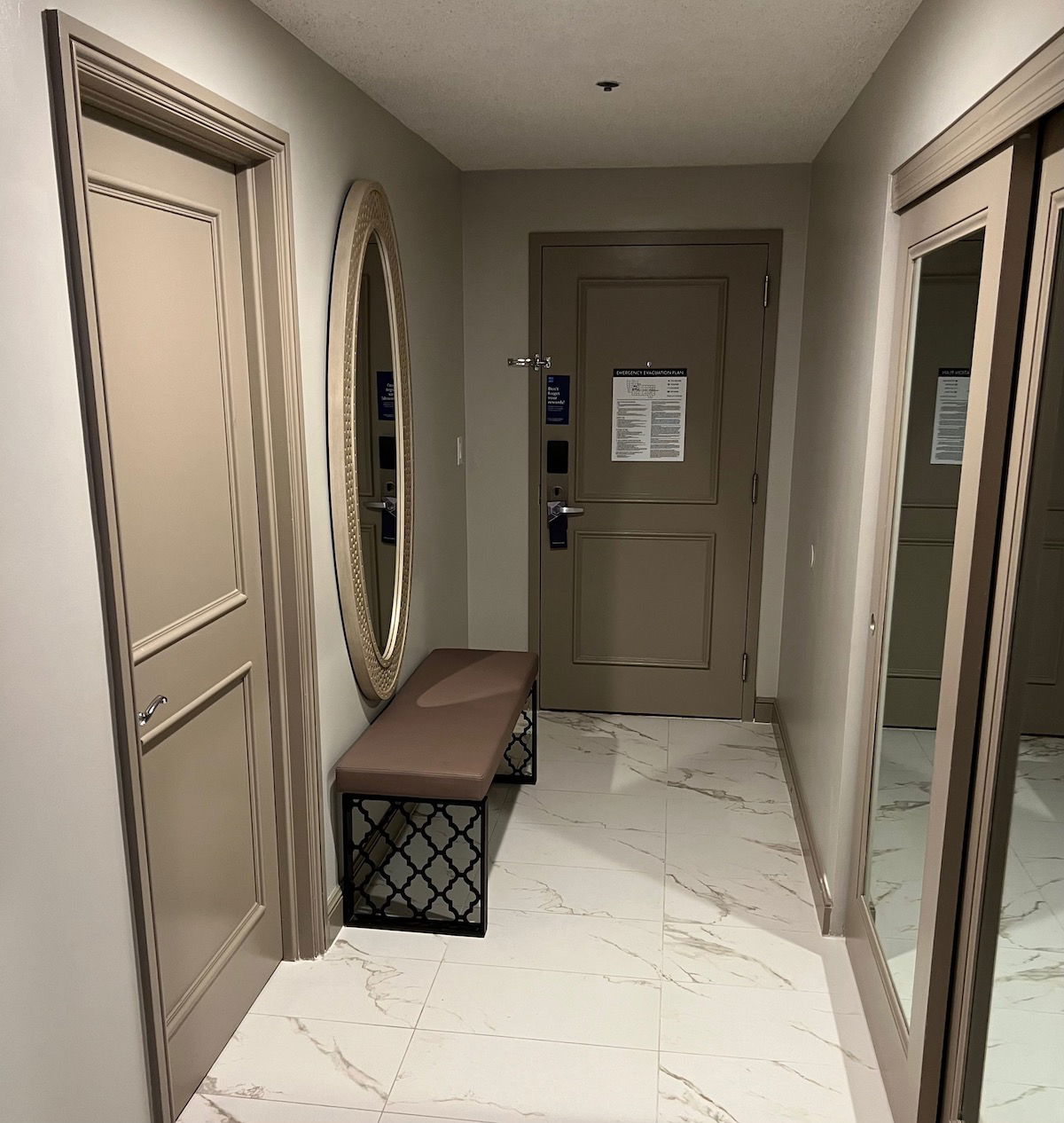 Interestingly the bedroom area came first, and then the living room. The bedroom had a king size bed, a wall-mounted TV, and a chair in the corner.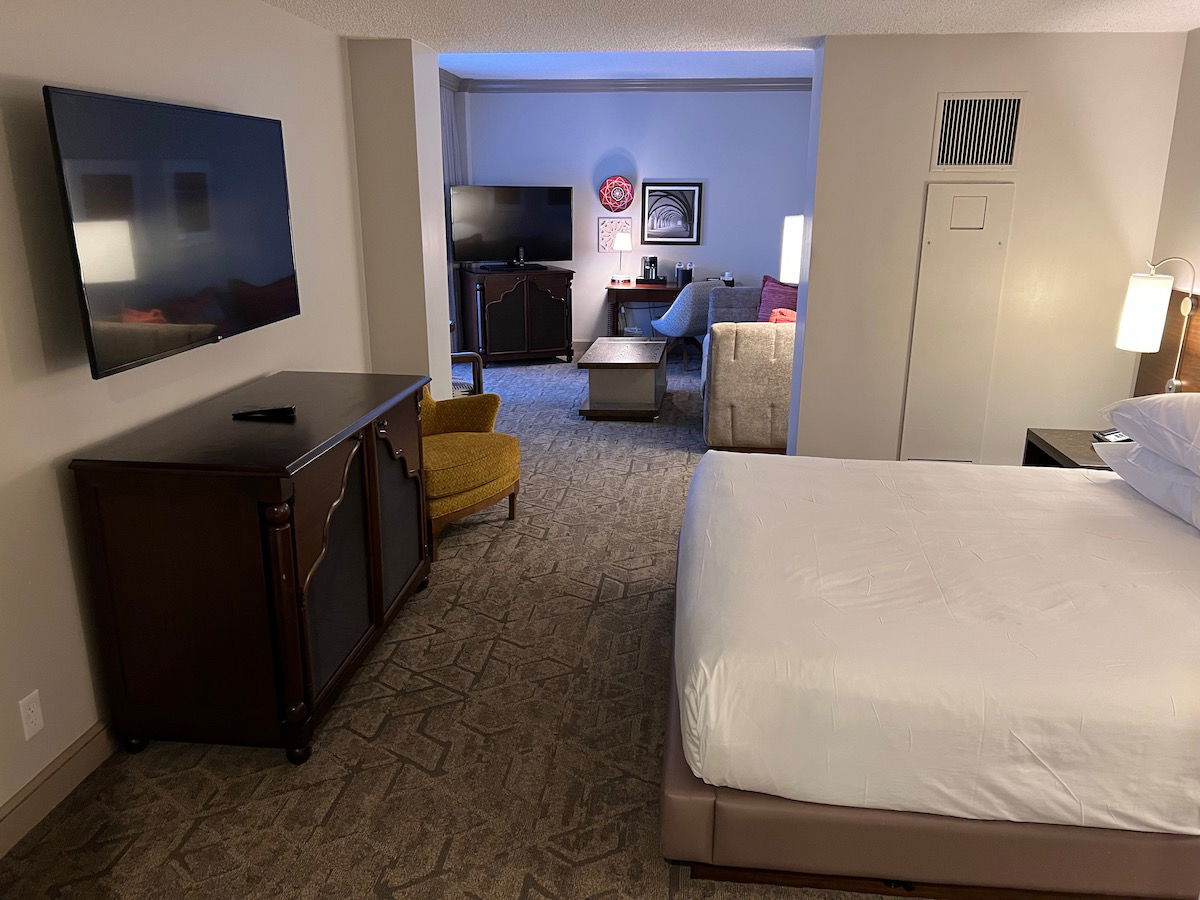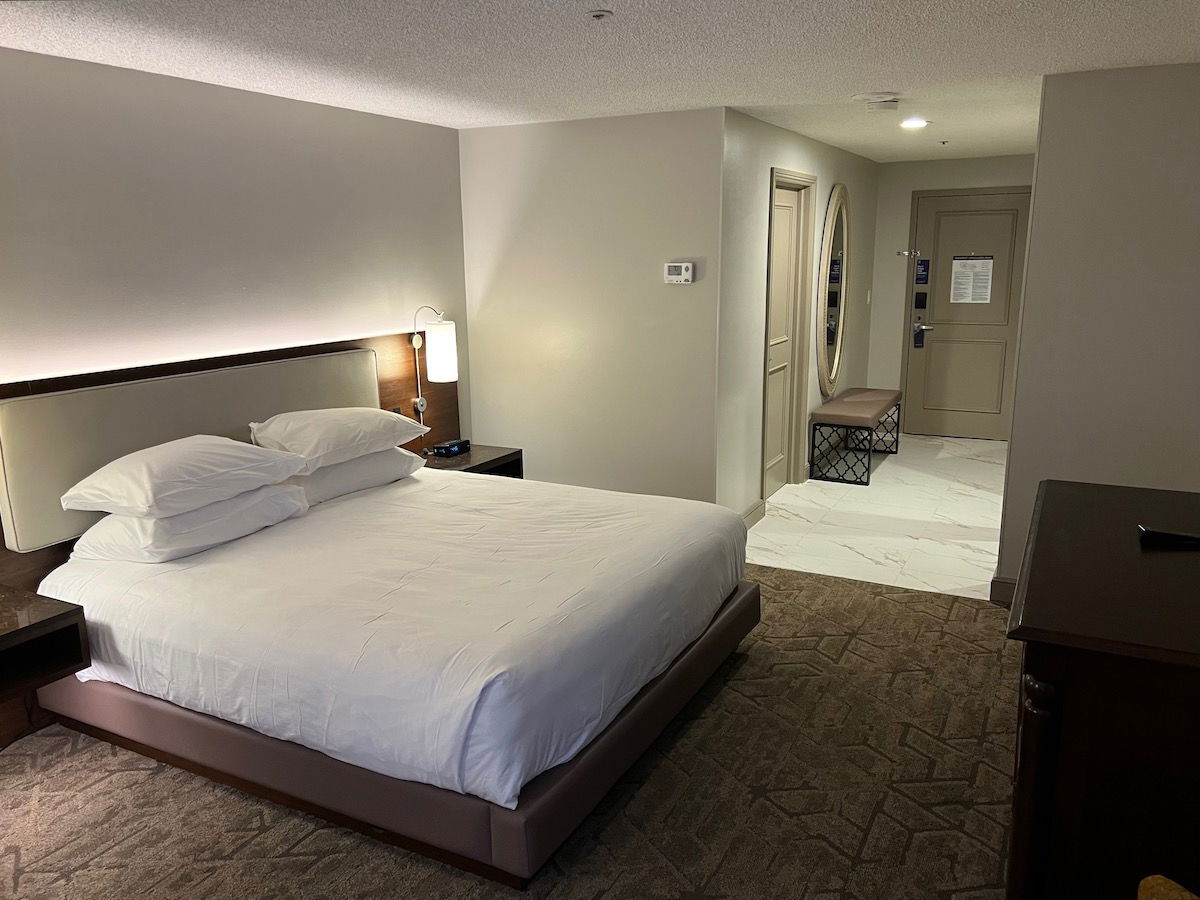 Then there was the living area, with a couch, a chair with a coffee table, a desk, and a second TV.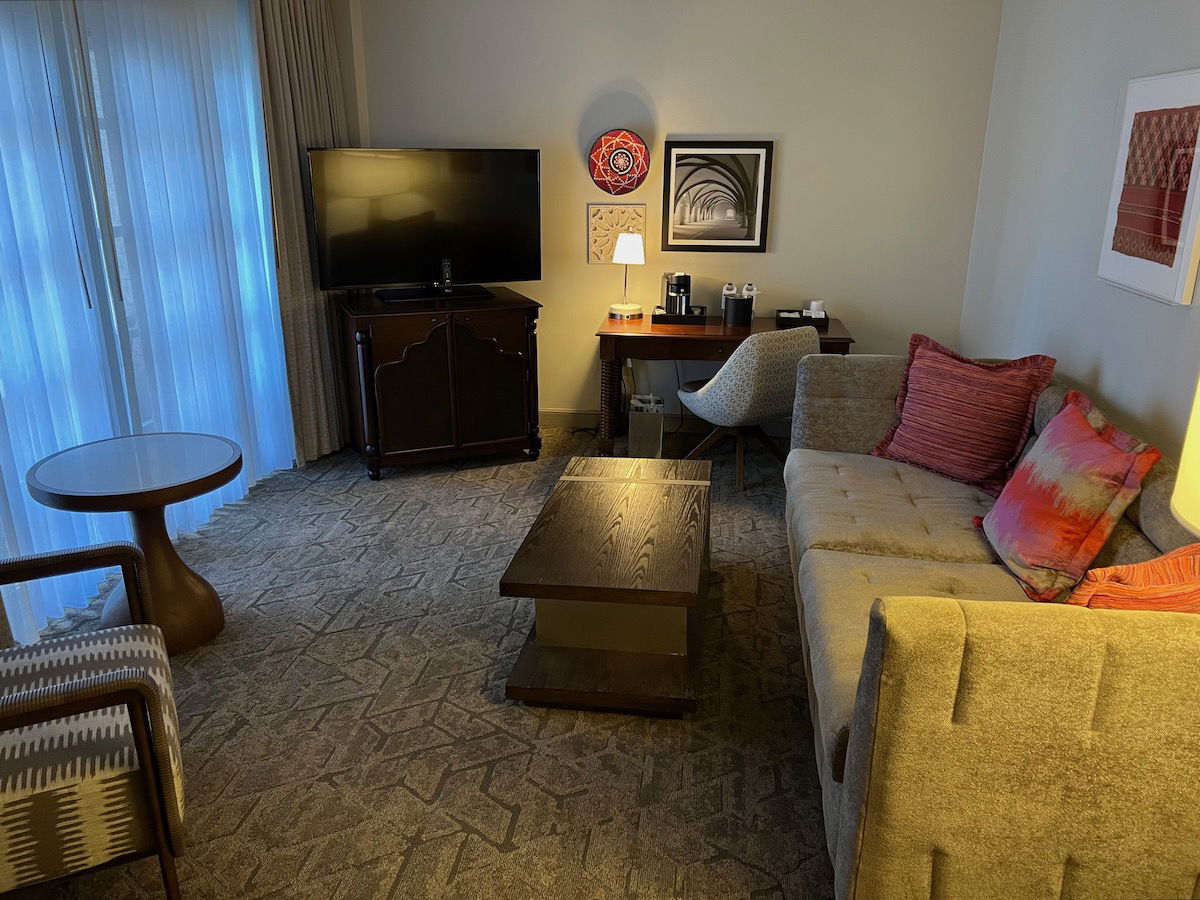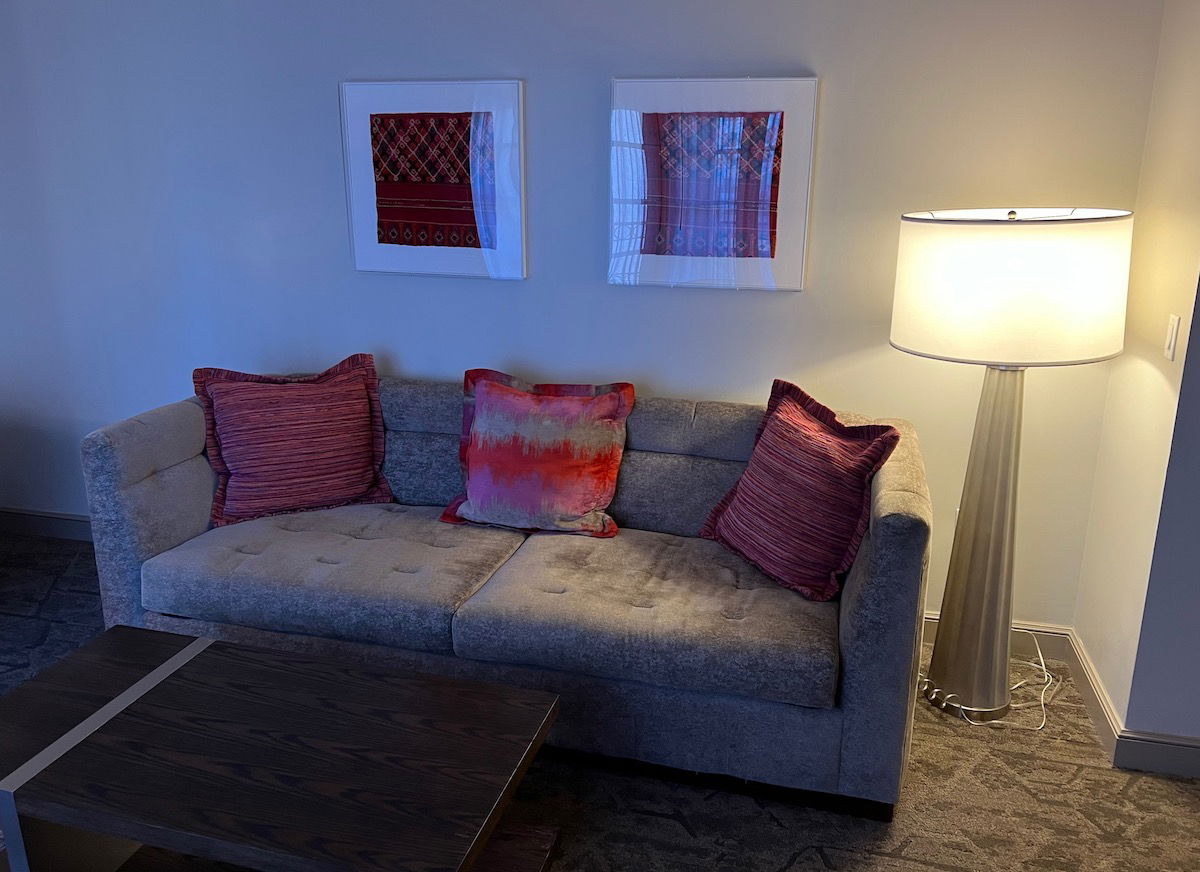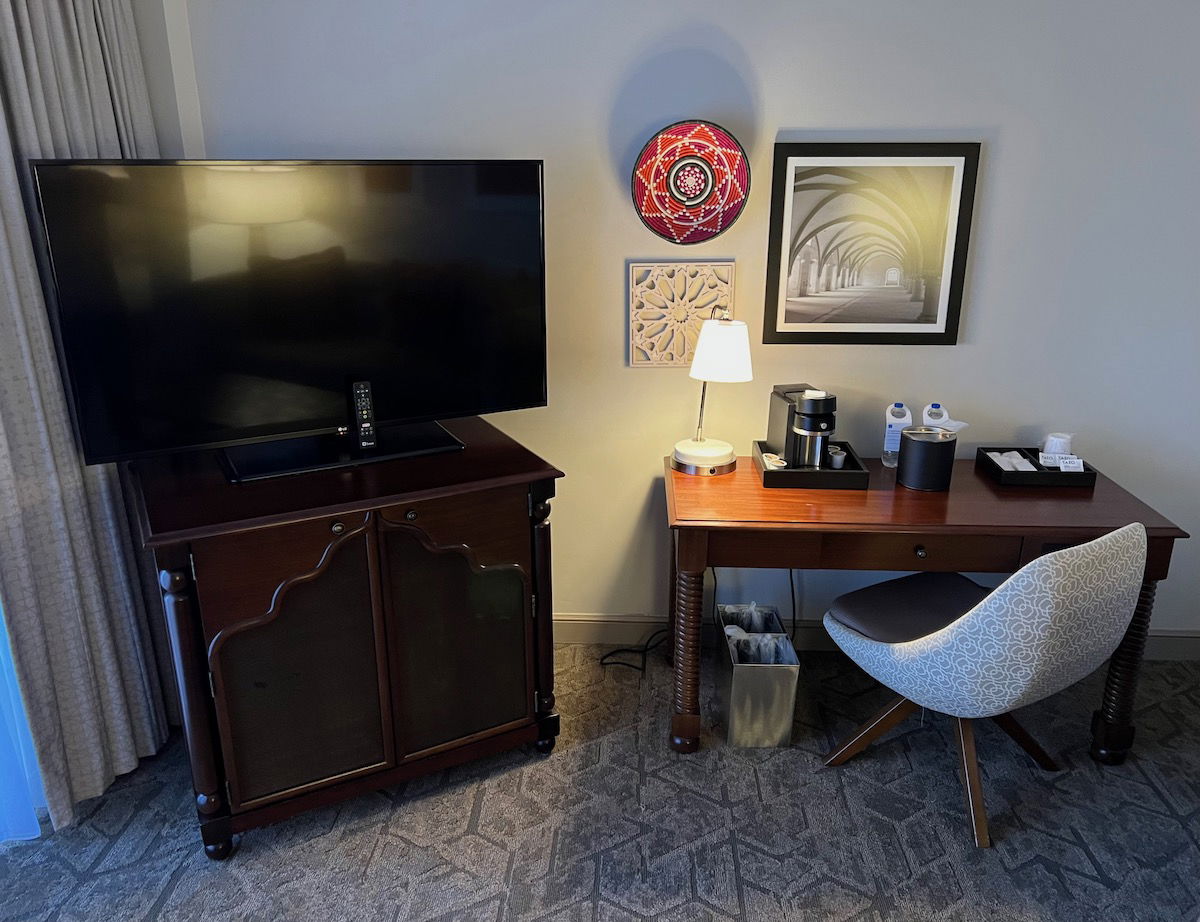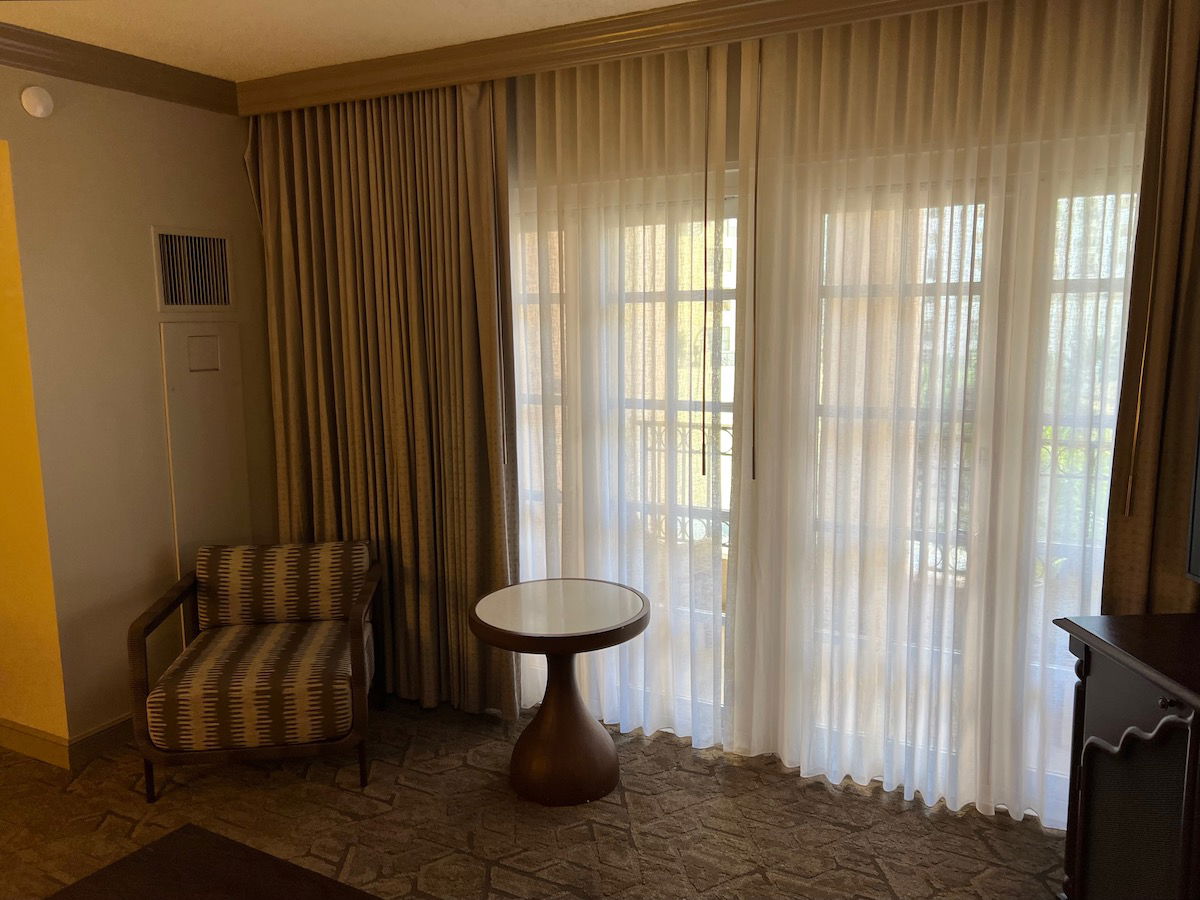 There was a coffee machine with Keurig pods, plus two bottles of water, which were complimentary for elite members, but would otherwise cost $5 each (ouch).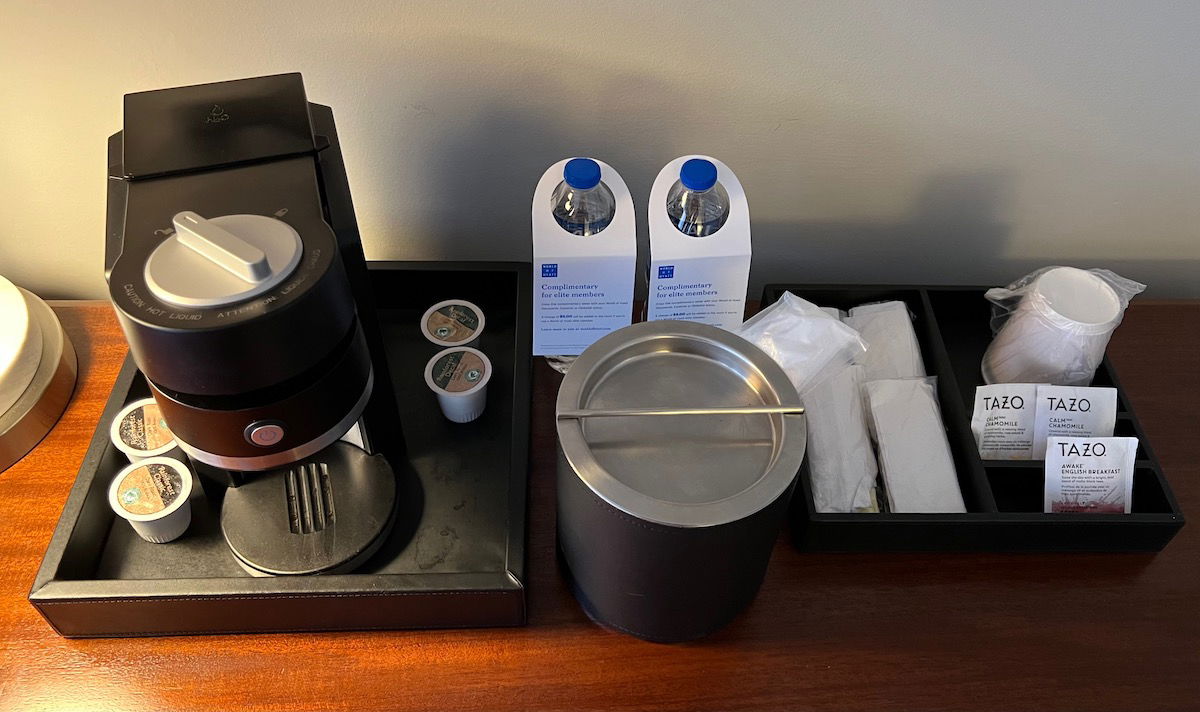 Off the living room was the door to the balcony, which was sparsely furnished. It had two chairs, and views of nearby buildings.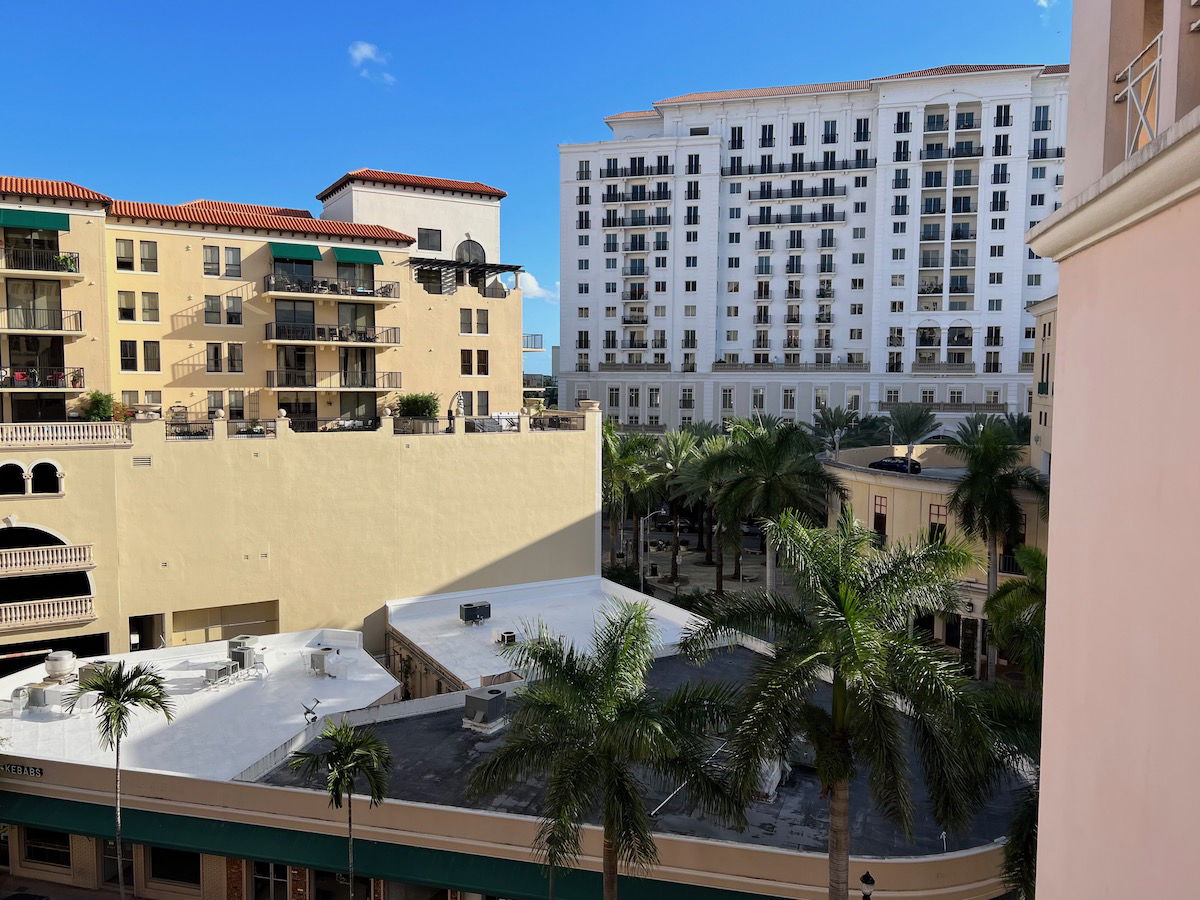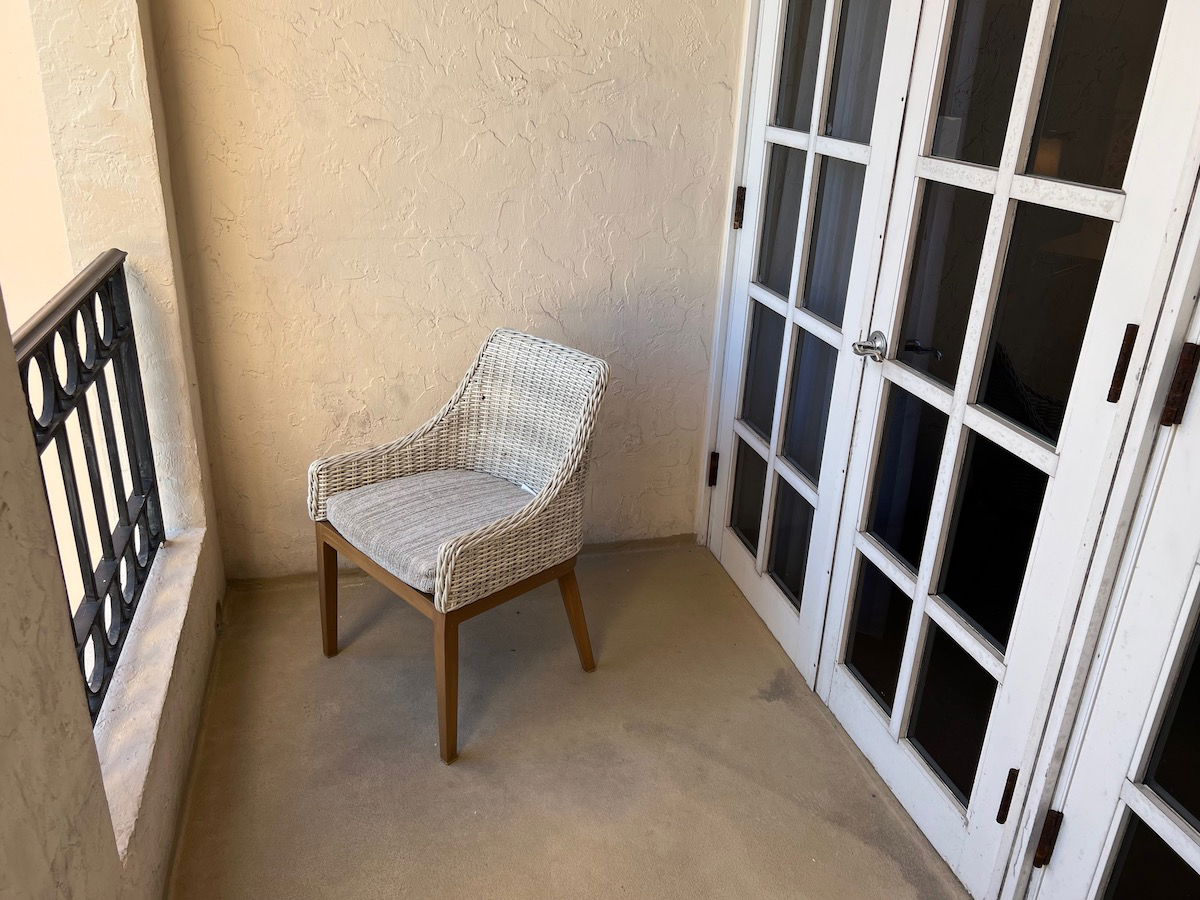 The bathroom was back near the entrance, and featured a sink, a toilet, and a walk-in shower.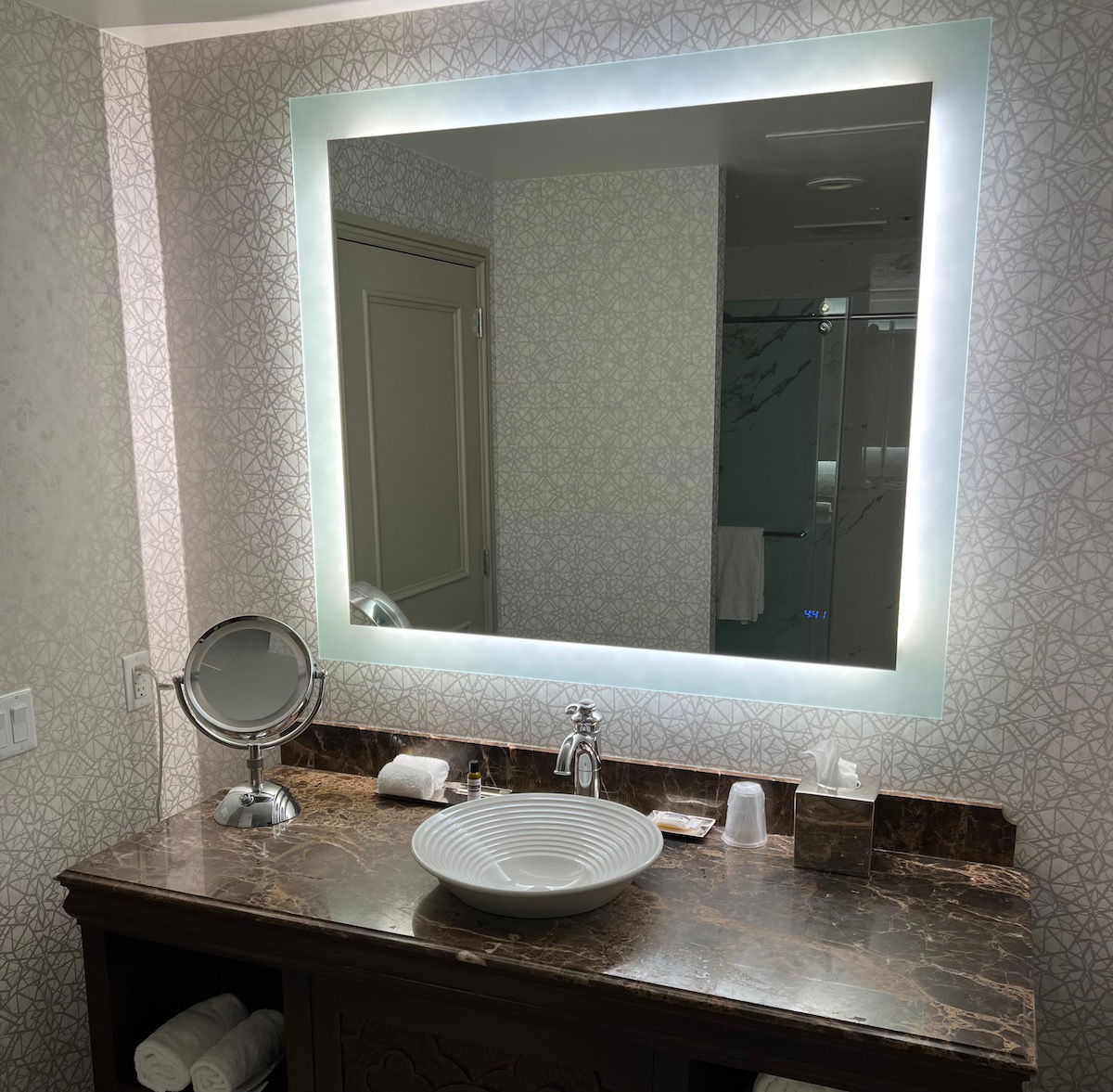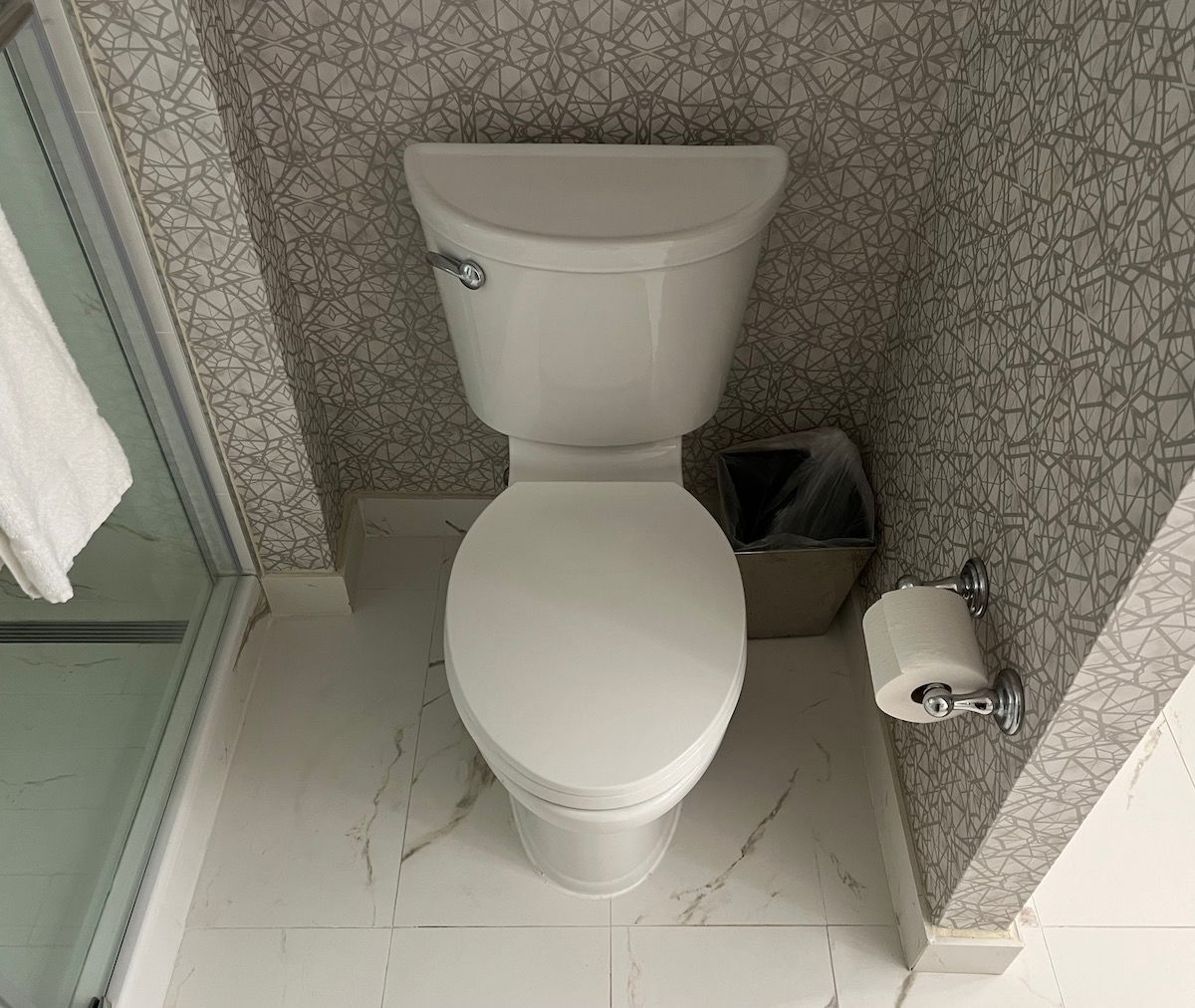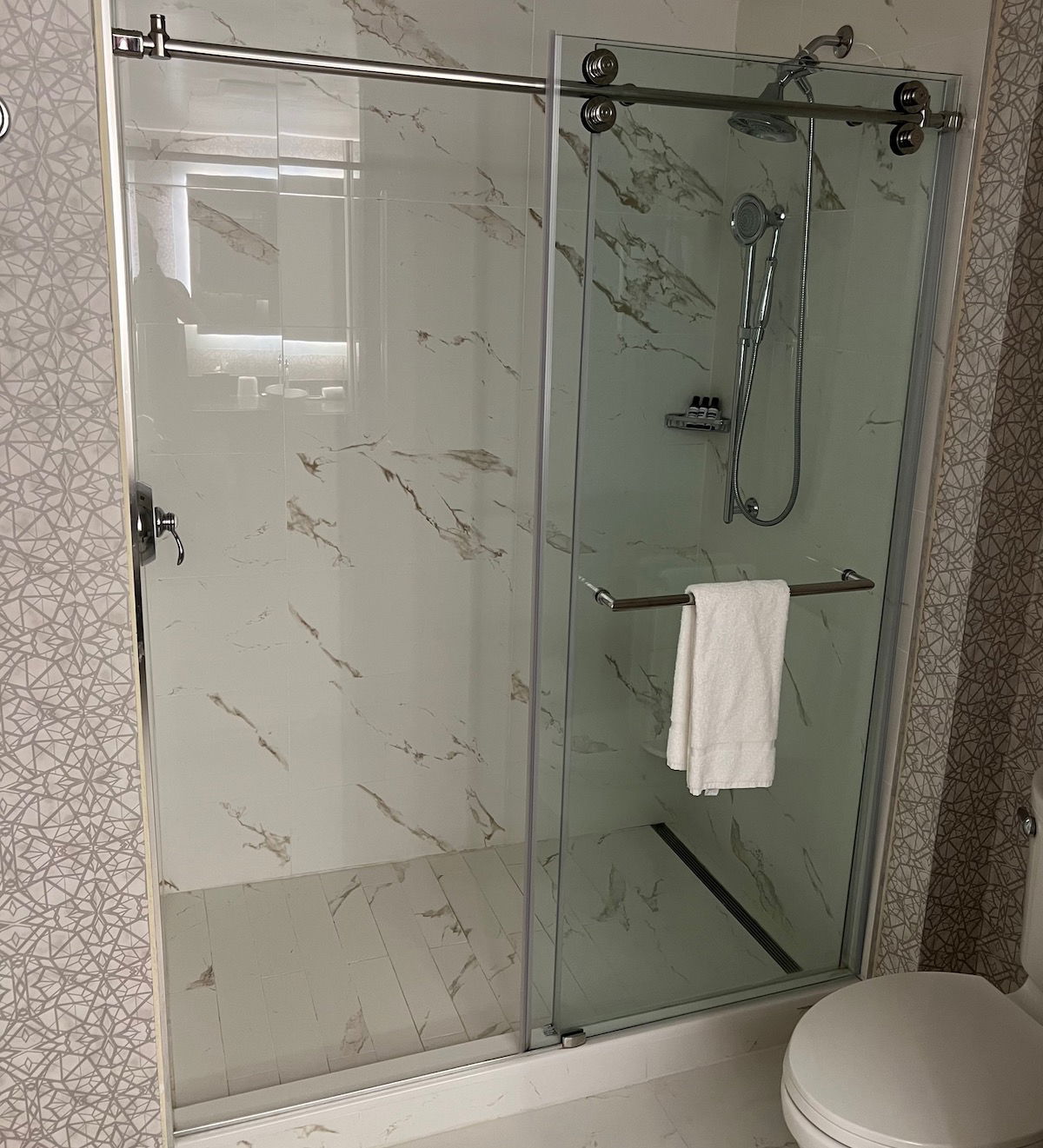 Toiletries were from Pharmacopia, as is often the case at Hyatt Regency properties.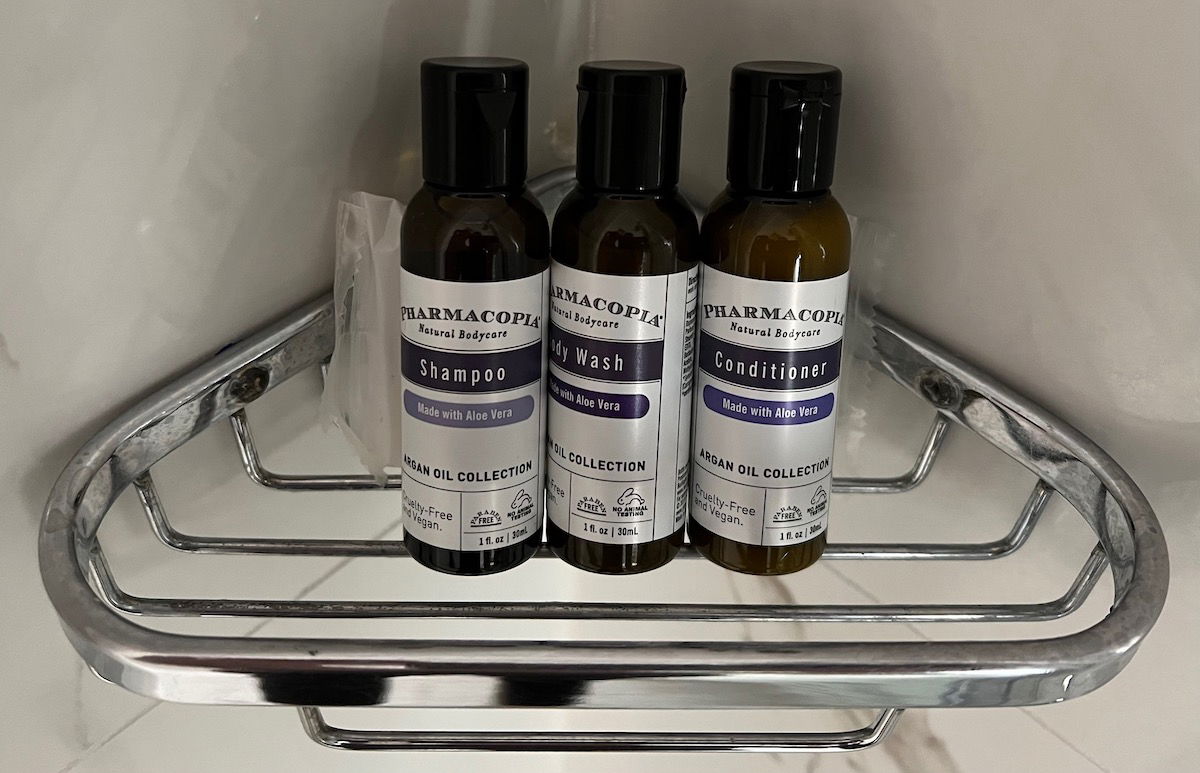 All-in-all, I was happy with the room. While the layout was a bit odd, it was clean, felt modern, and I appreciated getting a proactive suite upgrade at a US property (which is rare nowadays, it feels like).
Hyatt Regency Coral Gables pool
The Hyatt Regency Coral Gables' pool is located on the fifth floor, and is open daily from 6:30AM until 10PM. The pool is quite large, has plenty of seating, and also has two hot tubs.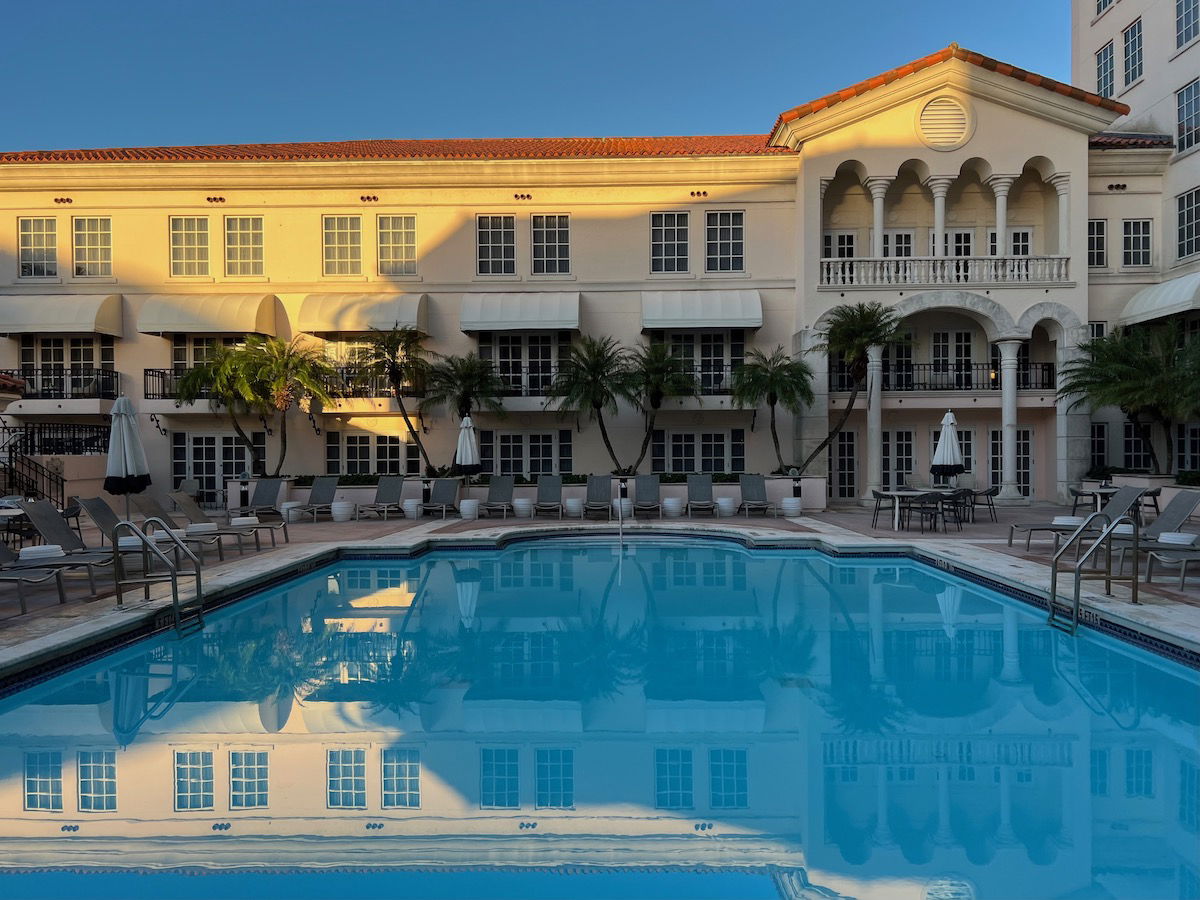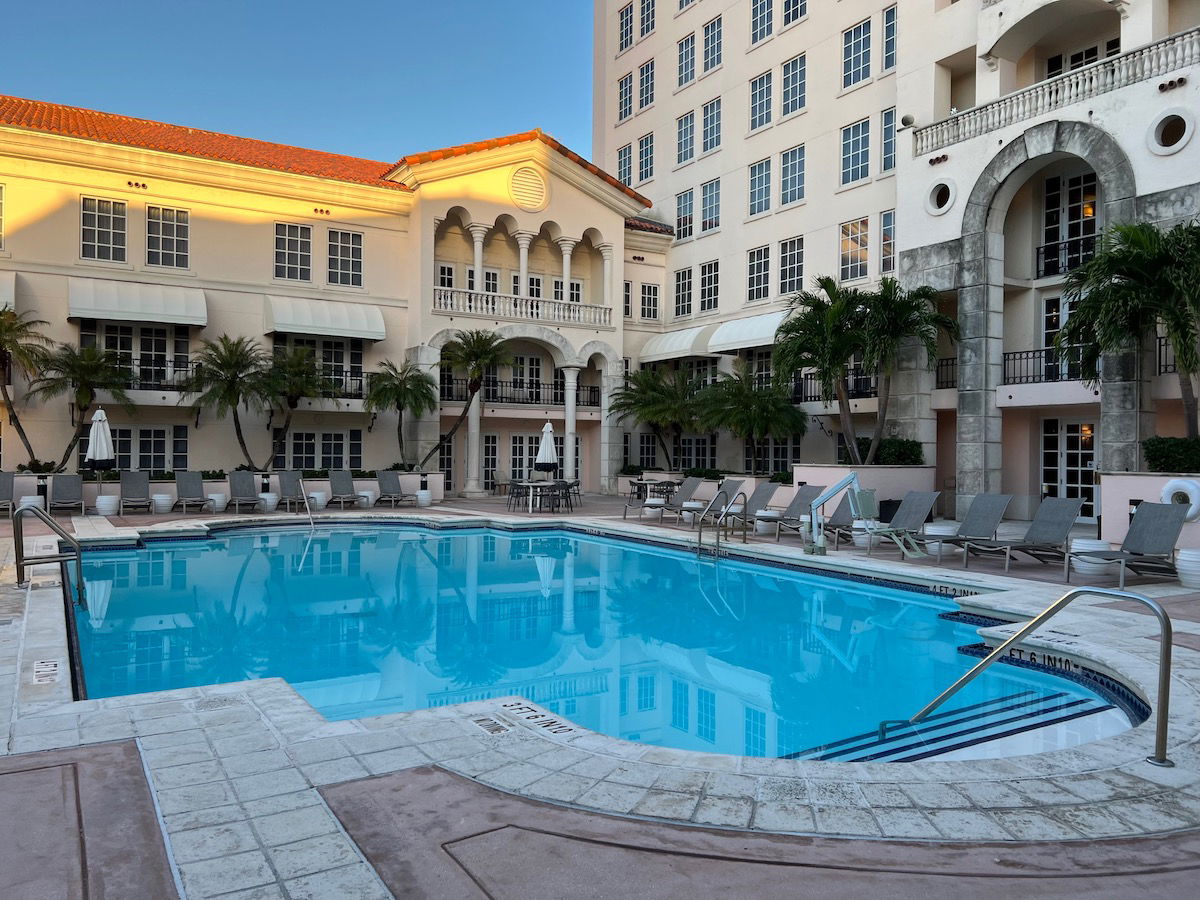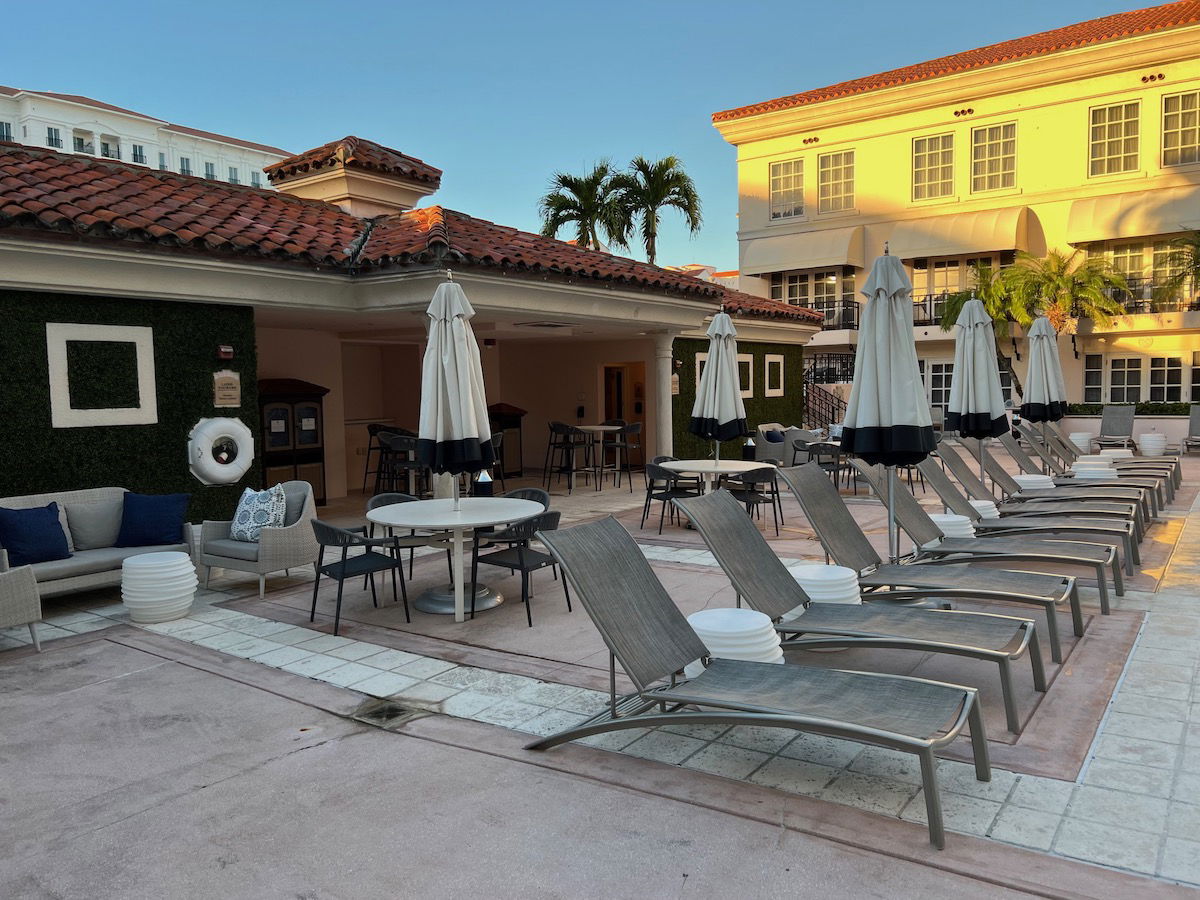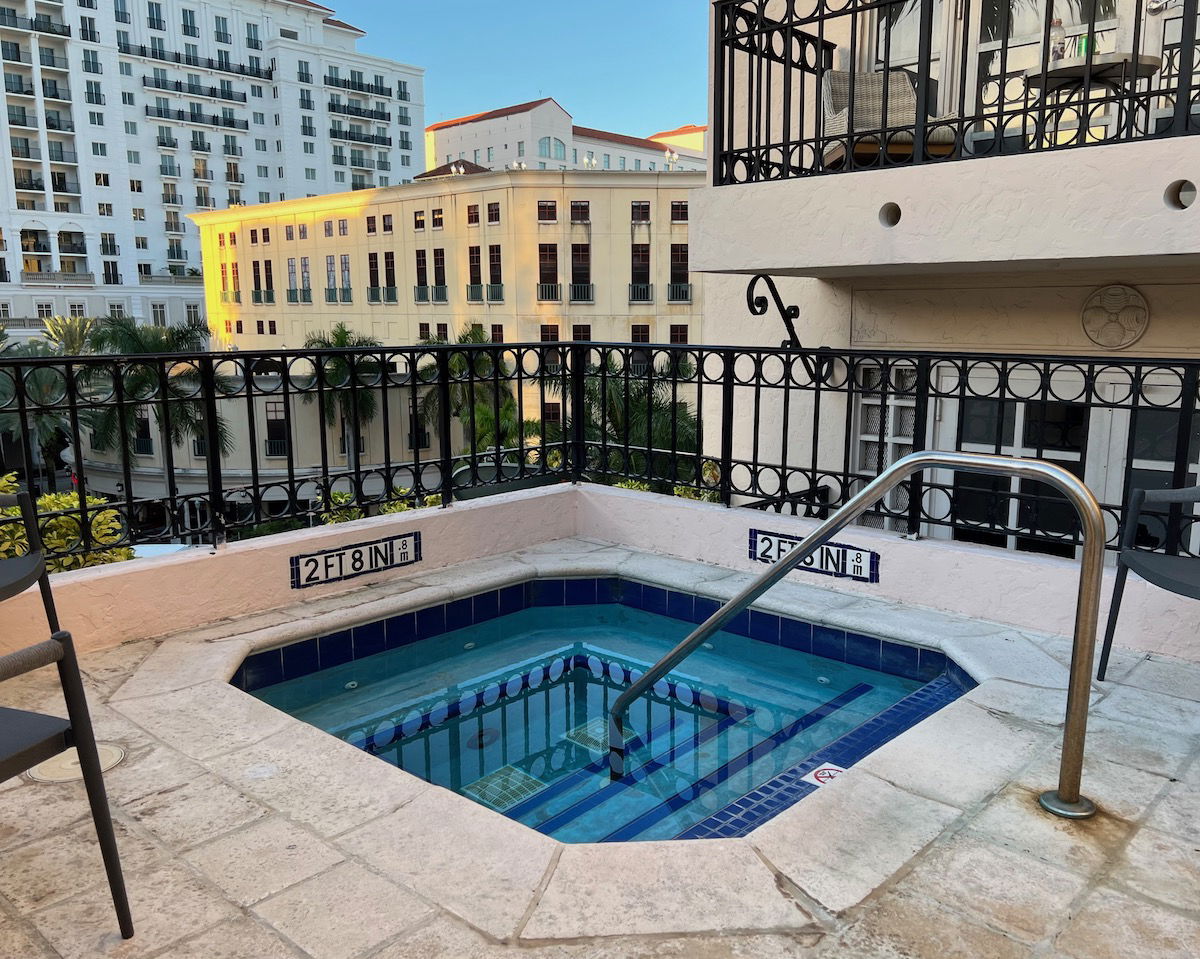 Hyatt Regency Coral Gabels gym
The Hyatt Regency's gym is located on the seventh floor, and is open 24/7. I found the gym to have a good selection of modern equipment, but to also be on the small side for a property of this size. There wasn't anyone using it when I visited, but I imagine this can get busy at times.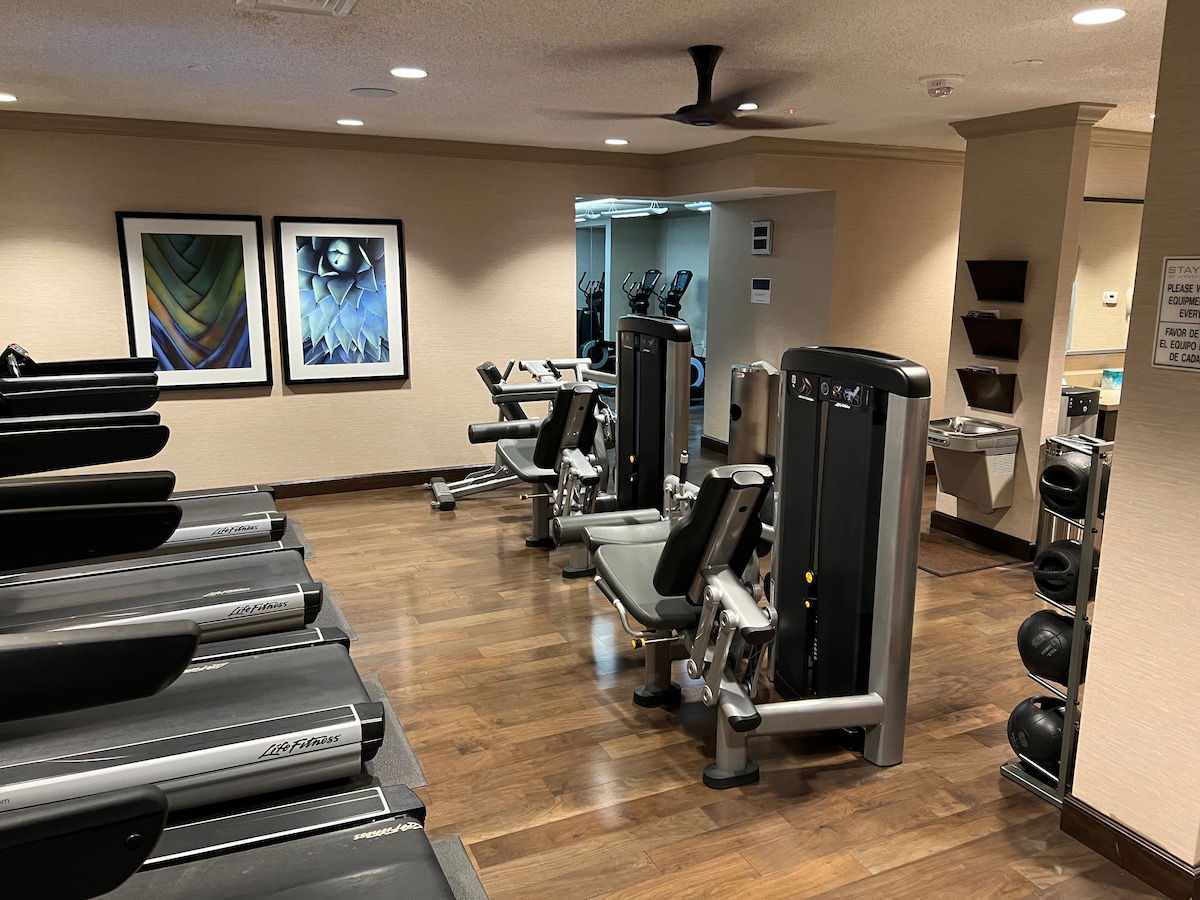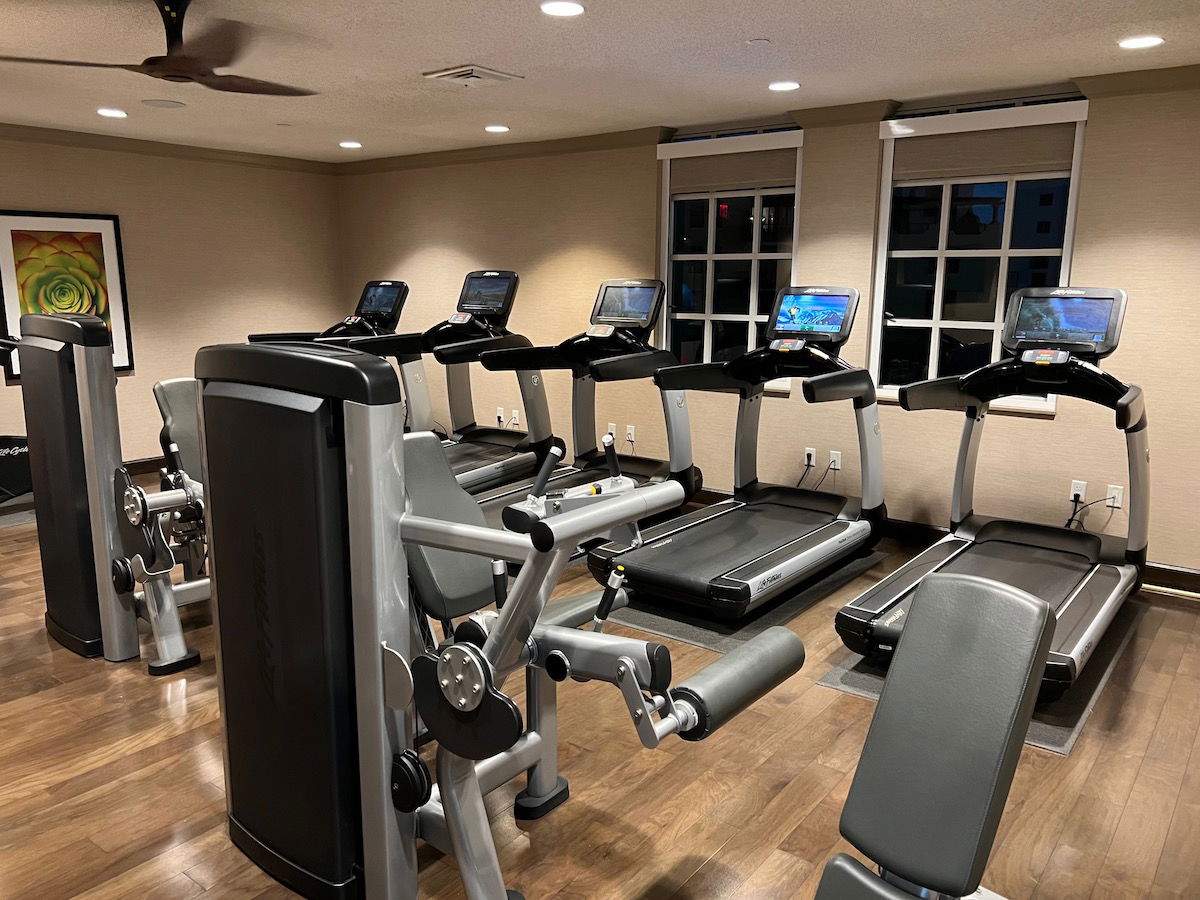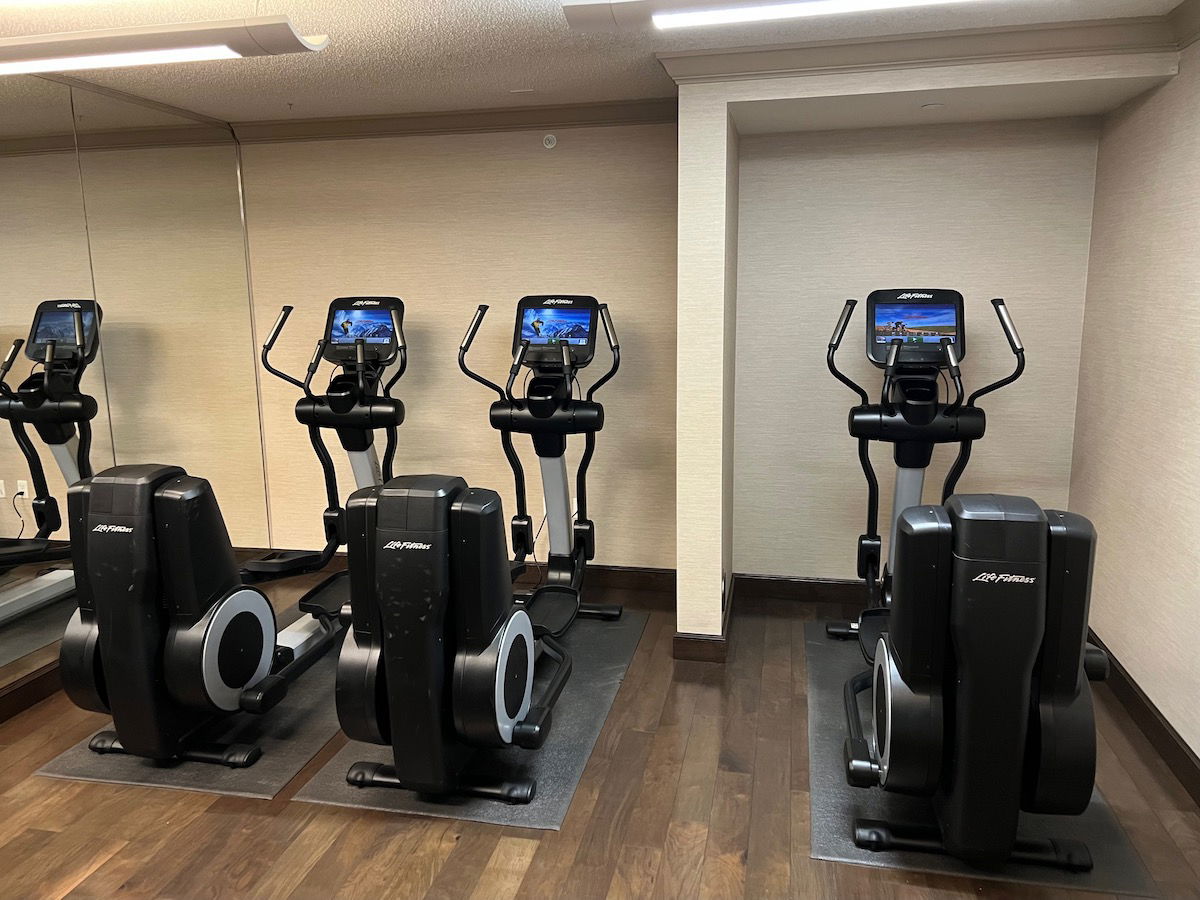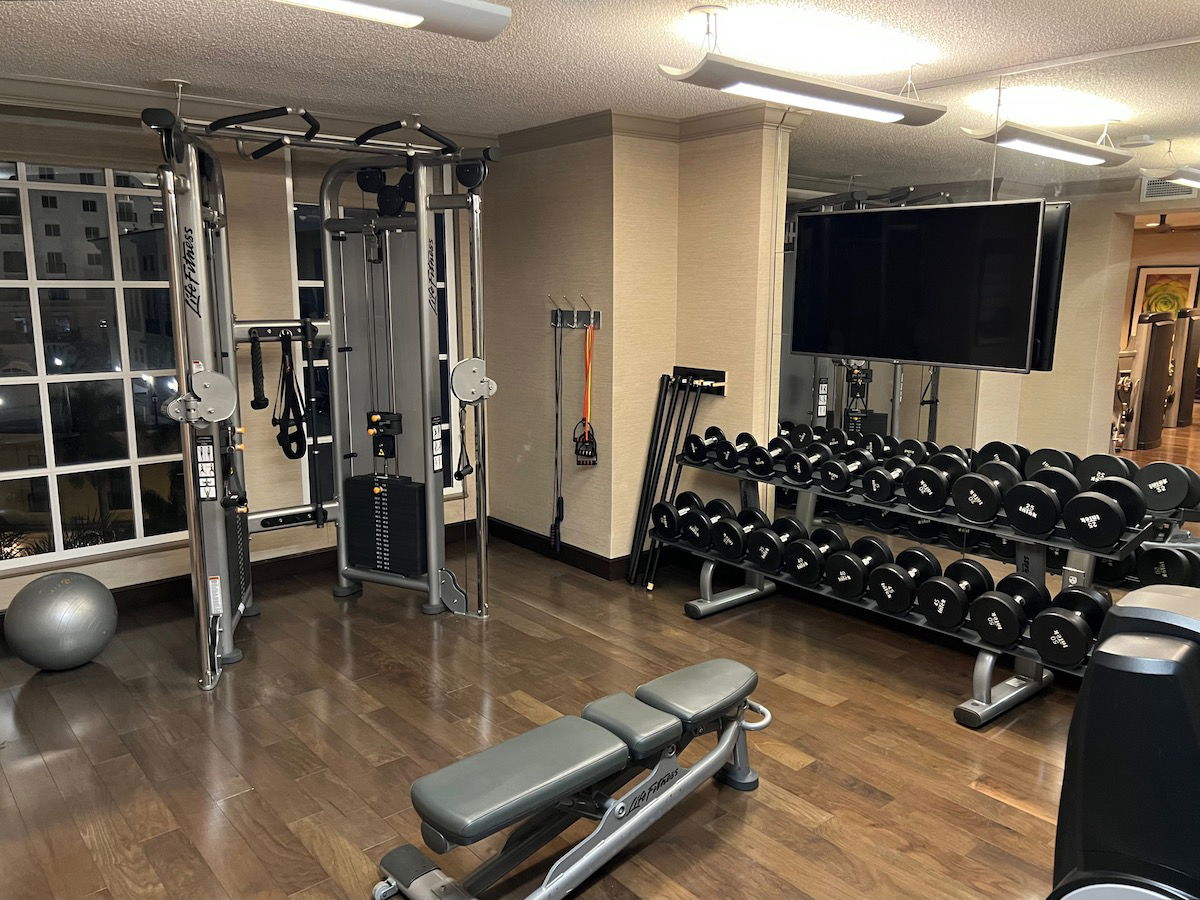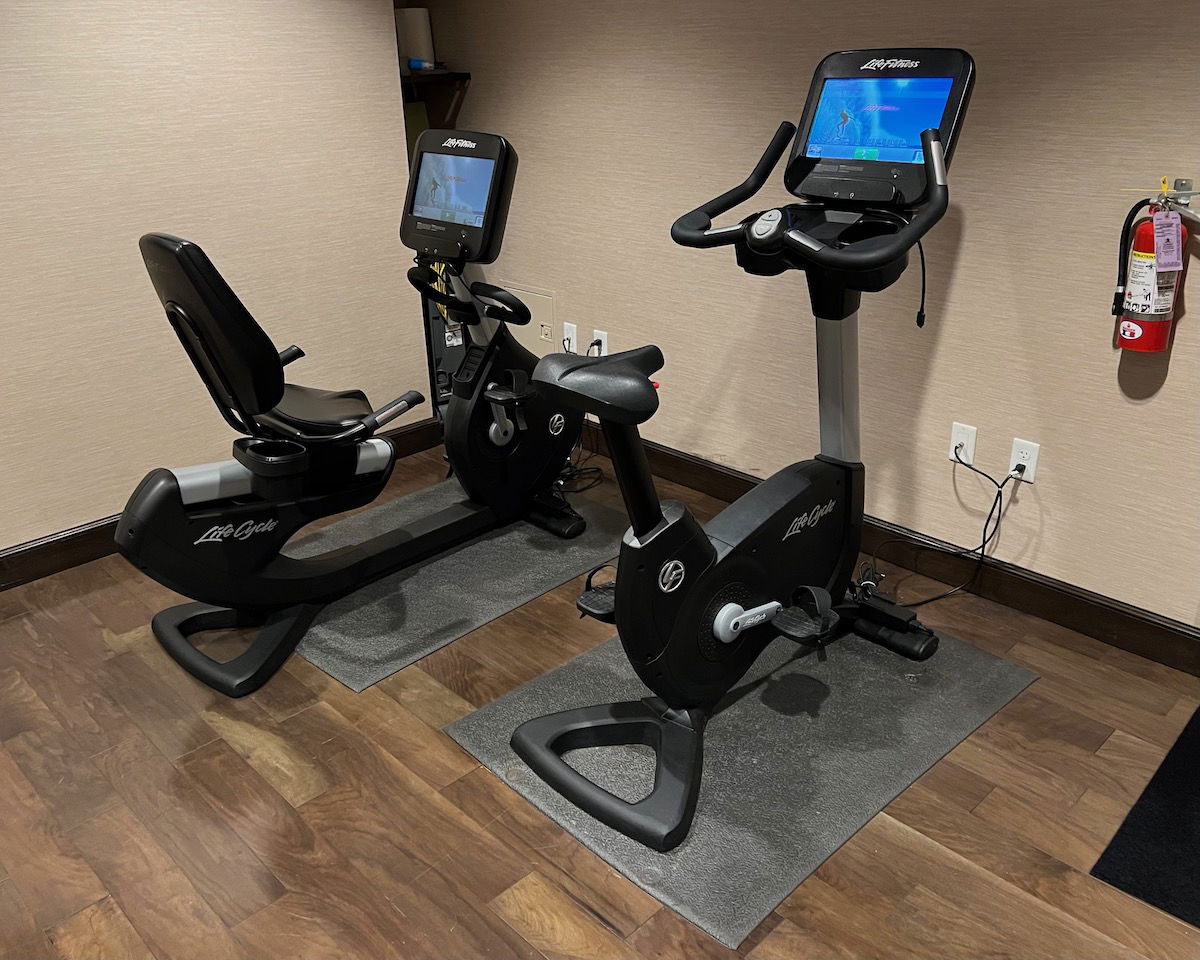 Hyatt Regency Coral Gables Two Sisters restaurant
Two Sisters is the name of the Hyatt Regency Coral Gables' main restaurant. The restaurant is only open for breakfast and lunch (from 7AM until 2PM) — that's fair enough, since there are lots of great restaurants for dinner within walking distance. The restaurant isn't particularly big, but also wasn't busy when I visited for breakfast.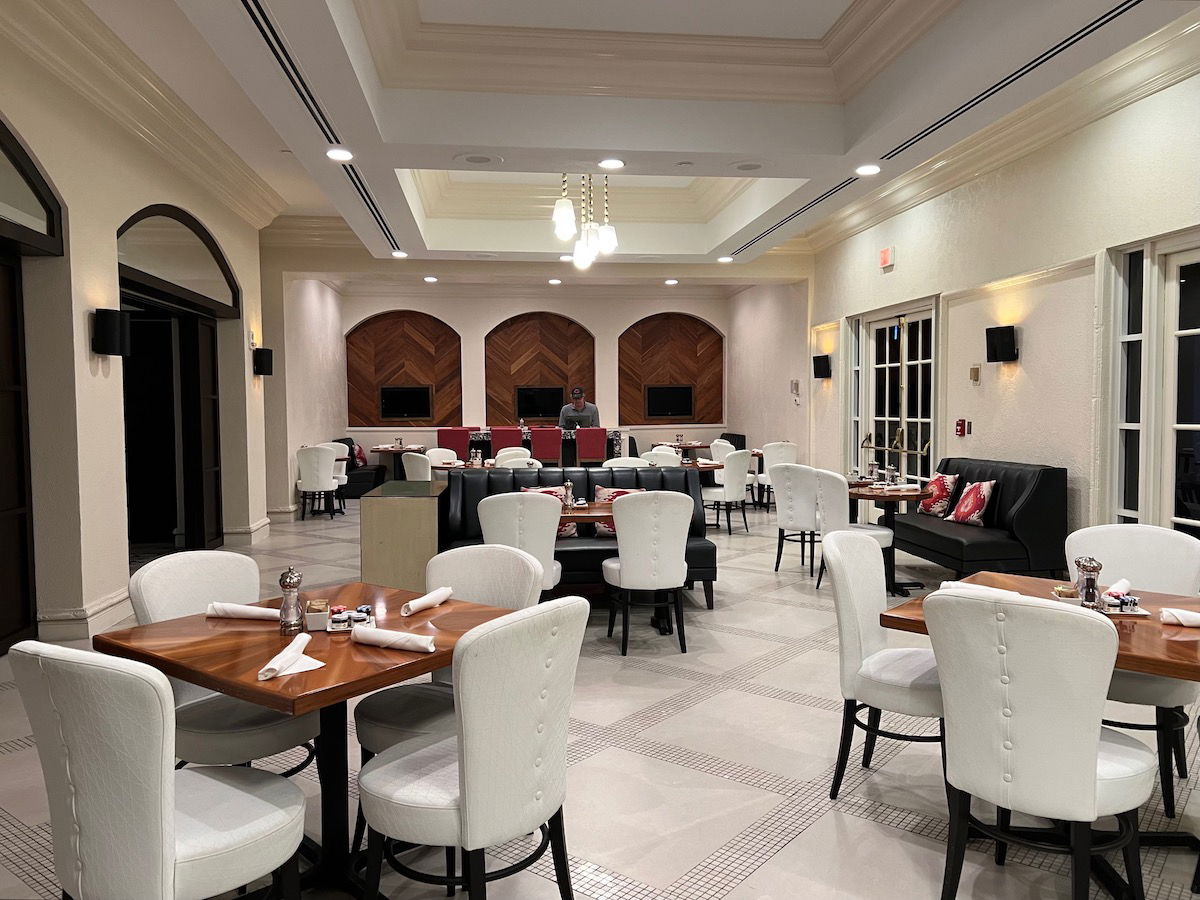 Two Sisters has a breakfast buffet, or alternatively you can order a la carte. Either was included as a Globalist member.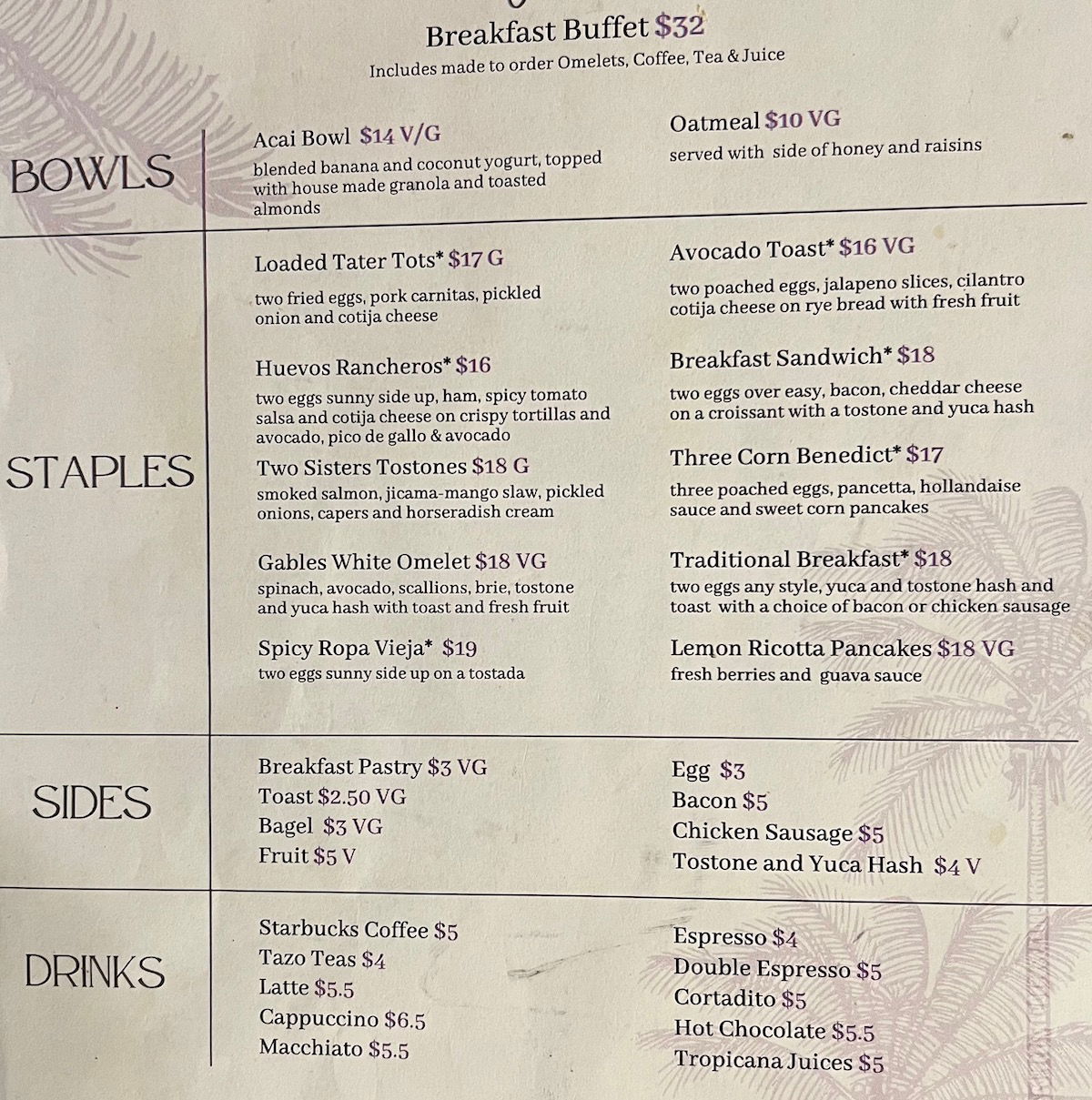 While I didn't end up choosing the breakfast buffet, it looked quite good, with plenty of fresh fruit, yogurt, cold cuts, pastries, cereal, and hot dishes.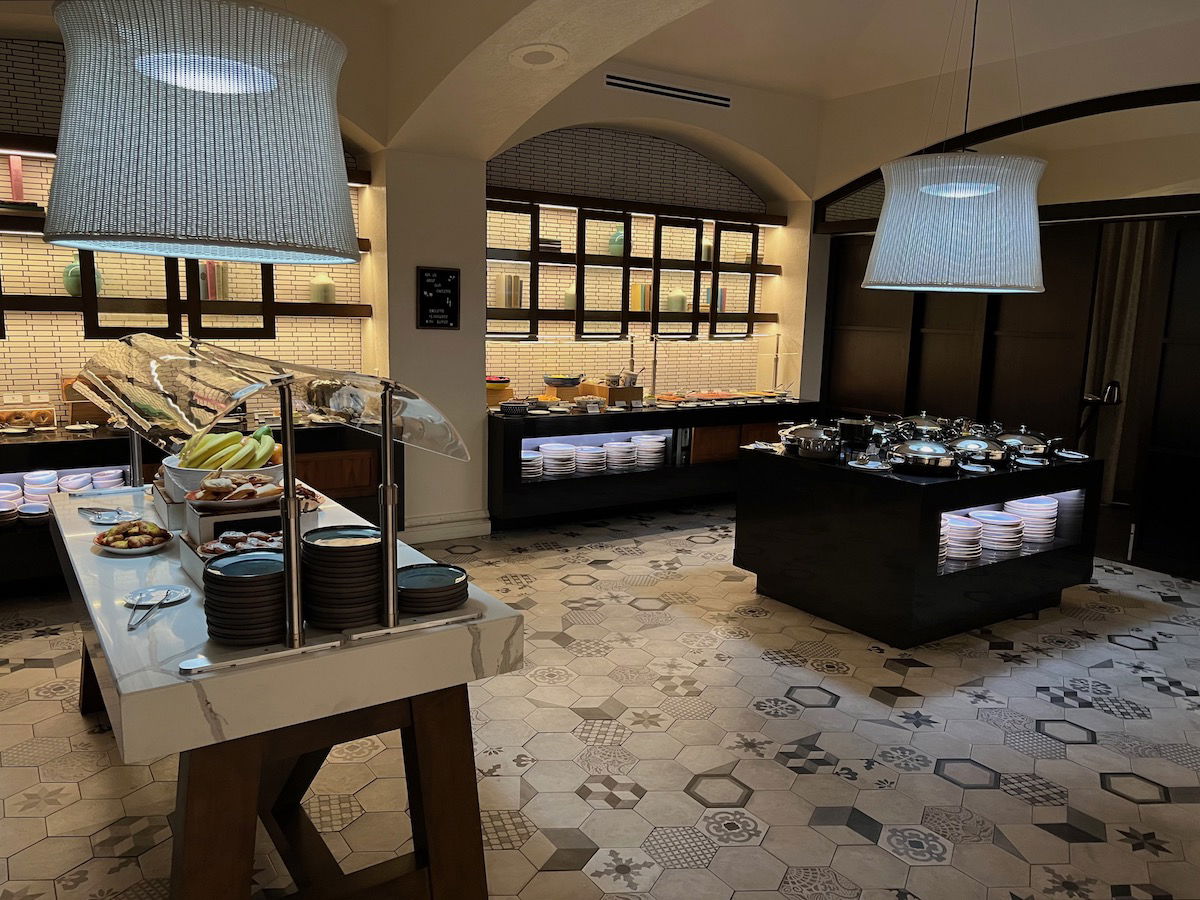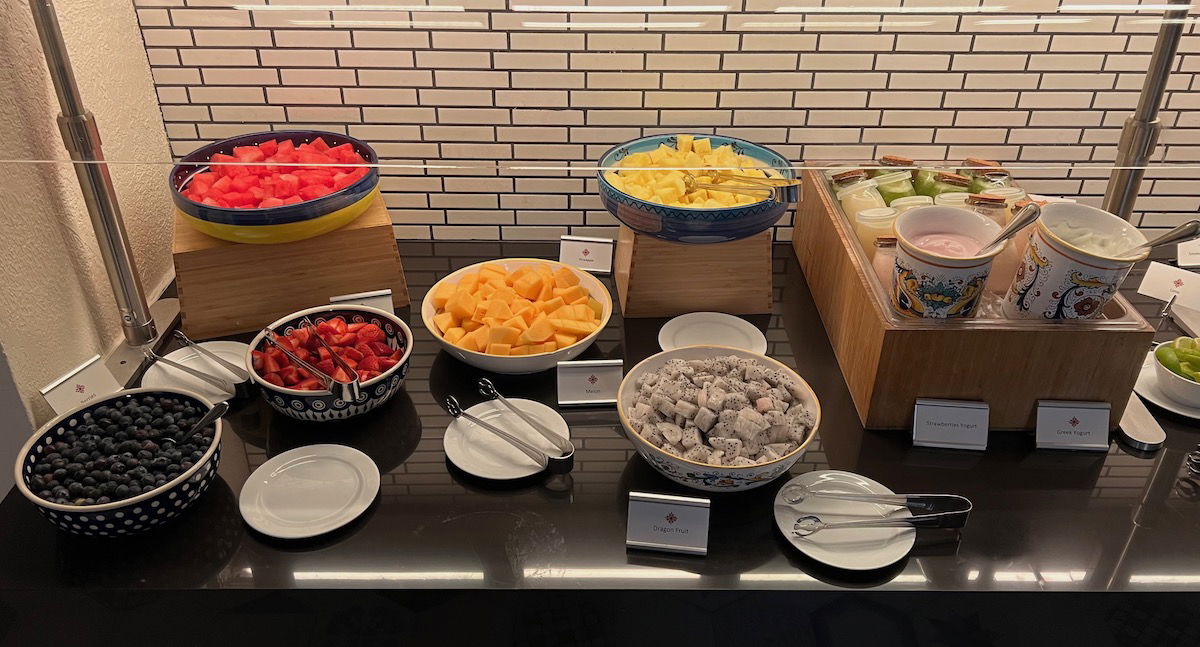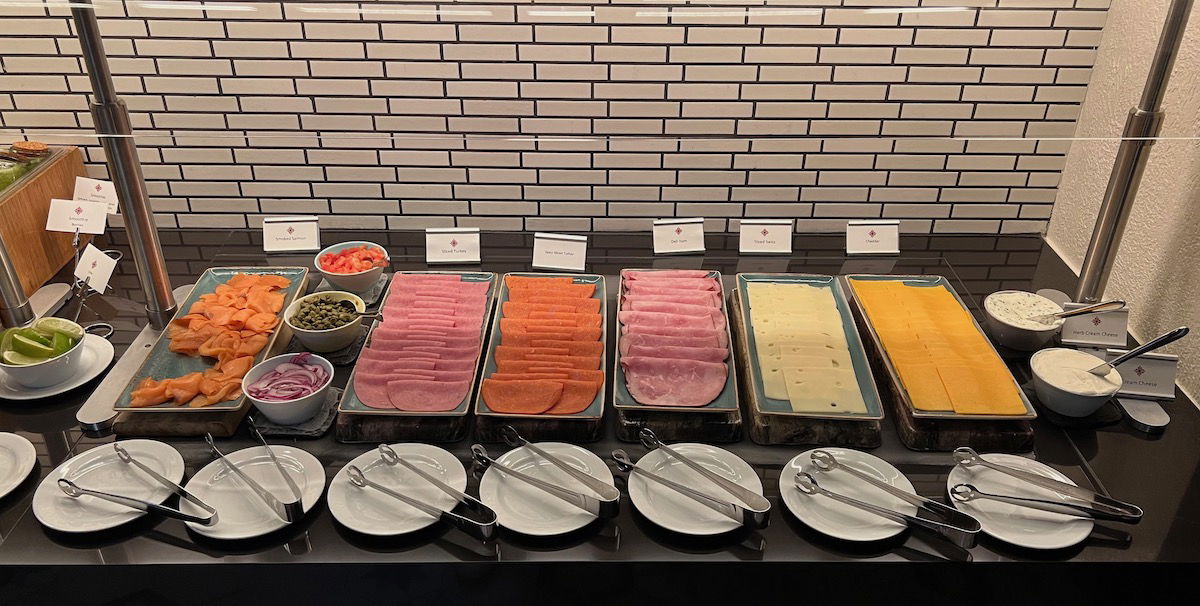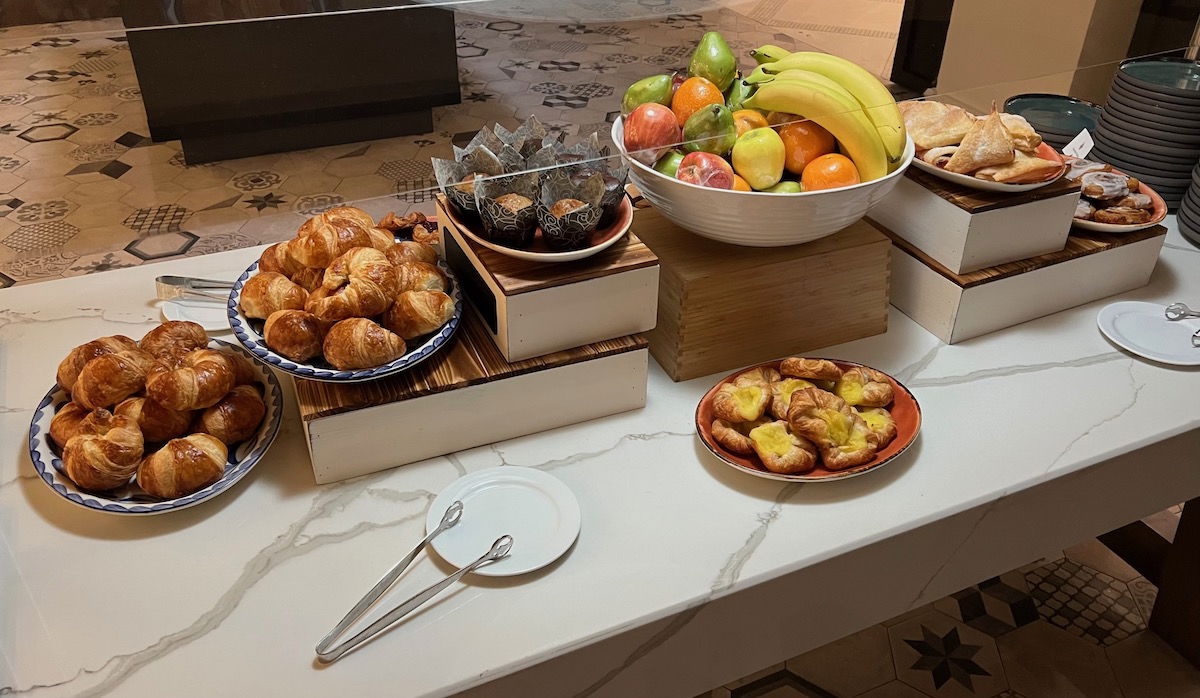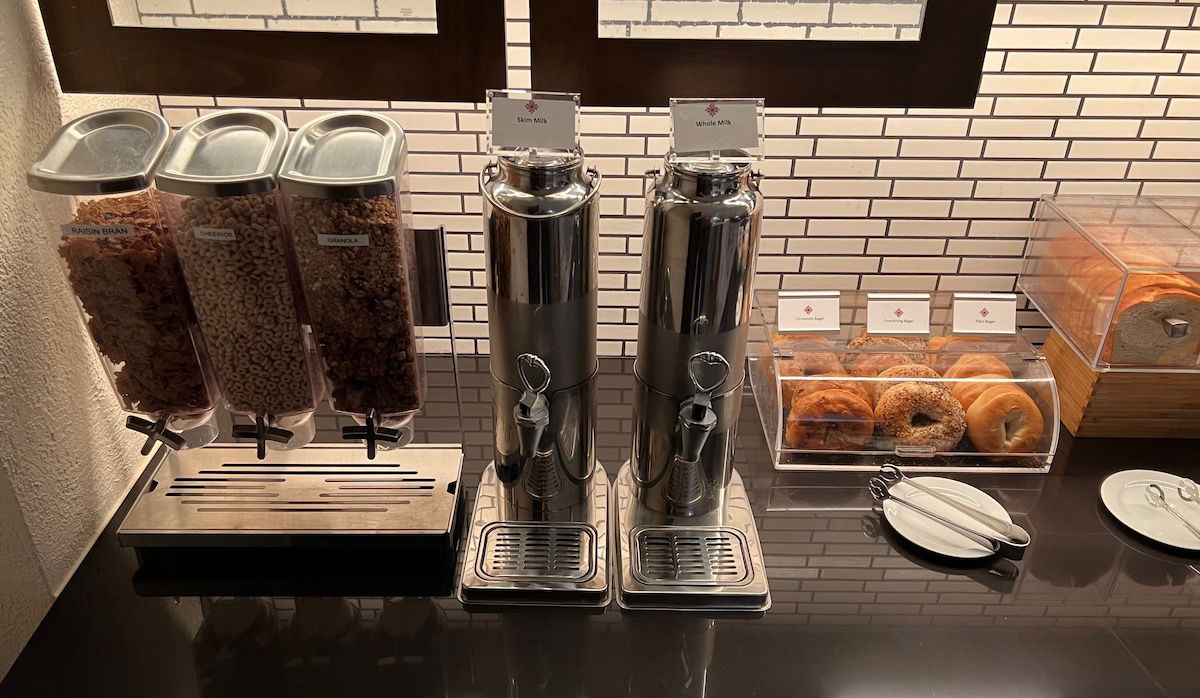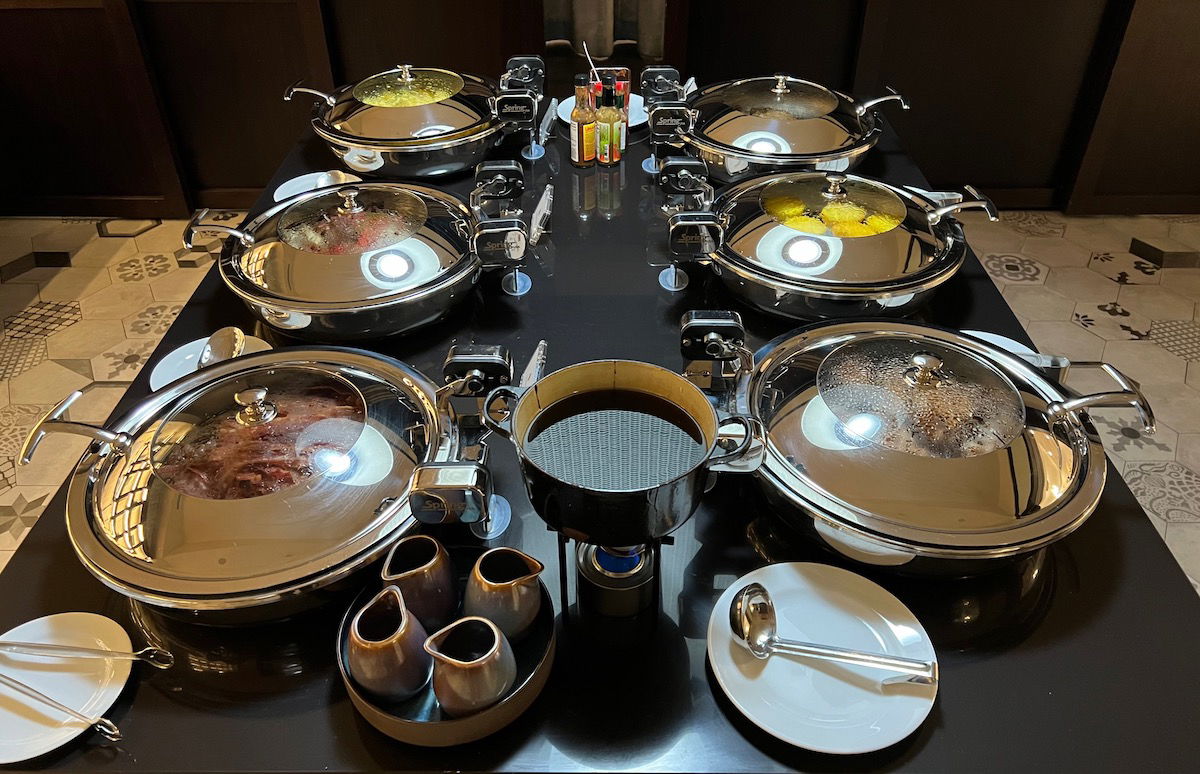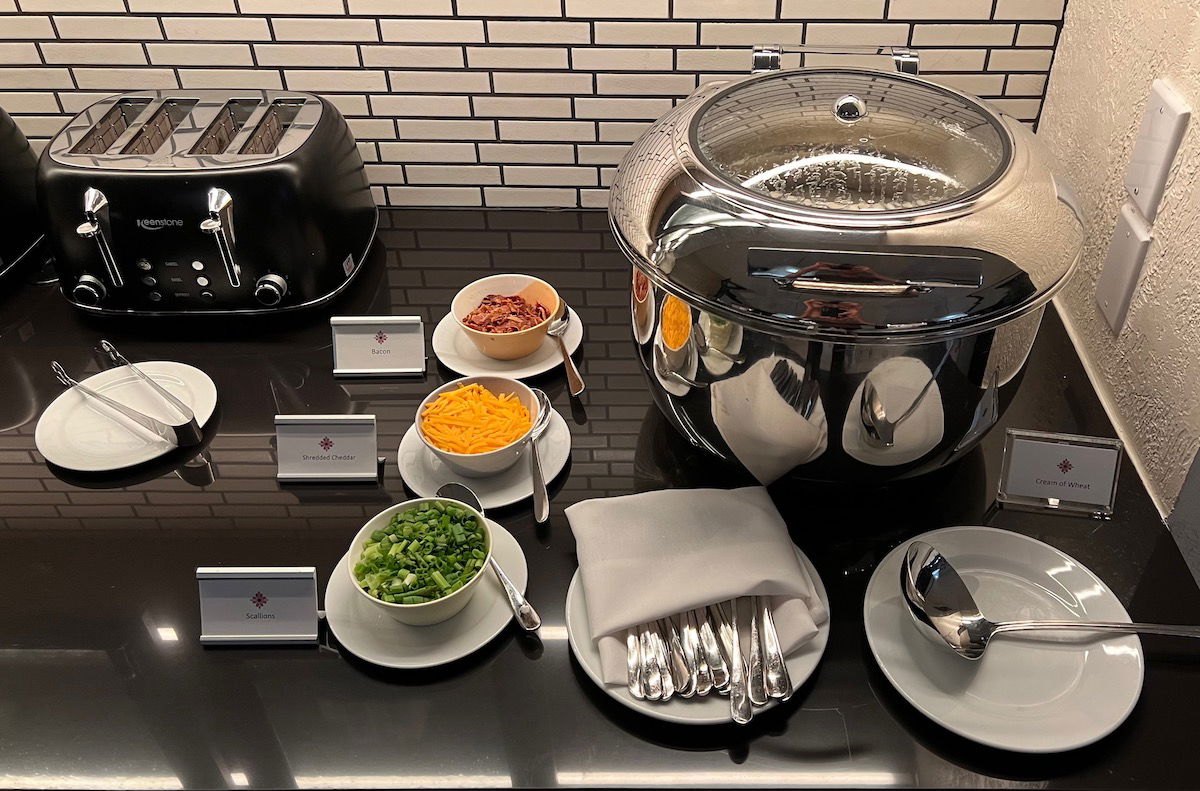 I ordered a cup of coffee to drink — while I liked the mug, the coffee as such was too acidic for me.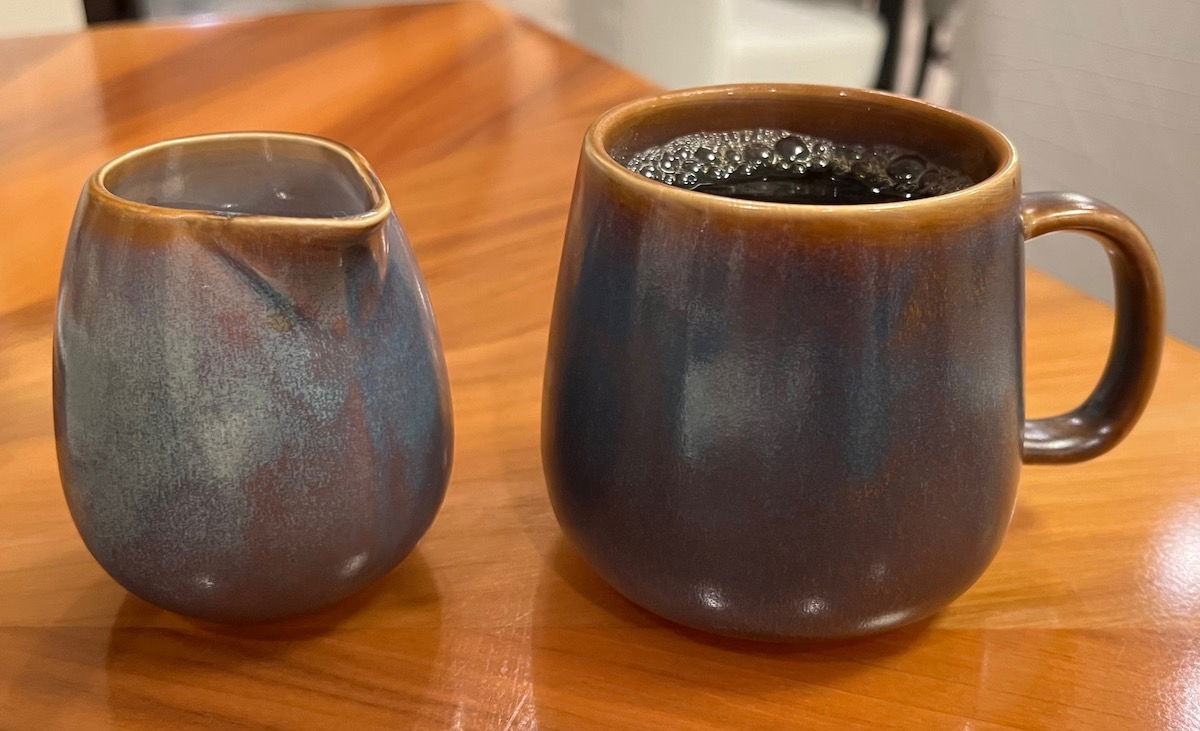 For breakfast I ordered the avocado toast, with poached eggs, jalapeño slices, and cilantro cotija cheese on rye bread. That was also served with a fruit plate.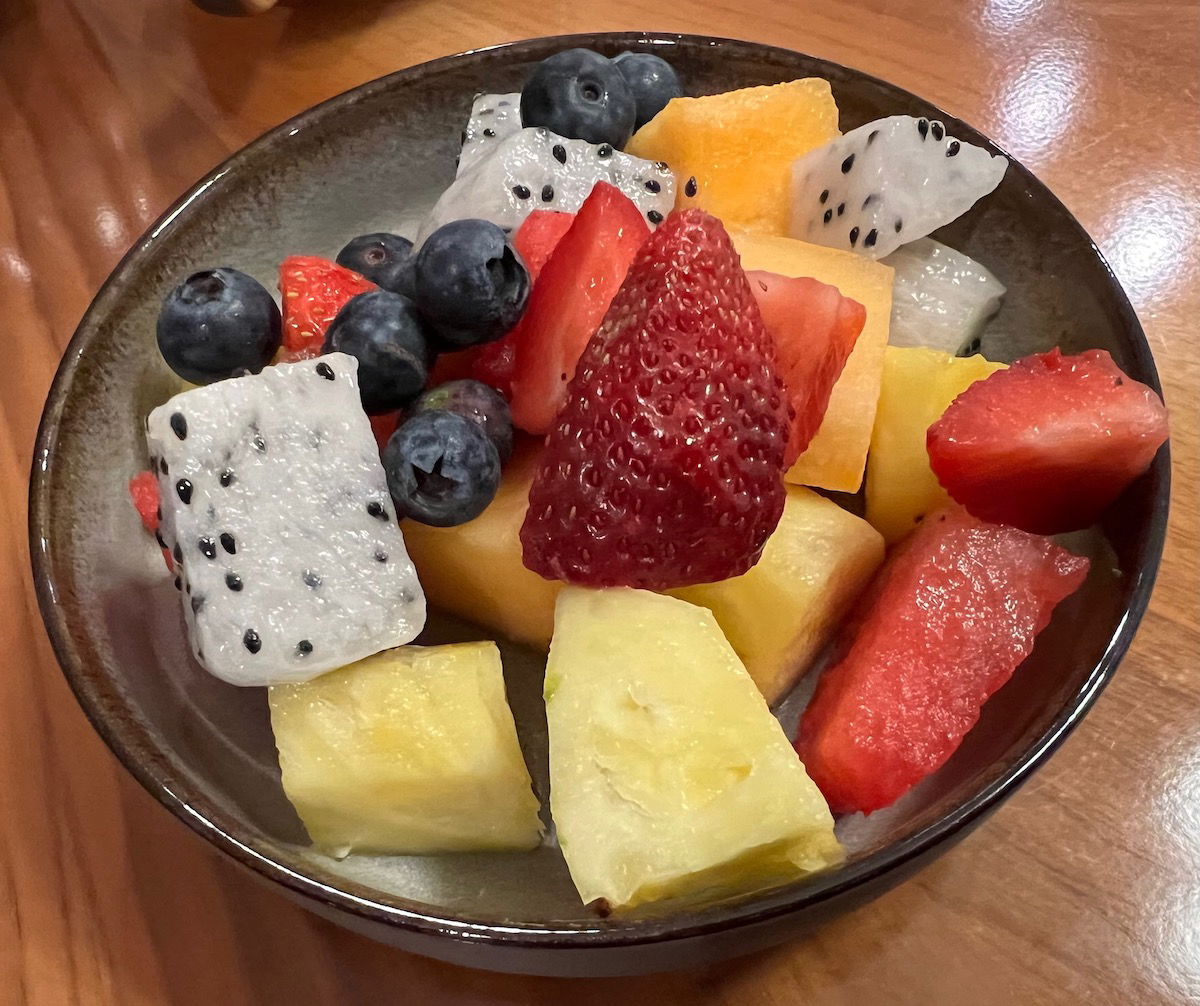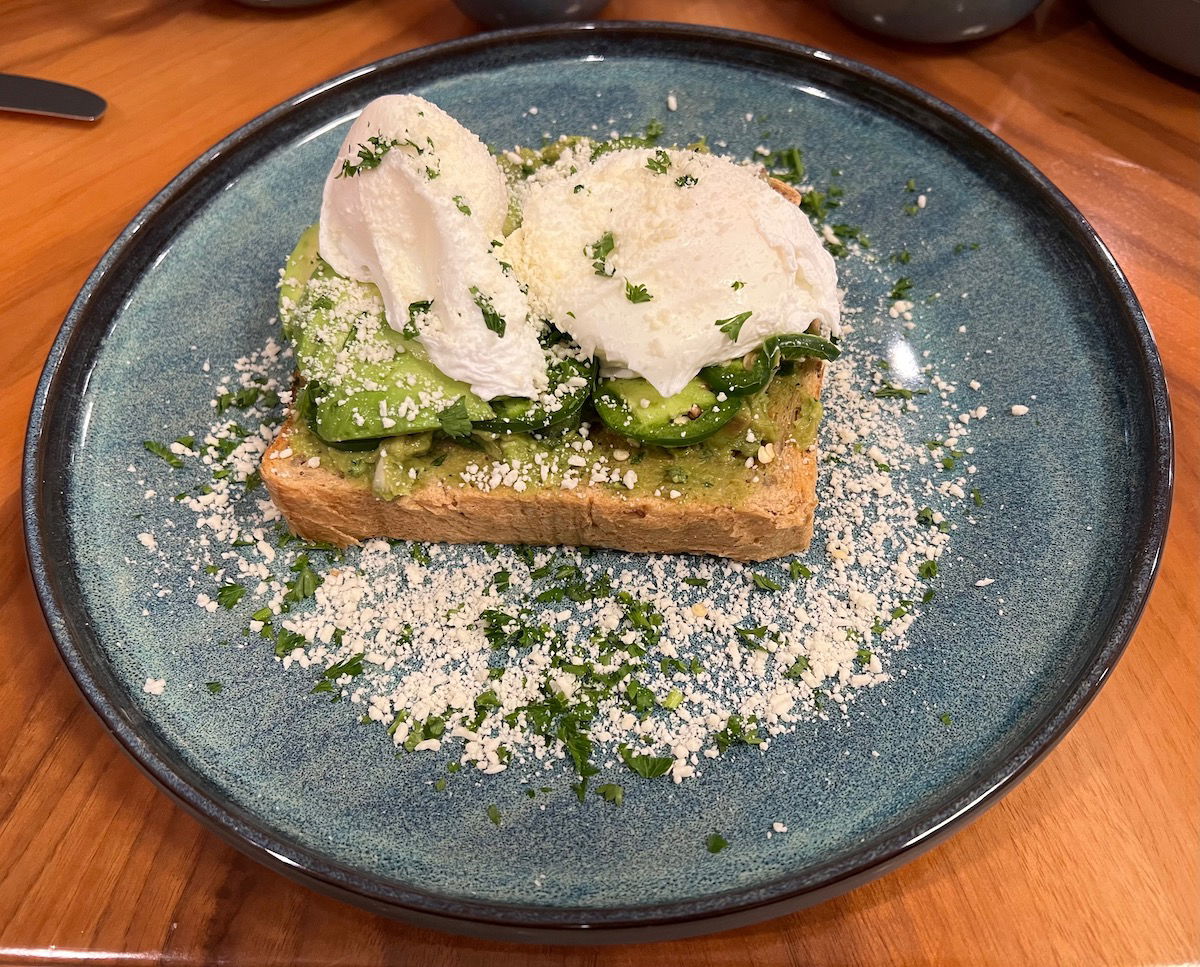 I appreciated that it was a twist on your traditional avocado toast. Service was friendly, and the entire amount was removed from my bill at check-out.
Hyatt Regency Coral Gables Perks cafe
Perks is the Hyatt Regency's lobby coffee bar, open from 7AM until 11AM on weekdays, and until 12PM on weekends. This is a good option for picking up a cappuccino, a soft drink, or a pastry. I didn't get anything here during my short stay.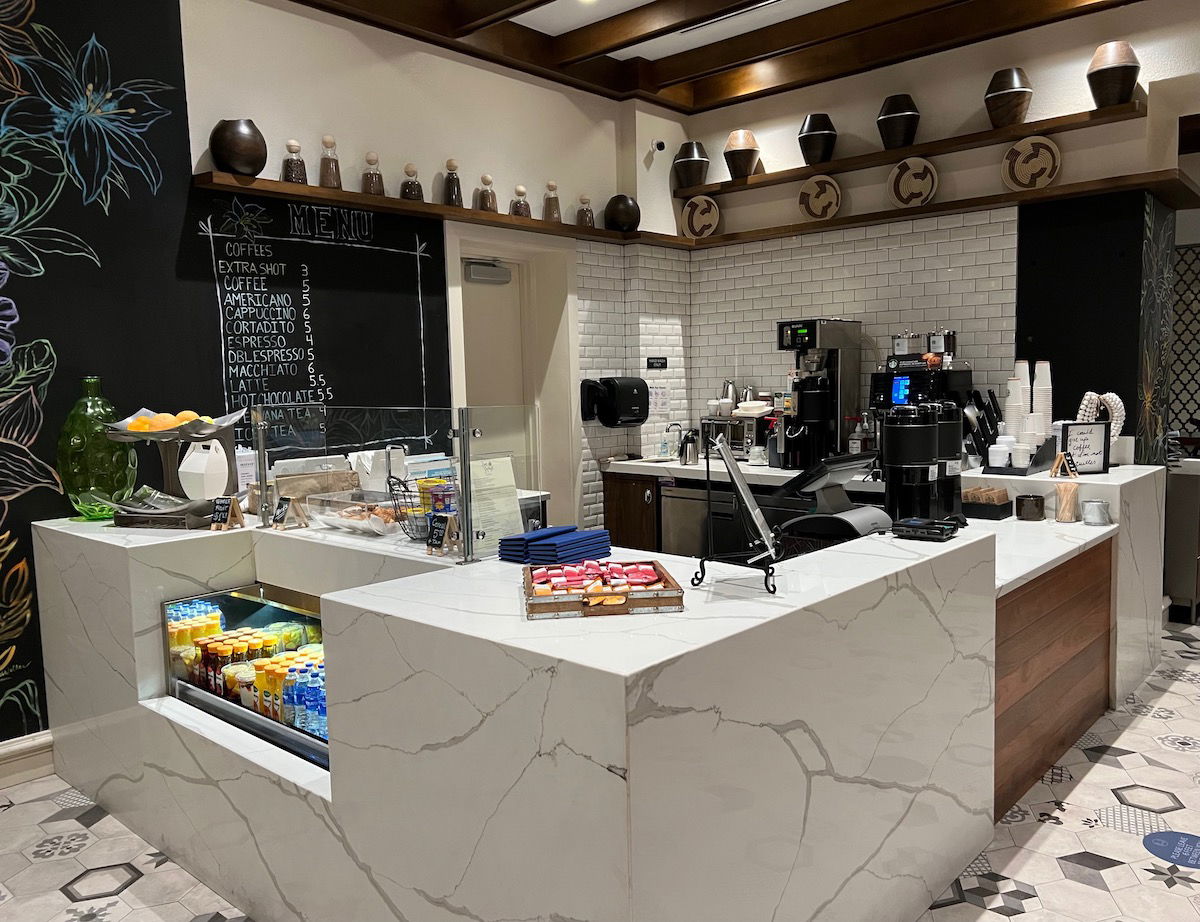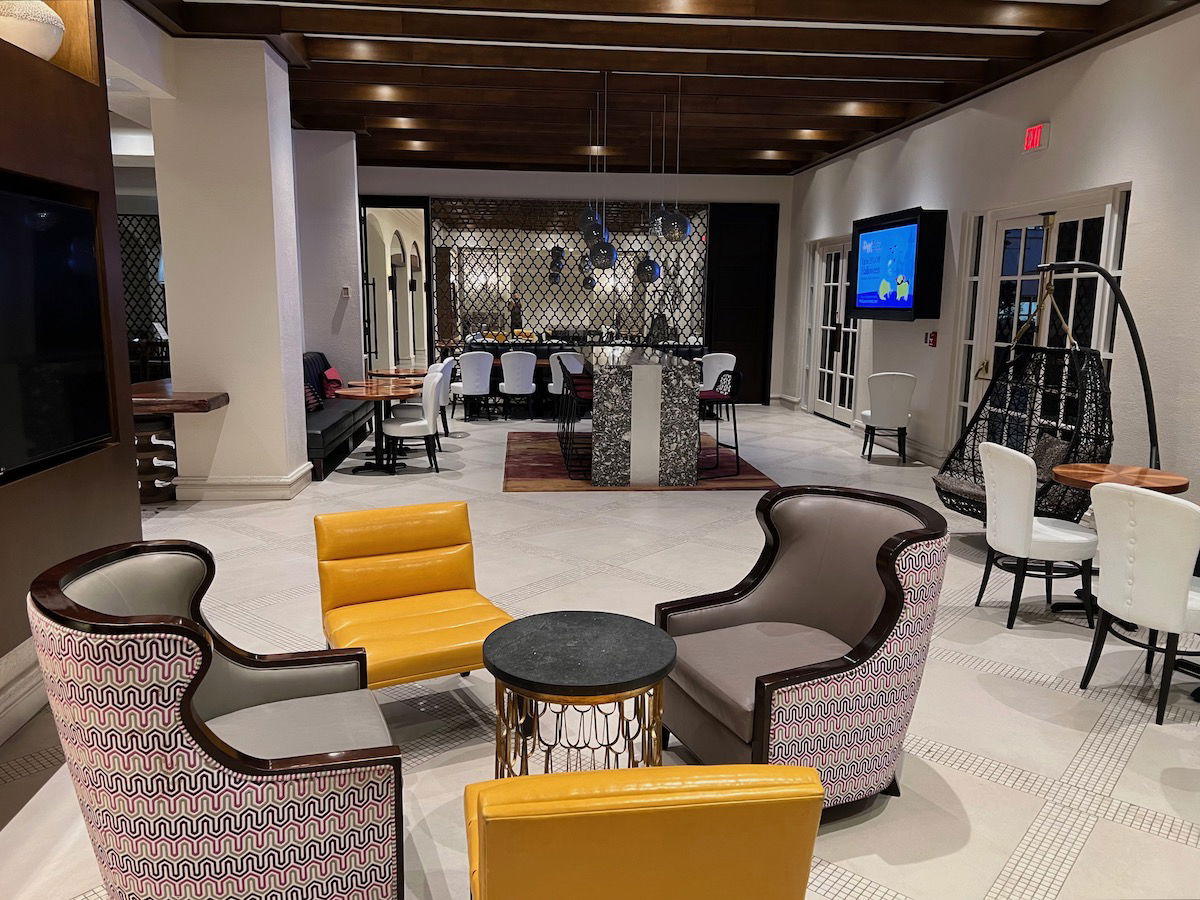 Hyatt Regency Coral Gables Market
Market is the Hyatt Regency's 24/7 grab & go area, located next to reception. This had a large selection of snacks and drinks, plus an ATM.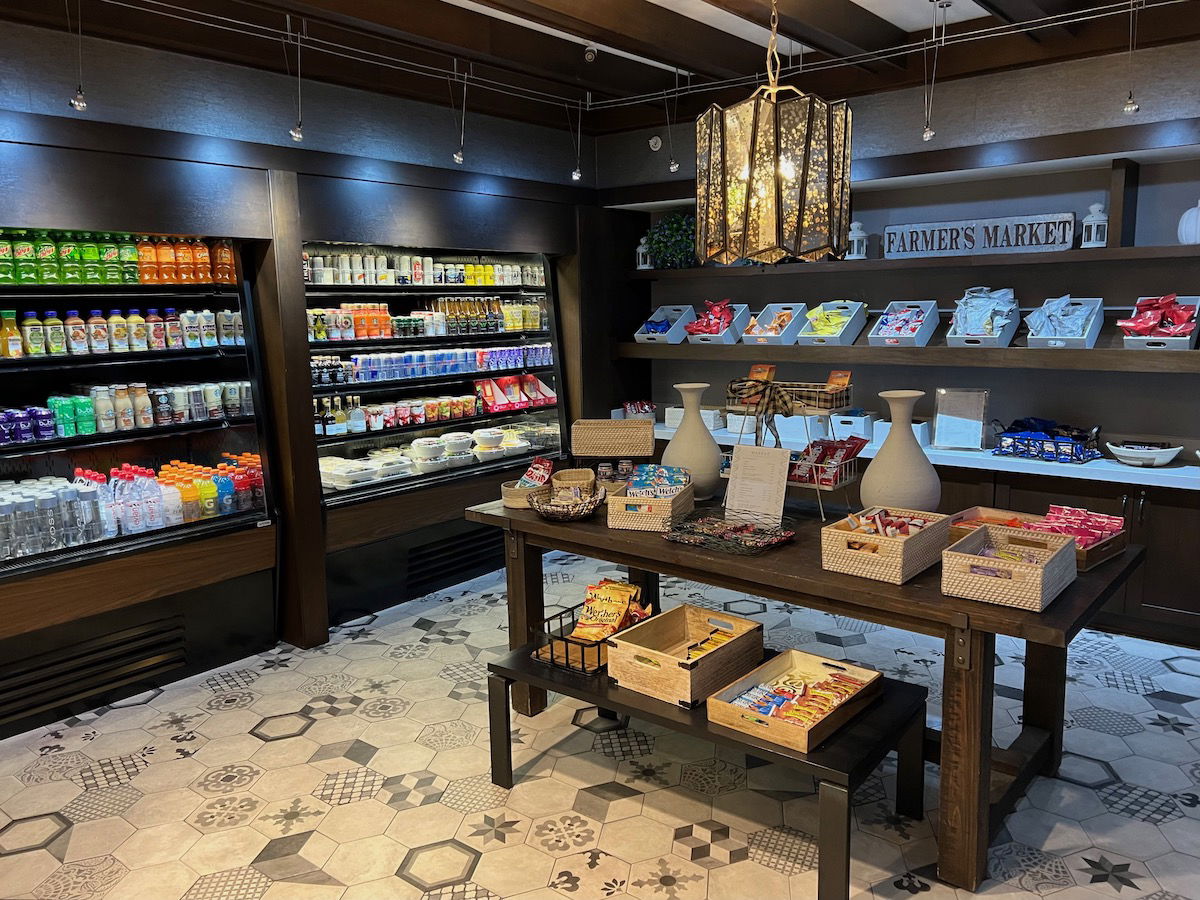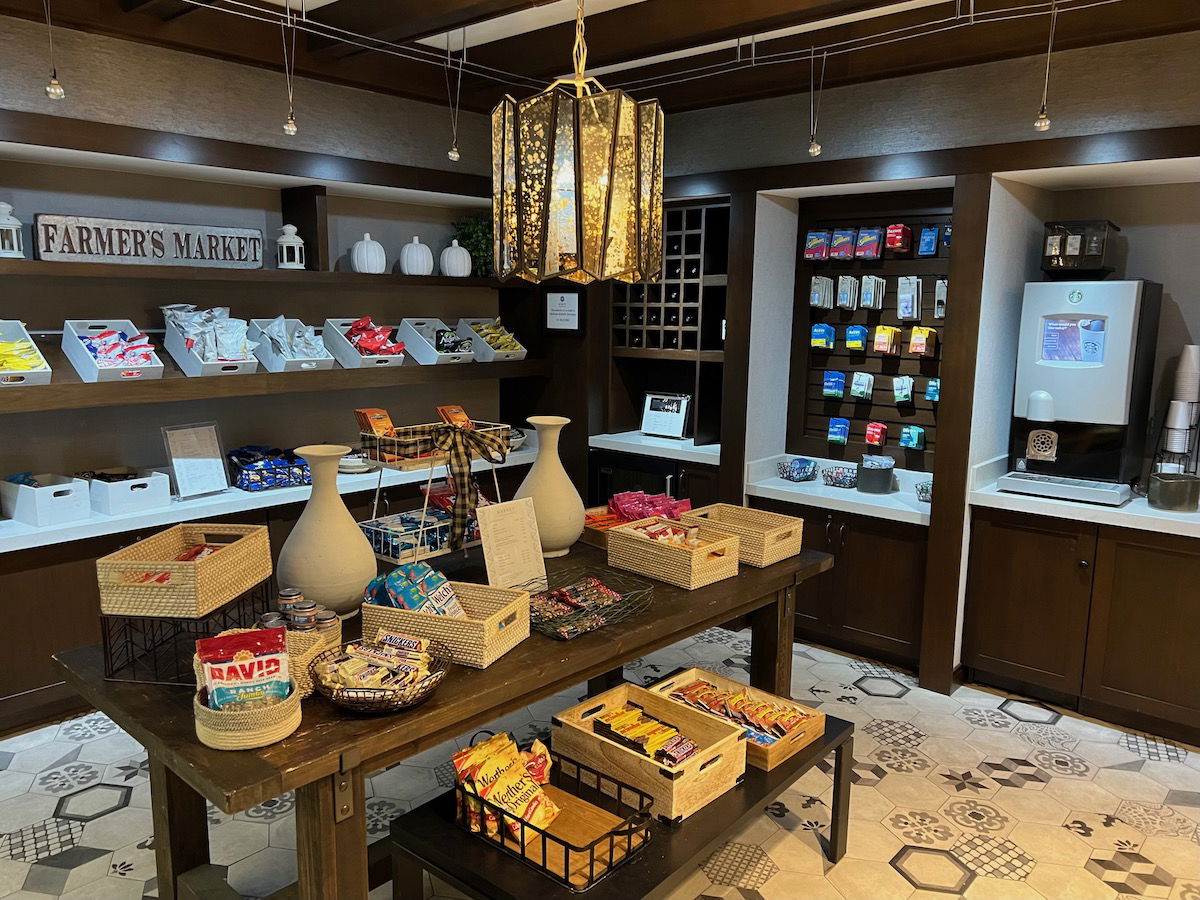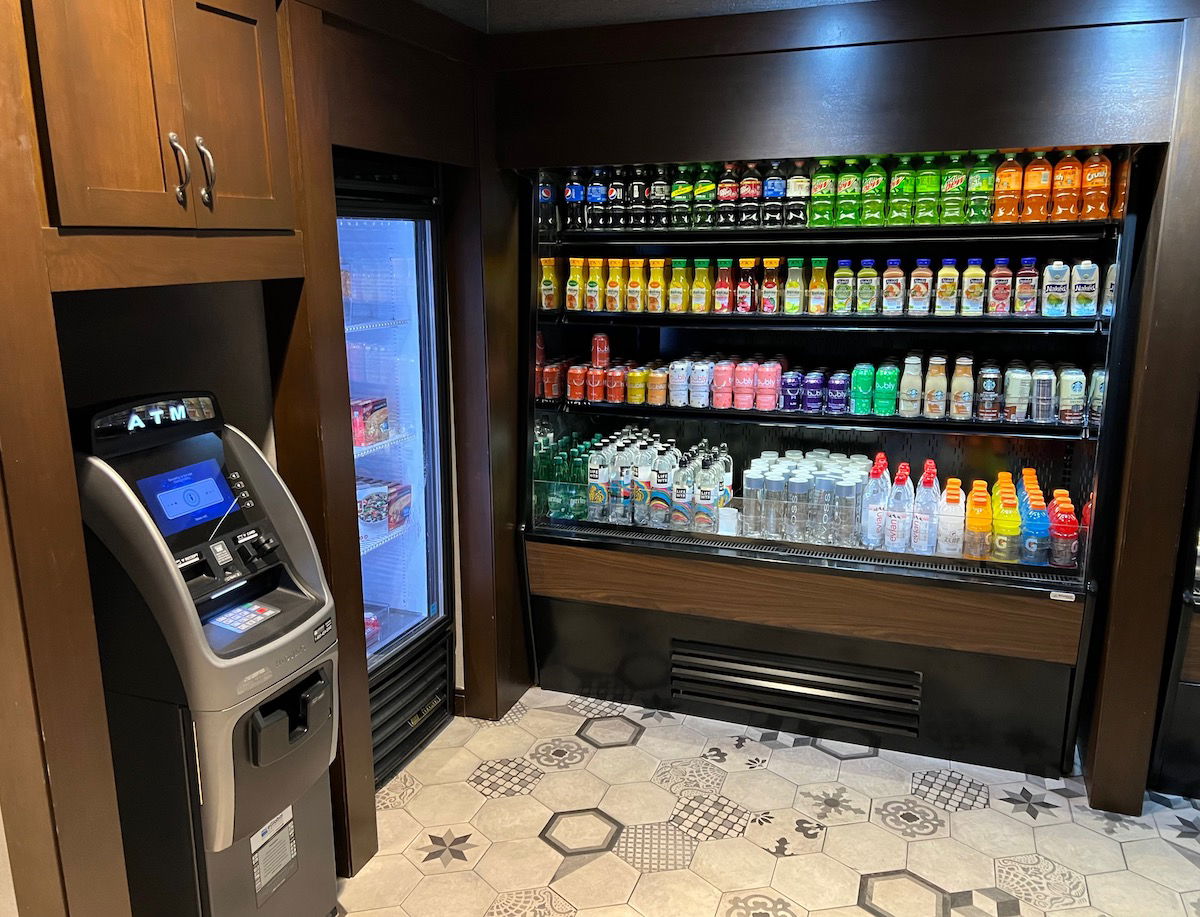 Hyatt Regency Coral Gables Bar 50
Bar 50 is the Hyatt Regency's lobby bar, and it's open daily from 2PM until 12AM. It's located right in the lobby, just across from reception. You can find the menu here. Since Two Sisters is closed for dinner, this is the closest thing the hotel has to a dinner restaurant.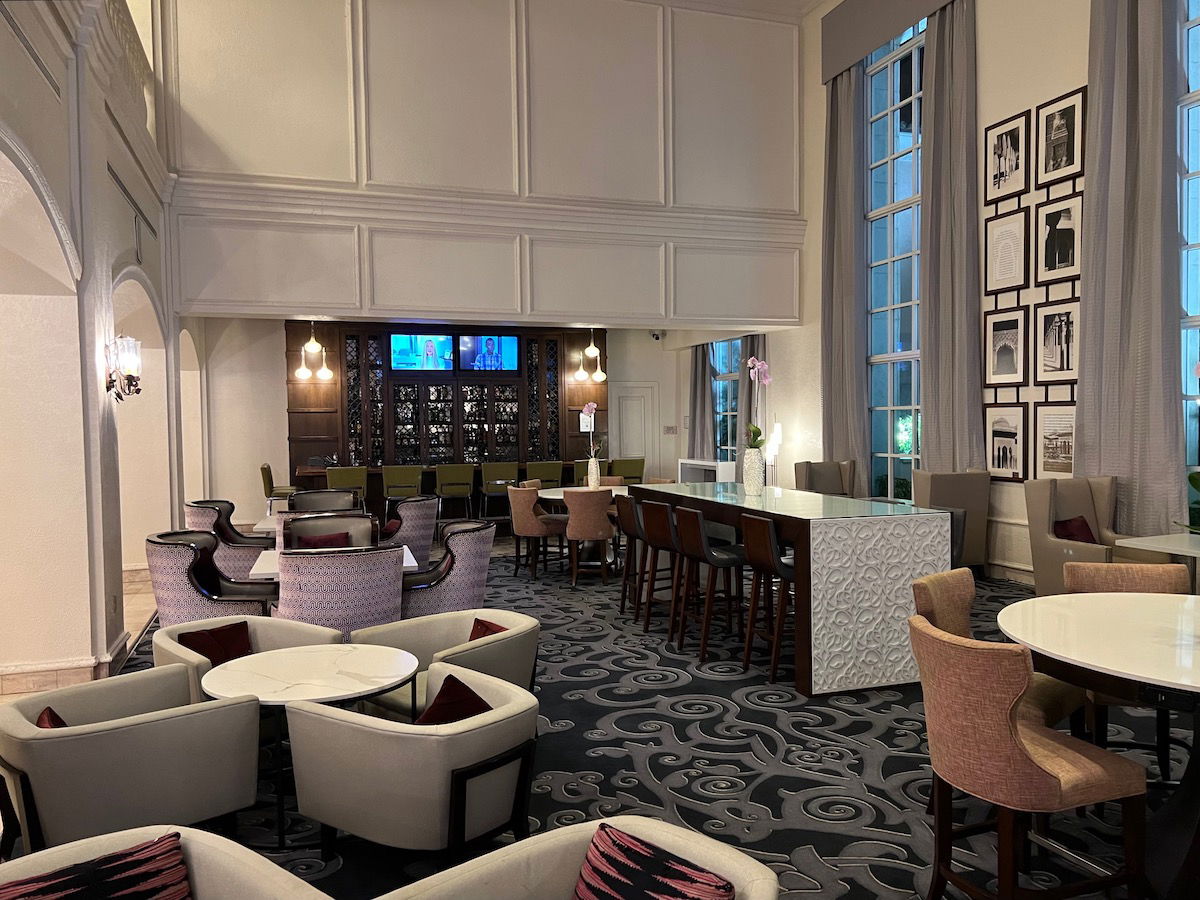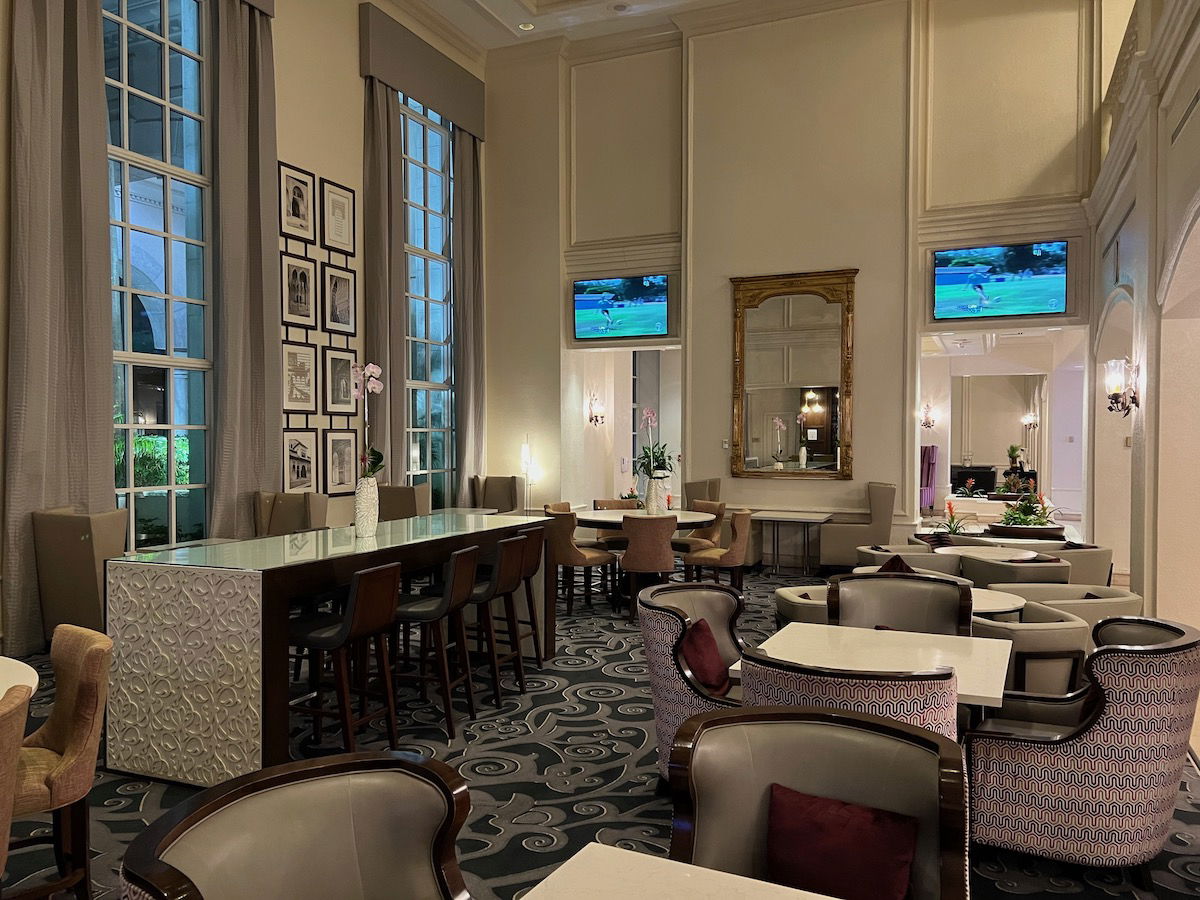 Bottom line
The Hyatt Regency Coral Gables worked great for what I was looking for during a recent visit to Miami. The hotel has pretty nice design, excellent elite recognition, friendly employees, and a good breakfast.
Given that I wanted to be in the Coral Gables area (and not Brickell or Miami Beach) this was the ideal choice, and I'd return in a heartbeat. I also appreciated that the crowd at the hotel was a bit tamer than in some other areas of Miami.
If you've stayed at the Hyatt Regency Coral Gables, what was your experience like?