Over Labor Day Weekend I was in New York for the US Open, courtesy of the Starwood American Express thanks to the "AmEx Stars" program I'm participating in. I decided to fly out a day early, however, as I was planning on seeing family in New York. So I'll be reviewing my experience at the US Open soon, though first I figured I'd review the W New York Times Square.
Long time readers know that I love the two Andaz hotels in New York, located on 5th Avenue and on Wall Street. And I'm tempted to stay at them every time I'm in the city, because they really are fantastic hotels and a great value. However, I also want to review some new properties in the city, as I realize that's probably more interesting to you guys.
After comparing rates I decided on the W New York Times Square, which I booked for $260 through American Express Fine Hotels & Resorts. By booking through Fine Hotels & Resorts I received a $100 food and beverage credit, continental breakfast for two, a room upgrade based on availability, and guaranteed 4PM late check-out. The last two benefits are redundant since I get them anyway as a Starwood Platinum member, though I figured it would be worth it for the $100 food and beverage credit. Given that other hotels were charging about the same without the food and beverage credit, this seemed like a good option, especially since it was just for a one night stay.
Up front I should say that Times Square has to be the worst place in all of New York City. It's an awful, touristy place, there are no two ways about it. And the W is located right in the heart of Times Square, so that makes it even worse But I knew that going in, and I booked it despite that.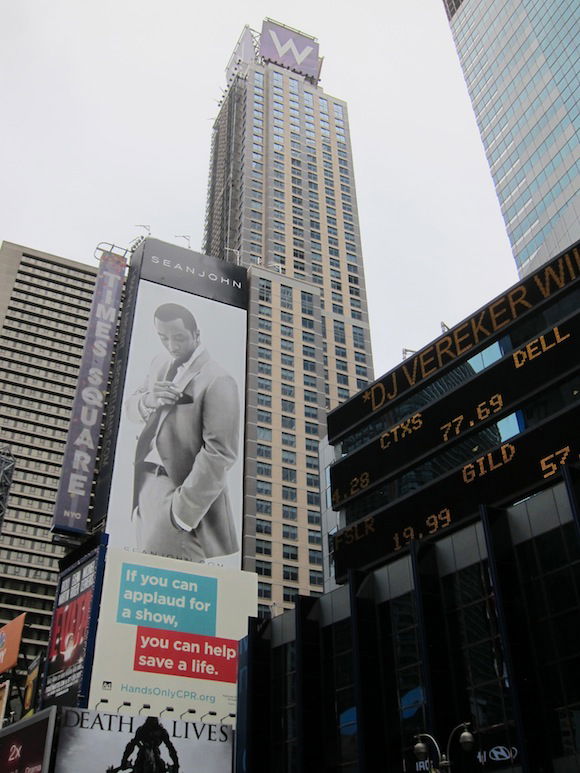 Hotel exterior
The entrance to the hotel has a glass ceiling with water on it, which is pretty cool, though at the same time almost made me dizzy.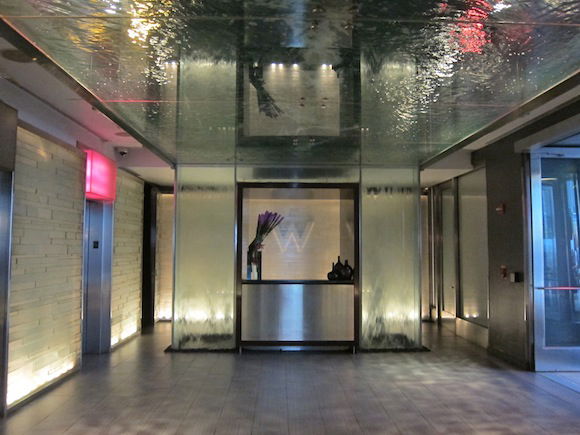 Hotel entrance
The lobby is located a few floors up, and in typical W fashion was dark and had obnoxiously loud music.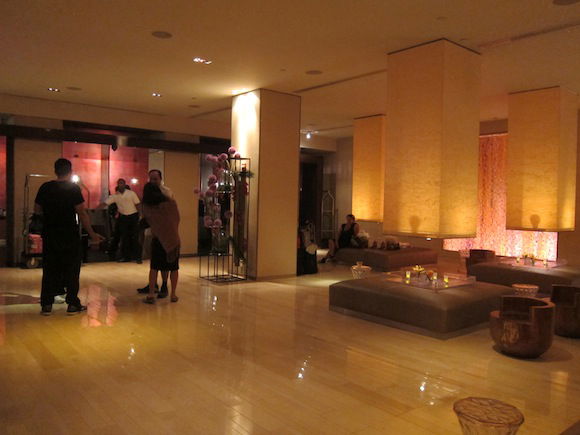 Lobby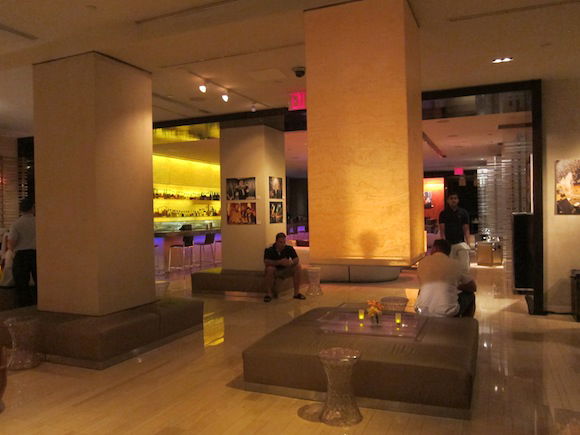 Lobby
The check-in process was quick enough, and I asked about the possibility of a suite upgrade. The agent told me I had already been upgraded to a "Cool Corner Room," though I specifically asked again about the possibility of a suite upgrade. He told me they didn't have any suites available without even looking. The website showed several suites left for sale, but I just wasn't in the mood to argue, so let it go.
My "Cool Corner Room" was located on the 56th floor, room 5601.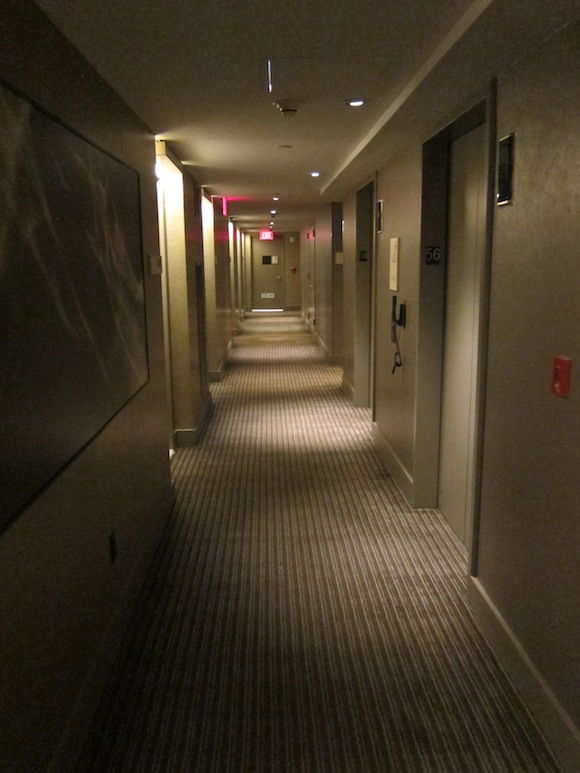 56th floor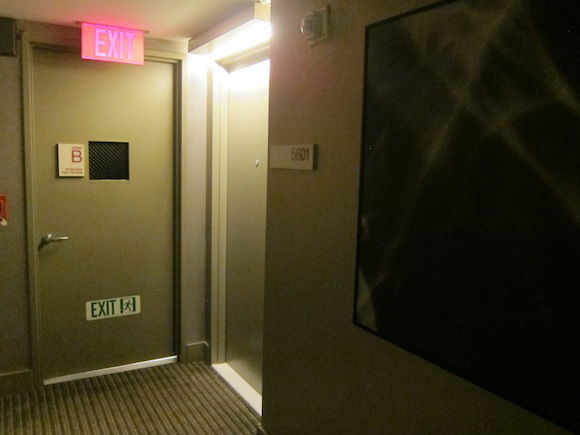 Room entrance
While the fact that it was a corner room meant I had windows on two sides, the room is the same size as a standard room.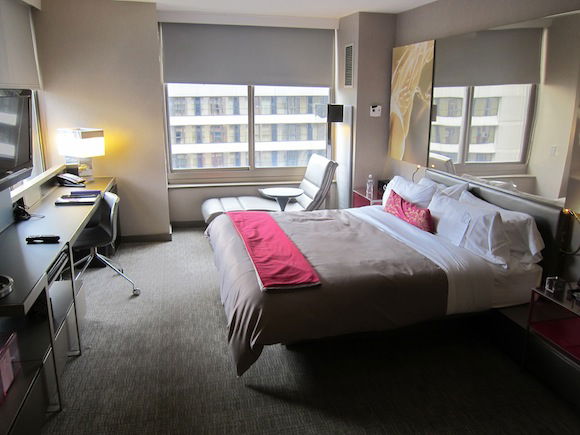 Cool Corner Room
The room featured a king size bed, desk, and lounge seat.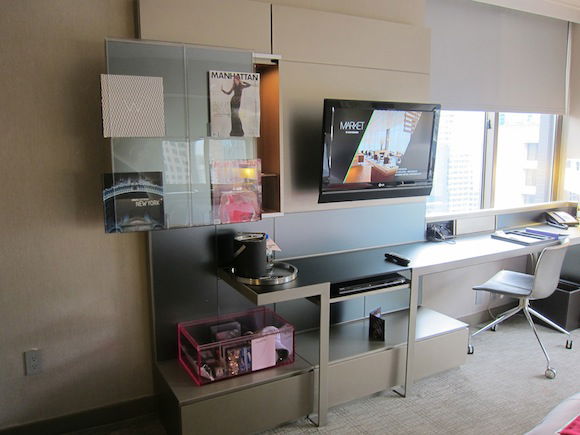 Desk/TV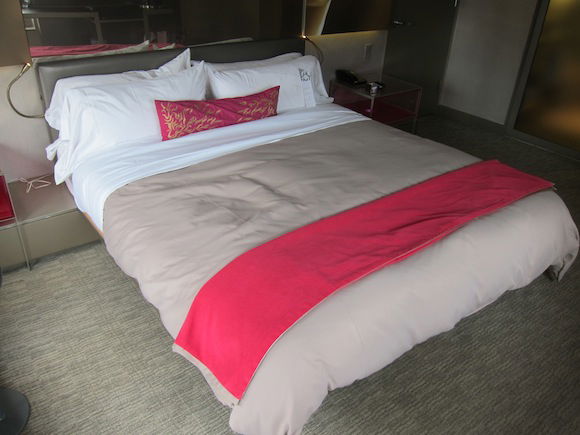 King size bed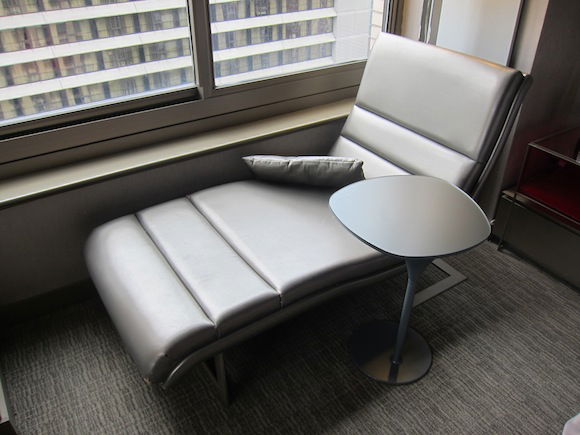 Lounge chair
The room featured views of Times Square. Fortunately since I was on such a high floor the room was quiet, which is rare when staying near Times Square.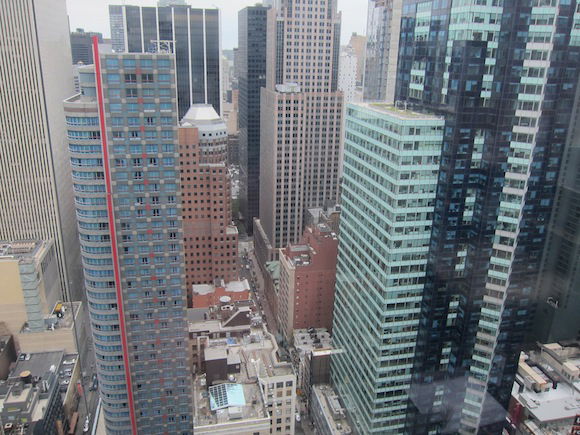 View from my room
The bathroom was small but functional.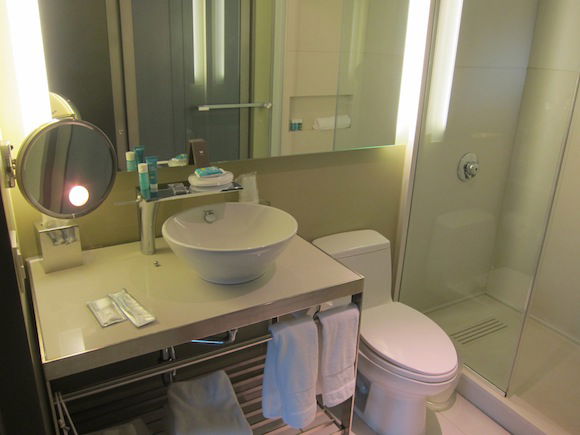 Bathroom
The water pressure and temperature control in the shower were excellent. However, there was no way to turn on the shower without getting soaked with cold water, since there was a glass shield by the shower. Who's responsible for designing these things?! Why not instead place the shower controls on the opposite side of the shower head?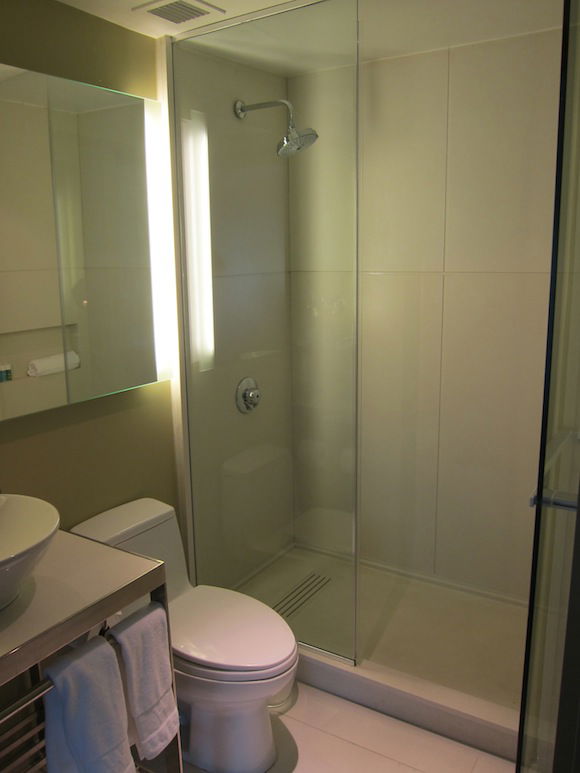 Shower
I had been given a card at check-in which described the American Express Fine Hotels & Resorts benefits.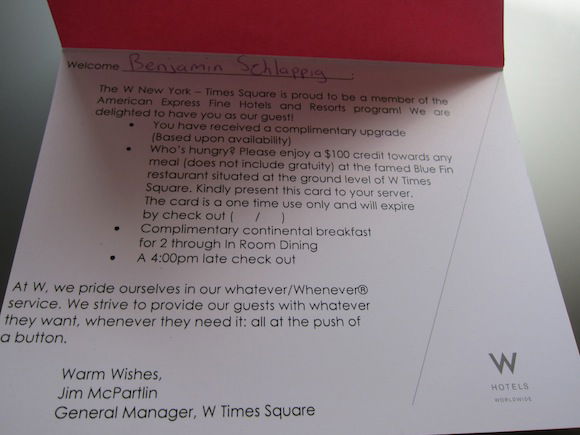 Benefits
Frustratingly the $100 food and beverage credit had to be used in Blue Fin Restaurant (as opposed to in-room dining), while the continental breakfast had to be taken via in-room dining (as opposed to Blue Fin Restaurant). It's also worth noting that the $100 credit all had to be used at once, since the card had to be presented at the time of redemption.
The breakfast option consisted of coffee OR juice and a croissant OR muffin.


Breakfast card
While I've found the Platinum/Fine Hotels & Resorts breakfast amenity to be fantastic at Starwood properties internationally, I don't think I've had a decent breakfast at a US property. It's always just coffee and/or juice and bread of some sort. At that point I'd rather just grab juice and a banana at a convenience store somewhere for $3.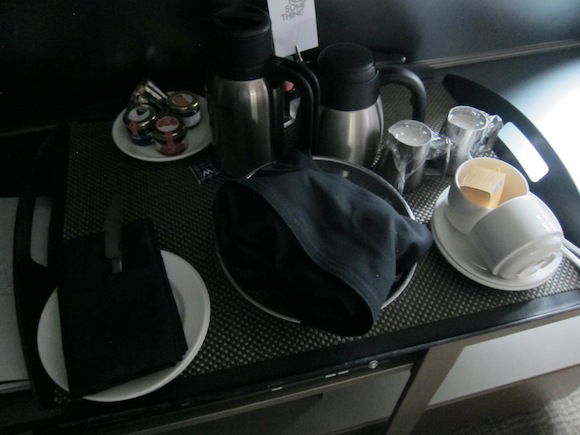 Breakfast

Breakfast
I also had dinner with my mom at Blue Fin Restaurant to use up the $100 food and beverage credit. I think Blue Fin's website gets it right when they call themselves "the crown jewel of the Times Square restaurant scene." I mean, they are perhaps slightly better than Olive Garden, TGI Fridays, McDonalds, and Starbucks, which are the other options nearby, but that's all I can say.
The restaurant itself is nice and we had no problems getting a table, but for a seafood restaurant I really thought their dishes were a bit off, and tasted more like they were reheated on an airplane.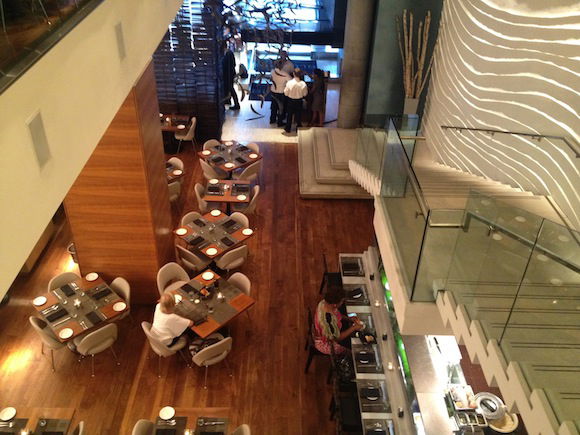 Blue Fin Restaurant
For a starter I had Maryland blue crab empanadas.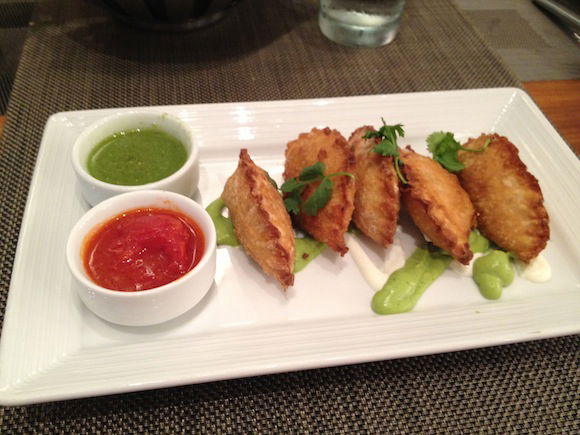 Maryland blue crab empanadas
Then for the main course I had pan seared halibut.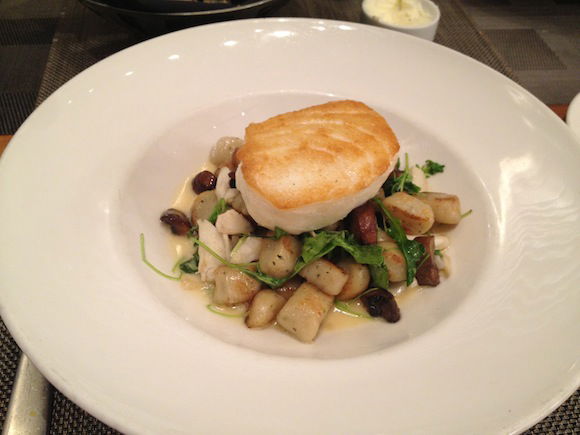 Pan seared halibut
I thought the presentation was great, though the actual quality/taste of the food was lacking. The halibut was extremely dry, and the empanadas lacked a kick. It was basically like going to Red Lobster minus the cheddar bay biscuits. But what do I know, I don't claim to be a food critic…
The hotel also has a basic gym. Unfortunately three of the four treadmills were broken and I had to call hotel security in order to use it in peace, as I wrote about here.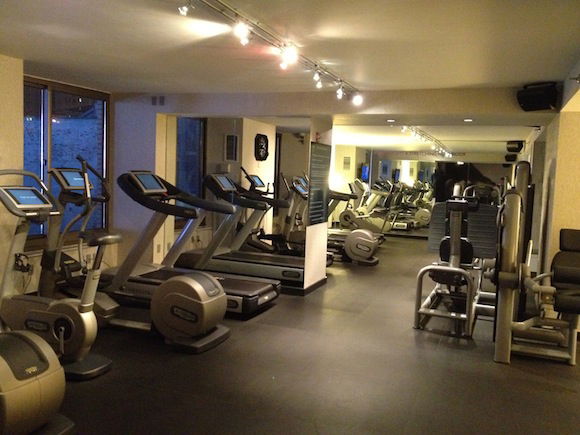 Gym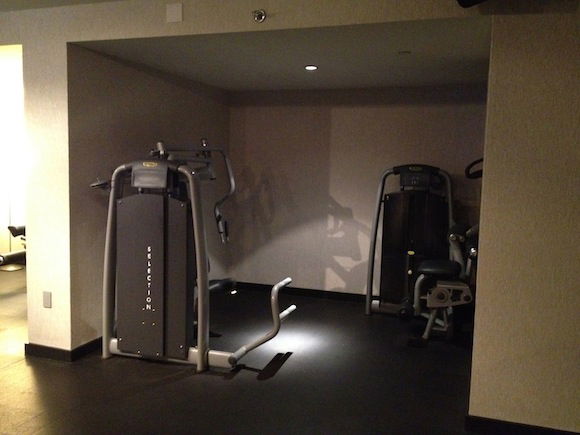 Gym
Anyway, I'm happy to have tried the hotel, as it's now on my list of hotels to avoid. The service was indifferent at best, the hotel goes the cheapest possible route with Platinum benefits, and the hotel is designed with style over substance in mind (as is the case with most W hotels). I'll be reviewing the Westin Times Square and W Union Square this week, both of which I liked more (the former because it's a better value, and the latter because it doesn't feel like a W).